Circular economy: More recycling of household waste, less landfilling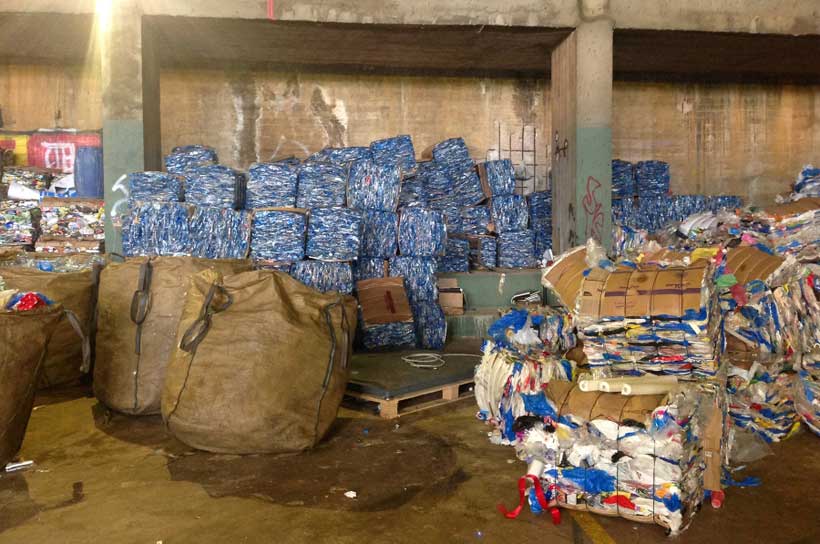 EU Parliament backs ambitious recycling targets, under legislation on waste and the circular economy, adopted on Wednesday.
Improving waste management will not only benefit the environment, climate, and human health. The four pieces of legislation are also part of a shift in EU policy towards a circular economy, i.e. a system where the value of products, materials and resources is maintained in the economy for as long as possible.
By 2025, at least 55% of municipal waste (from households and businesses) should be recycled, says the text, as agreed with Council of Ministers. The target will rise to 60% by 2030 and 65% by 2035. 65% of packaging materials will have to be recycled by 2025, and 70% by 2030. Separate targets are set for specific packaging materials, such as paper and cardboard, plastics, glass, metal and wood.
Landfilling to become an exception
The draft law also limits the share of municipal waste being landfilled to a maximum of 10% by 2035. In 2014, Austria, Belgium, Denmark, Germany, the Netherlands and Sweden sent virtually no municipal waste to landfill, whereas Cyprus, Croatia, Greece, Latvia and Malta still landfill more than three quarters of their municipal waste.
Textiles and hazardous waste from households will have to be collected separately by 2025. By 2024, biodegradable waste will also have to be either collected separately or recycled at home through composting.
Reduce food waste by 50 %
In line with the UN sustainable development goals, member states should aim to reduce food waste by 30% by 2025 and 50% by 2030. In order to prevent food waste, member states should provide incentives for the collection of unsold food products and their safe redistribution. Consumer awareness of the meaning of "use by" and "best before" label dates should also be improved, say MEPs.
"With this package, Europe is firmly committed to sustainable economic and social development, which will at last integrate industrial policies and environmental protection", said lead MEP Simona Bonafè (S&D, IT). "The circular economy is not only a waste management policy, but is a way to recover raw materials and not to overstretch the already scarce resources of our planet, also by profoundly innovating our production system".
"This package also contains important measures on waste management, but at the same time goes further, by defining rules taking into account the entire life cycle of a product and aims to change the behaviour of businesses and consumers. For the first time, Member States will be obliged to follow a single, shared legislative framework", she added.
Background: what is a circular economy?
A circular economy implies reducing waste to a minimum as well as re-using, repairing, refurbishing and recycling existing materials and products. Moving towards a more circular economy will reduce pressure on the environment, enhance security of supply of raw materials, increase competitiveness, innovation and growth, and create jobs.
Virtual-Reality Leaderships Await Digital-Guillotines
When national leadership starts acting more as if Virtual-Reality based illusionary leadership games, it calls immediate testing to ensure digital future of the virtualized economies of the nation. Just as billion mile highways need cars, trillion-node digital highways need smart digitized enterprises. Just as highways and transportation need qualified Ministries dedicated to control national mobility, similarly digital platforms economies need virtualization; layers of platforms, hyper-interactive, live in action, motion and execution, floating on global digital arenas and creating mini-micro-mega trade opportunities and serving the common good of the world. Futurism demands futuristic literacy.
If there are some 200 nations outside a miniscule number, most nations along with their ministries and government departments already crushed under the weight of their own bureaucracies. Translated into simple language; when a single piece of urgent and serious business-trade query enters any government office building, decked with thousands desks and many thousands of filing cabinets, expecting quick response within a few days, if lucky may get some broken answer in many months. Those who slowly circumnavigate the world, require no proof on this, those educated exclusively on social media allowed screaming in denial. There are many such office buildings, each with many floors, in each city, in each nation. Some billion people occupy such global bureaucracies, strangling their own nations and stealing their own future from their next generations. Visible in open daylight, the barren landscapes, untapped resources, wasted talents lingering as wasted over a century. Today, against tidal waves of almost free technologies and digitalization, we need quick do or die solutions.
The cruelty of incompetence fermenting on mahogany furniture in dark offices now needs digital-guillotines.
The Paper-Processing-Age created Bureaucracies, Rubber-stamps glorified and corner offices mesmerized the fermentation process of incompetency and guaranteed permanence of seniority as gold standard. Like a tsunami, "digitization" is now bureaucracy free, office-free and tantrum free, only measured precisely in right columns with right amounts and 'true' numbers to evaporate filing cabinets and desks. Productivity, performance and profitability are what have been missing the last few decades bringing nations to their knees. The future of governments now measured by meritocracy will rule and manage future economies; the rest will stay hidden in the fog of confusion.
Over a century ago, H.G. Wells wrote about aircrafts and Jules Verne, the submarines. Now, we live in a time where digitally floating enterprises and virtually accessible national economies must thrive. Now, is the turn of our times to optimize our 'mental powers' functioning way above automation, performing our intellectualism over mechanical robotization and achieve superior commercialization while considering diversity, tolerance and common good? Now is the time to claim our rights, design our economies and better sustainable lifestyles. A brighter future waits.
Nevertheless, within the coming years, elimination of bureaucracies, digitization of enterprises and virtualization of economies will quadruple performance on a national basis for most nations; unfortunately, getting this thinking may take another decade for many other nations. Observe their starving children.
As a crude and only available measurement, amongst the 190 nations of the world, there are only top 20 nations where *GDP Per-Capita-PPP is about USD$50,000 and more. Everyone else is lower, as an example, a sample of 50 nations, where their per capita is USD$5000 or $13.00 per day. Now observe their governments, their Ministries, Institutions, Trade Associations, Chambers and various government agencies are deeply stuck in the last century, robbing their own future. Disconnected with global age, now clearly visible all across their front line teams points to continued financial calamites. Any 10% to 90% elimination of bureaucratic ponderings, indecisive floor-by-floor rubber stamp approval dances will quadruple their national performances. Nation-by-nation, strangulations due to the lack of decisive skills now make bureaucracies the most backward frontier left in critical need of upskilling and reskilling realignments, to stand up to global standards of productivity. Therefore, across the board, national economies must qualify at specified speed and accuracy with due diligence to attract FDI, collaborations and alliances to survive in global-age. Local political parties scared of their own re-elections will never tackle such issues. Immediate testing of any frontline management team of any top departments will expose the gravity.
The biggest tragedy is that all of these nations have unlimited talents, great minds and great skills potential, but crushed by bureaucracies, in darkness mode, where sun never rises, where digitization is feared for fears of exposing competency levels. The Covidians of the new post-vaccinated world with new thinking now have a real chance to ride out the storms, bring mega changes, and create highly efficient economic models. No country without national mobilization of hidden talents of entrepreneurialism on digital platforms of upskilling to foster exportability and outbound exposure will survive. This is what Silicon Valley did; study slowly to deeply appreciate the process.
Upskilling as a mandatory testing requirement drowning in crypto-economies and fictionalized as success ignoring tent cities, nation's biggest losses hidden in the untapped entrepreneurialism of the national citizenry. Study more on Google, how business education actually destroyed businesses across Western economies.
Rules of economic revolutions:
Do not fix, just break it, and start on a new page.
Do not fire, upskill them, bring a brighter future closer.
Do not fumble, upskill yourself, become a lifelong learner.
Do not fail, there is no plan B, economic damage now commonplace.
Do not runaway, take a stand; there is no other way out.
Do not deny the bright future to your next generations.
There are some 100 national elections scheduled within the next 500 days… national leadership must demonstrate their literacy to read futurism. Identify their local teams with the right expertise to address national challenges, urgently respond with right answers, and develop clear narrative to address realities. Expothonis tabling a new agenda, in a global debate series with global experts on such bold issues to advance the discussions on such mega-change processes.
The strategy: The Covidians, survivors of bankruptcies, body bags have little or no tolerance for bureaucracies and with free rains of technology have no patience for paper-based-sluggish and dysfunctional economies. Citizens will vote for real and pragmatic truth. National leadership must face the music and learn to tango: Eliminate bureaucracies, virtualized economies and carve straight paths for climate control protocols.
Is this a perfect storm in the making or a new sunrise of the early spring?
The rest is easy
Suez Canal Shutdown revealed the importance of the Middle Corridor
On March 23 of 2021, a container ship called the "Ever Given" ran aground in Suez Canal, one of the most important waterways in the world, and blocked other vessels from using it. This human-made waterway is one of the world's most heavily used shipping lanes, carrying over 12% of world trade. This canal is also responsible for the transportation of 7% of the world's oil and 30% of daily container shipments. Therefore, the blockage of the canal has considerably affected global trade. According to Lloyd's List, a London-based shipping news journal, the estimated daily value of cargos passing through the canal is $9.7 billion, with $5.1 billion traveling westward and $4.6 billion traveling to eastward directions. The incident forced some ships to use the alternative route around Africa's southern tip, which is dangerous and increases the transportation costs and time.
Shipment delays because of the incident in the Suez Canal also negatively affected the already-disrupted global supply chain. Since the start of the pandemic, shipping delays and shortages have considerably strained the global supply chain. As the commodities become increasingly difficult to obtain and produce for the companies, customers face limited options and higher prices. Several big companies such as Nike, Honda, and Samsung have already expressed that supply-chain issueshavesignificantly impeded production volumes. Thus, the blockage of the canal made the supply chain crisis even worse.
Almost a week after the "Ever Given" halted the canal, on March 29, it became possible to free the vessel and the Suez Canal opened for business again; tugboats managed to refloat the stuck vessel away from the canal's sandy bank. During the blockage, at least 367 vessels were left waiting for the canal to be unblocked. However, it remains unclear when the traffic in the canal will return to normal, as it will take a couple of days to clear the backlog of ships. Some experts have estimated that it could take more than 10 days.
Despite the fact that the canal was freed, it has raised questions on the risks of the world's overreliance on this route. The economic damage of the blockade of the Suez Canal proved the fragility of global transportation architecture. This in turn brought up the issue of the development of alternative land or maritime transport routes. Hence, after the incident, Russia and Iran have called for the need to find alternative shipping routes, especially recalling potentials of the Northern Sea Route (NSR) and International North-South Transport Corridor (INST).By explaining the reasons for considering the NSR, on its official social media account Russian state company Rosatomflot declared that rapid melting of the Arctic and the existence of powerful Russian icebreakers improve the accessibility of the North Sea, which could become an alternative to the Suez Canal. Iranian officials, on other hand, called for the activation of the INSTC as a reliable and "low risk" alternative.
The other alternative route that has the potential to become one of the mainland routes for the transportation of goods between Asia and Europe is the Trans-Caspian East-West-Middle Corridor Initiative, shortly called "The Middle Corridor". This corridor is considered as one of the most important routes in reviving the ancient Silk Road. The Middle Corridor begins in Turkey, passes through the territories of Azerbaijan and Georgia, crosses the Caspian Sea, reaches Central Asia, and extends to China through the Turkmenistan-Uzbekistan-Kyrgyzstan or Kazakhstan routes.
The formation and development of the Middle Corridor began after the November of2013, when as a part of the II International Transport and Logistics Business Forum "New Silk Road" in Astana, the leaders of JSC "National Company" of Kazakhstan, CJSC "Azerbaijan Railways" and JSC "Georgian Railway" signed the agreement on the establishment of Coordination Committee for the development of the Trans-Caspian International Transport Route. In December 2016, the participants of the Coordinating Committee decided to establish the International Association"Trans-Caspian International Transport Route", which started its activities in the following year. The main goal of this project is to increase the volume of freight transportation between East Asia, Central Asia, the Caspian and Black Sea basins and European countries by creating alternative or complement to the traditional land routes that go through the territory of Russia.
Middle Corridor has several advantages in comparison to traditional transportation routes. Compared with the Trans-Siberian Railway, which is also called the "Northern Corridor", it is 2 thousand km shorter and has more favorable climate conditions. Compared with the traditional sea route, it shortens the travel time of goods between Europe and China by about three times, making it only 15 days. In 2015, the first pilot shipment took place and a container train, which started its trip from Western China reached Baku through Kazakhstan and the Caspian Sea in 6 days. Besides, the Middle Corridor creates great opportunities for cargo transportation within Asia and to Africa. Using this corridor, cargos from east and south-east Asia could be easily transported to the Middle East, North Africa and the Mediterranean regions using port infrastructures of participating states.
The Middle Corridor initiative is also supported by Afghanistan and Tajikistan as this route creates new transportation opportunities for them. By integrating the "Lapis Lazuli" corridor, an international transit route that links Afghanistan to Turkey, to the Middle Corridor, these countries could easily transport their goods in all directions in Asia. Integration of these corridors is also advantageous for the participating countries of the Middle Corridor. The agreement on the establishment of the Lapis Lazuli corridor was signed by Georgia, Afghanistan, Turkmenistan, Azerbaijan and Turkey in November 2017, which added a new artery to the Middle Corridor in the southern direction.
Along with the mentioned advantages, the Middle Corridor also holds precedence in comparison to other proposed alternatives, which have obvious shortcomings. In the case of NSR, most of the year it is covered in snow and for transportation of goods through this road ships of special nature and capabilities are required. So, the competition of NSR with the Suez Canal could only be of seasonal nature. The INSTR on the other hand, despite its advantages, cannot become the direct competitor to the Suez Canal as it serves for the connection of the Indian Ocean and the Persian Gulf with Northern Europe, not for the connection of east and south-east Asia like the Suez Canal. It could compete with the Suez Canal only if it is integrated into the Middle Corridor. Hence, the advantages of the Middle Corridor and shortcomings of other alternatives reveal the importance of the Middle Corridor and make it the best alternative for the transportation route that goes through the Suez Canal.
Connectivity now. Boosting flows of people, information, energy, goods and services
On April 8, St Petersburg hosted the 12th Northern Dimension Forum. This forum, established in 2007, is a major annual corporate business event for cooperative policy and brings business directors and potential investors from Russia and the European Union including the Baltics, and Scandinavia.
The forum was organized by the Northern Dimension Business Council in cooperation with the Association of European Businesses, the Graduate School of Management at St Petersburg State University and the Skolkovo Moscow School of Management.
This forum was devoted to the theme: "Connectivity now. Boosting flows of people, information, energy, goods and services." It was attended by over 400 representatives of Russian and foreign business circles, government agencies and scientific, education and non-governmental organizations.
Leading business experts of the partnerships of the Northern Dimension, the Institute and the Association of European Businesses discussed topical issues and opportunities for promoting cooperation in environmental protection, the circular economy, energy efficiency, transport and logistics, healthcare digitization, efforts to overcome the aftereffects of the coronavirus pandemic and creative industries.
As expected, the forum helps to take another major step forward in discussing many strategic spheres of business between Russia and those regions. There were plenary meetings as well as sessions working groups. Despite the contradictory signals between Russia and the European Union, it was another opportunity to have some fruitful dialogue, especially in the current difficult conditions, – develop solutions on a wide range of cooperation issues in the North of Europe.
On the other hand, business institutions and the entire system of economic relations are still evolving for these years, indicating that there is no alternative to reasonable cooperation. It is however necessary to find common business language in the fields and other spheres of crucial importance for international cooperation.
Russian Foreign Ministry's report pointed out to a diversified and multifaceted nature of regional cooperation in Northern Europe. It said the important components include the programs of cross-border and interregional cooperation between Russia and EU countries (Poland, Lithuania, Latvia, Estonia, Finland and Sweden), plus Norway.
There are programs underway within the framework of the current budget cycle that involves over 500 Russian project partners, and new programs are being prepared for the next seven-year period.
They reaffirmed their willingness to broaden versatile and mutually beneficial cooperation for the sustainable development of Europe. It emerged from a number of reports during the forum that trade and economic relations are now remarkably expanding between the European Union and Russia.
Over the years, the business growth has been driven by the efforts of the business community. This has also to do with the quality of economic exchanges and investment, businesses' interest in expanding to new markets, and their confidence that these markets provide drivers for economic growth. Admittedly, trade decreased for various reasons since 2013, it then reached $417 billion, but later shrank to a mere $200 billion.