New Solar Project to Restore Electricity to Over One Million Yemenis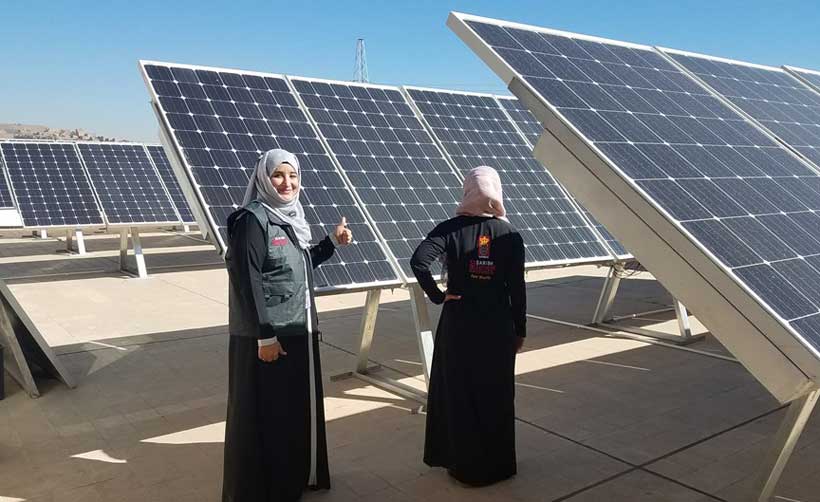 The World Bank announced today a new project to finance off-grid solar systems in Yemen to power vital basic services, and improve access to electricity for vulnerable Yemenis in rural and outlying urban areas.
Funded by a US$50 million grant from IDA, the World Bank's fund for the world's poorest countries, the new project will rely on the commercial solar market, which has grown despite the conflict, providing further support to the local economy and creating jobs.
Solar power has proved to be the most immediate solution for severe energy shortages in Yemen. A booming solar industry has developed driven by the private sector, but the costs have put the technology beyond the reach of public facilities and the most vulnerable populations.
The Yemen Emergency Electricity Access Project will work with the current solar supply chain and the existing network of microfinance institutions, to finance and deliver off-grid solar systems to rural and peri-urban areas. The aim is to restore or improve access to electricity to 1.4 million people, around half of them women. The project will also fund solar power for critical infrastructure, such hospitals, schools, water corporations, and rural electricity providers.
"The lack of electricity in Yemen has had a devastating impact on Yemenis and the provision of services," said Dr. Asad Alam, World Bank Group Country Director for Yemen, Egypt, and Djibouti. "While responding to immediate need, the project will contribute to building a more inclusive and sustainable solar market in Yemen through targeted financing to the private sector which will expand its reach to the poor and vulnerable."
The project will be implemented in partnership with the United Nations Office for Project Services (UNOPS) and in collaboration with the local private sector, including Micro Finance Institutions, solar equipment suppliers and technicians. Working with the Yemeni private sector will help create hundreds of jobs.
"Investing in solar will make Yemen's electricity more resilient, reduce the dependence on fuels for critical service facilities, and create jobs in the private sector," said Joern Torsten Huenteler, World Bank Energy Specialist and Task Team Leader of the project, "What Yemenis need today more than ever is a quick and innovative energy solutions to help ease the crisis."
With this new financing, IDA emergency grants to Yemen issued since July 2016 have totaled US$1.183 billion.
These projects have been prepared – and are being implemented – in partnership with Yemeni institutions and UN organizations such as the United Nations Development Program, the United Nations Children's Fund, the World Health Organization, the United Nations Food and Agriculture Organization, and the United Nations Office for Project Services.
The Caribbean is 'ground zero' for the global climate emergency
The UN Secretary-General's final day in Suriname began on a small plane and ended at a podium. A 90-minute flyover from Paramaribo into the Central Suriname Nature Reserve revealed to António Guterres the astounding beauty of the Amazon but also spotlighted the threats the rainforest is facing from mining and logging activities, and climate change.
The Reserve, a UNESCO World Heritage Site, is an immense protected area covering around 11 percent of the national territory, is recognized for its tabletop mountains and endless biodiversity – some believed to be undiscovered – and remains for the most part inaccessible and unaffected by human activity.
From above, the rainforest canopy was painted with countless shades of green, with some treetops covered in waves of orange or even purple flowers. Along the way, the mighty Coppename River, as well as the upstream parts of the Lucie, Saramacca, and Suriname Rivers flowed by the trees in what looked like a landscape painting.
However, before reaching the protected area, the UN chief could see that Suriname's forests are seriously threatened by the activities of the mining sector and timber production, both fuelled by incentives to boost economic activities. Strikingly visible above the deep green canopy, the brownish patches of deforestation, evidence of destructive gold mining and flooding were difficult to miss.
A moment of 'maximum peril'
Although Suriname is part of the South American continent, it is considered a Caribbean nation due to its history, culture, and the similar challenges it faces with the small island nations.
Later on Sunday, the UN chief arrived at the Assuria Event Centre in Paramaribo, to attend the opening of the 43rd Caribbean Community and Common Market (CARICOM) Conference.
Mr. Guterres's arrival was met with four distinct music and cultural performances. The short walk showcased Suriname's unique ethnic diversity, a product of its long history and Dutch colonization. Afro-Surinamese, East Indian, Indigenous natives, Chinese and Javanese descendants presented their traditional dances and folkloric sounds
At the podium, the Secretary-General highlighted the region's diversity and climate action leadership, while outlining a series of actions to be taken in the face of the planetary crisis, the ongoing COVID-19 pandemic, and global financial challenges.
"Rich in diversity, uniting land and sea, and protecting fragile coastal ecosystems, mangroves are a fitting symbol of Caribbean nations – facing challenges, seizing opportunities, preserving natural gifts," the UN chief told the region's Heads of State and Government on Sunday, inspired by his isit to these coastal carbon-sink wonders in Paramaribo a day before.
Mr. Guterres recognized that the small island low-lying coastal states of the Caribbean are especially vulnerable to what he called "the biggest challenge facing our world today" — the climate crisis.
"The Caribbean is ground zero for the global climate emergency," he said, underlining that unfortunately, it is not the only challenge that the region is facing.
"This year's CARICOM summit comes at a moment of maximum peril – for people and planet alike," he added, referring to the devastating effect of the COVID-19 pandemic on health systems and tourism, as well as on economic growth and foreign investment, now exacerbated by the war in Ukraine.
Bold solutions
The Secretary-General told the CARICOM leaders that bold solutions were necessary to tackle these issues, highlighting three.
1. Match climate action to the scale and urgency of the crisis
Mr. Guterres called for urgent and transformative emissions reduction to halt global warming at a 1.5C, support for adaptation from climate impacts, and financial assistance to secure resilience.
"I thank Caribbean leaders for helping to show the way. I am inspired by your many efforts to safeguard your incredible biodiversity and natural gifts, including by the efforts of the indigenous communities," he said.
He added that more ambition and climate action are needed by all, but specially the G20 who account for 80 per cent of global emissions.
"The war in Ukraine cannot lead to short-sighted decisions that shut the door on 1.5C. With the commitments presently registered, emissions are still predicted to grow by 14 per cent through 2030. This is simply suicide – and it must be reversed."
The UN chief stressed that wealthier countries need to lead the way in a just and equitable " renewables revolution ", and they need to fulfil their promise to deliver $100 billion in climate finance for adaptation starting this year.
"And it is time for a frank discussion and space for decision-making regarding the loss and damage that your countries are already experiencing," he emphasised.
2. Reform 'morally bankrupt' global financial system and spur sustainable recovery
The Secretary General underlined that developing economies need access to financing at no or low costs, as well as debt relief and restructuring.
"On the debt side, we need immediate relief for developing countries whose debt is about to become due," he said.
The UN chief added that he fully supports the creation of a Caribbean Resilience Fund and the reform of the international financial system to help the region better respond and prevent massive vulnerability to external shocks.
"Clearly, our old metrics have failed us. It's time to change them," Mr. Guterres said, proposing to move beyond the financial system's preoccupation with per capita income, and establishing a 'multidimensional vulnerability index' to determine access to financial support.
"For your countries, this would mean ensuring that the complex and interdependent factors of debt and climate change impact are captured in any eligibility analysis for debt relief and financing," he told the Caribbean Heads of State and Government.
3. Keep up the combat against the COVID-19 pandemic
The Secretary-General made a push for governments, organizations and pharmaceutical companies to work better together to locally produce tests, vaccines and treatments.
"We're not out of the woods yet… And we need to continue working closely together to stop the spread of the virus across the Caribbean through proven public health measures and prepare for future pandemics through bold investments in preparedness and training," he stated, and stressed that countries must never again be so unprepared.
Finally, Mr. Guterres reaffirmed the support of the United Nations to the Caribbean to work towards these solutions.
In Afghanistan, women take their lives out of desperation
The situation for women is so desperate in Afghanistan that they are committing suicide at a rate of one or two every day, the Human Rights Council has heard.
It comes as the top UN rights forum in Geneva agreed to Member States' request for a rare Urgent Debate on the issue this Friday.
Addressing the Council, Fawzia Koofi, former deputy speaker of the Afghan Parliament, said lack of opportunity and ailing mental health, was taking a terrible toll: "Every day there is at least one or two women who commit suicide for the lack of opportunity, for the mental health, for the pressure they receive.
"The fact that girls as young as nine years old are being sold, not only because of economic pressure, but because of the fact that there is no hope for them, for their family, it is not normal."
Bachelet highlights 'progressive exclusion'
Echoing widespread international concern for ordinary Afghans, UN human rights chief Michelle Bachelet condemned the massive unemployment of women, the restrictions placed on the way they dress, and their access on basic services.
Women-owned and operated businesses have been shut down, Ms. Bachelet added, saying that 1.2 million girls no longer have access to secondary education, in line with a decision by the de facto authorities who took power in August 2021.
"The de facto authorities I met with during my visit in March this year, said they would honour their human rights obligations as far as [being] in line with Sharia law.
"Yet despite these assurances, we are witnessing the progressive exclusion of women and girls from the public sphere and their institutionalised, systematic oppression".
Ms. Bachelet encouraged the re-establishment of an independent mechanism to receive complaints from the public and protect victims of gender-based violence.
"Beyond being right, it is also a matter of practical necessity", said the High Commissioner. "Amid the economic crisis, women's contribution to economic activity is indispensable, which itself requires access to education, and freedom of movement and from violence".
Women made 'invisible'
Also speaking at the Human Rights Council, its Special Rapporteur for Human Rights in Afghanistan, Richard Bennett, described a chilling attempt by the Taliban to make women "invisible, by excluding them almost entirely from society".]
As an example of the de facto authorities' intentions to impose "absolute gender discrimination", the independent rights expert also noted that women are now represented by men at Kabul's Loya Jirga, or grand assembly of religious scholars and elders.
Such measures contravene Afghanistan's obligations under numerous human rights treaties to which it is a State party, Mr. Bennett insisted before adding that the situation for women "massively diminish(ed) women's lives, deliberately attack women and girls' autonomy, freedom and dignity, and create a culture of impunity for domestic violence, child marriage and sale and trafficking of girls, to name but a few of the consequences".
Promises broken
Despite public assurances from the Taliban to respect women and girls' rights, they are reinstituting step by step the discrimination against women and girls. Said Ms. Koofi, a former member of the peace negotiation team with the Taliban said that the fundamentalists "obviously have not kept their promises of what they were telling us during the negotiations, in terms of their respect for Islamic rights for women".
Ms. Koofi added that "in fact, what they do is in contradiction to Islam. Our beautiful religion starts with reading. But today, Taliban under the name of the same religion, deprive 55 percent of the society from going to school".
Afghanistan's response
For Nasir Andisha, Ambassador and Permanent Representative of Afghanistan to the UN in Geneva, "the situation of women and girls in Afghanistan demands nothing less than a robust monitoring mechanism to collect, consolidate, and analyse evidence of violations, to document and verify information, to identify those responsible to promote accountability and remedies for victims, and to make recommendations for effective prevention for future violations".
A draft resolution on the situation of women and girls in Afghanistan is being negotiated at the Human Rights Council and will be considered on 7 July.
Potanin's core business unfazed by personal sanctions
The news agencies' report that Vladimir Potanin the president of MMC Norilsk Nickel PJSC was first mentioned in the UK government's restrictive measures caused an immediate increase in the price of metals used by electric car production clusters around the world and, as a consequence, worries about the labor market.
Great Britain on Wednesday announced sanctions against Potanin, news agencies reported.
Potanin, known as Russia's "Nickel King", was included in the latest wave of sanctions by Britain which included entrepreneurs, banks and other entities.
Potanin is one of Russia's richest people, although his net worth depends largely on the value of his stake in Nornickel, the world's largest producer of palladium and refined nickel.
Bloomberg reports that, palladium rose as much as 7.7% on the news, while nickel prices jumped 9.2% before paring gains.
The turnover of Norilsk Nickel in finnish Harjavalta last year amounted to about 1.2 billion euros, and the raw materials it processes come mainly from Russia, according to the Finnish business outlet Kauppalehti.
The Harjavalta Refinery is the main reason why the value of Russian nickel imports to Finland has outstripped oil imports, according to the Finnish customs data.
At Harjavalta, Norilsk Nickel produces about 5% of the world's pure nickel supply.
In Finland, Norilsk Nickel is closely linked to the industrial center of Harjavalta, which employs a total of 1,000 people. Nornickel Harjavalta employs about 300 people.
If the EU and the US follow the UK's lead, Nornickel could face a production freeze and nickel prices could soar. This, in turn, jeopardizes EU's planned investments in battery factories, according to Kauppalehti.
As explained by the law firm Neuschwil and Bayer, unlike US sanctions, British sanctions apply to companies only if the sanctioned person owns 50 percent of its shares or over.
The other two big shareholders of the Russian nickel giant, Oleg Deripaska and Roman Abramovich, are under UK and US sanctions, and together with Potanin, their combined stake exceeds 50 percent.
As Neuschwil and Bayer explained, as long as only Potanin is involved in the operational management of Norilsk Nickel, there is no risk of sanctions for the company, even if other countries introduce sanctions against Potanin.