New Solar Project to Restore Electricity to Over One Million Yemenis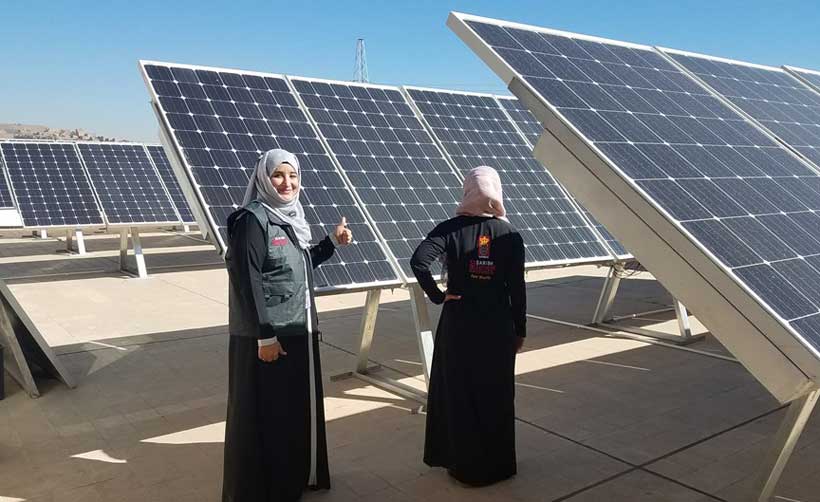 The World Bank announced today a new project to finance off-grid solar systems in Yemen to power vital basic services, and improve access to electricity for vulnerable Yemenis in rural and outlying urban areas.
Funded by a US$50 million grant from IDA, the World Bank's fund for the world's poorest countries, the new project will rely on the commercial solar market, which has grown despite the conflict, providing further support to the local economy and creating jobs.
Solar power has proved to be the most immediate solution for severe energy shortages in Yemen. A booming solar industry has developed driven by the private sector, but the costs have put the technology beyond the reach of public facilities and the most vulnerable populations.
The Yemen Emergency Electricity Access Project will work with the current solar supply chain and the existing network of microfinance institutions, to finance and deliver off-grid solar systems to rural and peri-urban areas. The aim is to restore or improve access to electricity to 1.4 million people, around half of them women. The project will also fund solar power for critical infrastructure, such hospitals, schools, water corporations, and rural electricity providers.
"The lack of electricity in Yemen has had a devastating impact on Yemenis and the provision of services," said Dr. Asad Alam, World Bank Group Country Director for Yemen, Egypt, and Djibouti. "While responding to immediate need, the project will contribute to building a more inclusive and sustainable solar market in Yemen through targeted financing to the private sector which will expand its reach to the poor and vulnerable."
The project will be implemented in partnership with the United Nations Office for Project Services (UNOPS) and in collaboration with the local private sector, including Micro Finance Institutions, solar equipment suppliers and technicians. Working with the Yemeni private sector will help create hundreds of jobs.
"Investing in solar will make Yemen's electricity more resilient, reduce the dependence on fuels for critical service facilities, and create jobs in the private sector," said Joern Torsten Huenteler, World Bank Energy Specialist and Task Team Leader of the project, "What Yemenis need today more than ever is a quick and innovative energy solutions to help ease the crisis."
With this new financing, IDA emergency grants to Yemen issued since July 2016 have totaled US$1.183 billion.
These projects have been prepared – and are being implemented – in partnership with Yemeni institutions and UN organizations such as the United Nations Development Program, the United Nations Children's Fund, the World Health Organization, the United Nations Food and Agriculture Organization, and the United Nations Office for Project Services.
UN: Stop evictions in East Jerusalem neighbourhood immediately
The UN's human rights office (OHCHR), on Friday, called on Israel to immediately halt all forced evictions, including those in the Sheikh Jarrah neighbourhood of East Jerusalem, as well as to exercise maximum restraint in the use of force while ensuring safety and security there.
Eight Palestinian refugee families residing in Sheikh Jarrah are facing forced eviction due to a legal challenge by the Nahalat Shimon settler organization, with the risk "imminent" for four of the families, according to the office.
OHCHR spokesperson Rupert Colville said that the evictions, if ordered and implemented, would violate Israel's obligations under international law.
"Given the disturbing scenes in Sheikh Jarrah over the past few days, we wish to emphasize that East Jerusalem remains part of the occupied Palestinian territory, in which International Humanitarian Law applies. The occupying Power must respect and cannot confiscate private property in occupied territory, and must respect, unless absolutely prevented, the laws in force in the country."
He went on to note that Israel cannot impose its own set of laws in occupied territory, including East Jerusalem, to evict Palestinians from their homes.
On Thursday, Tor Wennesland, UN Special Coordinator for the Middle East Peace Process, also urged Israel to stop demolitions and evictions in the neighbourhood, in line with its obligations under international humanitarian law.
Prohibited under international law
"In addition, the Absentee Property Law and the Legal and Administrative Matters Law are applied in an inherently discriminatory manner, based solely on the nationality or origin of the owner", OHCHR spokesperson Colville said.
"In practice, the implementation of these laws facilitates the transfer by Israel of its population into occupied East Jerusalem. The transfer of parts of an occupying Power's civilian population into the territory that it occupies is prohibited under international humanitarian law and may amount to a war crime", he added.
Violation of right to adequate housing
The OHCHR spokesperson also said that forced evictions could violate the rights to adequate housing and to privacy and other human rights of those who are evicted.
"Forced evictions are a key factor in creating a coercive environment that may lead to forcible transfer, which is prohibited by the Fourth Geneva Convention and is a grave breach of the Convention."
Mr. Colville also called on Israel to respect freedom of expression and assembly, including of those who are protesting against the evictions, and to exercise maximum restraint in the use of force while ensuring safety and security in East Jerusalem.
WHO approves Chinese COVID-19 vaccine for emergency use
A COVID-19 vaccine produced in China has been given the green light for global rollout, potentially paving the way for its use in underserved countries, the World Health Organization (WHO) announced on Friday.
The UN agency has approved the Sinopharm vaccine for emergency use, which is a prerequisite for inclusion in the global vaccine solidarity initiative, COVAX.
The vaccine is easy to store, making it suitable for locations with limited resources, and proved 79 per cent effective in clinical trials.
"The addition of this vaccine has the potential to rapidly accelerate COVID-19 vaccine access for countries seeking to protect health workers and populations at risk", said Dr Mariângela Simão, WHO Assistant-Director General for Access to Health Products.
"We urge the manufacturer to participate in the COVAX Facility and contribute to the goal of more equitable vaccine distribution."
A vaccine first
The Sinopharm vaccine is produced by Beijing Bio-Institute of Biological Products Co Ltd, a subsidiary of China National Biotec Group (CNBG).
It is the first vaccine to carry a vaccine vial monitor. The vials have a small sticker that changes colour as the vaccine is exposed to heat, so health workers know whether it can be safely used.
The vaccine is recommended for adults 18 and older, with a two-dose schedule spaced over a period of three to four weeks.
Although few people over 60 participated in the clinical trials, WHO did not recommend an upper age limit for use as data suggests the vaccine is likely to have a protective effect in older persons.
Safely expediting vaccines
WHO emergency use listing (EUL) allows countries to expedite their own regulatory approval to import and administer COVID-19 vaccines.
The EUL process assesses the suitability of new medicines, vaccines and diagnostics during public health emergencies.
The goal is to make them available as rapidly as possible, while maintaining strict criteria of safety, efficacy and quality.
The Sinopharm vaccine is the sixth to receive the EUL approval. The others are by Pfizer/BioNTech, Astrazeneca-SK Bio, Serum Institute of India, Janssen (Johnson & Johnson) and Moderna.
Reasons for Choosing Temporary and Permanent Industrial Buildings
Professional temporary solution providers have become very innovative in designing industrial buildings. While temporary industrial structures are made of lighter materials such as aluminum and fabric or PVC covers, permanent solutions are made of steel or metal frames and sheets. All of them require good preparation of the ground, pre-fabrication of the frames and sheets, and proper installation to serve their purpose well.
Most beneficiaries of these structures are processing factories, manufacturing plants, sports clubs, schools, and many other organizations and companies. Choosing temporary and permanent industrial buildings from a reputable supplier has many perks.
So, let us dive into the reasons for choosing temporary and permanent industrial buildings to understand this topic better.
Amazing Speed of Constructions
Bye-bye brick and mortar industrial buildings that are time-consuming. Temporary and permanent industrial buildings are the way to go because they are fast and easy to fabricate and install using modern technology.
According to experts, these structures save a lot of time, especially if the frames and panels are already fabricated in the factory. Companies that need to set up new companies or expand the current ones will have everything ready in a matter of a few weeks.
Excellent Cost Saving
The economy is hard enough and the investor needs to save on capital when setting up companies or doing expansions. The good news is that temporary and permanent industrial buildings save costs by up to 30% when done by a professional company.
Smart-Space is not only innovative in their technology but they save you a lot of money when setting up your industrial structures. You can rent these structures if you only need them for a short time to save more money.
Absolute Flexibility and Versatility
If you are looking for structures that can be moved after a few years, then temporary and permanent industrial buildings are the way to go. As mentioned, they are made of frames and panels that are fastened together using bolts. Hence, they are easy to dismantle and move to a different location.
However, this work should be done by professionals to reduce damage and ensure the safety of the structures at all times.
High Level of Customization
If you are looking for functional sizes and unique designs that will maintain the theme of your company or organization, the temporary and permanent industrial buildings done by experts will be best. After a discussion of what will serve your business well, the solution provider will take a few days to do the designs with your preferred sizes and colors.
Customization also applies during the extension of an existing factory where everything is done to your preference or in the best possible way. To achieve a high level of customization, you should consider experienced solution providers.
Surprising Durability
Both temporary and permanent industrial buildings are surprisingly durable. Take steel industrial structures for example. They provide service for many years without the need for complicated maintenance. Since steel does not rust, the structure will withstand harsh weather conditions including moisture.
Structures made of metal frames and fabric are equally durable, especially when used as recommended. They also require low maintenance with no paintwork needed after every few years.
Manufacturer's Warranty
The buyers of temporary and permanent industrial buildings enjoy different manufacturer's warranty benefits. This could be the bought structures or the materials used to make them. What's more is that many reputable service providers also give warranties on the workmanship, which will save cost when there is a problem.
Conclusion
To enjoy all of these benefits, it is good to buy or lease your temporary and permanent industrial buildings from a reliable and trusted supplier. Well, there are even more benefits that you will realize once you start using these structures. So, make the right choice now.