New Solar Project to Restore Electricity to Over One Million Yemenis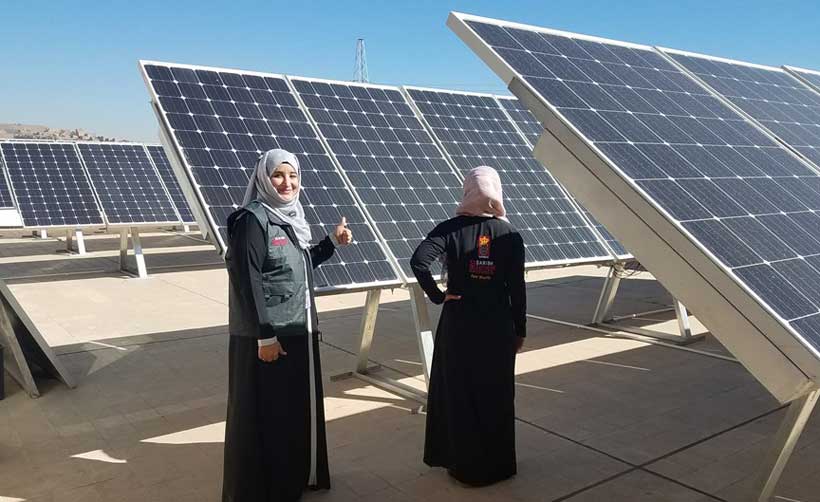 The World Bank announced today a new project to finance off-grid solar systems in Yemen to power vital basic services, and improve access to electricity for vulnerable Yemenis in rural and outlying urban areas.
Funded by a US$50 million grant from IDA, the World Bank's fund for the world's poorest countries, the new project will rely on the commercial solar market, which has grown despite the conflict, providing further support to the local economy and creating jobs.
Solar power has proved to be the most immediate solution for severe energy shortages in Yemen. A booming solar industry has developed driven by the private sector, but the costs have put the technology beyond the reach of public facilities and the most vulnerable populations.
The Yemen Emergency Electricity Access Project will work with the current solar supply chain and the existing network of microfinance institutions, to finance and deliver off-grid solar systems to rural and peri-urban areas. The aim is to restore or improve access to electricity to 1.4 million people, around half of them women. The project will also fund solar power for critical infrastructure, such hospitals, schools, water corporations, and rural electricity providers.
"The lack of electricity in Yemen has had a devastating impact on Yemenis and the provision of services," said Dr. Asad Alam, World Bank Group Country Director for Yemen, Egypt, and Djibouti. "While responding to immediate need, the project will contribute to building a more inclusive and sustainable solar market in Yemen through targeted financing to the private sector which will expand its reach to the poor and vulnerable."
The project will be implemented in partnership with the United Nations Office for Project Services (UNOPS) and in collaboration with the local private sector, including Micro Finance Institutions, solar equipment suppliers and technicians. Working with the Yemeni private sector will help create hundreds of jobs.
"Investing in solar will make Yemen's electricity more resilient, reduce the dependence on fuels for critical service facilities, and create jobs in the private sector," said Joern Torsten Huenteler, World Bank Energy Specialist and Task Team Leader of the project, "What Yemenis need today more than ever is a quick and innovative energy solutions to help ease the crisis."
With this new financing, IDA emergency grants to Yemen issued since July 2016 have totaled US$1.183 billion.
These projects have been prepared – and are being implemented – in partnership with Yemeni institutions and UN organizations such as the United Nations Development Program, the United Nations Children's Fund, the World Health Organization, the United Nations Food and Agriculture Organization, and the United Nations Office for Project Services.
Top 7 Practices Every Small Business Must Follow
Your small business may have started out of passion, but it needs a lot of effort to grow and sustain it. Improving your business is a continuous process and business owners need to invest their time, effort and money to make it big.
To gain success, a business must adopt technology and leverage its power in order to simplify business processes. At the same business owners must keep reviewing the systems and strategies to be sure that things are proceeding in the correct direction.
To help you out, we have listed below top 7 practices that every small business must follow to achieve long-term success:
1.Automate tasks:
A lot of small business owners feel that instead of buying softwares or using tech tools, making their employees do things on their own will save business costs. But it ends up wasting valuable employee time.
Opt for softwares and other digital solutions to automate manual tasks. For instance, having a payroll management system can make the payroll process error-free and quick since it automates the manual calculations to give results with just a click of a button.
2.Create an innovative social media strategy:
In this digital age where everything is virtual, it is important for small businesses to have a powerful online presence. This widens your audience reach and helps you increase your sales.
You need to create a social media strategy that is innovative and shows your brand in the best light to attract your target audience. Seek out independent consultants who can offer low budget marketing strategies with high impact.
3.Maintain accurate records:
When a business is small, it is possible to do things easily by maintaining a mental checklist of things. But as your work and operations grow, you will need an organized way of maintaining business records.
It helps in invoicing customers accurately which increases the chances of getting paid on time. Also, having well-organized records will make the filing process effortless during tax season.
4.Keep track of your finances:
For every small business owner, it is crucial to keep a check on their expenses in order to avoid a cash crunch. When you start factoring in every cost, it will help you make better financial decisions.
Additionally, having a reality check about your expenses and earning will keep you prepared for any difficult situation that will affect the cash flow.
5.Be clear about expectations:
Small businesses often fail due to lack of communication and coordination. This brings to light the need for setting expectations so everyone knows what they are supposed to deliver.
When business owners define everyone's roles and responsibilities clearly, it leaves no room for confusion about who is supposed to handle what part of the work.
6.Invest in growing your team's knowledge:
Employers who nurture their employees always benefit from an employee base that grows loyal towards them. This happens because employees feel valued when their employers invest in their career growth.
Provide your employees L&D opportunities to help them advance in their career and learn new skills. It will help your business to have employees who are at par with the new technologies and trends.
7.Encourage team feedback & participation:
Business owners often miss out details because they are overlooking a lot of important work and dealing with clients. In such situations, it helps to seek employee feedback to get their opinion on things.
Encouraging employee participation helps you understand any inconsistencies in your business systems. It also keeps them engaged and helps them feel inclusive in the work environment.
Conclusion:
Business owners must always try to be a leader rather than a boss to ensure employees feel comfortable opening up to you about the challenges they are facing at work. This allows you to build deeper connections with them and support them. This will ultimately lead to higher employee satisfaction which will significantly enhance their productivity.
Lao PDR Signs Agreement to Protect Forests and Reduce Carbon Emissions
The Lao PDR and the World Bank's Forest Carbon Partnership Facility (FCPF) have signed an agreement to provide up to $42 million between now and 2025 to support the country's efforts to reduce emissions from deforestation and forest degradation (REDD+). A ceremony today marked the launch of this forest- and climate-focused program.
Under this Emission Reductions Payment Agreement (ERPA), the World Bank commits to making payments to the Lao PDR for verified reductions of up to 8.4 million tonnes of carbon dioxide emissions in northern Laos. The program aims to address the drivers and underlying causes of forest loss in six provinces (Houaphanh, Luang Prabang, Oudomxay, Luang Namtha, Bokeo, Xayabouly), encompassing a third of national territory. The region has been responsible for 40 percent of nationwide deforestation and forest degradation between 2005–15.
"We are committed to improving land use, strengthening forest protection, and enhancing forest restoration in line with the 2019 Forestry Law, the 9th National Socio-Economic Development Plan for 2021-2025, and the National Green Growth Strategy to 2030," said Thongpath Vongmany, Vice Minister for Agriculture and Forestry. "This is an opportunity to drive economic growth and resilience with more sustainable rural land use based on participatory and integrated planning."
The geography of northern Laos is distinct, with over 20 ethnic groups calling this mountainous region their home. Limited accessibility and infrastructure in these remote areas play a role in preserving cultural heritage, but also pose challenges for job opportunities, transportation, access to social services, and the promotion of industry and trade.
Working across sectors, the Lao emissions reduction program, entitled "Promoting REDD+ through Governance, Forest Landscapes and Livelihoods — Northern Laos", supports better forest and land governance, land-use planning, livelihoods development, and sustainable ecosystem management to reduce pressure on forests. It also includes a benefit-sharing arrangement that will encourage communities and other stakeholders to participate.
"This innovative financing is part of World Bank support that helps the Lao PDR manage its landscapes for greener and more resilient economic growth and recovery," said Nicola Pontara, World Bank Country Manager for Lao PDR. "This results-based funding will reduce emissions while benefiting people who depend on sustainable forests for their livelihoods."
Lao PDR is the third country in Asia, after Indonesia and Vietnam, and the ninth country worldwide to sign an ERPA with the World Bank's FCPF. The total value of these nine agreements, which have also been made with Chile, Costa Rica, Côte d'Ivoire, the Democratic Republic of Congo, Ghana and Mozambique, is nearly half a billion US dollars. Several other countries are expected to finalize their emission reductions programs and follow suit with ERPA signings early this year.
The Forest Carbon Partnership Facility is a global partnership of governments, businesses, civil society, and indigenous peoples' organizations focused on reducing emissions from deforestation and forest degradation, forest carbon stock conservation, sustainable management of forests, and the enhancement of forest carbon stocks in developing countries — activities commonly referred to as REDD+. Launched in 2008, the FCPF has worked with 47 developing countries across Africa, Asia, and Latin America and the Caribbean, along with 17 donors who have made contributions and commitments totaling $1.3 billion.
UN rights experts urge Israel to respect international obligations
UN independent rights experts on Tuesday, described Israel's conviction of human rights defender Issa Amro earlier this month, as showing disdain for the country's international obligations.
The comments came after the 6 January conviction by an Israeli military court of the Palestinian human rights defender and founder of Youth Against Settlements, a Hebron-based group, which opposes settlement expansion through non-violent civil resistance.
In a statement from the UN human rights office, OHCHR, issued on Tuesday, the experts said that the country must immediately stop using its array of military security tools "to obstruct the legitimate and indispensable work of human rights defenders."
"Rather than prosecuting human rights defenders, Israel should be listening to them and correcting its own human rights conduct", the UN Special Rapporteurs said, urging the country to obey its international obligations to provide protection to human rights defenders.
Mr. Amro was convicted of six charges related to his human rights activities between 2010 and 2016. The experts said they fear he will be imprisoned when he is sentenced on 8 February.
Systematic pattern
"This is part of a clear and systematic pattern of detention, judicial harassment and intimidation by Israel of human rights defenders, a pattern that has increased in intensity recently", the experts continued.
They said Israeli authorities had arrested Mr. Amro numerous times, with the aim of silencing those who would defend the human rights of others.
The UN experts Mr. Michael Lynk, Special Rapporteur on the situation of human rights in the Palestinian Territory occupied since 1967, and  Ms. Mary Lawlor, Special Rapporteur on the situation of human rights defenders, added that convicting him for participating in demonstrations without a permit, is contrary to new developments in international human rights law.
"The failure to notify authorities of an upcoming assembly does not in itself render the act of participating in the assembly as unlawful", they stated.
Mr. Amro was convicted of three counts relating to participation in demonstrations without a permit. Another two counts relate to obstructing security forces, which concerned alleged refusal to accompany Israeli law enforcement officers during arrest. He was also convicted of assault, for allegedly pushing a settlement guard in 2010.
"This conviction is part of a pattern where Israeli military law is used to restrict and penalise Palestinians for exercising their inviolable political and civil rights.", the experts concluded, adding that the conviction appeared to be politically motivated.
Long history
Mr. Amro was first put on trial in an Israeli military court in 2016 on 18 charges dating back to 2010, including incitement, entering a closed military zone, and participating in a march without a permit. He had been taking part in a peaceful protest calling for the re-opening of Shuhada Street, the former commercial centre of Hebron.
The Special Rapporteurs and other human rights experts have sent several letters to Israel seeking clarifications regarding Issa Amro's case, according to the OHCHR statement.
Special Rapporteurs and independent human rights experts are appointed by the Geneva-based UN Human Rights Council and are neither UN staff nor paid for their work.