Japan works with UNIDO to boost employment in Lebanon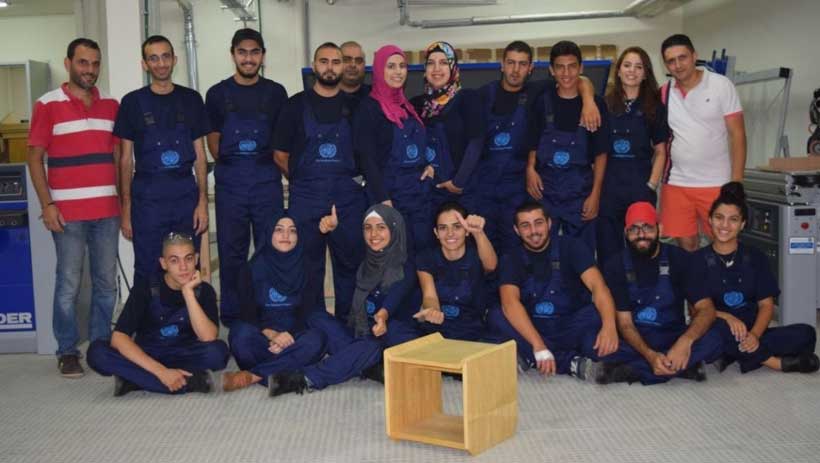 The Government of Japan has announced that it will fund a project to create jobs in the carpentry and construction sectors in northern Lebanon. This is one of eight new projects implemented by the United Nations Industrial Development Organization (UNIDO) in Ethiopia, Iraq, Jordan, Lebanon, Liberia, Nigeria, Somalia and the Syrian Arab Republic, with Japanese funding totaling US$5.2m.
The project will build upon previous interventions to create economic opportunities, particularly among host and refugee communities, in the northern areas of the country. The technical assistance will focus on the design of new training modules for construction skills training and the delivery of marketable vocational skills training to vulnerable individuals.
Matahiro Yamaguchi, Ambassador of Japan to Lebanon, stated, "Japan is very keen on creating employment opportunities in productive sectors such as carpentry and construction, in order to promote economic development in the country." He expressed hope that the project assists both Lebanese residents and Syrian refugees in gaining access to job markets and entrepreneurship by equipping them with essential technical skills and practical knowledge.
Speaking at the kick-off event held on 28 March at UNIDO headquarters in Vienna, during which the eight projects and the funding from the Government of Japan were announced, UNIDO Director General, LI Yong, highlighted that the projects aim to strengthen the humanitarian-development nexus and promote inclusive and sustainable industrial development by taking a human security approach.
Ambassador Mitsuru Kitano, the Permanent Representative of Japan to the International Organizations in Vienna, stated that the projects will "help individuals to live under healthy conditions, consolidate their livelihoods and, with all of this, gain optimism for their future."
Lebanon continues to be by far the largest host of Syrian refugees in proportion to population. The country is currently hosting more than one million refugees, resulting in a 25% increase in the population. In particular, interventions aimed at creating jobs and economic opportunities are considered urgent by the government and the United Nations.
This project will target individuals in areas that have been significantly impacted by the humanitarian crisis in Lebanon in order to upgrade their skills and knowledge to be better prepared to handle any external shocks to the labour market, as well as to enhance their employability. Given the backdrop of high youth unemployment (30%), falling oil prices and a slow in economic growth, this training couldn't come at a better time for participants in the north of Lebanon.
ADB Private Sector Deal to Promote Solar Power in Afghanistan
The Asian Development Bank (ADB) has signed a $4 million loan with a special purpose vehicle and subsidiaries owned by the 77 Construction, Contracting, and Trading Group (77 Group), an international civil works contracting firm headquartered in Turkey, to help build a 15.1 megawatt (MW) solar power plant and promote the development of renewable energy in Afghanistan.
The borrower is Barakat Kandahar Solar Energy (BKSE), a special purpose vehicle majority owned by 77 Afghanistan, a subsidiary of 77 Group. The co-borrowers include three subsidiaries of 77 Group. The agreement was signed by Principal Investment Specialist at ADB's Private Sector Operations Department Ms. Sonali Tang, and Chairman, BKSE, and owner of 77 Group Mr. Suleyman Ciliv.
"Having a stable, sustainable, and reliable energy source is important for the growth and development prospects of Afghanistan, where power generation and access is one of the lowest in the world," said Senior Public–Private Partnership specialist at ADB's Office of Public–Private Partnerships Mr. Mohammed Azim Hashimi. "ADB's support for this important project will help provide long-term financing that is not available locally to build and operate a state-of-the-art solar power plant in Afghanistan."
"77 Group would like to thank ADB for paving the way for investors in Afghanistan by supporting the first private sector-financed independent power producer ," said 77 Group representative and project director Mr. Burak Unsal. "77 Group is keen to work with ADB on future renewable energy investment projects.''
Afghanistan ranks in the bottom 5% in terms of per capita electricity usage, with only 30% of the country's population connected to the grid in 2015. In terms of energy mix, solar power accounts for only about 1% or 3 MW of the country's total installed generation capacity. This is despite Afghanistan having about 220,000 MW of solar power generation potential. The Government of Afghanistan aims to develop the country's renewable energy generation, including solar power, so it can contribute at least 5,000 MW (40% share) to the national grid by 2032.
The Kandahar Solar Power Project will install a 15.1 MW solar photovoltaic power plant and related facilities, increasing the supply of clean power to the domestic grid in Afghanistan. The power plant will generate about 27.5 gigawatt-hours of electricity annually and avoid 8,500 tons of carbon dioxide emissions. It will also help lift the share of renewable energy in the country's total installed power generation capacity to between 4,500 MW and 5,000 MW by 2032.
ADB will also administer a $3.85 million loan from the Canadian Climate Fund for Private Sector in Asia II (CFPS II) for the project. CFPS II was established in March 2017 to support greater private sector participation in climate change mitigation and adaptation in low and lower middle-income countries in Asia and the Pacific.
Erasmus+: a turning point in the lives of 5 million European students
New evidence shows that Erasmus+ makes students more successful in their personal and professional lives and helps universities to become more innovative, according to two new independent studies released today by the European Commission.
The large-scale studies based on the feedback from nearly 77 000 students and staff and over 500 organisations measure and analyse the impact the Erasmus+ programme has on its main beneficiaries. Results show how the EU programme helps prepare young Europeans for the new digital era and thrive in their future careers. Erasmus+ also boosts innovation capacity of universities, their international engagement and ability to answer the needs of the labour market.
Commissioner for Education, Culture, Youth and Sport, Tibor Navracsics said: "It is impressive to see how Erasmus+ enables young people to thrive in the modern labour market and in a more diverse society. I am happy to see that Erasmus+ graduates feel more ready to take on new challenges, have better career prospects and are more aware of the benefits the EU brings to their daily lives. At the same time, universities that take part in Erasmus+ are not only more international but also better placed to respond to the needs of the world of work."
The key findings of the studies are:
Erasmus+ helps students find their desired careers and get jobs quicker
Over 70% of former Erasmus+ students say that they have a better understanding of what they want to do in their future careers when they return from abroad. Their experience abroad also enables them to re-orient their studies to better match their ambitions. The higher education impact study further reveals that 80% were employed within three months of graduation and 72% say their experience abroad helped them get their first job. Nine in ten Erasmus+ alumni say they make use of the skills and experiences acquired abroad in their daily work. Erasmus+ addresses skills mismatches by focusing on soft and interdisciplinary skills development businesses need.
Erasmus+ boosts European sense of belonging
More than 90% of Erasmus+ students also improve their ability to work and collaborate with people from different cultures and feel they have a European identity. The biggest impact is on the students who felt less convinced about the EU prior to their exchange and the students that spent time in a more culturally different country. Of all Erasmus+ students those coming from Eastern Europe identify the most with the EU.
Erasmus+ supports digital transformation and social inclusion
Erasmus+ cooperation projects make the majority of participating universities better prepared for digital transformation. Making use of new technologies and innovative teaching and learning methods helps strengthen their international cooperation and innovation capacity. Academic staff, who made use of Erasmus+ are more open to involving staff from enterprises in their courses than their non-mobile peers, around 60% compared to 40%. More than 80% of academics report that their experience abroad has led to the development of more innovative curricula. Moreover, two out of three participating universities stated EU-wide projects also contribute to increasing social inclusion and non-discrimination in higher education.
Other findings show that former Erasmus+ students are more satisfied with their jobs compared to those who have not gone abroad. They also have careers that are more international and are almost twice as likely to work abroad. Erasmus+ also supports entrepreneurship. One in four cooperation projects contributed to entrepreneurial education and strengthened entrepreneurship. A third of projects helped create spin-offs and start-ups.
Background
Between 2014 and 2018, more than 2 million students and staff in higher education undertook a learning, training or teaching period abroad as part of the Erasmus+ programme. During the same period, almost 1 000 Erasmus+ Strategic Partnerships between higher education institutions and 93 Knowledge Alliances between universities and businesses received EU funding. More than 40% of these trained students and academic staff in forward-looking skills related to environment and climate change, energy and resources, digital (ICT and digital skills) and entrepreneurship.
The two studies (Erasmus+ Higher Education Impact study and the Erasmus+ Higher Education Strategic Partnerships and Knowledge Alliances study) assessed the impact of the programme on its two main beneficiaries: individuals and organisations.
For the first study, almost 77 000 responses, including from around 47 000 Erasmus+ students, 12 000 graduates and 10 000 staff members with Erasmus+ experience were analysed. The findings of the second study are based on responses from 258 Erasmus+ Strategic Partnerships and Knowledge Alliances (representing 504 organisations) awarded funding in 2014-2016 as well as 26 detailed case studies.
IEA holds Energy Efficiency Training Week in Paris
The International Energy Agency is hosting its 11th Energy Efficiency in Emerging Economies Training Week from 20 to 24 May. More than 120 energy efficiency professionals from 40 countries have come together in Paris for the event.
The objective of the training week is to enable participants to learn from leading experts in the field and from each other, strengthening the knowledge and networks needed to meet some of today's most pressing challenges. The weeklong activities focus on the critical role of energy efficiency in mitigating growing energy demand across all sectors in the world's fastest‑growing economies.
Dr Fatih Birol, the IEA's Executive Director, kicked off the event by stressing the importance of energy efficiency as the first fuel. "Many of the challenges the world is facing today – climate change, energy security, access to electricity – can be met at a large scale only by implementing the right energy efficiency policies," he said.
Ambassadors from Brazil, Switzerland and the United Kingdom joined Dr Birol in the open plenary session to share their experiences and support for the training week. His Excellency, Mr. Carlos Márcio Cozendey, Ambassador and Delegate of Brazil to International Economic Organisations in Paris, commended the opportunity that the training week presents. "Energy efficiency will remain very important in Brazil, and international cooperation through the IEA and bilateral cooperation with different countries will be an important part of that," he said.
Participants are engaged in one of five parallel courses, which focus on energy efficiency in buildings, industry, appliances and equipment, cities, and indicators and evaluation. Experts from the IEA are guiding participants through an interactive agenda, with lectures, discussions, practical exercises, site visits and group activities.
The IEA will host its first Energy Efficiency Training Week for Africa later this year and a specialised training programme on green buildings in Singapore from 16 to 18 July. Please keep an eye on our website for registration opening dates.