How U.S. Has Virtually Destroyed U.N.
Under President Donald Trump, the U.S. has basically eliminated the only real international authority the U.N. used to have. Here is how this was done:
The equivalent, in international law, to a domestic-law crime involving murder, rape, and theft, is an international invasion that's purely for aggressive purposes and not at all authentically a defensive act against an authentic foreign threat that was coming from the invaded foreign country. Consequently, for the U.S. Government now to have removed the U.N. from any authority over international invasions, is, in domestic-law equivalency, like removing a national government from authority regarding murders, rapes, and thefts, which occur inside that nation. Such a 'government' is no government at all. But, tragically, this is what has happened; and, so, we are now careening into World War III, in this international "Wild West" world, which we live in (and may soon die in, as things thus head into WW III).
The U.S. Government no longer even nominally cares whether or not the U.N. authorizes its invasions; but, as recently as 2003, it used to, even if only nominally, care. The U.S. has thus effectively discarded the U.N. altogether, whenever violating the U.N. is the only way to impose its will against a given target-country.
In late 2002 and early 2003, U.S. President George W. Bush nominally expressed a desire for the U.N. to authorize an invasion of Iraq, but failed to receive that authorization and then did the invasion anyway, along with only UK, Australia, and Poland, joining the U.S.-led gang, in this destruction of Iraq.
At a press conference on 6 March 2003, just 11 days before he (on March 17th) ordered the U.N. weapons-inspectors to leave Iraq, and then invaded Iraq on March 20th, Bush said:
Elizabeth.
Q Thank you, Mr. President. As you said, the Security Council faces a vote next week on a resolution implicitly authorizing an attack on Iraq. Will you call for a vote on that resolution, even if you aren't sure you have the vote?
THE PRESIDENT: Well, first, I don't think — it basically says that he's in defiance of 1441. That's what the resolution says. And it's hard to believe anybody is saying he isn't in defiance of 1441, because 1441 said he must disarm. And, yes, we'll call for a vote.
Q No matter what?
THE PRESIDENT: No matter what the whip count is, we're calling for the vote. We want to see people stand up and say what their opinion is about Saddam Hussein and the utility of the United Nations Security Council. And so, you bet. It's time for people to show their cards, to let the world know where they stand when it comes to Saddam.
Mark Knoller.
Q Mr. President, are you worried that the United States might be viewed as defiant of the United Nations if you went ahead with military action without specific and explicit authorization from the U.N.?
THE PRESIDENT: No, I'm not worried about that. As a matter of fact, it's hard to say the United States is defiant about the United Nations, when I was the person that took the issue to the United Nations, September the 12th, 2002. We've been working with the United Nations. We've been working through the United Nations.
Subsequent U.S. Presidents haven't been even that respectful of the U.N.'s authority; and current U.S. President Donald Trump is blatantly dismissive of it, so that he's not even requesting U.N. authorization for his invasions.
Thus, the lesson that the U.S. Government learned from the Iraq invasion isn't that the U.S. Government should never again lie about what the evidence actually shows, in order to invade a country, but instead that the U.S. Government should simply ignore the U.N. whenever the evidence doesn't persuade other Governments that an invasion would be authentically defensive instead of purely an act of international aggression.
What might turn out to have been "The Most Important U.N. Security Council Vote Ever" was the 10 April 2018 U.N. Security Council's failure to require the U.S. and its allies to provide evidence to prove that Syria's Government had gassed its own people in Douma on April 7th as the U.S. and its allies alleged, before the U.S. and its allies could, with even just possible legal justification, launch a promised massive bombing of Syria as supposed punishment for the gas-attack that they were alleging. The question of whether or not the U.N. would authorize the American invasion wasn't even being raised; the question was only whether the alleged gas-attack needed to be independently verified before an invasion might possibly legally be launched — and no proposal was passed. Unlike in the 2003 invasion of Iraq, the U.S. never tried to win U.N. authorization to invade Syria in 2018, but simply invaded, casually ignoring all laws, and even denying the need for evidence to back up its allegations against Syria.
If the Russian Government's proposal that the Organization for the Prevention of Chemical Weapons (OPCW) must investigate the case and issue a report on its findings, before any action, such as an invasion, is done by any country, had passed the Security Council, then that would be applying standard legal and juridical practice (that no punishment be imposed unless and until guilt has been proven), and likely no invasion of Syria (such as occurred on April 14th) would have been done, at least until the OPCW's report is issued. But the U.S. and its allies refused to adhere even to this, the minimal legal requirement in any democracy. They instead demanded, and won, a U.S.-and-allied international dictatorship — a lawless, might-makes-right, international world.
A U.N. like this is, essentially, no U.N. at all, just a talking-forum — and that's what now exists: it's a forum merely for the constituent Governments to present their respective propagandas to the world, but no longer actually to negotiate anything, since the U.N. has no military, and now the U.S. Government has become effectively whatever the U.S. military (including its armaments corporations such as General Dynamics) want it to be — and, "To hell with the U.N.!" The way now to buy the U.S. Government has become to buy those corporations' weapons, and then the U.S. Government will ally itself with that country. This is purely transactional, in the interests of America's armaments-firms, not in the interests of the invading public, and certainly destructive of the interests of the invaded public, no matter how profitable it may be for the owners of those armaments-firms. (One can talk instead about "Wall Street," but they're mainly the sellers of stock in America's armaments-firms and associated products and services; so, they are middle-men who represent the interests of the aristocracy, not really themselves necessarily principals — people who are within the aristocracy.)
Among the contrary accounts regarding that alleged Douma gas-attack was "What really happened — Chemical Attack that lead to missile Strikes on #Syria", presenting it as having been set up by the 'rebels' that the U.S. Government supports. But truth is irrelevant for people with power, especially if it runs contrary to the lies that they are pushing.
President Trump came into office promising a rebirth of American manufacturing, but, so far, the vast majority of his boost to U.S. manufacturing has been only to the U.S. weapons-manufacturers — actually by far the largest international arms-sale in world history. On 21 May 2017, I headlined it "U.S. $350 Billion Arms-Sale to Sauds Cements U.S.-Jihadist Alliance" and reported that the day before, "
U.S. President Donald Trump and the Saud family inked an all-time record-high $350 billion ten-year arms-deal that not only will cement-in the Saud family's position as the world's largest foreign purchasers of U.S.-produced weaponry, but will make the Saud family, and America's ruling families, become, in effect, one aristocracy over both nations, because neither side will be able to violate the will of the other. As the years roll on, their mutual dependency will deepen, each and every year." That, sadly, has turned out to be true — and not only regarding America's carrying the Sauds' water (doing their bidding) in both Yemen and Syria, but in other ways as well.
On 21 March 2018, CNBC bannered "Trump wants Saudi Arabia to buy more American-made weapons. Here are the ones the Saudis want"
, and reported what Trump had just negotiated with Saudi Arabia's Crown Prince Mohammed bin Salman al-Saud, which was a step-up in that $350 billion sale, to $400 billion. CNBC associated the Sauds' arms-purchases with 'investments' in the U.S., so as to mislead their audience to think favorably of these sales, but if these sales were actually investments in anything, it was in the ability of the Saud family to join even more fully with America's aristocracy so as for them jointly to impose their will upon any country where they both want "regime-change" — control by themselves, instead of by that invaded country's local aristocracy. (Then, the U.S. Government issues economic sanctions against Russia for 'interfering in our democracy'. But the Sauds, and their allies, Israel's aristocracy, actually do precisely that, routinely, and very effectively!) So: CNBC said: "During the Oval Office talks, Trump touted a creation of 40,000 American jobs due to Saudi military sales.
The president used several maps and charts of Saudi acquisitions to further make his point. The crown prince, likewise, added that last year's Saudi pledge of $200 billion in investments will rise to approximately $400 billion and that a 10-year window to implement the deal was already under way." That was a misleading statement about the amounts, too. Here is how Indian Express had headlined and reported on 18 May 2017: "Saudi Arabia to invest $200 billion in US, purchase arms worth $300 billion
": "As President Donald Trump prepares for his first overseas trip, Saudi Arabia has announced to make a whopping USD 200 billion investment in the US and intends to purchase arms worth USD 300 billion from America, a senior administration official has said." There, too, the Saudi masters got their propagandists to refer to "investments" in relation to "purchase arms worth $300 billion," which turned out, just two days later, on 20 May 2017, to be actually $350 billion — and which amount of arms-purchases now has risen instead to $400 billion, which will be paid, as listed in that CNBC news-report to: Lockheed Martin, Boeing, General Dynamics, Honeywell, and Raytheon. When Trump campaigned for the Presidency, he had promised to be anything but a sales-person for America's war-machine. But, he is so, and this is fascism: socialism for the rich, and 'survival of the fittest' for everyone else. Trump certainly isn't a sales-person for the poor, anywhere. He's what his fellow-fascists call a 'populist', in order to insult the public that they must appeal to for votes.
American 'productivity' thus will increase in the production of death and destruction; but, as economists view things, that is "productivity" and added "Gross National Product," regardless of how much it actually immiserates the world (and, so, economic theory is part of the fraud that enables all of this, essentially, corruption). Thus, economic theory is as fraudulent as is the international 'news' that the propaganda-agencies spread to the public. It's all a "pile of bull," but lots of consumers are buying it, because it's all that they know and it satisfies them — they're not even looking for more than the myths.
Previously, the "Biggest Arms Deal in History" was between UK's aristocracy and the Sauds, the Al-Yamamah deal, which boosted UK's biggest weapons-maker, BAE, and in which the massive corruption became the subject of scandals and a Governmental inquiry, which Saudi Prince Bandar bin Sultan al-Saud forced UK Prime Minister Tony Blair to close with no report being issued. And both the UK and U.S. claim to be 'democracies' — and both Governments accuse Russia of 'interfering' in their 'democracy'!
If the reader wants to know why a web-search for the title of this article "How U.S. Has Virtually Destroyed U.N." probably turns up no mainstream 'news'media in the U.S.-allied world, and even very few "alternative news" sites, then the reason isn't that they weren't offered the article, because they all routinely receive the submission of each of my articles but routinely turn them down. The reason is instead that the most important truths are prohibited from publication in the U.S.-allied world — it's a world dominated by lies. After all: we invaded and destroyed Iraq for no real defensive reason, and our Government has never apologized for that, much less been held accountable, at all, for it. And now, because of the U.S. Government, the U.N. isn't even really a debating-forum, any more. It's just a propaganda-forum, now.
first published at strategic-culture.org
The Post-Coronavirus World Will Be Far Worse than the Pre-Coronavirus World
Signs, especially in the United States, are that the post-coronavirus-plagued world will have even more inequality of wealth, within each nation, than existed prior to the plague. Billionaires are demanding to be included in the bailouts by their governments; and, because billionaires financed the careers of the successful politicians who won seats in their country's legislature, those demands are almost certain to be complied with. Only the least-corrupt nations will be able to recover fully from the current plague.
In the United States, one Party, the Republicans, doesn't even pretend to be concerned about the sharp growth of wealth-inequality that has occurred after 1980; but the other Party, the Democrats, do make that pretense; and so a deal is being worked out in the U.S. Congress that both Parties tout as being a 'balanced' bailout bill, because it will bail out both the megacorporations that the billionaires own and control, and the public — their workers (especially the ones that those billionaires are now laying off). Because of the enormous give-aways to the billionaires, deficit-spending by the government will be soaring out of control, and ultimately paper money will plunge in value, which will bring on a global depression that will be even worse than 1929. Some governments will find ways to nationalize the wealth of billionaires and perhaps also of centi-millionaires in order to fund the continuing needs of the public, and there will be a scramble by many of those super-rich to relocate to countries where they still will be able to bribe enough government officials so as to provide safe haven for their accumulated wealth. Graduated exit-taxes will be instituted by any of the industrialized countries that aren't totally corrupt, but the most extremely corrupt industrialized countries will experience massive capital-flight and a future as a "third world" nation, under extended martial law.
On March 22nd, Zero Hedge headlined "'Stop The Coronavirus Corporate Coup': Here Is A List Of Everyone Demanding A Bail Out" and Matt Stoller listed the many different categories of mega-corporate lobbyists who were urging the Senators and Representatives, whose campaigns they fund, to bail out their respective industries. The few other news-sites that republished or linked to that list were other alternative-news sites, not any of the mainstream ones. This was a major news-report, which deserved to become a top topic of public conversation, but that didn't happen; and here is an example of what it said (and which the rest of the press were hiding):
Mitch McConnell wants big business to rule, so he's playing a trick. He is refusing aid to workers. Democrats are negotiating with him to try to get unemployment assistance and social welfare. McConnell knows Dems won't pay attention to corporate bailouts if he takes the public hostage, and Democrats know that they can hand out favors to big business if they just talk about how they got larger checks for workers.
So McConnell will put a bill down in front of Nancy Pelosi, with some good stuff like unemployment insurance, but also the really ugly stuff to hand over America to big business. The corporatists in the Democratic Party will tell her "Pass the corporate coup bill, after all we have to do something right now!" And because she doesn't have the votes from within her own caucus because of these corporatists, and because she doesn't particularly care if America is sold off to big business, she will do that.
It's a song-and-dance routine, performed by the two "good cop, bad cop" political Parties (both being fascist), in order to satisfy not only the audience (the voters) but the producers (the billionaires).
On March 21st, I headlined "Triage Starts in Government Bailouts: Who will get the money?" at Strategic Culture, and submitted that news-report to all U.S. major news-media and most of the minor ones. 24 hours later, it was picked-up by only a few minor, very courageous, ones: The 21st Century, The Duran, Free World Economic Report, The Russophile, and Verity Weekly. The corruption is so pervasive that all of the news-media that 99.99% of the public rely upon for their 'news' were filtering out the news of the impending massive public subsidies to America's billionaires by America's 'public representatives' — shoveling the public's money to the billionaires as bailouts.
Stoller was obviously correct that the Republican leader of the U.S. Senate, Mitch McConnell, "is refusing aid to workers" and (though Stoller — being himself a Democrat — didn't use nearly such direct language to say) the Democratic Party's leader in the House was trying to wrangle enough of the desperately needed funds for the American public (all sorts of workers, and, here, especially the most important ones, such as nurses, police, etc.) so that congressional Democrats would be able to give the billionaires what they demand, while still getting enough aid out to everybody else in order for congressional Democrats to be able to hold their congressional seats after November 3rd. (In America, keeping the poor away from the voting-booths, and undercounting the votes that they do cast, are usually insufficient in themselves so as to prevent a Republican landslide, and so as to supply the bumper-sticker benefits to non-billionaires that will be needed if Congress isn't to become 100% Republican.)
In a profoundly corrupt country, over 99% of the press will filter-out such basic details of the true extent of the corruption, because, otherwise, the revolution that results will be against the aristocracy, instead of against the public itself (and producing martial law), and a revolution like that could produce actual democracy, which the few people who fund politicians' careers fear the most. They much prefer, if a revolution is coming, that it be clearly against the public (and result in martial law, which will protect only themselves), not against themselves. In fact, such a country has a government almost solely in order to protect the aristocrats from the public, and almost not at all in order to protect the public from the aristocracy.
Interestingly, the very next day, on March 22nd, my headlined news-report was "Coronavirus Cases Soaring Much Faster in U.S. Than in Other Countries" and even that report had no takers in America's major 'news' media, despite its being merely a presentation of the statistical data, which discredited the U.S. Government in comparison with almost all of the other governments in the world. (Only Turkey and Luxembourg had even worse figures at that time, but they were just beginning to count their coronavirus cases.)
On March 25th, I headlined "Coronavirus: Why Russians Are Lucky to Be Led by Putin", and wrote that "within just three more days, America will have the world's largest total number of cases, if Italy won't. And after yet another day, the U.S. will almost certainly have the world's largest total number of cases." Both statements came to pass. On March 26th, America's Institute for Health Metrics and Evaluation published their projection of the rise and subsiding of the coronavirus-19 in the U.S., and predicted that this country would end up with 460,000 cases and 81,114 deaths from the disease, and that America's epidemic would virtually end by July 1st. I headlined about that, on March 28th, "Projection: U.S. Coronavirus Deaths to = China's Total Coronavirus Cases".
Though all of these news-reports are major, and deal with the news-event that is currently obsessing all of the world's news-media — which is the coronavirus plague — the news-media that are owned or otherwise controlled by America's billionaires rejected them all and are doing everything else that they possibly can to delay, if not to block entirely, the crucial information from reaching America's voters, and this is happening during an election year. The Jeff-Bezos-owned liberal neoconservative Washington Post reliably reported on March 28th that "in private discussions, the president has been driven much more by economic concerns, according to people involved in internal debates or briefed on them. Trump has long viewed the stock market as a barometer for his own reelection hopes." Safety of the American people is a secondary concern for him. That was being reported by a Democratic Party billionaire against Republican Party billionaires, but what it actually indicates is America's being controlled by its billionaires, of both Parties. The public, here, actually don't count.
Under conditions such as this, one can easily understand — with this type of information, which is being hidden from the public — only politicians who satisfy the wants of the nation's billionaires stand even so much as a chance to win seats in Congress or other high elective office. The public are so misinformed that they are like horses with blinders on and which are being driven by a master to whom they are expendable and replaceable, not objects of authentic and caring concern for their welfare. Everything has a price to such a master, who will grab at any chance to replace any of the public by a cheaper alternative, so long as "the job gets done" — to satisfy their own unlimited greed. The deception of the public is so extreme that America's Establishment are so brazen as to blame China and Russia for the "disinformation" about the cornoavirus-19 pandemic. The U.S. regime is utterly shameless.
These bailouts of billionaires will destroy what little was left of a democratic future for America — and for any other nation that happens to be nearly as corrupt.
Is this to be the long-term impact of coronavirus-19? Is there an alternative likely scenario? Perhaps the coronavirus plague won't spread as uncontrollably as is feared, but even if that is the case, what justification exists for bailing out any of the super-rich, in response to an emergency that is causing widespread suffering? And yet, America is doing that.
Washington- Beijing Moves: Conflict of Choices?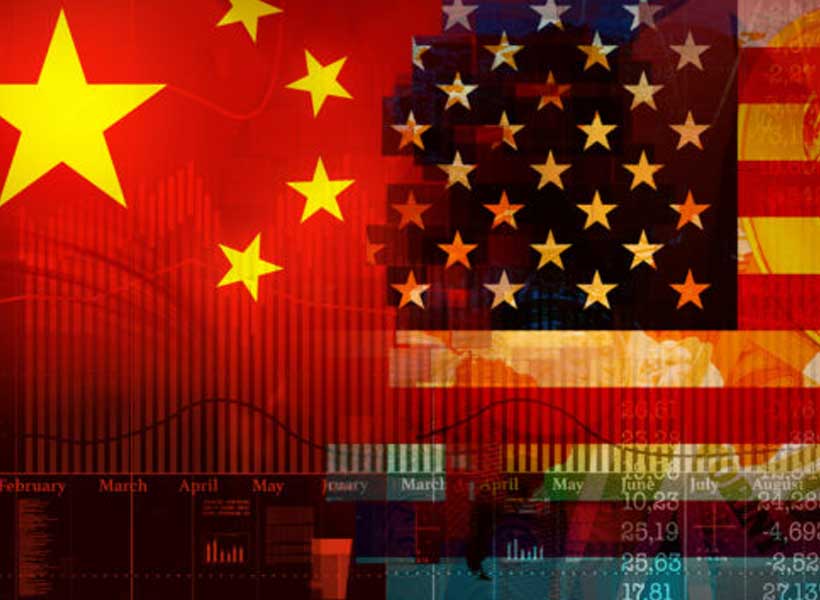 At the beginning of the 21st century, the relationship between US and China have transformed rapidly as the latter surpassed the former in being leader in global economic and political scene. The role of china in fast pace technologies the latest development in hard, soft and smart power and artificial intelligence are key pillars in shaping nations' security and foreign policy. The prevailing international order determines the dynamics of world politics. The contemporary world facing non-traditional security threats, such as ethnic sectarianism, Global warming, transnational migration issues, and resources.
Sino- American rivalry in the new age is a tussle for domination international politics. America's principle architecture nineteenth-century world order, establish hegemony, facing a primary threat from the rising power China of the 21st century. The current nature of the international system reflects competition rather than cooperation, however, there is an increasing idea that the world is converging as a result of globalization.
Historically, the Sino-America relationship is in fierce competition, over political, ideological and preservation of cultural identities. Though the People Republic of China established in 1949 in a cold war era, the formal relations establish after Richard Nixon visits China in 1972. The nature of competition varies from time to time. In the era of interdependence, where states depend on each other in complex mechanism of security, economy, technology, and resources which are interrelated variables, the two powers in a mood for global domination
Traditionally, Americans followed the policy of protectionism but after the end of the world war II, policy shifted to address the global problems. In meanwhile, the Chinese portrait itself " Hide your strength and bide your time", but after the 18th National Congress party meeting and Xi Jinping as a new president, guiding a new ideology called "Xi Jinping Thoughts" assert that "The greatest strength of the system of socialism with Chinese characteristics is the leadership of the Communist Party of China; the Party is the highest force for political leadership". The policy reflects the Chinese ambitions in the future international scenario and that was the challenging phase of America to counter this global aspiration.
With evident, China becomes a second-largest economy in the world, competing America in the global economy, taking lead in technology, effective weapon delivery system and highly modernize military equipment showcase itself as an alternative power in the world. These development trigger America to adopt the offensive policy, which Donald Trump administration announced in First National Security Strategy in 2017, define China as a "Competitor" threat for national and strategic interests of Americans worldwide.
Subsequently, the current pendulum of Washington- Beijing partnership is fluctuating over the multiple issues and crises. The economic competition is fault line of the crisis, Washington shows its concern on China's economic model which has state-led development, not a free market mechanism. In addition to that, this model creates a misconception between the two states. This competition led to the trade war in 2018 which intensifies economic rivalry and ultimately impose a huge tariff on steel and aluminum and China retaliatory measures in exchanging supplies and goods. Similarly, Chinese set a new pattern of alignment providing soft loans to -developing countries for instance Pakistan in terms of China Pakistan Economic Corridor (CPEC) building a connectivity infrastructure under the banner of the "Belt Road Initiative, to connect Asia, Central Asia , Europe, and Africa that threats American ambition for global power.
The second impediment in the bilateral relationship is Technology competition. In the global world, technological advance countries establish strongholds to compete for new multifaceted challenges. China on earlier phase of development relies on western technology for building military equipment and other telecommunications devices. But the recent developments reflect china's capabilities to overcome this issue by establishing innovation center and independent research center, to avoid any future blockade by Americans. This technology tussle have seen in last year when America banned Chinese based Huawei Company to build a 5G technology and transfer to other countries. America act promptly feels it's a national security threat, blacklist the company and issued a warning claiming China using this technology for spying.
Lastly, Former Secretary of State Henry Kissinger once said, "conflict is a choice, not a necessity." This expression illustrates Sino- American relations in ongoing tensions. In an era of complex interdependence, choices, and options are always on the table to resolve global issues, stabilize international order, shared economic prosperity, addressing global warming issue. Washington- Beijing policy to control world affairs damaging the international order. America intention towards the Indo-Pacific region to contain Chinese influence particularly in South China Sea, stationed thousands of maritime troops to shun any Chinese's involvement destabilized the region. American policy to support the Taiwan issue, Chinese authorities shows displeasure claiming internal matter of china. China increasing changes its image represent as a world leader option to deal with challenging world affairs issues, by using soft power image and not interfere in the internal matter of any states, whereas American image diminished in the promotion of democracy and protection of Human Rights. American policymakers criticized the Chinese strict state regulation policy towards its citizens and Uighur Muslims in name of radicalization.
The future of Sino-America relation is uncertain, unclear no one predicts the actual situation, evolving circumstances, and paradigm shift in international system determine position who leads the world?
Why Trump Will Probably Win Re-Election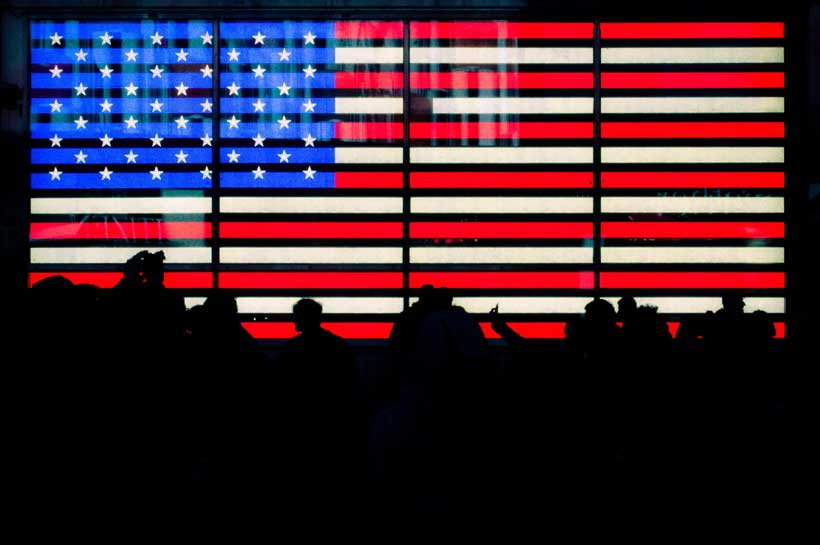 Throughout this election-season in the United States, there have been many indications that the stupid voters who chose Hillary Clinton over Bernie Sanders in 2016 are doing it yet again and chose Joe Biden over Sanders, and that they thus handed Trump the victory in 2016 and are repeating that performance in 2020. A new poll shows it clearly.
Just like happened in 2016 when Democratic Party voters who were predominantly Blacks and/or seniors swallowed the propaganda-line from the billionaire-controlled 'news'-media against the electability of Sanders, those voters have done it yet again and thus are re-electing Trump by having passed over the only candidate who could have beaten him: Sanders. (A 22 June 2016 Bloomberg News report right after Hillary had won the nomination headlined "Nearly Half of Sanders Supporters Won't Support Clinton". Of course, that was being reported too late for the voters to be able to do anything about it; and this is how the billionaires work.)
Unlike Biden and Hillary, who have had broad support but tepid support, Sanders has had support which is not only passionate but is also broader than does Trump. A close reading of all of the polls, both in 2016 and in 2020, indicates that the passion-factor is crucial to electoral victory (bringing a candidate's voters to the polls, or "turnout") but hasn't been receiving the attention it deserves in the billionaires' 'news'-media; and, therefore, the stupidest voters haven't even noticed it, but went instead for what they had been deceived to think 'the more-electable' candidates: Hillary in 2016, and Biden in 2020.
This fact is now receiving yet another powerful confirmation in an ABC News poll published on March 29th, headlined "Biden consolidates support, but trails badly in enthusiasm: Poll".
It says:
strong enthusiasm for Biden among his supporters – at just 24% – is the lowest on record for a Democratic presidential candidate in 20 years of ABC/Post polls. More than twice as many of Trump's supporters are highly enthusiastic about supporting him, 53%.
It's even worse than it was for Clinton in 2016:
There's déjà vu in these results: Former Secretary of State Hillary Clinton found herself in largely the same position four years ago. She, too, had a slim lead among Democrats for the nomination and ran essentially evenly with Trump among registered voters. And she lagged in enthusiasm, with a low of 32% very enthusiastic in September 2016. Biden is 8 points under that mark now.
Furthermore — and also confirming earlier polls —
Eighty-three percent of Democratic and Democratic-leaning seniors prefer Biden over Sanders, up 63 points from February; two-thirds of blacks say the same, a 34-point increase.
Eighty percent of Sanders backers say they'll vote for Biden against Trump; as noted, 15% say they'd back Trump. (This is familiar: Twenty percent of Sanders supporters said they'd vote for Trump in spring 2016.)
How bad was it in 2016? It definitely accounted for Hillary's losing to Trump in the three crucial states: Michigan, Wisconsin, and Pennsylvania. Although the early estimate that "Nearly Half of Sanders Supporters Won't Support Clinton" turned out to have been an over-estimate, the final real figures still were quite substantial, and far more than accounted for Hillary's losses in each one of those three crucial states. So: they're doing it again. And maybe they'll blame Russia, and blame Sanders, for it, like Hillary did in 2016. A con-job requires not just a deceiver but a believer. But to be conned repeatedly — that is plain stupid.
(The lying New York Times headlined misleadingly on 28 March 2017, "A 2016 Review: Turnout Wasn't the Driver of Clinton's Defeat", and reported that, "it's clear that large numbers of white, working-class voters shifted from the Democrats to Mr. Trump," and hid the fact that, as McClatchy newspapers headlined on 1 May 2017, "Democrats say they now know exactly why Clinton lost" and that this reason was that "Obama-Trump voters, in fact, effectively accounted for more than two-thirds of the reason Clinton lost." Those voters did "turn out," but for Trump instead of for her — and, yet, the Times said it wasn't a "Turnout" problem. Of course, they simply lied. This is how billionaire-controlled media deceive enough of the stupid in order to sway 'elections': they do it by misreporting the reality.)
The stupid never learn from prior experience, but only repeat prior experience. There is a difference between learning and repeating. Repeating can be done merely by memorizing, but learning requires real intelligence.
Those suckers chose the candidate they had been spoon-fed to misbelieve would have the higher likelihood of beating Trump — the propagandized lie (and it was a lie) being that Hillary (and now Biden) would be more electable than Sanders. This stupidity is the reason why Americans in the coming November 3rd election will be choosing between two candidates both of whom are — themselves — stupid, incompetent, and disastrous for everyone except perhaps their own billionaire sponsors, who had financed their campaigns.
The idiots want America to be run like a business, but the problem is that it already is. And to the stockholders in it (mainly the billionaires), their own benefits are vastly more important than the benefits to the public — the billionaires' corporations' employees and consumers — the taxpayers (other than themselves — if they even pay taxes, or at least taxes that are higher than the subsidies they receive from the government). Collectively, the billionaires get the government that they have bought, and everybody else gets the scraps that are left over. And this is how it happens.
What could turn things around for Biden? Over 100,000 U.S. coronavirus deaths could, even if Biden would have handled the crisis just as atrociously as Trump did. (Of course, Sanders wouldn't have, but apparently he's gone from the contest now.)