The Zigzagging Personnel Policy of Donald Trump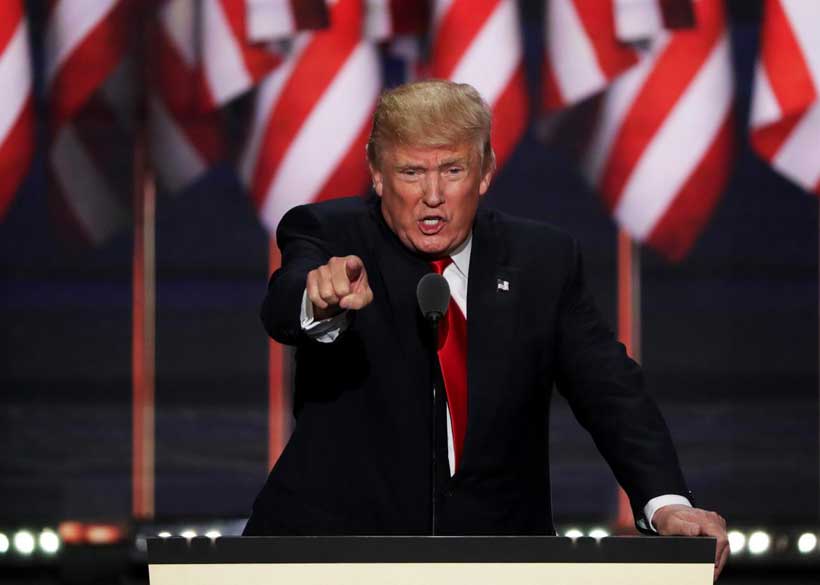 It will soon be eighteen months since Donald Trump, the most eccentric, provocative and authoritarian leader in U.S. history, took up office as President of the United States. He came to power as a fighter against the Washington political elite and became a symbol of the protectionist, anti-globalist and anti-expansionist moods long simmering within American society. He read those moods and offered simple, understandable, quick and radical methods of resolving the problems that had been accumulating for decades.
Despite the mass protests, the opposition of Congress, the courts and the Washington bureaucracy, the unwillingness of many federal officers to serve in the billionaire's administration, the malicious media attacks, the inquiries into the "Russian connection" and the looming threat of impeachment, Trump's presidency is still pretty much alive and kicking, to the surprise of many. He has managed, although not without difficulty, to fit into the existing political landscape and become an integral part of it.
The original top tier of the Trump administration was represented by a slapdash Conservative coalition held together by libertarian values, one that comprised several rival groups that had emerged during the 2016 campaign: 1) Trump's closest associates (his son-in-law Jared Kushner, his lawyer Michael Cohen and billionaire Carl Icahn); 2) a group of influential retired generals (James N. Mattis, John F. Kelly, Joseph Keith Kellogg Jr. and Herbert Raymond McMaster); 3) organizers and activists of the right-wing Conservative Tea Party movement, which had provided Trump with the core of his voters (Mike Pence, Mike Pompeo, Marc Short, Betsy DeVos, Tom Price and Kellyanne Conway); 4) representatives of business circles (Steven Mnuchin, Gary Cohn, Rex Tillerson, Wilbur Ross and Steve Schwarzman); and 5) traditionalist right-wing Conservatives who provided Trump with ideological support (Steve Bannon, Jeff Sessions, Reince Priebus, Stephen Miller, Peter Navarro, etc.).
Due to its fragmented and incoherent nature, the Trump administration was extremely contradictory and unstable from the very start. Another negative factor was that many of its members had chanced onto Trump's team without the requisite political and life experience; they were not prepared to perform as senior government officials in a very tense situation on both domestic and international political fronts. Many of them were appointed after other candidates had opted out.
One Resignation after Another
The first days of Trump's presidency were darkened by events that caused many observers serious concerns. Cobbled together from people who were too different from one another and not always properly trained for their roles, the new administration started developing cracks. Differences mounted not only among the various factions, but also among the presidential advisors. Pieced together with the use of several heterogeneous groups, the administration started falling apart surprisingly quickly, shedding the president's closest assistants for various reasons. The first one to go was Lieutenant General Michael Flynn (retired), Trump's national security advisor, who stepped down on February 13, 2017, just 23 days after his appointment, amid allegations of his suspicious contacts with Russian Ambassador Sergey Kislyak.
This was followed by the dismissals of several high-ranking members of the administration. James Comey was fired as Director of the Federal Bureau of Investigation on May 9. The summer of 2017 proved particularly rich in dismissals. Rich Higgins, the director of strategic planning at the National Security Council's strategic planning office, was forced out on July 21. On the same day, Trump's press secretary Sean Spicer announced his resignation. Assistant press secretary Michael Short bowed out on July 25. White House Chief of Staff Reince Priebus and Communications Director Anthony Scaramucci were let go in late July. The latter had only been at his post for 10 days. Scaramucci later claimed that a conspiracy was in the works against Trump.
Richard Trumka, President of the American Federation of Labor and Congress of Industrial Organizations (AFL-CIO), quit Trump's manufacturing council on August 15. Steve Bannon, one of the most infamous members of Trump's administration, stepped down as the White House Chief Strategist on August 18. On that same day, Special Advisor to the President on Regulatory Reform, Carl Icahn, also left his post. Almost all members of the president's Committee on the Arts and Humanities resigned on August 19 due to their strong disagreement with Trump's policies. Deputy Assistant to the President Sebastian Gorka left on August 25.
The administration began to disintegrate. It appeared that the ominous forecasts voiced in Washington during the 2016 electoral campaign to the effect that Trump's only legacy would be internal discord, chaos and confusion were coming true. Indeed, such an unstable, fluid and constantly reshuffling administration was unusual for America.
Mass resignations of senior administration members continued in 2018. These included Deputy National Security Advisor for Strategy Dina Powell and White House Communications Director Hope Hicks. In March alone, two key members of the foreign political wing bowed out: Secretary of State Rex Tillerson was replaced in his post by former CIA Director Mike Pompeo, while National Security Advisor Herbert McMaster was superseded by super-hawk John Bolton. Also in March, Trump's chief economic advisor Gary Cohn left the administration. Cohn had criticized the protectionist slant in the president's policy, in particular his decision to introduce customs duties on aluminium and steel imports.
The Dismissal of Rex Tillerson
The process of approving Tillerson's candidacy in the Senate in January 2017 was not easy. The main accusation against him was his links with Russia. The former Chairman and Chief Executive Officer of Exxon Mobil, who had been developing business ties with Russia and was awarded the Russian Order of Friendship, was considered one of President Vladimir Putin's American friends, so his ability to confront Russia as secretary of state was called into question.
Tillerson chose the only possible tactic, recognizing Russia as a serious adversary under Western sanctions while arguing that a certain level of dialogue with Moscow was still necessary. However, his intentions regarding Russia fell victim to the ongoing investigation into Moscow's alleged intervention in the U.S. election, so they never materialized. Tillerson, who did not try to conceal his generally positive attitude towards Russia, came to be viewed as a mild and weak politician struggling under a load of prior experience and new circumstances. His behaviour obviously ran counter to the outspoken anti-Russian position of United States Ambassador to the UN Nikki Haley and U.S. Special Representative for Ukraine Negotiations Kurt Volker, who view Russia as an aggressor and an unreliable partner. Trump was also dissatisfied with Tillerson's stance.
Tillerson and Trump had different views – not only on Russia's intervention in the U.S. election, but also on the United States' approaches to Iran and North Korea. The secretary of state, whose authority was consistently shrinking, was evidently irritated by Trump's harsh, ill-conceived and threatening statements addressed to these countries. The two men failed to agree on a common approach to Afghanistan. Tillerson was against the idea of building the United States' military presence and continuing military actions in the country, something on which Trump insisted.
During his brief stint in the Department of State, Tillerson, much like Trump, developed a specific behavioural pattern: his stern and sometimes belligerent statements would be interspersed with positive and even peaceful comments. This periodically gave cause for dangerous, misleading illusions.
Nevertheless, a peace-loving, moderate, balanced and thoughtful Tillerson, with his disposition for negotiations, was the odd man out in the Trump administration. The differing approaches to tackling problems and conflicting takes on the nature of those problems were aggravated by the barely-disguised personal animosity between the two men. Many suspected that the 69th Secretary of State would soon be replaced (and Tillerson's dismissal had been mulled over since autumn of 2017). Trump's tweet about Tillerson's dismissal, written in the president's signature style, came as a logical finale to the drawn-out drama.
To be fair, such situations have happened before in the U.S. state administration system. Based on checks and balances allowing the reconciliation of differing interests, that system is inevitably conducive to the emergence of rivalling centres of power and department heads opposed to one another within the presidential administration. This often results in fights for access to the president, and even to irreconcilable confrontations [1].
The Appointment of Mike Pompeo
Back in the summer of 2017, Mike Pompeo was believed to be the most probable next United States Secretary of State. Unlike Tillerson, the Director of the CIA was much closer to the authoritarian Trump, both ideologically and politically. Having switched to politics in 2010 after the end of his business career, Pompeo, a sympathizer of the Tea Party movement, came to be a leading figure in the ultra-right Conservative wing. He supported Trump in 2016 and was appointed Director of the CIA under the new president. In this new post, Pompeo clearly demonstrated his right-wing Conservative sentiments: he spoke against the nuclear deal with Iran, criticized the proponents of talks with North Korea, advocated electronic surveillance of U.S. citizens and defended the tortures practised at CIA black sites.
As the new Secretary of State, Pompeo is undoubtedly a more professional, reliable and unwavering conduit of the president's policy than Tillerson, who had a habit of thinking before acting.
The Dismissal of Herbert McMaster
Another high-profile dismissal involved Lieutenant General Herbert McMaster, Trump's National Security Advisor. McMaster participated in virtually all the major modern military conflicts involving the United States and had earned a reputation as a well-rounded individual and a reserved and thoughtful officer with a strategic mind. To everyone's surprise, McMaster proved the only member of the Trump administration whose appointment was hailed by both the president's supporters and his opponents. Many expected him to provide the uniting momentum the new team needed so badly.
McMaster's view of Russia was largely in line with the predominant opinions within the U.S. political elite. He believed that Putin was deliberately pursuing an aggressive policy aimed at dismantling and revising the new world order that had emerged following the Cold War. On the other hand, he was generally restrained and, unlike Trump, tried to avoid half-baked decisions and overreactions.
It was up to the generals in the presidential administration to maintain at least some appearance of discipline and order amid the confusion generated, especially in the early days, by Trump himself with his chaotic thinking and ill-conceived actions.
The Appointment of John Bolton
In the most controversial and symbolic appointment yet, McMaster was replaced by John Bolton, an infamous uncontrollable hawk. Bolton's long career with the Department of State and the Department of Justice under Presidents Ronald Reagan and George W. Bush provided him with a springboard for furthering his political career, which truly flourished as Under Secretary of State in the George W. Bush administration during the "war on terror."
A proponent of the 2003 invasion of Iraq, Bolton radicalized the United States' foreign policy in an effort to integrate the country's overseas interests into the "war on terror," which became a universal vehicle for strengthening Washington's global dominance. As the United States Ambassador to the UN in 2005–06, he did his utmost to make U.S. unilateralism policy, which was criticized even by America's allies, a reality.
Bolton's excessive asperity and conservatism deterred many. A consistent critic of the United States' adversaries (Iran, North Korea and Russia), he dismissed even the possibility of seeking a compromise with them. The escalation of tensions with Russia, in addition to Trump's threats towards North Korea, aimed at gleaning concessions from Kim Jong-un, created an appropriate atmosphere for renovating the presidential administration and taking the ultra-Conservative Bolton on board.
New Director of the CIA Gina Haspel
The top-level reshuffles in the Trump administration resulted in a career boost for Deputy Director of the CIA Gina Haspel, whom the president offered the post of director. If approved by the Senate, Haspel will become the first female director in the history of the CIA.
Haspel had previously headed a black site in Thailand and is still being accused of having organized the torture of terrorist suspects kept there. She had also served as deputy director for foreign intelligence and covert action in the National Clandestine Service. This career path provides some background for the portrait of the new CIA director.
The constantly zigzagging personnel policy, as well as the recent reshuffles, which mainly affected the foreign political wing of the Trump administration, indicate not just swift personal shifts, but also an evolution of the country's foreign policy towards a tougher strain of offensive pragmatism amid the continuing inquiry into Russia's intervention in the 2016 election and the intensifying conflict with Moscow.
The key factor in the current situation is certainly the poisoning of Sergei and Yulia Skripal, which is believed to have been orchestrated by Russia. The subsequent anti-Russian actions in the form of the expulsion of diplomats from a number of leading Western countries and new U.S. sanctions against Moscow are merely another escalation in the dangerous and rapidly worsening United States–Russia confrontation.
[1] Valery Garbuzov. Alexander Haig, or Three Careers of a General. Moscow, 2004.
First published at our partner RIAC
Trump Plans to Keep U.S. Troops Permanently in Iraq
A reliable and exceptionally knowledgeable source, who doesn't wish to be publicly identified, has confidentially informed me that an agreement has been reached in which U.S. troops will remain permanently in Iraq but under exclusively NATO command, no longer under the command of CentCom (US Central Command in the Middle East).
On February 12th, NATO's defense ministers agreed to increase operations in Iraq. NATO Secretary General Jens Stoltenberg has been working ever since Fall of 2019 to prepare this plan (Trump had been pushing for it even before that), and Stoltenberg has consulted in Jordan with King Abdullah, and also in Brussels with Sabri Bachtabji, Tunisia's Minister of Foreign Affairs, because Tunisia is a key part of Trump's plan, to use other NATO nations as America's proxies controlling the Middle East.
On February 1st, pro-Muslim-Brotherhood Turkey agreed to the plan, and will be transferring jihadists (al-Qaeda-affiliated groups, plus some ISIS) from Syria's jihadist-filled Idlib Province, into Libya, via Tunisia, so as to boost the forces of Fayez al-Sarraj (former monarchist now backed by U.S., EU, and Turkey) to defeat the forces of Khalifa Haftar (former Gaddafi-supporter, now in the Libyan civil war claiming as his objective the defeat of all jihadists there). Whereas U.S., EU, and Turkey, back al-Sarraj, Russia isn't involved in the war, except trying to negotiate peace there, but al-Sarraj rejects any involvement by Russia. Turkey's interest in Libya is to win Libya's backing so as to be in a stronger position to win turf in the emerging competition for rights to oil and gas under nearby parts of the Mediterranean Sea. To have Libya beholden to Turkey would be to increase the likelihood of Turkey's getting that offshore oil.
America's position regarding the jihadists that Turkey has been protecting in Syria's Idlib province is that they can be useful as proxy boots-on-the-ground to defeat Haftar, whom America too opposes, favoring al-Sarraj, whom Turkey likewise backs; so, Turkey and U.S. are cooperating on this effort in Libya.
America's interest is in overthrowing Syria's secular Government and replacing it with one that would be acceptable to the fundamentalist-Sunni Saud family who own Saudi Arabia. In order to do this, America will therefore need to keep its forces in Iraq. Otherwise, Russia and Iran, both of which America and the Sauds hope ultimately to conquer, would have stronger influence in the Middle East, which neither America nor the Sauds want. America invaded Iraq not only directly for its international corporations to profit, but also in order to have its hundreds of bases there from which to control the entire Middle East — bases that are supplied out of the world's largest Embassy building (from which even other U.S. embassies are supplied), which building was constructed in Baghdad after the 2003 invasion. Trump's plan now is to bring in NATO allies, so that they will help out in the Middle East, more than in the past. Trump wants America's vassal-nations to absorb some of the financial burdens of imposing empire, so that America's taxpayers won't need to fund the full cost of it, for the benefit of the billionaire owners of international corporations that are based in the United States and in its allied (or vassal) (including other NATO) countries. This is why Stoltenberg has been working, for months, to effectuate Trump's plan.
On February 1st, the veteran Middle Eastern reporter David Hearst headlined at his Middle East Eye site, "EXCLUSIVE: US military offers Iraq a partial pullback", and he reported that,
A representative of the US military told the Iraqis present that the United States was prepared to leave positions in or near Shia-majority areas, such as Balad Air Base, which is located 80km north of Baghdad and houses US trainers and contractors.
Washington, the Iraqis were told, could even consider reducing its presence in Baghdad.
"We are prepared to leave some of the Shia-majority areas, like the base in Balad. Maybe we could reduce our presence in Baghdad," the military representative told his Iraqi counterparts, who understood from this that the US presence in the Iraqi capital would be reduced to guarding its embassy and the airport.
However, the US side categorically ruled out withdrawing from their biggest air base in Iraq, and indeed the whole Middle East, Ain al-Assad. …
For the US side, Ain al-Assad was its "red line".
The representative said: "We cannot even start talking about withdrawing [from that base]. Withdrawal is out of the question."
Such was the sensitivity of these discussions that they were held well away from Iraq. The meeting took place in the private residence of the Canadian ambassador to Jordan in Amman, Middle East Eye was told.
Present at the meeting was a representative of the US military, a Nato official and a senior Iraqi security adviser.
America needs the vast Ain al-Assad base in order ultimately to overthrow Bashar al-Assad (no relation), Syria's secular President, who is allied with Russia and with Iran. NATO will increasingly be taking over this function of assisting the war for regime-change in Syria.
On February 15th, Middle East Monitor bannered "Iraq: Washington to strengthen presence of NATO to disengage militarily from Baghdad" and reported that America's allies will take over there but "This will only work if the NATO mission includes a strong US component." So: America's withdrawal will be only nominal. This will help NATO by assuring that Trump won't abandon NATO if he wins a second term, and it will also help Trump to win a second term by Trump's claiming to be withdrawing from the Middle East even without actually doing any such thing.
The aim of this is to fool the public everywhere. In international affairs, this is the way to win: first, fool your own public; then, get your allies to fool theirs. That builds a "coalition." Donald Trump is doing precisely this.
Trump is continuing Barack Obama's wars, just like Barack Obama continued George W. Bush's wars. The plan for America to control the Middle East remains on course, now, ever since 2001. As Obama often said, "America is the one indispensable nation." (All others are therefore "dispensable.") It is certainly the leading nation. And America's aristocracy possess patience. They know that Rome wasn't built in a day. In order to be the leading nation and the biggest international aggressor (so that "America is the one indispensable nation"), what is essential is to treat every other nation as being "dispensable" (make them fear you), so that either they will do as the leading nation wants, or else they will be dispensed with — they will become added to the list of target-nations to be conquered. They are dispensable; they are disposable. A disposable nation is aware of its subordinate position. On February 15th, the International Institute for Strategic Studies reported that
the US dedicated a significantly higher proportion of its defence budget to procurement and R&D than its NATO allies. European countries are increasing their defence investments as a share of their total spending – for those countries with available data, funds rose from 19.8% in 2018 to 23.1% in 2019 – but the equivalent category reached 29% in the US. The United States' defence investments were thus worth around four times as much as European states' combined.
A nation which spends 29% of its GDP on "defence" might be weak in other ways, but everyone in the world will fear it, and all other nations will know that they are "dispensable," because the country which spends that high a percentage (and there is only one which does) also happens to have the world's largest economy. Any other country, which isn't one of its vassals, will be viewed by it (or by its aristocracy) as being an "enemy" — a nation that is targeted for "regime-change," instead of for being a market. And being a targeted nation is very different than being a target market. It is to be only a target — a target of sanctions, a target of coups, and, if those fail, then a target of invasion and military occupation, like Iraq is.
(However, actually, the U.S. spends only around 7% — $1.5 trillion divided by $22 trillion — of its economy toward the Pentagon and the rest of America's military. Still, it might be the highest percentage on Earth. Because around $1 trillion yearly in U.S. military spending is off-the-books, that 'defence' figure could actually be closer to 10%. But it's not 29%. Right now, around 20% of U.S. GDP goes to buy healthcare, which is the very largest percentage for healthcare of any country on the planet. America's quality of healthcare is at or near the lowest of all industrialized nations; so, the wastage in its healthcare is even larger than in its military.)
Iraq and Iran and Syria — and every other nation that is friendly toward Russia — all of them, are targets of the U.S. regime. That's why Trump plans to keep U.S. forces in Iraq: Iraq was conquered in 2003, and he wants it to stay that way.
Trump impeachment failure: What is in store for America and the world?
On February 5, the US Senate found President Donald Trump not guilty of actions which could be classified as requiring his removal from office. All Republican Senators, who have a majority in the house, except Mitt Romney, turned down both charges against the president which accused him of "abuse of office" and " obstructing Congress work."
That impeachment is not the option was obvious to any Washington insider from the very beginning. To remove Trump from office it was necessary to enlist the support of two thirds in the Senate, which is unrealistic at the moment. The more moderate opponents of the head of the White House could, if they wanted, remind themselves and others that until the very last they were calling for considering all the pros and cons of an attempt to remove the president from office. A number of experts believed that "a threat of the impeachment procedure, without specific measures to this effect, would be a much safer way to ensure the defeat of Donald Trump in the next year's presidential election."The hearings as such would demonstrate the "incompetence" of the current head of state. Even Speaker of the House of Representatives, Nancy Pelosi, who ultimately came to lead the Democratic attack against Trump, warned in March last year that "impeachment divides the country in such a bad way that … we should not follow this path". Last December, The Washington Post pointed out that in America, "there is extremism, there is no political clairvoyance, while the voices of reason are drowned in hyper-party cacophony."
Over the past years, Washington has indeed seen a continuing buildup of fierce political battles. The political layout which came into place after the mid-term elections in 2018 – the Democrats control the lower house and the Republicans have majority in the upper – has resulted in a situation in which battles are waged not just for every yard, but for every inch of political space.
Success in the lower house midterm elections, that is, getting the largest number of seats since 1974, has clearly encouraged the Democrats. Given the situation, an attempt to impeach the president was seen by their leadership as a good opportunity to return anti-Trump inquiries to the political agenda. In addition, the expectations of Democratic Party supporters regarding the launch of impeachment procedure were so high that a refusal of the party leadership to try to remove Trump from office could cost Democrats votes this year. We should not forget that we are talking not only about the presidential election, but also about the next congressional election campaign.
The confrontational scenario of the 2020 election campaign appears almost inevitable. Critics of the president do understand this, so their statements after the failure of the impeachment move are predictably radical – now Trump is unbound. They believe that he will now move with renewed vigor towards the implementation of his "anti-American fantasies." Trump's supporters are so dazed by ideological confrontation with the opponents that they are ready to accept and defend "any lie from his mouth." As for the American democracy, it is vulnerable "as never before."
Trump, in turn, makes it clear that he craves political revenge. He has already fired several officials who testified against him during the impeachment hearings in the House of Representatives. Most likely, Trump will continue to rely on "American nationalism" and "white identity", so hated by Democrats. He has also got more grounds to blame the obstruction-creating Democrats for all his failures during the election campaign. Moreover, what with all the achievements in the midterm elections two years ago, the Democrats were defeated, or could not sufficiently build up their positions in a number of states which are considered to play a key role in the upcoming presidential election. And the recent primaries in Iowa where the calculation of the results dragged on for several days demonstrated that the Democratic Party is still experiencing chaos and confusion.
According to a generalized view of domestic political processes in the United States, the executive branch's futile attempts to push through the Congress projects of significant legislative changes have long become a "tradition" in American domestic politics. This process originated a long time ago – after the end of the Cold War, when the need for coming to a bipartisan consensus lost the status of a national security issue. As a result, discussions of almost every important point of the presidential election campaign are accompanied by emotions, which prevail over facts and over attempts to propose a reasonable and comprehensive solution.
This trend is consistent under Trump. On the one hand, the Republican president has a good reason to criticize the legacy of his predecessors. He would also be right to appeal to the importance of launching "at last" the practical implementation of reforms, the need for which has been acknowledged by all administrations since the mid-1990s. On the other hand, the presence of a political will faces the realities of the political process, the participants of which, as before, appeal not so much to national interests as to the moods of the public. Demand gives rise to supply – Trump prefers to focus on issues that find the strongest emotional response in society. In response, the opponents accuse Trump of pursuing a "chaotic" policy on almost any issue. However, in the long run, what is taking place is a split that is running through the entire spectrum of American political system, and this split, as impeachment battles have demonstrated, has been deepened by the efforts from both parties, which are ready to contribute to its worsening with "unprecedented" vigor.
Aggravation of internal political struggle in the USA, as historical experience shows, often pushes American presidents into abrupt, often ill-conceived foreign policy measures. A similar situation happened in the days of Nixon and Clinton. It could be the impeachment threat that prompted Trump to take two steps that could "blow up" the Middle East – the assassination of Iran's IRGC leader Kassem Sulejmani and an ostentatiously one-sided plan for a Middle East "settlement" that has already been rejected by the Palestinians and a number of Islamic states.
Yet, even after the failure of the impeachment move the international community is unlikely to be able to breathe a sigh of relief. In the context of an easily predictable clash with Democrats in the House of Representatives, which is fraught with a dead end in promoting the legislative agenda, the most natural way for Trump to demonstrate effectiveness in the eyes of voters is foreign policy. From a legal point of view, it is in the field of foreign policy that the US president is least bound by the need to coordinate his steps with the Congress.
And hardly can we talk about the USA easing confrontation with China or Russia. Moreover, Washington has a bipartisan consensus on the need to tighten policies in relation to the two countries. On February 5, Trump's National Security adviser Robert O'Brien said in Washington: "Look, our challenge and the challenge of our generation is China's growth and the role that Russia continues to play on the world scene".
After the failure of impeachment, the Democrats may well try to use their majority in the lower house to resume attempts to get the issue of "Trump's relations with Moscow" and "Kremlin interference" in US domestic politics back into the spotlight. The tightening of parliamentary pressure on the White House will create new obstacles to prevent contacts between Washington and Moscow. Meanwhile, there are grounds to fear that Washington will see a new round of fight for the title of the most irreconcilable opponent of Russia.
Optimists among Russian experts believe that the main focus of the White House, like all of American politics, is finally shifting to domestic issues. This may give Russia a certain freedom of maneuver in international affairs. Dmitry Trenin of the Carnegie Moscow Center argues, "the risk of Congress introducing new sanctions against Russia will dwindle in the very near future." Especially, if the Republicans consider them a potential threat to the image of Trump and his administration. On the other hand, … "Republicans may agree to approve the sanctions to once again dissociate themselves from" toxic "Russia," – the expert said.
According to pessimists, for both Washington parties, relations with Russia remain "one of the main grounds of confrontation." "Fairly soon, Americans may opt for a new strike on Nord Stream-2, the German Handelsblatt believes." If Russia tries to complete the construction of the missing kilometers of the pipeline through the Baltic Sea, the House of Representatives and the Senate are ready to initiate another sanctions law, Washington's diplomatic circles say. "This bill could include sanctions against project investors from Europe, or companies that plan to buy Russian gas through the pipeline." As reported, a move to this effect could be taken in in the very near future, possibly in February or March. "
In general, the failure of impeachment is likely to further increase the degree of uncertainty in US policy. The realities of the political process remain the same – its participants will continue to appeal not so much to national interests as to public opinion, which is experiencing an ever deepening split. A certain political stabilization of America can be expected only after one of the parties regains control over both the executive and legislative branches of government.
From the point of view of an outside observer, what happened on Capitol Hill is all but a political formality. In essence, the US foreign policy will remain intact.
From our partner International Affairs
Impeachment & Intervention: Where American Foreign Policy Goes Wrong
To any ordinary American citizen, it's well known that government spending is spiraling out of control. The U.S. budget deficit now exceeds $23 trillion — with $1.109 trillion being added to the deficit in the fiscal year of 2019, and another $1.103 trillion projected to be added in 2020. Recently, on December 20th of last year, President Donald Trump signed into existence the huge 2,300-page general bill that includes two spending packages that approximate to $1.4 trillion. The bill received mostly bipartisan support and was lauded as a compromise on both sides.
Senator Ted Cruz, who is an open critic of the bill, said, "This is why Washington is corrupt. This is an example of a government of the lobbyists, by the lobbyists, and for the lobbyists." This is the unfortunate reality Americans are faced with when it comes to the spending of taxpayer dollars, at home and abroad. In an age where every topic is politicized and party lines are drawn, there is little resistance to multiplying the national debt. While there is mostly bipartisan agreement in Congress for enlarging the deficit, it's quite the contrary when it comes to impeachment.
The hyper-partisan impeachment of President Trump is an ongoing matter. Both, the right and left have eagerly worked to spin the story to fit their narrative. Republicans say that it's just another attempt by the left at overturning the 2016 election and/or undermining the upcoming 2020 election; Democrats allege that the President abused his power and tried to use foreign aid as leverage to coerce the newly elected Ukrainian President, Volodymyr Zelensky, to investigate corruption linked to the Biden family. Whether you like Trump's politics or not, what's notable is that Democrats "have failed to allege a violation of established law, i.e. a 'crime' or 'misdemeanor.' Such an allegation has been present in every other impeachment in history, but not here."
Nonetheless, foreign aid to Ukraine is at the core of the issue. Specifically, the aid amounted to $391 million of military and medical equipment to assist in their deadlocked civil war that started in 2014 with pro-Russian separatists. Since that time, the U.S. has handed over $1.5 billion in security assistance to Ukraine overall. Instead of funding war, the U.S. should be actively promoting diplomacy. To what advantage, to the U.S. or its citizens, is sending billions of dollars in aid to Ukraine to help fight yet another proxy war? Absolutely none. Career politicians and academics on the left and right will say otherwise. In reference to the conflict, Stanford Professor Pamela Karlan told the House Intelligence Committee during impeachment hearings that intervening in Ukraine was vital, "so they fight the Russians there and we don't have to fight them here." Karlan's logic is not only absurd, it's dangerous with consideration to what she is suggesting. There is absolutely no evidence to back up her claim that implies Russia would eventually invade the U.S. if they didn't arm the Ukrainians. This is the new era of McCarthyism. An era in which everything that has gone wrong or could possibly go wrong is blamed on Russia. And, if you disagree — well, you're a Russian asset and do Putin's bidding. This kind of manipulative narrative not only validates but fuels American interventionist foreign policy around the world. The U.S. involvement in Ukraine is just a small sample size of this truth. If you want to see the true ramifications of this type of foreign policy initiative, and the rabbit hole it sends the American taxpayer down, look no further than the Middle East.
Within the aforementioned omnibus bill, $4.2 billion is appropriated for the Afghan Security Forces Fund. That's correct. The U.S. is sending $4.2 billion to Afghanistan to continue its seemingly endless endeavor in the Middle East. In recent years, there have been serious concerns regarding U.S. foreign aid to Afghanistan. Furthermore, this news is shocking bearing in mind the release of the Afghanistan Papers, which lay out in detail how senior U.S. officials knowingly misled the public to make it seem as if reasonable progress was being made in the region. The report bluntly states that over the years they "failed to tell the truth about the war," "making rosy pronouncements they knew to be false and hiding unmistakable evidence the war had become unwinnable." Critical statements from Ret. U.S. Army Lt. Gen. Michael Flynn provoked the extensive investigation that uncovered what many feared to be true. This is not the first time the American public has been fed lies from its government, abetted by the mainstream media, in order to mask the true intent of the war on terror. What is the real reason the U.S. is still to this day in Afghanistan? No one can be sure, but remarkably, opium production has skyrocketed since the U.S. arrived. What is now the longest armed conflict in U.S. history, spanning almost 19 years, there is still no end in sight. How much money has to be spent, and how many lives have to be lost before it's all said and done with? The U.S. military occupation in Afghanistan is the prime example of foreign policy interventionism gone terribly wrong.
The American government should continue to stand strong with its allies and be an advocate of human rights, but they need to reevaluate the ways in which they do that. The U.S. needs to look at and approach international issues from a cost-benefit perspective. It's time for a change in the establishment. There are valid questions to be asked about how, where, and why foreign aid is appropriated. These are questions of accountability. The status quo in the American government has gone on long enough, unimpeded, serving foreign interests with little benefit to the American public. The U.S. involvement in Ukraine and Afghanistan are just two instances at different scales that demonstrate this reality seen around the world. President Trump needs to critically assess foreign aid distribution, orient and repurpose the aid to specific points of interest that directly help the U.S.; imagine how much could be accomplished with respect to healthcare, education, and infrastructure if the U.S. started investing in itself more. Moreover, the U.S. would be better equipped to address more pertinent national security problems such as securing the border. President Trump would be addressing policy issues for the left, right, and everybody in between by confronting topics that are owned by his political opponents running for the Democratic nomination. If Trump wants to help solidify his chances at reelection, he should take a firmer stance in his "America First" policy and start putting America first.
From our partner RIAC