The Zigzagging Personnel Policy of Donald Trump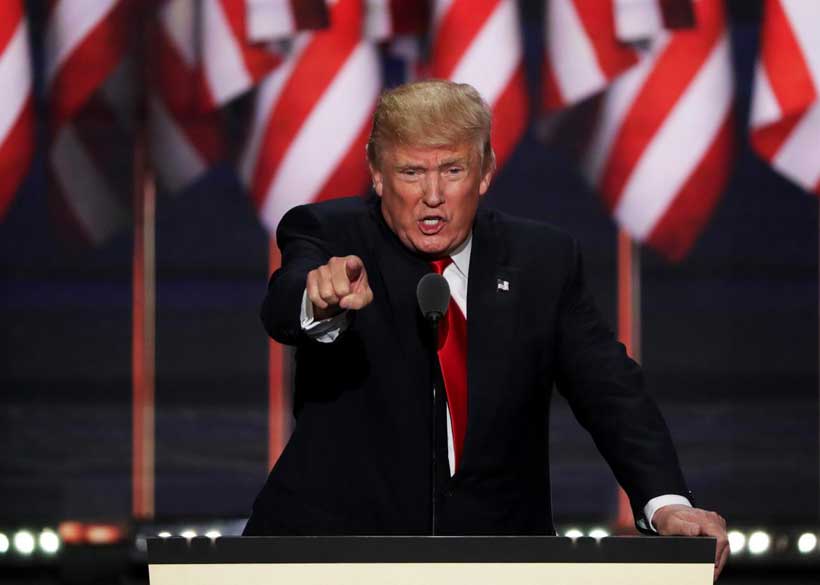 It will soon be eighteen months since Donald Trump, the most eccentric, provocative and authoritarian leader in U.S. history, took up office as President of the United States. He came to power as a fighter against the Washington political elite and became a symbol of the protectionist, anti-globalist and anti-expansionist moods long simmering within American society. He read those moods and offered simple, understandable, quick and radical methods of resolving the problems that had been accumulating for decades.
Despite the mass protests, the opposition of Congress, the courts and the Washington bureaucracy, the unwillingness of many federal officers to serve in the billionaire's administration, the malicious media attacks, the inquiries into the "Russian connection" and the looming threat of impeachment, Trump's presidency is still pretty much alive and kicking, to the surprise of many. He has managed, although not without difficulty, to fit into the existing political landscape and become an integral part of it.
The original top tier of the Trump administration was represented by a slapdash Conservative coalition held together by libertarian values, one that comprised several rival groups that had emerged during the 2016 campaign: 1) Trump's closest associates (his son-in-law Jared Kushner, his lawyer Michael Cohen and billionaire Carl Icahn); 2) a group of influential retired generals (James N. Mattis, John F. Kelly, Joseph Keith Kellogg Jr. and Herbert Raymond McMaster); 3) organizers and activists of the right-wing Conservative Tea Party movement, which had provided Trump with the core of his voters (Mike Pence, Mike Pompeo, Marc Short, Betsy DeVos, Tom Price and Kellyanne Conway); 4) representatives of business circles (Steven Mnuchin, Gary Cohn, Rex Tillerson, Wilbur Ross and Steve Schwarzman); and 5) traditionalist right-wing Conservatives who provided Trump with ideological support (Steve Bannon, Jeff Sessions, Reince Priebus, Stephen Miller, Peter Navarro, etc.).
Due to its fragmented and incoherent nature, the Trump administration was extremely contradictory and unstable from the very start. Another negative factor was that many of its members had chanced onto Trump's team without the requisite political and life experience; they were not prepared to perform as senior government officials in a very tense situation on both domestic and international political fronts. Many of them were appointed after other candidates had opted out.
One Resignation after Another
The first days of Trump's presidency were darkened by events that caused many observers serious concerns. Cobbled together from people who were too different from one another and not always properly trained for their roles, the new administration started developing cracks. Differences mounted not only among the various factions, but also among the presidential advisors. Pieced together with the use of several heterogeneous groups, the administration started falling apart surprisingly quickly, shedding the president's closest assistants for various reasons. The first one to go was Lieutenant General Michael Flynn (retired), Trump's national security advisor, who stepped down on February 13, 2017, just 23 days after his appointment, amid allegations of his suspicious contacts with Russian Ambassador Sergey Kislyak.
This was followed by the dismissals of several high-ranking members of the administration. James Comey was fired as Director of the Federal Bureau of Investigation on May 9. The summer of 2017 proved particularly rich in dismissals. Rich Higgins, the director of strategic planning at the National Security Council's strategic planning office, was forced out on July 21. On the same day, Trump's press secretary Sean Spicer announced his resignation. Assistant press secretary Michael Short bowed out on July 25. White House Chief of Staff Reince Priebus and Communications Director Anthony Scaramucci were let go in late July. The latter had only been at his post for 10 days. Scaramucci later claimed that a conspiracy was in the works against Trump.
Richard Trumka, President of the American Federation of Labor and Congress of Industrial Organizations (AFL-CIO), quit Trump's manufacturing council on August 15. Steve Bannon, one of the most infamous members of Trump's administration, stepped down as the White House Chief Strategist on August 18. On that same day, Special Advisor to the President on Regulatory Reform, Carl Icahn, also left his post. Almost all members of the president's Committee on the Arts and Humanities resigned on August 19 due to their strong disagreement with Trump's policies. Deputy Assistant to the President Sebastian Gorka left on August 25.
The administration began to disintegrate. It appeared that the ominous forecasts voiced in Washington during the 2016 electoral campaign to the effect that Trump's only legacy would be internal discord, chaos and confusion were coming true. Indeed, such an unstable, fluid and constantly reshuffling administration was unusual for America.
Mass resignations of senior administration members continued in 2018. These included Deputy National Security Advisor for Strategy Dina Powell and White House Communications Director Hope Hicks. In March alone, two key members of the foreign political wing bowed out: Secretary of State Rex Tillerson was replaced in his post by former CIA Director Mike Pompeo, while National Security Advisor Herbert McMaster was superseded by super-hawk John Bolton. Also in March, Trump's chief economic advisor Gary Cohn left the administration. Cohn had criticized the protectionist slant in the president's policy, in particular his decision to introduce customs duties on aluminium and steel imports.
The Dismissal of Rex Tillerson
The process of approving Tillerson's candidacy in the Senate in January 2017 was not easy. The main accusation against him was his links with Russia. The former Chairman and Chief Executive Officer of Exxon Mobil, who had been developing business ties with Russia and was awarded the Russian Order of Friendship, was considered one of President Vladimir Putin's American friends, so his ability to confront Russia as secretary of state was called into question.
Tillerson chose the only possible tactic, recognizing Russia as a serious adversary under Western sanctions while arguing that a certain level of dialogue with Moscow was still necessary. However, his intentions regarding Russia fell victim to the ongoing investigation into Moscow's alleged intervention in the U.S. election, so they never materialized. Tillerson, who did not try to conceal his generally positive attitude towards Russia, came to be viewed as a mild and weak politician struggling under a load of prior experience and new circumstances. His behaviour obviously ran counter to the outspoken anti-Russian position of United States Ambassador to the UN Nikki Haley and U.S. Special Representative for Ukraine Negotiations Kurt Volker, who view Russia as an aggressor and an unreliable partner. Trump was also dissatisfied with Tillerson's stance.
Tillerson and Trump had different views – not only on Russia's intervention in the U.S. election, but also on the United States' approaches to Iran and North Korea. The secretary of state, whose authority was consistently shrinking, was evidently irritated by Trump's harsh, ill-conceived and threatening statements addressed to these countries. The two men failed to agree on a common approach to Afghanistan. Tillerson was against the idea of building the United States' military presence and continuing military actions in the country, something on which Trump insisted.
During his brief stint in the Department of State, Tillerson, much like Trump, developed a specific behavioural pattern: his stern and sometimes belligerent statements would be interspersed with positive and even peaceful comments. This periodically gave cause for dangerous, misleading illusions.
Nevertheless, a peace-loving, moderate, balanced and thoughtful Tillerson, with his disposition for negotiations, was the odd man out in the Trump administration. The differing approaches to tackling problems and conflicting takes on the nature of those problems were aggravated by the barely-disguised personal animosity between the two men. Many suspected that the 69th Secretary of State would soon be replaced (and Tillerson's dismissal had been mulled over since autumn of 2017). Trump's tweet about Tillerson's dismissal, written in the president's signature style, came as a logical finale to the drawn-out drama.
To be fair, such situations have happened before in the U.S. state administration system. Based on checks and balances allowing the reconciliation of differing interests, that system is inevitably conducive to the emergence of rivalling centres of power and department heads opposed to one another within the presidential administration. This often results in fights for access to the president, and even to irreconcilable confrontations [1].
The Appointment of Mike Pompeo
Back in the summer of 2017, Mike Pompeo was believed to be the most probable next United States Secretary of State. Unlike Tillerson, the Director of the CIA was much closer to the authoritarian Trump, both ideologically and politically. Having switched to politics in 2010 after the end of his business career, Pompeo, a sympathizer of the Tea Party movement, came to be a leading figure in the ultra-right Conservative wing. He supported Trump in 2016 and was appointed Director of the CIA under the new president. In this new post, Pompeo clearly demonstrated his right-wing Conservative sentiments: he spoke against the nuclear deal with Iran, criticized the proponents of talks with North Korea, advocated electronic surveillance of U.S. citizens and defended the tortures practised at CIA black sites.
As the new Secretary of State, Pompeo is undoubtedly a more professional, reliable and unwavering conduit of the president's policy than Tillerson, who had a habit of thinking before acting.
The Dismissal of Herbert McMaster
Another high-profile dismissal involved Lieutenant General Herbert McMaster, Trump's National Security Advisor. McMaster participated in virtually all the major modern military conflicts involving the United States and had earned a reputation as a well-rounded individual and a reserved and thoughtful officer with a strategic mind. To everyone's surprise, McMaster proved the only member of the Trump administration whose appointment was hailed by both the president's supporters and his opponents. Many expected him to provide the uniting momentum the new team needed so badly.
McMaster's view of Russia was largely in line with the predominant opinions within the U.S. political elite. He believed that Putin was deliberately pursuing an aggressive policy aimed at dismantling and revising the new world order that had emerged following the Cold War. On the other hand, he was generally restrained and, unlike Trump, tried to avoid half-baked decisions and overreactions.
It was up to the generals in the presidential administration to maintain at least some appearance of discipline and order amid the confusion generated, especially in the early days, by Trump himself with his chaotic thinking and ill-conceived actions.
The Appointment of John Bolton
In the most controversial and symbolic appointment yet, McMaster was replaced by John Bolton, an infamous uncontrollable hawk. Bolton's long career with the Department of State and the Department of Justice under Presidents Ronald Reagan and George W. Bush provided him with a springboard for furthering his political career, which truly flourished as Under Secretary of State in the George W. Bush administration during the "war on terror."
A proponent of the 2003 invasion of Iraq, Bolton radicalized the United States' foreign policy in an effort to integrate the country's overseas interests into the "war on terror," which became a universal vehicle for strengthening Washington's global dominance. As the United States Ambassador to the UN in 2005–06, he did his utmost to make U.S. unilateralism policy, which was criticized even by America's allies, a reality.
Bolton's excessive asperity and conservatism deterred many. A consistent critic of the United States' adversaries (Iran, North Korea and Russia), he dismissed even the possibility of seeking a compromise with them. The escalation of tensions with Russia, in addition to Trump's threats towards North Korea, aimed at gleaning concessions from Kim Jong-un, created an appropriate atmosphere for renovating the presidential administration and taking the ultra-Conservative Bolton on board.
New Director of the CIA Gina Haspel
The top-level reshuffles in the Trump administration resulted in a career boost for Deputy Director of the CIA Gina Haspel, whom the president offered the post of director. If approved by the Senate, Haspel will become the first female director in the history of the CIA.
Haspel had previously headed a black site in Thailand and is still being accused of having organized the torture of terrorist suspects kept there. She had also served as deputy director for foreign intelligence and covert action in the National Clandestine Service. This career path provides some background for the portrait of the new CIA director.
The constantly zigzagging personnel policy, as well as the recent reshuffles, which mainly affected the foreign political wing of the Trump administration, indicate not just swift personal shifts, but also an evolution of the country's foreign policy towards a tougher strain of offensive pragmatism amid the continuing inquiry into Russia's intervention in the 2016 election and the intensifying conflict with Moscow.
The key factor in the current situation is certainly the poisoning of Sergei and Yulia Skripal, which is believed to have been orchestrated by Russia. The subsequent anti-Russian actions in the form of the expulsion of diplomats from a number of leading Western countries and new U.S. sanctions against Moscow are merely another escalation in the dangerous and rapidly worsening United States–Russia confrontation.
[1] Valery Garbuzov. Alexander Haig, or Three Careers of a General. Moscow, 2004.
First published at our partner RIAC
A self-inflicted wound: Trump surrenders the West's moral high ground
For the better part of a century, the United States could claim the moral high ground despite allegations of hypocrisy because its policies continuously contradicted its proclaimed propagation of democracy and human rights. Under President Donald J. Trump, the US has lost that moral high ground.
This week's US sanctioning of 28 Chinese government entities and companies for their involvement in China's brutal clampdown on Turkic Muslims in its troubled north-western province of Xinjiang, the first such measure by any country since the crackdown began, is a case in point.
So is the imposition of visa restrictions on Chinese officials suspected of being involved in the detention and human rights abuses of millions of Uyghurs and other Turkic Muslims.
The irony is that the Trump administration has for the first time elevated human rights to a US foreign policy goal in export control policy despite its overall lack of concern for such rights.
The sanctions should put the Muslim world, always the first to ring the alarm bell when Muslims rights are trampled upon, on the spot.
It probably won't even though Muslim nations are out on a limb, having remained conspicuously silent in a bid not to damage relations with China, and in some cases even having endorsed the Chinese campaign, the most frontal assault on Islam in recent history.
This week's seeming endorsement by Mr. Trump of Turkey's military offensive against Syrian Kurds, who backed by the United States, fought the Islamic State and were guarding its captured fighters and their families drove the final nail into the coffin of US moral claims.
The endorsement came on the back of Mr. Trump's transactional approach towards foreign policy and relations with America's allies, his hesitancy to respond robustly to last month's missile and drone attacks on Saudi oil facilities, his refusal to ensure Saudi transparency on the killing a year ago of journalist Jamal Khashoggi and his perceived empathy for illiberals and authoritarians symbolized by his reference to Egyptian field marshal-turned-president Abdel Fattah al-Sisi as "my favourite dictator."
Rejecting Saudi and Egyptian criticism of his intervention in Syria, Turkish president Recep Tayyip Erdogan gave the United States and Mr. Trump a blunt preview of what they can expect next time they come calling, whether it is for support of their holding China to account for its actions in Xinjiang, issues of religious freedom that are dear to the Trump administration's heart, or specific infractions on human rights that the US opportunistically wishes to emphasize.
"Let me start with Saudi Arabia," Mr. Erdogan said in blistering remarks to members of his Justice and Development Party (AKP). "Look in the mirror first. Who brought Yemen to this state? Did tens of thousands of people not die in Yemen?" he asked, referring to the kingdom's disastrous military intervention in Yemen's ruinous civil war.
Addressing Mr. Al-Sisi, Mr. Erdogan charged: "Egypt, you can't talk at all. You are a country with a democracy killer." The Turkish leader asserted that Mr. Al-Sisi had "held a meeting with some others and condemned the (Turkish) operation – so what if you do?"
The fact that the United States is likely to encounter similar responses, even if they are less belligerent in tone, as well as the fact that Mr. Trump's sanctioning of Chinese entities is unlikely to shame the Muslim world into action, signals a far more fundamental paradigm shift: the loss of the US and Western moral high ground that gave them an undisputed advantage in the battle of ideas, a key battleground in the struggle to shape a new world order.
China, Russia, Middle Eastern autocrats and other authoritarians and illiberals have no credible response to notions of personal and political freedom, human rights and the rule of law.
As a result, they countered the ideational appeal of greater freedoms by going through the motions. They often maintained or erected democratic facades and payed lip service to democratic concepts while cloaking their repression in terms employed by the West like the fight against terrorism.
By surrendering the West's ideological edge, Mr. Trump reduced the shaping of the new world order to a competition in which the power with the deeper pockets had the upper hand.
Former US national security advisor John Bolton admitted as much when he identified in late 2018 Africa as a new battleground and unveiled a new strategy focused on commercial ties, counterterrorism, and better-targeted U.S. foreign aid.
Said international affairs scholar Keren Yarhi-Milo: "The United States has already paid a significant price for Trump's behaviour: the president is no longer considered the ultimate voice on foreign policy. Foreign leaders are turning elsewhere to gauge American intentions… With Trump's reputation compromised, the price tag on U.S. deterrence, coercion, and reassurance has risen, along with the probability of miscalculation and inadvertent escalation."
Trump's effects on diplomacy
No longer has Trump's haphazard behaviour persisted, more will be easy for his administration to enact actions against China, Iran and Taliban. The state department is in a quandary because of it, on each front. Trump's entrenched eagerness to remain "great" and "first" on the chessboard of International power, could damage the world more ahead than before.
Following the Iran's attacks on the Kingdom of Saudi-Arabia's oil infrastructure, US wanted to deploy troops to the Kingdom. It is primarily a justification for why the US has been imposing sanctions over Iran. Is troops deployment a solution? Or will it provide safe horizon to Kingdom oil's installation? Or will it be revolutionary in oil diplomacy? Or is it the only target retaliated on, by Iran. However, such kind of engagement has short term beneficiary spots, while in broader perspective it has consequential effects for all stakeholders. The episode of nuclear deal has, as a factor of quid-pro-quo, been further dramatised by the state department, withdrawing from. Notwithstanding, the deal has advantageous prospects for the Middle East, and an exemplary for rest of nations, has been further dramatised by the US, in order to seek its diplomatic wins. What significant at this point, is an agreement to reback to the deal.
Embracing a different economic model, China, is plausibly on a runner-up position to the US. Whether it's 5G tech. Or leading status of green energy, or ultra-scales exports or its leading developments for the nations having indigent economies, is a source of chaos for US administration. The current trade war is an antidoting tool for the whole scenario. The US should, I assume, eye China's hegemony a piece of cake, and welcome its come out while securing its interests under the umbrella of cooperation. This logic, while posing no threat, seems to be long term functional. Is it?
Trump, according to many native writers, is psychologically unfit, unstable and fickle, however have had strong narrative to prevent America's engagement into "useless wars" and end "endless" wars. Following this token, Trump announcement of troop withdrawal from Syria and Afghanistan put the world politics and even his administration into chaos. This divided strategists and Washington security officials, which was underpinned by the resignation of James Mattis and recently John Bolton. The ten months of peace process which followed the US's announcement of troop withdrawal, precipitously ended, putting once again the international and national politics into chaos. Trump, grandiloquently fired a tweet that talks with Taliban are dead and futile. The argument he contended was the Attack in Kabil, where one American soldier with 12 other people were lost. The policymakers and high officials in Washington who already negated the policy of troop withdrawal and then after peace deal. They, of course are winner in this policy discourse, have staunch beliefs in their opinion, who may make Trump's change of heart. The Kabil attack was given, probably, an agent of resurgent for Obama's approach. However, Trump's administration had already scripted their policy framework for the region, and pretending Kabul attack was perhaps a way of redemption from the peace talk.
Trump's factor in US foreign policy was chaotic to his subordinates for which, he attempted to compensate by cancelling peace deal with Taliban. However , on the domestic front, it is likely to be more pluses than on diplomatic front given to Trump in next year's presidential election. Let's see which side the wind blow.
Trump Cannot Be Impeached Over Ukrainegate, But Pelosi and Schiff Can Be Charged Criminally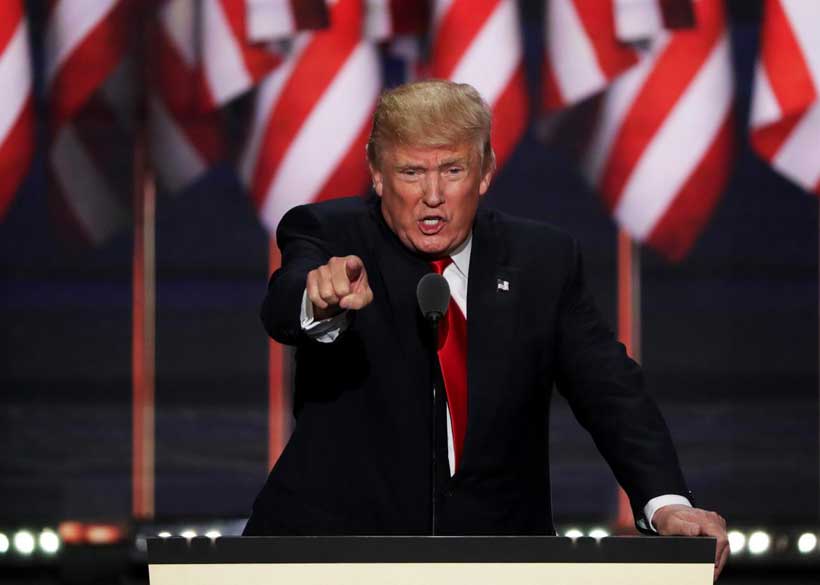 Pursuant to United States v. Curtiss-Wright Export Corp., 299 U.S. 304 (1936), the U.S. Supreme Court issued an unmistakable clear edict concerning the foreign affairs powers of the President of the United States.
In its majority opinion, the Court held that the President, as the nation's "sole organ" in international relations, is innately vested with significant powers over foreign affairs, far exceeding the powers permitted in domestic matters or accorded to the U.S. Congress.
The Court reasoned that these powers are implicit in the President's constitutional role as commander-in-chief and head of the executive branch.
Curtiss-Wright was the first decision to establish that the President's plenary power was independent of Congressional permission, and consequently it is credited with providing the legal precedent for further expansions of executive power in the foreign sphere.
In a 7–1 decision authored by Justice George Sutherland, the Supreme Court ruled that the U.S. government, through the President, is categorically allowed great foreign affairs powers independent of the U.S. Constitution, by declaring that "the powers of the federal government in respect of foreign or external affairs and those in respect of domestic or internal affairs are different, both in respect of their origin and their nature…the broad statement that the federal government can exercise no powers except those specifically enumerated in the Constitution, and such implied powers as are necessary and proper to carry into effect the enumerated powers, is categorically true only in respect of our internal affairs."
While the Constitution does not explicitly state that all ability to conduct foreign policy is vested in the President, the Court concluded that such power is nonetheless given implicitly, since the executive of a sovereign nation is, by its very nature, empowered to conduct foreign affairs.
The Court found "sufficient warrant for the broad discretion vested in the President to determine whether the enforcement of the statute will have a beneficial effect upon the reestablishment of peace in the affected countries."
In other words, the President was better suited for determining which actions and policies best serve the nation's interests abroad.
Period.
It is important to bear in mind that we are here dealing not alone with an authority vested in the President by an exertion of legislative power, but with such an authority plus the very delicate, plenary and exclusive power of the President as the sole organ of the federal government in the field of international relations – a power which does not require as a basis for its exercise an act of Congress, but which, of course, like every other governmental power, must be exercised in subordination to the applicable provisions of the Constitution.
Separation of Powers Doctrine
In other words, neither the U.S. Congress nor the U.S. Senate can say or do very much of anything to prevent or interfere with this power, and if they do, they can in fact be held responsible for violating the Separation of Powers doctrine pursuant to the U.S. Constitution wherein the three branches of government (executive, legislative, and judicial) are kept separate.
This is also known as the system of checks and balances, because each branch is given certain powers so as to check and balance the other branches.
Each branch has separate powers, and generally each branch is not allowed to exercise the powers of the other branches.
The Legislative Branch exercises congressional power, the Executive Branch exercises executive power, and the Judicial Branch exercises judicial review.
National Security and Foreign Affairs
The Curtiss-Wright case established the broader principle of executive Presidential supremacy in national security and foreign affairs, one of the reasons advanced in the 1950s for the near success of the attempt to add the Bricker Amendment to the U.S. Constitution, which would have placed a "check" on said Presidential power by Congress, but that never passed, or became law.
If Speaker of the House Nancy Pelosi and other Democrats really wanted to interfere with or prevent President Donald Trump from engaging in the activity that they are trying to prevent vis-a-vis Ukraine, China, and Joseph Biden's alleged corruption and its effect on National Security, they would have to first draft, propose, enact, and pass sweeping legislation, and this could take years and would most probably never pass.
Even so, it could not affect President Donald Trump's actions already occurred, since the U.S. Constitution prohibits ex post facto criminal laws.
Turning This All Against Nancy Pelosi and Adam Schiff
To that end if Speaker of the House Nancy Pelosi and Congressman Adam Schiff persist in pushing said "impeachment proceedings" against President Donald Trump, it is actually they who could find themselves on the wrong side of the law, with formal and actual charges of Treason, Sedition or Coup D' Etat being levied upon them by the U.S. Government.
The consequences of that occurring, are truly horrific indeed.