The Zigzagging Personnel Policy of Donald Trump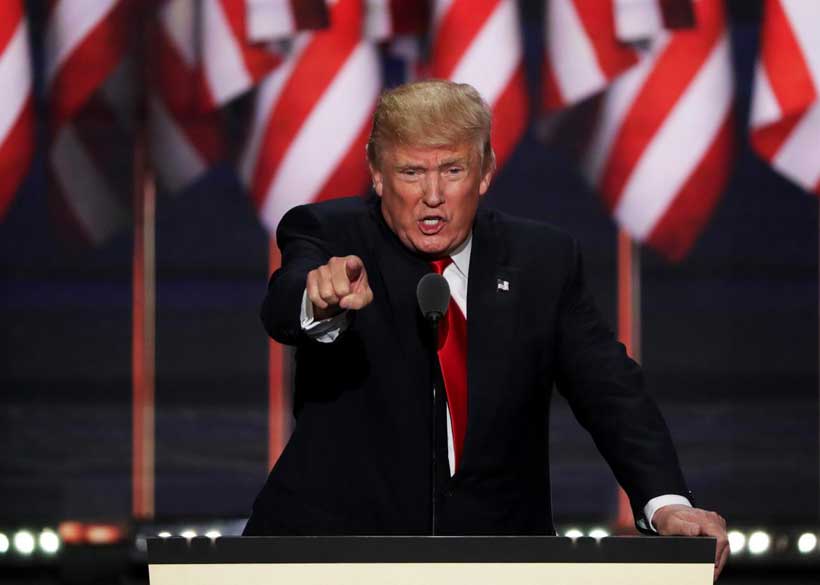 It will soon be eighteen months since Donald Trump, the most eccentric, provocative and authoritarian leader in U.S. history, took up office as President of the United States. He came to power as a fighter against the Washington political elite and became a symbol of the protectionist, anti-globalist and anti-expansionist moods long simmering within American society. He read those moods and offered simple, understandable, quick and radical methods of resolving the problems that had been accumulating for decades.
Despite the mass protests, the opposition of Congress, the courts and the Washington bureaucracy, the unwillingness of many federal officers to serve in the billionaire's administration, the malicious media attacks, the inquiries into the "Russian connection" and the looming threat of impeachment, Trump's presidency is still pretty much alive and kicking, to the surprise of many. He has managed, although not without difficulty, to fit into the existing political landscape and become an integral part of it.
The original top tier of the Trump administration was represented by a slapdash Conservative coalition held together by libertarian values, one that comprised several rival groups that had emerged during the 2016 campaign: 1) Trump's closest associates (his son-in-law Jared Kushner, his lawyer Michael Cohen and billionaire Carl Icahn); 2) a group of influential retired generals (James N. Mattis, John F. Kelly, Joseph Keith Kellogg Jr. and Herbert Raymond McMaster); 3) organizers and activists of the right-wing Conservative Tea Party movement, which had provided Trump with the core of his voters (Mike Pence, Mike Pompeo, Marc Short, Betsy DeVos, Tom Price and Kellyanne Conway); 4) representatives of business circles (Steven Mnuchin, Gary Cohn, Rex Tillerson, Wilbur Ross and Steve Schwarzman); and 5) traditionalist right-wing Conservatives who provided Trump with ideological support (Steve Bannon, Jeff Sessions, Reince Priebus, Stephen Miller, Peter Navarro, etc.).
Due to its fragmented and incoherent nature, the Trump administration was extremely contradictory and unstable from the very start. Another negative factor was that many of its members had chanced onto Trump's team without the requisite political and life experience; they were not prepared to perform as senior government officials in a very tense situation on both domestic and international political fronts. Many of them were appointed after other candidates had opted out.
One Resignation after Another
The first days of Trump's presidency were darkened by events that caused many observers serious concerns. Cobbled together from people who were too different from one another and not always properly trained for their roles, the new administration started developing cracks. Differences mounted not only among the various factions, but also among the presidential advisors. Pieced together with the use of several heterogeneous groups, the administration started falling apart surprisingly quickly, shedding the president's closest assistants for various reasons. The first one to go was Lieutenant General Michael Flynn (retired), Trump's national security advisor, who stepped down on February 13, 2017, just 23 days after his appointment, amid allegations of his suspicious contacts with Russian Ambassador Sergey Kislyak.
This was followed by the dismissals of several high-ranking members of the administration. James Comey was fired as Director of the Federal Bureau of Investigation on May 9. The summer of 2017 proved particularly rich in dismissals. Rich Higgins, the director of strategic planning at the National Security Council's strategic planning office, was forced out on July 21. On the same day, Trump's press secretary Sean Spicer announced his resignation. Assistant press secretary Michael Short bowed out on July 25. White House Chief of Staff Reince Priebus and Communications Director Anthony Scaramucci were let go in late July. The latter had only been at his post for 10 days. Scaramucci later claimed that a conspiracy was in the works against Trump.
Richard Trumka, President of the American Federation of Labor and Congress of Industrial Organizations (AFL-CIO), quit Trump's manufacturing council on August 15. Steve Bannon, one of the most infamous members of Trump's administration, stepped down as the White House Chief Strategist on August 18. On that same day, Special Advisor to the President on Regulatory Reform, Carl Icahn, also left his post. Almost all members of the president's Committee on the Arts and Humanities resigned on August 19 due to their strong disagreement with Trump's policies. Deputy Assistant to the President Sebastian Gorka left on August 25.
The administration began to disintegrate. It appeared that the ominous forecasts voiced in Washington during the 2016 electoral campaign to the effect that Trump's only legacy would be internal discord, chaos and confusion were coming true. Indeed, such an unstable, fluid and constantly reshuffling administration was unusual for America.
Mass resignations of senior administration members continued in 2018. These included Deputy National Security Advisor for Strategy Dina Powell and White House Communications Director Hope Hicks. In March alone, two key members of the foreign political wing bowed out: Secretary of State Rex Tillerson was replaced in his post by former CIA Director Mike Pompeo, while National Security Advisor Herbert McMaster was superseded by super-hawk John Bolton. Also in March, Trump's chief economic advisor Gary Cohn left the administration. Cohn had criticized the protectionist slant in the president's policy, in particular his decision to introduce customs duties on aluminium and steel imports.
The Dismissal of Rex Tillerson
The process of approving Tillerson's candidacy in the Senate in January 2017 was not easy. The main accusation against him was his links with Russia. The former Chairman and Chief Executive Officer of Exxon Mobil, who had been developing business ties with Russia and was awarded the Russian Order of Friendship, was considered one of President Vladimir Putin's American friends, so his ability to confront Russia as secretary of state was called into question.
Tillerson chose the only possible tactic, recognizing Russia as a serious adversary under Western sanctions while arguing that a certain level of dialogue with Moscow was still necessary. However, his intentions regarding Russia fell victim to the ongoing investigation into Moscow's alleged intervention in the U.S. election, so they never materialized. Tillerson, who did not try to conceal his generally positive attitude towards Russia, came to be viewed as a mild and weak politician struggling under a load of prior experience and new circumstances. His behaviour obviously ran counter to the outspoken anti-Russian position of United States Ambassador to the UN Nikki Haley and U.S. Special Representative for Ukraine Negotiations Kurt Volker, who view Russia as an aggressor and an unreliable partner. Trump was also dissatisfied with Tillerson's stance.
Tillerson and Trump had different views – not only on Russia's intervention in the U.S. election, but also on the United States' approaches to Iran and North Korea. The secretary of state, whose authority was consistently shrinking, was evidently irritated by Trump's harsh, ill-conceived and threatening statements addressed to these countries. The two men failed to agree on a common approach to Afghanistan. Tillerson was against the idea of building the United States' military presence and continuing military actions in the country, something on which Trump insisted.
During his brief stint in the Department of State, Tillerson, much like Trump, developed a specific behavioural pattern: his stern and sometimes belligerent statements would be interspersed with positive and even peaceful comments. This periodically gave cause for dangerous, misleading illusions.
Nevertheless, a peace-loving, moderate, balanced and thoughtful Tillerson, with his disposition for negotiations, was the odd man out in the Trump administration. The differing approaches to tackling problems and conflicting takes on the nature of those problems were aggravated by the barely-disguised personal animosity between the two men. Many suspected that the 69th Secretary of State would soon be replaced (and Tillerson's dismissal had been mulled over since autumn of 2017). Trump's tweet about Tillerson's dismissal, written in the president's signature style, came as a logical finale to the drawn-out drama.
To be fair, such situations have happened before in the U.S. state administration system. Based on checks and balances allowing the reconciliation of differing interests, that system is inevitably conducive to the emergence of rivalling centres of power and department heads opposed to one another within the presidential administration. This often results in fights for access to the president, and even to irreconcilable confrontations [1].
The Appointment of Mike Pompeo
Back in the summer of 2017, Mike Pompeo was believed to be the most probable next United States Secretary of State. Unlike Tillerson, the Director of the CIA was much closer to the authoritarian Trump, both ideologically and politically. Having switched to politics in 2010 after the end of his business career, Pompeo, a sympathizer of the Tea Party movement, came to be a leading figure in the ultra-right Conservative wing. He supported Trump in 2016 and was appointed Director of the CIA under the new president. In this new post, Pompeo clearly demonstrated his right-wing Conservative sentiments: he spoke against the nuclear deal with Iran, criticized the proponents of talks with North Korea, advocated electronic surveillance of U.S. citizens and defended the tortures practised at CIA black sites.
As the new Secretary of State, Pompeo is undoubtedly a more professional, reliable and unwavering conduit of the president's policy than Tillerson, who had a habit of thinking before acting.
The Dismissal of Herbert McMaster
Another high-profile dismissal involved Lieutenant General Herbert McMaster, Trump's National Security Advisor. McMaster participated in virtually all the major modern military conflicts involving the United States and had earned a reputation as a well-rounded individual and a reserved and thoughtful officer with a strategic mind. To everyone's surprise, McMaster proved the only member of the Trump administration whose appointment was hailed by both the president's supporters and his opponents. Many expected him to provide the uniting momentum the new team needed so badly.
McMaster's view of Russia was largely in line with the predominant opinions within the U.S. political elite. He believed that Putin was deliberately pursuing an aggressive policy aimed at dismantling and revising the new world order that had emerged following the Cold War. On the other hand, he was generally restrained and, unlike Trump, tried to avoid half-baked decisions and overreactions.
It was up to the generals in the presidential administration to maintain at least some appearance of discipline and order amid the confusion generated, especially in the early days, by Trump himself with his chaotic thinking and ill-conceived actions.
The Appointment of John Bolton
In the most controversial and symbolic appointment yet, McMaster was replaced by John Bolton, an infamous uncontrollable hawk. Bolton's long career with the Department of State and the Department of Justice under Presidents Ronald Reagan and George W. Bush provided him with a springboard for furthering his political career, which truly flourished as Under Secretary of State in the George W. Bush administration during the "war on terror."
A proponent of the 2003 invasion of Iraq, Bolton radicalized the United States' foreign policy in an effort to integrate the country's overseas interests into the "war on terror," which became a universal vehicle for strengthening Washington's global dominance. As the United States Ambassador to the UN in 2005–06, he did his utmost to make U.S. unilateralism policy, which was criticized even by America's allies, a reality.
Bolton's excessive asperity and conservatism deterred many. A consistent critic of the United States' adversaries (Iran, North Korea and Russia), he dismissed even the possibility of seeking a compromise with them. The escalation of tensions with Russia, in addition to Trump's threats towards North Korea, aimed at gleaning concessions from Kim Jong-un, created an appropriate atmosphere for renovating the presidential administration and taking the ultra-Conservative Bolton on board.
New Director of the CIA Gina Haspel
The top-level reshuffles in the Trump administration resulted in a career boost for Deputy Director of the CIA Gina Haspel, whom the president offered the post of director. If approved by the Senate, Haspel will become the first female director in the history of the CIA.
Haspel had previously headed a black site in Thailand and is still being accused of having organized the torture of terrorist suspects kept there. She had also served as deputy director for foreign intelligence and covert action in the National Clandestine Service. This career path provides some background for the portrait of the new CIA director.
The constantly zigzagging personnel policy, as well as the recent reshuffles, which mainly affected the foreign political wing of the Trump administration, indicate not just swift personal shifts, but also an evolution of the country's foreign policy towards a tougher strain of offensive pragmatism amid the continuing inquiry into Russia's intervention in the 2016 election and the intensifying conflict with Moscow.
The key factor in the current situation is certainly the poisoning of Sergei and Yulia Skripal, which is believed to have been orchestrated by Russia. The subsequent anti-Russian actions in the form of the expulsion of diplomats from a number of leading Western countries and new U.S. sanctions against Moscow are merely another escalation in the dangerous and rapidly worsening United States–Russia confrontation.
[1] Valery Garbuzov. Alexander Haig, or Three Careers of a General. Moscow, 2004.
First published at our partner RIAC
Aligning values into an interest-based Canadian Indo-Pacific Strategy
Russia's invasion of Ukraine is an explicit challenge to the post-WW 2 order. This order has brought peace and stability and created the conditions for economic growth in the global north and Global South. It has also brought relative peace and economic integration in the Europe and in the Indo-Pacific.
Today, this order is now being challenged by Russia today but also by China. The consequences could mean that a might-is-right approach and Machiavellian approach to foreign policy will become the new normal for countries like Canada, a self-described middle power.
A Machiavellian order is an order in which larger countries can bully, cajole and pressure, mid and small size countries to do what they are demanded is an explicit challenge to Canadian interests, as well as the interests of like-minded countries such as Japan, Australia, South Korea, European countries and countries in the Global South.
The Trudeau Government has clearly and explicitly criticized the Russian government's invasion of Ukraine by Russia. Ottawa has coordinated with other middle powers and as we speak through the G-7 Summit in Germany on how to handle Russia's invasion of the Ukraine.
Unity will be important, especially as energy security becomes more and more critical of an issue for Central and Eastern European countries. The growing food crisis that has manifested as a result of the Russian invasion is also an area that the G-7 will need to coordinate to provide relief to many countries in the Global South.
This message will be further discussed at the NATO summit in Spain. Here, Japan, South Korea, Australia New Zealand will join the NATO members to demonstrate their shared commitment to a rules-based order to pushing back against aggression to change the current order and to find ways to work together to support the Ukraine and resist Russian aggression. Here, Canada has an important role in terms of energy security and food security.
With ample access to energy and food resources, there is a possibility for Canada and other partners such as the U.S. to divert some of its significant grain and energy resources to the Europe to help alleviate some of the stress associated with the invasion of Ukraine.
Coordinated military support as well will be important to ensure that the Ukrainians can resist and eventually take back territory that was taken by force by Russia.
There is an interesting paradox in Canada's approach. While explicitly criticizing Russia's might-is-right approach to foreign relations in Eastern Europe and particularly with Ukraine, Canada continues to waver in using the same language in the Indo-Pacific.
The Indo-Pacific region is also facing a might-is-right approach to reshaping the Indo-Pacific order. The use of lawfare, gray-zone operations, military force and belligerent threats all are aimed at reshaping the Indo-Pacific order in such a way that creates a Chinese centric regional order in which China's neighbors as well as stakeholders that engage in the region will think about China's interests before their own interests and their interest with Washington.
Canada needs to continue to invest in the Indo-Pacific. A good place to start will be to explicitly state Canada's concerns about that Machiavellian approach to foreign policy in the region and the efforts by China to reshape the region such that states lose aspects of their autonomy. This will require an Indo-Pacific strategy to be built on a clear objective of how Canada sees the Indo-Pacific Region evolving forward and how Canada would like to contribute to that broader vision of the Indo-Pacific.
Japan, Australia, the United States, Germany, Denmark, and the E.U. have laid out their own Indo-Pacific strategies. They focus on maritime security, a rules-based order, transparency, development and importantly, good governance. We see little rhetoric concerning progressive issues as well as little mention of the core values such as democracy, human rights and freedom of press. This is intentional. These countries and associations understand the heterogeneity within the region.
The-Indo Pacific region is home to soft authoritarian regimes, socialist regimes, democracies and monarchies. Unfortunately, each has very different views about democracy, human rights and progressive issues.
Where they are aligned is in their interests. Their interests are focused on trade, economic integration development, the digital economy, resolving territorial issues through dialogue and consensus-based decision making and not excluding any country region or political entity from the region's political economy.
Simply, associations and regions like ASEAN, South Asia and the E.U. see inclusivity as a key criterion to the Indo-Pacific peaceful evolution This means any Indo-Pacific strategy that emerges out of these countries does not exclude China or strive to eject non-democratic states.
Rather, their Indo-Pacific strategies focus on inculcating peace and stability in the Indo-Pacific region through development, trade, infrastructure and connectivity, institution building, good governance and deterrence.
In the Canadian case, the broader vision for the Indo-Pacific should echo but not necessarily replicate the Indo-Pacific Visions of the country's mentioned above. Canada's priority should be peace, stability, open access, a transparent, rules-based order that ensures Canada can have free access to economies and societies throughout the region.
At the same time, Canada's interests in the Indo-Pacific should include shaping the region such that traditional security issues such as territory issues in the South China Sea, East China Sea, the Taiwan Straits and the Himalayan plateau do not devolve into kinetic conflict that fundamentally disrupts the region's development and stability.
Traditional security issues are not the only issue that can affect Canada's interests in the region. Non-traditional security issues such as climate change, terrorism, transnational diseases, extremism are all potential concerns for Canada as it could create instability in the region, disrupt their economies, destabilize supply chains as well as create problems for trading partners.
As Canada celebrates another Canada Day, it should reflect upon what are the key elements of an Indo-Pacific strategy.
Here a six-fold approach may be a useful approach to creating an Indo-Pacific strategy that helps achieve Canada's national interests in the Indo-Pacific region. A first pillar of an Indo Pacific strategy should be one of Inclusive Development.
Here, Canada can help build stability, improve governance and contribute to broad inclusive development in the region. Through support for NGOs, investment in infrastructure and connectivity, coordinating with regional stakeholders and ensuring that inclusive development results in sustainable and replicable development in the region. Importantly, inclusive development in the region should de-emphasize the progressive character of inclusivity found in the domestic context of Canada as it is less prioritized in the region. This does not mean that a progressive approach is absent but it is sensitive to the local cultures and societies.
A second pillar should focus on Canada's comparative advantages, Energy and critical mineral security. Based on improvements in environmental technology and technologies that are used to exploit both energy resources and critical minerals, Canada should make this the second pillar of their Indo-Pacific strategy as an open, reliable source of energy and critical minerals.
Canada could carve a position within the Indo-Pacific region in which it is the key provider of energy and critical minerals to industries that use both products. We've seen in the wake of the invasion of Ukraine, that energy security has become timely and we expect that energy security and critical minerals to be subject to weaponization in the future in the build-up to or in a conflict.
Consequently, Canada can contribute energy and critical mineral significantly by making this a key pillar in their strategy.
A third pillar should focus on coordinating and investing in Middle Power Diplomacy. In short, Canada needs to coordinate with other middle powers such as Japan, South Korea, Australia, New Zealand European powers to ensure that the US China Strategic competition does not shape them. Rather, coordination shapes the dynamics of the US China Strategic competition in such a way that it decreases and or attenuates the negative effects on countries we've already seen Canada engage in middle power diplomacy with some success.
The 2020 Agreement, in which Canada marshaled middle powers and other countries to join a Declaration Against Arbitrary Detention in State-to-State Relations following the arrest of Michael Kovrig and Michael Spavor in China is a good example. We also saw Canada bring together middle powers and the United States to discuss denuclearization of the Korean Peninsula in January 2018.
More coordination of middle powers in the areas of good governance, transparency, energy cooperation and financial cooperation would be a unique but also important contribution by Canada in the Indo-Pacific.
Here, one could easily imagine Canada working with the Partners in the Blue Pacific (PBP) to provide energy security, health infrastructure, good governance to the Pacific Island nations.
We could also see Canada contribute to the Indo-Pacific Economic Framework by marshalling middle powers to support this standard setting agreement that will shape how we think about trade. The standards that we use to negotiate new technologies ,the internet, cyber as well as AI.
A fourth pillar should be supporting Economic security, infrastructure and connectivity. Here Canada needs to find ways to consolidate its own economic security so that is more resilient against economic shocls, outside Canada, as well as inside Canada.
The COVID 19 pandemic is a good example of an external shock to the Canadian economy. We had challenges in terms of acquiring personal protective equipment and other goods as China shut down their country to manage the initial Covid-19 outbreak.
The current COVID-19 policies in Shanghai and Beijing further consolidates the logic that Canada needs to build resilience into its economy, to invest and protect its own economic security.
Internally, the floods in the fall of 2021 in British Colombia also disrupted Canadian exports abroad.
Economic security, resilience and infrastructure and connectivity can help ensure that Canada's economy remains online and integrated into the global economy and resilient against external and internal shocks. This will require bolstering infrastructure and connectivity at home so that we have world class infrastructure that is resilient against internal shocks.
Also, Canada has a role in contributing to infrastructure and connect to the within the Indo-Pacific region. While we have limited capacities, we have capabilities that can piggyback onto existing infrastructure connectivity programs that are associated with the Quadrilateral Security Dialogue. The Japan-India-Australia resilient supply chain initiative and bilateral and other multilateral infrastructure and connectivity initiatives that have come online over the past three or four years. All of this will be important for Canada's Indo-Pacific strategy in ensuring that Canada's economic security is based on a resilient economy that is bolstered by infrastructure connectivity at home and abroad.
A fifth pillar for Canada will continue to be focused on security and in particular, Maritime Security in the Indo-Pacific region. With sea lines of communication in the Indo-Pacific responsible for about $5.5 trillion in trade every year and energy resources being transported through the key arteries located in the Indian Ocean, Malacca Straits South China Sea, Taiwan Straits as well as East China Sea, Canada has an interest in ensuring that the sea lines of communication remain open, governed by international law and free from coercion.
Cooperation in sea lines of communication will need to take place within existing frameworks or new frameworks. Quad plus arrangements have already taken place in January 2021 Canada participated in the Sea Dragon 21 exercises to provide an opportunity for Canada to monitor and observe Quad exercises.
We also see Canada engage in sanctions monitoring in the East China Sea in an effort to prevent sanctions invasions by North Korea. These activities continue to need to be expanded by working with like-minded countries within the region focused on maritime domain awareness search and rescue, humanitarian relief and disaster assistance and dealing with non-traditional security challenges such as illegal fishing, piracy and others.
While this is not an easy task, this pillar of a Canadian Indo-Pacific strategy is important to contributing to the region's peace and stability as well it is important for protecting Canadian imports and exports to the region. In 2021, more than $21 billion of Canadian goods went through the region this sum continues to increase as Indo-Pacific nations look to Canada to secure energy as well as agricultural products. Ensuring that sea lines of communication remain open, stable and peaceful will continue to be a critical part of any Canadian Indo-Pacific strategy.
Lastly, a sixth pillar of a Canadian Indo-Pacific Strategy should focus on Climate Change.
The Indo-Pacific region is hosts the three most populated countries, Indonesia, India and China. It is also home to ASEAN. Collectively, the population of the Indo-Pacific region is at least 3.5 billion and the current development patterns suggest that they will have severe water and food security issues as their environment degrades do to climate change and global warming.
More extreme weather systems, the salination of the Mekong and Bangladeshi delta's as sea levels rise will change the ecology of these critical production areas that that will create social instability, economic stress and likely political instability associated with economic refugees moving to find safer, more predictable geographic locations to leave and work.
We will also see tropical diseases and insects push north and southward disrupting agricultural and social systems.
Canada has a clear interest in investing in climate change mitigation, promoting environmentally friendly governance and business systems and technology transfer that lessen the negative impact of climate change. The scale of the problem will require Canada to pursue this sixth pillar through regional and global coordination.
With a pragmatic and realistic approach that is based on understanding the heterogeneity of the Indo-Pacific region, a Canadian Indo-Pacific Strategy should include but not be exclusive to: Inclusive development, Trade and Economic Residence, Climate Change, Maritime Security, Energy and Critical Mineral Security, and Middle Power Diplomacy.
How 'Democracies' Degenerate Into Minoritarian Right-Wing Governments (Aristocracies)
In America, a woman's right to an abortion of a pre-conscious (earlier than 20 weeks) fetus is no longer recognized by its federal Government, though, by a 59% to 41% margin (and 67% to 33% among American women, who are the people directly affected), the American people want it to be. That's one example of America's dictatorship (minority-rule). (This statement about it isn't a commentary on the ethics of abortion, but on the polling on abortion, in America.) But there are many other examples of America's being now a minority-rule nation.
For example: in February of 2008, a U.S. Gallup poll had asked Americans "Would you like to see gun laws in this country made more strict, less strict, or remain as they are?" and 49% said "More Strict," 11% said "Less Strict," and 38% said "Remain as Are." But, then, the U.S. Supreme Court, in June 2008, reversed that Court's prior rulings, ever since 1939, and they made America's gun laws far less strict than the gun-laws ever had been before; and, thus, the 5 ruling judges in this 2008 decision imposed upon the nation what were the policy-preferences of actually a mere 11% of Americans.
Then, in 2014, there was finally the first scientific answer to the question of whether America is a democracy or instead a dictatorship, when the first-ever comprehensive political-science study that was ever published on whether the U.S. Government reflects the policy-preferences of the American public or instead of only the very richest Americans found that, "the preferences of the average American appear to have only a minuscule, near-zero, statistically non-significant impact upon public policy"; and, so, "Clearly, when one holds constant net interest-group alignments and the preferences of affluent Americans, it makes very little difference what the general public thinks."
In other words: America, which nominally is a (limited) democracy, is actually an aristocracy, NOT a democracy at all. Each one of the ways in which America's laws and their enforcement reflect what the country's billionaires want, but NOT what the country's public want, those proposed pieces of legislation have become laws just as much, as happens when the billionaires and the public have the same policy-references regarding the given policy-matter, as when they don't. This means that the aristocracy always get policies that are acceptable to them, but the public often do not. The result is conservative government regardless of what the public wants. No aristocrat is progressive (for majority-rule — "democracy"); all are instead either overtly conservative (for "fascism," another term for which is "corporationism"), or else noblesse oblige or hypocritically conservative ("liberals"), people who are pretending to care about the public as being something more than merely their markets (consumers they sell to) or else their workers (their employees or other agents, such as lobbyists). When the public are conservative or "right wing," (not progressive or "left wing"), they are elitist, not populist — and, especially, they are not left-wing populist (or progressive). Donald Trump was a right-wing populist (which is another form of aristocratic policy-fakery, besides the liberal type — either type is mere pretense to being non-fascist). But no aristocrat is progressive, and this means that in a corrupt 'democracy', all of the policy-proposals that become enacted into laws are elitist even if of the noblesse-oblige or "liberal" form of that. The Government, in such a nation, always serves its billionaires, regardless of what the public wants. That's what makes the country an aristocracy instead of a democracy.
As the former U.S. President Jimmy Carter had said in 2015, commenting upon the profound corruption in America:
It violates the essence of what made America a great country in its political system. Now it's just an oligarchy with unlimited political bribery being the essence of getting the nominations for president or being elected president. And the same thing applies to governors, and U.S. Senators and congress members. So, now we've just seen a subversion of our political system as a payoff to major contributors, who want and expect, and sometimes get, favors for themselves after the election is over. … At the present time the incumbents, Democrats and Republicans, look upon this unlimited money as a great benefit to themselves. Somebody that is already in Congress has a great deal more to sell.
In France, one of the primary sources of the dictatorship is the dictatorship's intensification in 2008 from a new Constitutional provision, Section Three of Article 49, which facilitates rule-by-decree ("executive decree") from the President, when the Parliament is opposed to his policy-preferences. This Section gives the aristocracy an opportunity to override Parliament if the other methods of corruption (mainly by France's having no "ban on donors to political parties/candidates participating in public tender/procurement processes" — predominantly arms-manufacturers who are donors) are insufficient to meet the desires of the aristocracy, but, otherwise, France has remarkably strict laws against corruption — far stricter than in Germany, and in Russia — and thus the French Government represents mainly corporations that sell directly to the Government. Consequently, when "all else fails," and the Parliament turns out to be inadequate (insufficiently imperialistic) in the view of France's billionaires, Section 49-3 is applied by the President. (America, like France, has strict laws against corruption, but they are loaded with loopholes, and, so, America has almost unlimited corruption. America's legislature is even more corrupt than is France's.) Ever since France's Tony Blairite Socialist Party (neoliberal-neoconservative) Prime Minister Manuel Valls started in 2016 to allow French Presidents to use the 2008-minted 49-3 Section to rule by decree and ignore Parliament, France has increasingly become ruled-by-decree, and the Parliament is more frequently overridden.
After the recent French Parliamentary elections, the current French President, Emmanuel Macron, who has often been ruling by decree, will do so even more than before. As the Iranian journalist in Paris, Ramin Mazaheri, recently said: "Elections at just 46% turnout are a hair's breadth away from not having democratic credibility, but that must be added with [to] the constant use of the 49-3 executive decree and the certainty of a Brussels' veto for any legislation they don't like. It combines to modern autocracy – rule by an oligarchical elite."
Perhaps low voter-turnout is an indication that the nation will have a revolution. After all, both America and France did that, once, and it could happen again, in order to overthrow the aristocracy that has since emerged after the prior one was overthrown. Someone should therefore tabulate how low the voter-turnout has to go in order for a revolution to result. The post-1945 American Government has perpetrated incredibly many coups against foreign governments, but perhaps the time will soon come when dictatorships such as in America and France become, themselves, democratically overthrown. Both countries have degenerated into minoritarian right-wing governments. At least in France, the public seem to be becoming aware of this fact. Neither Government now has authentic democratic legitimacy.
Striking Down Roe vs. Wade in Nonmoral America
As a conditional pro-life American, to me,the recent U.S. Supreme Court decision to strike down Roe vs. Wade handed down 50 years ago ,symbolizes much more than what meets the eye. That is, this precedent violating high court decision means much more than making a girl's or woman's right to choose whether to give birth or not, a matter of each of our 52 states' and other jurisdictions' decisions rather than a constitutional human right, thus for all girls and women no matter where they reside in the United States of America.
This precedent violating Supreme Court decision ,basically putting females back into the kitchen under the thumbs of men in image if not in reality, also says much about how traditional gender roles thinking in the United States remains about girls and women and about child bearing and other sexual behavior matters. After all, this is one of the few developed nations in the world which has yet to elect a woman President, Chief Justice, or Leader in the upper legislative chamber. The majority of heads of American elite corporations, universities, faith communities, and media are men. Digital technologies, like sciences and technologies in general, are still very much in men's hands. Especially white women ,moreso than their nonwhite sisters,may have progressed in becoming better educated and becoming professionals, but studies show childrearing and household chores are still done by women in general than with a spouse or an otherwise male companion let alone a son or grandson assisting.
All of these facts of life regarding sustaining patriarchy since colonial days ,with spurts of
female human rights improvements now and again ,are well hidden through an elite East-West coasts media which paints an exaggerated picture of progress in girls and women human rights which simply is not here in reality. The greatest example in American politics of most white women supporting traditional gender roles is in 2016, 53 % of the white women electorate voted for Trump and in 2020 slightly more at 55% and remain amongst his most loyal political defenders in public life. This is despite Trump's and Trumpism's well known misogynistic views.
It has been claimed much white women support for Trump and Trumpism has to do with efforts to maintain white supremacy including the fervent need for the reproduction of the declining dominant white population. True or not, it can also be said more than likely much of Trumpland women support regardless of their ethnicity or economic class, stems from embracing traditional values about the place of women in enduring patriarchal America. This is said realizing even the trickle of black and other non- white women who voted for Trump increased from 2016 to 2020 Presidential election years.
Besides the Supreme Court's affirmation of patriarchal traditional national views about girls and women making abortion decisions through tossing it to states to decide now varying from state to state ranging from bans to exceptions to legal status, there is much more disturbing news to consider. First, as well claimed in the highest public places , the now scattered state's rights mapping of where abortions can and cannot take place has still in another way polarized our deeply divided nation. And it discriminates against poor women, especially those who are non-whites in banned states unable to afford to travel out of state also making them moreso victims of illegal abortion doctors and engaging in high risk self aborting, including with pills easily purchased through the internet legally.
Second, The Supreme Court's striking down of Roe vs. Wade , engineered by right wing zealots exacerbated the continued problem of abortion in America as a taboo topic be it a constitutional federal or state's rights issue. Unless public awareness interventions are skilfully designed, implemented, monitored, and evaluated as required nation wide federal policies,American males and females will remain disturbingly naive about the long term psychological and socioeconomic consequences of having or not having an abortion. This is because the mainstream elite media ,our leaders in all levels of education ,and our medical and mental health let alone non- profit and faith leaders remain mum or stigmatized about soberly discussing abortion matters in public spaces where such information is so desperately needed in this still very much Victorian society.
Thirdly, the court decision in question has deeply troubling symbolism of a morally broken highest court in a nation with a deepening nonmoral political leadership and a growing nonchalant electorate increasingly willing to vote against their own interests and that of their nation as a plural democracy going through massive gender and racialized ethnic demographic changes. The decision was orchestrated behind the scenes by the senior Associate Justice who has much less clean hands in how he entered the highest court with a colleague sexual harassment and pornograohy charge cloud over his head which has yet to be resolved. His fellow justice supporters were the actual decision writer and as well three justices who lied to Senators privately and in their hearings about their belief in precedent preservation with one of them entering the court with verified sexual misconduct charges.
There is something immorally smelly about this because moral rot is the real case of a Supreme Court going down hill since 2000. Namely, since in 2000, when the Republican driven Supreme Court majority, while breaking their own usual judicial rules of non-federal interference, gave George W. Bush the Presidency, the moral authority of our highest court has been downspiraling in a deepening nonmoral society.
Through more or less skillful media and otherwise political spin gurus, nonmorality not only in the highest court and the other two branches of federal and not a few state governments has been justified and said to be ok as the American electorate in Midterm 2022 and Presidential 2024 elections prepares to go to the polls . Unless we are astutely mindful, we will more than likely vote for the same nonmoral leaders again or new ones to assure right wing Republican majorities in all three government branches– Executive( President), Judiciary Supreme and other federal courts), and Legislative ( Congress). Such nonmoral leaders who are supposed to be doing right moral things after we elect them or are appointed, are more intune to making bad decisions through listening to lies and liars pedaling to legal and dark money interests than standing up for the truth and voting for what is best for their voting constituencies and for our country. And then once they are betrayed, such as the Senators who voted for the 3 Trump Supreme Court justices who lied to them and went on to form the Supreme Court bloc which struck down Roe vs. Wade, they plead their innocence while we the people will suffer the consequences of their bad nonmoral decision-making for years to come, in this case girls and women and their families and communities. All of us.
All of this has made the American coins and dollars declaring " In God we trust" to be such a grotesque hollow ring so clearly seen abroad and at home by those no longer afraid to speak truth about us as a nonmoral nation with a morally broken higher court ; a morally inept Congress which years ago could have passed legislation to more deeply sustain girls and women human rights in a coherent comprehensive way but except with piecemal fragments over the years, indeed decades, has yet to bother to pass, no matter which party is in control;and a Presidency no matter the party in charge, which just drifts here and there with a nonmorality rooted in damage control , photo ops, and warmongering interests than coherent and sustaining moral leadership of a deeply troubled polarized nation of excluding women like others except wealthy white men since our colonial days.
Lest we Americans awaken quickly from our nonmoral slumber, the striking down of Roe vs. Wade is the tip of the nonmorality iceberg of things to come since nonmortality knows no limits let alone cares about the whole of humanity. None of us will be safe or saved.