Authors: Zakir Gul, Ph.D. & Dr. Kadir Akyuz*
The pages of history are littered with oppressors, dictators, and tyrants from countries large and small across the globe who share a common trait: paranoia that leads to zero tolerance for criticism, disobedience, alternative ideas,competition and any kind of perceived disrespect from supporters and foes alike. A contemporary example is the president of Turkey, who appears to be following in the footsteps of tyrants who came before him.Stalin, for example, applied the Great Purge not only to wealthy peasants and people who had opposed him in the past but also to comrades and friends, Communist leaders, party members and bureaucrats.In the end, millions of friends and enemies alike were executed or died in labor camps. The motivation for Stalin's actions, as it often is for tyrants, was a perceived threat to his political power and beliefs. Anyone who challenged him had to be dealt with by any means available.
One such enemy in the mind of Stalin was Leon Trotsky, an ardent proponent of the universality of the struggle for rights through the adoption of Communism on an international scale. Stalin, on the other hand, believed that Communist goals were based on a cult of personality and was not particularly supportive of the international struggle for Communism to the degree that many of the original revolutionaries had idealized as a worldwide revolution. The two men's philosophical differences mattered less to Stalin than what Stalin believed to be Trotsky's threat to his power. Stalin could not allow Trotsky, the brilliant architect of the strategies that led to the victories in the Soviet civil war, to live. Trotsky had to flee the Soviet Union to escape Stalin's wrath and attempts to purge a perceived enemy. Trotsky fled to Mexico, where he was welcomed. Stalin, however, was not satisfied with simply having Trotsky out of the Soviet Union; he had to be eliminated. Stalin did not want a man of such stature and brilliance to be in a position—anywhere in the world—to write and speak about the failures of Stalin and the betrayal of the revolution by Stalin and his associates. At the behest of Stalin, an undercover agent for the Soviet Union's secret police was sent to Mexico to kill Trotsky. The attempt on Trotsky's life was successful.
Stalin, however, targeted more than high-profile individuals and forced the internal expulsion of various ethnic groups within the borders of the Soviet Union. Entire populations were subjected to harsh conditions, and large numbers perished on their forced journeys. Opponents were either killed abroad or kidnapped and brought back and executed, while others were placed in the Gulags. One example of Stalin's attempts to stifle opposition is the well-documented case of a man-made famine intended to subdue Ukraine. The Ukrainians tried to hold onto their religion, their private-property ethos and their identity. Millions died in the famine in Ukraine. To control the Ukrainian population, Stalin used terror strategies such as arrests in the middle of the night, secret sentences, executions and punitive sentences in the Gulags. Tens of millions of Ukrainians perished under Stalin—including not only his opponents but also people who fully supported Stalin and the Communist revolution. No one was safe from Stalin's state terror.
The military also was not exempt. Large numbers of high-ranking officers were arrested tried and convicted and then shot or, in some cases, sent to the Gulags to die. By the time World War II erupted, Stalin had killed so many high-ranking offices that the ability of the Soviet military to operate effectively had been compromised. This situation worked to the advantage of the Germans, who were able to make incredible progress with their invasion of the Soviet Union. The weakened Soviet army could do little to stop the German army's initial advances.
Much the same has been happening in Turkey since the failure of a military coup on July 15, 2016, which was unlike previous coups the country has experienced. The July coup attempt left many people wondering how it had happened. The Turkish media, now largely under the control of the Erdogan government, have published numerous controversial claims about the origins of the coup attempt. One of the claims by a pro-government newspaper was that the coup has been orchestrated by the U.S. Central Intelligence Agency.Mustafa Akaydin, a member of parliament from Antalya,questioned the coup and likened it to a theatrical play. Erdogan, on the other hand, called the coup a "gift from God." and made his reasoning clear.
Erdogan's response to the failed coup spoke volumes about why he considered the coup to be a gift from God. In the immediate aftermath of the coup, for example,the president declared a state of emergency and announced decrees that started the Great Purge of Turkey. Since the coup attempt, 151,967people were dismissed from their jobs; 133,257people were detained; 64,998 people were arrested; 5,822 academicians lost their jobs; 4,463 judges and prosecutors were dismissed; 189 media outlets were shut down; 319 journalists were arrested; and even human rights defenders, including the director of Amnesty International Turkey. Erdogan's antidemocratic tactics were not limited to Turkish citizens. For example, Andrew Brunson, an American priest, also was targeted. Constitutional human rights were banned, which allowed for the illegal, illegitimate and inhuman application of laws by the Erdogan government.
The West, however, did not find to be credible Erdogan's argument that his actions were the will of God and were needed to save the country. Most likely, Erdogan was not pleased with the West's disbelief—despite a concerted effort to prove his predetermined political claims.Not willing to concede defeat, Erdogan responded with increased anger toward the disbelievers.Now a troubling question remains:What is Erdogan's next course of action when the results of the first plan were not as expected?
One can look to history for some insights. Because tyrants think only of themselves and will do anything to remain in power, they will not hesitate to kill millions of people if doing so will safeguard their hold on power. Leaders who followed this path include Mao Zdong (or Tse-tung), a tyrant responsible for killing 45 million people in just four years. Stalin is believed to have been responsible for killing 40 million (some sources say as many as 60 million) people. Hitler is another example of a leader who showed no remorse for the mass killing of millions of Jews and others. A tyrant's paranoia mindset makes everyone an enemy except for the tyrant himself. Even the tyrant's most loyal supporters will, sooner or later, be the victims of the paranoid leader's ruthless ambition.
Based on history, the prospects for Turkey look grim. Erdogan's purge of Turkish citizens may ensnare even more people through massive killings and massacres of his own people if the president continues to be motivated by an obsession with power and a fear of losing that power. Will civilian groups be enlisted to carry out the killings? Is the public speech of well-known mafia leader Sedat Peker, who pledges allegiance to the supreme ruler of Turkey, be the harbinger of such a plan?An excerpt from Peker's speech is telling: "We will hang them [the others] to the nearest flagstaffs, we will hang them to the nearest trees…I swear…We will continue to hang them in the prisons, as well…We will apply such things [tortures] that were not even seen on the horror movies."
Peker's incendiary words and Erdogan's quest to retain power at all costs—even the lives of his countrymen—need to be met with equal outrage by people who support democracy and human rights and the rule of law. They must not turn a blind eye to what is unfolding in Turkey or believe that the same could never happen to them. Martin Niemöller, a Lutheran ministerwho lived in concentration camps for seven years during Nazi rule, saw firsthand the folly of not speaking up in face of injustice when the injustice is happening to someone else. When the Nazis came for the Socialists, the Trade Unionists and the Jews, Niemöller recalled in the early post-war years, he did not speak out. The consequences of his inaction became clear when the Nazis came for Niemöller. His words were stark: "… —and there was no one left to speak for me." Remaining silent is not the answer to the deeds of power-hungry tyrants.Today the "someone else" is the Turkish people, tomorrow another someone else, until a tomorrow comes and no one is left to speak.
*Dr. Kadir Akyuz is an assistant professor at University of Bridgeport.
Battling it out at the UN: Potholes overshadow US-Iran confrontation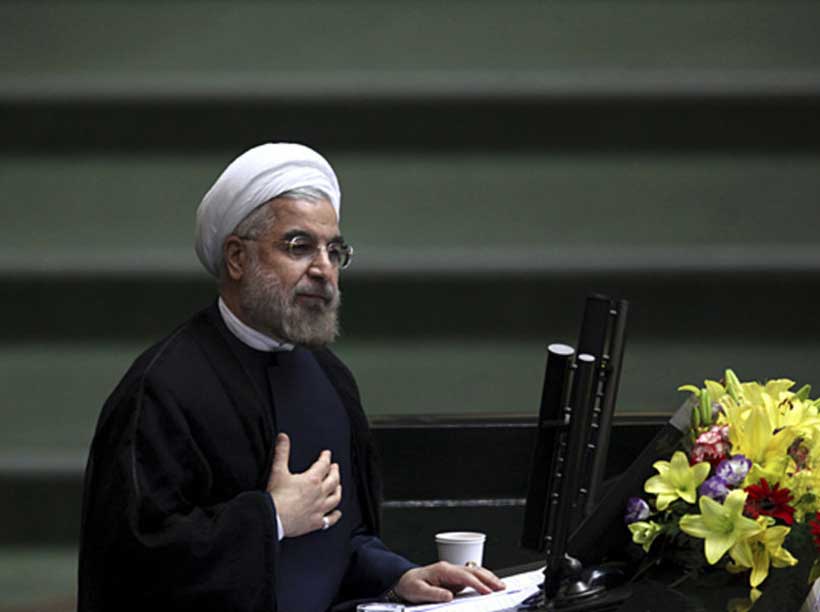 It's easy to dismiss Iranian denunciations of the United States and its Middle Eastern allies as part of the Islamic republic's long-standing rhetoric. The rhetoric makes it equally easy to understand American distrust.
But as President J. Trump and Hassan Rouhani, his Iranian counterpart, gear up for two days of diplomatic sabre rattling at the United Nations in advance of next month's imposition of a second round of harsh US sanctions, both men risk fuelling a conflict that could escalate out of hand.
Both are scheduled to address the UN general assembly on Tuesday and Mr. Trump is slated to chair a meeting on Wednesday of the Security Council expected to focus on Iran.
Adding to the likely drama at the UN, European Union foreign policy chief Federica Mogherini, speaking alongside Iranian Foreign Minister Mohammad Javad Zarif, snubbed Mr. Trump, by announcing the creation of a payment system that would allow oil companies and businesses to continue trading with Iran despite US sanctions.
The risk of escalation is enhanced by the fact that Messrs. Trump and Rouhani are sending mixed messages.
Mr. Trump's administration insists that its confrontational approach is designed to alter Iranian behaviour and curb its policies, not topple its regime.
Yet, the administration stepped up its engagement with exile groups associated with the Mujahedeen-e-Khalq, a controversial Saudi-backed organization that calls for the violent overthrow of the government in Tehran and enjoys support among current and former Western officials, as Messrs. Trump and Rouhani battle it out at the UN.
John Bolton, who has repeatedly advocated regime change before becoming Mr. Trump's national security advisor, is scheduled to give a keynote address at the United Against Nuclear Iran's (UANI) annual summit during the UN assembly. So is Secretary of State Mike Pompeo, another hardliner on Iran.
Mr. Pompeo and Mr, Bolton, who has spoken in the past at events related to the Mujahedeen, had so far since coming to office refrained from addressing gatherings associated with opposition groups.
The administration left that to Mr. Trump's personal lawyer, Rudolph Giuliani, who last weekend told the Iran Uprising Summit organized by the Organization of Iranian-American Communities, a Washington-based group associated with the Mujahedeen and attended by the exile's leader, Maryam Rajavi, that US. sanctions were causing economic pain and could lead to a "successful revolution" in Iran.
"I don't know when we're going to overthrow them. It could be in a few days, months, a couple of years. But it's going to happen," Mr. Giuliani, said speaking on the day of an attack on a military march in the southern Iranian city of Ahvaz that killed 25 people and wounded at least 70 others.
Messrs. Bolton, Pompeo and Giuliani's hardline stems from US suspicions rooted in anti-American and anti-Western attitudes that are grafted in the Islamic republic's DNA and produced the 444-day occupation in 1979 of the US Embassy in Tehran. They are reinforced by the humiliation of a failed US military operation to rescue 66 Americans held hostages during the occupation.
Iranian rhetoric; bombastic threats against Israel; denial of the Holocaust, support for anti-American insurgents in Iraq, the brutal regime of Syrian president Bashar al-Assad, Hezbollah in Lebanon, Houthi rebels in Yemen and Hamas in the Gaza Strip; propagation of religiously inspired republican government as an alternative to conservative monarchy in the Gulf; and degrees of duplicity regarding its nuclear program, reaffirm America's suspicion.
Iran's seemingly mirror image of the United States traces its roots further back to the 1953 US-supported overthrow of the nationalist government of prime minister Mohammad Mossadegh and his replacement by Shah Mohammad Reza Pahlavi whom Washington staunchly supported till his fall in 1979.
Iranian concerns were reinforced by American backing of Iraq in the 1980s Gulf war, US support for Kurdish and Baloch insurgents, the broad spectrum of support of former and serving US officials for the Mujahedeen-e-Khalq, unequivocal Saudi signals of support for ethnic strife as a strategy to destabilize Iran, and Mr. Trump's withdrawal from the 2015 international agreement to curb Iran's nuclear program despite confirmation of its adherence to the accord.
Responses by the US and its Gulf allies as well as a series of statements by militant Iranian Arab groups, including the Ahvaz Resistance Movement, suspected of being responsible for this weekend's attack, have only deepened Iranian distrust.
Those statements included one by the Arab Liberation Movement for the Liberation of Ahwaz effusively praising Saudi Arabia on its national day that the kingdom celebrated a day after the attack.
Yadollah Javani, the deputy commander of Iran's Revolutionary Guard Corps, the target of the attack, vowed revenge for what he termed years of conspiracies against the Iranian revolution by its enemies.
Mr. Javani was referring to past US attempts to destabilize Iran and a four-decade long global Saudi campaign that included backing of Iraq in the Gulf war during the 1980s and an estimated $100 billion investment in support of anti-Iranian, anti-Shiite ultra-conservative Sunni Muslim groups.
All of this means that mounting hostility between the United States and Iran is muddied as much by fact as by perception – a combustible mix that is easily exploitable by parties on both sides of the divide seeking to raise the ante.
Attack in Iran raises spectre of a potentially far larger conflagration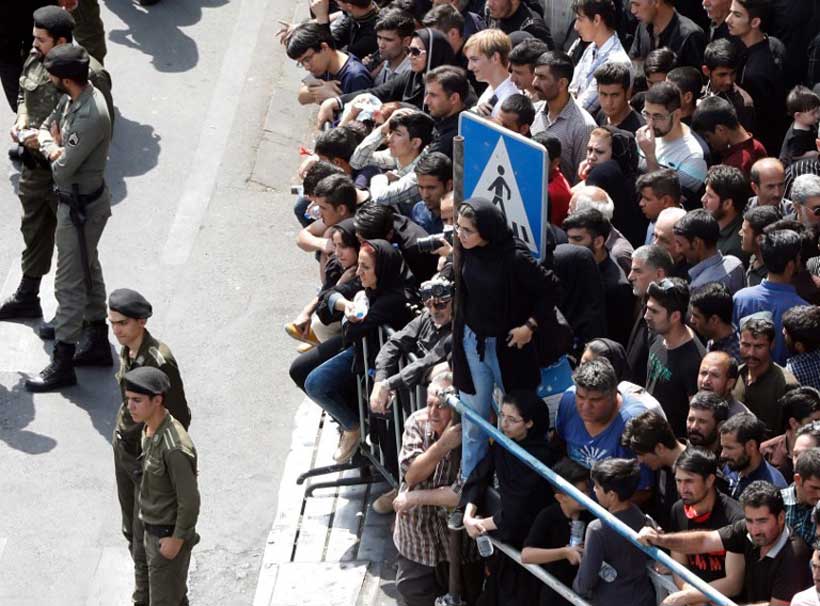 An attack on a military parade in the southern Iranian city of Ahwaz is likely to prompt Iranian retaliation against opposition groups at home and abroad. It also deepens Iranian fears that the United States. Saudi Arabia and others may seek to destabilize the country by instigating unrest among its ethnic minorities.
With competing claims of responsibility by the Islamic State and the Ahvaz National Resistance for the attack that killed 29 people and wounded 70 others in the oil-rich province of Khuzestan, which borders on Iraq and is home to Iran's ethnic Arab community, it is hard to determine with certainty the affiliation of the four perpetrators, all of whom were killed in the incident.
Statements by Iranian officials, however, accusing the United States and its allies, Saudi Arabia, the United Arab Emirates and Israel, suggest that they see the Ahvaz group rather than the Islamic State as responsible for the incident, the worst since the Islamic State attacked the Iranian parliament and the mausoleum of Ayatollah Ruhollah Khomeini in Tehran in 2017.
Iran's summoning, in the wake of the attack, of the ambassadors of Britain, the Netherlands and Denmark, countries from which Iranian opposition groups operate, comes at an awkward moment for Tehran.
It complicates Iranian efforts to ensure that European measures effectively neutralize potentially crippling US sanctions that are being imposed as a result of the US withdrawal in May from the 2015 international agreement that curbed the Islamic republic's nuclear program.
Ahvaz-related violence last year spilled on to the street of The Hague when unidentified gunmen killed Ahwazi activist Ahmad Mola Nissi. Mr. Nissi was shot dead days before he was scheduled to launch a Saudi-funded television station staffed with Saudi-trained personnel that would target Khuzestan, according to Ahvazi activists.
This week, a group of exile Iranian academics and political activists, led by The Hague-based social scientist Damon Golriz, announced the creation of a group that intends to campaign for a liberal democracy in Iran under the auspices of Reza Pahlavi, the son of the ousted Shah of Iran who lives in the United States.
While Iran appears to be targeting exile groups in the wake of the Ahvaz attack, Iran itself has witnessed in recent years stepped up activity by various insurgent groups amid indications of Saudi support, leading to repeated clashes and interception of Kurdish, Baloch and other ethnic insurgents.
Last month, Azeri and Iranian Arab protests erupted in soccer stadiums while the country's Revolutionary Guards Corps reported clashes with Iraq-based Iranian Kurdish insurgents.
State-run television warned at the time in a primetime broadcast that foreign agents could turn legitimate protests stemming from domestic anger at the government's mismanagement of the economy and corruption into "incendiary calls for regime change" by inciting violence that would provoke a crackdown by security forces and give the United States fodder to tackle Iran.
The People's Mujahedin Organization of Iran or Mujahedin-e-Khalq (MeK), a controversial exiled opposition group that enjoys the support of serving and former Western officials, including some in the Trump administration, as well as prominent Saudis such as Prince Turki al-Faisal, a former Saudi intelligence chief, who is believed to be close to Saudi Crown Prince Mohammed bin Salman, has taken credit for a number of the protests in Khuzestan.
The incidents fit an emerging pattern, prompting suggestions that if a Gulf-backed group was responsible for this weekend's attack, it may have been designed to provoke a more direct confrontation between Iran and the United States.
"If the terrorist attack in Ahvaz was part of a larger Saudi and UAE escalation in Iran, their goal is likely to goad Iran to retaliate and then use Tehran's reaction to spark a larger war and force the US to enter since Riyadh and Abu Dhabi likely cannot take on Iran militarily alone… If so, the terrorist attack is as much about trapping Iran into war as it is to trap the US into a war of choice," said Trita Parsi of the National Iranian American Council.
Iran appears with its response to the Ahvaz attack to be saying that its fears of US and Saudi destabilization efforts are becoming reality. The Iranian view is not wholly unfounded.
Speaking in a private capacity on the same day as the attack in Ahvaz, US President Donald J. Trump's personal lawyer, Rudolph Giuliani, declared that US. sanctions were causing economic pain that could lead to a "successful revolution" in Iran.
"I don't know when we're going to overthrow them. It could be in a few days, months, a couple of years. But it's going to happen," Mr. Giuliani told an audience gathered in New York for an Iran Uprising Summit organized by the Organization of Iranian-American Communities, a Washington-based group associated with the Mujahedeen-e-Khalq.
Mr. Giuliani is together with John Bolton, Mr. Trump's national security advisor, a long-standing supporter of the Mujahedeen-e-Khalq that calls for the violent overthrow of the Iranian regime.
Mr. Bolton, last year before assuming office, drafted at the request of Mr. Trump's then strategic advisor, Steve Bannon, a plan that envisioned US support "for the democratic Iranian opposition," "Kurdish national aspirations in Iran, Iraq and Syria," and assistance for Iranian Arabs in Khuzestan and Baloch in the Pakistani province of Balochistan and Iran's neighbouring Sistan and Balochistan province.
The Trump administration has officially shied away from formally endorsing the goal of toppling the regime in Tehran. Mr. Bolton, since becoming national security advisor, has insisted that US policy was to put "unprecedented pressure" on Iran to change its behaviour", not its regime.
Messrs. Bolton and Giuliani's inclination towards regime change is, however, shared by several US allies in the Middle East, and circumstantial evidence suggests that their views may be seeping into US policy moves without it being officially acknowledged.
Moreover, Saudi support for confrontation with Iran precedes Mr. Trump's coming to office but has intensified since, in part as a result of King Salman's ascendance to the Saudi throne in 2015 and the rise of his son, Prince Mohammed.
Already a decade ago, Saudi Arabia's then King Abdullah urged the United States to "cut off the head of the snake" by launching military strikes to destroy Iran's nuclear program.
Writing in 2012 in Asharq Al Awsat, a Saudi newspaper, Amal Al-Hazzani, an academic, asserted in an op-ed entitled "The oppressed Arab district of al-Ahwaz" that Khuzestan "is an Arab territory… Its Arab residents have been facing continual repression ever since the Persian state assumed control of the region in 1925… It is imperative that the Arabs take up the al-Ahwaz cause, at least from the humanitarian perspective."
More recently, Prince Mohammed vowed that "we won't wait for the battle to be in Saudi Arabia. Instead, we will work so that the battle is for them in Iran."
Abdulkhaleq Abdulla, a prominent UAE scholar, who is believed to be close to Emirati Crown Prince Mohammed bin Zayed, played into Iranian assertions of Gulf involvement in this weekend's attack by tweeting that it wasn't a terrorist incident.
Mr. Abdulla suggested that "moving the battle to the Iranian side is a declared option" and that the number of such attacks "will increase during the next phase".
A Saudi think tank, believed to be backed by Prince Mohammed last year called in a study for Saudi support for a low-level Baloch insurgency in Iran. Prince Mohammed vowed around the same time that "we will work so that the battle is for them in Iran, not in Saudi Arabia."
Pakistani militants have claimed that Saudi Arabia has stepped up funding of militant madrassas or religious seminaries in Balochistan that allegedly serve as havens for anti-Iranian fighters.
The head of the US State Department's Office of Iranian Affairs, Steven Fagin, met in Washington in June with Mustafa Hijri, head of the Kurdistan Democratic Party of Iran (KDPI), before assuming his new post as counsel general in Erbil in Iraqi Kurdistan.
The KDPI has recently stepped up its attacks in Iranian Kurdistan, killing nine people weeks before Mr. Hijri's meeting with Mr. Fagin. Other Kurdish groups have reported similar attacks. Several Iranian Kurdish groups are discussing ways to coordinate efforts to confront the Iranian regime.
Similarly, the Central Intelligence Agency (CIA) last year appointed a seasoned covert operations officer as head of its Iran operations.
Said Saudi Ambassador to the United States Prince Khalid bin Salman, Prince Mohammed's brother: President "Trump makes clear that we will not approach Iran with the sort of appeasement policies that failed so miserably to halt Nazi Germany's rise to power, or avert the costliest war ever waged."
Turkey's Great Game in Syria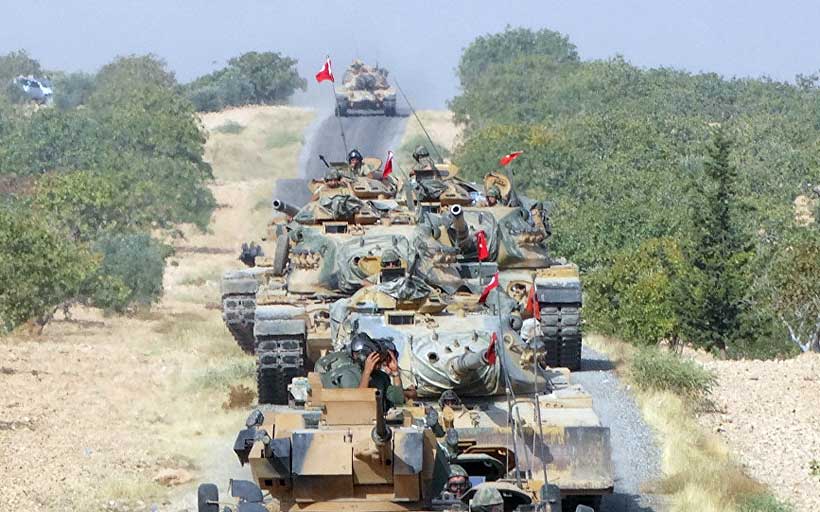 With ISIS on the run in the desert of South Syria, Al Qaeda's affiliated jihadists in Idlib brace for the final assault by the combined forces of the Syrian Army, the Russian air force and the Iranian proxies. The president of Turkey, who fancies that he could be the new Caliph himself, implores the United States to join in the quashing of Bashar Al-Assad "before he kills again." While there are some common of interests between Washington and Ankara, the United States gains nothing by assisting Erdogan's Syrian gambit, because the cure he would bring could be worse than the disease. On the other hand, the President's call five months ago to pull out of Syria altogether would be risky.
Idlib, Home to some three million people, half of whom are the displaced people running away from Assad's atrocities, has also been an uncertain sanctuary for former Salafist-jihadi fighters, who may number  30,000 according to the US military. The UN special envoy for Syria estimates there are around 10,000 al-Qaeda affiliated fighters in Idlib, most of whom under the control of Hay'atTahrir al-Sham, (HTS), al-Qaeda's latest rebranding, which hold nearly 60 percent of the city. The rest of Idlib is controlled by Turkey-backed militias. Turkey has a dog in this fight; the Western coalition does not.
Armies of four major players in the area vie for territory: Syria, Russia, Iran, and Turkey. Ankara agreed to help create de-escalation zones and 12 observation posts to protect civilians during the Astana peace talks in January 2017.
The battle for Idlib has differing objectives for the four armies on the field.
For Syria, the Idlib offensive allows al-Assad to kill thousands of Sunni rebels with barrel bombs, Russian airstrikesand Iranian militias, all with an unforgettable exclamation point. Brutal, yes, but it's a strategy that has worked in the area for 5,000 years.
For Russia, driving on Idlib will be the final blow against the rebels and the guarantee of Russia's permanent military bases in Tartus and Latakia.
For Iran, conquering Idlib would remove the last major obstacle to the Shia land bridge from the Persian Gulf to the Mediterranean Sea. Iran wants to extend its influence in the region and have uninterrupted access to Lebanon to boost Hezbollah's power and its supply chain.
For Turkey and Erdogan, the Idlib strategy is complicated. It is estimated that an assault would drive more than 700,000 people toward the Turkish border. But Turkey, with more than 3 million refugees already and a spiraling financial crisis, won't accept another humanitarian flood, according to Turkey's foreign minister. Additionally, Turkey has been investing in northern Syria to extend its influence including in Idlib by providing humanitarian aid via NGO's such as the IHH (Humanitarian Relief Foundation), opening schools, and sending teachers and imams to establish a favorable Turkish sphere of influence for long-term investment; therefore, Turkey fears to lose the ground it already controls.
Since January 2017 Erdogan anticipated that he could trust Russia and Iran and have a military presence in the region per the Astana agreement. According to Erdogan, Turkish military presence would thwart a Syrian offense against Idlib. He also wanted to extend Turkish control of northern Syria along the Turkish border, including the cities of al-Bab and Afrin, in an effort to block a Kurdish-controlled corridor along the same border. On both counts, Erdogan miscalculated.
Erdogan has been playing a dangerous game both at home and abroad. He closely but surely distanced Turkey from the West; particularly the U.S. Under his control, Turkey has become an authoritarian state, jailing thousands of people on false charges. Among the victims are hundreds of journalists, including several Western reporters and an American Christian pastor.
The fact is, Turkey no longer behaves as a U.S. ally. Under Erdogan, Turkey allowed more than 40,000 foreign fighters to pass through her borders to join Salafist Jihadi terrorist organizations in Syria and Iraq from 2013 to 2016. Though Turkey may be an enemy of Assad, the Erdogan regime has been a silent partner with Russia and Iran.
Erdogan's disdain for the United States also stems from a New York federal court case involving the Iranian embargo. Turkish Halkbank and gold trader Reza Zarrab, under the orders of Erdogan, helped Iran to circumvent the American embargo banning the sale of Iranian oil and transferring millions of dollars to Iran and its proxies. Turkey's president likely thought the Trump Administration would kill the Zarrab case.
Realizing his ill-intended policies and demands were not being met by the Trump Administration, Erdogan decided to play the Russia card. Turkey, a NATO member nation, recently purchased Russian s-400 missile systems amid US protests and will install these weapons systems in 2019.
The U.S. should set its priorities in the region based on international and humanitarian values and to eradicate the conflict in the long run by promoting the protection of the civilians first. U.S. military assets in Syria should stay put for four reasons. First, to act as a deterrent to al-Assad's use of chemical weapons and other atrocities. Second, to frustrate Turkish expansion and control of Syria's northern border. Third, to control Iranian ambitions in the region. Fourth, to assist the local allies to prevent the re-emergence of Islamic State 2.0.