ADB Forecasts Robust Growth for Cambodia, Sees Risks to Competitiveness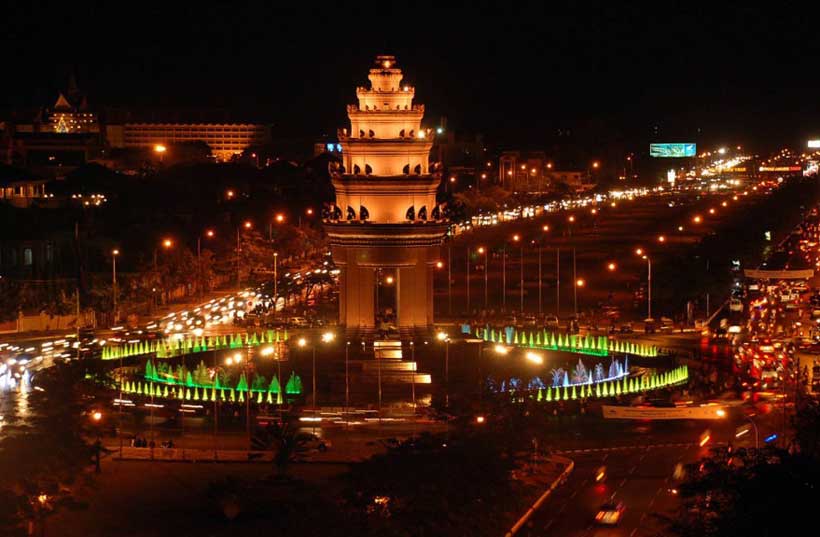 Cambodia's economy is expected to grow at 7% in 2018 and 2019, bolstered by solid global economic growth, according to the Asian Development Bank (ADB)'s flagship annual economic publication, Asian Development Outlook (ADO) 2018, released today.
"Cambodia's strong economic growth in the near term is supported by robust exports, as well as higher foreign direct investment inflows, tourism activities, and domestic demand. However, rising wages, difficulty in doing business, and intensifying competition can undermine the country's competitiveness," said Jan Hansen, ADB's Senior Country Economist. "Policies to support ease of doing business will boost entrepreneurship, deepen the integration of local businesses in the manufacturing sector, and create more and better jobs."
Cambodia's industrial output is likely to continue to grow by 9.6% this year, with a slowdown in the garments and footwear industries offset by stronger growth in emerging industries, such as electrical parts, automobile components, bicycles, milled rice, and rubber, according to the report. Growth in services is expected to remain robust at 7% this year, supported by solid numbers of tourist arrivals. Assuming favorable weather conditions, Cambodia's agriculture is expected to growth at 1.8% in 2018.
Fiscal policy is expected to be more expansionary this year than in 2017, with continuing revenue growth more than offset by higher spending and the fiscal deficit target rising to 5.1%.  The current account deficit (excluding official transfers) is seen widening this year as costs for oil and other imported products rise in a fast-growing economy. Higher investment inflows and official loans from abroad will cover the current account deficit and build up gross foreign reserves to about $10 billion by the end of 2018, providing 6.1 months of import cover.
The economic outlook is subject to downside risks, heightened by the vulnerability of Cambodia's financial sector to global financial volatility traceable to an almost doubling bank credit-to-gross domestic product ratio over the past 5 years to 76% last year. While recently introduced credit risk and capital buffer regulations have helped push down the bank credit growth to 15% by the end of last year, credit related to the real estate sector is growing much faster.
Special Course on "China's Foreign Policy and Economy-2019" Launched in Armenia
The "China-Eurasia" Council for Political and Strategic Research in cooperation with the Armenian State University of Economics, started the "Rethinking China's Foreign Policy and Economy-2019" Special Course.
The main aim of this special course is to introduce China's Foreign Policy to those who are interested in China and its politics, providing them with solid knowledge and information about this great power, which increases its economic and political influence in the world through its Belt and Road Initiative.
The special program conducted by Armenian, Chinese and foreign scholars, who cooperate with the "China-Eurasia Council for Political and Strategic Research, Foundation and have solid professional background of doing research on issues related to China's foreign policy and economy.
As a result of competition only 32 young specialists won the opportunity to be invited to participate as students in this significant course.
During the opening ceremony of Special Course, Vice-President of the National Assembly of the RA Lena Nazaryan spoke about the importance of deepening Sino-Armenian relations. She mentioned that the current government stresses the importance of further development of relations with China. Mrs. Nazaryan talked about the visit of the Prime Minister of Armenia Nikol Pashinyan to China. During her speech, she introduced also the results of the negotiations with the Vice Chairperson of the Standing Committee of the National People's Congress of the of the People's Republic of China (PRC) Shen Yueyue during her official visit to Armenia. The Vice-President talked about the necessity of further cooperation with the academicians particularly stressed the importance of the Initiative of special course "Rethinking China's Foreign Policy".
In turn, His Excellency Chinese Ambassador to Armenia Mr. TianErlong presented the main directions of China's foreign policy, spoke about the goals and success of the "Road and Belt" initiative. Mr. Tian Erlong mentioned about peculiarities of the Chinese foreign policy: Five principles of peaceful coexistence. Talking about the Armenian-Chinese relations, he mentioned about the great potential of two countries that still must be used and developed.
The head of the "China-Eurasia" Council for Political and Strategic Research-Dr. Mher Sahakyan noted that considering the growing role of China in the current world order, it is a necessity to study and understand this country, deepen relations between Armenia and China. He expressed hope that the participants of the course "Rethinking China's Foreign Policy and Economy" will use the knowledge gained within the framework of this program to further develop Armenian-Chinese relations for the sake of Motherland.
In turn, professor, Dr. Ruben Hayrapetyan stated: "I think that organizing such kind of trainings is of great importance for our country. It is now that we must decide how and with what kind of effectiveness, we will pursue our foreign policy as human resource is the most important one. For the development of the latter we are obliged to transfer and disseminate the skills and capacities that will provide a significant result in long term prospective throughout such kind of trainings. Cooperation with China has always been and will continue to be one of the priorities for our country. Thus, as a result of the course, we expect that participants will have a greater opportunity to contribute to the development of Armenian-Chinese relations in all directions thanks to their knowledge gained.
IEA and African Union hold first ever ministerial meeting on development of Africa's energy sector
The International Energy Agency co-hosted a joint ministerial summit with the African Union Commission (AUC) on Wednesday that brought together high-level representatives from government and industry to discuss the development of Africa's energy sector.
The event, titled "The Future of Africa's Energy," is the first of its kind and reflects the IEA's significant expansion of its engagement in Africa.
Wednesday's discussions will help to inform a special report on Africa in the 2019 edition of the World Energy Outlook, the IEA's flagship publication. They will also help the IEA to determine the next steps in its engagement with African Union members and in its work on several key Africa programmes in the years ahead.
"This historic meeting is a milestone for the IEA's cooperation in Africa, a continent that is of critical importance in the global energy arena," said Dr Fatih Birol, the IEA's Executive Director. "I'm honoured to have been able to participate in such rich and fruitful discussions with major energy stakeholders from across the continent. African Union Commissioner Dr Amani Abou-Zeid has been a good friend and strong supporter of the IEA, and we are grateful to her and her team for working with us to deliver such a productive event."
Dr Birol opened the event alongside Dr Abou-Zeid, Egyptian Minister of Electricity & Renewable Energy Dr Mohamed Shaker El-Markabi, and US Under Secretary of Energy Mark Menezes. Speakers at the conference included Ethiopian Minister of Water, Irrigation and Electricity Dr Seleshi Bekele.
The IEA and the AUC plan to hold a second ministerial forum on Africa's energy sector in Paris next year.
The IEA has been working on Africa-related issues for many years, including capacity building for energy statistics as well as focusing on energy access, clean cooking and energy efficiency. The agency has been collecting country-by-country data and developing a long-term pathway for achieving universal energy access by 2030.
"Investment, innovation and access to education and training will be vital for Africa's energy future," Dr Birol said. "The IEA is fully committed to providing support and advice to help achieve positive, sustainable and prosperous transitions across the continent."
This week, the IEA announced that Dr Kandeh Yumkella, a former United Nations Under-Secretary-General, will become an advisor on Africa and energy access issues.
The IEA is also launching two 3-year projects in Africa in 2019 that will focus on energy statistics and modelling, as well as energy policy advice. In the past few years, Morocco and South Africa have joined the IEA family as Association countries.
This year, the IEA chaired the latest edition of the inter-agency Tracking SDG7 report, which it co-authored with four other international organisations. The United Nations Sustainable Development Goal (SDG) 7 aims to ensure affordable, reliable, sustainable and modern energy for all by 2030.
This year's tracking report found that without more sustained and stepped-up actions to meet those targets, 650 million people around the world will be left without access to electricity in 2030. Nine out of 10 of them will be living in sub-Saharan Africa.
Forum calls for stepped-up action to end child labour
Participants at a forum held at the Centenary International Labour Conference (ILC) called for stronger action to end child labour, and highlighted some of the challenges resulting from the major transformations occuring in the world of work.

In an emotional moment, youth advocate Molly Namirembe recalled how she and her sister worked on a tea plantation in Uganda when they were children, after their parents died. "We would work for 12 hours, sometimes on an empty stomach," she recalled, tears running down her cheeks.

The thematic forum entitled Together for a brighter future without child labour also focused on accelerating action towards SDG Target 8.7 that calls for "immediate and effective measures to eradicate forced labour, end modern slavery and human trafficking and secure the prohibition and elimination of the worst forms of child labour, including recruitment and use of child soldiers, and by 2025 end child labour in all its forms."
"Ever since the creation of our Organization, the elimination of child labour has been a top priority," said ILO Director-General Guy Ryder, adding that he expected the ILO would achieve soon the universal ratification of Convention 182 on the Worst Forms of Child Labour .

Kumaran Shanmugam Naidoo, Secretary-General, Amnesty International, called for a holistic approach "where we not only view the phenomenon of child labour but also the very systems that drive children to work at such a high cost."

Juneia Martins Batista, Women's Secretary, Single Confederation of Workers (CUT), Brazil, spoke of the need to improve the situation of women who make a living as domestic workers and rural workers. "The idea is that we can empower these adults, mostly women, to have a decent life. With decent work, we may be able to eliminate child labour."

Assefa Bequele, Founder and former Executive Director, African Child Policy Forum, said: "The big question … is what needs to be done to initiate the kind of policy we need to narrow the gap between rhetoric and action and that would put children at the heart of public policy."

Sue Longley, General-Secretary, International Union of Food, Agricultural, Hotel, Restaurant, Catering, Tobacco and Allied Workers' Association, said, "The key question, the key accelerator will be addressing the fundamental power imbalance in rural areas – we really still do have feudal landlords and slavery."

Jacqueline Mugo, Executive Director, Federation of Kenya Employers, stressed the need "to address the root causes and systemic issues. These are poverty, informality and the lack of educational opportunities for young people."

Tanzila Narbaeva, Deputy Prime Minister of Uzbekistan, said: "To ratify a child labour convention is only half of the job: what is needed is to change the mindset of people and their perception of the child labour phenomenon."

Phyllis Kong Wai Yue, Human Rights and Responsible Sourcing Specialist at chocolate maker Ferrero, said, "It is in business' interest to demand stronger policies for protecting children, as well as the enforcement of labour laws."

The forum was followed by a music event providing testimony to children and young people's role combating child labour.