This piece explores the controversial thesis that the United States strategically and consistently maneuvers against the emergence of regional hegemons across the globe. Whether it is Russia in the former Soviet space or China across the South China Sea, the United States works to disallow the expression of regional hegemonic power despite its own continued reliance on its global hegemony being accepted. Up to now, most examinations have considered this simply an exercise of American foreign policy and global positioning according to its own best interests. What has gone largely absent from this is how much our understanding of American hegemony (its structure, its theoretical underpinnings, and its ultimate purpose over time) can provide a better explanation not just of American positions but also the interaction with major regional powers in this first fifth of the 21st century.
What is more intriguing to this project is teasing out that consensual/coercive dynamic within American global hegemony, how it has impacted the development of regional power around the globe, and to what ultimate purpose. Some works have deftly pointed out that this consensual/coercive diode has quite literally created a dual state: the ever-famous democratic one and the less-recognized security state. The former is always highlighted by the United States and touted as the reason why American power should not ever be considered an empire proper, that its initiatives and actions can rightly be seen as endeavoring to help the global common good in numerous and diverse ways. The latter is less public but increasingly more potent and seems to be behind many global maneuvers that work against the ideals and principles of liberal Western traditions (think invasive mass surveillance, rendition and indefinite detention, torture, and the violation of sovereignty). While some like to point out these two 'states' of hegemony as diametrically opposed to one another, this work posits a perhaps controversial assertion: that they are instead two sides of the same American power coin and have, for years, regularly been interchanged, often with one being used to justify and rationalize the need for the other.
Some have even taken to giving it a sinister-sounding autonomous nickname, The Deep State. But this paper rejects the notion that the Deep State is something running perniciously alongside regular transparent power and undermining its most coveted principles. Rather, it is the functional amoral center of American foreign policy power and it has for a long time been actively serving the purpose of prolonging its global hegemony and preventing the emergence of any other contenders on the regional level. American hegemony is not resting on its laurels and it is not going complacently into the good night. It is, and has been, fighting tooth and nail for its continued dominance on the world stage and has viewed regional hegemonic power expression as a challenge of relevance that demands elimination.
This is not so much global conspiracy theory as merely sound strategy. The United States from the very beginning of the unipolar era has strongly sought to have its power equated not so much to its own individual rational pursuit of national security interests, but rather as the projection of what some call 'democratic hegemonism.' This form is easily the most benevolent: not linked to either single-state dominance or class superiority, democratic hegemonism is seen as a fragile consensus of ideals, perceptions, and values demanding a nurturing environment of like-minded states striving to achieve an international system epitomized by civil liberties, freedom, social activism, and transparent democratic institutions. While this is indeed laudable as a goal for humanity, it is curious that we have not been able to draw strategic lines between this project and the manner in which America has always tried to project is global power hegemonically. If you can get others to buy into the idea that your power is somehow 'good for all,' then anyone rising to assert their own grander power gestures would not just be about themselves, or even about challenging the United States, but actually serving as agitators against the common global good.
It is an interesting conception, given that the US has so actively tried to suppress publicity away from its pursuit of national interests and cloak/veil them instead under the guise of this benevolent form of hegemony. In short, rather than being two different kinds, the security state in America has sought to rationalize its own actions by convincing others it is in fact working for democratic hegemonism. Indeed, another form of this has been how globalization (the supposed projection of democratic economic hegemonism for the benefit of all) has been accompanied by a powerful increase in American military spending and investment in military R&D. Indeed, the foreign sales of American weaponry has de facto resulted in the deputizing of the select chosen few to act as regional stewards in the name of American global hegemony.
America has always prospered under this idealized image projected outward across the globe. Some might even argue it has been a powerful driver of policy. But what is more likely is that the driver of the policy has been institutionalizing American global hegemonic power and using these idealized images as the means to get to that end. It is this aspect of double standards that levels accusations of hypocrisy against the United States and fuels some of the most virulently powerful anti-Americanism. Indeed, this work is an advancement of what has now been considered a time/context-dependent argument: most of the above critiques exploded during the mid-to-late 00s, what with America in the throes of two open wars and countless other military maneuvers in the Global War on Terror. They were ostensibly anti-Bush critiques about what had been done to real American values, as it were. But we have had two new Presidents since George W. Bush and our foreign policy positions and global power projections have not dramatically altered. Thus, these critiques need to be reevaluated not in the light of simply criticizing a president but in assessing the continued American desire to maintain its global hegemony. And that desire goes beyond individual leader personality and above political party.
Be warned: this is not a hyper-liberal diatribe against the US trying to maximize its power to the fullest. That is the realist system of international relations we still exist in today. It is, however, a criticism of the academy for not making the realization explicit of how the security state is literally pretending to represent benevolent democratic hegemonism while perhaps only pursuing selfish interests. This present argument adds a new dimension and relevance to the neorealist vs. Gramscian hegemony debate: the neorealist version emphasizes the role of a great power to set up institutions, policing, norms, etc. The Gramscian version focuses not on brute force but on ideas and consensus, on the establishment of dominance by consent through means of ideological and political leadership. To an extent, at least when it comes to American power, this debate has been a false one: the so-called struggle between the security state and democratic hegemonism in America has been no struggle at all. The relationship was misdiagnosed: America has, in the 21st century, been propping up a publicly-declared Gramscian notion of hegemony while simultaneously enforcing it and overwhelming potential regional challengers to it with a decidedly aggressive neorealist form of great power hegemony. This combination, never before made explicit, has been monumentally successful in frustrating and blocking regional hegemonic efforts to influence critical global security neighborhoods, especially given the United States has engineered a powerful misdirection against many fine intellectuals: by making them believe in a fictitious Deep State that is secretly marauding against more transparent American interests, they are missing the less mysterious but perhaps even more impressively dangerous political reality.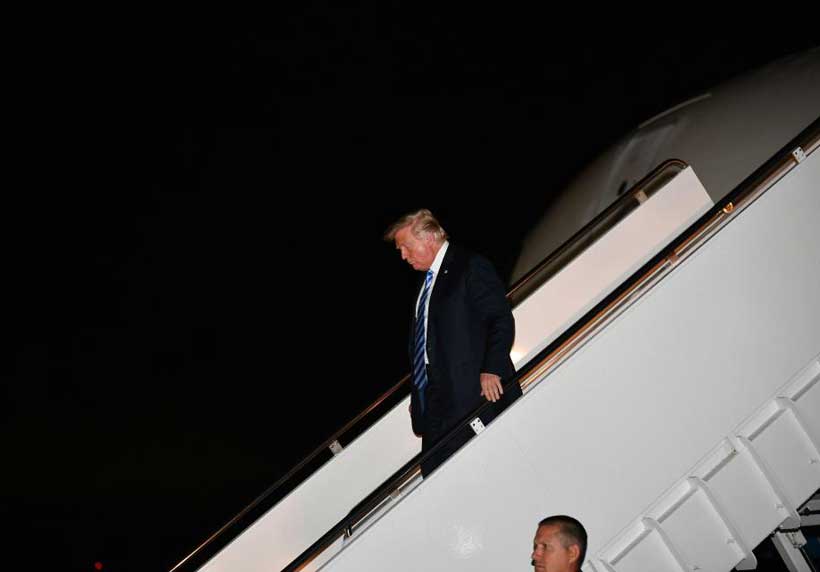 (NOTE: Remarks from U.S. President Donald Trump that will be considered as representing possibly his biggest lie will here be boldfaced, so that they will stand out from the context in which he stated them.)
Trump escalated Bush's and Obama's invasions and military occupations of the sovereign nations of Iraq, Afghanistan, and Syria. But on January 7th, he  promised, in one of his thousands of lying tweets, that, "Endless Wars, especially those which are fought out of judgement mistakes that were made many years ago, & those where we are getting little financial or military help from the rich countries that so greatly benefit from what we are doing, will eventually come to a glorious end!"
Then, on Sunday, January 13th, he tweeted that if Turkey won't do in Syria what he, the U.S. President, wants it to do there, then the United States will be in the first official stage of war against Turkey, the economic-sanctions phase, which nowadays is the prelude to an invasion, as has been the case since 1990 regarding Iraq. On January 13th, he tweeted, "Will devastate Turkey economically if they hit Kurds. Create 20 mile safe zone…." Minutes later, he tweeted: "….Likewise, do not want the Kurds to provoke Turkey. Russia, Iran and Syria have been the biggest beneficiaries of the long term U.S. policy of destroying ISIS in Syria – natural enemies. We also benefit but it is now time to bring our troops back home. Stop the ENDLESS WARS!"
First, here, will be discussed his January 7th string of lies, in order to isolate which one of those was the biggest:
He might be truthful about his intent, to reverse his own (previously escalatory) policies against those named nations (Iraq, Afghanistan, and Syria — his Administration's efforts to overthrow or to keep in power the given nation's leader and government). However, he ignores his own having contributed to those "judgement mistakes that were made" (such as his having increased American troop-levels in those countries — his having escalated, instead of eliminated, those military occupations).
And, then, on January 12th, The Hill  bannered, "US calls for 'new government' in Venezuela". So, Trump obviously still believes that a U.S. President has the right to overthrow or install a government in any country he wishes — the right to perpetrate coups and military invasions anywhere in the world. This is a craving for global empire.
He still continues to believe, like his predecessors did, that the U.S. President is the policeman, judge, jury, and executioner, of any government, anywhere in the world, just like the international tyrants George W. Bush and Barack Obama did. Their imperialistic lies were accompanied in some cases by coups but in other cases by outright invasions and military occupations, and destroyed Afghanistan and Iraq and Honduras and Libya and Syria and Ukraine. They destroyed those countries, none of which had ever perpetrated aggression against the United States. This was therefore pure aggression. (Trump as President never condemns them, for the lie-based international aggressions that they had perpetrated.)
Trump's words have always been untrustworthy, some of them promises to the left, but mostly promises to the right. But only his actions have really mattered, and they've been consistently to the far right, including neo-conservatism. That means imposition of the American empire. He has been trying to do that — impose the American empire. He does it not only by expanding America's existing bloated 'defense' budget (half of the world's total), but by expanding the numbers of U.S. military bases and troops in invaded and occupied countries such as Syria. None of those countries had ever invaded nor threatened to invade the United States (although Al Qaeda in Afghanistan did in 2001, with lots of American Government and Saudi help — but then the U.S. President, Bush, invaded and occupied Afghanistan, instead of  took out Osama bin Laden and Ayman al-Zawahiri — and he and his 911 Commission hid the guilt of George W. Bush and his buddy "Bandar Bush"; so, this was like "The Emperor can do no wrong," and Trump is following in their imperial footsteps).
Invasions and coups, like those, are (and were, before Trump became President) pure aggressions. Despite Trump's lies, America is the global aggressor, in fact (even recognized globally as being such). Trump does nothing to stop and reverse that horrendous bipartisan (Democratic and Republican) American aggressive reality. Trump's actions have instead been like that of his recent predecessors: neo-conservative, neo-imperialist, aggressive, foreign policies. They've made mockeries of his repeated promises not to do that sort of thing. He has even stocked his Administration with loads of G.W. Bush infamous neocons like John Bolton, some of whom he had condemned when he was running for President.
This is why everyone distrusts Trump now, except his base-voters, who ignore his incessant record of having lied — they trust everything he says, even his self-contradictions. To be intelligent now and yet continue to trust Donald Trump, is extremely difficult, if not logically impossible, to do, especially after his enormous record of self-contradictions.
TRUMP'S BIGGEST LIE
But his biggest big lie has certainly been the one that he stated in his January 7th tweet, about whom the beneficiaries  of those military invasions and occupations are. Those beneficiaries are not as he said, "rich countries that so greatly benefit from what we are doing." To the exact contrary.
Consider what the actual impacts of America's neo-conservative, neo-imperialist, Government, have  been, upon those "rich countries" (by which Trump is referring to the EU):
The January 14th issue of the liberal New Yorker magazine states at least this matter accurately, when Elisabeth Zerofsky's article, which is titled in the print edition as "The Illiberal State: Viktor Orban's vision for Europe", asserts that: "Until 2015, Hungary received around three thousand asylum requests per year. That year, hundreds of thousands of people, mostly from Iraq, Syria, and Afghanistan, travelled from Turkey through Bulgaria to Serbia and Croatia, where they attempted to cross the Hungarian border into the E.U. Many wanted to reach Germany, where Chancellor Angela Merkel, declaring, 'We can do this,' was welcoming a million refugees. Hungary, a smaller and poorer state than Germany, was ill equipped to deal with the chaotic crowds in the border area headed toward trains and buses that would take them onward."
In other words: U.S. President Trump, who is famous for exaggerating the harms that huge numbers of undocumented immigrants cause, must certainly be at least conscious of the fact that those floods of millions of Muslim refugees into what he calls here "the rich countries that so greatly benefit from what we are doing," are "mostly from Iraq, Syria, and Afghanistan," and that those refugees have been fleeing countries that the U.S. Government had invaded, and that the U.S. Government still does occupy, by thousands of American troops and constant supplies of weapons. America's invasions created this crisis for EU nations. Trump demands that those European countries be grateful for those millions of refugees, from countries that he bans or discourages from sending any refugees into the United States. Hypocrisy worse than that, can't be imagined.
He thinks that those European countries ought to be grateful for America's having caused in Europe this refugee crisis, which is tearing the EU apart.
If that's not his biggest lie, then what is?
But maybe his biggest lie isn't that "the rich countries … so greatly benefit from what we are doing"; maybe, instead, it's that all of those "judgment mistakes" were "judgement mistakes that were made many years ago," and that he didn't make any of them, but only his predecessors did.
However, maybe his biggest lie is instead his hiding whom the actual beneficiaries of his, and the rest of the American Government's, permanent-warfare state have actually been, and always are.
Consider, for example, this passage from the 200-page, 5 November 2018, study by the Project on Government Oversight, "Defense Contractors' Capture of Pentagon Officials":
BRASS PARACHUTES: Defense Contractors' Capture of Pentagon Officials Through the Revolving Door 
The revolving door is just one of several forms of undue influence on the operations of the Department of Defense. While beyond the scope of this report, the reverse-revolving door (when defense industry officials join the government, raising concerns they will then give preferential treatment to their former employers) is also a matter of significant concern. Top contractors have been over-represented in Department leadership. At the beginning of his Administration, President Obama issued an ethics executive order banning lobbyists form [from] working in agencies they lobbied during the previous two years, only to issue the first waiver shortly thereafter to his first Deputy Secretary of Defense, William Lynn, who was previously a Raytheon lobbyist.25 The last Deputy Secretary for that Administration, Bob Work, joined Raytheon's board shortly after he retired from the government.26 President Donald Trump's Secretary of Defense, James Mattis, was a former board member of General Dynamics. His Deputy Secretary, Patrick Shanahan, came from Boeing, the Pentagon's second largest contractor. Campaign contributions, lobbyists, earmarks, industry-sponsored trips, and contracts structured to garner political support for specific contractors' programs, also undermine the fairness and effectiveness of the procurement system. The government and the public have significantly more — though still inadequate — information about those other forms of influence-peddling. For example, campaign contributions must be periodically disclosed, registered lobbyists must report their expenditures and generic lobbying activities, and incoming executive branch officials have to disclose their positions held outside of government. But the public has significantly less information when it comes to the activities of former government officials. President Trump has spoken out against that conflict of interest. "I think anybody that gives out these big contracts should never ever, during their lifetime, be allowed to work for a defense company, for a company that makes that product," then-President-elect Trump said.27 
Just two months before this POGO study, there was a Code Pink study, "War Profiteers: The U.S. War Machine", about the major role that foreign buyers of U.S. weapons, such as the Saud family, play in this American corruption. (America's efforts ever since the late 1940s, to overthrow Syria's determinedly secular non-sectarian Government, and to replace it with one that would be controlled by the rabidly fundamentalist-Sunni Saud family, who own Saudi Arabia, are excellent examples of that corrupt "U.S. War Machine" in action. See this and this and this and this and this, for documentation of this.)
It's people like them, and the billionaires who control the major U.S. 'defense' contractors such as Lockheed Martin, and who control America's international extraction corporations such as ExxonMobil, who benefit from America's rabid militarism. It's not "the rich countries" of the EU. And Trump's denial, of this barbaric historical fact, is actually his biggest of all of his big lies.
Without being honest to the public, no government can be a democracy; it can only be a corrupt dictatorship. And that's what America now actually is.
Trump certainly isn't the truth-teller who stands against, and tries to rectify, that ugly reality. An excellent current example of the insidious nature of this constantly attempted international dictatorship that Trump refuses to expose, was provided on January 8th, by Mark Ames and Max Blumenthal, at the GrayZone Project, and headlined "New Documents Reveal a Covert British Military-Intelligence Smear Machine Meddling In American Politics". Their reporting about this would probably win a Pulitzer, if America were a democracy and if the Pulitzers were honest.
Then, regarding Trump's tweet on January 13th, "Will devastate Turkey economically if they hit Kurds. Create 20 mile safe zone….,"  he's clearly threatening economic sanctions against Turkey. He says that he wants to end "endless wars" and, now, in order to attain that, he uses against Turkey the threat of beginning a new war, this one against them. His followup that same day, "Russia, Iran and Syria have been the biggest beneficiaries of the long term U.S. policy of destroying ISIS in Syria" is a compound lie, because the U.S. had avoided targeting ISIS in Syria until Russia started bombing ISIS in Syria on 30 September 2015, and the U.S. had even been secretly arming ISIS there so as to help ISIS and Al Qaeda to overthrow Syria's secular and non-sectarian Government. Thus, whereas Russia started bombing ISIS in Syria on 30 September 2015, America (having become embarrassed) started bombing ISIS in Syria on 16 November 2015. Trump wants to steal from Assad, and from Putin, and from Rouhani, the credit for the success that they have thus far achieved at defeating ISIS in Syria. America — ISIS's (otherwise called "ISIL's") secret supplier — thus tries to present itself as ISIL's conqueror. (Table 26 of the July 2015 Orb International poll of Syrians asked Syrians for "the reason that explains the presence of ISIL [in their country]?" And 82% of Syrians said "ISIL is US foreign manufacture." So, they're aware of that fact.)
So, which is Trump's biggest lie? Make your own choice, and it'll be reasonable, because they're all huge.
CLOSING NOTE
On January 14th, the generally reliable analyst Alex Christoforou headlined at The Duran, "Mike Pompeo tours Middle East to challenge John Bolton as U.S. foreign policy TSAR", and concluded that "it appears President Trump's promised US troop 'full' and 'immediate' withdrawal from Syria appears to finally be in motion." If that turns out actually and finally to be the case, then the U.S. under Trump is finally withdrawing from Syria, like the U.S. under Nixon withdrew from Vietnam on 29 March 1973. Interestingly, in both cases, that would be a Republican President finally ending a U.S. invasion that had been started by a Democratic President, and the Republican President lying constantly and never condemning the Democratic President for having invaded that country. Unless American Presidents publicly acknowledge that the U.S. Government has been controlled by a deeply evil militaristic and military Deep State that has served only America's billionaires, and that all of these had been U.S. invasions of countries that never had invaded the U.S. and that actually never even threatened to do so, the U.S. will continue to be that type of country — a global invader, which aspires to control the entire world. In that case, the U.S. would turn out to be the successor to Nazi Germany, but a nuclear superpower.
Author's note: first published at strategic-culture.org
How Has the Purpose(s) of American Higher Education Changed Over Time, and Why?
Initially, universities and colleges have been founded on three central promises such as (a) teaching, (b) public services, and (c) conducting academic research (Scott, 2006). Myriad surveys and studies executed regarding universities and colleges echo that the above three purposes of higher education have undergone huge changes over the past centuries, and the origins of these changes were political, social, economic, and demographic upheavals in the in the USA. Considering the three purposes of higher education and the impacts of political, economic, and social factors on them, I want to answer this question that how much the above purposes of higher education have altered over the course of history?
Brubacher and Rudy (1997) state that English Americans founded the colonial colleges in the USA so that their children could preserve the facets of "Old World civilization" which were valuable for their ancestors (p. 23). They add that arguably another factor which led to the establishment of colonial colleges in the USA was the demand for teaching religious matters for literate and educated priests. Likewise, Spencer (cited in Shapiro, 2009) holds that in the eighteenth century, the purpose of universities was to separate erudite men from less erudite men. It indicates that till the end of the eighteenth century, the focus of American higher education was on a typical stratum of the society.
With the advent of new social, political, cultural, and economic changes in the United States of America, the purpose of higher education was also changed. For example, Trepanier (2013) argues that in the early 1970s the purpose of universities was shifted from military research to civilian and commercial research so as to fulfill the needs of the ongoing emerging "global economy" (p. 4). He adds that before the Civil War in America, the primary purpose of American higher education was to train undergraduates as "good democratic citizens and leaders" (p. 6). Thus, the institutions held that to meet this necessity, they offered a liberal arts curriculum.
Thornton and Jaeger (2007) have quite a similar story that how previous American presidents were persuading the higher education institutions authorities to train strong leaders and productive citizens. They, in the article of The Ceremonies and Symbols of Citizenship, cite from President Jefferson that he was in this belief that universities of Virginia had to teach its students how to be responsible citizens and future leaders. Similarly, Lee (2016) in the book of Class and Campus Life writes that Linden College, a pseudonym liberal arts college, instilling this notion into its students that they are preparing them for tomorrow's societal leadership.
Higher education institutions in the USA since their inception by the British Empire have undergone huge changes in terms of demographics. In 1790 there were 10,050 students, 141 faculty, and 11 institutions in the entire USA (Cohen, A. M., &Kisker, C. B., 2010). But after elapsing approximately three centuries and a half, the demographics of students, faculty, and higher education institutions in the USA is incomparable to 1790. For example, today only the University of Missouri accommodates 116,906 students, 1,168 faculty, and instructors, let alone all American higher education institutions (website of the University of Missouri, 2017).
So, booming population and increasing demographics of students led to social, political, and economic changes, and subsequently these various upheavals obliged higher education institutions authorities to expand the scope of their activities; as a result, the huge expansions in educational sectors changed the purpose higher education too. Nowadays, higher education authorities feel responsible for educating all the stratum of society rather than merely educating a privileged layer of the society or differing erudite folks from non-erudite ones.
One of the most political and social factors which disrupted the whole process of higher education and in particular the purpose of higher education was America's Civil War (Shapiro, 2009). He argues that after the Civil War, we have noticed a huge tremendous of changes in the size and nature of the higher education. Shapiro (2009) asserts that the antebellum colleges and universities were not able to fulfill the needs of the society. Upon ending the Civil War, the numbers of higher education institutions increased, students and faculty demographics mounted rapidly, and especially the purpose of higher education shifted from merely teaching religious courses, literature and arts, and moral philosophy towards teaching the subjects and matters that society needed for tackling its social, political and economic challenges.
During the course of history not only the purpose of higher education is changed but also the governance anatomy, leadership models, curriculum, teaching methodologies, scope of higher education, physical body of higher education institutions, political, economic and social approaches towards higher education, and the status of interactions between faculty and students were all altered too. For instance, Bonfiglio (2004) says that in the past faculty-student interactions outside the classroom used to take place at professors' homes – parlor. The faculty parlors were the main places where social, political, cultural, and economic ideas were used to be exchanged between students and professors. He adds that parlors were the main outdoor places where students could improve their social skills and capacities. He continues that when campus clubs such as (a) dining halls, (b) libraries, (c) student centers, and (d) other campus associations were set up, they replaced the faculty parlors. Hence, faculty ceded their dominance on students' spare time.
The same story goes for the purpose of higher education. For example, the American higher education institutions in the colonial era were established with the purpose of teaching the religious matters to teach children but over the passages of time, political, social, economic, industrial, and technological metamorphosis led to the alternation of the purpose of higher education. For example, Scott (2006) argues that globalization and rapid changes in technology effectuated huge changes in the way how educational institutions educate the public. She adds that academic organizations are in the crux of these upheavals in society. Scott (2006) holds that educational institutions so as to embrace these social, political, and economic transformations, must remain exorable. Thus, higher education institutions, to prove their alignment and adaptational capacity with the new changes, nowadays constantly prepare and update their statement of missions based on their updated academic purposes.
Since the beginning of the postmodern era, there is another growing trend in higher education which tries to attract the purpose of higher education in its own direction. This new trend is promulgating the "Aristotelian prudence" (Trepanier (2013, p. 7). He suggests that the primary purpose of American higher education should be based on promoting the "character and practices of Aristotelian prudence" (p. 8). Moreover, he argues that erudition not only fills the gap between theoretical and practical reasoning for students but also it can act as a linchpin to wind the conventional activities of the higher education institutions – teaching, research, and public services. Further, it will capacitate the higher education to align its missions with the society today's needs. Trepanier (2013) says that the propensity of promoting the "Aristotelian prudence" in higher education is originated from the idea of reinvigorating the political philosophy and pedagogy in order to countervail the challenges of postmodern critics regarding questioning the importance of theoretical reasoning in higher education.
It seems that the nature, scope, and constituents of the purpose of higher education have been being discussed by the governmental authorities, academic institutions administrators, and politicians since the inception of academic institutions. As Fortino (2012) says that all our liberal arts colleges with holding 200-year old history – their foci are on training the students for effective and efficient contribution via developing their persona. But nowadays, there are demands that higher education should turn their focus to making ready the students for a career. He believes that the purpose of higher education should be based on creating minds that react to any kind of strange occurrences in society. Similarly, I think, given all the social, political, and economic challenges awaiting higher education institutions to unravel them, higher education authorities should contemplate about the abovementioned challenges via revising their purposes in accordance with the needs and necessities of the society as they did for centuries.
All and all, in my mind, in the 21st century – in the era of technological explosions, entrepreneurial development, business expansion, globalization, internationalization of higher education, privatization, commercialization and corporatization of public sectors, higher education institutions significantly need to converge their main purpose on teaching creative, problem solving and critical thinking skills to student rather than just filling out their memories with some incongruous information so that they can fight with increasing gap between wealthy and indigent strata of the society in the USA, soaring competitive and tough job market, increasing unemployed degree holders, emerging quasi-automatons replacing people at factories, increasing huge intramural and extramural migration, booming population, financial crisis, students debts, and increasing degree completion retardation among the students.
The Secret Logistics of America's Global Deep State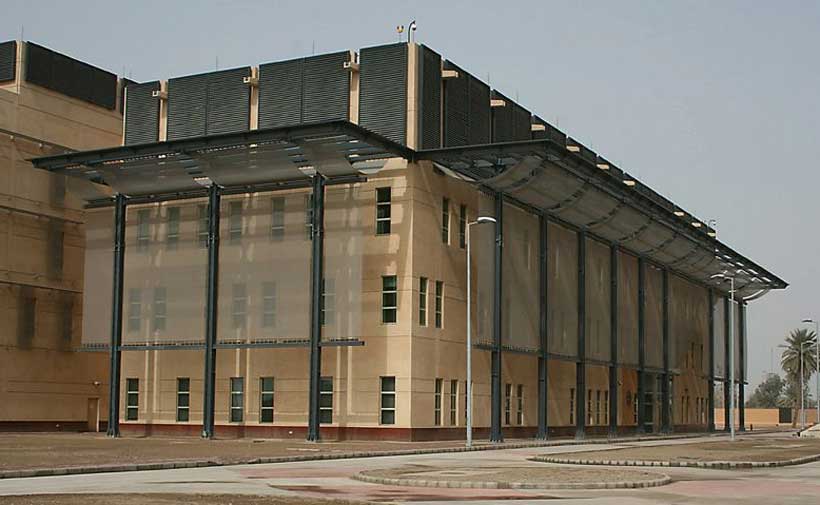 Why is America's Baghdad Embassy the world's largest embassy — and the largest by far?
"It's as if the U.S. Embassy is there not only to protect American interests, but to manage the entire world from the heart of the capital, Baghdad."
— Iraqi Sheikh Qassim Al Ta'ee, as quoted on 27 December 2011 in Al Iraq News and translated by Ibrahim Zaidan from the original Arabic by Nicholas Dagher
Zaidan's article went on to say:
The world's largest embassy is situated in the Green Zone and fortified by three walls, another barrier of concrete slabs, followed by barbed wire fences and a wall of sandbags. It covers an area of 104 acres, six times larger than U.N. headquarters in New York and ten times larger than the new embassy Washington is building in Beijing – which is just 10 acres.
[Editor's' Note: The ten-acre U.S. Embassy in Beijing is the second largest overseas construction project in the history of the Department of State — and the 104-acre U.S. Embassy in Iraq is the largest.]
So, America's largest diplomatic mission is surrounded by high concrete walls, is painted in black, brown and grey and is completely isolated from its environment. … The United States announced several months ago that between diplomats and employees, its embassy would include 16,000 people after the pullout of U.S. forces.
On January 1st, Will Sillitoe headlined at the Helsinki Times, "What does the US embassy in Baghdad export to Finland and dozens of other countries?"  and he reported that:
More than a million kilograms of cargo were shipped from Baghdad to different parts of the world, reveals US embassies procurement documents.
Mysterious cargo shipments from the US Embassy in Baghdad to other American embassies and consulates around the world have been revealed on a Wikileaks' database. Procurement orders of US embassies are public documents, but Wikileaks put them in a searchable database making it easier to analyse.
The database displaying worldwide US embassy orders of goods and services reveals Baghdad as a postal and shipping centre for tonnes of freight.
Though military freight might be expected between the US and Iraq, records show that embassies across Europe, Asia, the Middle East, the Americas and Africa are all receiving deliveries from Baghdad too.
According to Wikileaks' database, orders to ship more than 540 tonnes of cargo to the US were made in May 2018. The same document shows other main delivery destinations included 120 tonnes of freight to Europe, and 24 tonnes to South Africa, South America and Central Africa respectively. …
On December 29th, Sillitoe had headlined "Guarded warehouse near airport and mysterious cargos from Baghdad; what is the US embassy in Helsinki up to?"  and he opened:
Why does the US Embassy in Helsinki need a big warehouse near Malmi Airport and what are the contents of thousands of kilograms of cargo sent to Helsinki from Baghdad?
A dilapidated warehouse in Malmi is being used by the US Embassy for unknown operations after a Wikileaks release revealed its location.
The anonymous looking building on Takoraudantie is notable only for the new 427 meter perimeter fence that according to the Wikileaks' database was ordered by the US Embassy in April 2018.
Situated across the street from the main entrance of Malmi Airport, the warehouse with its 3 meter high security fence appears an unlikely location for official embassy business. Neighbouring companies include a car yard and a tyre warehouse.
Helsinki Times visited the perimeters this weekend. Security personnel, young Finns in uniforms with American flags on their arms, appeared nervous and suspicious when asked to comment on the warehouse. …
Sillitoe closed that article by saying: "The searchable Wikileaks database and info about Finland related activities can be found HERE."
That link leads to a "US Embassy Shopping List" of 24 separate documents, one of which is "RFP 191Z1018R0002 Mission Iraq Shipping Transportation Services", dated "5/17/18."
Item 2 there is "Packing of unaccompanied air baggage (UAB) – Throughout Iraq – U.S. Embassy Baghdad, Baghdad International Zone, U.S. Consulate General in Basrah, U.S. Consulate General in Erbil, U.S. Baghdad Diplomatic Support Center, U.S. Erbil Diplomatic Support Center (Note: under the specified unit of measure the U.S. Government contemplates 'per kilogram' of gross weight in kilograms)"
The "Quantity Estimated" is "100,000" and the "Unit of Measure" is "kilogram."
Item 7 is "Storage Services – Monthly Storage of containers – Throughout Iraq – U.S. Embassy Baghdad, Baghdad International Zone, U.S. Consulate General in Basrah, U.S. Consulate General in Erbil, U.S. Baghdad Diplomatic Support Center, U.S. Erbil Diplomatic Support Center."
The "Quantity Estimated" is "100" and the "Unit of Measure" is "40' Container."
Item "Section B.5 Sub-CLIN:84E" is "From Republic of Iraq to Western European Countries (Austria, Belgium, Denmark, Finland, France, Germany, Greece, Iceland, Ireland, Italy, Luxembourg, Netherlands, Norway, Portugal, Spain, Sweden, Switzerland, United Kingdom, Andorra, Liechtenstein, Malta, Monaco, San Marino, and Vatican City, Nicosia)"
The "Quantity Estimated" is "5,000" and the "Unit of Measure" is "kilogram."
Item "Section B.5 Sub -CLIN:84 F" is "From Republic of Iraq to Eastern European Countries (Armenia, Azerbaijan, Belarus, Estonia, Georgia, Latvia, Lithuania, Moldova, Russia, Ukraine, Albania, Bosnia and Herzegovina, Bulgaria, Croatia, Czech Republic, Hungary, Macedonia, Montenegro, Poland, Romania, Serbia, Slovakia, Slovenia, Kosovo)"
The "Quantity Estimated" is "5,000" and the "Unit of Measure" is "kilogram."
By far the biggest categories for shipments are to the eastern U.S. states: "From Republic of Iraq to the Unites [sp.] States Eastern Time-Zone – the following States: VT, ME, NH, MA, RI, CT, NJ, DE, MD, DC, NY, PA, VA, NC, SC, GA, FL, WV, MI, OH, IN, KY, GA"
There are 11 such categories:
"Section B.5 Sub-CLIN:85A"
"Section B.5 Sub-CLIN:86A"
"Section B.6 Sub-CLIN:84A"
"Section B.6 Sub-CLIN:85A"
"Section B.6 Sub-CLIN:86A"
"Section B.7 Sub-CLIN:84A"
"Section B.7 Sub-CLIN:85A"
"Section B.7 Sub-CLIN:86A"
"Section B.8 Sub-CLIN:84A"
"Section B.8 Sub-CLIN:85A"
"Section B.8 Sub-CLIN:86A"
Each one of those eleven will receive 30,000 kilograms, under the contract.
In each of the eleven, the products will be going "From Republic of Iraq to the Unites [sp.] States Eastern Time-Zone – the following States: VT, ME, NH, MA, RI, CT, NJ, DE, MD, DC, NY, PA, VA, NC, SC, GA, FL, WV, MI, OH, IN, KY, GA"
That's a total of 330,000 kilograms. That's 727,525 pounds, or 364 tons, which are going from the world's largest Embassy, America's in Baghdad, to America's eastern states.
In addition, around another 1,091,287 pounds are going from the Baghdad Embassy to other locations throughout the world.
The RFP, or Request For Proposal, informs its recipient that "The Contractor shall provide the services for the base period of the contract," but "base period" isn't defined in the RFP. However, the contract does specify that there shall be "a firm fixed unit price for any contract line item number in the Base Year," and therefore the obligations under any contract will continue for at least one year, but possibly longer (if renewed). Furthermore, the "Type of Solicitation" here is not "Sealed Bid (IFB)," but instead "Negotiated (RFP)," which means that the U.S. Government officials who are "Soliciting" these offers will choose whom to request to present an offer; and, if two or more recipients are being approached and make an offer, then the U.S. official will select the winner that he or she prefers, and won't be required to accept the lowest-priced one, but can instead take some sort of kickback, as long as there is no evidence of having done that. It can easily be arranged. Furthermore, private arrangements bond the two parties, even if the arrangement is just a one-time deal, because neither party will want the private arrangement to be made public, and if ever it does become public, then both parties will be revealed as guilty; it'll hurt both parties. Moreover, since any contract may be renewed, the offeror of the contract, which is the Embassy employee, holds the power to affect that — the length of term, and everything that's associated with it, will be controlled by the Embassy's side, and not by the contractor's side. And no matter how brief a contract-term might be, and no matter how many non-Americans might be signing any particular type of contract during any given period of years, none of the private parties will have any motive to make public any kickback. Consequently, there is every motive to keep these arrangements private; and the Embassy employee will always be the more powerful one in any private arrangement that is made with any contractor.
Prior RFPs are also online, for example this one from 16 November 2014. The annual amounts seem to be fairly stable.
On 10 October 2007, while the U.S. Embassy in Iraq was still building, the Congressional Research Service issued to Congress their report, "U.S. Embassy in Iraq", and it said:
The U.S. Ambassador to Iraq (currently Ambassador Ryan Crocker) has full authority for the American presence in Iraq with two exceptions: 1 — military and security matters which are under the authority of General Patraeus, the U.S. Commander of the Multinational Force-Iraq (MNF-I), and 2 — staff working for international organizations. In areas where diplomacy, military, and/or security activities overlap, the Ambassador and the U.S. Commander cooperate to provide co-equal authority regarding what is best for America and its interests in Iraq.
By "Patraeus" it meant David Petraeus. He was the person who designed the torture-system that was applied by his assistant James Steele and used in Iraq to extract from prisoners everything they knew about Saddam Hussein's assistance to the 9/11 event. Petraeus subsequently became a regular participant in the annual meetings of the private and secretive Bilderberg group  of representatives of the U.S. and allied nations' billionaires that constitute The West's Deep State. Prior to that, Petraeus and Steele had organized and instituted in El Salvador that Government's death-squads, to eradicate opponents of U.S. control over that country.
The most corrupt parts of the U.S. Government are usually in the military, because the entire Defense Department isn't audited. It is instead financially an enormous dark hole, even to U.S. Senators and Representatives, and even to the U.S. President. Only members of the U.S. Deep State might have an approximate idea of how much money is getting 'lost' in it. After all, the Deep State isn't, at all, answerable to the public. Since it operates in secret, it can't be. The consequences of the Deep State, however, can become public, and may contradict what is shown in publicly available documents and public statements, which have been circulated, to the public, by the press. In any nation where a Deep State rules, such contradictions, between public assertions and the actual outcomes, are so commonplace as hardly to be even news at all, if and when they appear, at all.
On 2 July 2017, the great investigative reporter Dilyana Gaytandzhieva headlined "350 Flights Carry Weapons Diplomatic for Terrorists", and provided documentation of the U.S. CIA's intricate global network, which secretly "sends $1 billion worth of weapons" through many countries to jihadists in Syria to take down Syria's Government. Iraq was mentioned 6 times in the original publication of her article, and is mentioned 9 times in the 29 April 2018 updated version. That secret U.S. supply of weapons to jihadist groups to overthrow Bashar al-Assad and his secular, non-sectarian, Baathist Party, is a secret operation, just like the U.S. State Department's Baghdad Embassy's operations are, and that Embassy could even be this particular operation's headquarters.
The 200-page, December 2017, study, "Weapons of the Islamic State: A three-year investigation", by Conflict Armament Research Ltd., states in its Conclusion:
IS forces, like most non-state armed groups, acquire significant quantities of weapons and ammunition on the battlefield. … Evidence presented in this report, however, confirms that many of the group's weapons — and notably its ammunition — are newly manufactured, having been delivered to the region since the start of the Syrian conflict in 2011. These weapons originate in transfers made by external parties, including Saudi Arabia and the United States, to disparate Syrian opposition forces arrayed against the regime of President Bashar al-Assad.
Here are just a few of the details that this passage in the summary was based upon and summarizing:
On pages 36-9, it says:
CAR has documented and traced numerous weapon systems in service with IS forces. Many derive from shipments made to the US government, or to entities operating under US government contracts. The United States has acknowledged its support to Syrian opposition forces, orchestrated primarily through resupply from the territories of Jordan and Turkey.26  All of the shipments originated in EU Member States; in most cases, US retransfers (exports made after purchase by the United States) contravened clauses in end-user certificates (EUCs) issued by the United States to EU supplier governments. The United States signed these certificates prior to transfer, stated that it was the sole end user of the materiel, and committed not to retransfer the materiel without the supplier government's prior consent. It did not notify the supplier states concerned before [violating that, and] retransferring the materiel. …
On 21 December 2016, Jaysh al-Nasr, a Syrian armed opposition faction active in the Hama Governorate of Syria, published a set of photographs of its fighters.29  In one of these, Jaysh al-Nasr fighters are operating a 9M111MB-1 ATGW30 bearing an identical lot number and a serial number (365) close in sequence to the one CAR documented (286) in Iraq, suggesting both were part of the same supply chain. …
In May 2015, Syrian YPG forces recovered a PG-7T 40 mm rocket from IS forces near Al Hasakah, Syria, where CAR documented it on 20 May 2015. The Government of Bulgaria confirmed that it exported the item to the US Department of the Army through the US company Kiesler Police Supply. The application for the export licence was accompanied by the original EUC issued by the US Department of the Army (with a non-re-export clause) as well as a delivery verification certificate. The item was exported on 23 June 2014.32 …  CAR has yet to receive a reply to a trace request sent to the United States regarding these rockets.
Page 54 says:
Like the United States, Saudi Arabia has provided support to various factions in the Syrian conflict, including through the supply of weapons. Working with the Bulgarian authorities, CAR has traced numerous items deployed by IS forces to initial exports from Bulgaria to Saudi Arabia. These transfers were uniformly subject to non-retransfer clauses concluded between Saudi Arabia and the Government of Bulgaria prior to export. In this respect, onward retransfers by Saudi Arabia of these weapons contravene its commitments to the Government of Bulgaria not to re-export the materiel in question without Bulgaria's prior consent.
Just like in the case of the Baghdad Embassy's agreements with contractors, the powerful party in any contract will be the party whose side is paying (the buyer), and not the party whose side is supplying the service or goods (the seller). Money always rules.
The CAR report, which was issued just months after Dilyana Gaytandzhieva's report, was entirely consistent with, and largely overlapped, hers. The U.S. and Saudi Governments were not only using Al Qaeda as their main proxy in southwestern Syria to lead the jihadist groups to overthrow Syria's non-sectarian Government, but were also using ISIS in northeastern Syria as their main proxy forces there to overthrow Syria's Government. After Russia's entry into the war on 30 September 2015 on the side of Syria's Government, America's assistance to Al Qaeda in Syria (Al Nusra) continued in order to help replace that Government by one which would be controlled by the Sauds. And America's assistance to ISIS was almost totally replaced then by its assistance to ethnocentric Syrian Kurds in the northeast as the Syrian Democratic Forces, which were fighting against both the Government and ISIS. Russia, of course, was against both Al Qaeda-led jihadists and against ISIS jihadists. (Turkey was against ethnocentric Kurds, because those people want to take a chunk out of four nations: Turkey, Syria, Iraq, and Iran. The CIA edited and written Wikipedia's article on Kurdistan conveniently doesn't even make note of that key fact.)  So: America was using a complex combination in order to take over Syria for the Sauds ultimately to control. But Russia's entry into Syria's air-war on 30 September 2015 has overcome that U.S-led and Saudi financed combination against Syria.
Would any secret facility, anywhere in the world, be better situated to manage that operation, on America's side, than America's Baghdad Embassy?
So, the question then arises: who benefits from this enormous Embassy, and from the Deep State of which it is a part? The American public certainly do not.
Generally speaking, the people who get paid to promote endless wars, such as sellers of the constantly receding (propagandistic) "light at the end of the tunnel", support continuing if not intensifying such wars. Typical is the neoconservative (in foreign affairs) and neoliberal (in domestic affairs) David Bradley, who controls and is the Chairman of Atlantic Media, which publishes the neocon-neolib The Atlantic, and many other public-affairs magazines and websites. His "Defense One" site posted, on 22 March 2018, from its Executive Editor, "The War in Iraq Isn't Done. Commanders Explain Why and What's Next", and closed with "'We need to be very careful about rushing to the exit, and secure this win,' said the senior U.S. military official. 'This is a significant win.'" The "senior U.S. military official" wasn't identified, other than to say that he "spoke only on background." But, of course, George W. Bush had already told the world all about this "win," back in 2003. Salespeople just continue their pitches; it's what they are paid to do, and so they never stop.
The annual military costs alone, for the U.S. to keep being, as its propaganda euphemistically puts the matter, "policeman for the world" (such as, in the Syrian case, by means of those proxy boots-on-the-ground warriors, the jihadists, and the ethnocentrists among Syria's Kurds) are actually sufficient, even on their own, to cause America's soaring federal debt — and that's not a benefit, but an extreme harm, to the public. Future generations of Americans will be paying the tab for this. And the costs for being "policeman for the world" are enormous. Even just militarily, they're over a trillion dollars each and every year.
Though current U.S. Defense Department budgets are around $700 billion annually, the United States is actually spending closer to $1.2 trillion annually on the military when all of the nation's military spending (such as for military retirements, which are paid by the Treasury Department not by the Defense Department) are factored in. The only people who benefit from being "policeman for the world" are the billionaires of the U.S. and (though to only a lesser extent) of its allied countries. And, of course, they pay their lobbyists and propagandists. It's really being policeman for those billionaires, who own and control all of the international corporations that are headquartered in this alliance. The U.S. public isn't paying the tab by any cash-and-carry basis; instead, future generations of Americans will be paying the tab, for today's U.S.-and-allied billionaires. Those billionaires today are the chief beneficiaries. It's all being done for them and their retinues. That's why America's Founders didn't want there to be any "standing army" at all. They didn't want there to be any permanent-war government. They wanted military only for national defense — not for any billionaires' protection or 'insurance policy', or what might actually be publicly paid and armed thugs in service abroad as if they were the nation's armed forces — when, in fact, they are the armed forces for only those billionaires and their servants. America's Founders wanted no military at all that serves the aristocracy. They wanted no aristocracy, at all. They wanted no "standing army" whatsoever. They wanted only a military that protects the public, when a real military danger, from abroad, to the domestic public, exists. Of course, that's possible only in a democracy, but the U.S. is no democracy now, even if it might have been in the past.
On 11 December 2017, Montana State University headlined "MSU SCHOLARS FIND $21 TRILLION IN UNAUTHORIZED GOVERNMENT SPENDING; DEFENSE DEPARTMENT TO CONDUCT FIRST-EVER AUDIT", but the Pentagon's promised audit has failed to materialize. A major accounting firm was hired for the task but soon quit, saying that the Defense Department's books were too incomplete to proceed further. Three days before that article was published, a colleague of that MSU team headlined at Forbes, "Has Our Government Spent $21 Trillion Of Our Money Without Telling Us?"  and said that the answer was yes. All of this 'lost' money was spent merely by the Department of Defense. Just managing the more-than-a-thousand U.S. military bases worldwide requires a lot of money. Any actual war-fighting adds to that U.S. military-base cost — the war-fighting costs are extra. Those military bases etc. are the "standing army." Protection of our billionaires' investments abroad, and of their access to raw materials in underdeveloped countries (such as to manufacture cellphones), is an enormously expensive operation. Basically, the American public are hugely subsidizing America's billionaires. But only future generations of Americans will be paying that debt — plus, of course, the accumulated interest on it.
The Department of Defense isn't the only federal Department that has ever been unauditable. On 18 June 2013, Luke Johnson and Ryan Grim at Huffington Post bannered "GAO Cannot Audit Federal Government, Cites Department Of Defense Problems" and opened: "The Government Accountability Office said Thursday that it could not complete an audit of the federal government, pointing to serious problems with the Department of Defense. Along with the Pentagon, the GAO cited the Department of Homeland Security as having problems so significant that it was impossible for investigators to audit it. The DHS got a qualified audit for fiscal year 2012, and is seeking an unqualified audit for 2013." However, on 17 November 2014, the Washington Post headlined "Homeland Security earns clean audit two years running", and Jerry Markon reported that, "For the second straight year, the Department of Homeland Security has achieved a much sought-after clean audit of its financial statements by an independent auditor." Furthermore: "for nearly all of its first decade of existence, DHS was unable to achieve a clean audit because it had been created by combining 22 federal agencies and components into one massive department. That led to inherent challenges." That wasn't the situation at the Defense Department, which was far different. On 8 December 2017, NPR headlined "Pentagon Announces First-Ever Audit Of The Department Of Defense", and opened: "'The Defense Department is starting the first agency-wide financial audit in its history,' the Pentagon's news service says." However, almost as soon as the auditing team began their work, they quit it, because the Department's books were garbage. Only  the DOD is like that — almost entirely corrupt.
On 2 October 2018, Project Censored headlined "$21 Trillion in Unaccounted-for Government Spending from 1998 to 2015". However, it falsified. It opened: "Two federal government agencies, the Department of Defense and the Department of Housing and Urban Development (HUD), may have accumulated as much as $21 trillion in undocumented expenses between 1998 and 2015." None of that was actually HUD, it was 100% DOD. And all of "the alleged irregularities in DoD and HUD spending" were not merely "alleged," but they were, in fact, carefully checked and repeatedly verified, and were only at DOD, despite what Project Censored published. This inaccuracy is important. If people don't know that DOD is the only unaudited federal Department, then they can't possibly understand why that is the case. The reason it is the case, is that almost all of the "waste, fraud, and abuse" in the U.S. federal government is at  the Defense Department. It has never been auditable. How much do America's 'news'-media report this  reality?
DOD is consistently, year after year, and decade after decade, the federal Department or federal or local governmental function, that Gallup's polling has shown to be more respected by the U.S. public than is any other. (It's identified there as "The military". It beats, for examples: "The Supreme Court," "Congress," "The public schools," "The presidency," "The police," and "The criminal justice system.") The most corrupt isn't the most despised; it is the opposite — it is the most respected.
Secret government tends to be costly for taxpayers, and also tends to add a lot to the governmental debt. An unauditable governmental department, such as the Defense Department is, cannot function, at all, without an enormous amount of corruption. This  is the reality about America's military. However, there's much propaganda contradicting it. The news-media also serve those same billionaires.
How likely, then, is it, that America's Baghdad Embassy serves the U.S. public? It certainly does not serve the Iraqi public. But it does serve the people — whomever they are — who control the U.S. Government. And that's the Deep State. That's the reality, but what's promoted is fantasyland. And this fantasyland, which is promoted, is called "American democracy". Just ask Big Brother, and he'll tell you all about it. He always does.
Author's note: first posted at strategic-culture.org