US-China trade war? Not likely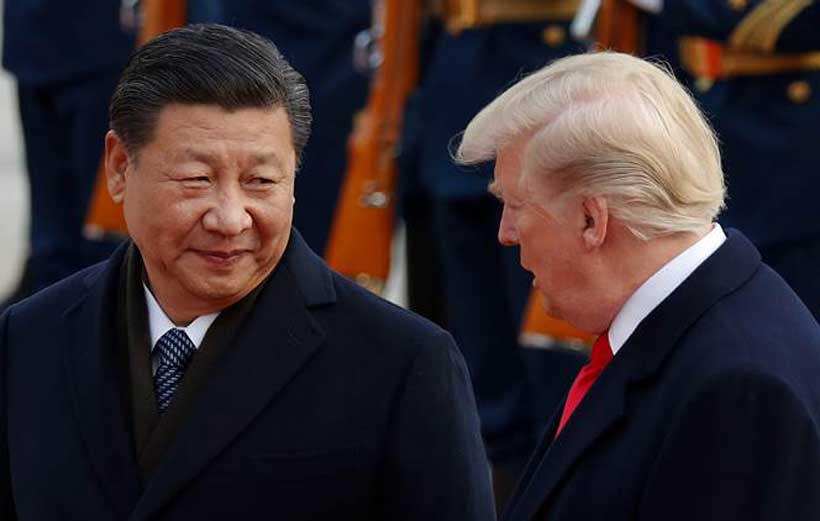 Commenting on recent the US and China tit-for-tat tariff disputes, Prof. Larry Backer says that the deep structures of economic integration cannot be undone by a series of shocks with offers of renegotiation.
As the US and China ratchet up a tit-for-tat tariff dispute, it has been said often in the last few weeks that no one wins a trade war.
The issue was discussed with Larry Backer, Professor of Law and International Affairs in Penn State University.
How will President Trump's decision to boost tariffs impact US domestic steel and aluminum producers?
My apologies, the answer to this question will be the longest of this interview precisely because the simplest questions may pose the subtlest problems. In contrast to many experts, and others, who might be eager to provide a simple and direct answer to this simple and direct question, I can only offer complexity and contingency. At the greatest level of generalization, it is not clear, even to experts and policymakers, whether the tariff boost will have a positive or negative effect. Steel and aluminum production are now part of integrated production chains only a portion of which concerns steel and aluminum production. The idea appears to be that the tariffs will protect US based steel and aluminum production by making the import of like products more expensive—and thus US producers will substitute domestic production over foreign. That may well work for domestic production and consumption but may not work for domestic production for export—especially where other states match the tariff to equalize pricing (and reduce the foreign subsidy) that the tariff represents. And yet domestic production and consumption is an important element of US macro-economic policy and may produce positive short-term effects in terms of domestic investment and employment.
Yet the tariff discussion must also be understood within a more complex context produced by the deep embedding within global production and ownership chains. The key here is that there is no identity between the location of production (in this case steel and aluminum production) and the nationality of ownership (that is, the "citizenship" of the apex enterprise that owns or controls the steel or aluminum production chain with respect to which production might be located in any number of states). It has been reported, for example, that some US companies may be negatively affected because they are subsidiaries of foreign enterprises from which, for example they receive steel for finishing and then export. And the effect will have little to do with the nationality of the owners of steel production. Consider the irony of these tariffs if, as a result, foreign owned enterprises establish factories in the US for steel production, boosting US production while repatriating the profits of that enterprise back to the home states of parent company. That insight, in turn, produces some variations in the answer to the question you posed.
First, even if the tariffs have an effect (positive or negative), it is not clear that the extent of that effect will be large. Again, the issue of tariffs can only be viewed in a vacuum within the cloistered towers of those who find such detached analysis useful for purposes of advancing policy without relation to real world effects. Thus, the amplitude of the effect may be difficult to distill apart from the ecology within which tariffs may have both direct and indirect effects.  This provides an opportunity to seek to distill effects using a variety of techniques all of which will be dependent of a set of assumptions and approaches that might well skew the results in ways that serve objectives. These effects, of course, are further complicated by the distinction between the effects on domestic production (an objective of the tariffs, of course) and the effects of the nationality of the benefits of this production. It is not clear how one deals with the situation where domestic production increases (and increases local economies) while the profits of that production are repatriated elsewhere.
Second, even if there is significant effect, it is not clear whether the effect will be generally felt or will affect different parts of the country, and different industrial sectors differently. To speak of the effects of the tariff boost generally produces an answer that aggregates effect. But aggregated effects only serve political interests, it does not reflect the reality within a large country like ours.  It is much more likely that the effects will be felt differently, positively and negatively in different parts of the country and with respect to different industries and companies. Yet that might well have been the point—to ensure a targeted boost to economic activity within specific portions of the US with the hope that this boost in activity will then have indirect effect over a broader area.
Third, the answer to the question must take into account the time horizons for change and the sectors with respect to which differing time horizons might matter. Thus, for example, to the extent that the tariff is meant to foster greater steel and aluminum production, that effect will take years to be felt in terms of actual significant increases in production. Also important here is the question whether that production can be sustained. Tariffs as subsidies may have an immediate effect on decisions to invest in production (and hire labor to aid in its production), but eventually the sector and the heightened production will have to be economically viable—especially since over the middle and long term global consumers and producers may adjust their activities to take the tariffs into account.
Fourth, on the other hand, the immediate effects of the tariffs have already been felt—not in the changes to the location of steel and aluminum production (inside or outside the US), but in the reactions of financial markets, lenders, political leaders and the like. And perhaps that is the most telling part of tariff policy in the contemporary age—tariffs appear to have greater effects on global finance than on global production, on the allocation or distribution of the placement of portions of the production of commodities (in the long term), and on its value in mobilizing mass opinion to some political end or other. In that respect, tariffs may not pose the same problems that they produced a century ago in the European inter-War period. Globalization has substantially reduced the power of tariffs precisely because the borders necessary to make them effective have been substantially eroded—and it is unlikely that they will be reconstructed in the manner of 1920s thinking.
Fifth, the impact will vary from the short to the long term. Most people may be tempted to consider the question in light of immediate or short-term impact. Indeed, global analytics have tended to increasingly favor short term thinking and reaction rather than long term or strategic responses or adjustment. And the short-term impact—politically—will be significant. One sees that already as the "usual suspects" have already aligned themselves and their media outlets to amplify their support or opposition to the tariffs, and to begin to seek to mobilize mass opinion to some end or other. Yet it is the long term strategic adjustments that are far more important and most likely to be missed by a media and analytic culture with a short attention span.
How will it actually impact the aluminum and steel industries globally then?
There are two answers here. The direct answer is that impact will be a function of the way industry and states respond. Industry might be able to avoid the effects of the tariff by strategic shifting of the operations of their global production chains to minimize the effects of the tariffs—but such adjustments might take time. States, on the other hand, are less flexible. They will either support their own industries or risk losing them. If they do not reciprocate tariffs, they might be induced to apply enough support to their industries to wash out the price effects of tariffs. The indirect answer, however, may be more important. The impact to states and enterprises will depend on the ability of both to mitigate the effects of tariffs through changes in the ownership of the producers of tariffed goods. Thus, for example, if Chinese enterprises own or can acquire (direct or indirectly) steel and aluminum production facilities in the US, the net effect of the tariff will be small. Over the long term, and in the absence of waivers from tariff, there may be a gradual shift of production—but not necessarily to the US Instead the shift may move production to other states which have successfully negotiated tariff waivers.
You've mentioned some of the beneficiaries behind his decision are their other internal or external beneficiaries in addition to the companies in America, or is it just wholly these American companies who are going to benefit from this decision?
What is an American company today? The notion of national companies is now essentially obsolete in a context in which most economic activity is connected to global flows of production. Companies of a variety of nationalities are organized to manage and participate in global production (in steel and aluminum and other products). The economic enterprise that tends to manage or control the process of production and the role of other enterprises within that production process tends to be characterized as the representative or incarnation of a multinational enterprise, and to lend its nationality to that system of global production. But realistically, that represents an oversimplification of the realities of production. Thus, American apex companies may benefit from the tariffs.
On the other hand, US apex companies who have invested heavily in steel and aluminum production enterprises outside the US may suffer. Conversely, a Russian or Chinese enterprise that owned steel or aluminum production facilities in the US might profit significantly from the tariffs.  Because of this quite large divide between the nationality of the place of production and the nationality of the ownership of production (up the production chain) it is difficult in many cases to point to a generalizable nationality for winners and losers.  And that is the great insight of this effort—states can control generally the production of things within their territory and use their borders to exact a cost of entry (or exit).  But that control of the consequences of production within or outside a state has absolutely nothing to say about the nationality for the beneficiaries of these policies.  If all steel production abroad is owned by US companies, then steel import tariffs would affect US companies negatively because it adds costs to their global allocation of the elements of their production chains.
How much will this decision to increase tariffs affect countries like China, Japan and South Korea then?
There are two questions here.  The first deals with reciprocal tariffs. This is a simple one—if the US raises tariffs on aluminum and steel, then other countries would seek to do the same on US steel and aluminum. Yet the impact on the US may be negligible if it is a net importer of these products. And thus, more effective may be what I might call retaliatory tariffs. Thus, if the US imposes tariffs on steel and aluminum that affects national industries elsewhere, those states might impose duties on US agricultural products or some other product in a sector where US exports are large. But in a global economy that might only produce short term pain, as those in control of production chains can, at some cost, realign their trade routes in ways that might soften the blows of tariffs. And again, where one thinks only of short term effect, one misses the essential element of a more benign long-term effect within a global context in which capital and investment still moves fairly freely. And, indeed, rather than approach the imposition of tariffs with retaliatory tariffs, China, Japan and Korea would be better off buying US: steel manufacturers, increasing production of un-tariffed steel and then exporting that commodity for finishing in their own home states.
How likely is the European Union to retaliate by imposing tariffs on US products?
This is an excellent question.  While the initial emotional response, one fanned by the global media, might have tilted toward retaliatory tariffs on vulnerable US products, that course may not be followed once tempers are calmed.  The principle reason for this is that the Trump Administration has made it clear that it would entertain bilateral negotiations on waivers of tariffs.  This is not a small matter.  Indeed, one can see in this Tariff imposition-negotiated waiver approach an essential feature of the Trump Administration's movement away from its old approach of globalized system building multilateralism to the new America First Initiative. Thus, consider the dynamics of the tariff imposition in context.  The United States has commenced building its own trade network in a manner that links up with the US enterprise's management or control of certain production chains.
That requires a reorienting of trade relations from a multilateral form without a center to an aggregated bilateral form with the US at the center.  To effect this reorientation of the foundations of trade the US must first re-center its position in global trade networks (not all of them but those of vital interest or with respect to which there is an ambition). To that end, certain shocks are necessary. These include withdrawal form multilateral agreements (including Paris and TPP) and the disruption of old free trade alignments. But mere withdrawal does not produce re-centering—the offer to renegotiate the terms of bilateral relations (and in the process restore relations or waive action) is the driving element of realignment. At the end of the process, if carried out systematically and with a clear long term vision, the US might well produce a trading system that looks substantially the same as the Chinese One Belt One Road Initiative. If that is the case, then the future of global trade is not manifested in tariffs, but through these tariff and other shocks, a new global trade system, built around control of production chains, will emerge in which most roads lead either to Washington, or to Beijing.
Will Mr. Trump's acts result in a trade war between the US and world's other economic powers? What can be the consequences of such possible war for world?
No trade war is likely. The deep structures of economic integration cannot be undone by a series of shocks with offers of renegotiation. And trade war does not seem to be the intent (though one must disregard certain of the President's tweets to acquire assurance on that point). And America First Initiative is not the same as the isolationist policies adopted from near the end of the 1920s—it is rather the reverse, the effort to encourage muscular expansion but now oriented from key home states, rather than by building a community of similarly situated actors all competing in the global markets for engagement with portions of emerging production chains. And indeed, while the ineptitude of national leaders might, through comedies of errors and personal vanity, move key states toward trade wars, the result would not further state power. Trade wars are particularly dangerous in contemporary politics precisely because they would produce two types of instability. First, trade wars would produce instability among the lower reaches of production chains. Those states would suffer substantial impacts in employment that would lead to political unrest, and more likely substantial migration that would then destabilize neighbors and eventually the apex states to which migration will flow, particularly in the West. Second, trade wars would destabilize apex nations as well. The stability of the political orders in the United States and China depend in large part on the fulfillment of a promise of a baseline economic prosperity. Where that disappears then both states might well be subject to the vagaries of populism which, though it might not overthrow either's system in a formal sense, would substantially corrupt them.
The US and the Europeans cooperation after world war was based on trade, security and military regimes like NATO. Don't you think possible trade war between the US and Europe can spill over other security and military fields, too?
I agree, of course, that a trade war would spill over to other vectors of state to state relations. But only suicidal states and mad leaders without substantial popular or institutional checks, could possibly move the US-EU relationship dangerously in that direction. The US and its European allies have had tiffs and have made grand gestures of disapproval against each other with some regularity since the 1960s. One need only remember the antics of Charles De Gaulle (quite effective both within Europe and in the effect on NATO relations). And in any case, the bad behavior of states on the periphery of the US-EU "entente" may ensure the strength of the core alliance militarily and work against economic policy foolishness.
Rising of rightist in Europe is a threat to the future of the EU and from the other side this can result in more independent trade relation without the EU considerations. Considering this fact how do you see the future of EU?
Many people fear the ghosts of the past, and even more people believe that it is important to fight past battles over and over.  But like the analogy with the trade wars of the 1920s, analogies with the rise of fascist movements in Europe in the 1930s may be misapplied in this case. Yes, indeed, the ultra-right movements have risen again after several generations of muscular suppression in Europe, and ridicule (effective) in the US But that suppression, in part, might well have contributed to the re-emergence of the virus of right wing extremism in the face of a largely unchecked left wing extremism that has tended to be the darling of the political and intellectual sets in the US and Europe since the great social rebellions of 1968.
That cultural moment plays differently in Eastern Europe, of course, and produces a return to the comforts of authoritarian nationalism that can easily be characterized as either left or right to suit the agenda of the commentator. At some point balance must be restored, of course, or the EU will flounder. And that may be likely in the medium term. For the moment, however, the rise of rightists as against an unchecked culture of leftism may produce the sort of instability that marked the early Weimar Republic. But at its base, the EU is suffering a version of 2nd generation malaise. The rising elite never experienced the trauma that produced European solidarity in the face of a half century during which Europe virtually committed suicide. They do not know hunger, and fear, nor do they worry about the penetration of larger powers to undermine their own autonomy and independence (those are worries left for the detritus of empire). And thus, they can indulge the privilege of dismissing the institutional structures on which their own prosperity and security are based. To that end, indeed, it is not the rise of the right, but the effects of ennui, that may have a substantial deleterious effect on the solidity of the EU.
The US also recently imposed tariffs and other measures against the People's Republic of China.  Do you see the possibility of a trade war or more adversarial relations between the US and China with respect to trade issues?
I would suggest that the recent and very quick tariff exchange between the United States and the People's Republic of China illustrates the character of these tariff moves by the Trump Administration and the way that they have been received once governments finish producing the appropriate responses required for public consumption by their internal and external audiences. Consider what happened when in mid-March 2018 President Trump moved to levy tariffs on up to $60 billion of Chinese imports, in addition to those imposed on solar panels, steel and aluminum. Initially, the Chinese reacted aggressively and publicly in the expected way, utilizing all of their networks to aid in that effort. The Chinese indicated an intention to levy tariffs on about $3 billion of US imports, including soybeans or aircraft, major trade goods.
The effect was immediate—global financial markets fell dramatically over the course of a week. Yet, after the necessary public drama, one discovered that the tariffs imposed on both sides appeared to serve as an invitation for both the US and China to begin to renegotiate their trade relations. The Americans sent a letter indicating the changes that they sought in the wake of the tariff impositions, with an emphasis on trade and intellectual property issues, including what for the US amounted to coercive technology and know-how transfer rules. Premier Li Keqiang spoke publicly about the need for China and the United States to continue negotiations and reiterated pledges to better open their internal markets and perhaps to target purchases of specified US goods. Negotiations continue.
When news leaked of those steps, global markets responded appropriately. And thus one can begin to see the contours of the way in which tariffs have become an instrument rather than the objective of trade policy. The US may now use tariffs as a critically important tool in the reframing of US trade policy in the form of the "America First" Initiative. The object is not to destroy trade—the US President and his advisors have been very clear about that (it is only that people have chosen not to listen)—but to reframe the basis of the global trading system from the forms that emerged after the 2nd World War to a new form whose characteristics will be shaped both by the Chinese One Belt One Road Initiative and its American counterpart, the "America First" Initiative.
It was the Iranian leadership itself which almost a decade ago pointed to the end of the post-World War II era and its structures.  Few paid attention at the time.  That was a pity. For it seems that in retrospect they were correct and that the global community will continue to see manifestations of the new system emerge as the first order powers realign their visions, reach accommodations with each other and reorder the hierarchies of power and production for the first part of this century.
First published in our partner Mehr News Agency
E-commerce: Helping Djiboutian Women Entrepreneurs Reach the World
Look around any café, bus, doctor's waiting room or university campus and you will see heads down, fingers tapping as people immerse themselves into their screens. Increasingly, people are using their devices for shopping, with retail sales via e-commerce set to triple between 2004-2021.
Although significant gender gaps exist with internet use, and although online sales are currently dominated by US-based tech giants, this growing e-commerce trend presents an interesting opportunity for small businesses, and more specifically women's businesses in the Middle East and North Africa (MENA).
This is a region where women's economic empowerment is a significant challenge. With a female labor force participation rate of 19 percent, women's participation in firm ownership at only 23 percent, and a rate of only 5 percent women top managers of firms across MENA's non-high-income countries, there is significant scope for improving women's participation in business and employment.
Access to finance also remains a problem, where 53 percent of women-led small and medium enterprises (SMEs) do not have access to credit and 70 percent of surveyed MENA female entrepreneurs agree that lending conditions in their economy are too restrictive and do not allow them to secure the financing needed for growth.
Several obstacles stand in the way of women's entrepreneurship and access to markets, such as social norms, family care duties, and transportation issues. Not being able to physically access markets to sell their goods or to participate in international trade fairs to market their products is also a challenge.
This is where e-commerce can play a role, allowing women to circumvent these obstacles and sell their products online. For this, they need to rely on e-commerce platforms connecting them to clients around the world, on performant and affordable logistics, and on reliable payment systems. Building the e-commerce ecosystem will be key to allowing women entrepreneurs to access markets and grow their business, thereby employing more women, as data shows that firms run by women tend to employ more women.
The situation for women in Djibouti is no different. Gender inequality in the labor market remains substantial, with less than a third of women between the ages of 15 to 64 active in the labor market. Unemployment among both genders is high, with a rate of 34 percent for men but it is considerably higher for women at close to 50 percent.
Djiboutian women are also at a disadvantage in terms of education and skills to access economic opportunities. Women in Djibouti typically run small and informal firms in lower value-added sectors, which are less attractive to creditors, thus impeding their access to finance. Women entrepreneurs face difficulties accessing finance and launching formal enterprises.
There are, however, opportunities to increase women's economic empowerment. Over 57 percent of inactive women in Djibouti say that they do not work because of family and household responsibilities. However, they also indicated they are generally not discouraged or prevented from accessing training or work opportunities by male family members, and there are no legal barriers against women's entrepreneurship.
Years of research have shown, that when women do well, everyone benefits. Research has found women tend to spend more of the income they earn on child welfare, school fees, health care, and food for their families. Empowering women is an important path to ending poverty.
It's vital to enable women to participate constructively in economic activities in Djibouti. More entrepreneurship will allow Djibouti to benefit from the talents, energy, and ideas that women bring to the labor market.
To help address this issue, on November 13, 2018, the World Bank launched a $3.82 million regional project called "E-commerce for Women-led SMEs."  The project targets small and medium enterprises run or managed by women that produce goods marketable via e-commerce.
This project is at the crossroads of women's entrepreneurship and the digital economy, which are two levers for the economic transformation of the region, and that it was very opportune to be able to launch it at the digital economy days of Djibouti.
The launch event took place with the participation of the Minister of Women and Family, the Minister of Economy, the Minister of Communication, the Head of the Women Business Association, and several Djiboutian women entrepreneurs.
The project will contribute to development of women's entrepreneurship, digital commerce, and the economy in Djibouti and across the region. It will facilitate access for women-led SMEs to domestic and export markets through better access to e-commerce platforms. This will be done by training e-commerce consultants who, in turn, will train and help women-led SME's access e-commerce platforms.
The project will also aim to ease access to finance for these SMEs by connecting them to financial institutions lending to women, particularly the IFC's Banking on Women network. It will also work to create an ecosystem conducive to e-commerce by diagnosing regulatory, logistical, and e-payment constraints and supporting governments to lift them.
This launch comes following a successful pilot program in Tunisia, Morocco, and Jordan where women entrepreneurs were enabled to export handicrafts, organic cosmetics, and garments to several overseas destinations including Australia, Europe, and the United States.
The development of women's entrepreneurship and the digital economy—including better access to domestic markets and exports—are essential levers for the development and economic diversification of the MENA region that the Women Entrepreneurs and Finance Initiative (We-Fi) e-commerce project strives to support. The Women Entrepreneurs Finance Initiative (We-Fi) is a collaborative partnership launched in October 2017 that seeks to unlock billions of dollars in financing to tackle the full range of barriers facing women entrepreneurs.
Getting around sanctions with crypto-rial
In April 2018, the Central Bank of Iran banned domestic banks and people from dealing in foreign cryptocurrency because of money laundering and financing risks.
However, the CBI decided to take a more moderate stance toward the digital money and blockchain technology following the imposition of a new round of U.S. sanctions, hoping that the digital technology would facilitate Iran's international money transfers and let the country evade the sanctions.
Meanwhile, as an oil producer with an oil-reliant economy dominated by petrodollars, Iran settled on the plan to utilize cryptocurrencies and blockchain technology to make up for any drop in oil revenues due to the economic sanctions designed to cut its oil sales.
Moving on the same track as China, Russia and Venezuela, Iran also hopes that blockchainization of state-backed fiats would lead to the demise of the dollar and put an end to the tyrant U.S. policies.
Under the toughest U.S. sanctions ever and blacklisting of Iran from the Belgium-based international financial messaging system (SWIFT), the country's plan to create an indigenous cryptocurrency is improving incrementally and thanks to highly dynamic nature of the cryptocurrency, it can act as a good means for Iran to skirt certain sanctions through untraceable banking operations.
The CBI has been working with domestic knowledge-based companies to develop a digital currency, called crypto-rial, supported by HyperLedger Fabric technology.
As reported, the Informatics Services Corporation, affiliated to the CBI but run by the private sector, has accomplished development of rial-based national cryptocurrency and when the CBI approves the uses of national cryptocurrency, it will be issued to financial institutions such as banks to test payments and internal and interbank settlements.
Transactions at the state-backed virtual currency are carried out on an online ledger called a blockchain, just the same as Bitcoin, but since the infrastructure is privately-owned it will not be possible for people to mine it.
In fact, Iran is mainly aimed at testing the potentials of blockchain and crypto technology in running its financial system, making banks able to use the tokens as a payment instrument in transactions and banking settlement at the first phase of the blockchain banking infrastructure. The country seems inclined to enjoy the new virtual currency businesses which includes little notice or footprint and has also prepared the required infrastructure for trading cryptocurrency in its stock exchange.
However, in spite of the CBI's prohibition from trading cryptocurrencies, Iranians had commenced using cryptocurrency and Bitcoin mining for transactions with the rest of the world before its use was banned by the CBI in the country.
Individuals and businesses in Iran have had access to virtual currency platforms through "Iran-located, internet-based virtual currency exchanges; U.S. or other third country-based virtual currency exchanges; and peer-to-peer (P2P) exchangers," according to reports.
But the U.S. embargo on a number of cryptocurrency exchange platforms, including Binance and Bittrex, restricted Iran from receiving services, however, no assets belonging to Iranians were blocked. U.S. sanctions have also ensnared Iranian bitcoin traders.
Furthermore, in December, the U.S. Financial Crimes Enforcement Network, known as Fincen, issued a warning in an advisory to assist U.S. banks and other financial actors such as cryptocurrency exchanges in identifying "potentially illicit transactions related to the Islamic Republic of Iran," Bitcoin.com reported.
Fincen claimed that since 2013 Iran's use of virtual currency includes at least $3.8 million worth of bitcoin-denominated transactions per year. The organization noted that "while the use of virtual currency in Iran is comparatively small, virtual currency is an emerging payment system that may provide potential avenues for individuals and entities to evade sanctions."
Fincen believes that P2P cryptocurrency exchangers are a significant means through which Iran can dodge economic sanctions.
Following the Fincen's announcement, the United States lawmakers introduced a bill (HR 7321) to impose more sanctions on Iranian financial institutions and the development and use of the national digital currency, Cointelegeraph reported.
The act prohibits transactions, financing or other dealings related to an Iranian digital currency, and introduces sanctions on foreign individuals engaged in the sale, supply, holding or transfer of the digital currency.
In the wake of the U.S. restrictions, thus, cryptocurrency trades are limited into Iran's domestic market and not possible at the international level and Bitcoin is sold at a significant premium relative to the global average price in Iran.
Unfortunately, the basic and premier regulations of using cryptocurrencies have not been ratified in Iran and Iranians are obliged to refer to stock exchange shops abroad to do their crypto-transactions, most of which are American obedient to U.S. regulations and of course, sanctions.
To make using cryptocurrency and blockchain technology legal and official in the country, the Iranian government is drafting a policy framework by the help of the CBI and the Stock Exchange Organization which clarifies all its regulations and policies over cryptocurrency and mining.
Being legislated, it is believed that SWIFT can be replaced by the digital money, i.e. the rial-pegged national currency, and transactions would be done faster and at lower prices.
Due to a lack of required regulations, cargos of equipment for mining cryptocurrency are seized by the customs administration. They are said to be released as soon as the government legalizes cryptocurrency use in the country.
First published in our partner Tehran Times
How to build your entrepreneurial mindset today
An entrepreneurial mindset is a way of life. Even if you aren't starting your own business, an entrepreneurial mindset teaches you that no problem is insurmountable: you can overcome challenges through perseverance and resilience.
Here are five things you can remember to build an entrepreneurial mindset today. If you're aged between 18-30, why not start by applying to be a Young Champion of the Earth in 2019? Stay tuned—the competition is opening soon!
Transform problems into opportunities
There are so many clues in everyday life. Is there anything that you experience daily that frustrates you? Perhaps it is the prominence of unsustainable materials in your local shop and restaurants, such as plastic straws or unnecessary food packaging? Often, alternatives to problems do exist, but no one has thought of connecting them in specific circumstances. A good example is supplying restaurants and bars with paper straws. Entrepreneurial mindsets apply a lens which identifies problems not as negative issues but as opportunities to be solved, towards creating value in our economy.
Dare to dream and believe in yourself
If you can dream it and believe it, you are halfway there. How big you can dream is a component of your potential for success. Everyone has ideas—but daring to dream big, and then believing in yourself to apply an entrepreneurial mindset and bring them to reality, takes effort. This year, why not push yourself to think creatively? You could come up with a problem once a week, and each week, come up with one matching solution, for example. The key is to think outside the box, to think of a problem as a potential solution.
Know yourself and discover what you are passionate about
Solving problems, especially those associated with the environment, can be daunting. You will constantly be faced with challenges in your journey to change the world. Some environmental challenges feel so large—like those brought about by climate change. But helping to break down large issues into smaller ones which everyone can take steps to solve, is part of the entrepreneurial journey. Remember that you are capable. Find problems that you are passionate about solving and connect with others passionate about solving them too. This will help you through the tough times to stay motivated.
Go for it and don't take no for an answer
We all have the foundations of an entrepreneurial mindset. We can all identify problems and think up ideas about how to solve them. Being an entrepreneur pushes you to go out there and take actions to achieve them. Often, this process forces you to think through a specific problem in more detail. It helps you to truly understand pathways towards a solution which others might not have thought about. An idea does not have application in the real world if it is not hammered out in real situations. Part of being an entrepreneur requires following this process, identifying real experiences which can be made better or more efficient, and talking with other people who experience similar challenges to find solutions. Using the resources you have at your disposal will force you to be creative. Keep improving your solution. As you go on, you will eventually gain traction and interest. From there, the possibilities are endless.
Learn, embrace uncertainty and accept failure
Eric Ries from the lean startup says that entrepreneurship is "management under conditions of extreme uncertainty". Forging your own path to solve a problem that no one has solved before is scary—things change constantly. There will be many obstacles and there will be failure. But an entrepreneurial mindset teaches you that failures are opportunities to learn in disguise. An entrepreneurial mindset embraces uncertainty and learning, to leverage the opportunities that emerge from the space between them.