Turkey Starts Construction of its First Nuclear Power Plant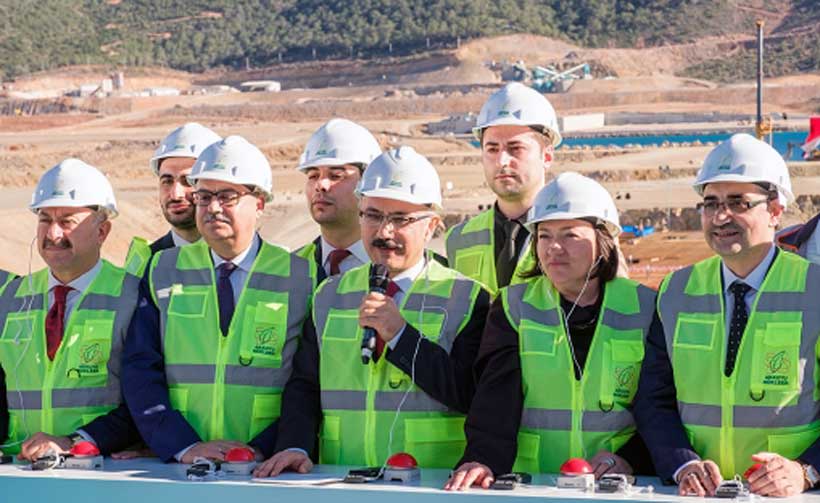 Turkey reported the construction start of its first nuclear power plant to the IAEA's Power Reactor Information System (PRIS) this week. The first safety-related concrete was poured for unit 1 of the Akkuyu nuclear power plant on 3 April, following the granting of the construction licence by the regulatory body, the Turkish Atomic Energy Authority (TAEK) the day before.
Four units with a total capacity of 4800 megawatts (electrical) (MWe) of the Russian VVER technology are planned to be constructed in cooperation with Russia. The four units at the site on the Mediterranean coast, 500 kilometres south of Ankara, are scheduled to be in operation by 2026.
Turkey decided to introduce nuclear power to meet a surge in energy demand and reduce its dependence on imported energy sources, which amounted to 72 percent of its total energy consumption in 2016. It plans to install three nuclear power plants by 2030, which are expected to generate 15% of its electricity, according to the country's Ministry of Energy and Natural Resources.
In May 2010, Turkey and Russia signed an agreement for the construction and operation of the nuclear power plant at the Akkuyu site. Three years later, an intergovernmental agreement was signed with Japan to develop a second nuclear power plant project at the Sinop site on the Black Sea. Site selection studies are underway for a third nuclear power plant.
Turkey is the fourth country in recent years to have begun construction of its first nuclear power plant, following the United Arab Emirates in 2012, Belarus in 2013, and Bangladesh in 2017.
IAEA support to Turkey's nuclear infrastructure development
In 2013, Turkey invited the IAEA to review its programme for introducing nuclear power. The Integrated Nuclear Infrastructure Review (INIR) mission, consisting of IAEA and international experts, noted several good practices and made recommendations for further improvements.
The IAEA also conducted several Site and External Events Design (SEED) missions, the latest in 2017, at the Akkuyu site. These missions are designed to assist countries in nuclear installation site selection, site assessment, and design of structures, systems and components, taking into consideration site-specific external hazards such as floods and earthquakes.
The IAEA had been supporting Turkey in the drafting of its nuclear energy law and the law for civil liability for nuclear damage.
Under an Integrated Work Plan, agreed between the IAEA and Turkey, the Agency conducted numerous workshops and activities focusing on different aspects of nuclear power infrastructure development, such as regulatory framework, human resource development, stakeholder involvement, radiation protection, radioactive waste management, industrial involvement and environmental protection.
Report: Powerful New Policy Options to Scale Up Renewables
A new report by the International Renewable Energy Agency (IRENA), the International Energy Agency (IEA), and the Renewable Energy Policy Network for the 21st Century (REN21), Renewable Energy Policies in a Time of Transition, is an unprecedented collaboration that sheds new light on the policy barriers to increased deployment of renewables and provides a range of options for policymakers to scale-up their ambitions.
Since 2012, renewable energy has accounted for more than half of capacity additions in the global power sector. In 2017 alone a record-breaking 167 GW of renewables capacity was added worldwide. 146 million people are now served by off-grid renewable power, and many small island developing states are advancing rapidly towards targets of 100% renewables.
One of the main rationales behind the call for a higher share of renewables in the energy mix is the urgent threat posed by climate change. Of the 194 parties to the United Nations Framework Convention on Climate Change 145 referred to renewable energy in their nationally determined contributions (NDCs), and 109 included quantified renewable energy targets. Air pollution is also a pressing issue, with an estimated 7.3 million premature deaths per year attributable to household and outdoor air pollution. Energy security is another influencing factor, with small island states particularly affected by security issues and resilience in the face of natural disasters. Finally, countries looking to expand energy access in rural areas are increasingly turning to renewables as the most cost-effective, cleanest and most secure option.
But the pace of the energy transition needs to be substantially accelerated to meet decarbonisation and sustainable development objectives. As outlined in IRENA's recently-released Global Energy Transformation: A Roadmap to 2050, to achieve the two-degree goal of the Paris target, the share of renewables in the primary global energy supply must increase from 15% today to 65% by 2050. Gains in the electricity sector must be matched in end-use sectors such as heating and transportation, which together account for 80% of global energy consumption.
Renewable Energy Policies in a Time of Transition provides policymakers with a comprehensive understanding of the diverse policy options to support an accelerated development of renewables across sectors, technologies, country contexts, energy market structures, and policy objectives, to scale up renewable energy deployment. An updated joint classification of renewable energy policies to illustrate the latest policy developments around the world.
Key areas of focus:
Heating and Cooling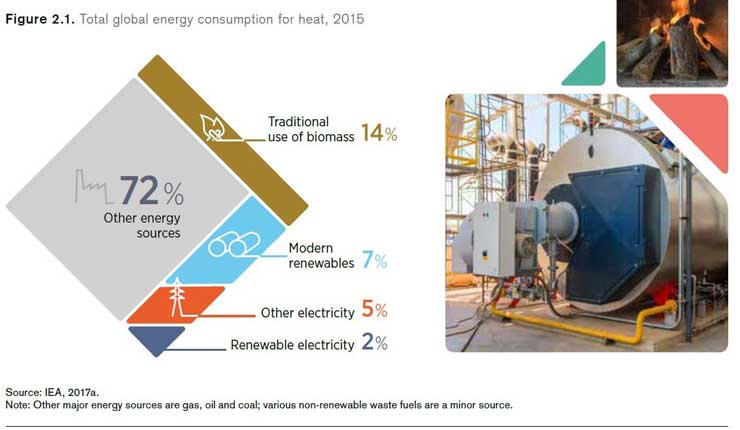 Heating accounted for over 50% of total final energy consumption in 2015, with over 70% of that met by fossil fuels. To increase the use of renewables, a range of policy instruments are required. These include mandates and obligations, which can offer greater certainty of increased deployment; building codes, which implicitly support renewable heating and cooling from renewables by setting energy performance requirements; renewable heat and energy efficiency policies that are closely aligned to leverage synergies and accelerate the pace of transition; fiscal and financial incentives, which reduce the capital costs of renewables; and carbon or energy taxes, which provide important price signals and reduce externalities.
Transport
Transport is the second largest energy end‑use sector, accounting for 29% of total final energy consumption in 2015, and 64.7% of world oil consumption. With the exception of biofuels, there is little practical experience of fostering renewables in transport. Policies and planning should help overcome the immaturity or high cost of certain technologies, inadequate energy infrastructure, sustainability considerations and slow acceptance among users as new technologies and systems are introduced. They should also build improved understanding between decision makers in the energy and transport sectors, so as to enable integrated planning and policy design. Removal of fossil fuel subsidies is also essential, especially in shipping and aviation.
Power sector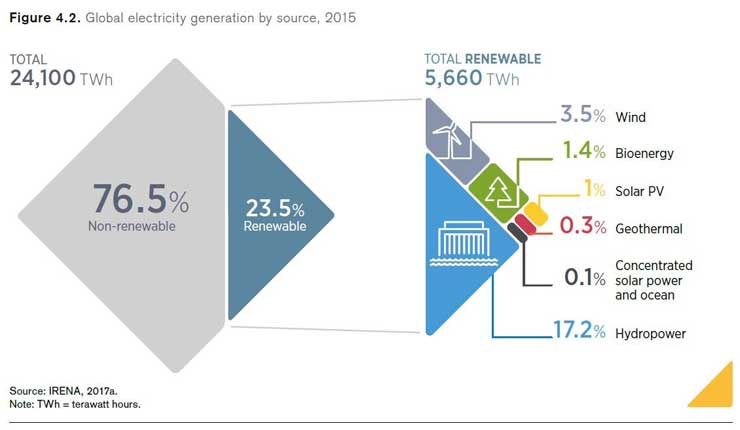 Although the power sector consumed only about a fifth of total final energy consumption in 2015, it has received the most attention in terms of renewable energy support policy. Investments in the sector are largely driven by regulatory policies such as quotas and obligations and pricing instruments, supported by fiscal and financial incentives. Quotas and mandates cascade targets down to electricity producers and consumers, but require a robust framework to monitor and penalize non-compliance. Administratively set pricing policies (like feed-in tariffs and premiums) need to continuously adapt to changing market conditions and the falling cost of technology. Auctions are being increasingly adopted, given their ability for real-price discovery, and have resulted in a five-fold price reduction between 2010 and 2016, though auction design is crucial.
System integration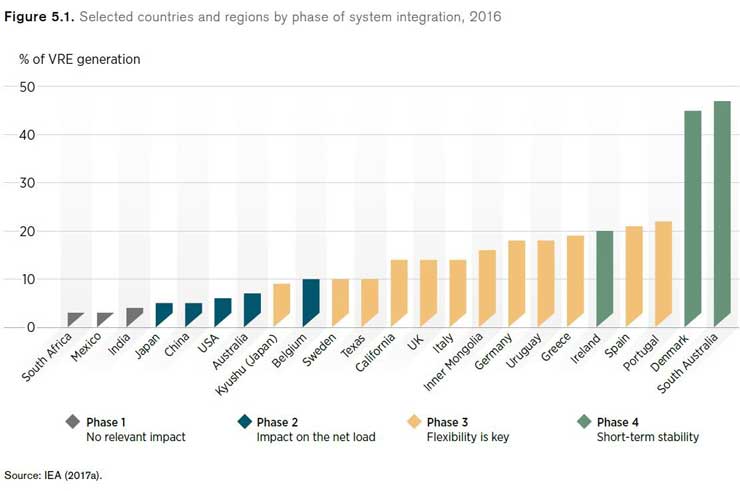 A number of countries and regions are reaching high penetrations of VRE in their power systems, and implementing policies to facilitate their system integration. Strategies for system integration of renewables are crucial to minimise negative impacts, maximize benefits and improve the cost effectiveness of the power system. As VRE shares grow in the power system, so do the challenges of system integration.
A wide range of policies have been adopted to support the growth of renewable energy around the world. The nature of those policies in a given country depends on the maturity of the sector, the particularities of the market segment, and wider socio-economic conditions. As this report shows, as deployment of renewable energy has grown and the sector has matured, policies must adapt and become more sophisticated to ensure the smooth integration of renewables into the wider energy system – including the end-use sectors – and a cost-effective and sustainable energy transition.
Better information needed to improve gender diversity in the clean-energy sector
Recognizing that the energy sector lags when it comes to gender diversity, the Italian Agency for New Technologies, Energy and Sustainable Economic Development (ENEA) and the International Energy Agency (IEA) brought together over 80 experts from governments, industry, academia and other organisations for a day-long workshop last week to discuss ways to improve data on women's participation in the clean-energy sector.
Only limited data on the participation of women in the energy sector is currently available – data that will be critical to building a better understanding of how to make the sector more gender balanced. Without better information, reaching the goal of gender equality by 2030, set under the United Nations Sustainable Development Goal (SDG 5), will be impossible to reach.
Participants shared experiences on data collection and methods of assessment to analyse gender diversity as well as employment opportunities offered to women by the clean energy transition. The workshop was held under the Clean Energy Education and Empowerment Technology Collaboration Programme (also known as the C3E TCP), which seeks to promote higher participation of women in the clean-energy sector.
"The extraordinary and recognised capacity of women to handle complex and multivariable contexts, their openness to innovation and their responsiveness to environmental issues constitute an important asset for the energy transition" said Massimo Gaiani, Director General for Global Affairs of the Italian Ministry of Foreign Affairs and International Cooperation.
Four key messages emerged from the discussions:
1)    Participants recognised the importance of collecting more detailed gender disaggregated data, but stressed the need to clearly define what information was needed and why;
2)    Quantitative data should be supplemented with qualitative information to identify key barriers for women pursuing careers in the energy sector and to develop more targeted solutions to overcoming these challenges;
3)    While comprehensive data is limited, a significant number of national and international efforts to collect information and promote gender already exist and there is opportunity for the Clean Energy Education and Empowerment Technology Collaboration Programme (C3E TCP) to collaborate with other leading institutions working on gender diversity to help build and disseminate knowledge;
4)    Finally, the increased engagement of men to promote and support women's advancement into leadership roles is critical in meeting gender equity and should be fostered.
The meeting also included a dialogue with leading Italian energy companies on a proposal to adopt a common pledge to take action and commitments to achieve gender equality by 2030 (SDG 5). Led by Sweden and Canada with support from the IEA, this new campaign will be launched at a side event to take place at the next Clean Energy Ministerial meeting in Copenhagen on 24 May.
Companies recognised the valuable role that women play in driving innovation and sustainability. Francesca Magliulo, Head of Sustainability and Corporate Social Responsibility of EDISON S.p.A Italy said, "Edison supports this initiative, our experience shows that inclusion and gender diversity creates new capacity to offer innovative solutions to new markets and new customer communities."
Participants also confirmed that the current momentum to advance and accelerate progress on gender equality represents a tremendous opportunity. While the workshop focused on building knowledge and improving data, Elisabeth Marawba of the Department of Energy of South Africa stressed that "we also need to pay attention to the empowerment of women as business-owners and investors and not just focus on the employment aspects of women in clean energy."
The C3E TCP and IEA will work together to expand data and indicators as well as undertake analysis to help fill the knowledge gap on gender diversity and women's empowerment in the energy sector.
Find out more about the C3E TCP programme 
Access to Energy is at the Heart of Development
One billion people – mostly concentrated in Sub-Saharan Africa and South Asia – live their daily lives without electricity. This represents a fundamental barrier to progress for a sizeable proportion of the world's population, and has impacts on a wide range of development indicators, including health, education, food security, gender equality, livelihoods, and poverty reduction.
The number of people gaining access to electricity has been accelerating since 2010 to around 118 million each year, but these efforts will need to accelerate if the world is going to meet Sustainable Development Goal 7 – ensuring access to affordable, reliable, sustainable and modern energy for all by 2030.
Why is reaching universal access still a challenge? Those remaining without service are either remote, or poor, or both. In urban areas it is poor communities that remain unserved. These should be easy to reach, although the informal settlements where many of these poor reside can be difficult to serve with permanent infrastructure. For remote households, extending the main grid can be prohibitively expensive. Even using off-grid systems to serve these disbursed populations can be financially challenging.
Lack of sufficient power generation capacity, poor transmission and distribution infrastructure, high costs of supply to remote areas, or simply a lack of affordability for electricity, are among the biggest hurdles for extending grid-based electricity.
For off-grid electrification, including mini grids, the biggest challenges are poor policies, inadequate regulations, lack of planning and institutional support, lack of financing for off-grid entrepreneurs, and affordability for poorer households.
Positive stories
A number of countries have made clear progress on expanding electricity access in recent years – and there are common factors among this group. These include sustained political commitment and financing, enabling policies and incentives, strong institutions, and the right balance of grid and off-grid.
Successful countries have also balanced the objective of the financial viability of electricity suppliers with the need to keep consumer prices affordable, for example through strategic and targeted use of public funding. Applying these fundamentals can take different forms, depending on the local conditions.
Bangladesh, for example, has used both privately-delivered off-grid solar home systems and publicly supported extension of the main grid through its rural cooperative program to increase the proportion of the population with electricity from 32% to 62% between 2000 and 2014
Vietnam and Ghana, among other countries, have focused much more heavily on grid extension. China and India have also made excellent progress using a mix of technologies and business models, both on and off-grid.
In Kenya, for example, 700,000 home solar systems were installed on the pay-as-you go purchase model, which is a flexible payment plan that makes electricity accessible to more people. Pay-as-you-go models have become increasingly attractive in many markets, expanding rapidly across Africa. One of the biggest advantages of this system is that people can pay in installments.
The World Bank has a long track record of helping developing countries expand access to affordable, reliable, sustainable and modern energy. It is doing so through supporting grid investments and helping to develop off-grid markets, for example, through programs such as Lighting Global. Since 2010, the Bank has provided more than $5 billion for energy access in over 35 countries through some 70 projects.
Last-mile connections
Last-mile access – getting electricity to people's homes, local businesses and public facilities – is an important focus for the Bank, especially in Africa and South Asia. Over the last six years the World Bank's portfolio has included 28 last-mile access projects, 25 of which have included off-grid support.
The Ethiopia Electrification Program – a $375 million IDA credit – will support the Ethiopia's National Electrification Plan launched in 2017. The Plan will dramatically shift efforts towards last-mile service delivery. It will provide one million last-mile household connections and the initial priority will be access to reliable electricity services for education and health facilities. Only 24% of primary schools and 30% of health centers currently have access to electricity services.
In Bangladesh, the World Bank helped deploy 1.4 million solar home systems. More than 18.5 million people in rural areas now have reliable access to solar-powered electricity.
An important element of the Bank's strategy is to leverage its efforts with development partners and the private sector by means of financial instruments along with sector and institutional reforms that promote commercial grid and off-grid operations and attract private investment.
In Tanzania, for example, Bank-supported projects have helped create the Rural Electrification Agency and associated Rural Electrification Fund, which are promoting this agenda throughout the country.
Lower costs, increased efficiency
The World Bank also continues to produce ground-breaking research to address energy challenges. For example, a series of Multi-Tier Framework (MTF) surveys is providing new and deeper insights into the level and quality of access through both grid and off-grid systems, as well as in unserved areas.
With innovative solutions and modern technologies available, now is the time to be hopeful about achieving universal access. Plummeting costs for renewable energy and storage technologies, along with increasing efficiency of end use equipment and appliances, offer tremendous opportunity to deliver more service with a lower energy investment.
Additionally, new technology-enabled business models, such as pay-as-you-go solar, offer great opportunities for private sector-driven off-grid electrification, as long as countries can create the right investment environment.