Innovation in Europe and Central Asia: From Horse Carts to Driverless Cars
When talking about innovation, countries in the Europe and Central Asia Region face challenges that lie somewhere between a horse cart and an autonomous car. In some parts of the region, people still use horse carts to move around while in other parts – sometimes even within the same country – people contemplate how to locally produce autonomous vehicles.
With this reality as a backdrop, the question arises: what can countries in the region do to use innovation and disruptive technologies to accelerate economic growth?
"Today we don't need linear but exponential thinking to create a world of abundance" says Nicholas Haan, Vice President of Impact and Faculty Chair of Global Grand Challenges, Singularity University.
To hammer home this concept, he gives an example: if you take 30 one-meter steps in linear terms, they will take you 30 meters; if the same number of steps are taken exponentially, however, they will take you around the globe 2.8 times!
"Innovation is happening whether we like it or not. Today's leaders must be innovators," says Haan.
Like the rest of the world, countries in the Europe and Central Asia are at a crossroads between linear thinking and exponential technological change.
Reflecting on this, Vazil Hudak, Vice President of the European Bank Investment Bank (EIB) from Slovakia, concludes: "we need innovation to survive. Innovation must shape the future of Slovakia," he says.
To address these challenges, government officials, researchers, entrepreneurs, and representatives from different International Financial Institutions (IFIs) gathered at the Regional Innovation Forum in Bratislava from March 22-24 to identify innovation and technology challenges facing the region, translate uncertainty into opportunity, and learn from regional and global experiences.
There is ample evidence that innovation and the adoption of existing technologies can accelerate economic growth. It has been shown that innovative firms grow faster – 15% faster in sales and 8% faster in labor productivity.
Yet, it is not easy to embrace change.
"Innovation and disruptive technology are extraordinary opportunities for accelerating economic growth, but they are also a source of anxiety for governments, firms, and people," says Cyril Muller, World Bank Vice President for the Europe and Central Asia Region.
The recent World Bank report "The Innovation Paradox" highlights two failures that undermine the impact of innovation and technology adoption.
First, most firms in developing countries are slow to identify and adapt to more advanced technologies -thus fail to accrue the high returns that technology upgrades and innovation can bring. Second, governments find it challenging to develop innovation policies that can effectively facilitate a process of 'technological catch-up.'
So, what needs to be done?
The first task for policy makers is to create an eco-system which will unleash innovation potential.
"Innovators don't want zero regulation, they want the right regulation," says Muller.
Policy makers have an array of instruments at their disposal – among them innovation grants, matching grants, venture capital, equity funds, loan guarantee schemes. In selecting the best mix, the key is finding evidence of what works and what doesn't.
Igor Kočiš, an innovator and founder of GA Drilling, says a lot of innovators are leaving Slovakia because of the lack of funding for developing their ideas. His advice to policy makers focuses on funding.
"I think the best solution is to combine private money with public money," says Kočiš. "Initial experiments should start with private money. It is faster to do this with your own money. Once you develop a prototype, public money should come in. After this stage you then go back to the private money for investment."
The World Bank Group, in coordination with many clients in the region, has already recognized the importance of innovation for development and has worked over the last two decades to make innovation systems more robust. Over fifty projects have been financed by the World Bank that touch upon innovation in the region.
These initiatives cover a wide range of issues, from increasing innovative activities of firms and individuals in Georgia, to promoting high-quality, nationally relevant research and commercialization of technologies in Kazakhstan and in Serbia, to helping countries in the Western Balkans build a better eco system for innovation.
"The World Bank has accumulated global knowledge and expertise," says Bagrat Yengibaryan, Director of the Enterprise Incubator Foundation in Armenia." No government is willing to share failure, but the World Bank is. Thus, we can learn what works and what doesn't. We don't have to invent the bicycle all over again."
Digitisation and autonomous driving to halve costs by 2030
The digitization and automation of processes and delivery vehicles will reduce logistics costs for standardized transport by 47% by 2030, according to a new report from PwC's Strategy& consultancy.
The Global Truck Study 2018 has found that around 80% of these savings will be attributable to the reduction of personnel in the transport and logistics industry. In addition, there will be enormous increases in efficiency: autonomous lorries, for example, will be able to travel 78% of the time from 2030 onwards, as opposed to 29% of the time since 2030. This will be because there will be no breaks for drivers and idling time will be reduced through the use of algorithms.
"Within just a few years, the commercial vehicle and logistics industries will merge to form an ecosystem that will be managed digitally and efficiently. Robots are already being used in distribution centers and electric vehicles for last-mile logistics," explains Dr. Gerhard Nowak, Partner at Strategy& Germany.
"The missing piece of the puzzle is currently the automated comparison of freight and available vehicles. In a fully automated supply chain, a product on an Industry 4.0 production line would already be produced with the digital information to book the transport for its own delivery shortly before its completion."
A consistently digitized supply chain saves administrative overheads, replaces time-consuming inventory, and reduces insurance costs by cutting error rates. In total, savings of up to 41% are possible by 2030 compared to today's supply chains.
The first-mile delivery of products will become more efficient over the next few years, primarily as a result of the automated assignment of freight to the truck, and platform solutions will replace manual administration tasks, which will release savings potential of 45% by 2030. For last-mile deliveries, data-driven demand analysis, automated deliveries (for example through drones) and reduced administrative overhead could see costs fall by 51%.
"The logistics industry is undergoing massive technological change, changing well-known business models and traditional roles of freight forwarders, truck operators or truck drivers. The change to an autonomous truck is also reducing the importance of equipment features and ride comfort for manufacturers – in the future, it is about offering the better cost balance per kilometer.
"To remain competitive, original equipment manufacturers (OEMs) need to develop business models with mobility services. In this area, they are in direct competition with leasing companies and above all with the big tech players, who are already planning autonomous truck fleets. This ultimately puts them in direct competition with their current customers – a delicate challenge," concludes Gerhard Nowak.
Most IoT Solutions Fail – But Six Are Primed for Worldwide Adoption and Impact
More than $1.2 trillion will be spent on internet of things (IoT) solutions over the next four years, notwithstanding that three-quarters of IoT projects currently fail. New analysis released today by the World Economic Forum, the International Organization for Public-Private Cooperation, aims to help governments and companies think more strategically about which IoT solutions can generate the greatest impact and return on investment.
The Centre for the Fourth Industrial Revolution and a community of experts analysed more than 200 case studies, and corresponding solution sets, of IoT technologies successfully tested and deployed around the world. IoT solutions in six thematic clusters were identified to be among the most impactful and scalable:
Early warning and disaster prevention
Worker safety, well-being and efficiency
Health monitoring and patient treatment
Transport of goods and people
Crop and livestock management
Management of finite natural resources (energy, water)
"IoT has the potential to unleash new economic opportunity and dramatically improve the quality of life of billions of people – but this future is far from guaranteed. Without a more strategic focus and roadmap, we risk squandering trillions of dollars in public- and private-sector investment in the years ahead," said Jeff Merritt, Head of IoT and Connected Devices at the World Economic Forum. "By focusing attention on tried-and-tested solutions, we can reduce the risk associated with these new technologies and enable more consistent, positive impact."
Robots won't take all jobs
Contrary to growing concerns about the potential of automation to displace labour, the IoT solutions highlighted in the analysis focus on enhancing the productivity of workers, not replacing them. For example, in the healthcare sector, a shortage of doctors has prompted concern from India to the United States. IoT solutions that enhance preventive care and the early detection of health conditions are among the most impactful and scalable solutions to date. In agriculture, where food security remains an ever-present global challenge, IoT technologies can potentially help workers optimize the use of water and fertilizers, or manage livestock.
Asia tops IoT spending, sees as solution to growing concerns
The bulk of highly impactful and scalable IoT solutions address pressing needs in China and the broader Asia region, notably with regard to a growing elderly population and rapid urbanization. According to United Nations data, East Asia is ageing faster than any other region of the world. From 1990 to 2017, the population over age 40 in East Asia grew from 28% to 48%. In parallel, Asia is witnessing an unprecedented move of population from rural to urban communities. In China, for example, the urban population has increased by 500 million people in the past three decades. These trends are placing increasing pressure on healthcare systems and urban infrastructure — areas where IoT has proven incredibly valuable. Not surprisingly given this finding, the Asia region currently leads the world in IoT spending.
Smart cities and manufacturing most visible, but not clear-cut solutions
Despite a proliferation of IoT technologies in smart cities and manufacturing, experts were divided on the potential impact and scalability of these solutions. Smart city solutions that focus on system-wide efficiencies – such as monitoring real-time electricity consumption to optimize power grids – appear to hold the greatest promise in the short term.
In the manufacturing sector, IoT technologies that improve worker well-being stood out above solutions that focus exclusively on enhancing system operations. These worker-centric solutions include using IoT technologies to optimize workplace conditions, including temperature, lighting and air quality, and the use of wearable technologies to monitor the health conditions of workers, thereby reducing the risk of accidents and helping to optimize the performance of employees.
"Having employees who are healthy both physically and mentally and can work energetically is an important competitive advantage for companies," said Hiroaki Kawamura, head of Digital Development at Suntory. "We applaud the World Economic Forum for this important work and are proud to contribute to this work through our partnership with the Centre for the Fourth Industrial Revolution."
Invisibility Cloaks Step out of the Shadows as one of 2018's Top Emerging Technologies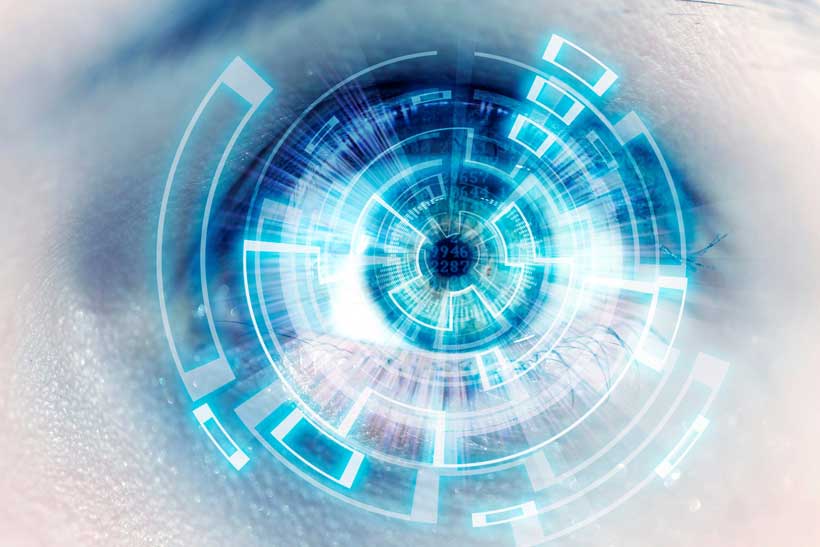 The World Economic Forum today releases its annual list of top ten emerging technologies that have the most potential to deliver transformational changes to societies and economies in the next three to five years.
The list was compiled by members of the World Economic Forum's Expert Network in collaboration with Scientific American. Its purpose is to draw attention to the fact that many technologies that once would have belonged firmly in the realm of science fiction are now on the cusp of entering everyday usage.
This year's top ten emerging technologies are:
Augmented Reality Everywhere: Will transform the work of surgeons, architects and factory workers, not to mention making visits to the museum more compelling than ever
Advanced Diagnostics for Personalized Medicine: Genome sequencing and machine learning have revolutionized our understanding of cancer, brain disorders and other diseases
AI for Molecular Design: Researching new materials, whether for drugs, energy generation or crop improvement purposes, has never been faster, or more efficient
AI Systems to Argue and Instruct: Alexa and Siri's successors will give you advice – and even argue with you
Implantable Drug-Making Cells: By making cellular implants 'invisible' to the immune system, we can use them to fight cancer, heart failure and other diseases
Gene Drive: Altering species through gene editing could help us defeat malaria or protect our coral reefs; but questions remain about its potential misuse
Algorithms for Quantum Computers: Quantum computing has struggled to live up to its hype match: new algorithms could be about to change that
Plasmonic Materials: Plasmonics are light sensitive materials that make great sensors. New developments in nanomaterials could soon see them helping us harvest energy, fight cancer and make ourselves invisible
Lab-grown meat: eating tasty and affordable beef, chicken and fish grown from stem cells could help eliminate one of the largest sources of greenhouse gas emissions
Electroceuticals: electrical impulses are already used to treat epilepsy and depression. New breakthroughs could see it used to tackle obesity, opioid withdrawal, autoimmune disorders and other conditions.
The emerging technologies will be discussed during a number of panel discussions and working sessions at the World Economic Forum's Annual Meeting of the New Champions, which is taking place in Tianjin, People's Republic of China on 18-20 September. The purpose of the meeting, which is focused on science and technology in the Fourth Industrial Revolution, is to focus leaders' efforts on ensuring that emerging technologies are used to benefit society and that they remain human-centred.
"As societies grapple with the impact of the Fourth Industrial Revolution, it is crucial to stay ahead of the curve of new technological breakthroughs that may radically transform our lives. The wide range of experts contributing to this effort provides a unique perspective on the potential benefits and risks associated with these technologies," said Stephan Mergenthaler, Head of Knowledge Networks and Analysis, World Economic Forum.
"Scientific American, which since 1845 has chronicled the innovations that shape the world, is pleased to partner again with the World Economic Forum in identifying the Top Tech Emerging Technologies of 2018," says Mariette DiChristina, Editor in Chief and Chair of the Steering Committee for the 2018 list. "Understanding rapidly emerging technologies, and the opportunities and challenges they raise, helps us in working together to ensure that society ultimately benefits."