TRUMPeting tight, the American Right
The United States is in a major upheaval. Trump's cabinet shake-up moves the country into an alarming direction. From the nomination of torturer Gina Haspel as the head of the Central Intelligence Agency to Mike Pompeo, former CIA Director and a vocal opponent of the nuclear deal with Iran as new secretary of state, his selection exposes the White House's dangerous kill instincts.
An ultimatum came with the president's appointment of John Bolton, the former American ambassador to the United Nations as his 3rd national security advisor. Bolton, who served in the George W. Bush administration is notorious for his hawkishness, with a great zeal for military action against Iran and North Korea. This rearranging of the deck chairs in the sinking empire signals the great calamity of foreign policy ahead with potential threats of war.
In this seeming free-fall toward despotism, what can ordinary people do? Tackling corruption of our political system and averting a doomed future requires us to truly understand the problems we are facing. The crisis of representation didn't just arise with Trump, the new commander in chief. A glimpse of it was shown during the 2008 financial meltdown, which was covered up swiftly by bank bailouts and politics of 'hope and change'. The truth is that seeds for dystopia have been inside this country all along. The roots of the issues that are now emerging in Trump's America go back to the very beginning of this nation.
In its modern formation, the United States inspired the world with its torch of liberty and equality. At the same time, this beacon of light had its darkness within. From the onset, America contained internal contradictions manifested as the founder's hypocrisy and the violation of its own ideals with genocide of natives, slavery of blacks and suppression of women. The Founding Fathers of the United States brought a victory of rejecting the power of the King's monarchy and pioneered a path for one's own self-determination. The concept of "a government of laws, not of men"was groundbreaking at that time. Yet without reconciling its own shadow, this nation of law failed to fully shield the republic from the tyranny of the Old World.
Supremacy of (t)reason
The unredeemed darkness found in America's troubled past was a force inside Western civilization that tries to define history, subjugating other perspectives to its single vision. Europe, with its ethos of separation and objectivity set out to conquer the world, spreading its influence across many continents. This domineering power of reason found its new front of exploration in the New World.
America, driven by the monotheistic goal of Manifest Destiny, expanded its territory with brutality. It swallowed what is edible, assimilating immigrants one by one to its conception of what is civil, while spitting out those that it considered impala table, relegating them into three-fifths of a person or exterminating them from the earth altogether as savages.
This maddened head centricity was manifested in the structure of a new government. Sheldon Wolin, author of Democracy Inc noted how the framers of the Constitution created a so-called managed democracy, a system that favored elite rule and that "the American political system was not born a democracy, but born with a bias against democracy" (2008, p. 228).
The intellectual elites regarded the democratic majority rule as an irrational force and they feared the tyranny of popular majorities. While the faculty of reason positioned itself as a supreme force, a potential to account its autocratic power was found inside America.
The sovereign power of We the People
Expressed in the preamble of the Constitution "We the People" was faith in the wisdom of ordinary people to govern themselves. This was an intention to shift from the model of government that acts as authority of their lives to one that places power in the hands of ordinary people. In this government established under the rule of the people, the source of legitimacy was not derived from a god or king, but was meant to come from people themselves.
This arrangement of governance was not granted from above. It was first demanded by those who opposed the ratification of the 1787 Constitution that lacked the guarantee of individual liberties. The proponents of the Bill of Rights articulated essential parts of the sovereign power of We the People as a freedom of expression; freedom of speech, religion, assembly and the right to petition the government for a redress of grievances. By building upon First Amendment rights, further efforts emerged from below. From abolitionists' defiance and the women's suffrage movement to civil rights and free speech movements, people's determination for individual autonomy persisted.
Assault on this power of ordinary people intensified with the rise of corporate power in the '60s. Manifest Destiny is now carried out with Nike's slogan of "just do it". With limited liability and having no human beings in charge, the abstraction of the head inside transnational corporations took flight from the communal ground, plundering their way into the globe, without ever having to take responsibility for the consequences of their actions. Giant corporations became a sponsor for this managed democracy, gaining control over media to manipulate public perception, keeping American voters in hostage with the lesser of the two evils charade politics.
WikiLeaks, the rise of cryptographic direct action
In the political winter of the post-911 war on terror, as fear and apathy spread around the globe, a new civic force surfaced online. The waves of whistleblowers began shedding light on the collaborative secrecy of elites that deceive and manipulate the public behind a façade of democracy.
WikiLeaks, with its motto of "privacy for the weak and transparency for the powerful", opened a floodgate of a free flow of information.This world's first global Fourth Estate embodies the philosophy of cypherpunks– a loosely tied group of online privacy advocates who saw the potential of cryptography to shift the balance of power between individuals and the state. With the idea that cryptography is the "ultimate form of non-violent direct action" (2012, p. 5), WikiLeaks founder and editor in chief Julian Assange built the system of scientific journalism that would give everyday people around the world tools to combat military might and confront the madness of fallen reason that censors free speech.
The invention of the anonymous drop box was truly revolutionary. It enabled anyone to send information securely without a trace of his or her identity. Through the robust decentralized infrastructure built around this game changing technology, WikiLeaks was able to provide unprecedented source protection in the history of journalism. Here, the organization that derived its source of inspiration in American founding ideas, freed the First Amendment that had been captured through a corporate monopoly and co-optation of the media, making it available to people all around the world.
It is through WikiLeaks' adamant commitment to the principle of free press that former U.S. Army intelligence analyst and whistleblower Chelsea Manning was able to exercise uncompromising free speech and engage in the American tradition of civil disobedience. Manning, whom the late attorney and President Emeritus of the Center for Constitutional Rights, Michael Ratner described as the "conscience of our nation", let the American public see the US imperialism in action in the Middle East.
In her request for a presidential pardon, Manning stated her commitment to the ideal of America, saying how she was willing to pay the price if it would make this country be "truly conceived in liberty and dedicated to the proposition that all women and men are created equal."Through her non-violent cryptographic direct action, she helped America find its conscience.
One individual's act of courage brought another. Inspired by Manning, Edward Snowden came forward to inform people about the NSA's mass surveillance. In one of the addresses he made, Snowden also described his act as a public service and connected it with Dr. King's non-violent civil disobedience. Through his whistleblowing, the former NSA contractor defended individual privacy as fundamental civil rights for all people and tried to preserve the world where people can share creativity, love and friendship freely without every conversation and interaction being monitored and recorded.
Whistleblowers and their faith in ordinary people
From WikiLeaks disruptions to Snowden revelations, courageous act of truth-tellers renewed the faith in the wisdom of ordinary people to govern themselves. Both Manning and Snowden believed in the public's right to know and held a view that when people are informed, they can make changes and determine their own destiny.
Faith is different than mere belief. It is not about one blindly trusting or passively accepting something. Faith is an active will that requires one to choose out of themselves to believe in something. When established media and trusted institutions failed, Manning chose to put her trust in the journalistic organization that was little known at that time. When the government's internal mechanisms of accountability were broken, combined with the betrayal of Obama's campaign promises and his war on whistleblowers, Snowden turned to American journalists whom he could trust by his own judgment of the integrity of their work. They placed faith not in political leaders or authority but in fellow men and women.
It is to this faith in the ability for the wise and knowledgeable public to govern themselves that fearless journalism responded. WikiLeaks, the publisher of last resort kept its promise to the source by publishing full archives with maximum political impact and bringing information back to the historical record. By doing so, it has become an enemy of the most powerful government in the world, being subjected to legal and extra-legal pressure. Through honoring Snowden's wishes, journalists Glenn Greenwald, Laura Poitras and Barton Gellman broke the story of NSA surveillance and led the Guardian's independent journalism, making the established media fulfill its duty. In the aftermath of Snowden's disclosures, when this young whistleblower was stranded in Hong Kong, WikiLeaks demonstrated its extraordinary source protection with journalist Sarah Harrison risking her own liberty to help Snowden attain asylum.
With this faith given by peers, citizens around the world who have been distrusted by their own governments and made powerless began to claim their own power. By recognizing that someone believed in them and sacrificed their lives so that they can be free, they were able to believe in their own ability to protect those they love and preserve rights that they cherish. The will to respond to this faith in one another made it possible for ordinary people to carry out extraordinary acts.
Bitcoin, Innovation without Permission
Contagious courage lit by people's faith created a fellowship that can withstand the state violence. It began to shift the balance of power, replacing the source of legitimacy from trusted institutions to ordinary people's trust in one another. As the network of resistance grew, new attacks emerged. Following the release of U.S. diplomatic cables in 2010, WikiLeaks faced the unlawful financial blockade imposed by Bank of America, VISA, MasterCard, PayPal and Western Union. When this economic sanction starved the whistleblowing site, destroying 95% of their revenue, the flow of autonomy that helped the organization circumvent economic censorship came from fellow cypherpunks.
Bitcoin, as a peer-to-peer electronic cash was the holy grail of cypherpunks. With its defining feature of censorship resistance and permissionlessness, Bitcoin makes free speech an app that can be distributed across borders and used by anyone regardless of nationality, religion, race, gender or economic status. Here, imagination from computer science redeemed the reason that lost its connection to the heart, by synthesizing bits of isolated knowledge that had created separation and injustice, transforming them into a higher order of unification.
Networks of equal peers emerging around this invention opened up a new avenue of dissent in a form of decentralization. Adam Back, notable cryptographer whose work was cited in the Bitcoin white paper, described cypherpunks as "a state of mind" and explained its philosophy of "writing code" as a "proactive approach to societal change by doing: building and deploying tech – rather than by lobbying politicians or asking permission."
This path toward decentralization was first taken by the creator of this technology. The anonymity of Satoshi Nakamoto represents the power of ordinary people. Through an act of publishing the white paper under a pseudonymous name and making the protocol open source, the mysterious author gave up ownership and simultaneously gave users control of the software, making it possible for each individual to use it as a tool to govern themselves.
What is enshrined in a piece of mathematics is wisdom of ordinary people that understands that man is corruptible, as well as perfectible and recognizes the security holes inherent in the existing model of governance that requires trust in third parties. It is the wisdom of history that teaches us how the best way to secure the system is not to have levers of control in the first place through which power concentrates, leading to despotism. With a consensus algorithm placed as a foundation, laws can be built that is more immune to man's fallen nature. With this, idea of a government of laws, not of men can be truly realized. Governance of We the People now becomes possible, where rules of law are validated by consensus of ordinary people as opposed to elected officials having power over them.
Andreas Antonopoulos, a technologist and one of the respected figures in Bitcoin, in his talk titled "Courage to Innovate", captured new enthusiasm and passion ignited around this technology in a phrase "innovation without permission" and connected it with civil disobedience. He reminded the audience how "almost every important innovation in history starts out being illegal or unregulated" and interesting technology started out with people who forgot to ask permission. Describing technology's core invention as a platform to scale trust, Antonopoulos described how this is a system that makes it possible for people to make social decisions without hierarchy, whether it is government bureaucracy, corporations or any other institution. This system Antonopoulos characterized as "rules without rulers" is being built by people around the world without central coordination.
Claiming our revolutionary spirit
Our Founding Fathers, no matter how imperfect they were, brought us ideas conceived in a revolutionary spirit. The genius of the Constitution is that it makes fundamental laws and principles of government amendable. The highest law of the land preserved space for people to not accept authority imposed on them and even to revolt against it when it is necessary, by giving ordinary people means to change rules. America indeed was founded on rebelliousness and distrust of their own government, demonstrated in the Declaration that reads "whenever any Form of Government becomes destructive… it is the Right of the People to alter or to abolish it, and institute a new Government…"
The government brought by our forebears not only allowed dissent, but depended on our rebellion. The realization of the Constitution as the fulfillment of ideals in the Declaration required individuals with a strong and independent mind. It demanded people to develop moral courage to defend these ideals against special interests of single groups or nations and any adversarial forces that try to deny them.
From the civil rights movement to whistleblowers at the frontier of digital liberation, we have seen the awakening of revolutionary spirit in people's courageous civic action upholding the ideals of this country. The networks from below expands, converging together to build a new global civil society. Bitcoin developers around the world put their knowledge and skills together, making improvement proposals and fixing bugs, striving to meet the demands of all users.
Innovation without permission is enlivening entrepreneurship. Instead of waiting for problems to be solved by politicians or corporate CEOs, working class began to have faith in their ability to make changes, finding strength and resources within themselves. Around this currency, a new economy is now being bootstrapped, with startups and new businesses hiring people and providing them with skills and knowledge, while many other industries are stagnating.
Solutions to the crisis of representation are within us. Ordinary people, through freely associating with one another, can now give birth to the rule of a real democracy, securing Life, Liberty and the pursuit of Happiness for all.
The Dissident Voice just published an earlier version of this text under the tittle: America's Descent Into Despotism: Finding Our Source of Power Within appeared
Donald Trump and Nuclear Weapons: A Perilous "Fusion" For Israel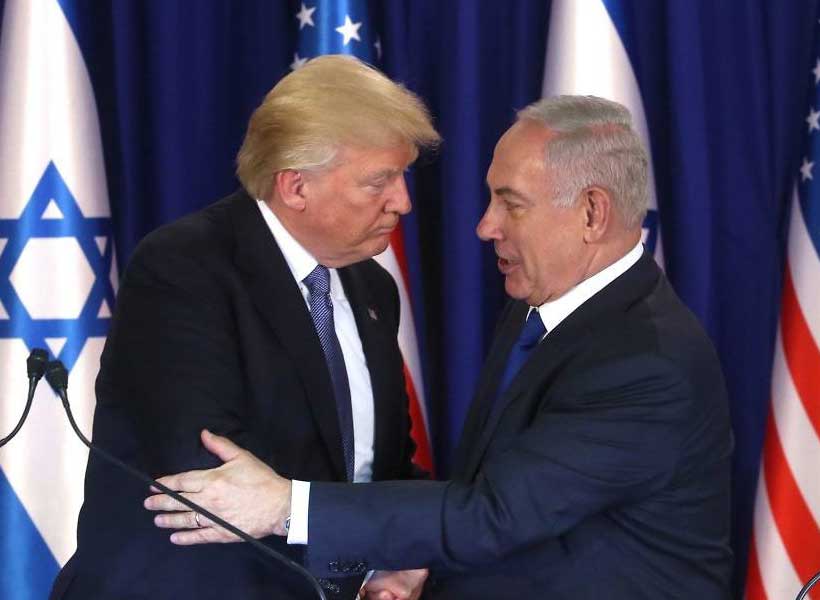 "All accidental wars are inadvertent and unintended, but not vice-versa."-Herman Kahn, On Escalation (1965)[1]
It stands to reason that any combination of Donald Trump and nuclear weapons is dangerous to the United States.[2] After all, this presidency has become unambiguously unhinged – one could now reasonably say "deranged"[3] – and there is corresponding evidence of nuclear apprehensions in high places. This urgent assessment now includes some of the country's senior military commanders.[4]
Not generally discussed, however, are the indirect security perils posed by this American president to various US allies. In this connection, which could at some point concern an authentic existential threat, Israel comes immediately to mind. This particular expectation is not on account of any reciprocal shortcomings in that country's nuclear forces and/or decision-making processes (presumptive forces that remain "deliberately ambiguous"[5]), but "simply"[6] as a valid expression of ongoing strategic interdependence.[7]
No state exists alone in the world. No individual state's military decisions can gainfully disregard the fundamentally systemic nature of world politics. These politics always constitute a system. It follows that when a particular element is strengthened or degraded within components of that system, the ramifications will be felt far and wide.
For Israel, a country smaller than America's Lake Michigan, this relationship would become most serious (perhaps even of existential import) when that specific element has its origins in United States nuclear decision-making. One might also affirm about any such scenario, incontestably, that the US-Israel relationship could even go beyond "most serious" to "extremely urgent" whenever the superpower party was already embroiled in an atomic crisis; that is, in extremis atomicum.[8]
Whatever the contextual particularities, a plausible expectation of intersecting strategic outcomes between the United States and Israel could become existential if it were to involve an irrational,[9] misguided, miscalculated, accidental, unauthorized or otherwise inadvertent firing of American nuclear weapons.[10]
These are not matters for the intellectually faint-hearted, for those citizens who customarily seek refuge in narrowly political phrases or empty political witticisms. In all such complex military matters, there are correspondingly complex nuances of explanation. As just a matter of definition, for example, an irrational presidential firing must be distinguished analytically from an unauthorized firing of nuclear weapons, and also from several primary forms of inadvertent nuclear war. In essence, an irrational nuclear event would involve a willful presidential order to fire despite the US leader's anticipation of catastrophic reprisals.
To be sure, there are certain identifiable circumstances in which even a "crazy" order might still be technically rational – more specifically, circumstances wherein the expected costs of not firing would exceed anticipated costs of firing – but allowing such dire circumstances to arise in the first place would be ominous prima facie, and should be anathema in both Washington and Jerusalem.
It's time for aptly dialectical assessments. What could actually happen? In any such multi-factorial calculations, pertinent details would be required. In one conceivable scenario, an irrational U.S. presidential attack against a still-nuclearizing Iran – one that would likely be defended by President Donald Trump as "anticipatory self-defense"[11] – could produce highly destructive and prompt retaliations against Israel.[12]
In addition, or perhaps in lieu of any such immediate responses, Iran could (1) generate assorted long-term and incremental reprisals, and/or (2) incentivize state and sub-state allies (e.g., Hezbollah) to join collaboratively in the planned reprisals.
From the corollary standpoints of international law and justice,[13] Israel would likely be blameless in all such US-triggered developments. Still, and more meaningfully, that innocence would carry no palliative or exculpatory benefits. None at all.
In the end, these are not fundamentally legal or jurisprudential matters. This is not meant to suggest, inter alia, that characterizations of a preemptive American attack as anticipatory self-defense would necessarily be inappropriate,[14] but only that Jerusalem should always remain focused upon utterly core matters of national survival. Also worth pointing out is that any cascading harms brought upon Israel by an aberrant US presidential decision could sometime be "synergistic."[15]
This means that the cumulative "whole" of any such harms to Israel would exceed the sum of its separate "parts."[16]
There is more. In the exercise of US nuclear command authority, as is already generally known,[17] the "two man rule" of redundant nuclear safeguards does not apply at the highest or presidential level. And while it is increasingly under active discussion by certain concerned persons in the uniquely problematic "Trump Era,"[18] fears of presidential irrationality or nuclear error had generally been expressed only in surreptitious whispers, almost inaudibly, sotto voce. This tacit refusal to confront head-on an issue of overriding importance has been perilous, to say the least, but will become all the more so during the next several months or years, when President Trump can expect to be tested by Pyongyang. At some point, this ill-prepared US commander-in-chief could have to make various time-urgent nuclear decisions concerning North Korea's steadily expanding military nuclearization.
In this regard, Jerusalem will need to "stay tuned.
There is more dialectical complexity to be understood. Certain expected and irremediable methodological hindrances will be at work. Above all, Israeli military planners will need to understand that attaching any scientifically meaningful assessments of probability to predictions of US presidential irrationality or error is not technically possible. Always, forecasting thinkers should be reminded as follows: Scientific affirmations of probability must always be based upon a determinable frequency of pertinent past events.
Significantly, in such matters, there have been no pertinent past events.
It is, of course, cumulatively good news that there have as yet been no clear examples of an American president making irrational decisions about U.S. nuclear weapons.[19] But even this alleged "good news" may not be entirely straightforward. During the Cold War Cuban missile crisis,[20] then President John F. Kennedy ordered his "quarantine" of Cuba (a euphemism or diplomatically sanitized alternative to "blockade," which is traditionally a casus bellum) with an apparently full awareness of corresponding risks. More precisely, according to Theodore Sorensen, his biographer, JFK seemingly believed that even his intentionally softened escalatory response would carry portentous odds of an ensuing nuclear war with the USSR – odds, he noted at the time, that were "between one out of three, and even."[21]
Although we now know that any such estimate was necessarily without any scientific foundation, what matters most is that JFK himself believed in these ominously high odds.
Thus, a curious but indispensable question arises. Was JFK actually acting irrationally about unprecedented nuclear matters in October 1962? Was his declared "quarantine" a fully genuine instance of nuclear decisional irrationality, one that turned out to have been well-crafted and successful only by sheer happenstance or dint of circumstance, including Nikita Khrushchev's abundant and commendable caution?
Or was it rather an example of what I call, in my own most recent book, the "rationality of pretended irrationality?"[22] And isn't this exactly the thinking that Israeli COGS and Minister of Defense Moshe Dayan had in mind when he allegedly once urged: "Israel must be seen as a mad dog, too dangerous to bother."?
If actually a deliberate "rationality of pretended irrationality" move, President Kennedy was playing a carefully calculated game of strategy in 1962, much like the game of "Chicken" once played with automobiles by assorted teen-aged delinquents. In Chicken, where the contestants drive toward each other at high speed, the objective of each player is plainly twofold: (1) not to be chicken, but also (and more gainful) (2) not to be dead.
In offering an informed answer here, permit me two personal anecdotes.
First, regarding McNamara's widely-reported post-crisis apprehensions of an "Armageddon scenario" over Cuba, I once had a face-to-face occasion to ask the former US Defense Chief about these reports. That was back in the Fall of 1967, during a small academic conference at Princeton. Sitting next to me at dinner one evening, in the fabled Nassau Inn, McNamara responded to my unambiguously direct query with a repetitive nod of his head, and with the simple remark, "I wouldn't want to experience that again. Ever."
Those were his exact words.
Second, regarding President Kennedy's alleged assignment of very high odds to his 1962 quarantine announcement, Sorensen reported that JFK had made this seat-of-the-pants assessment only after telephoning Admiral Arleigh Burke, a former Chairman of the US JCS. When, in 1977, I became Admiral Burke's roommate for several days in Annapolis, at the annual Naval Academy Foreign Affairs Conference, or NAFAC (where Burke and I were serving co-chairs of a senior panel on "The Use of Force"), I asked him explicitly about Sorensen's probability numbers. Without any hesitation, the Admiral replied that the Kennedy biographer had reported Burke's telephone response to Kennedy accurately.
In other words, the young, cool and seemingly unflappable American president may have actually accepted up to even odds of a global thermonuclear war as the expected result of his enforced "quarantine."
A derivative question now rises. What could we reasonably expect from an old, volatile and (let us be charitable) "intellectually limited" Donald Trump? Indeed, he had "aced" the cognitive function test by repeating a few words correctly ("the doctors were amazed"), and earlier, he had even demonstrated successfully the ability to drink a glass of water with only one hand, but a probable absence of severe dementia is hardly the proper standard to be applied here.
For Jerusalem, there is another reason why correctly forecasting President Trump's upcoming nuclear policy decisions could never be based upon any scientifically-garnered probabilities. This reason is not just a question of logical capacity to assess the odds of any future presidential irrationality involving US nuclear command authority. It is also a matter of Trump being unable to calculate himself the probable outcomes of any particular nuclear decision that he might sometime make.
There is more. This particular forecasting constraint has nothing to do with any specifically personal intellectual deficit on this president's part, but only with the wholesale absence of pertinent past events. Accordingly, this problem is not an ad hominem issue for Israel, but "merely" a universally daunting artifact of scientific methodologies.
If, for example, this American president or his successor should sometime seek an "expert" probability assessment or prediction concerning a north Korean escalation to nuclear weapons (in the near term, such an escalation could more or less realistically relate to Japan, US forces in the region, and/or certain already-reachable targets in Alaska or Hawaii), there would be no suitably relevant history to draw upon. The same conclusion can now be reached regarding the expected results of any American defensive attack launched against Iran, one where enemy escalatory responses could include not only direct Iranian air attacks on Saudi and/or Gulf oilfields, but also variously indirect Hezbollah aggressions[23] against Israel.[24]
Once again, in any such scenario, there would be no opportunity to render a scientifically meaningful estimation of applicable probabilities.
Returning to the core issue of any prospective U.S. presidential irrationality regarding nuclear weapons, it is conceivable, in principle, that such consequential missteps could become less likely over time, on the more-or-less logical assumption that experience in office would correlate favorably with increased caution. But it is already the closing days of this president's current term in office, and that optimistic conclusion could offer only a "common sense" reprieve. At best, in fact, it would represent a "tricky" or contrived extrapolation from certain earlier historical eras, one wherein the main argument would have made some sense in a pre-nuclear past.
In any event, during any still-upcoming nuclear crisis involving the United States, President Trump would have to strike an optimal balance between the always-unavoidable search for "escalation dominance," and the closely matching need to avoid being locked into any desperate sequence of geo-strategic move and countermove.
Expressed as an appropriately dynamic process, one driven by its own unstoppable inner momentum, this escalatory sequence could create a self-limiting pattern of extrication that would then lead inexorably to either a controlled nuclear exchange or to full-blown nuclear war. Either immediately or over time, the disparate costs of any such war could severely impact Israel, and perhaps assorted other regional states, as well as the United States itself.
Strategic risk-taking can be significantly advantageous up to a point, but figuring out exactly where that critical point should be established is by no means a handily calculable task. Well-documented histories of the 1962 Cuban Missile Crisis all seem to agree that the superpowers had then come very close to a starkly different and authentically calamitous sort of conclusion. Once again, back at Princeton in 1967, I had heard this cautionary conclusion directly from the US Secretary of Defense, Robert McNamara.
Nuclear strategy is a game that various sane national leaders must sometimes learn to play, but never with any reassuringly plausible assurances of probable outcomes. The only way this "probabilistic unpredictability" can ever change is if, in the years ahead, some actual examples should accumulate of specific nuclear escalations and outcomes. Of course, this sort of accumulation is not something we ought ever to wish for. Instead, it would be far better for us to continue to have to concede a structural incapacity to more reliably "figure the odds" of any nuclear crisis engagement, or of any resultant nuclear war.
Analysts may learn from this exceedingly complex dialectic that we can't yet determine usefully just how likely it is that America's unpredictable sitting president would ever give an irrational order to use American nuclear weapons. But scholars can still reasonably advise Mr. Trump and his counselors that unprecedented nuclear dangers lurk not only (or even primarily) in sudden "bolt from the blue" enemy attacks, but also in certain unanticipated and uncontrolled forms of nuclear escalation[25]. As far as any pretending irrationality is concerned – a tactic that may or may not have figured importantly in the Cuban Missile Crisis, depending upon one's own particular interpretation of JFK's 1962 strategic calculations – it could rapidly become a double-edged sword for Donald Trump.
In those circumstances, when centered on the Middle East, the self-destructive sword's "edge" could inflict measureless or nearly measureless harms upon the United States and upon Israel.
Most purposeless of all would be a President Trump who naively confused copious bluster and bravado with some genuinely convincing rendition of irrationality. From the start, Trump has persistently hinted at the alleged benefits of pretending irrationality in foreign relations, but there is yet no compelling evidence that he also understands the corollary requirement of a policy "follow through." No doubt, Moshe Dayan had once made a promising point in his own strategic argument that Israel should be seen as a "mad dog," but it remains credible that he would have strongly favored certain attendant preparations to ensure Jerusalem's "escalation dominance."
These vital preparations would have been based upon a carefully-prepared and incrementally nuanced "ladder" of sequenced retaliations and counter-retaliations.
To be sure, under certain circumstances, the "rationality of pretended irrationality" tactic could represent a manifestly sane move in the bewilderingly complex game of nuclear strategy, but it must always be undertaken together with variously inherent and immutable limitations. Above all, at least for the foreseeable future, this means fashioning national strategic policies without any substantially precise or scientific estimations of probable outcome. Looking ahead, for Israel, it follows that there can be no adequate substitute for maximum caution and prudence in absolutely every instance of strategic risk-taking.
This includes those prospectively fearful circumstances triggered by recognizable instances of US presidential irrationality or miscalculation on nuclear decisions.
Never to be taken lightly, in this regard, is Sigmund Freud's trenchant observation that history remains littered with the corpses of millions spawned by some form or other of national leadership irrationality or miscalculation.[26] Conspicuously, that observation was offered before nuclear weapons. Today, from a crucial standpoint of nuclear war avoidance, it should be closely pondered in Jerusalem as well as Washington.
For Israel, still more precisely, such concern should derive in large measure from binding alliance ties between the two countries.
---
[1] Herman Kahn is among the first prominent thinkers associated with the post-war genre of strategic nuclear war. His more important works are On Thermonuclear War (1962) and Thinking About the Unthinkable (1962). Back at Princeton in the mid-1960s, his work became a conceptual mainstay of our advanced graduate courses dealing with military affairs and world order. His most memorable observation, as I can recall, is that "After a nuclear war, the survivors would envy the dead."
[2] See, by this author, Louis René Beres, at The Bulletin of the Atomic Scientists: https://thebulletin.org/2016/08/what-if-you-dont-trust-the-judgment-of-the-president-whose-finger-is-over-the-nuclear-button/ See also, by Professor Beres, https://warroom.armywarcollege.edu/articles/nuclear-decision-making/ (Pentagon).
[3] What else can one say after an American president makes repeated medical claims that contradict his own most authoritative scientific advisors; asserts that Joe Biden, his rival, "hates and wants to hurt God…;" recommends injecting household disinfectants as therapeutic or prophylactic agents for Covid19 infection; says that children are "almost immune" to Corona virus; and maintains that "only 1%" of those infected" suffer any palpable harms?
[4] See, for current assessments: https://www.cnn.com/2020/08/06/politics/trump-advisers-fears-military-options/index.html
[5] See by this writer, Louis René Beres, https://www.inss.org.il/publication/changing-direction-updating-israels-nuclear-doctrine/; with USN Admiral (ret.) Leon "Bud" Edney, https://www.usnews.com/opinion/articles/2013/02/11/facing-a-nuclear-iran-israel-must-rethink-its-nuclear-ambiguity; and with USAF General John T. Chain, https://www.theatlantic.com/international/archive/2012/08/could-israel-safely-deter-a-nuclear-iran/260947/. General Chain served as Commander-in-Chief, US Strategic Air Command (CINCSAC); while Admiral Edney is a former Supreme Allied Commander/NATO (SACLANT).
[6] "Everything is very simple in war," says Clausewitz, in his classic discussion of "friction" in On War, "but the simplest thing is difficult." Herein, friction refers to the unpredictable effects of errors in knowledge and information concerning inevitable strategic uncertainties; on presidential under-estimations or over-estimations of US relative power position; and on the unalterably vast and largely irremediable differences between theories of deterrence, and enemy intent "as it actually is." See: Carl von Clausewitz, "Uber das Leben und den Charakter von Scharnhorst," Historisch-politische Zeitschrift, 1 (1832); cited in Barry D. Watts, Clausewitzian Friction and Future War, McNair Paper No. 52, October, 1996, Institute for National Strategic Studies, National Defense University Washington, D.C. p. 9.
[7] In this regard, see jointly authored monograph at Tel Aviv University by Professor Louis René Beres and General (USA/ret.) Barry R. McCaffrey, Israel's Nuclear Strategy and America's National Security (2016) https://sectech.tau.ac.il/sites/sectech.tau.ac.il/files/PalmBeachBook.pdf
[8] For the moment, the arguments presented here are "Trump specific," but they are also all prospectively generic; that is, they could inhere in the US-Israel relationship per se, and apply irrespective of any particular US White House incumbent.
[9] US presidential expressions of decisional irrationality could take different and overlapping forms. These include a disorderly or inconsistent value system; computational errors in calculation; an incapacity to communicate efficiently; random or haphazard influences in the making or transmittal of particular decisions; and internal dissonance generated by any authoritative structure of collective decision-making (e.g., the US National Security Council).
[10] Also problematic for the United States and its pertinent allies, especially Israel, would be the firing of American nuclear weapons due to Russian cyber-attacks/cyber-intrusions. In the final analysis, this cyber-war threat is of potentially greater existential import than threats of any continued Russian meddling in America's elections. Moreover, the threat is still growing while President Trump stubbornly exonerates Vladimir Putin and simultaneously vilifies the FBI plus his own intelligence community. Why?
[11] This president, of course, would have no knowledge about any such matters of national and international law himself. Nonetheless, for the designated lawyers, anticipatory self-defense would represent a permissible use of force before an enemy attack has already been experienced or absorbed. While the usual national obligation to wait until one's own country has been struck first is formally codified at Article 51 of the UN Charter, the corollary right of anticipatory self-defense derives from customary international law. Moreover, all authoritative sources of international law are sequentially identified at Article 38 of the UN's Statute of the International Court of Justice.
[12] See, by this author, Louis René Beres, https://www.jstor.org/stable/resrep24333?seq=1#metadata_info_tab_contents https://besacenter.org/wp-content/uploads/2019/09/165-MONOGRAPH-Beres-What-Happens-to-Israel-if-the-US-and-Iran-Go-to-War-web-2.pdf
[13] Our system of world politics remains essentially "Westphalian." The reference here is to the Peace Of Westphalia (1648), which concluded the Thirty Years War and created the still-existing decentralized or self-help "state system." For pertinent legal bases, see: Treaty of Peace of Munster, Oct. 1648, 1 Consol. T.S. 271; and Treaty of Peace of Osnabruck, Oct. 1648, 1., Consol. T.S. 119, Together, these two treaties comprise the Peace of Westphalia.
[14] The earlier-mentioned customary right of "anticipatory self-defense" has its modern origins in The Caroline incident, which revolved around the unsuccessful rebellion of 1837 against British rule in Upper Canada. Following this incident, a serious threat of armed attack became generally accepted as adequate justification for certain otherwise-proper preemptive actions. In a formal exchange of diplomatic notes between the governments of the United States and Great Britain, then U.S. Secretary of State Daniel Webster outlined a framework for self-defense that did not require a prior armed attack. Military preemption, therefore, was to be judged permissible, at least as long as the danger posed was "instant, overwhelming, leaving no choice of means, and no moment for deliberation." By extrapolation, today, in the nuclear age, this permissibility ought to be of even greater latitude. See: The Caroline, 2 John B. Moore, A Digest of International Law 412 (1906); reprinted in Louis Henkin, et. al., International law: Cases and Materials 622 (2nd ed., 1987).
[15] See, by this author, at Harvard National Security Journal, Harvard Law School: https://harvardnsj.org/2015/06/core-synergies-in-israels-strategic-planning-when-the-adversarial-whole-is-greater-than-the-sum-of-its-parts/ See also, by Professor Beres, at Modern War Institute, West Point: https://mwi.usma.edu/threat-convergence-adversarial-whole-greater-sum-parts/
[16] This is sometimes considered as similar to the concept of a "force multiplier." A force multiplier is a collection of related characteristics, other than weapons or force size, that may intentionally render a military organization more effective in war. It may include generalship; tactical surprise; tactical mobility; or even certain command and control system enhancements. It could also include imaginative and less-costly forms of preemption, such as assassination or targeted killing; also sabotage. Looking ahead, it could embrace variously integrated components of cyber-defense and cyber-warfare, including a reciprocal capacity to prevent or blunt any incoming cyber attacks. Again, the need for such components could have its conceptual origins in the sorely incoherent and problematic Trump presidency.
[17] I first wrote of such U.S. nuclear authority matters in an earlier book, Louis René Beres, Apocalypse: Nuclear Catastrophe in World Politics, The University of Chicago Press, 1980.
[18] See, for example, the new book by former Secretary of Defense William Perry and Tom Colinna, https://newbooksnetwork.com/w-j-perry-and-t-z-collina-the-button-the-new-nuclear-arms-race-and-presidential-power-from-truman-to-trump-benbella-books-2020/
.
[19] See forthcoming book by Jim Sciutto, The Madman Theory: Trump Takes on the World (Harper Collins, August 2020).
[20] Regarding current US-Russia relations, we are now plausibly in the midst of "Cold War II." Hypothesizing the emergence of this second Cold War means expecting that the world system is becoming increasingly bipolar. For early writings, by this author, on the global security implications of any such expanding bipolarity, see: Louis René Beres, "Bipolarity, Multipolarity, and the Reliability of Alliance Commitments," Western Political Quarterly, Vol. 25, No.4., December 1972, pp. 702-710; Louis René Beres, "Bipolarity, Multipolarity, and the Tragedy of the Commons," Western Political Quarterly, Vol. 26, No.4., December 1973, pp, 649-658; and Louis René Beres, "Guerillas, Terrorists, and Polarity: New Structural Models of World Politics," Western Political Quarterly, Vol. 27, No.4., December 1974, pp. 624-636.
[21] For authoritative early accounts by this author of nuclear war effects, see: Louis René Beres, Apocalypse: Nuclear Catastrophe in World Politics (Chicago: University of Chicago Press, 1980); Louis René Beres, Mimicking Sisyphus: America's Countervailing Nuclear Strategy (Lexington, Mass., Lexington Books, 1983); Louis René Beres, Reason and Realpolitik: U.S. Foreign Policy and World Order (Lexington, Mass., Lexington Books, 1984); and Louis René Beres, Security or Armageddon: Israel's Nuclear Strategy (Lexington, Mass., Lexington Books, 1986). Most recently, by Professor Beres, see: Surviving Amid Chaos: Israel's Nuclear Strategy (New York, Rowman & Littlefield, 2016; 2nd ed. 2018). https://paw.princeton.edu/new-books/surviving-amid-chaos-israel%E2%80%99s-nuclear-strategy
[22] See especially Louis René Beres, Surviving Amid Chaos: Israel's Nuclear Strategy. https://www.amazon.com/Surviving-Amid-Chaos-Strategy-Destruction/dp/1442253258
[23] On the crime of "aggression" see: RESOLUTION ON THE DEFINITION OF AGGRESSION, Dec. 14, 1974, U.N.G.A. Res. 3314 (XXIX), 29 U.N. GAOR, Supp. (No. 31) 142, U.N. Doc. A/9631, 1975, reprinted in 13 I.L.M. 710, 1974; and CHARTER OF THE UNITED NATIONS, Art. 51.. Done at San Francisco, June 26, 1945. Entered into force for the United States, Oct. 24, 1945, 59 Stat. 1031, T.S. No. 993, Bevans 1153, 1976, Y.B.U.N. 1043.
[24] This brings to mind the need for identifying ways in which a nuclear war involving Israel might begin directly with events in the Middle East. There are certain plausible and also more-or-less probable paths to actual nuclear war-fighting in the Middle East: (1) enemy nuclear first-strikes against Israel (not yet a possibility, at least so long as non-Arab Pakistan is excluded as an enemy state); (2) enemy non-nuclear WMD (weapons of mass destruction) first-strikes against Israel, that elicit Israeli nuclear reprisals, either promptly, or as a consequence of incremental escalatory processes; (3) Israeli nuclear preemptions against hard targets in enemy states with nuclear assets (excluding Pakistan, still not a present possibility); (4) Israeli non-nuclear preemptions against hard targets in enemy states, with nuclear assets, that elicit enemy nuclear reprisals, either promptly, or via incremental escalation processes (also not yet a possibility); and (5) Israeli non-nuclear preemptions against hard targets in enemy states, without nuclear assets, that elicit substantial enemy biological warfare reprisals, and, reciprocally, Israeli nuclear counter-retaliations. In principle, at least, other paths to nuclear war fighting in the region could include accidental/unintentional/inadvertent/unauthorized nuclear attacks between Israel and pertinent enemy states. Analysts will also have to consider the real prospect of escalations arising from certain WMD terrorism against Israel.
[25] On these issues as a more generic problem, see: Anatol Rapoport, Strategy and Conscience (1964) and Herman Kahn, On Escalation: Metaphors and Scenarios (1965). See also, by this writer, Louis René Beres, The Management of World Power: A Theoretical Analysis (1973).
[26] In his exact words: "Fools, visionaries, sufferers from delusions, neurotics and lunatics have played great roles at all times in the history of mankind….Usually, they have wreaked havoc."
Latin America – Russia: An Agenda for Constructive Cooperation in the Post-COVID-19 Era
On Tuesday, August 4, the outstanding video-conference "Latin America – Russia: an Agenda for Constructive Cooperation in the Post-COVID-19 Era" was held organized by the Valdai Club , the Russian Embassy in Guatemala, the American Chamber of commerce (AmCham), the Central American Parliament (Parlacen) the SIECA(Central American Secretariat for Economic Integration), the United Nations Conference on Trade and Development (UNCTAD) and the CRIES of Argentina (Regional Coordination of Economic and Social Research).
The video conference was attended by Alexis Rodzianko as moderator (president of AmCham Russia). And an outstanding panel of speakers with:
Russian Deputy Foreign Minister Sergei Ryabkov; Nadia de León (chairman of PARLACEN) Melvin Redondo (general secretary of the SIECA); Yaroslav Lissovolik (programme director at Valdai Club); Richard Kozul Wright (director of division on globalization and development strategies UNCTAD); Daniel Russell (Ceo of USRBC) and Lila Roldan Vásquez (head of the CARI –Argentina- Eurasian studies group)
After a brief presentation and comments by the moderator Alexis Rodzianko (president of the Russian-American Chamber of Commerce) on the nature of the video-conference and the panelists in it, Russian Deputy-Minister of Foreign Affairs Sergey Ryabkov started the dialogue expressing his satisfaction with the existence of this kind of spaces for reflection in such difficult global times. We quote some of his more outstanding phrases:
" Russia and the United States continue their dialogue on joint efforts to combat the pandemic, and this is good news".
"Washington, however, does not abandon its claims for global hegemony. This poses a threat to international stability and security.".
He stated the need to increase channels of cooperation when the coronavirus is ravaging the entire planet, for the first time in humanity, it faces a threat that affects the entire planet, this poses a dramatic challenge, the frustrating statistics of Covid- 19 have the same effects as a war, this era requires the consolidation of international efforts together and that Russia hopes that large-scale cooperation can act as a vector for a more multipolar world.
He also denounced international actors, the countries that privilege self-interest over those of the international community in times of crisis due to the pandemic. He cataloged irresponsible and short-sighted countries that ignoring the UN declarations, mainly the western powers, continue with sanctions measures to other countries, sanctions that hinder the acquisition of medical supplies and assistance, including Latin American countries, without even foreseeing the lifting of sanctions even for the time of the pandemic.
He was also very critical of the attitude of the United States in various multilateral fields such as its withdrawal from the Open Skies treaties; missile weapons treaties such as INF and START II; the North-American withdrawal from the World Health Organization.
On the cooperation agenda of Latin America – Russia, he highlighted the negative factors that Latin America faces in its current situation:
"Latin America continues to face dramatic social inequalities and political de-stabilizations: The US continues its efforts to redraw the political map of Latin America to serve its interests."
He stressed that:
"From Russia with much disappointment and concern some time ago we observed how the Monroe Doctrine and all the ideology linked to it was officially reintroduced by the United States.".
As positive factors he pondered that for Russia, Latin America has always been a region of political tolerance, economic opportunities and cultural affinity:
"For Russia, the relationship with Latin America is a value in itself of its foreign policy and bases its cooperation agenda in the region based on a pragmatic and de-ideological vision, Russia does not seek to engage its partners in geopolitical dilemmas where they must choose between friends and enemies".
"And these links have always had a positive dynamic in energy, communications, technology, medicine, logistics and transportation. We seek technological and commercial alliances, diversifying their bases".
"A paramount of Russian cooperation with Latin America was the activation in 2019 of the Latin American Institute of Biotechnology (in Managua, Nicaragua) that produces, insulin and interferon and vaccines for Latin American consumption".
Despite the delicate situation worldwide, the deputy-minister remained optimistic that crises improve prospects for international cooperation, and that Russia-Latin America cooperation will continue to consolidate.
"During this pandemic, Russian assistance has been received by: Costa Rica, the Dominican Republic, Nicaragua, Venezuela, Cuba, in testing teams and personal health protection, in addition to humanitarian aid."
The possibility of assistance to other countries in the region such as Paraguay, Colombia, and Peru has been addressed.
The Russian Direct Investment Fund announced the signing of an agreement under which 150,000 Avifavir packages will be sent to seven Latin American countries: Argentina, Bolivia, Ecuador, El Salvador, Honduras, Paraguay and Uruguay. In addition, Russia will also send supplies of the antiviral drug to South Africa and transfer the technology to Bolivian firm Sigma Corp SRL in order for it to be produced locally.
Closing of the presentation
The deputy-minister Ryabkov cerró su presentación marcando que en las difíciles circunstancias actuales es fundamental evitar la politización de la situación de la pandemia, un verdadero desafío global, que requiere esfuerzos conjuntos entre todos los Estados, y que Rusia está preparada para hacer su aporte y que lo está haciendo.
The deputy-minister Ryabkov closed his presentation by stating that in the current difficult circumstances it is essential to avoid politicizing the situation of the pandemic, a true global challenge, which requires joint efforts between all States, and that Russia is ready to make its contribution, and it's doing it.
Questions and Answers Section
In the questions and answers section of the dialogue, he answered a question about the role of Russia in the binomial-dilemma that would appear to present itself to Latin America in the strategic competition between the US and China:
"Russia won't be part of that geopolitical game"
He made it clear that Russia will surely not be part of a possible geopolitical triangular game with the US and China in Latin America, since it does not have the same capabilities as the other two actors (US-China) and that from the strategic vision of Russia relations with Latin America should be characterized by a cooperative logic of mutual benefit (win-win) and pragmatism, the relationship with this region should not emulate previous models of relations between center and periphery and he highlighted the Russian-Argentine relationship as an example of a link of mutual benefit.
Russia will not act for Latin America as an actor to support itself in a counterbalance, to offset the competition between Beijing and Washington in the region, but it will continue to maintain cooperative relations with Latin America, although he clarified that trilateral cooperation, as in the case of the Covid-19 pandemic should not be ruled out.
"Those practices go against the core elements and principles of international law and the United Nations Charter."
It was his answer to the question about Russia's position on the persistent US policies of imposing economic sanctions unilaterally (such as in the blockades against Cuba and Venezuela) that impede the fluidity of international cooperation (in times of pandemic, necessary international aid) and that Russia has also been suffering the same extortionary measures since the referendums that consecrated the return of the Crimean territories to Russia in 2014, and in which in this aspect Russia has not found a "common ground" with the United States for dialogue.
"We have to find ways to ensure relief to the countries most in need and with the fewest resources"
He argued that it is the responsibility of institutions such as those of the Breton Woods system, the G20, the Club de Paris, the economic powerhouses to find coherent strategies to achieve this objective. Macroeconomic policies of expansion, not austerity, should be promoted globally.
My own questions
As an observer-participant of the digital event, I was able to ask the Deputy-Minister two questions:
"is there any prospect from Russia to collaborate with South American efforts to "catch up" with the latest technology?"
In this response, he expressed his wish that such cooperation be carried out, since Russia has a lot to contribute, he said regarding the digitization of public services, of special interest today in public health services, other axes of technological cooperation could include biotechnology, pharmaceuticals, and he stated that Russia is not exaggerating by claiming that it has made important advances in the development of drugs that help combat Covid-19 in the near future. Regarding this, he highlighted the observations of his presentation, where he mentioned that Russia has significantly promoted the installation of technology in Central America (the Latin American Institute of Biotechnology).Other areas of cooperation of interest mentioned were telecommunications and the peaceful use of nuclear power, agricultural technology.
These cooperation dynamics, he argued, will always be guided by pragmatic visions; Russia will not subject its partners to geopolitical dilemmas.
is there any interest from Russia to improve Argentina's naval capabilities in fishing, hydrocarbons, naval surveillance, etc?
In this regard, he pointed out that initial contacts had taken place in the Macri administration and that he is sure that under the administration of President Alberto Fernández these contacts would continue.
He quoted the slogan: "it is the economy, stupid" when explaining the interest that exists between both governments and their respective businessmen to associate in relation to the naval field, but the contacts are still distant.
Regarding fishing exploitation, he acknowledged his lack of knowledge about any Russian-Argentine association project on the subject, but he stressed that this doesn't mean that it is not an interesting area of cooperation to continue advancing the in the bilateral agenda.
For the last, he emphasized that when travel and contacts will be reestablished, all those axes of cooperation can be discussed further, without major impediments.
From our partner International Affairs
Hiroshima and the Peace of the Bomb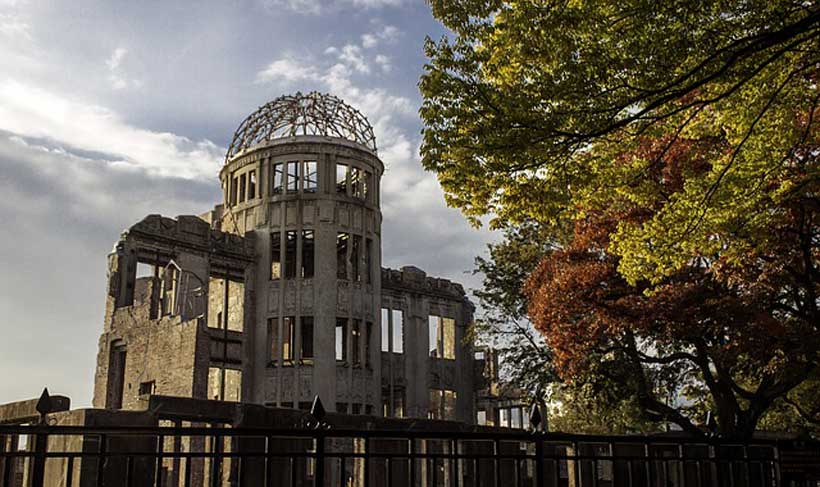 Seventy five years ago this week, the world witnessed a cataclysm that was to change the nature of war forever: The atom bomb was dropped on Hiroshima, and worse — while the Japanese argued among themselves about whether and how to surrender — a second bomb was dropped on Nagasaki three days later on August 9th. Now there was no other rational choice, and the Japanese gave up.
If anything good ever came out of a war, it was the generous peace. The US helped in the reconstruction of the defeated nations. As a teenaged student in London, I remember visiting Germany a dozen years after the war ended. Major centers had been flattened by the bombing. In Hamburg, one would see a few residential buildings and then ruins as far as the eye could see as if a massive earthquake had hit. A never ending horror across all major cities and a shortage of labor. So the Turks came … and stayed. Welcome then, not so much now.
The Germans were humble — a humility that would gradually diminish with the country's resurgence as one observed over succeeding decades. Cleanliness and order are part of the national psyche, particularly the latter. Everything in order — 'Alles in ordnung'. It even applies on a personal level as someone might ask exactly that if you appear disturbed. It then means, 'Everything okay?'
A grease spot on the otherwise fresh tablecloth at breakfast, my fastidious six-year old daughter complained. It was whisked away with apologies and immediately replaced. Order restored. Ordnung muss sein says the German proverb.
In dollar terms, Germany is now the world's fourth largest economy, Japan the third. The world has not ended despite economic interests being often cited as a cause of war. In fact, we are grateful for their products judging by the numbers of their automobile names in the US. Japan appears to have eclipsed the famed auto giants of the past, GM, Ford and Chrysler and UK icons long forgotten. And Donald J. Trump has a beef with both countries and is busy pulling out troops from Germany. Of course the giant dragon of exporters to the US, namely China, is for President Trump our public enemy number one.
The bombs on Hiroshima and Nagasaki were not the end, merely the beginning, and at the back of our minds remains the terrifying hope that it is not the beginning of the end.
Following the US, there soon were other nuclear powers: the UK and the Soviet Union followed by France, then China. After China, India was not to be left behind, and after India the same logic applied to Pakistan. Then there is Israel seeking external security while like diseased fruit, it rots from the inside. And let us not forget nutty North Korea.
When the US and the Soviet Union faced off with thousands of nuclear weapons, the strategists produced the theory of mutually assured destruction. Its acronym MAD was closer to the truth than its Pentagon proponents could ever have imagined for they would have destroyed not just each other but the world.
Even India and Pakistan with 100-plus weapons each could cause a nuclear winter from the fall-out and the dust covered skies. The subsequent crop losses and famines would kill many more across the world than the devastation wrought by the bombs. It is just one more reason why nation states could eventually become obsolete.
Fortunately, for the human race, nuclear war is more potent in the threat than in the execution; the latter would certainly certify MAD. The response to a military threat carrying the phrase 'by all means necessary' is enough to cool things down quickly. It was Pakistan's reply to India's threat to expand an incident in the disputed Kashmir region with an attack on mainland Pakistan. In that sense, nuclear weapons have become a sort of insurance policy. Pakistan and India have fought several major wars but none since both sides acquired nuclear weapons. The cost is unthinkable, and one hopes will remain so in the minds of strategists.
Such is the world my generation is leaving to you: flawed but holding together all the same.