TRUMPeting tight, the American Right
The United States is in a major upheaval. Trump's cabinet shake-up moves the country into an alarming direction. From the nomination of torturer Gina Haspel as the head of the Central Intelligence Agency to Mike Pompeo, former CIA Director and a vocal opponent of the nuclear deal with Iran as new secretary of state, his selection exposes the White House's dangerous kill instincts.
An ultimatum came with the president's appointment of John Bolton, the former American ambassador to the United Nations as his 3rd national security advisor. Bolton, who served in the George W. Bush administration is notorious for his hawkishness, with a great zeal for military action against Iran and North Korea. This rearranging of the deck chairs in the sinking empire signals the great calamity of foreign policy ahead with potential threats of war.
In this seeming free-fall toward despotism, what can ordinary people do? Tackling corruption of our political system and averting a doomed future requires us to truly understand the problems we are facing. The crisis of representation didn't just arise with Trump, the new commander in chief. A glimpse of it was shown during the 2008 financial meltdown, which was covered up swiftly by bank bailouts and politics of 'hope and change'. The truth is that seeds for dystopia have been inside this country all along. The roots of the issues that are now emerging in Trump's America go back to the very beginning of this nation.
In its modern formation, the United States inspired the world with its torch of liberty and equality. At the same time, this beacon of light had its darkness within. From the onset, America contained internal contradictions manifested as the founder's hypocrisy and the violation of its own ideals with genocide of natives, slavery of blacks and suppression of women. The Founding Fathers of the United States brought a victory of rejecting the power of the King's monarchy and pioneered a path for one's own self-determination. The concept of "a government of laws, not of men"was groundbreaking at that time. Yet without reconciling its own shadow, this nation of law failed to fully shield the republic from the tyranny of the Old World.
Supremacy of (t)reason
The unredeemed darkness found in America's troubled past was a force inside Western civilization that tries to define history, subjugating other perspectives to its single vision. Europe, with its ethos of separation and objectivity set out to conquer the world, spreading its influence across many continents. This domineering power of reason found its new front of exploration in the New World.
America, driven by the monotheistic goal of Manifest Destiny, expanded its territory with brutality. It swallowed what is edible, assimilating immigrants one by one to its conception of what is civil, while spitting out those that it considered impala table, relegating them into three-fifths of a person or exterminating them from the earth altogether as savages.
This maddened head centricity was manifested in the structure of a new government. Sheldon Wolin, author of Democracy Inc noted how the framers of the Constitution created a so-called managed democracy, a system that favored elite rule and that "the American political system was not born a democracy, but born with a bias against democracy" (2008, p. 228).
The intellectual elites regarded the democratic majority rule as an irrational force and they feared the tyranny of popular majorities. While the faculty of reason positioned itself as a supreme force, a potential to account its autocratic power was found inside America.
The sovereign power of We the People
Expressed in the preamble of the Constitution "We the People" was faith in the wisdom of ordinary people to govern themselves. This was an intention to shift from the model of government that acts as authority of their lives to one that places power in the hands of ordinary people. In this government established under the rule of the people, the source of legitimacy was not derived from a god or king, but was meant to come from people themselves.
This arrangement of governance was not granted from above. It was first demanded by those who opposed the ratification of the 1787 Constitution that lacked the guarantee of individual liberties. The proponents of the Bill of Rights articulated essential parts of the sovereign power of We the People as a freedom of expression; freedom of speech, religion, assembly and the right to petition the government for a redress of grievances. By building upon First Amendment rights, further efforts emerged from below. From abolitionists' defiance and the women's suffrage movement to civil rights and free speech movements, people's determination for individual autonomy persisted.
Assault on this power of ordinary people intensified with the rise of corporate power in the '60s. Manifest Destiny is now carried out with Nike's slogan of "just do it". With limited liability and having no human beings in charge, the abstraction of the head inside transnational corporations took flight from the communal ground, plundering their way into the globe, without ever having to take responsibility for the consequences of their actions. Giant corporations became a sponsor for this managed democracy, gaining control over media to manipulate public perception, keeping American voters in hostage with the lesser of the two evils charade politics.
WikiLeaks, the rise of cryptographic direct action
In the political winter of the post-911 war on terror, as fear and apathy spread around the globe, a new civic force surfaced online. The waves of whistleblowers began shedding light on the collaborative secrecy of elites that deceive and manipulate the public behind a façade of democracy.
WikiLeaks, with its motto of "privacy for the weak and transparency for the powerful", opened a floodgate of a free flow of information.This world's first global Fourth Estate embodies the philosophy of cypherpunks– a loosely tied group of online privacy advocates who saw the potential of cryptography to shift the balance of power between individuals and the state. With the idea that cryptography is the "ultimate form of non-violent direct action" (2012, p. 5), WikiLeaks founder and editor in chief Julian Assange built the system of scientific journalism that would give everyday people around the world tools to combat military might and confront the madness of fallen reason that censors free speech.
The invention of the anonymous drop box was truly revolutionary. It enabled anyone to send information securely without a trace of his or her identity. Through the robust decentralized infrastructure built around this game changing technology, WikiLeaks was able to provide unprecedented source protection in the history of journalism. Here, the organization that derived its source of inspiration in American founding ideas, freed the First Amendment that had been captured through a corporate monopoly and co-optation of the media, making it available to people all around the world.
It is through WikiLeaks' adamant commitment to the principle of free press that former U.S. Army intelligence analyst and whistleblower Chelsea Manning was able to exercise uncompromising free speech and engage in the American tradition of civil disobedience. Manning, whom the late attorney and President Emeritus of the Center for Constitutional Rights, Michael Ratner described as the "conscience of our nation", let the American public see the US imperialism in action in the Middle East.
In her request for a presidential pardon, Manning stated her commitment to the ideal of America, saying how she was willing to pay the price if it would make this country be "truly conceived in liberty and dedicated to the proposition that all women and men are created equal."Through her non-violent cryptographic direct action, she helped America find its conscience.
One individual's act of courage brought another. Inspired by Manning, Edward Snowden came forward to inform people about the NSA's mass surveillance. In one of the addresses he made, Snowden also described his act as a public service and connected it with Dr. King's non-violent civil disobedience. Through his whistleblowing, the former NSA contractor defended individual privacy as fundamental civil rights for all people and tried to preserve the world where people can share creativity, love and friendship freely without every conversation and interaction being monitored and recorded.
Whistleblowers and their faith in ordinary people
From WikiLeaks disruptions to Snowden revelations, courageous act of truth-tellers renewed the faith in the wisdom of ordinary people to govern themselves. Both Manning and Snowden believed in the public's right to know and held a view that when people are informed, they can make changes and determine their own destiny.
Faith is different than mere belief. It is not about one blindly trusting or passively accepting something. Faith is an active will that requires one to choose out of themselves to believe in something. When established media and trusted institutions failed, Manning chose to put her trust in the journalistic organization that was little known at that time. When the government's internal mechanisms of accountability were broken, combined with the betrayal of Obama's campaign promises and his war on whistleblowers, Snowden turned to American journalists whom he could trust by his own judgment of the integrity of their work. They placed faith not in political leaders or authority but in fellow men and women.
It is to this faith in the ability for the wise and knowledgeable public to govern themselves that fearless journalism responded. WikiLeaks, the publisher of last resort kept its promise to the source by publishing full archives with maximum political impact and bringing information back to the historical record. By doing so, it has become an enemy of the most powerful government in the world, being subjected to legal and extra-legal pressure. Through honoring Snowden's wishes, journalists Glenn Greenwald, Laura Poitras and Barton Gellman broke the story of NSA surveillance and led the Guardian's independent journalism, making the established media fulfill its duty. In the aftermath of Snowden's disclosures, when this young whistleblower was stranded in Hong Kong, WikiLeaks demonstrated its extraordinary source protection with journalist Sarah Harrison risking her own liberty to help Snowden attain asylum.
With this faith given by peers, citizens around the world who have been distrusted by their own governments and made powerless began to claim their own power. By recognizing that someone believed in them and sacrificed their lives so that they can be free, they were able to believe in their own ability to protect those they love and preserve rights that they cherish. The will to respond to this faith in one another made it possible for ordinary people to carry out extraordinary acts.
Bitcoin, Innovation without Permission
Contagious courage lit by people's faith created a fellowship that can withstand the state violence. It began to shift the balance of power, replacing the source of legitimacy from trusted institutions to ordinary people's trust in one another. As the network of resistance grew, new attacks emerged. Following the release of U.S. diplomatic cables in 2010, WikiLeaks faced the unlawful financial blockade imposed by Bank of America, VISA, MasterCard, PayPal and Western Union. When this economic sanction starved the whistleblowing site, destroying 95% of their revenue, the flow of autonomy that helped the organization circumvent economic censorship came from fellow cypherpunks.
Bitcoin, as a peer-to-peer electronic cash was the holy grail of cypherpunks. With its defining feature of censorship resistance and permissionlessness, Bitcoin makes free speech an app that can be distributed across borders and used by anyone regardless of nationality, religion, race, gender or economic status. Here, imagination from computer science redeemed the reason that lost its connection to the heart, by synthesizing bits of isolated knowledge that had created separation and injustice, transforming them into a higher order of unification.
Networks of equal peers emerging around this invention opened up a new avenue of dissent in a form of decentralization. Adam Back, notable cryptographer whose work was cited in the Bitcoin white paper, described cypherpunks as "a state of mind" and explained its philosophy of "writing code" as a "proactive approach to societal change by doing: building and deploying tech – rather than by lobbying politicians or asking permission."
This path toward decentralization was first taken by the creator of this technology. The anonymity of Satoshi Nakamoto represents the power of ordinary people. Through an act of publishing the white paper under a pseudonymous name and making the protocol open source, the mysterious author gave up ownership and simultaneously gave users control of the software, making it possible for each individual to use it as a tool to govern themselves.
What is enshrined in a piece of mathematics is wisdom of ordinary people that understands that man is corruptible, as well as perfectible and recognizes the security holes inherent in the existing model of governance that requires trust in third parties. It is the wisdom of history that teaches us how the best way to secure the system is not to have levers of control in the first place through which power concentrates, leading to despotism. With a consensus algorithm placed as a foundation, laws can be built that is more immune to man's fallen nature. With this, idea of a government of laws, not of men can be truly realized. Governance of We the People now becomes possible, where rules of law are validated by consensus of ordinary people as opposed to elected officials having power over them.
Andreas Antonopoulos, a technologist and one of the respected figures in Bitcoin, in his talk titled "Courage to Innovate", captured new enthusiasm and passion ignited around this technology in a phrase "innovation without permission" and connected it with civil disobedience. He reminded the audience how "almost every important innovation in history starts out being illegal or unregulated" and interesting technology started out with people who forgot to ask permission. Describing technology's core invention as a platform to scale trust, Antonopoulos described how this is a system that makes it possible for people to make social decisions without hierarchy, whether it is government bureaucracy, corporations or any other institution. This system Antonopoulos characterized as "rules without rulers" is being built by people around the world without central coordination.
Claiming our revolutionary spirit
Our Founding Fathers, no matter how imperfect they were, brought us ideas conceived in a revolutionary spirit. The genius of the Constitution is that it makes fundamental laws and principles of government amendable. The highest law of the land preserved space for people to not accept authority imposed on them and even to revolt against it when it is necessary, by giving ordinary people means to change rules. America indeed was founded on rebelliousness and distrust of their own government, demonstrated in the Declaration that reads "whenever any Form of Government becomes destructive… it is the Right of the People to alter or to abolish it, and institute a new Government…"
The government brought by our forebears not only allowed dissent, but depended on our rebellion. The realization of the Constitution as the fulfillment of ideals in the Declaration required individuals with a strong and independent mind. It demanded people to develop moral courage to defend these ideals against special interests of single groups or nations and any adversarial forces that try to deny them.
From the civil rights movement to whistleblowers at the frontier of digital liberation, we have seen the awakening of revolutionary spirit in people's courageous civic action upholding the ideals of this country. The networks from below expands, converging together to build a new global civil society. Bitcoin developers around the world put their knowledge and skills together, making improvement proposals and fixing bugs, striving to meet the demands of all users.
Innovation without permission is enlivening entrepreneurship. Instead of waiting for problems to be solved by politicians or corporate CEOs, working class began to have faith in their ability to make changes, finding strength and resources within themselves. Around this currency, a new economy is now being bootstrapped, with startups and new businesses hiring people and providing them with skills and knowledge, while many other industries are stagnating.
Solutions to the crisis of representation are within us. Ordinary people, through freely associating with one another, can now give birth to the rule of a real democracy, securing Life, Liberty and the pursuit of Happiness for all.
The Dissident Voice just published an earlier version of this text under the tittle: America's Descent Into Despotism: Finding Our Source of Power Within appeared
Two Ways that Trump Spread Covid-19 in U.S.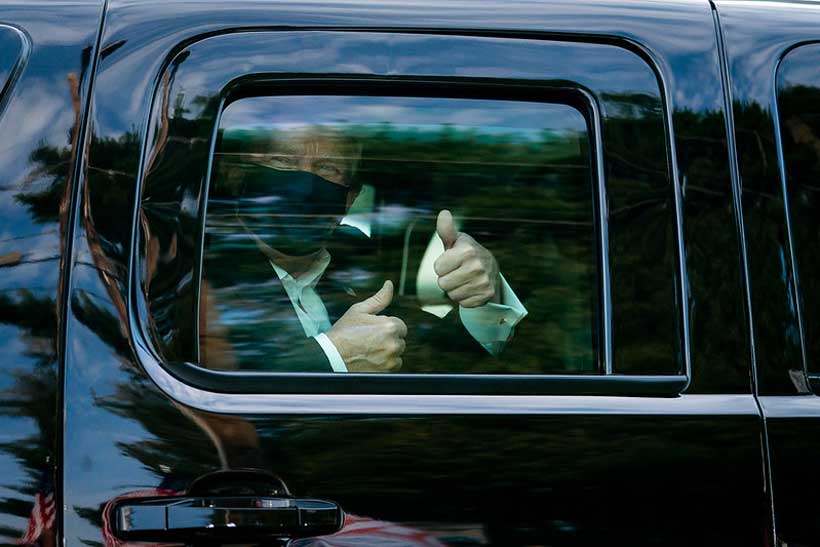 1. Encouraging infected workers to continue working even if it infects others:
On 12 May 2020, two hundred and twenty five labor organizations signed a letter to Antonin Scalia's son Eugene Scalia who was Donald Trump's appointed Secretary of Labor, and it urged his Department to change its policies "that address the standards that apply under the federal U[nemployment] I[insurance] law to determine when workers remain eligible for regular state UI or P[andemic] U[nemployment] A[ssistance] if they leave work or refuse to work due to COVID-19 health and safety concerns." In more-common language, an economist Jared Bernstein headlined in the Washington Post six days later on May 18th, "The Labor Department is forcing workers back to jobs that could make them sick" and he explained that Scalia's Department "has issued guidance that virtually ignores health risks and encourages employers to report workers who refuse job offers [while unemployed] so their unemployment payments can be taken away. The agency is busy urging employers to snitch on 'claimants that have turned down suitable work.'" Trump's Labor Department ignored the labor-organizations' letter. Then, a barista headlined at Huffpost on 22 January 2021, "I Work In A Coffee Shop In Montana. Anti-Maskers Have Made My Job Hell." She complained that the many customers who refused to wear masks were causing her to fear working there — she was blaming those customers, but not Trump. However, Trump and his Labor Secretary were responsible and simply didn't care about the safety of workers, such as her, and were instead encouraging employers to force these workers to stay on the job, though doing so endangered themselves and their co-workers. Millions of infected workers were infecting others because not to would cause them to become fired and could ultimately force them into homelessness. Maybe the billionaires who funded Trump's political career profited from such exploitation of their employees, but nationally this policy helped to increase the spreading of Covid-19. Also: since so many of those bottom-of-the-totem-pole employees are Blacks and Hispanics, etc., this Trump policy helped to cause the drastically higher infection-rates that have been reported among such groups.
2. Refusing to deal with the pandemic on a national basis:
On 15 July 2020, the Washington Post headlined "As the coronavirus crisis spins out of control, Trump issues directives — but still no clear plan" and reported that, "health professionals have urged the White House to offer a disciplined and unified national message to help people who are fatigued more than five months into the crisis and resistant to changing social behaviors, such as wearing masks and keeping a distance from others. Trump, for instance, refused to be seen publicly wearing a mask until last weekend, when he sported one during a trip to Walter Reed National Military Medical Center. 'You can get a really strong and eloquent governor who can help at the state level, but it does seem like we need some more national messaging around the fact that for many people, this is the most adversity they've faced in their life,' said Marcus Plescia, chief medical officer with the Association of State and Territorial Health Officials." Every country (such as China, Vietnam, Venezuela, South Korea, Thailand, New Zealand, and Finland) that has been far more successful than America is at having a low number of Covid-19 cases (and deaths) per million residents has dealt with the pandemic on a national and not merely local basis, but all of the worst-performing countries (such as America, which now is at 76,407 "Tot Cases/1M pop") have not.
It therefore also stands to reason that
which ranks all 50 states according to how high is the number of Covid-19 infections per million inhabitants, shows (and links to the data proving) that "In 2016, the top 17 [most Covid-infected states] voted for Trump, and the bottom 5 voted for Clinton. All but 3 of the top 24 voted for Trump." The correlation of high Covid-infection-rate with Trump-voting was astoundingly high. Trump, it seems, gave the high-infection-rate states what they had wanted. But what he gave to America is the highest Covid-19 infection-rate of any nation that has at least 11 million population. It is the 7th-highest Covid-19 infection-rate among all 219 reporting nations. Trump's policies produced the type of results that had been expected by well-informed people around the world.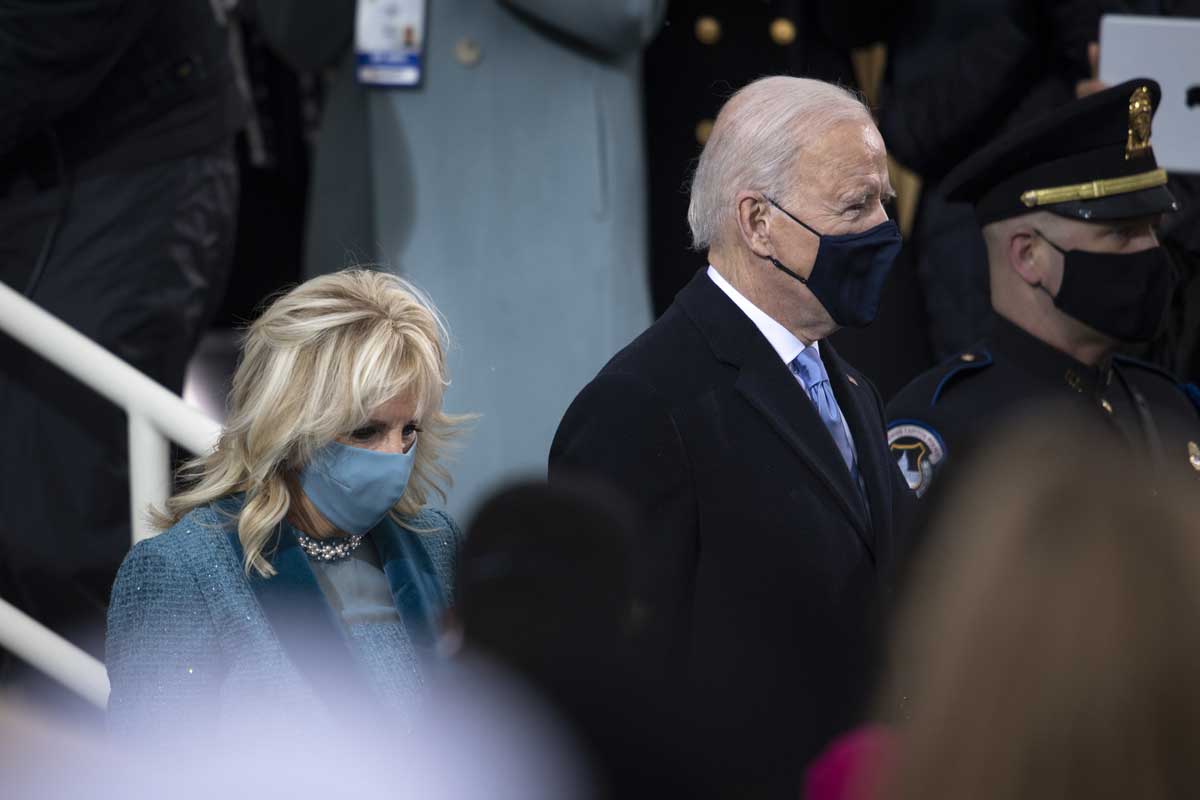 Sic transit gloria mundi — thus passes worldly glory, which seems an apt phrase for the peaceful transition of power from one administration to the next.
Joseph Robinette Biden, Jr. became the 46th president of the United States at noon on January 20th, and earlier Donald J. Trump departed the White House quietly for Florida — his last ride on Air Force One as president — leaving behind a generous and gracious letter for Biden. So it is described by Joe Biden himself. Trump did not attend the inauguration, the first president not to do so since Woodrow Wilson in 1921, who remained inside the Capitol building because of poor health while his successor Warren G. Harding was installed.
It was a most unusual inauguration this time. There were no crowds on the lawns outside; instead row upon row of American flags representing them. The official attendees all wore masks and included three former Presidents (Obama, the younger Bush and Clinton). President Carter, who is in his 90s and frail, sent his apologies.
The usual late breakfast before the ceremony and the lunch afterwards were also cancelled — one cannot eat with a mask in place! No evening inaugural balls either. These were sometimes so many that the new president and his lady could only spend a few minutes at each. In their stead, there was a virtual inaugural celebration hosted by Tom Hanks the actor. It consisted mostly of pop-singers who supported Biden plus a disappointing rendering of Amazing Grace by Yo-Yo Ma on his cello.
Biden's first act was to sign a series of executive orders to undo some of Trump's policies. He announced the U.S. would not leave the World Health Organization (WHO) and would continue to contribute to it. On climate change a complete policy reversal now means the U.S. will abide by the Paris climate accord.
Biden's other executive orders totalling 15 responded to the coronavirus crisis with the goal of giving 100 million vaccine shots by the end of April. He proposes to establish vaccine centers at stadiums and community facilities and also plans to speed up production of the supplies required for making vaccines.
The U.S. now has lost 406,000 lives (and counting) from COVID-19. That number is noted to be greater than U.S. deaths during WW2. The virus has so far infected 24.5 million people. However, the problem is more complicated than simply inoculating everyone.
Swedish authorities report that 23 people, mostly elderly and having other health issues, have died after being given the Pfizer vaccine. Its side effects apparently can be severe and mimic the disease itself. Thus given a choice, one would prefer the Moderna vaccine.
Old age is a poignant sight to behold. Biden the ex high school football star now having difficulty lifting his feet to walk. Very gamely, he even tried a jog or two to say a quick hello to bystanders during his short walk to the White House. We wish him well and hope for a successful presidential term. Thirty-six years as senator and eight years as vice-president certainly make him one of the most experienced to sit in the White House Oval Office. Good luck Mr. President!
Is Sino-Russian partnership posing a strategic threat to U.S. and democracy worldwide?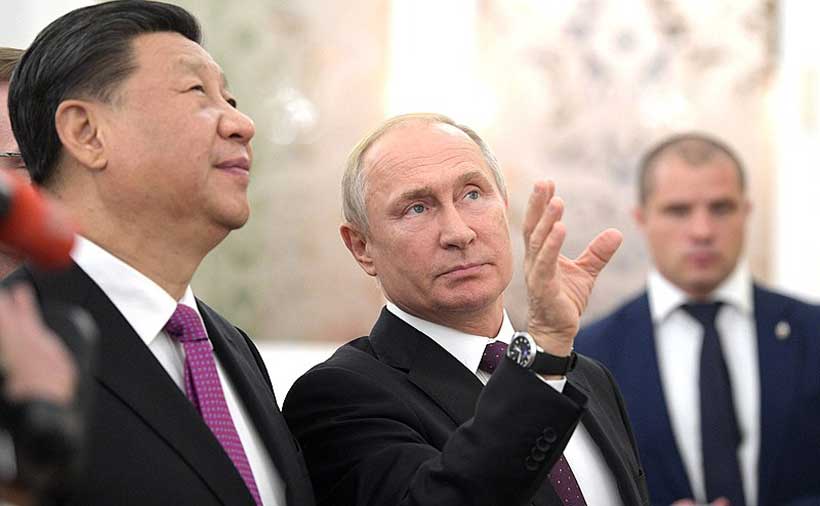 Despite significant divergence between China and Russia in both regional and international arenas, the countries have striven to expand their cooperation in several directions namely in diplomatic, political and defense realms. China and Russia consider the US as a challenge to the national security of both Beijing and Moscow. The countries are bearing in mind that alignment between Moscow and Beijing is thought to be the best possible measure to deter US hegemonic policy. Russia and China are working together to the fill the gaps of their military capability, accelerating their technological innovations, supplementing each other's defense competency to emasculate US global leadership, challenging US dominance in strategic regions as well.
Their joint naval drills are supposed to be projected as a counter-measure to minimize the US capability, and to defy US regional scenario. Furthermore, the countries accelerate their cooperation to erode US military advantages. In order to enhance their efforts, Russia provides China with advanced weapons to remove the US from their backyards. Their joint efforts have put America under immense pressure to reconsider its defense budget and its alleged commitments to advocate a free and open Indo-Pacific. The countries are doing their best to counter American Democratic measure in form of "color revolutions", substantiating each other to defend their interests in multidimensional environments, creating norms around cyber and internet sovereignty, and augmenting anti-American elements even radical Islamists to gain the power and expand their territorial control. They legitimize each other's conducts to persuade swing states to abandon the US.
Moscow and Beijing consolidating their efforts to inter to the new spaces more likely Artificial Intelligence, they strive to offer diverse digital system and other technologies. They also joined hands to disqualify American financial measures in the global economic arena especially bypass the US sanctions and minimize the US ability in financial realm as part of the US foreign policy objective.
They have long before tried to de-dollarize the world finical system, which will in turn curtail the US capability in the area of export control.
America's counter measures
Nonetheless, the US has launched counter measures to limit Sino-Russia cooperation and the threats they pose to Washington. In response to Sino-Russian partnership, the US stationed and installed vigilant technologies all around the countries to curb their liabilities. Additionally, in response to the Sino-Russian joint-partnership, the US adopted a new maritime strategy in December 2020 the three maritime services of the US military – the US Navy, Marine Corps and Coast Guard. The strategy elucidates both China and Russia as resolute adversaries, who pose a long-term strategic threat to the national security of the US in the global arena particularly in Indo-pacific domain. In comparison to the old strategies, the new strategy presses on the importance of sea control, which ascribes the possibility of armed conflict with at maritime level. Moreover, the strategy signifies the importance of Coastguard as a part of main element to deter multidimensional threats posed by Sino-Russia. The new strategy also implies and stress on building partnerships and cooperation with other countries to defend the US global perspective. It clarifies as well that current US defense capability is not sufficient. Thus, the maritime forces ought to be modernized in order to counter Sino-Russia maritime strategy. According to the new strategy, the size and shape will boldly change to answer the current and future challenges.
Are China and Russia strategically associated?
Even so, due to American Air, Land and sea superiority, in global level and particularly in Indo-pacific, Asian and African regions, which is considered as threat to the national security of China and Russia. Therefore, Moscow and Beijing agreed upon to build up partnership and cooperation along with filling each other's gaps in term of defense, aerial, sea and digital technologies, to rule out American Maritime strategic challenges. In addition, kick out the US military forces from their back yards. It is worthwhile to note Sino-Russian cooperation or partnership is not strategic, because is not built on natural basis, rather it instituted on a tactical measure to deter American aggression. It is very conventional term that the enemy of my enemy is my friend, which means Beijing and Moscow have a common enemy "the United States". Therefore, they disregard their border dispute for the time being, which will definitely be brushed up, when the US is out of the race in the global arena.
According to the management criteria, partnership or cooperation is based on three terms; short term, midterm and long term in other word operational, tactical and strategic, taking in to account the mentioned terminologies the Sino-Russia partnership is operational and tactical then to be strategic/long-term. While China has been shifting its soft strategic measures, the country tries to apply hard power in Central Asia "Russia's back yard". Beijing considers stationing military forces in the region to defend the country's Belt and Road initiative extended to the region. China wants to safeguard its geo-economic and geo-political objectives thru future military installations in Central Asia. Therefore, Beijing's motives are irreconcilable with the foreign policy objectives of Moocow for the region, because China pursues to advance trans-Eurasian transportation corridor in order to bypass Russia. Furthermore, China recently built an airport in Xining-Uyghur autonomous district close to Afghan and Tajikistan borders, which is the first airport of such kind in the mountainous area of Badakhshan. China's initiative in this form, offers Beijing enjoying upper hand to get hold on Natural resources of the disputed region. The country undertook to build extra 25 airports in the region in order to expand its military buildup. Hence, Russia reconsiders its partnership with China, because the balance between Beijing and Moscow is changing in the region.
In addition, Sino-Russian partnership is depended on China's commitment to full carbon neutrality by 2060. Beijing will reduce consumption of all fossil fuels, including natural gas, which will definitely play a significant role in future cooperation and partnership between Moscow and Beijing.
China has recently made public that the country will almost be carbon neutral in 40 years; means the country will reduce 65% of its oil consumption and 75% of its natural gas consumption. These assertions will disqualify forthcoming efforts to run a mega-pipeline "Power of Siberia-2" in order to pump Russian natural gas to China. In order to minimize its dependency on Russian Natural Gas, China has diversified its efforts to import natural gas from centrals Asian countries. China made a technological breakthrough in domestic natural gas production, which will in turn reduce Chinese dependency on Russia. In couple of decades, Russia will totally lose its fuel and gas advantages to leverage China. Between 2050.2060, China will independently handle its energy needs, and develop its defense, maritime and digital technology including artificial intelligence. China will increase its defense budget up to 1 trillion dollars. Until 2060, the US will completely be out as a major element of world order. So there would be no need for Sino-Russian cooperation, China alone would be in a position to police the world and Russia will become Beijing's number one geo-political enemy.
Sino-Russian rift
China and Russia enmity goes back to the Chinese Eastern Railway(CER) conflict took place in 1929 between Soviet Union and China, which was the bloodies conflict of its time. Joseph Stalin played a significant role to neutralize Chinese efforts to recapture the Railway. In order to attain its goals China used both conventional and asymmetric approaches to eliminate Soviet Union control over the Railway. Obtaining green signals from Japan, Stalin forcefully trespassed the region and pushed back Chinese armed forces, which was connoted as a sign of aggression, and ended up with border dispute. Throughout, the history both countries unsuccessfully endeavored to find a peaceful and acceptable solution to the border conflict. Consequently, in 2003 Russia and China signed an agreement to resolve the border dispute. In 2005, Moscow and Beijing finalized the border issue, nevertheless, Chinese leadership still claims that Vladivostok Russia's Fareast city is part of Chinese territory, besides Beijing asserts that Russia has annexed 350.000 square mile of Chinese territory.
Taking into account the above said facts, Sino-Russian partnership will break up some times in the future (2050-2060) and will change to armed conflict. Furthermore, Russia is not a solemn geopolitical adversary of the United States as China is. After the collapse of Soviet Union, both Russia and America were on the right path to normalize their relationship. Throughout, the different administrations no matter democrats or republicans leadership, Moscow and Washington achieved a lot to be aligned. For goodwill they even signed a new start to reduces their nuclear warheads and stop arm race. Due to the US eastward expansionism, Russia was driven into the arms of Beijing to establish partnership and cooperation.
Is Beijing or Moscow a national security threat?
The National Counterintelligence and Security Director Bill Evanina in his Fax News interview shed light on that no country poses a broader more severe threat to America than China. He added that Beijing's malign influence campaign against America would be one of the bigger challenge for Biden administration. He asserted from a threat perspective, Russia is a significant adversary particularly with regard to cyber intrusions, malign influence, and sowing discord in American democracy, but China poses a broader, more severe intelligence collection to the United States. According to Evanina, China continually engaged in highly sophisticated malign influence campaign against America, because America is a democracy, and democracy is bad for China. Evanina clarifies that challenge for Biden administration will be to understand the scope and scale of Chinese threats in the American landscape, domestically, and what is the best course to defeat that.
He added that part of China's malign influence has focused on politicians and elected officials, leveraging them to be engaged in promoting Beijing's scenario. Evanina signalizes that data theft by Beijing poses severe threat to the nationalized Americans. China can exploit the data for variety of nefarious purposes, and already has a significant record of exploitation of DNA for social control and surveillance of their Uyghur population at home. Evanina warned that China's collection of U.S. Genomic data is helping to fuel their precision medicine and artificial intelligence industries, which poses a long-term threat to the US biotech industry and medicine around the world at large. China continues to exploit American government and industry supply chain he said, Beijing uses American trusted suppliers and vendors against the US itself. He explained that supply chain attacks are insidious at most, because they violate the basic trust between a supplier and a consumer. Therefore, he said that it is a complicated set for the Biden administration to deal with.
A chance of reconsidering foreign policy objectives
Observing that Russia is not a significant threat to America at most, on the other, China poses, the most severe threat to the United States, so the Biden administration can give it a try to revise policies on Russia, and find out divergences and get them solved. In accordance with the US newly adopted maritime strategy, the American forces and vigilance instruments cannot be present everywhere and every time, therefore it stressed on to build and convene partnership and alliance with other countries. Unlike former strategies, the current strategy is more in favor of working together with allies. If Biden's administration tries to build trust amongst its allies, he needs to listen to his allies around the globe especially his European ones and give preference to their concerns. In European perspective, Russia is an inevitable potency in term of economic cooperation, counter insurgency, counter terrorism, and cyber security. Therefore, it is advisable that the policy towards Moscow requires to be given the kiss of life to crumble Sino-Russian partnership, and get it aligned with Washington. Most importantly, Russia is part of Europe; hence, a European orientated solution should be conveyed to motivate Russia to work together with European Union and America.