Strategic Stabilization: A Window of Opportunities for Russia and the U.S.
Despite the belligerent nuclear statements by Russia and the U.S. in the first quarter of 2018, the configuration of a possible future for the international arms control regimes can be seen beyond the veil of rhetoric.
Therapeutic address
The address to the Federal Assembly by President Vladimir Putin, who has since been re-elected, was striking and unprecedented in terms of its nuclear-missile revelations. However, it generated a fair share of criticism, and rightly so for the most part. In particular, the visualization of the new nuclear delivery systems included a number of previously demonstrated animations, including the understandably criticized "footage" of MIRVs arriving at Florida, which was borrowed from a video related to the future Sarmat ICBM that had been included in a TV film devoted to the Voyevoda ICBM. One aspect that wasn't entirely understandable was the clearly doctored footage of a target being allegedly being hit by a Kinzhal, a system that is currently very close to deployment. It is, however, worth noting that all the systems featured in the presentation – the heavy Sarmat ICBM, the Avangard hypersonic glide vehicle, the Burevestnik nuclear-powered cruise missile of unlimited range, the Poseidon nuclear-powered unmanned underwater vehicle, the Kinzhal airborne rocket system, and the Peresvet combat laser system – were all, to one extent or another, started as Soviet projects aimed at counteracting the deployment of U.S. ABM as part of President Ronald Reagan's Strategic Defense Initiative.
This, however, is beside the point. The key part of Putin's address was the message to the effect that Russia is prepared to overcome the problems posed by any existing or future U.S. ABM system. Shortly after the president's address, Russian Defense Minister Sergey Shoigu expressed his bewilderment at why the U.S. would need a "leaky" ABM umbrella. Putin himself clarified his position in an interview with NBC, effectively declaring that Russia was ready for further reductions in strategic offensive weapons, the ABM threat notwithstanding. An external symptom of this readiness is the absence of ABM on the agenda of the next iteration of the international security conference in Moscow, which originally emerged as a platform for discussions on U.S. ABM-related issues. Thus, we can assume that the demonstration of nuclear delivery systems that are invulnerable a priori to any existing or future anti-missile systems had a therapeutic effect and significantly lowered the tone of hysterical talk concerning the development of the U.S. ABM system.
The most recent evidence of the possibility of a new agreement came in the form of a telephone conversation between Putin and Trump on March 20, after which the two presidents declared their interest in a meaningful discussion on strategic stability aimed at preventing a new arms race [1]. The first step towards a positive agenda should be a joint statement on strategic stability by the two countries' presidents. Apart from the traditional talking point about the impossibility of winning a nuclear war, the statement would benefit from the inclusion of assurances stating that the new defensive and offensive weapons do not aim to undermine the deterring potential of each country's nuclear forces, and that neither of the two are striving to create nuclear weapons that would be applicable in local conflicts.
In this context, despite the negative backdrop of the current Russian-U.S. relations, the need to discuss the parameters of the future nuclear deal has once again become a hot topic, even though Russian Foreign Ministry spokeswoman Maria Zakharova asserts that the time for such talks has not yet arrived.
Problems with prolongation
The simplest and most obvious option would be to prolong the current New START for another five years until 2026. There are, however, a number of obstacles to this.
Trump is extremely opposed to all the achievements of the Obama administration, including in the nuclear field. The Joint Comprehensive Plan of Action on Iran's nuclear program is falling apart and, according to unofficial reports, the New START came under criticism during Trump's first phone conversation with Putin.
Russia continues to be critical of the U.S. approach to reducing the number of nuclear delivery platforms and launchers. This criticism does not appear to be extremely significant, but it does illustrate the shortcomings of the current New START in terms of the mere possibility of such a problem emerging once the combined permitted levels of strategic offensive weapons under the New START have been reached.
The INF Treaty is a burning topic: the two sides have officially accused each other of breaching the document, while denying the accusations leveled against themselves. It should be noted that the U.S. has already codified its accusations, including as part of sanctions against enterprises involved in the production of 9M729 cruise missiles for the Iskander-M theater missile system (Novator Design Bureau and Titan-Barrikady).
Both the U.S., under its new Nuclear Posture Review, and Russia, under its new government armament program through 2027, are slated to phase in nuclear delivery systems which fall outside the scope of the New START.
Hypersonic glide vehicles are already being discussed by experts as future systems that would be capable of radically rearranging the global strategic landscape even if they are not tipped with nuclear warheads;
The "exotic" Burevestnik and Poseidon nuclear-powered nuclear delivery platforms, which have not yet been added to Russia's arsenal, represent projects of assured destruction with nuclear retaliation. They are believed to be in a fairly high state of completion, but tests continue. It is impossible to predict the planned deployment timeline, locations, and numbers as of now: the exact parameters will depend on the situation with Russian-U.S. and global arms control regimes.
Nuclear-tipped sea-launched cruise missiles (SLCM) present a serious problem. Such missiles are nothing new, but for now there is no control regime that would apply to them. START I imposed an unverifiable limit of 880 SLCMs for both parties; in fact, these weapons have not been officially sent on combat duty to sea since the early 1990s as part of unilateral initiatives. In 2011, the U.S. finally decided to retire the nuclear-tipped variant of the TLAM-N Tomahawk cruise missile; the country has by now destroyed all the associated W-80-0 warheads [2]. Russia historically (and most likely deliberately) maintains a certain degree of ambiguity when it comes to the types of its SLCMs that are potentially and actually capable of being tipped with specialized warheads (the same is true of other Russian missile types). The U.S. periodically describes its nuclear-tipped SLCMs as a response to Russia's breaches of the INF Treaty, allegedly through the continued deployment of a ground-based type of cruise missiles with a range of around 2,000 km, and states that it is prepared to suspend its project should the matter be resolved. Washington keeps different deployment options on the table for its SLCMs, from the fairly obvious Virginia-class nuclear-powered submarines to such exotic variants as Zumwalt-class stealth destroyers. Overall, it appears that in this particular context, Russia is merely a pretext, whereas the true reason that the U.S. re-admitted this class of nuclear weapons to its arsenal is China, with its rapidly developing naval force, which is being supported and reinforced by ground-based (and maybe even sea-based) ballistic anti-ship missile projects.
The air-launched aero-ballistic missile as part of the Kinzhal system is, in fact, an elegant solution to the INF Treaty problem, while not being formally covered by the New START.
As previously mentioned, Russia conducted an ABM "therapy" session for both the external audience and, perhaps more to the point, for internal consumption. However, given the previous history of the issue, primarily Moscow's reiterated demands for legal guarantees that the U.S. ABM system will not be aimed against Russia and its other demands (including those voiced jointly with China), this topic should make its way into the future treaty in some form or another.
Should the two countries reach a compromise, a certain mechanism needs to be devised for both parties to save face, which is of particular importance given that Trump is facing stern opposition in Congress.
There is hope that one of the irritating arms control factors in Russian-U.S. relations will soon disappear: there are reports that the project to develop the Rubezh light mobile ICBM has been put on ice in favor of the Avangard missile [3]. U.S. experts had previously voiced their concerns that the Rubezh project was primarily intended as a smokescreen for the deployment of intermediate-range ballistic missiles that are banned under the INF Treaty. Furthermore, the U.S. National Defense Authorization Act calls for preparing a report on the Rubezh.
Ways to resolve differences
Given the above, Russia and the U.S. could and should shift to a positive agenda by each making two concessions:
the U.S. would suspend its nuclear-tipped SLCM project and provide a symbolic gesture of giving up an ABM component as well as making it possible for Russian specialists to inspect European Aegis Ashore installations (including periodically);
Russia would suspend its Burevestnik and Poseidon projects and make a symbolic statement to the effect that it would not be deploying, say, 9M729 missiles, and would replace them in the constantly growing Iskander-M missile inventory with a certain future article, one which Russian developers are most likely already working on. To further ease pressure, Russia would invite inspectors to visit one of its separate missile brigades, possibly including a demonstration of the 9M729 that would unequivocally prove that the missile is not in breach of the INF Treaty;
Under the best-case scenario, the sides might consider the possibility of Russian experts visiting various components of the U.S. ABM system with frequent inspections and being present during tests of certain interceptor missiles, with U.S. experts similarly visiting Russia's separate military brigades and observing test launches of theater missiles. However, given the current harsh confrontation between the two countries, such a scenario would appear to be utopian.
It is evident that both countries' goodwill would be key to implementing this plan, but it is precisely this ingredient that has been lacking so far. In addition, possible outcries at home should not be discounted, either. In this light, Moscow and Washington would do well to work in advance to agree on the optimal wording that would highlight their achievements and the potential for the most efficient use of the previously allocated budgets for the projects that are to be suspended, and also for these projects to be promptly re-activated if need be. Such actions are capable of resolving the two countries' differences on the INF Treaty and on the ABM program.
Parameters of the new treaty
After the mutually irritating issues have been put to rest, however formally, the dialogue could proceed to a new comprehensive treaty. The following key criteria might be discussed:
A further reduction in the overall number of nuclear warheads. It appears important to agree to such a level at which the next phase of the process could accommodate, least painfully, the other nuclear powers, including the unofficial ones;
A clarification of the rules for counting heavy bombers and associated nuclear munitions: not in the context of either party's advantages (which only exist in the eyes of the EU and Russian bomber patriots), but taking into account future military aviation and missilery developments, primarily for the Russian Kh-BD and US LRSO cruise missiles;
A clarification of the volume and nature of telemetry to be surrendered in the course of test launches of new ICBMs. The U.S. has been unofficially voicing its concerns about the New START procedure because Russia has tested and supplemented its arsenal with new systems since the treaty came into effect. Now the tables have been turned: Washington has launched work to develop the GBSD ICBM, and the new lower-yield warhead for the Trident II SLBM may also prove a peculiar weapon, despite the statements that it will be, in effect, a single-stage W76 with the index 2. In fact, the Trident missile itself will be replaced sooner or later.
The search for ways to classify and inventory new nuclear delivery systems, primarily as regards hypersonic glide vehicles;
Given Russia's criticisms of the way the U.S. is denuclearizing its B-52H bombers, and in light of Washington's ongoing (albeit somewhat vague) plans with regard to the Prompt Global Strike effort, the possibility of hypersonic glide vehicles being armed with non-nuclear warheads, and the Russian Defense Ministry's conventional deterrence concept, which is directly linked to the development of such weapons, the topic of strategic conventional weapons could form a separate and important section of the future document.
The influence of intelligence, military, and criminal activities in cyberspace on strategic stability, including as regards the vulnerability of nuclear weapons. This topic has been highlighted, even if indirectly, in connection with the consistent disruptions of Russian-U.S. talks on information security and strategic stability in early March 2018.
Of particular importance is the possibility of partially involving representatives of other nuclear powers in the discussion of at least the fourth, fifth, and sixth bullet points listed above. Furthermore, should arms reduction processes continue even on a bilateral basis, all five nuclear powers could be involved in an information exchange and efforts to improve the transparency of strategic nuclear forces. At the same time, tactical nuclear weapons will remain beyond the scope of these efforts due to differences in regional dynamics, even though in theory nuclear charges might be inventoried collectively and not by individual country.
Stabilizing communications
Russia and the U.S. retain the potential for mutually assured destruction. Both Putin's statement to the effect that the world is hardly viable without Russia and the reminder by U.S. Strategic Commander Gen John Hyten that his country may deliver a devastating strike on Russia in any situation should cool hot heads around the world. For better or for worse, nuclear weapons remain the only guarantee against a major hot war in the current situation of massive international confrontation. A meaningful discussion as to the existence of and application scenarios for nuclear arms, any quantitative limitations, possible nuclear doctrines, and other measures of trust and transparency would help retain and strengthen communications between the two notional enemies, which is crucial to the future of the entire planet. This can only be possible if both parties approach the problem in a constructive way and demonstrate their willingness to compromise.
Resolving individual differences and finding points of mutual contact per se will not be able to form the foundation for a full-fledged Detente 2.0, but these efforts might help articulate the partners' goals and objectives in negotiations. The mutual misunderstanding of each other's true intentions is precisely what resulted in the continuing escalation of problems. This is why the two countries must learn how to listen to and understand each other anew.
[1]. It should be noted, however, that both presidents previously expressed their readiness for such an arms race and that it had actually commenced.
[2]. In the meantime, W-80-1 warheads remain in service with air-delivered cruise missiles; the future LRSO cruise missile will be tipped with the W-80-4 warhead of the same series.
[3]. Previously, different sources would often mention Rubezh and Avangard in the same context, in different combinations. There is, however, no reason to believe that a lighter ICBM could propel a hypersonic glide vehicle over an intercontinental distance. On the other hand, China is planning to soon deploy its own vehicle precisely as an intermediate-range missile system; however, this subclass of missile weapons is outside the scope of our article.
First published in our partner RIAC
The war of words between India and Pakistan's militaries prove that both South Asian nuclear states are intertwined in a traditional security competition. Indian Army Chief Gen. Bipin Rawat, while delivering the annual Army dinner, stated:"We will call the (nuclear) bluff of Pakistan. If we will have to really confront the Pakistanis, and a task is given to us, we are not going to say we cannot cross the border because they have nuclear weapons. We will have to call their nuclear bluff." Such statements of calling the 'nuclear bluff', 'increased cross- border firing by Indian forces, which coupled with the proclamation of surgical strikes can lead to crisis instability in the region.
Director General Inter-Services Public Relations (ISPR) Major General Asif Ghafoor responded to the Indian army chief's 'nuclear bluff' assertion by saying that such statements are unbecoming from a person of a responsible stature. He further stated that "Well, it's their choice. Should they wish to test our resolve they may try and see it for them..…Pakistan's credible nuclear deterrence is the only thing stopping India from a war." Such statements by the Indian military officials, and a quick calculated response from Pakistan, have raised the concerns of security analysts regarding the regional security and strategic dynamics.
It could be an appropriate tactic of General Bipin for securing finances for the modernization of the Army, but an absurd and destabilizing statement for the strategic stability in South Asia. According to the analysts, such statements by Indian military officials can lead to crisis instability and force the Pakistan to hasten its evolution towards war fighting nuclear doctrine. Another alarming reality is that General Bipin has failed to realize the repercussions of misreading Pakistan's nuclear weapon capability and too much confidence in India's Cold Start Doctrine. Hence, Pakistan's successful test of the 'submarine-launched cruise missile Babur (SLCM Babur)' can be viewed as a befitting response to India.
According to Pakistan's Inter Services Public Relations (ISPR), Babur is submarine-launched cruise missile with range of 450 km. It was fired "from an underwater dynamic platform" and "successfully engaged its target with precise accuracy; meeting all … flight parameters". The development of Babur (SLCM) is a significant component of a "credible second-strike capability" and a step towards reinforcing Pakistan's policy of Credible Minimum Deterrence through self-reliance and indigenization.
Previously, on January 9, 2017, Pakistan conducted its first successful test of indigenously developed submarine launched cruise missile Babur-III.  Babur-III is also advanced, mature and indigenously developed series of cruise missiles. The First test of Babur-III was considered by Pakistan' security planners as a major milestone and a right step in right direction towards reliable second strike capability. After the successful test of  Babur-III, Prime Minister Muhammad Nawaz Sharif, while congratulating the nation and the military on the first successful test-fire of the Submarine Launched Cruise Missile stated: "The successful test of Babur-3 is a manifestation of Pakistan's technological progress and self-reliance." He added: "Pakistan always maintains policy of peaceful co-existence but this test is a step towards reinforcing policy of credible minimum deterrence." Therefore successful test of Babur-III, submarine launched cruise missile finalized the triad of Pakistan's nuclear forces and second test of Babar on March 9, 2018 has enhanced Pakistan's deterrence based on Second Strike Capability.
Another significant factor which forced Pakistan to acquire Second Strike Capability is India's doctrinal transformation as it is clearly transforming its Nuclear Doctrine. New trends are emerging in India's nuclear strategy as it is moving towards a 'first-use' or even a 'first-strike nuclear strategy'. India's nuclear doctrine is based on the 'strategic ambiguity', therefore it has been anticipated that India is shifting its nuclear strategy towards 'counterforce targets' rather than 'counter value targets'. The second emerging trend is that India is moving towards the strategy of "First Use" or "Preemptive strike" from the "No-First Use strategy". The abandoning of no first-use, development of missiles defense shield, fake claims of surgical strikes and calling the nuclear bluff are developments that are perilous for the regional security. Indeed, such events have forced Pakistan to maintain deterrence through qualitative and quantitative developments in nuclear forces. In the strategic landscape of South Asia, the presence of Pakistan's credible second-strike capability is imperative for the continuity of the strategic stability between/among strategic competitors: India and Pakistan.
Subsequently, harsh statements by Indian military, its shifting nuclear doctrines and maturing sea based/ballistic missile defense developments capabilities are threatening for Pakistan. Such developments by India have been countered by Pakistan by carrying out two tests of nuclear-capable missiles, 'Babur-3' submarine-launched cruise missile (SLCM) and 'Babar'. Pakistan's tests of SLCM has further reinforced the debate on South Asian maritime security, second-strike capability and missile defense technologies in the regional landscape. To conclude, it's impossible for the Indians to alter the strategic equilibrium between India and Pakistan. Though Islamabad is not matching the Indian conventional military buildup, yet it is gradually advancing its nuclear arsenal. Hence, Pakistan's successful test of indigenous Submarine Launched Cruise (SLC) Missile 'Babur' has negated India's desire to call Pakistan's 'nuclear bluff' and has augmented the credibility of Pakistan's nuclear deterrence strategy. Addition of 'Babur' in Pakistan's military inventory confirms that Pakistan armed forces are prepared to thwart any kind of Indian armed forces military adventurism.
A Likely Path to Nuclear Annihilation
U.S. President Donald Trump asserted on the morning of April 12th, "Never said when an attack on Syria would take place. Could be very soon or not so soon at all!" This statement from him is interpreted here as constituting a public promise from him to start the overt phase of America's invasion of sovereign Syrian territory, no longer just continue the prior phase, which has relied instead upon America's proxy forces, which originally were the ones that were led by (U.S.-Saudi-Qatari-UAE supplied and armed) Al Qaeda in Syria, but increasingly now are Syria's Kurds, which have taken control over a third of Syrian territory, in Syria's northeast. This area includes the oil-producing region, from Deir Ezzor northward, and the conquest would cripple Syria's economic future, so that U.S-Saudi control of the entire country would be only a matter of time.
On April 4th, Emily Burchfield, a program assistant at the Atlantic Council — NATO's leading PR agency — headlined the following, in order to explain the U.S. military's (i.e., NATO's) objectives in Syria (and the whole headline-bloc is quoted here, because it succinctly states the article itself): Analysis: Washington Still Has Work to Do in Former ISIS Territories
Before the U.S. pulls out of Syria, Washington needs to address a governance gap left in some former ISIS territories. Otherwise, marginalized Arab communities will likely ally with the Syrian government or extremist forces, writes Emily Burchfield of the Atlantic Council.
The U.S. military, in other words, cannot accept that "marginalized Arab communities" will "ally with the Syrian government." Analogous within the United States itself would be if some foreign power refused to accept that "marginalized White communities" will "ally with the U.S. government." In other words: this is clearly a military demand (a demand that came to be expressed here by a paid employee of NATO's top PR agency, the Atlantic Council) to break up the country.
Whereas the prior U.S. President, Barack Obama, had tried everything short of all-out direct military invasion — as contrasted to indirect invasion by U.S. proxy armies of jihadist mercenaries — in order to conquer or at least to break up Syria, the current U.S. President, Trump, is resorting now to the direct military invasion route: he's taking the path that Obama had declined to take.
Syria's allies are Iran and Russia. These allies have enabled Syria to survive this long, and they all would be capitulating to the U.S. if they accepted the U.S. military invasion of Syria. For them to do that, would be for them to display, to the entire world, that the United States is their master. The U.S. Empire would, in effect, be official, no longer merely aspirational.
In the case of Russia, since it is the other nuclear super-power, this would be not just a surrender to the other nuclear super-power, but also Russia's doing that without even waging a conventional-forces war against the U.S. Empire. That is extremely unlikely.
Consequently, Russia is probably now (on April 12th) coordinating with Iran, and with its allies, such as Hezbollah in Lebanon, a conventional-forces war against the invaders.
If that conventional-forces war inflicts more damage to U.S.-and-allied forces than they inflict against Syria, that would, in military terms, constitute a "military defeat" for the U.S.
This would leave the U.S. only two options:
Either accept that Russia is another nuclear super-power (which the U.S. Deep State has refused to accept), and end the previously subterranian war to conquer it that was started by George Herbert Walker Bush on the night of 24 February 1990, or else blitz-attack Russia itself in order to eliminate enough of Russia's retaliatory weapons so as to 'win' the nuclear war — i.e., inflict even more destruction upon Russia than Russia would still possess and control the surviving weaponry to inflict against America in response.
Optical Missile Tracking Systems and Minimum Credible Deterrence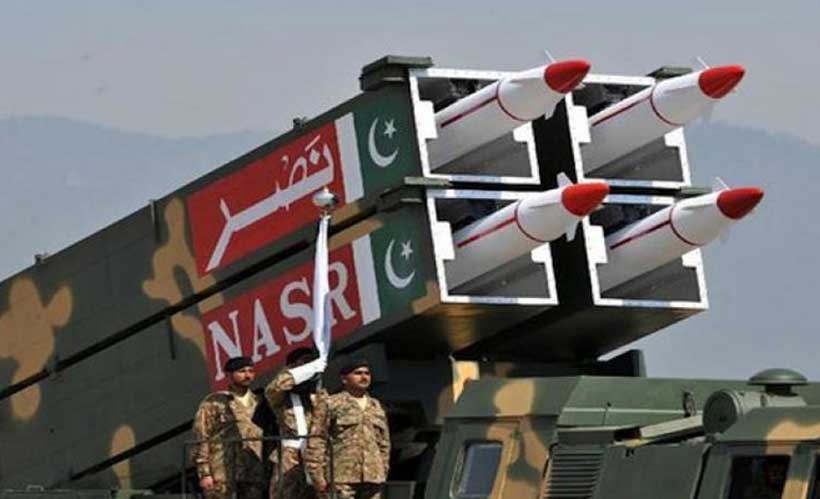 There was a time in human history when nuclear technology was the "it" technology; no one could imagine anything beyond it. The destruction and wrath it brought was not only terrifying but mesmerizing. It was fascinating for ordinary people, leaders, scientists and states that the smallest particle of matter upon breaking can release energy which could burn down a whole city in seconds. Thus, invention of nuclear weapons changed the way of thinking of nations, states and leaders. Mastering the fission of radioactive atom to enable it to release energy is not a child's play; states invest billions in currency to make nuclear weapons.
At the operational level, a nuclear weapon requires delivery systems. In this regard, strategic bombers, ships, submarines and missiles are commonly used delivery vehicles by the states. But, one of the most significant and reliable delivery systems is missiles, With missiles, states can launch nuclear pay load from their own territory or from any other place without risking its human resource, in case of sending bombers. Missile technology all around the world is growing by leaps and bounds. After nuclearization, both Indian and Pakistan pursued missile technologies including ballistic missiles, cruise missiles, ballistic missile defences, Multiple Independently re-entry targetable vehicles and inter-continental ballistic missiles as well. States invest in nuclear weapons because it helps them achieve deterrence which stops states from using nuclear option due to fear of unacceptable damages to one's vital interests. However, to endorse credibility of nuclear weapons, states invest in military modernization.
The main objective behind nuclearization of Pakistan was to create deterrence against India but without indulging into arms race. Thus, policy of minimum credible deterrence was developed by Pakistan. Later on, after India's attempt to exploit the levels beneath nuclear threshold, Pakistan resorted to the policy of full spectrum deterrence without going for arms race. So, to create credible but minimum deterrence at the start of year 2017, Pakistan tested multiple independently reentry targetable vehicle (MIRV), which can deliver multiple nuclear war heads in one go.
Development of MIRV by Pakistan is neither consequence of ambitious national objectives nor is it meant to initiate an arms race in the region. But, it is to make nuclear deterrence viable against India's BMDs which can intercept incoming ballistic missiles through interceptors and destruct them in the air.
Pakistan, due to its economic restraints could not go for BMD in response to India; as it is an expensive technology that has yet to achieve 100% success rate. So, considering its options, MIRVs came out as the most rational choice. However, MIRVs are one of the most complex technologies in which missile can carry more than one warhead in a single launch and with the capability to hit multiple individual targets. They require technological sophistication in not only sending so many vehicles in one launch but also in yield and most importantly in accuracy. With enough yield and accuracy MIRVs provide states the capability to go for pre-emptive strikes. Thus, MIRV have the capability to overwhelm the BMD system and resultantly eliminate the false sense of security under which India could go for first strike.
To increase the accuracy of MIRV missiles, Pakistan bought highly sophisticated, large scale optical tracking and measurement system from China. According to national news agency, Pakistan has deployed this sophisticated technology in battlefield. Before Chinese system, Pakistan was utilizing indigenous systems. Nonetheless, it will help Pakistan record high-resolution images of a missile's departure from its launcher, stage separation, tail flame and, after the missile re-enters atmosphere, the trajectory of the warheads it releases. These functions will be possible because the system bought by Pakistan comes with a pair of high-performance telescopes equipped with a laser ranger, high-speed camera, infrared detector and a centralised computer system that automatically captures and follows moving targets. However, what makes this system unique is its ability to detect missile up to range of several hundred kilometers through the help of its telescopes. The timing of these telescopes are precisely synchronized with the atomic clock. Thus, now Pakistan can track different warheads going in different directions simultaneously. Moreover, through visual imagery, the missile developers can improve the accuracy and design of missile in much better way.
So, with this technological uplift, Pakistan will soon add Ababeel (MIRV) into its operational missile inventory. But, these actions by Pakistan are not to give rise to arms race rather they are the reactions to the actions taken by India. BMDs by India never strengthened nuclear deterrence or stability rather they eliminated the deterrence by nulling the credibility of ballistic missiles. As a result, to maintain credibility of its deterrence though minimum means, Pakistan opted for MIRV, as missile tracking systems are essential in improving the accuracy and designs of missiles. If anything indicates arms race in the region, it is India's ICBMs, naval nuclear fleets and space weaponization.