Strategic Stabilization: A Window of Opportunities for Russia and the U.S.
Despite the belligerent nuclear statements by Russia and the U.S. in the first quarter of 2018, the configuration of a possible future for the international arms control regimes can be seen beyond the veil of rhetoric.
Therapeutic address
The address to the Federal Assembly by President Vladimir Putin, who has since been re-elected, was striking and unprecedented in terms of its nuclear-missile revelations. However, it generated a fair share of criticism, and rightly so for the most part. In particular, the visualization of the new nuclear delivery systems included a number of previously demonstrated animations, including the understandably criticized "footage" of MIRVs arriving at Florida, which was borrowed from a video related to the future Sarmat ICBM that had been included in a TV film devoted to the Voyevoda ICBM. One aspect that wasn't entirely understandable was the clearly doctored footage of a target being allegedly being hit by a Kinzhal, a system that is currently very close to deployment. It is, however, worth noting that all the systems featured in the presentation – the heavy Sarmat ICBM, the Avangard hypersonic glide vehicle, the Burevestnik nuclear-powered cruise missile of unlimited range, the Poseidon nuclear-powered unmanned underwater vehicle, the Kinzhal airborne rocket system, and the Peresvet combat laser system – were all, to one extent or another, started as Soviet projects aimed at counteracting the deployment of U.S. ABM as part of President Ronald Reagan's Strategic Defense Initiative.
This, however, is beside the point. The key part of Putin's address was the message to the effect that Russia is prepared to overcome the problems posed by any existing or future U.S. ABM system. Shortly after the president's address, Russian Defense Minister Sergey Shoigu expressed his bewilderment at why the U.S. would need a "leaky" ABM umbrella. Putin himself clarified his position in an interview with NBC, effectively declaring that Russia was ready for further reductions in strategic offensive weapons, the ABM threat notwithstanding. An external symptom of this readiness is the absence of ABM on the agenda of the next iteration of the international security conference in Moscow, which originally emerged as a platform for discussions on U.S. ABM-related issues. Thus, we can assume that the demonstration of nuclear delivery systems that are invulnerable a priori to any existing or future anti-missile systems had a therapeutic effect and significantly lowered the tone of hysterical talk concerning the development of the U.S. ABM system.
The most recent evidence of the possibility of a new agreement came in the form of a telephone conversation between Putin and Trump on March 20, after which the two presidents declared their interest in a meaningful discussion on strategic stability aimed at preventing a new arms race [1]. The first step towards a positive agenda should be a joint statement on strategic stability by the two countries' presidents. Apart from the traditional talking point about the impossibility of winning a nuclear war, the statement would benefit from the inclusion of assurances stating that the new defensive and offensive weapons do not aim to undermine the deterring potential of each country's nuclear forces, and that neither of the two are striving to create nuclear weapons that would be applicable in local conflicts.
In this context, despite the negative backdrop of the current Russian-U.S. relations, the need to discuss the parameters of the future nuclear deal has once again become a hot topic, even though Russian Foreign Ministry spokeswoman Maria Zakharova asserts that the time for such talks has not yet arrived.
Problems with prolongation
The simplest and most obvious option would be to prolong the current New START for another five years until 2026. There are, however, a number of obstacles to this.
Trump is extremely opposed to all the achievements of the Obama administration, including in the nuclear field. The Joint Comprehensive Plan of Action on Iran's nuclear program is falling apart and, according to unofficial reports, the New START came under criticism during Trump's first phone conversation with Putin.
Russia continues to be critical of the U.S. approach to reducing the number of nuclear delivery platforms and launchers. This criticism does not appear to be extremely significant, but it does illustrate the shortcomings of the current New START in terms of the mere possibility of such a problem emerging once the combined permitted levels of strategic offensive weapons under the New START have been reached.
The INF Treaty is a burning topic: the two sides have officially accused each other of breaching the document, while denying the accusations leveled against themselves. It should be noted that the U.S. has already codified its accusations, including as part of sanctions against enterprises involved in the production of 9M729 cruise missiles for the Iskander-M theater missile system (Novator Design Bureau and Titan-Barrikady).
Both the U.S., under its new Nuclear Posture Review, and Russia, under its new government armament program through 2027, are slated to phase in nuclear delivery systems which fall outside the scope of the New START.
Hypersonic glide vehicles are already being discussed by experts as future systems that would be capable of radically rearranging the global strategic landscape even if they are not tipped with nuclear warheads;
The "exotic" Burevestnik and Poseidon nuclear-powered nuclear delivery platforms, which have not yet been added to Russia's arsenal, represent projects of assured destruction with nuclear retaliation. They are believed to be in a fairly high state of completion, but tests continue. It is impossible to predict the planned deployment timeline, locations, and numbers as of now: the exact parameters will depend on the situation with Russian-U.S. and global arms control regimes.
Nuclear-tipped sea-launched cruise missiles (SLCM) present a serious problem. Such missiles are nothing new, but for now there is no control regime that would apply to them. START I imposed an unverifiable limit of 880 SLCMs for both parties; in fact, these weapons have not been officially sent on combat duty to sea since the early 1990s as part of unilateral initiatives. In 2011, the U.S. finally decided to retire the nuclear-tipped variant of the TLAM-N Tomahawk cruise missile; the country has by now destroyed all the associated W-80-0 warheads [2]. Russia historically (and most likely deliberately) maintains a certain degree of ambiguity when it comes to the types of its SLCMs that are potentially and actually capable of being tipped with specialized warheads (the same is true of other Russian missile types). The U.S. periodically describes its nuclear-tipped SLCMs as a response to Russia's breaches of the INF Treaty, allegedly through the continued deployment of a ground-based type of cruise missiles with a range of around 2,000 km, and states that it is prepared to suspend its project should the matter be resolved. Washington keeps different deployment options on the table for its SLCMs, from the fairly obvious Virginia-class nuclear-powered submarines to such exotic variants as Zumwalt-class stealth destroyers. Overall, it appears that in this particular context, Russia is merely a pretext, whereas the true reason that the U.S. re-admitted this class of nuclear weapons to its arsenal is China, with its rapidly developing naval force, which is being supported and reinforced by ground-based (and maybe even sea-based) ballistic anti-ship missile projects.
The air-launched aero-ballistic missile as part of the Kinzhal system is, in fact, an elegant solution to the INF Treaty problem, while not being formally covered by the New START.
As previously mentioned, Russia conducted an ABM "therapy" session for both the external audience and, perhaps more to the point, for internal consumption. However, given the previous history of the issue, primarily Moscow's reiterated demands for legal guarantees that the U.S. ABM system will not be aimed against Russia and its other demands (including those voiced jointly with China), this topic should make its way into the future treaty in some form or another.
Should the two countries reach a compromise, a certain mechanism needs to be devised for both parties to save face, which is of particular importance given that Trump is facing stern opposition in Congress.
There is hope that one of the irritating arms control factors in Russian-U.S. relations will soon disappear: there are reports that the project to develop the Rubezh light mobile ICBM has been put on ice in favor of the Avangard missile [3]. U.S. experts had previously voiced their concerns that the Rubezh project was primarily intended as a smokescreen for the deployment of intermediate-range ballistic missiles that are banned under the INF Treaty. Furthermore, the U.S. National Defense Authorization Act calls for preparing a report on the Rubezh.
Ways to resolve differences
Given the above, Russia and the U.S. could and should shift to a positive agenda by each making two concessions:
the U.S. would suspend its nuclear-tipped SLCM project and provide a symbolic gesture of giving up an ABM component as well as making it possible for Russian specialists to inspect European Aegis Ashore installations (including periodically);
Russia would suspend its Burevestnik and Poseidon projects and make a symbolic statement to the effect that it would not be deploying, say, 9M729 missiles, and would replace them in the constantly growing Iskander-M missile inventory with a certain future article, one which Russian developers are most likely already working on. To further ease pressure, Russia would invite inspectors to visit one of its separate missile brigades, possibly including a demonstration of the 9M729 that would unequivocally prove that the missile is not in breach of the INF Treaty;
Under the best-case scenario, the sides might consider the possibility of Russian experts visiting various components of the U.S. ABM system with frequent inspections and being present during tests of certain interceptor missiles, with U.S. experts similarly visiting Russia's separate military brigades and observing test launches of theater missiles. However, given the current harsh confrontation between the two countries, such a scenario would appear to be utopian.
It is evident that both countries' goodwill would be key to implementing this plan, but it is precisely this ingredient that has been lacking so far. In addition, possible outcries at home should not be discounted, either. In this light, Moscow and Washington would do well to work in advance to agree on the optimal wording that would highlight their achievements and the potential for the most efficient use of the previously allocated budgets for the projects that are to be suspended, and also for these projects to be promptly re-activated if need be. Such actions are capable of resolving the two countries' differences on the INF Treaty and on the ABM program.
Parameters of the new treaty
After the mutually irritating issues have been put to rest, however formally, the dialogue could proceed to a new comprehensive treaty. The following key criteria might be discussed:
A further reduction in the overall number of nuclear warheads. It appears important to agree to such a level at which the next phase of the process could accommodate, least painfully, the other nuclear powers, including the unofficial ones;
A clarification of the rules for counting heavy bombers and associated nuclear munitions: not in the context of either party's advantages (which only exist in the eyes of the EU and Russian bomber patriots), but taking into account future military aviation and missilery developments, primarily for the Russian Kh-BD and US LRSO cruise missiles;
A clarification of the volume and nature of telemetry to be surrendered in the course of test launches of new ICBMs. The U.S. has been unofficially voicing its concerns about the New START procedure because Russia has tested and supplemented its arsenal with new systems since the treaty came into effect. Now the tables have been turned: Washington has launched work to develop the GBSD ICBM, and the new lower-yield warhead for the Trident II SLBM may also prove a peculiar weapon, despite the statements that it will be, in effect, a single-stage W76 with the index 2. In fact, the Trident missile itself will be replaced sooner or later.
The search for ways to classify and inventory new nuclear delivery systems, primarily as regards hypersonic glide vehicles;
Given Russia's criticisms of the way the U.S. is denuclearizing its B-52H bombers, and in light of Washington's ongoing (albeit somewhat vague) plans with regard to the Prompt Global Strike effort, the possibility of hypersonic glide vehicles being armed with non-nuclear warheads, and the Russian Defense Ministry's conventional deterrence concept, which is directly linked to the development of such weapons, the topic of strategic conventional weapons could form a separate and important section of the future document.
The influence of intelligence, military, and criminal activities in cyberspace on strategic stability, including as regards the vulnerability of nuclear weapons. This topic has been highlighted, even if indirectly, in connection with the consistent disruptions of Russian-U.S. talks on information security and strategic stability in early March 2018.
Of particular importance is the possibility of partially involving representatives of other nuclear powers in the discussion of at least the fourth, fifth, and sixth bullet points listed above. Furthermore, should arms reduction processes continue even on a bilateral basis, all five nuclear powers could be involved in an information exchange and efforts to improve the transparency of strategic nuclear forces. At the same time, tactical nuclear weapons will remain beyond the scope of these efforts due to differences in regional dynamics, even though in theory nuclear charges might be inventoried collectively and not by individual country.
Stabilizing communications
Russia and the U.S. retain the potential for mutually assured destruction. Both Putin's statement to the effect that the world is hardly viable without Russia and the reminder by U.S. Strategic Commander Gen John Hyten that his country may deliver a devastating strike on Russia in any situation should cool hot heads around the world. For better or for worse, nuclear weapons remain the only guarantee against a major hot war in the current situation of massive international confrontation. A meaningful discussion as to the existence of and application scenarios for nuclear arms, any quantitative limitations, possible nuclear doctrines, and other measures of trust and transparency would help retain and strengthen communications between the two notional enemies, which is crucial to the future of the entire planet. This can only be possible if both parties approach the problem in a constructive way and demonstrate their willingness to compromise.
Resolving individual differences and finding points of mutual contact per se will not be able to form the foundation for a full-fledged Detente 2.0, but these efforts might help articulate the partners' goals and objectives in negotiations. The mutual misunderstanding of each other's true intentions is precisely what resulted in the continuing escalation of problems. This is why the two countries must learn how to listen to and understand each other anew.
[1]. It should be noted, however, that both presidents previously expressed their readiness for such an arms race and that it had actually commenced.
[2]. In the meantime, W-80-1 warheads remain in service with air-delivered cruise missiles; the future LRSO cruise missile will be tipped with the W-80-4 warhead of the same series.
[3]. Previously, different sources would often mention Rubezh and Avangard in the same context, in different combinations. There is, however, no reason to believe that a lighter ICBM could propel a hypersonic glide vehicle over an intercontinental distance. On the other hand, China is planning to soon deploy its own vehicle precisely as an intermediate-range missile system; however, this subclass of missile weapons is outside the scope of our article.
First published in our partner RIAC
Military Modernization of ASEAN States: The New Agenda
The discourse about the international security and defense affairs have always been impregnated with the dynamics of security dilemma. Even today, when complex interdependence has connected states in multiple ways, the global politics still tends to favor Machiavellian norms. Therefore, it is forcefully propagated that the security of the state depends upon the strength of their armament. Apparently, it sounds perfectly reasonable, to have the recent generations of arms in abundant quantity to deter the 'enemy. But what if a state has no enemy? Or at least does not have any immediate enemy in the general sense of the term. Should such a state focus its resources to build a mighty defense sector and take part in an arms race? The answer that might pop in our minds is No. Unfortunately, this is true in the case of South East Asian states. In the last few years, the ASEAN states' military spending has nearly doubled. Most notably, Thailand and Indonesia's military budget has been snowballing at the rate of 10% on a year by year basis. It is interesting to note that Vietnam arms import has spiked 700% over a decade, making it one of the top 10 purchaser of arms. Other ASEAN states have been increasingly importing fighter jets, frigates, helicopters, submarines and the like.
The emerging situation in the region could be analyzed from these three different perspectives. Firstly, South East Asian states have increased their military spending as a consequences of US withdrawal from the region and mounting concerns about China's growing regional as well as global influence. As ASEAN states generally enjoy cordial relations among themselves and the spirit of regionalism is very much prevalent in both their bi and multi-lateral relations. Besides, these states have, by and large, remained peaceful in world affairs. Therefore, considering this first perspective has its own problems, it might be true to some extent, that the recent surge in spend spending is aimed at countering China, with which they share friendly ties, or filling some security void. Secondly, some experts argue that south East Asian states' military spending is according to their GDP rate, and has remained stable over the period. Therefore, this 'surge' is normal. Lastly, according to some scholars, we need to look at what these states are actually buying to understand the whole situation. These scholars argue that, these states have been spending the money on 'modernizing' their armament that have, otherwise, been hardly functional for years. So, for this standpoint, this surge in military spending is nothing more than normal efforts to modernize state weaponry.
Nonetheless, this is where the actual problem lies. Why should states seek to modernize their weaponry when there is no such apparent reason and when this weaponry has been "barely functional for years"? Armaments, like other machineries, need constant maintenance, supervision and regulation. And all of this requires a lot of resources. Even if a state's military spending is in accordance with its GDP, armament or its modernization, whether qualitatively or quantitatively, must not be 'justified'. Since cold war, international politics has seen many disarmament efforts, be it conventions on chemical or biological weapons, denuclearization zones, Arms trade treaty or Nuclear Non-proliferation treaty. It is a high time that instead of making it customary to have some modern armament, states must come together to break this norm. Particularly, South East Asian states, that have no deeply embedded antagonism, neither within the region nor outside it, could have reversed the norm of owing "modern military weaponry", that would most likely again remain 'barely functional for years' on end.
Moreover, as previously mentioned, what these states have been importing is telling. However, how this modernization in armament has been reoriented is equally important, as many of the regions military strategies are shifting their focus away from countering insurgency to external defense and conventional warfare. While domestic factors do play a key role here. For instance, Thailand doubled its military spending after the military coups of 2006 and 2014. And Myanmar has justified its arms buildup on the pretext of having to deal with various insurgent groups within the state. Though particularly in Myanmar's case, instead of spending heavily on military and committing gross atrocities against its very own Rohingya community, it should have provided shelter to them.
Although various studies refute that there is any instrumental link between armament and warfare. But given that, when such efforts are aimed at strengthening capabilities for external warfare, it is likely that it might spike some mutual distrust at some point in the future. But it's not simply the matter of the conflict that 'might emerge', the problem here is, an undaunted prevalence of spending on weapons at international level that has quietly legitimized, justified and warranted the buying and selling of lethal weapons. So much so that, such a state of affair is usually vindicated and rationalized into a 'broader context' of necessities of owning vast weaponry to secure stability. Sadly, such broader context is rarely 'broad enough' to include human rights and humanitarian perspectives in the contours of world politics.
The South East Asian States are engulfed in an unending arms race for their survival. To sum up, the discourse on international security and defense that focuses so much on arms buildup needs to be realigned with the new realities of the time. South East Asian states should come up as a norm changer by diverting their resources from extensive defense spending to the human resource development. Progress and development in economy, society, science and technology will pay off in much better ways than investment of precious resources in arms race.
Gambling with the Nuclear Button in South Asia
Over the last decade, India's rapid expansion of its conventional and nuclear arms capabilities have presented a worrying dilemma with regard to the South Asian region's security and stability. This holds especially true considering how its clear ambitions to translate its economic rise into a menacing projection of hard-power have remained on full display particularly under the BJP's tenure. While many observers have come to regard these ambitions as the ruling party simply pandering to the populist vote, the steady consistency with which this policy has been carried throughout the last decade represents a dangerous mindset that appears to have become deeply engrained within India's civil and military bureaucracy. This mindset and its obsession with external hard-power is further evident in the institutionalization of concepts such as Cold Start and Surgical Strikes both of which have been formalized as part of the Indian State's official policy as well as its military doctrine.
For instance, both these concepts have been defined at length in the Joint Doctrine of the Indian Armed Forces that was released in April 2017 as well as the Indian Army's Land Warfare Doctrine that was published the following year. As a clear signal of its regional ambitions, both these documents have also unmistakably identified Pakistan and China as India's principle source of threats. In order to counter these threats these same documents advocate the development of military strategies aimed at pre-set and purportedly restrained instances of minimal force projection that allow India to remain well within the nuclear threshold. This threshold that currently pervades throughout India's strategic rivalry with both Pakistan and China is arguably the key to maintaining the delicate strategic balance that currently pervades throughout the South Asian region. A region that otherwise comprises of a key locus for the world's future economic growth and development.
However, the fact that India's stated policy is to radically alter this strategic balance represents a dangerous mindset, that is based more on its own solitary potential for growth rather than that of the wider region. In what can be termed as nothing short of a myopic outlook to the entire region's trajectory, India's efforts at enhancing its force projection capabilities and tilting this delicate balance in its favor is replete with risks. Risks that are in turn deeply rooted in unqualified and broad-ranging premises that assume both Pakistan and China to remain as passive spectators to its aggressive military posturing.
Hence, by constantly aiming to raise the nuclear threshold, the above-mentioned concepts of cold start and surgical strikes are in essence aimed at downplaying the risks of a potential nuclear exchange in South Asia. From a purely rational perspective, this policy while appearing as nothing short of madness, openly flirts with the grave sanctity of the escalation ladder on which the region's strategic planners and decision-makers rely on when calculating the possibility of a potential nuclear first-strike. As a Nuclear Weapons' State (NWS) that shares disputed borders with two other Nuclear Weapons' states, India's dangerous posturing is thus heavily dependent on it being perceived as a responsible Nuclear power to both Pakistan and China. However, it is this perception of being a responsible NWS which India is actively working to negate as evident in its leaders' jingoistic saber-rattling.
These include regular statements by Indian leaders in which by openly alluding to the death and annihilation of its strategic rivals, one can witness a certain normalization of nuclear brinkmanship which has become a modus operandi of sorts for Prime Minister Modi. Similar allusions to India possessing the 'Mother of all Bombs'(in the form of perhaps thermo-nuclear weapons) also represents a kind of posturing that is aimed at upending the status-quo and provoking a response. These statements when coupled with the Indian military-bureaucracy's clear allusions to reneging its No First Use policy, have further led to even greater ambiguity with regard to India's strategic calculus. As a result, all these instances represent a dangerous precedent being set for what is considered as 'acceptable risk' by India's strategic planners.
While such negative posturing has been successful in communicating India's increased risk-appetite to its strategic rivals, what's unclear is whether these risks are based on a credible deterrence capability or quite simply, the egoistic hubris of its elected leaders and bureaucratic machinery. In what can perhaps only be described as an infantile staring contest; in which one's sole chance of survival from a nuclear holocaust is counting on the other party's willingness to blink first, the Indian state's projection of hard-power seems to be based on more of a wild gamble than the well-thought out contingencies of a major nuclear power.
Hence, with the Indian leadership's official preference of a defence policy steeped in the risks of nuclear exchange, the merits of institutionalizing its approach to brinkmanship is something that appears downright non-sensical in this day age. Especially during a time where economic growth and human development remain as some of the region's most pervasive challenges, India's aggressive regional posturing hark back to the politics of a bygone era in times that otherwise require a visionary approach to fostering regional peace and stability.
The Global Hypersonic Race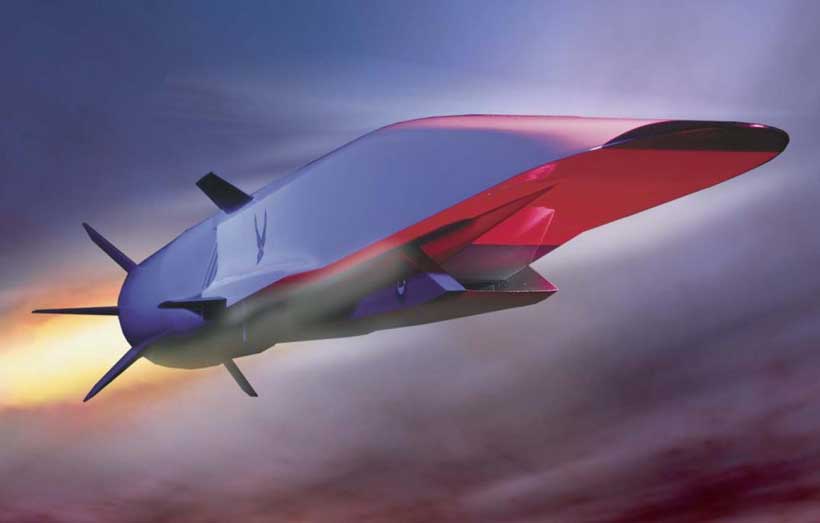 Prominent Western politicians have launched a global discussion about the risks associated with Russia developing hypersonic weapons. Arms control experts are attempting to estimate the potential of these new weapons, but attempts at this stage are hindered by the absence of important technical data and the lack of specialized terminology in this field.
The discussion of the threats posed by hypersonic weapons was triggered by President of the Russian Federation Vladimir Putin, who in his address to the Federal Assembly on March 1, 2018, described the impressive capabilities of Russia's new Avangard and Kinzhal strategic missile systems as follows: "The glide vehicle strikes its target like a meteorite, like a fireball, with its surface temperature reaching between 1600 and 2000 degrees Celsius, while remaining completely controllable at the same time."
Federal Minister for Foreign Affairs of Germany Heiko Maas attempted to take the lead in discussing the destabilizing new technology. In March 2019, he hastily organized the "2019. Capturing Technology. Rethinking Arms Control" international conference in Berlin. In his opening speech, Maas said: "Manoeuvrable missiles travelling at many times the speed of sound barely leave time for considered human responses. The fact that we are not just talking about science fiction here is demonstrated by Russia's announcement that the first Avangard systems will be entering service this year. I would therefore also like to seize this conference as an opportunity to establish an international missiles dialogue that takes into account both the challenges posed by new technologies and the dangers of their proliferation. The experts gathered here today could form the backbone of this kind of global Missile Dialogue Initiative."
However, the subsequent discussion at the conference demonstrated that many of the participants were unfamiliar with the topic of hypersonic weapons. Recognized experts on missile control proved unprepared to hold a substantive conversation about hypersonic technology. As a result, the dialogue was reduced to discussing the INF Treaty.
At the end of the conference, the ministers of foreign affairs of Germany, the Netherlands and Sweden signed a political declaration stressing the "need to build a shared understanding of how technologically enhanced military capabilities may change the character of warfare and how this will influence global security."
In the United States, where hypersonic technology has already been developing at a rapid pace, including as part of the Prompt Global Strike programme, Putin's announcement was used as a pretext for investing more in the Pentagon's projects. "We have lost our technical advantage in hypersonics [but] we have not lost the hypersonics fight," said Vice Chairman of the Joint Chiefs of Staff General Paul Selva. Meanwhile, Under Secretary of Defense for Research and Engineering Mike Griffin, for his part, has identified hypersonics as his top priority and called for an industrial base to be established that could support the development and production of thousands of deterrence hypersonic vehicles.
Mike White, the Pentagon's assistant director for hypersonics, announced that the department had a three-step plan for the development of hypersonic weapons that involves investing generously in offensive capabilities, then in defensive systems, and finally, at least ten years from now, in reusable airborne hypersonic vehicles. The Pentagon's spending on hypersonic projects has increased from $201 million in 2018 to $278 million in 2019, and the overall cost of the program is estimated at $2 billion.
China has been no stranger to this "war of words," with several fantastic reports emanating from the country about "successful tests of hypersonic flight vehicles," the creation of a material capable of withstanding temperatures of up to 3000 degrees Celsius, and even the development of a universal engine that can accelerate a vehicle from zero to hypersonic flight. Japan has stated its intent to create a High-Speed Gliding Missile, an equivalent of Russia's Avangard.
Minister of the Armed Forces of France Florence Parly has announced the country's plans to use the ASN4G supersonic air-to-surface cruise missile as the baseline for the V-MaX supersonic glider that could travel at a speed of over 6000 km/h. The project is being led by ArianeGroup, a joint venture between Airbus and Safran, and the first test flight could take place in late 2021.
In the meantime, the global expert community has yet to come up with a clear scientific definition for the term "hypersonic vehicle." Hypersonic flight is conventionally understood to mean atmospheric flight at speeds higher than Mach 5, that is, five times the speed of sound. The second important feature of a hypersonic aircraft is its ability to maneuver with the use of aerodynamic forces, rather than merely adjusting the target accuracy. This entails longer atmospheric flight times and greater susceptibility to the destructive factors associated with atmospheric flight.
At present, only a handful of countries are close to creating effective hypersonic weapons. Hypersonic weapons engineers are faced with some very unique technical challenges. To begin with, there is the problem of ensuring controlled and sustained flight in a rarefied atmosphere whose density varies with altitude. Among other things, this creates difficulties for propulsion systems that consume oxygen.
Also, the friction created by the hypersonic airflow around the vehicle's surface generates a sheath of ionized plasma, with the nose fairing temperature reaching up to 3000 degrees Celsius. Even vehicles made of ultra-heat-resistant alloys or composites lose their shape and original aerodynamic characteristics due to the heating and ablation. For example, the U.S. Lockheed SR-71 Blackbird high-altitude supersonic reconnaissance aircraft would become 10cm longer in flight owing to thermal expansion, and fuel would seep from its seams on landing.
Controlling a hypersonic vehicle from launch to target impact is a separate problem, as the plasma sheath blocks radio signals. Solving this problem requires complex and expensive research. Even US engineers have not yet found a solution to this problem.
Another challenge is linked to the fact that the plasma sheath significantly complicates navigation, which for a strike vehicle must be autonomous, prompt and very accurate. Plasma makes electro-optical and radio-frequency homing impossible. Inertial navigation systems cannot provide the required accuracy at long distances. A solution to this problem has yet to be found.
The traditional types of aviation fuel (jet fuel and methane) are unsuitable at hypersonic speeds. A hypersonic vehicle needs a special kind of fuel. Also, a universal propulsion engine capable of accelerating a vehicle from zero to hypersonic speeds has not yet been created. At present, militaries have to make do with rocket boosters or supersonic aircraft to accelerate vehicles to speeds at which their supersonic combustion ramjet engines can be engaged.
When it comes to the flight mode, there are three different types of hypersonic vehicles. The first type is an unpowered glide vehicle, which rides a ballistic missile to an altitude of approximately 100km, separates, and performs a maneuverable flight in the upper atmospheric layer at speeds between Mach 8 and Mach 28. By skip-gliding along the atmosphere like a skipping stone along the water surface, such a vehicle can increase its flight range by several times. The second type is a scramjet-powered vehicle, which can only fly in the atmosphere because its engine needs oxygen. The third type is a quasi-ballistic or semi-ballistic missile that mainly follows a shallow ballistic trajectory but can also maneuver to evade enemy missile defenses. One example here is the Russian Iskander-M missile, which flies at hypersonic speeds of between 2100 and 2600 m/sec (Mach 6 to Mach 7) at an altitude of 50km.
Experts sometimes use the term "aeroballistic." However, this definition is not applied to the speed of flight, but rather to the mode of travel: namely, it implies a combined mode of partially traveling along a ballistic trajectory and partially employing aerodynamic control surfaces and jet vanes for steering. An aeroballistic vehicle does not necessarily have to be hypersonic, as the term can also be applied to slower vehicles, although it is now widely used in the context of the hypersonic Kinzhal and Iskander-M missiles.
Hypersonic vehicles have one distinct feature which traditional exo-atmospheric ballistic missiles do not. While most ballistic missiles develop speeds of dozens of Machs (i.e., they also travel at hypersonic speeds), they are not described as hypersonic unless they or their warheads are capable of aerodynamic maneuvering in the atmosphere.
Some ballistic missile warheads are capable of terminal trajectory corrections. They are not classed as hypersonic vehicles, since the purpose of their maneuvering is not to increase the flight range or evade an anti-missile attack, but merely to reduce the circular error probable (CEP).
All hypersonic vehicles can be subdivided into five categories depending on their mission:
Manned aircraft (the first and so far only example here is the U.S. North American X-15, which set the world airspeed record of Mach 6.72 in 1967)
Unmanned vehicles (mainly experimental projects such as the Boeing X-43, which reached Mach 9.6 in 2004)
Scramjet-powered hypersonic missiles (such as the Russian 3M22 Zircon)
Hypersonic glide vehicles (the Russian Avangard or the U.S. Advanced Hypersonic Weapon)
Air- or ground-launched spaceplanes (the Soviet Buran and U.S. Space Shuttle vehicles, which reach speeds of Mach 25 upon re-entry).
Military hypersonic vehicles fall into the following three categories:
1. Reconnaissance vehicles
At present, only one purely reconnaissance hypersonic vehicle is known to be under development: the Lockheed Martin SR-72, which can theoretically travel at speeds of up to 7400 km/h. This vehicle is expected to be better at monitoring mobile missile systems than reconnaissance satellites. It could also eventually be equipped to carry a charge for a pinpoint strike.
Another experimental orbital hypersonic vehicle is the Boeing X-37B. Although little is known about its intended mission, it could also serve as a reconnaissance platform.
2. Hypersonic kill vehicles
Scramjet-powered hypersonic cruise missiles that can be launched by an aircraft, a sea-surface ship or a submarine (the Russian 3M22 Zircon or the U.S. X-51A Waverider, which is currently under development) can be used to destroy enemy missile early warning systems, anti-aircraft and anti-missile defenses, airfields, hardened command posts and critical facilities.
Glide vehicles (the Russian Avangard; the U.S. Lockheed Martin Falcon, HIFiRE and HSSW/TBG [High-Speed Strike Weapon/Tactical Boost Glide]; and the Chinese WU-14/DF-ZF) are primarily intended as nuclear strike weapons.
Quasi-ballistic missiles (the Russian Kinzhal and Iskander-M; the Indian Shaurya tactical missile; and the Chinese DF-21D anti-ship ballistic missile) are relatively difficult to detect by radar thanks to their shallow trajectory. Their warheads can change trajectory, so enemy missile defenses cannot calculate the exact target, and the warhead's maneuverability considerably complicates interception.
3. Hypersonic interceptors
These are surface-to-air missiles designed to intercept ballistic missile warheads, normally in their terminal, atmospheric phase of trajectory. The most advanced interceptors can engage ballistic missiles at exo-atmospheric altitudes and even shoot down low-orbit satellites.
To stand a chance of intercepting a ballistic target, an interceptor must not only develop a high speed, but also launch promptly and maneuver actively. U.S. RIM-161 SM-3 Block IIA missiles of the Aegis Ballistic Missile Defense System can travel at speeds of up to Mach 15.25; the Russian S-400 48N6DM missiles have a speed of Mach 7.5, and the future S500 77N6-N1 missiles will be able to reach speeds of up to Mach 21.
Advantages of Hypersonic Missiles
Hypersonic missiles have several obvious advantages over ballistic missiles. First, they follow significantly shallower trajectories, so ground-based radars detect them later into the flight. Second, thanks to their maneuvering, high speed and unpredictable trajectory, the enemy cannot be certain of the hypersonic vehicle's target, whereas the trajectory of a ballistic missile is currently fairly easy to calculate. Third, ballistic missile interception experiments have been conducted since the 1960s, and there are plenty of reports on successful trial intercepts. However, intercepting a high-speed maneuvering atmospheric target is extremely difficult and is believed to be impossible at present. Also, the mass production of hypersonic vehicles is expected to be cheaper than that of ballistic missiles. Despite the challenges associated with developing scram engines, such jets have virtually no moving parts and their cross-sections represent special configuration tubing. According to analysts at the U.S. company Capital Alpha Partners, "If hypersonic weapons can be produced with unit costs of $2 million, or less, they will impact some of the outyear weapons plans. A weapon that travels at Mach 5, or faster, and that can maneuver will see strong U.S. demand in the later part of this decade." Finally, the kinetic energy of a hypersonic missile is so high that its release will be enough to destroy certain types of targets even without using a charge. This gives experts reason to state that hypersonic missiles might become an alternative to nuclear weapons in certain situations.
Shortcomings of Hypersonic Missiles
As for the shortcomings of hypersonic missiles, experts point out that they cannot offer high target accuracy because it is almost impossible to fit such a missile with a homing head, and its high speed will result in an increase in targeting error. A hypersonic vehicle is believed to have a CER of between 30 and 50 meters. Furthermore, high-speed missiles will have a large infrared signature due to frictional skin heating, making them easily detectable by IR sensors. Designers will need to find a compromise between the high impact speed and the high probability of standoff detection. Also, a scramjet-powered missile must be initially accelerated to a speed of about Mach 3. This complicates the use of such weapons, which require a rocket booster or a high-speed air-launch platform. Experts believe that, due to a plethora of technological problems, hypersonic weapons currently have a relatively limited effective range (some 1000km for scramjet-powered missiles). However, the veil of secrecy surrounding this type of weaponry provokes rumors and excessive fears, and this destabilizing factor could prompt the enemy to resort to a pre-emptive strike.
Challenges for International Security and Stability
The U.S. expert community has carefully studied the potential of Russian hypersonic weapons in terms of how they could affect the balance of forces and concluded that, in general, they do not pose an existential threat to major nuclear powers. Thus, fitting Avangard missiles with glide vehicles will not increase the size of the Russian nuclear arsenal, nor will it extend the effective range of the missiles, their range of action or their strike speed. The United States and other nuclear powers will still be able to respond to a Russian nuclear attack.
U.S. experts admit that maneuvering hypersonic vehicles are almost impossible to intercept. However, given that the U.S. missile defense system has very limited intercept capabilities when it comes even to Russian ballistic missiles, the introduction of Avangard hypersonic missiles changes little in the nuclear war scenario. For the United States, this is more of a technological challenge, with which both the Pentagon and the White House are fairly unhappy. Dominance in military technology has remained a priority for the United States for decades, ever since the launch of the first Soviet satellite. Therefore, the news of Russia's hypersonic achievements does not sit well with Washington. At the same time, it has provided the United States with an opportunity to study the possibility of extending missile defense to near space. Megawatt laser weapons are believed to be capable of destroying both ballistic and hypersonic missiles. The current level of U.S. technology already allows for equipping different types of ground transport with lasers generating in excess of 50kW of power, while sea-based lasers can generate over 150kW. Under the current trend, laser power increases tenfold every three years. In this sense, within five years, we can expect U.S. laser technology to reach a level that where the Pentagon may be confident in the possibility of building lasers that are capable of shooting down hypersonic devices. The next step will then be to deploy laser weapons in the Earth's orbit.
In light of the above, the emergence of hypersonic weapons will introduce a number of destabilizing factors for international security. First, countries possessing such weapons will have an asymmetric advantage over other developing countries. Second, it will trigger the deployment of the space-based laser component of the missile defense system. Third, it will provoke a new global arms race, including with regard to laser weapons, hypersonic anti-missile systems, cyber-weapons, railguns and unmanned delivery platforms for strike weapons. Moreover, for non-nuclear powers, hypersonic missiles may become a serious instrument of deterrence or power projection. It should also be noted that hypersonic missiles could be used in a pre-emptive strike against an enemy whose main weapons are situated within their effective reach (at present, within a radius of up to 1000km). That is, the deployment of hypersonic weapons can be considered as a critical threat to the country's immediate neighbors. Finally, there are global risks to the Missile Technology Control Regime (MTCR). The secret hunt for missile components such as fuel, alloys, electronics and airframe blueprints has never stopped. In the new environment, even those countries that are signatories to the MTCR are interested in obtaining prompt global strike technologies.
The current leaders of hypersonic weapons research are, in addition to Russia, the United States and China.
China
Despite its ambitious statements, China has not yet rolled out a reliable prototype of a hypersonic vehicle. Chinese engineers have developed the YJ-12 supersonic anti-ship cruise missile, but the country's military currently only has subsonic ground-based cruise missiles in service. It may be the case that Beijing hopes to leap from subsonic straight to hypersonic, skipping supersonics altogether.
China is believed to be working on at least two hypersonic programs. Since 2014, it has been testing the DF-ZF (dubbed Wu-14 in the United States) hypersonic glide vehicle complete with the DF-17 medium-range ballistic missile for the launch vehicle (eventually to be replaced by the DF-31 missile). The second project, the air-launched CH-AS-X-13 missile, is primarily intended against aircraft carriers. According to a representative of the Chinese Academy of Engineering, the Institute of Mechanics has created a turbine-based combined-cycle engine capable of accelerating a vehicle to Mach 6.
United States
As part of the High Speed Strike Weapon (HSSW) program, the Defense Advanced Research Projects Agency (DARPA) and the United States Air Force are working on three hypersonic concepts. The Tactical Boost Glide (TBG) combat vehicle riding a solid-fuel rocket booster, under development by Lockheed Martin and Raytheon, is planned as an equivalent to Russia's Avangard. The Boeing Hypersonic Air-Breathing Weapon Concept (HAWC) will have a combined-cycle engine (the turbine will accelerate the vehicle to Mach 2, after which the scramjet will further propel it to hypersonic speeds). According to some reports, the vehicle may be reusable. Northrop Grumman Corporation is working to design the combined-cycle Advanced Full Range Engine (AFRE) for HAWC under a contract with DARPA. Finally, the reusable unmanned craft under development as part of the HyRAX project and the XS-1 Experimental Spaceplane program will be used as an inexpensive launch vehicle to insert dual-use satellites into low-Earth orbits.
The HSSW program is aimed at designing and testing a hypersonic strike vehicle by 2020. The key specifications include speeds of Mach 6 to 10, an effective range of over 1000km, a CEP of under 5m and a variety of warhead types (penetrator, HE-fragmentation or cluster).
The U.S. Air Force Research Laboratory is looking into the possibility of creating a combined-cycle propulsion system for reusable vehicles, including by way of integrating scramjets with reheated bypass turbojets.
In addition to DARPA, hypersonic weapons are being developed by the United States Army Space and Missile Defense Command in conjunction with the Sandia National Laboratory under the Advanced Hypersonic Weapon project, which calls for the creation of a hypersonic glide vehicle with a precision terminal guidance system.
Russia's breakthrough in the hypersonic weapons race may have shaken the global balance of forces, but it has not reshaped it. The United States is not far behind Russia technologically, and may even be ahead in certain aspects of hypersonic weapons, including when it comes to making combined-cycle or hybrid propulsion systems for hypersonic vehicles that would allow a reusable reconnaissance/strike vehicle to be created. Nevertheless, the Russian achievements came as an unpleasant surprise for all the leading world powers.
The situation appears different for those nations that do not command massive nuclear arsenals. The Russian example opens a window of opportunities for them. Hypersonic weapons may appear to be an excellent solution for ensuring a decisive military advantage over a technically lacking adversary. Those countries lagging behind in the arms race may perceive hypersonic weapons as a critical and potentially disarming threat to an unfriendly neighbor.
In the art of war, uncertainty often drives progress. As the leading analytical centers are working to collect relevant information and understand the scale of possible threats, politicians and militaries are approving investment in new defense programs. A new item on defense budgets around the world has appeared.
From our partner RIAC