The New Global Triumvirate: Trump, Putin and Jinping
In ancient Rome, which was the new world global order of that epoch, a new form of governance emerged – that of the Triumvirate – a non-official, 3 member council of strong leaders who brought order and prosperity to their universe.
In the late Republic, two three-man political alliances are called triumvirates by modern scholars, though only for the second was the term triumviri used at the time to evoke constitutional precedents:
The First Triumvirate was an informal political alliance of Julius Caesar, Pompeius Magnus, and Marcus Crassus.
Even though the arrangement had no legal status, its purpose was to consolidate the political power of the three and their supporters against the senatorial elite (owned and paid for by the global Deep State Oligarchs of that time period).
The Second Triumvirate was officially recognized as a triumvirate at the time within the purview of the Lex Titia which legally formalized the rule of Octavian, Mark Antony, and Marcus Aemilius Lepidus in 43 BCE.
These three-man commissions were expressly formed in order to restore the constitution of the republic, and resistance to the wealthy, powerful, deep state corrupting forces of their day.
These Triumvirates were forged during a time when the Deep State global oligarchs had thoroughly corrupted and polluted the body politic – and where the governed People were all but left out of the prosperity, wealth, and human rights enjoyed by their ruling deep state elites.
The most important aspect of these Triumvirates was the commitment by these strong leaders of their people to stand together against the bloated wealth, corruption and domination by the deep state oligarchs against their own people.
There is no better comparison to what the world is currently witnessing in the forms of American President Donald Trump, Chinese President Xi Jinping, and Russian President Vladimir Putin.
All 3 individuals rose to power hoisted up by their own hard work and tenacity, and all 3 never forgot or lost sight of their obligations to their own people.
Each of these men have emerged as true leaders forged from hard knocks and iron will, and they have remained true to their people while combating corruption, sloth, gluttony, waste and discordance in their own way, and in their own capacity, through their own forms of national governance.
The global Deep State Oligarchy of today's modern age of course wish to prevent a smooth, sinuous relationship by and between these 3 global leaders, who represent the most powerful, wealthy, and militarily strong nations in the world, for their own selfish, avaricious and greedy purposes, even though if the 3 leaders united hands and worked together on international trade, peace, prosperity, security, and cooperation, the entire world's people would finally know peace and prosperity.
But the reality is that the Deep State Oligarchs make their money and grow their own power by profiting off of war, disaster, terrorism, cacophony, chaos, addiction, distrust, corruption, false flags, fear, and the abrogation of human and civil rights.
This is why it is very important that these 3 global leaders resist the weapons, tools, and manipulations of the deep state global oligarchs and their agents within the mainstream media, intelligence agencies, and international business, and lock their hands together, and fight united for their own people in conjunction with each other to increase trade, security, peace, universal human rights, prosperity, cooperation, and partnership throughout the world.
Each of these 3 world leaders have suffered incredible adversity, defeated odds, persevered, fallen, recovered, and through it all have persisted in trying to deliver for their own people, and this is the mark of a true world class leader.
Their courage knows no bounds, and they rightfully deserve to be considered the "New Triumvirate" of the global community.
Trump lied about his intentions toward Russia
On August 20th, Gallup headlined "More in U.S. Favor Diplomacy Over Sanctions for Russia" and reported that, "Americans believe it is more important to try to continue efforts to improve relations between the countries (58%), rather than taking strong diplomatic and economic steps against Russia (36%)." And yet, all of the sanctions against Russia have passed in Congess by over 90% of Senators and Representatives voting for them — an extraordinarily strong and bipartisan favoring of anti-Russia sanctions, by America's supposed "representatives" of the American people. What's happening here, which explains such an enormous contradiction between America's Government, on the one side, versus America's people, on the other? Is a nation like this really a democracy at all?
Donald Trump understood this disjunction, when he was running for President, and he took advantage of the public side of it, in order to win, but, as soon as he won, he flipped to the opposite side, the side of America's billionaires, who actually control the U.S. Government.
While he was campaigning for the U.S. Presidency, Donald Trump pretended to want to soften, not harden, America's policies against Russia. He even gave hints that he wanted a redirection of U.S. Government expenditures away from the military, and toward America's economic and domestic needs.
On 31 January 2016, Donald Trump — then one of many Republican candidates running for the Republican U.S. Presidential nomination — told a rally in Clinton Iowa, "Wouldn't it be nice if we actually got along with Russia and China and all these countries?"
On 21 March 2016, he was published in the Washington Post as having told its editors, that "he advocates a light footprint in the world. In spite of unrest abroad, especially in the Middle East, Trump said the United States must look inward and steer its resources toward rebuilding domestic infrastructure. … 'I do think it's a different world today, and I don't think we should be nation-building anymore,' Trump said. 'I think it's proven not to work, and we have a different country than we did then. We have $19 trillion in debt. We're sitting, probably, on a bubble. And it's a bubble that if it breaks, it's going to be very nasty. I just think we have to rebuild our country.'" On that same day, The Daily Beast's Shane Harris wrote that:
Trump's surprising new position [is] that the U.S. should rethink whether it needs to remain in the seven-decades-old NATO alliance with Europe.
Sounding more like a CFO than a commander-in-chief, Trump said of the alliance, "We certainly can't afford to do this anymore," adding, "NATO is costing us a fortune and yes, we're protecting Europe with NATO, but we're spending a lot of money."
U.S. officials, including former Defense Secretary Robert Gates, have said that European allies have to shoulder a bigger burden of NATO's cost. But calling for the possible U.S. withdrawal from the treaty is a radical departure for a presidential candidate — even a candidate who has been endorsed by Russian President Vladimir Putin.
Withdrawing from NATO would leave European allies without a forceful deterrent to the Russian military, which invaded and annexed portions of Ukraine in 2014. That would arguably be a win for Putin but leave U.S. allies vulnerable.
It also wasn't clear how Trump's arguably anti-interventionist position on the alliance squared with his choice of advisers. …
One other Trump adviser had previously been reported. Retired Army Gen. Michael Flynn had told The Daily Beast that he "met informally" with Trump. Flynn was pushed out of his post as the director of the Defense Intelligence Agency and has since spoken out publicly about the need for the U.S. to forge closer ties with Russia.
Five days later, on March 26th, the New York Times bannered, "Transcript: Donald Trump Expounds on His Foreign Policy Views" and David Sanger and Maggie Haberman presented their discussion with Trump about this, where Trump said:
I have two problems with NATO. No. 1, it's obsolete. When NATO was formed many decades ago we were a different country. There was a different threat. Soviet Union was, the Soviet Union, not Russia, which was much bigger than Russia, as you know. And, it was certainly much more powerful than even today's Russia, although again you go back into the weaponry. But, but – I said, I think NATO is obsolete, and I think that – because I don't think – right now we don't have somebody looking at terror, and we should be looking at terror. And you may want to add and subtract from NATO in terms of countries. But we have to be looking at terror, because terror today is the big threat. Terror from all different parts. You know in the old days you'd have uniforms and you'd go to war and you'd see who your enemy was, and today we have no idea who the enemy is. …
I'll tell you the problems I have with NATO. No. 1, we pay far too much. We are spending — you know, in fact, they're even making it so the percentages are greater. NATO is unfair, economically, to us, to the United States. Because it really helps them more so than the United States, and we pay a disproportionate share. Now, I'm a person that — you notice I talk about economics quite a bit, in these military situations, because it is about economics, because we don't have money anymore because we've been taking care of so many people in so many different forms that we don't have money — and countries, and countries. So NATO is something that at the time was excellent. Today, it has to be changed. It has to be changed to include terror. It has to be changed from the standpoint of cost because the United States bears far too much of the cost of NATO. And one of the things that I hated seeing is Ukraine. Now I'm all for Ukraine, I have friends that live in Ukraine, but it didn't seem to me, when the Ukrainian problem arose, you know, not so long ago, and we were, and Russia was getting very confrontational, it didn't seem to me like anyone else cared other than us. And we are the least affected by what happens with Ukraine because we're the farthest away. But even their neighbors didn't seem to be talking about it. And, you know, you look at Germany, you look at other countries, and they didn't seem to be very much involved. It was all about us and Russia. And I wondered, why is it that countries that are bordering the Ukraine and near the Ukraine – why is it that they're not more involved? Why is it that they are not more involved? Why is it always the United States that gets right in the middle of things, with something that – you know, it affects us, but not nearly as much as it affects other countries. And then I say, and on top of everything else – and I think you understand that, David – because, if you look back, and if you study your reports and everybody else's reports, how often do you see other countries saying "We must stop, we must stop." They don't do it! And, in fact, with the gas, you know, they wanted the oil, they wanted other things from Russia, and they were just keeping their mouths shut. And here the United States was going out and, you know, being fairly tough on the Ukraine. And I said to myself, isn't that interesting? We're fighting for the Ukraine, but nobody else is fighting for the Ukraine other than the Ukraine itself, of course, and I said, it doesn't seem fair and it doesn't seem logical.
The next day, March 27th, on ABC's "The Week," Trump said, "I think NATO's obsolete. NATO was done at a time you had the Soviet Union, which was obviously larger, much larger than Russia is today. I'm not saying Russia's not a threat. But we have other threats. We have the threat of terrorism and NATO doesn't discuss terrorism, NATO's not meant for terrorism. NATO doesn't have the right countries in it for terrorism."
It's easy to see why Trump was opposed by not only Hillary Clinton and other Democratic Party neoconservatives, but also by all Republican Party neoconservatives. The main target of neoconservatives — ever since that movement (which only in the 1970s came to be called "neoconservatives") was founded by Democratic U.S. Senator Henry "Scoop" Jackson back in the 1950s — has been to conquer Russia. That's the ultimate objective, toward which they all and always have striven.
Even Barack Obama, despite his pretenses for 'a reset in U.S.-Russia relations', had had actually the opposite of that pretension in mind — a doubling-down on the Cold War. And Obama's successor, Donald Trump, doubles down on his predecessor's double-down, there.
Of course, neocons aren't only against Russia; they also are against any country that Israel and Saudi Arabia hate — and, of course, Israel and Saudi Arabia are large purchasers of American-made weapons, such as weapons from Lockheed Martin, Boeing, Northrop Grumman, and General Dynamics. In fact: Saudi Arabia is the world's largest purchaser (other than the U.S. 'Defense' Department itself) of their products and services. In fact, soon after coming into office, Trump achieved the all-time-world-record-largest international weapons-sale, of $350 billion to the Sauds, and it was quickly hiked yet another $50 billion to $400 billion. It's, as of yet, his jobs-plan for the American people. Instead of Trump's peaceing the American economy, he has warred it. Consequently, for example, the Koch brothers' Doug Bandow, who represents his sponsors' bet against neoconservativsm, headlined on 27 April 2017 "Donald Trump: The 'Manchurian (Neoconservative) Candidate'?" and he itemized what a terrific Trojan Horse that Trump had turned out to be, for the war-lobby, the 'neocons', or, as Dwight Eisenhower had called them (but carefully and only after his Presidency was already over), "the military-industrial complex." They're all actually the same people; they serve the same billionaires, all of whom are heavily invested in these war-makers — all against two main targets: first, Russia (which America's aristocracy hate the most); and, then, Iran (which Israel's and Saudi Arabia's aristocracies hate the most). Any nation that's friendly toward those, gets destroyed. Other people (the masses) fight, kill, die, get maimed, and are impoverished, while these few individuals at the very top in the U.S. profit, from those constant invasions, and military occupations — which Americans admire (their nation's military, America's invasion-forces) above all else.
On the Bill O'Reilly Show, 4 January 2016, Trump was asked to announce, before even the Presidential primaries, what would cause him as the U.S. President, to bomb Iran, and Trump then was panned everywhere for refusing to answer such an inappropriate question — to announce publicly what his strategy, as the U.S. President, would be in such a matter of foreign affairs (in which type of matter only the President himself should be privy to such information about himself, namely his strategy) — but Trump did reveal there his sympathy for the Sauds, and his extreme hostility toward Iran, a nation which is a bête noire to neocons:
I will say this about Iran. They're looking to go into Saudi Arabia, they want the oil, they want the money, they want a lot of other things having to do…they took over Yemen, you look over that border between Yemen and Saudi Arabia, that is one big border and they're looking to do a number in Yemen. Frankly, the Saudis don't survive without us, and at what point do we get involved? And how much will Saudi Arabia pay us to save them?
The Sauds have already answered that question, with their commitment to paying $400 billion, and they're already using some of this purchased weaponry and training, to conquer Yemen. But who gets that money? It's not the American people; it is only the stockholders in those American war-making corporations (and allied corporations) who receive the benefits.
And what's this, from Trump, about "at what point do we get involved" if Saudi Arabia's tyrants "don't survive without us"? America is now supposed to be committed to keeping tyrannical hereditary monarchies in control over their countries? When did that start? Certainly not in 1776. Today's America isn't like the country, nor the culture, that America's Founders created, but instead is more like the monarchy that they overthrew. This was supposed to be an anti-imperialist country. Today's American rulers are traitors, against the nation that America's Founders had created. These traitors, and their many agents, are sheer psychopaths. The American public are not their citizens, but their subjects — much like the colonists were, who overthrew the British King.
Donald Trump just wants for Europeans to increase military spending (to buy U.S.-made weapons) even more than the U.S. is doing against Russia, and for the Sauds and Israelis also to buy more of these weapons from America's weapons-firms, to use against Iran and any nation friendly toward it. Meanwhile, America's own military spending is already at world-record-high levels.
That's Trump's economic plan; that's his jobs-plan; that's his 'national security' plan. That is Trump's Presidency.
He lied his way into office, just like his predecessors had been doing. This is what 'democracy' in America now consists of: lies — some colored "liberal"; some colored "conservative"; but all colored "profitable" (for the 'right' people); and another name for that, in foreign affairs, is "neoconservative."
About Russia, he's continuing Obama's policies but even worse; and about Iran, he's clearly even more of a neocon than was his predecessor. However, as a candidate, he had boldly criticized neoconservatism. Democracy cannot be based on lies, and led by liars.
Author's note: first published by The Saker
Disasters and U.S. Infrastructure
Within a week we have suffered floods in France, Toronto, and now a record-breaking monsoon season in Kerala, India which has flooded or endangered 12 of its 14 regional areas.  Almost a quarter of a million people are homeless, forcing them into some 1500 relief camps. Sadly many have lost their lives, the toll in Kerala and the states of Karnataka and Madhya Pradesh rising to 900 — the rain water sweeping through villages, bursting irrigation dams and causing mudslides.
Kerala is not the wealthiest state in India; hence, its accomplishments in education and healthcare are all the more remarkable.  For those who wish to lend a helping hand, try keralarescue.in or  donation.cmdrf.kerala.gov.in/.
This week Kerala, last week France and Toronto, and in July, Western Japan.  Exacerbated by global warming, the disasters keep mounting, yet Donald Trump and other ostriches have steadfastly stuck their heads in the sand.  It's all a hoax they will continue to repeat as a forest fire begins to singe their rears.  With their luck, a flash flood might quench it.
Such is the state of our world as the window to act on climate change closes a little more each day!
After a violent storm in Genoa, a 200-meter section of the Morandi Bridge, part of the A10 expressway, collapsed including a load-carrying pylon.  Vehicles plunged 50 feet killing at least 38.  People are blaming shoddy materials in often a mafia-controlled Italian construction industry amid concerns over a generally crumbling infrastructure.
If the collapse has drawn the attention of other Europeans to their own bridges and roads, America's infrastructure is worse.  The American Society of Civil Engineers (ASCE) in its last report (2017) gave it an overall D+ on the American schools' grading scale that runs from A to F.  Bridges received a C+, not really reassuring for the trucker driving a 16-wheeler.
Mr. Trump promised us a 'beautiful' infrastructure on the campaign trail.  Not much of that beauty yet.  The ASCE estimates an expenditure of $206 billion per year for 10 years to set things right — not really excessive when one considers the three-and-one-half-times that amount ($717 billion) just approved in the latest defense spending bill.
Any analysis of U.S. infrastructure would also reveal a serious void:  no high-speed rail.  It is the only country among major industrial nations, including China, without such a network.  As rail travel is less polluting than airplanes, this void also stresses the environment when CO2 levels are already sky high.
Modern high-speed rail will allow overnight travel between the coasts and day trips between Chicago and New York, attracting the business traveler.  Also the latest maglev trains floating on a literal cushion of air, may reduce the time further by a third or more, all without time-consuming trips to and from airports at both ends.
A project to connect San Francisco with Los Angeles supported by Gov. Jerry Brown and his Republican predecessor, Arnold Schwarzenegger, is underway even if all the financing is still not in place.  Originally intended to utilize State, Federal and private financing, it is opposed by President Trump and Congressional Republicans, drying up Federal funding.  With $30 billion of the necessary $100+ billion in hand, work continues on the Fresno to San Francisco section in the hope that future elected officials would find it difficult to abandon an unfinished project with partially constructed pylons, viaducts and railbeds littering the landscape.
Rationality is less of a problem than a Republican aversion to new government-funded projects — in marked contrast to the people's enthusiasm, people who happily passed the original bond vote to initiate funding for the high-speed rail project in California.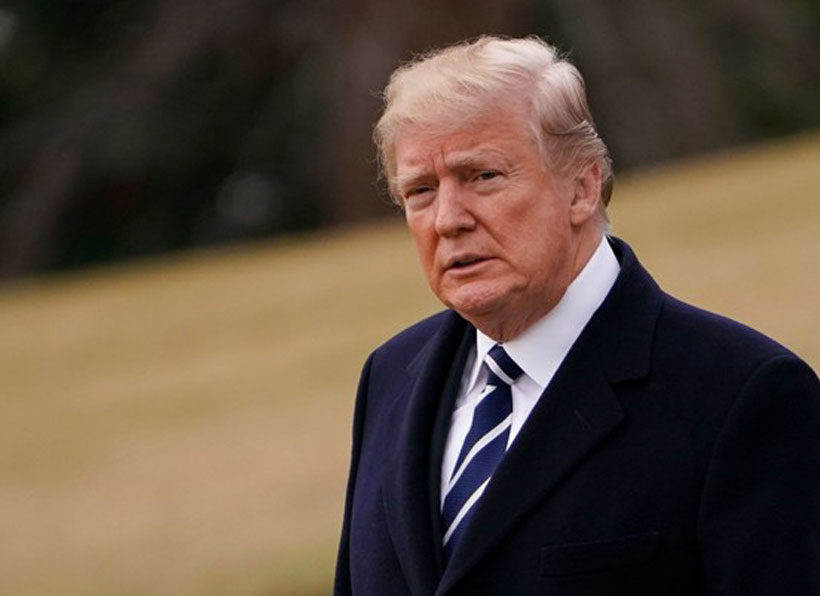 The strategic and unjustifiable mistake of the United States President, Donald Trump, in his withdrawal from the nuclear deal and imposing secondary sanctions against Iran, is now discussed in different circles. Many western media and news sources speak of Trump's terrible mistake in this regard.
They believe that by this decision, Trump was isolated in the international system, and failed to have other players' agreement in cooperating with him to put sanctions on Iran, and thus failed to achieve his economic goals against the Islamic Republic. In other words, Western media and analysts believe that, despite the fact that Trump's economic pressures on Iran are more severe than in the time of Obama, he will be less successful than his predecessor in pursuing his economic goals in confrontation with Tehran.
Recently, the Financial Times emphasized in a statement that "this newspaper supported the Iran nuclear deal and continues to believe that the Trump administration was wrong to abandon an agreement that halted Iran's progress towards nuclear weapons."
Trump's mistake in pulling out of the nuclear deal and opposing Iran can be analyzed both politically and economically. Trump's European allies believe that by walking out of the nuclear deal, the US president, has actually put the principle of multilateralism in the international system under question.
Financial Times writes accordingly; "President Donald Trump's offer to Tehran of unconditional talks suggests that the diplomatic path has not been totally cut off. Iran will be extremely reluctant to make further concessions on the nuclear issue and is unlikely to abandon its regional allies in Syria, Lebanon and Iraq."
The Financial Times then continues and emphasizes on the overall support of European countries for the continuation of the nuclear deal with Iran. This newspaper has written that Britain, along with France and Germany, promised to remain as part of the nuclear deal and to support companies that are investing in Iran.
The FT states that "The main weapon the EU has developed is an updated version of a "blocking statute" originally drawn up in the 1990s to counter US sanctions on Iran, Libya and Cuba. The law forbids European companies from complying with the US measures and allows them to recover damages arising from the sanctions "from the person causing them".
The fact is that, according to the Financial Times and other western news sources, Donald Trump's decision to withdraw from the nuclear deal with Iran will have heavy expenses for the United States. The isolation of Washington in the international system has now reached its peak.
Trump's specific economic policies against European players, China, Russia and … have also exacerbated this trend. So far, many American analysts have warned about Trump's deterrent policies in the US foreign policy and economics. However, by picking up people such as Bolton and Pompeo, Trump has shown that he isn't basically paying any attention to these warnings, and once he realizes that, there is no longer any opportunities to make up for his mistakes.
First published in our partner MNA