Russia-Turkey: The Interdependent Relationship Shaped by Energy or a Deeper Friendship?
Prior to the dissolution of the Soviet Union, the deepening relationship between Russia and Turkey showed itself in the first agreement designed to enhance their economic relations. The agreement was signed on March 15, 1977, between them, which mainly embraced the cooperation in the promotion of the industrial development and energy affairs. Meanwhile, the parties also inked an agreement concerning the scientific and technical cooperations.
Therefore, energy had been a significant issue amid the negotiations processes between Russia and Turkey since that time. Although the relations many times have been strained between them with regard to the different geopolitical issues. However, the two parties have always seen each other more than an economic partner. In February 1986, according to an  Intergovernmental Agreement traced back to September 18, 1984, a contract was signed with Turkey's BOTAŞ company for delivering roughly 6 Bcm of gas per year for over 25 years between the period of 1987 and 2011.
By the signing of the agreement, the first shipment of natural gas to Turkey from the territory of the Soviet Union commenced in June 1987, via Romania and Bulgaria using the Trans-Balkan pipeline. The agreement, in fact, opened a new door in Russian-Turkish energy relations for the foreseeable future. Currently, in the light of bilaterally multi-dimensional relations, both parties currently, are eager to boost up their energy collaboration in a growing number of fields, including nuclear power. The increasing bilateral relations between them have always raised the specific questions regarding what are the key factors or elements of these relations. According to the policy analysts and interlocutors, Turkish-Russian relations are based on a pragmatic approach meaning an effective way of maximizing their mutual advantages. Another element of the relations stems from the political identity and the civil society (domestic and foreign policy links). The political identity within Turkey and Russia has recently changed the way that affected their foreign policy strategies and in particular, their bilateral relations. In Turkey, since the adoption of the National Security Strategy of 1997,  Russia has not been considered as a threat to the security of the country, instead, the separatist groups and Kurds have been seen as major threats to Turkey.
The political shift toward a more "Eurasianist" orientation in Turkey was not only related to the rapprochement with Russia, however, even within Russia itself, a similar approach has been taken into account as a pivotal conception. Generally, pro-Western attitudes and stances of Russia have continued till the early 1996, after that time, the appointment of Primakov as the Foreign Minister leaded to a significant alteration towards the Eurasianism conception. This orientation had been expressed again and strengthened amid the presidency of Vladimir Putin since the adoption of the 2000 Foreign Policy Concept of the Russian Federation.  Currently, as one of the main priorities of the Russian Foreign Policy, Eurasianist orientation rather than Europeanistone has taken a dominant role in Russia considering that it needs to improve its relations ina Eurasian arena with its increasingly major partners like China, India, Iran, Turkey, and etc. In this cooperation, Russia sees Turkey as an important regional counterpart, due to their recent convergent interests in some political issues. Turkey is the second major importer of Russian gas. From the standpoints of some analysts, and policymakers, the relations in economic, especially in energy sphere will last long and it is impossible to break down their relations easily due to the "mutual interdependence" between these countries.
Having seen from the practice within the political arena, currently, the relations of two parties with the EU is a bit complicated, and also strained many times due to the different political tensions, and perplexing situations. At the same time, the Eurasianist attitudes of both Russia and Turkey once again show that they have convergent interests in any field rather than divergent ones that ignite even today, the geopolitical intrigue with its European partners. Therefore, it seems necessary to comprehend and then analyze their relations emerging from convergent interests. Take a simple example of the Syrian crisis, during the crisis, two parties have been opposed to each other concerning the Assad's regime in the region. However, the changing political roles and attitudes give a much more place to scrutinize their relations.
As a result of these political changes in their positions towards Syrian crisis, leaded to the brokering the ceasefire agreement on 28 December 2016, and in fact, the West, mainly the Obama Administration were marginalized on this issue and were not given a free place for the Administration to take its chief position on this ceasefire agreement. It is very plausible that Russia, Turkey, and Iran brokered a ceasefire in the region, and undertook the major duties to fight against terrorism. However, in face of many death and casualties, Obama Administration did not do "any significant thing" to reach a deal on a ceasefire in Syria. In fact, Russia and Turkey did well what the Obama Administration didn't do. Thus, although they demonstrated the different positions in Middle East problems, especially in the Syrian crisis, and even this crisis caused strained relations between them for some time.
However, both Russia and Turkey found a common ground in this issue also, and their collaboration remains supported by the significant economic and energy factors. The reliable relations between them once again revealed that it is possible to reach a deal in common ground and deal with the opposing standpoints and other problems, which showed itself in the example of the Syrian crisis. On the contrary, Turkey and Russia are not able to find out their convergent interests with the EU. The relations between the EU and two parties have soured due to the accession process of Turkey,  the Western sanctions on Russia after the annexation of Crimea and etc. (Take an example of coup d'état happened on 15 July, 2016, during military coup attempt, the EU does not give any hand to Turkey to cope with this crisis, instead, Russia was the first country who supported Turkey amid the bloody occasion, in this context it can be said that friend is known only on rainy days or in trouble.)
Despite the souring relations due to the downing of Russian S-24 warplane between Syrian-Turkish border on 24 November 2015, the two counterparts again found a common ground to deal with the problem. Having strained relations of Turkey with the EU, forced Turkey to take a constructive approach toward Russia.
Upon the airplane incident, in June 2016, Erdogan called Putin and expressed "deep regret" over last year's shooting down of a Russian warplane which violated Turkey's airspace. During the phone talking, Erdogan added that he was eager to return the pre-crisis level of bilateral relations. Turkish spokesman Ibrahim Kalin highlighted that Erdogan used the communication to call for Russia to take decisive steps and joint efforts to solve regional crises and fight against anti-terrorist cooperation. He also added that both parties had agreed to take significant steps to enhance relations at a multi-track level.
After the bloody coup attempt in Turkey, Erdogan did his first visit to Russia. Amid the meeting near St. Petersburg on 9 August 2016, they reached an agreement on lifting the sanctions gradually imposed by Russia after it downed a Russian fighter jet in last November. The two also agreed to prompt-start huge energy projects, including a gas pipeline and a nuclear power plant. (It is needed to mention that the negotiations between Russia and Turkey on Turkish Stream also was suspended after the jet incident and St. Petersburg meeting paved a way to renegotiate on the energy project). During the joint press conference following the meeting, Vladimir Putin in his answer concerning the future relations mentioned: "Do we want a full-spectrum restoration of relations? Yes, and we will achieve that… "Life changes quickly" he also added. "Moscow-Ankara axis will again be a line of trust and friendship," Erdogan also said.
The Petersburg meeting opened a new door towardsRussian-Turkish relations both in economic and energy field. Major steps were taken concerning the reigniting tourism cooperation and two major energy projects which are important for the development of both countries. Key factors among the plans is a Turkish Stream pipeline connecting the two countries and a nuclear power plant that Russia has to build in Turkey that is priced at 18 billion euro altogether. The Peterburg meeting became the initial step toward the future Russian-Turkish relations not only in the economic but also in the energy sector. As a result of this significant meeting, they reached a deal on medium-term agreement from the period of 2016 to 2019. Furthermore, the enhancement of the capacity of bilateral relations from $30 million up to $1 billion was considered one of the key ambitions. At the same time, taking the requests of Turkish and Russian traders and businessmen, Turkey and Russia will do the exchange of Russian ruble and Turkish lira in their trade relations and will be able to use easily rubles and lira in the next phase of their economic cooperation. Within the course of the meeting, they also agreed on several significant issues by signing the agreement composed of 12 key articles. The energy issue is the most significant part of the rapprochement between them. The main goals of 12 Articles are classified below.
Figure 7. showing the key priorities of Petersburg rapprochement based on 12 Articles for coming years.
| | |
| --- | --- |
| The revival of Senior Joint Cooperation Council | 7. Acceleration of Akkuyu nuclear energy project. |
| 2. Commencement of Charter Flights | 8. Establishment of Russia-Turkey Joint Investment Fund (Council) estimated at $1 billion to strengthen economic collaboration |
| 3. Removal of prohibitions that restrict bilateral trade, including agricultural products | 9. Enhancement of cooperation in the defense industry |
| 4. Thelifting of the ban on Turkish entrepreneurs | 10. Installment of Turkey-Russia-Azerbaijan tripartite summit mechanism |
| 5. Taking steps in common in order to achieve fully regeneration of visa-free regime | 11. A line of friendship and trust between Ankara and Moscow |
| 6. Giving Akkuyu strategic investment status. | 12. Acceleration of Turkish Stream project |
Upon the Petersburg rapprochement, the next significant meeting took place in Istanbul during the 23rd World Energy Congress between 9 and 14 October 2016. It was the Russian leaders' first visit to Turkey since his attendance at the Group of 20 Summit in Antalya. On 10 October, two parties came together to sign an Intergovernmental Agreement (IGA) on the construction of Turkish Stream Pipeline. The Russian and Turkish leaders have voiced support for the construction of Turkish Stream pipeline which was suspended in the course of the tensions between the two countries. Russian President Vladimir Putin and his Turkish counterpart Recep Tayyip Erdoğan underlined that they want to accelerate the implementation of the natural gas project as much as they can. Even on 10 March 2017, Turkish leader Recep Tayyip Erdoğan visited his Russian counterpart Vladimir Putin in Moscow concerning the development of further bilateral relations in some issues in particular, in Turkish Stream project. The Moscow meeting was largely hailed as a big success both in the Russian and Turkish Governments. According to the Moscow meeting, Turkey will set up an infrastructure to allow Russian National Payment system to be available in Turkey. As a result, Turkish Stream pipeline project will be implemented through the Turkish Deniz Bank. Besides, they reached an agreement on several issues, including the removal of trade sanctions gradually, the construction of the $20 billion Akkuyu nuclear power plant, cross-culturalism, and tourism.
The Turkish Stream pipeline would carry Russian natural gas to Turkey under the Black Sea and then on to European Union countries. The two leaders also agreed on the affordable gas prices in the first initiative of the pipeline project and Russia promised to reduce natural gas prices at the next delivery of gas supplies via the Turkish Stream. This delivery will not be direct, but via Turkey as an energy transit country, natural gas will be shipped to Europe. During the World Energy Congress, Putin in his speech highlighted that Russia has been providing energy for the EU for the past 50 years and again would supply via new gas projects including Nord Stream 2 and Turkish Stream pipeline projects in a more secure and a convenient way.
He also added that his country was ready to decrease the oil production and support OPEC's initiative to cut production as a way to increase oil prices. In general, what does really Turkish Stream promise both Russia and Turkey for the coming years? What will be the consequences and future perspectives of Turkish Stream for these two countries? In order to answer these questions, first and foremost, it is necessarily needed to analyze the energy relations after the Istanbul Agreement took place on 10 October 2016. First of all, according to the IGA between Russia and Turkey, the construction of two lines of Turkish Stream accounting for 15,75 Bcm each from Russia across the Black Sea has to be started by the end of 2017 and be completed up to 2019. The first line is expected to supply gas to Turkey, while the other would connect the transit routes between Turkey and the EU to provide the EU with natural gas. The cost of the project is estimated to be $6 billion. Both lines will have to be completed by December 2019. Pursuant to the agreement, Turkey will provide special tax exemptions for the marine section of pipeline including the import of vehicles, equipment, and other necessary materials are released from the payment duties in Russia and Turkey. The Turkish side also removed the tax revenues on gas transportation. According to the Energy Minister Alexander Novak, Gazprom will construct and possess the offshore section of the pipeline. Turkey will build and own the first line of the land section for the delivery of gas to its territory. The second line via which the direction will be towards Turkey-Greece border for carrying gas to Europe will be owned by joint actions by Gazprom and BOTAŞ. As Russia mentioned before, Turkey has come to an agreement on the second line of the pipeline in exchange for a discount for gas prices promised by Russia. At the first phase of Turkish Stream project, Russia will finance the two strings of the pipeline. Reportedly, the total cost of Turkish Stream including its four strings will make up for €11.4 billion which is the half cost of South Stream estimated at €23.5 billion. The first line of the project estimated approximately €5 to 6 billion.
If Gazprom goes forward with the construction of the third and fourth lines of the project, beyond the Turkey-Greece border, the company will face the same regulatory obstacles as well as financial obstacles. Gazprom has already fulfilled the environmental impact assessment for the offshore and landline sections of Turkish Stream pipeline. In terms of challenges and perspectives of Turkish Stream, it can be said that the project will encounter several challenges due to falling oil prices, the economic sanctions imposed by the West, which have an impact on Russian companies and banks, financial constraints, and also the cost of the project. Those obstacles make it difficult to find financing for the gas pipeline. It shows itself in the example of South Stream project, in which Russia faced both financial constraints and at the same time, misperceptions with the EU and Bulgarian government caused the suspension of the project.
Regardless all these challenges mentioned above, Russia somehow will finance and complete the Turkish Stream pipeline because it wants to diversify its transit route bypassing Ukraine. Therefore, unlike South Stream, Turkish Stream's credentials are convincing for both Russia and Turkey. For the future perspective, it seems that Russia is not inclined to politicize the Turkish Stream pipeline in the face of its economic and energy counterpart, Turkey. Both of them would get benefits from the project if they opt for the "flexible energy diplomacy" inclining to the EU. The Ukraine crisis re-emphasized the role of Turkey as an energy interconnector not only for the EU but also for. Russia well understands that via Turkish territory, it will be able to carry gas supplies to Europe and sees Turkish Stream as a potentially successful project in this way.
For the EU, the diversification of energy sources is one of the key priorities and it seeks for newly secure supply countries and considers Turkey as a potential energy hub and a transit country in order to attain the natural gas resources via secure pipelines namely TANAP, TAP constituting for the backbone of Southern Gas Corridor (SGC). Regarding the Turkish Stream pipeline, there are also possibly positive approaches and perspectives which mainly depend on the future relations between the EU and Russia and the EU and Turkey. In fact, the relations between them have been soured for the current time. Turkey is going to do negotiations with the EU concerning the future perspectives of relations after the results of 16 April Referendum, Turkish leader, Recep Tayyip Erdoğan added in his speech. Basically, the Russian-Turkish relations are based on "win-win position" or "positive sum strategy", while it cannot be said the same for the EU because of current tensions between them.
For the future perspective, the Turkish natural gas appetite will increase significantly, and it will need to provide its natural gas demands in an effective way. In terms of energy relations, Turkish Stream is a good deal between Moscow and Ankara. However, Turkey also has to take a new energy policy to use its effective and generous geothermal energy resources at a domestic level. Before everything else, Turkey has to regulate its natural gas markets and adopt the energy saving program based on energy efficiency rather than supplying its increasing gas demands in the near future.  In 2017, its growing gas needs are expected to increase up to 46.6 Bcm out of total 50 Bcm gas consumption.

On the other hand, if Turkey decreases its natural gas consumption in future decades, what will be the benefits of Turkish Stream?- Turkish Stream will be the significant project between the EU, Russia, and Turkey. Turkey will be the third energy party to supply gas from Russian territory along with the Black Sea on to the European countries. In this context, however, the EU side wants Turkey to regulate its gas markets based on the EU prerequisites and eliminate the monopoly on gas prices while delivering to the EU. From Turkey's perspective, it is not a difficult deal, whereas, it will take a bit time to regulate and adopt the energy frameworks and rules requested from Europe. Regarding the EU, it has to change its way of stances and perceptions toward Turkey and Russia and should have to more elaborate on engagement with both Russia and Turkey.
If the EU wants either Turkey or Russia to undertake responsibilities coming from the EU energy rules, in turn, the EU has to give a room (place) for both countries for the sake of effective energy partnership. In terms of Russia, in the future, Russia will not politicize the Turkish Stream that it has in Ukraine because Turkish is both Russian real counterpart as well as an economic partner in Eurasia and will not restrict the improving role of Turkey in Eurasia.
Since the 1970s, bilaterally energy relations between Russia and Turkey have been developing to date.(See Annex 25 below) Russia at least for its economic development and energy revenues will provide the EU with its gas in the future. For the present time, there is not a potential alternative for the EU to meet its increasing natural gas demands. It is the overt fact that the Southern and Central European countries have over dependency on Russian gas from 60% to nearly 98%. Some of the European countries (Norway and etc.) produce energy resources for the EU countries, but it is not enough for Europe to meet its energy demands in coming years. When it comes to the revaluation of the EU stances, it should have to change its way of "non-engagement" with Russia.
At least, the EU comprehends well that at the present time it has sell-purchase issues in the energy sphere. Hence, regarding the dynamics of energy relations between Turkey and Russia, it can be said that the successful deal will be continued in the coming decades. Both of them need each other in tourism, trade, economy, and energy fields. In order to pave the way for the future collaboration between Turkey and Russia, they also evaluate the role of the EU and involve it in their projects. The involvement of the EU in Turkish Stream will gain benefits for all parties, if they choose the policy of comprehensive energy diplomacy taking into consideration the interests of each party. Therefore, the energy relations between Turkey and Russia in the foreseeable future are convincing. What will happen in the near future depends mainly on the progress of the relations with its European partners…
When it is needed to take a general view on Russian-Turkish relations, it is clear that their relationship was established on behalf of reaching their specific interests and purposes. Certainly, the relations between them can be considered both convincing and stable, because of the fact that the relationship between states based on ensuring of any kind of interests is more influential than other simple relations without any purposes. In Russian-Turkish energy relations, it is important to mention a key factor called "appropriate balancing" emphasized by Gideon Rose.  The appropriate balancing as a key element of neo-classical realism can be applied better in Russian-Turkish energy relations. "Appropriate balancing" arises when a state correctly comprehends another state's intentions, interests and balances properly. If the appropriate balancing would be applied in the Russian-Turkish energy relations, it can be said that both of them are aware of their purposes and interests toward each other.
This relationship is a kind of preserving the balance of power, ensuring their internal and external security in the region. So that, their relationship can be called purposeful or intentional relations (In Turkish language, it called çıkarlı ilişkiler or çıkarlar) which envisage the serving of both sides'specific purposes and interests. As Russian President Vladimir Putin stated: "States do not have constant friendship relations; states have constant interests and ambitions." Over the historical period, their relations have had a competitive character more than cooperation in the region. However, on behalf of ensuring their interests,(Turkish growing demands for gas resources, ambition of being an energy hub and energy transit country between East and West, and Russian ambition of taking huge dominance over Eurasian and European regional energy bazaar) domestic incentives and other external factors, the current situation forces them to take a constructive approach in their relations compared to the previous relations of that they had.
At least, if the pragmatic side of relations between Russia and Turkey is taken into consideration, in this case, the development of their relations both in energy and other fields is unavoidable. One of the most important strengths of neo-classical realism is its attention to systemic and unit factors as well as historical clarification simultaneously. This kind of strength makes the theory more relevant and applicable to the chosen research than any other version of the realism theory. In neo-classical realist theory, there are interconnected relations with enticements, motives, perceptions, and the foreign policy of states which make states attempt for maximizing their domestic security issue. (Turkey is eager to maximize its energy security in the region within a domestic policy through collaborating with Russia in the energy field, in turn, Russian interest of maximizing its security issue in the example of diversification of its transit routes bypassing Ukraine) Thus, by taking into consideration specific interests, purposes and security issues (mainly, domestic security which related to the energy security),it is apparent that Russia and Turkey could be strategic, an economic and particularly, energy partner more than so-called "a friendly colleague" within an international system.
The Art of Expectation Management
It is evident that Vladimir Putin yearns for a meeting with Donald Trump. He has always desired this meeting — since the day Trump had won the presidential election in November of 2016. The Kremlin would have apparently preferred an early summit to take place in spring of last year. However, the first full-fledged bilateral negotiations between the US and the Russian leaders will take place only year and a half after Trump's inauguration. It will take place and after Donald Trump has already met not only with nearly every single president or prime minister from allied Western nations, but also with President of China Xi Jinping and even with North Korean leader Kim Jong-un.
Following a Russian proverb, "better late than never". Vladimir Putin takes the forthcoming event in Helsinki very seriously. Unlike his US counterpart, he can afford not to care much about the domestic political opposition, moods in the legislature, and he has no Russian Robert Mueller following him closely. Still, it does not mean that sky is the limit for Putin's aspirations and ambitions in Helsinki. There are certain limitations on what the Russian side can realistically hope for as the summit takeaways.
First, for Trump Russia remains a toxic asset back at home and this is no secret in the Kremlin.
Second, Putin should be very cautious in trying to drive a wedge between Donald Trump and his European allies.
Third, Putin has to keep in mind possible negative reactions to a new rapprochement with Trump coming from Russia's traditional partners and allies all over the world.
In view of all these limitations, the Russian side is not in a position to offer too much to US in Helsinki or to expect a true revolution in the relationship.
The current positions of Presidents Donald Trump and Vladimir Putin are asymmetrical. Anything but a clear and decisive US success will be considered a failure in Washington. Anything but a clear and decisive Russian failure will be considered a success in Moscow. This asymmetry is a complicating factor, but it should not necessarily prevent the meeting in Helsinki from tuning into a diplomatic victory for both sides.
It is evident that Vladimir Putin yearns for a meeting with Donald Trump. He has always desired this meeting — since the day Trump had won the presidential election in November of 2016. The Kremlin would have apparently preferred an early summit to take place in spring of last year. However, the first full-fledged bilateral negotiations between the US and the Russian leaders will take place only year and a half after Trump's inauguration. It will take place and after Donald Trump has already met not only with nearly every single president or prime minister from allied Western nations, but also with President of China Xi Jinping and even with North Korean leader Kim Jong-un.
Following a Russian proverb, "better late than never". Vladimir Putin takes the forthcoming event in Helsinki very seriously. Unlike his US counterpart, he can afford not to care much about the domestic political opposition, moods in the legislature, and he has no Russian Robert Mueller following him closely. Still, it does not mean that sky is the limit for Putin's aspirations and ambitions in Helsinki. There are certain limitations on what the Russian side can realistically hope for as the summit takeaways.
First, for Trump Russia remains a toxic asset back at home and this is no secret in the Kremlin. Any far-reaching Trump-Putin agreement short of a complete and unconditional surrender of Moscow to Washington would meet with a fierce and not always fair criticism within the US foreign policy establishment. The odds are that the Congress would overrule or water it down, and high-ranking bureaucrats within the Administration itself would find a way to sabotage it.
Second, Putin should be very cautious in trying to drive a wedge between Donald Trump and his European allies. It has always been tempting to go for a grand bargain with US above the heads of Europeans. There might be more personal chemistry between the US and the Russian leaders than between any of them and German Chancellor Angela Merkel or UK Prime Minister Theresa May. There might also be a shared Trump-Putin skepticism about the future of the European Union. Nevertheless, in many ways Europe remains indispensable for Moscow. Despite all the recent sanctions and counter-sanctions, EU remains the largest Russia's trading partner, the prime source of FDIs and new technologies to the country. Moreover, on a number of important international matters – like the Iranian JCPOA — Russia and major European powers stand shoulder to shoulder against the revisionist US. From Putin's vantage point, European leaders might look stubborn, boring and even antiquated, but most of them still appear to be more reliable compared to the flamboyant and unpredictable US President.
Third, Putin has to keep in mind possible negative reactions to a new rapprochement with Trump coming from Russia's traditional partners and allies all over the world. How can President Hassan Rouhani interpret it from Tehran? What should Bashar Assad think in Damascus? Nicolas Maduro in Caracas? Above all, how are they likely react in Beijing? The latter should be of particular concern to Vladimir Putin because the meeting in Helsinki takes place against the background of rapidly deteriorating US — Chinese relations.
In view of all these limitations, the Russian side is not in a position to offer too much to US in Helsinki or to expect a true revolution in the relationship. If there is anyone, who might push hard for innovative, out of the box solutions in order to turn the Helsinki summit into an epic event, it should be Donald Trump rather than Vladimir Putin. The Russian leader is more likely to take a cautious approach, keeping in mind that any far-reaching deal between him and Trump would be a risky political investment for both, at least at this particular point.   The most important thing for Putin today is to change the overall dynamics of the US — Russian relationship, indicating the beginning of a new period of gradual normalization.
What does this approach mean for the US-Russian agenda? As for the strategic arms control, it is not evident that this issue is a top priority for the Kremlin these days. Judging by Putin's March Address to the Federal Assembly, the Russian leader is confident that he can assure national security even in the absence of a US — Russian strategic arms control. However, politically strategic arms control is still important for the Kremlin; it gives Russia a very special status in the international system and puts Moscow on equal footing with Washington. This is one of not to many areas where Moscow can significantly contribute to global commons. The Russian military might lack enthusiasm about the New Start and, especially, about INF, but the political considerations can outweigh skepticism of the military provided that President Trump is also interested in salvaging INF and/or in extending the New Start.
It is impossible not to bring regional issues to the table in Helsinki, but here opportunities are limited as well. Looking from Moscow it is very hard to imagine any US — Russian 'compromise' on Ukraine, which would fly on the Hill and would be acceptable to the Kremlin at the same time. On the other hand, the predominant perception in Russia is that nothing significant can be accomplished in Donbas until the end of next year's election cycle in Ukraine. Finally, the United States is not even a participant to the Normandy process and is not a signatory to the Minsk agreements. All the significance of the Volker-Surkov bilateral consultations notwithstanding, they can hardly be regarded as an efficient alternative to the German and French engagement.
Today, Russia has little to offer to US on the North Korean nuclear matter. It could have played a role of an honest broker on the Korean Peninsula when the relations between Pyongyang and Beijing were at historic lows. After Kim Jong-un's trip to Beijing and the Chinese-North Korean reconciliation in spring, the window of opportunity shut fast for Russia. In the nearest future Moscow is more likely to follow the Chinese line on the North Korean problem rather than to advance its own innovative ideas.
A potentially more promising subject for conversation is Syria. At minimum, Trump and Putin can agree on future arrangements for the Syrian South-West and on a tactical deal regarding accommodating Syrian Kurds, at maximum — they can give a push to the Geneva process on political settlement. Does Trump intend to convince Putin to drop Russia's current partnership with Iran and to shift to the 'right side' of the conflict? If so, the US President is likely to be disappointed: Iran is simply too important for Moscow in places like Afghanistan, Central Asia and South Caucasus to sacrifice this relationship in order to please Donald Trump, Israeli Prime Minister Benjamin Netanyahu or Saudi King Salman. One should also keep in mind that the ability to keep good relations with all major sides to numerous Middle East conflicts has been a key, if not the key Russia's comparative advantage in regional politics; with this advantage removed the Russian role in the region is likely to decline sharply.
The US sanctions against Russia might also be a part of the conversation though the official Russia's position is that it does not conduct any negotiations about sanctions and leaves it up to states-initiators to decide on their sanctions' future. The last round of US anti-Russian sanctions announced in April included RUSAL, Russia's largest aluminum producer, and had a substantial negative impact not only on this company, but also on the global aluminum market at large. Vladimir Putin should know pretty well about the US legislative process that makes it impossible for Donald Trump to lift the existing sanctions against Moscow. What he can hope for is some kind of informal pledge from the US executive not to initiate any further increase of the sanction pressure on Russia. Another issue that Russians might wish to discuss in this regard is the modalities of the extraterritorial dimension of US sanctions — a politely sensitive matter that can become a nuisance for both sides.
Vladimir Putin is also well aware of the importance that Americans attach to the "Russia's interference" into the US political system. Under no circumstances will he confess that such an interference authorized by Russian authorities did take place. The odds are that he will stick to his standard narrative about some unspecified independent actors ("patriotic hackers") who had nothing to do with the Russian state. Nevertheless, one cannot exclude Putin offering Trump to sign a US-Russian "non-interference pact" — a mutual commitment not to mess with domestic affairs of each other. The problem for the US side is that the term "interference" is likely to be interpreted by the Kremlin in the broadest sense possible — it might include international activities of American NGO, foundations, media outlets, think tanks, Universities and so on. It is not clear how the two leaders can possibly reach a compromise on such a divisive issue.
The last but not the least, the Russian side would like to unlock doors to intergovernmental cooperation or, at least, to intergovernmental communication at various levels and in various fields including more contacts between diplomats, military, state bureaucrats, and intelligence agencies. The Russian Embassy in Washington should stop being a besieged fortress, the paralysis in the visa services on both sides should be dealt with. A symbolic progress in resolving the diplomatic property problem would also be appreciated by Moscow. One of the positive outcomes of Helsinki would be a decision of the two leaders to start planning a next summit meeting — either on the margins of a multilateral gathering like the G20 summit in Argentina or another bilateral event later this year.
In sum, the current positions of Presidents Donald Trump and Vladimir Putin are asymmetrical. Anything but a clear and decisive US success will be considered a failure in Washington. Anything but a clear and decisive Russian failure will be considered a success in Moscow. This asymmetry is a complicating factor, but it should not necessarily prevent the meeting in Helsinki from tuning into a diplomatic victory for both sides.
First published in our partner RIAC
Russia warns foreign football fans to voluntarily leave after the end of World Cup
As the end of FIFA World Cup draws nearer, Russian authorities have reminded foreign football fans, including those from Africa, participating in the month-long event, to leave voluntarily or face deportation.
Head of Russian Federation of Migrants (RFM), Vadim Kozhinov, a non-government organization that deals with foreign migrants disclosed that "due to the simplified visa regime introduced for the period of the World Cup, some foreign citizens want to take advantage of the legal entry into the territory of the Russian Federation to stay in Russia."
However, such foreign citizens should understand that, starting from July 26, they would be in Russia illegally and accordingly, such citizens would be deported from the country, he warned. "If among these citizens there are those who have previously been deported, they will be sentenced to imprisonment," Kozhinov said.
The warning comes as both local and foreign media have reported a number of foreign fans, notably from Asia and Africa, attempting to cross borders illegally into Belarus, Poland, Latvia and Finland to Europe.
Kommersant Daily, a Russian newspaper, has reported that some foreign nationals from Cameroon, Pakistan, Congo, Ghana, Nigeria, Bangladesh and Morocco have been arrested for illegal crossing near Poland border, last week.
Foreign fans have taken advantage of this opportunity to find work abroad or get political asylum. According to human rights activists, foreigners who found themselves in the Russian Federation without money, housing and the opportunity to return home, were turning to them every day with requests for all kinds of assistance.
Yulia Siluyanova, Coordinator of the "Alternative", a human rights organization, said there had been complaints and requests for assistance from several citizens of Nigeria.
"Every day we take three or four people, but it is obvious that they are much more. The fact is that the Nigerian Embassy knows about us and immediately sends its citizens here for help."
When GNA contacted, the Nigerian Embassy, the officials said, they were using all possible resources to help their fellow citizens. Nearly a hundred Nigerian football fans could not fly home due to scam, according to reports.
Maria Zakharova, Spokeswoman for Foreign Affairs Ministry (MFA), said at a media briefing that "winding up with no money by the end of the World Cup is not something unique to Nigerians, but all foreign fans who have come to Russia for the World Cup."
She said that "unfortunately, it is quite natural (and we can confirm this) that when this large and very long sporting event ends all of them must leave the Russian Federation, because the FAN IDs will no longer work."
"Some fans might wound up without money or return tickets by the end of their stay. This is also natural. Unwanted, but natural. And this is really a problem to be solved by fans, first of all, together with their countries' diplomatic missions and consulates," she explained.
Zakharova finally gave a firm warning: "We cannot rule out that some foreign guests are hoping to cross the Russian border, one way or another, often illegally, into a European country during the World Cup. We cannot rule this out. If this action is deemed illegal, then corresponding agencies will take the necessary administrative measures."
To enter Russia during the tournament, football fans needed to get a "Fan ID", which was free of charge after buying a ticket for the match. "This document gives the right to multiple visa-free entry, from June 04, until July 15, inclusive, but one must leave the country before July 26."
The easing of the visa regime had given cause for concern by countries bordering Russia. Lithuania, in June, officially announced the strengthening of border control for fear that the citizens of third countries, using the championship, would try to get into the European Union (EU), illegally.
Russian President, Vladimir Putin, before the start of the FIFA tournament, said in his welcome video address posted to Kremlin website that he wanted the event to be considered as a global family celebration, filled with passion and emotions.
He expressed the hope that all participants and guests were going to have an unforgettable experience, not only watching the matches of their favourite teams and admiring the players' skills, but also getting to know Russia, learning about its identity and culture, its unique history and natural diversity, its hospitable, sincere and friendly people.
"We have done our best to ensure that all of our guests – the athletes, the staff and, of course, the fans – feel at home in Russia. We have opened both our country and our hearts to the world."
Russia: Improving public diplomacy in Africa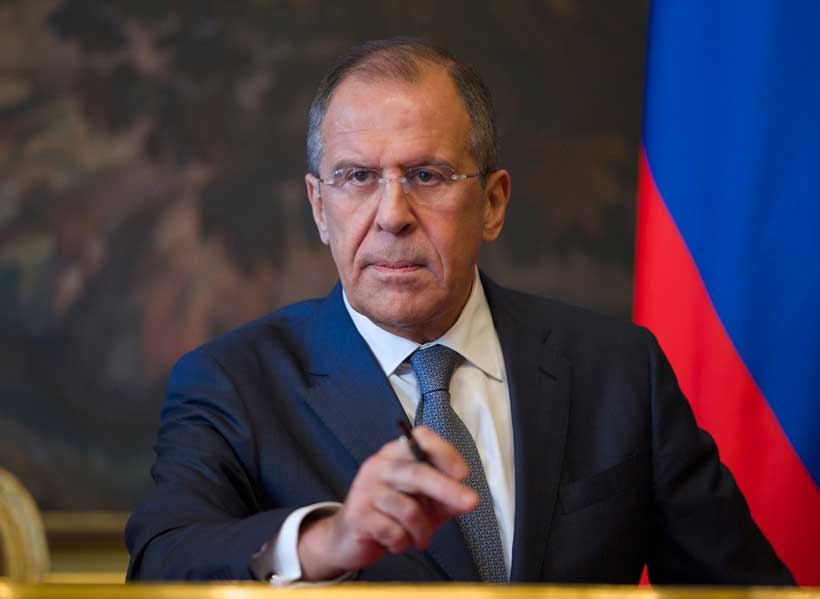 Russian Ministry of Foreign Affairs (MFA), collaborating with Ministry of Communications, Diplomatic Academy and the Institute for African Studies, plans to launch a short orientation and training programme for senior editors working in the state media organisations in African countries.
The media initiative came up as a follow up to Foreign Minister Sergey Lavrov's discussions during his African tour early March about rolling out a comprehensive strategic roadmap for a more integrated cooperation and find effective ways of improving public diplomacy in Africa.
On May 16, Sergey Lavrov chaired the Foreign Ministry Collegium meeting on the subject "Cooperation with Sub-Saharan African countries as part of implementing important tasks of Russian foreign policy."
The meeting noted that the consolidation of versatile ties with the Sub-Saharan African countries remains a major part of Russia's foreign policy strategy, which is acquiring special significance in the context of deep changes in the global arena.
The MFA has released an official document, available to its website, titled "Concept of the Russian Federation on Cooperation with African Media" stresses the need to cooperate with African media as Russia looks forward to strengthening relations and share strategic interests with Africa on international arena.
According to the MFA "the Russian Federation is implementing programmes of cooperation with various African countries which include education, culture, art, the media and sport."
The Russian Government supports the pilot programme and will be organised for African media groups in two phases: in October and in May, and planned for a two-year period from 2018 to 2020.
The participants from this pilot programme will be at the forefront to highlight or propagate post-Soviet economic and cultural reality, shape the African perception about Russia and raise Russia's image and reputation among the political and business community and the general population in Africa.
Since the collapse of the Soviet Union, this is the first significant step on media cooperation by the official authorities to address the information gap between the two regions. The initiative particularly seeks to bridge the widening business information gap that has existed and might help strengthen bilateral relations between Africa and Russia.
Experts have acknowledged that, for Russia, there are important geopolitical implications working with Africa and unreservedly praised Russia's initiative for creating this mechanism for media cooperation and for more diversified aspects of its policy with Africa.
Canadian-Nigerian Professor O. Igho Natufe, Head of Ukraine-African Study Center in Kiev, says looking into the future it is important to continue approaching the relationship beyond natural resources and the economy, and to include soft power, so the move will boost the overall relationship in the long-term since the media has a huge role to play.
Undoubtedly, Natufe further explains that frequent exchange of visits by Russian and African journalists as well as regular publications of economic and business reports could help create public business awareness and raise, to an appreciable level, the understanding of the relationship between Russia and Africa.
Earlier, Dr Olga Kulkova, a Research Fellow at the Moscow based Center for the Study of Russian-African Relations, Institute for African Studies, also pointed out that "more quality information about modern Russia should be reported in Africa. Indisputably, it might take a lot of money and efforts, but the result will pay off."
"It is excellent to adequately collaborate with African partners and attract Russian business to Africa. Russia ought to take this into account, if it wants to improve the chances for success in Africa," Kulkova said.
Professor Gerrit Olivier from the Department of Political Science, University of Pretoria in South Africa, noted that "Russian influence in Africa, despite efforts towards resuscitation, remains marginal. The cultural gap (language in particular) is a great handicap. The official visits are mainly opening moves and symbolic and have little long-term concrete results."
While prioritising Africa now, Russia has to do more, particularly, in the cultural-intellectual field (like China, EU and US) with a view to the longer term and work on its image problem in Africa, Professor Olivier, who previously served as South African Ambassador to the Russian Federation from 1991 to 1996, wrote in an email comment from Pretoria, South Africa.
For decades, a number of foreign countries are cooperating with African media to push their strategic policy interests. For example, the Forum on China-Africa Cooperation has fixed China-Africa Press Exchange Center in Shanghai to encourage and promote exchange and visits between Chinese and African media.
In June 2018, China held the Fourth Forum on China-Africa Media Cooperation. A Joint Statement on Further Deepening Exchanges and Cooperation was adopted. During the Johannesburg summit held in 2015, President Xi Jinping said China would implement access to satellite TV for 10,000 African villages and provide training for 1,000 media professionals from Africa.