Women and girls with autism must be empowered to overcome discrimination they face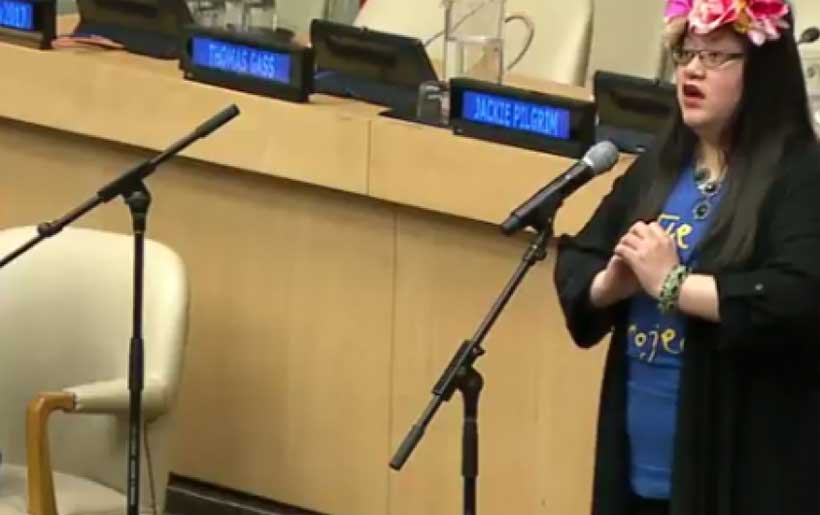 On World Autism Awareness Day, United Nations Secretary-General António Guterres has joined the global call to empower women and girls with autism and involve them and their advocates in policy and decision-making to address the discrimination and other challenges they face.
"They face […] barriers to accessing education and employment on an equal footing with others, denial of their reproductive rights and the freedom to make their own choices, and a lack of involvement in policy making on matters that concern them," said the Secretary-General in his message on the Day.
Emphasizing that "our work for gender equality and women's empowerment must reach all the world's women and girls," he stressed that the international community's efforts to achieve the Sustainable Development Goals (SDGs) must uphold the 2030 Agenda's core promise to leave no one behind.
The Goals and the landmark framework from which they emerged were adopted by UN Member States three years ago. Together they aim to wipe out poverty and boost equality by putting the world on a more sustainable economic, social and environmental path by 2030.
"On World Autism Awareness Day, let us reaffirm our commitment to promote the full participation of all people with autism, and ensure they have the necessary support to be able to exercise their rights and fundamental freedoms," concluded the Mr. Guterres.
Autism is a lifelong neurological condition that manifests during early childhood, irrespective of gender, race or socio-economic status. The term Autism Spectrum refers to a range of characteristics.
Autism is mainly characterized by its unique social interactions, non-standard ways of learning, keen interests in specific subjects, inclination to routines, challenges in typical communications and particular ways of processing sensory information.
The rate of autism in all regions of the world is high and the lack of understanding has a tremendous impact on the individuals, their families and communities.
The World Day is marked annually on 2 April, and this year's official UN commemoration will be on Thursday, 5 April, with a half-day programme in New York entitled Empowering Women and Girls with Autism, that will feature a keynote address from Julia Bascom, Executive Director, Autistic Self Advocacy Network.
In Northern Nigeria, Online Skills Help Youth, Women Tap New Opportunities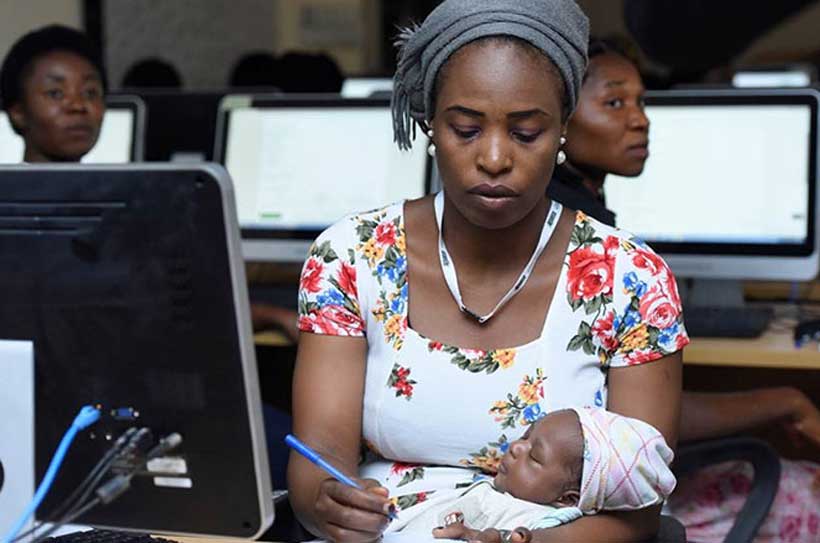 Rashidat Sani lost her job when she was pregnant with her child.  Now a nursing mother, she has been unable to find flexible employment that would allow her to take care of her baby and earn a living.
That was before Sani attended the Click-On-Kaduna digital skills workshop earlier this year, which helped her become an "e-lancer;" a self-employed contractor who can work various online jobs.
"This workshop has been perfect for me," said Sani. "I can stay home and take care of my baby while working on my computer. I can't thank the organizers enough."
Sani is one of more than 900 young people who attended the three-day workshop designed to help young Northern Nigerians tap into the digital job market. With support from the Rockefeller Foundation, the workshop was created by the Kaduna State government and the World Bank to increase job opportunities for the country's youth—which currently makes up more than half its population—and decrease youth unemployment which has risen to 33%.
"There are nine million people in Kaduna State, 75% of whom are below 35," said Muhammad Sani Abdullahi, Commissioner of Budget and Planning for Kaduna State. "There are also roughly 70,000 government jobs in the state and this cannot meet up with the job deficit."
The hands-on workshop aimed to give unemployed and underemployed youth, women, and disadvantaged groups some of the tools needed to compete in the online job market. Sessions included practical trainings on how to set up an online profile, build a personal brand, negotiate a fair compensation, and land a first job. The workshop also provided opportunities for participants—nearly half of them women—to interact with e-lancing platforms like Upwork, a key partner of Click-On Kaduna, as well as several local platforms such as Efiko, Asuqu, MotionWares, or Jolancer.
In the last decade, digital technology has disrupted the global economy and fostered the creation of countless new markets, products, platforms, and services. Among the innovations, there has been a rise of online freelancing platforms which have enabled disadvantaged people across skills, gender and income levels to overcome physical and socio-economic barriers to earn an income through the Internet.
In Nigeria, unemployment rates have increased from 11.92 to 15.99 million in 2017, with the youth reported to be the most affected. This is further aggravated in Northern Nigeria due to its fragility and where the educational and economic infrastructures remain inadequate.
Kaduna State, located in the northern part of the country, faces these challenges. Plagued by years of endemic violence, government leaders recognize the importance of creating jobs for its young people, and the immense opportunities the digital economy offers.
Boutheina Guermazi, World Bank Director for Digital Development, said the global digital economy has given rise to a massive new market facilitated by digital platforms that are accessible to anyone who has access to the Internet.
"It is helping to promote inclusion by creating economic opportunities for youth in fragile states by equipping them with the skills needed to improve their social welfare regardless of their gender and income levels" she said. "These new income-generating opportunities need to be leveraged to create and connect people with jobs, especially women in the North who often do not have equal access to markets and jobs."
Building on the success of the workshop, the Bank and Upwork rec+ently launched a pilot program that aims to kickstart the online careers of about 150 job seekers, expose them to more and better jobs, and contribute to Click-On-Kaduna's sustainability and long-term impact.
Each of the selected participants will be given five tasks created under the Upwork pilot program. Once successfully completed, they will be paid for their work and rated, increasing their competitiveness for jobs on the platform. Participants will also be provided with further opportunities for mentoring and capacity building from Upwork while receiving payment for their work.
"I did not even have any idea of Upwork in the first place if it had not been for Click-On Kaduna," said Nehemiah John, who participated in the workshop and the pilot program. "Aside from [participating in] the pilot project I am about to round a [new] contract with a client on Upwork. He requested a t-shirt design which I have done, and he liked it."
The outcomes of the pilot program will continue to be monitored by Upwork and the Bank team, with the goal of increasing the number of people able to access online jobs and increase their incomes.
Wedlocks in Kashmir's landscape
Marriage is a sacred institution in the human societies. Down the passing phases of time, the human beings have tied knots of man and woman in pairs to continue the order of the universe. God created human being in pairs and created humans out of those predecessors. This is even today the order of the nature and will remain so forever.
Marriage is a social and legal contract where man and woman are tied in a holy knot under the auspices of religious principles of Nikkah,as in Islam to carry forward the legacy of humans and human beings. Marriage is a pious knot that brings a man and a woman together forever to created an edifice of support for one another in times of need pain happiness, good and bad, nothing and something etc and is equated with one half of the Muslims faith. Marriage holds a vibrant symbolic significance in that people still want to marry and revere the institution. Overall it is said that the institution of marriage gives peace and order to the life of the man and Islam is in fact testimony to that bizarre fact.
Marriages form a major component of our Kashmiri culture which have come a long way since times immemorial. Marriages in Kashmir have undergone a fundamental transformation. In simpler terms, the age of marriage has risen. During the past times, the marriages in Kashmir were performed in an atmosphere of extravaganza where a lot of food and dishes were wasted and those nostalgic memories are perhaps etched to one and all if one recalls the memoirs of the past life. However today a civic and moral sense has prevailed among the masses where lavishness is slowly and steadily losing grip in our society and austerity is taking the substitution there of. Even the persons who accompany the groom towards the bride's house have been reduced to few.The guests are also nowadays restricted in our society.It is a good gesture and a positive step towards development of society in Kashmir.
In an interview to India today T.V. few years back, i reteriated and favoured the stance of the government regarding ban on lavish marriages in Kashmir and guest control.
However the major problem that besets our marriages in Kashmir is the night long overuse of loudspeakers and subsequent firecrackers at the time of bharat reception. Suppose a person is suffering from disease and is ill, a student has examinations next day, a pregnant woman is expecting a child and the neighbours marriage causes the trouble. It becomes a major sin and music is prohibited in islam as wrong(haram).This ultimately causes trouble to one and sundry. Above the social plane lies the plank of moral conduit. We need to totally stop the use of loudspeakers during mehandirats. Although women can sing in pairs through get together.
Today, when our valley is under the grip of political violence and chaos and uncertainity has become order of the day, people need to show a religious and responsible civic sense and say goodbye to lavish marriages, particularly the menace of dowry in Kashmir.When parents of affluent give huge gifts and dowry to their daughters on their marriages,it causes roadblocks for the poor and disadvantaged sections of the societies and hinders their marriage prospectus..After all, it is the questions of our sisters. A parent who raises a girl child and marries him to a different person knows the pains of departure. Girls need to be respected and cared. They are not the property of their in-laws. There must be regard for the sacrifice of the women's parents and the bride itself.
According to a famous Hadith, Prophet Muhammad SAW says that a marriage is performed on the basis of four factors. Some marry for the prestige of the caste some marry for the financial prospectus, some marry for the beauty of the girl and others marry for the character of the girl.Our beloved Prophet Muhammad SAW says that we need to focus and keep the last factor that is character of the girl in consideration for the to be married man.
In contravention, in our valley the parents are wary of the future of their daughters and want and wish to marry their daughters to the government employees. How many parents ask about the past, character, morality of the man.Be he a morally bankrupt but he should be a government employee. How sad and pathetic? Besides, the daughters are pushed towards late marriages on account of getting education and other factors.It is good to have education,but age factor matters. Parents should rather focus on the humbleness, compassion, character of the to-be grooms. Delaying marriage until personal and professional goals are achieved is a illogical response of our society.
Today,our society has degraded enormously. Our youth are under the grip of a moral disaster and soaked in immoral acts. The problem of late marriages has already aggravated and compounded the problem. The late marriages have given rise to various social problems and ills. Parents should marry off their wards once they become adults and attain maturity. God is responsible for their future. This will prevent our society from moral ills and our society will metamorphosize into a moral hub of social order. Unfortunately, we lack marriage planning  and counseling centers in Kashmir. Besides, there is no problem if parents ask about the choice of their wards. Compatibility is a vital factor and golden rule in marriage.
The money which we spent on the lavish marriages can be exploited for the overall good and development of our society.The poor can be helped via this mode. This will make our society a just and humane and also please our creator Allah SWT.
Post-marriage step is a crucial phase in the life of a man. According to John D Gray, men are like rubber bands and women have a wavy nature. The married men and women ought to understand each other and have a regard for each other and their families. Patience is the essence of life. Differences can arise, but it is the role of the married persons to annihilate the crisis that makes inroads almost in everybody's life day-in and day-out and display a calm attitude thereof.
Kashmir history is witness to the fact that in some cases ,the demand of dowry ruins the marital bond during post-marriage time.In some cases, the daughters have committed suicide or have been dragged towards the same under the circumstances. There should be a total ban on the use of dowry in Kashmir. Government should rope in a permanent ordinance to ban lavish marriages and dowry in Kashmir. I was stunned when recently in a facebook post,it came to light that thousands of girls are unmarried in Kashmir. What causes that and who is to be blamed? Let's ponder over it….One day we have to answerable before Allah SWT about our worldly deeds as this life is too short.
The parents which raise a child in the hope of pillar of support tomorrow need to be respected and regarded by the daughter-in-laws. The in-laws become the parents of the women after marriage and they need to treat them equally in that perspective and kind regard. This creates a healthy atmosphere in the lives of couples during post-married life and turns as boost in arm to solidify their strength of oneness forever. Marriage is more than being together. It is a responsibility in vogue, vis-a-vis the creator and created. We can't turn a blind eye to this raw fact. This is all about the conjugal commitments.
Globally, youth are the largest poverty-stricken group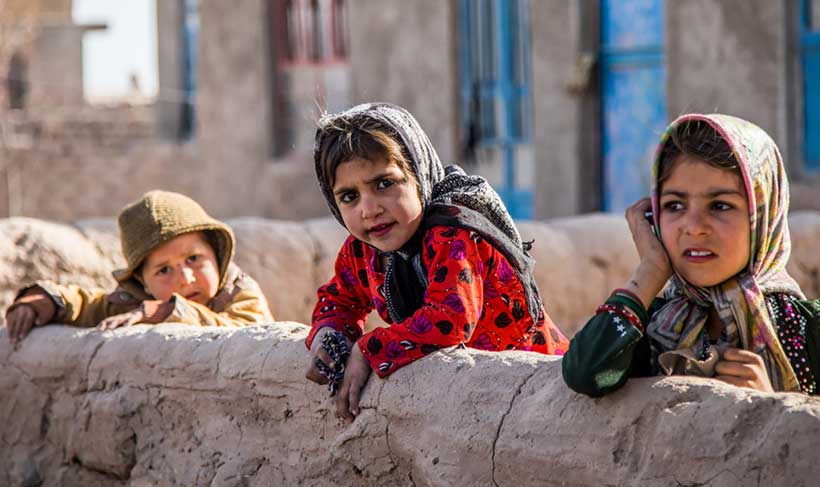 Half of all people living in poverty are younger than 18 years old, according to estimates from a new report released on Thursday by the United Nations Development Programme (UNDP) and partners.
The new figures in the 2018 global Multidimensional Poverty Index (MPI) show that in 104 primarily low- and middle-income countries, 662 million children are considered poor according to multiple different indicators. In 35 of these countries. Children account for at least 50 per cent of the total.
The 2018 MPI, produced by UNDP and the University of Oxford's Poverty and Human Development Initiative, provides the most comprehensive view of the many ways in which 1.3 billion people worldwide experience poverty in their daily lives.
The MPI looks beyond income to understand how people experience poverty in multiple and simultaneous ways across the three key dimensions of health, education and living standards; taking in factors such as a lack of clean water, sanitation, adequate nutrition or primary education.
According to the index, those who are deprived in at least one-third of the MPI's components are defined as "multidimensionally poor". The 2018 figures, which are closely aligned with the Sustainable Development Goals (SDGs), cover almost three-quarters of the world's population.
Some 1.3 billion people live in multidimensional poverty, which is almost a quarter of the population of the 104 countries used to calculate the 2018 MPI. Of these, 46 per cent are thought to be living in severe poverty.
"The Multidimensional Poverty Index gives insights that are vital for understanding the many ways in which people experience poverty, and it provides a new perspective on the scale and nature of global poverty while reminding us that eliminating it in all its forms is far from impossible," said UNDP chief Achim Steiner.
Progress is possible on poverty, argues UNDP chief
While the latest figures paint a stark picture of just how many are still left behind, they also demonstrate that progress can happen quickly with the right approach.
"Although the level of poverty – particularly in children – is staggering, so is the progress that can be made in tackling it," he added, pointing out that in India alone some 271 million have escaped multidimensional poverty "in just ten years."
The poverty rate there has nearly halved, falling from 55 per cent to 28 per cent over the ten-year period.
Although similar comparisons over time have not yet been calculated for other countries, the latest information from UNDP's Human Development Index, which was released last week, shows significant development progress in all regions, including many Sub-Saharan African countries.
Between 2006 and 2017, the life expectancy increased over seven years in Sub-Saharan Africa and by almost four in South Asia. Moreover, enrollment rates in primary education are up to 100 per cent.
The data shows that in addition to the 1.3 billion classified as poor, another 879 million risk slipping further into multidimensional poverty due to conflict, sickness, drought, unemployment and other setbacks.