IRENA, IGA and World Bank Team Up to Streamline Geothermal Energy Development
New country-level resource data gathering and classification effort to streamline geothermal investments and facilitate more projects around the world
Countries can expect a more robust and reliable set of procedures when screening a potential site for setting up geothermal energy projects, thanks to new geothermal resource data gathering and classification efforts being piloted by IRENA, the International Geothermal Association (IGA) and the World Bank, with the support of the Global Geothermal Alliance.
The specifications of the United Nations Framework Classification (UNFC) to Geothermal Energy Resources and Reserves provides a harmonised framework to qualify estimates of extractable geothermal energy by projects — taking into account economic viability, technical feasibility and geological confidence — that will help stimulate geothermal investments in countries where it is applied.
"Geothermal energy is fully recognised as a stable, reliable source of energy that can power economic development without contributing to climate change. As a result, globally we have seen a growing demand for geothermal projects and growing need for initial appraisals of potential sites for geothermal power, heat and other direct uses," says Henning Wuester, Director of IRENA's Knowledge, Policy and Finance Centre.
"Through collaboration between IRENA, the IGA and the World Bank we expect to develop and promote transparency and standardisation in the way resource assessments are conducted, reviewed and reported to promote a better understanding of the true potential and value of geothermal prospects," Wuester explains.
In September 2017, countries of the Global Geothermal Alliance, an IRENA initiative, agreed to work together to identify and implement measures to significantly increase the speed of geothermal energy development through the Florence Declaration. Standardisation of geothermal resource estimates in countries is key to achieving this, as it provides clarity to investors, regulators, governments and consumers — critical when considering development opportunities at both project, company and national level.
"The UNFC system, when applied, is expected to foster an easier understanding of the geothermal resource base in most countries, and facilitate effective valuation of geothermal fields, and as a consequence, increase access to finance for investments in the sector," adds Abdulmalik Oricha Ali, IRENA's coordinator for the project.
Since its official endorsement by the United Nations Economic Commission for Europe Committee on Sustainable Energy in 2016, the UNFC Geothermal Specifications have only been applied to single project case studies in just a few countries, but the new collaboration will see the classification for the first time applied to whole countries.
Piloting the initiative will involve authorities at national level in four countries with strong geothermal ambitions applying the UNFC to all geothermal projects in their country, and will include developing a near holistic picture of geothermal potential including maps and tables in IRENA's Global Atlas for Renewable Energy platform.
"Geothermal deserves a global standard. The IGA is excited to collaborate with IRENA and the World Bank to leverage the important work done on the UNFC geothermal resources and reserves classifications and standardisations," says Marit Brommer, Executive Director of the IGA. "Building strong partnerships at a multi-national level and jointly deploying industry-standards at national levels, will be crucial for the successful uptake of geothermal energy worldwide."
To be jointly implemented by IRENA and the IGA, with support from the World Bank's Energy Sector Management Assistance Program, the project will begin by reviewing and classifying the identified geothermal projects and resource estimates of Flores — an Indonesian island with 14 different geothermal projects, representing significant geothermal development activity.
Washington's Energy Conundrum in Syria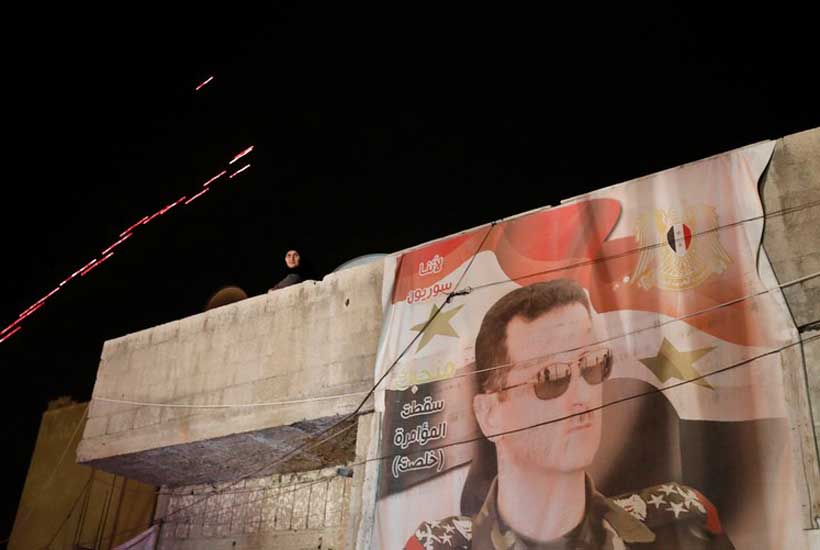 Geopolitics of energy dominates the crisis in Syria. Foreign powers continue to battle for control of natural gas resources and the trade routes that bring energy to consumers. The role of energy in expanding the conflict in Syria is crucial but important element is the fact that the Syrian army and the US-backed Syrian Democratic Forces (SDF) have made major gains against ISIS's hold over lucrative oil wells.
The US leverage over Syria's oil and gas fields such as the al-Omar and Tanak oil fields through the American supported SDF is a reported reality. Notably, al-Omar is Syria's largest oil field that produced approximately 30 thousand barrels per day before 2011 when the Syrian crisis erupted, while the Tanak field maintains 150 wells with capacity to produce around40 thousand barrels per day. This leverage can be used either as a bargaining chip in forthcoming negotiations with the Assad regime for the political future of Syria, or for finding new markets for the Arab country's energy. The latter can be achieved by supporting the construction of a pipeline that would transfer Syrian energy to either Turkey or Iraq.
Syrian oil controlled by the SDF could be transferred to the Kurdistan Regional Government (KRG) whose existing oil pipeline infrastructure will funnel Syrian energy to the European market. The benefits of this export option will be multifold for American policies in the region as the KRG will gain revenues in the form of royalties that could ease the budget crisis attributed to low oil prices and also fund the fight against the Islamic State (IS).
The US influence is also strengthened by the SDF's control of the two largest dams in Syria; the Tabqa dam a 824-MW powerhouse that is a key source for water, agriculture and electricity at Euphrates 25km west of Raqqah and, the Soviet-built dam in western Raqqah. The control towers and stations of both dams have been destroyed, and as consequence, heavy investment is needed for the development and redesigning of these facilities. This presents a golden opportunity for the US not only to implement its advanced technology in the two dams but also to solidify control over vital reservoirs that will grant Washington a major foothold in Syria.
It has to be noted that the combined capacity of Syria's two refineries at Banias and Homs is very low due to their significant damage once under the control of IS. Thus a major investment is required taking into account that neighboring export destinations like Turkey and Iraq lack of refineries that can treat Syrian crude oil with more than 0.5% sulfur. Reportedly, the only European country that can receive Syrian crude oil is Germany whose Beta facility is designed to accommodate high-sulfur and high-acid crudes.
Syria is also a promising zone of natural gas reserves in the territorial waters off its Mediterranean coast where Russia seeks to maintain investment in the energy sector. This is evidenced by the fact that energy giant Gazprom has reportedly taken over the gas exploration and drilling rights off the Syrian coast from Russian state-controlled Soyuzneftegaz, which in 2014 signed a 25-year agreement with the Syrian government that concedes exclusive exploration rights in Syria's Exclusive Economic Zone. Notably, Syria's offshore blocks 1 and 3 lie in an area contested by Lebanon and therefore a possible dispute between the two countries may impede Damascus from exploring its offshore oil and gas potential.
No doubt that the US presence in Syria can be solidified through control and investment over Syria's oil and gas fields. For example, American investment to restore the Conoco gas plant in eastern Syria currently under the control of the US-supported SDF can prove to be significant as it can produce almost 50 million cubic feet of gas per day. Also critical is the likelihood of American investment in the two cited largest dams that will provide Washington not only control over vital reservoirs but most important bargaining power in future negotiations with the Assad regime. Concurrently, the US can use Syria's reconstruction as an opportunity to push for stronger governance and transparency in the Syrian energy sector.
The resolution of the Syrian conflict as a prerequisite for the development of the country's untapped offshore gas resources and for attracting foreign investment in the context of regional energy cooperation is realistically important. Because this way, the monopolization of the Syrian regime by third countries that aim to control the shores of the Mediterranean, and thereby to establish export plants and control natural gas exported to third markets will be avoided.
Unquestionably, conflict resolution is the only way for the development of Syria's energy potential and for moving towards regional stability. Upon this context, challenges and opportunities facing American diplomacy lie ahead.
Why Hydrogen from Renewables May Hold the Key to a Low-Carbon Future
As the world strives to reduce emissions, power generation from renewables has emerged as a front runner in the low-carbon energy transformation. Today, renewables account for around a quarter of global power generation and 167 GW (more than the total installed electricity capacity of Brazil) were installed in 2017. Yet renewable energy's role in sectors such as transportation and industry lags.
While electric vehicle (EV) sales continue to rise (IRENA believes more than one billion EVs may be on our roads by 2050 under a climate-safe path) electrifying transportation beyond cars, buildings and industry is less viable, thus hindering the role renewable energy can play in these sectors. Hydrogen produced by renewable energy may hold the key to successfully overcoming this challenge, and reducing end-use emissions.
Launched during IRENA's Innovation Week, the agency's latest technology outlook 'Hydrogen from Renewable Power' outlines the potentially pivotal role hydrogen may play in a deeper energy transition. And, while hydrogen is already widely used in facilities such as chemicals plants and refineries, by switching the fuel used to produce it from hydrocarbons to renewable electricity, it can become a carrier of renewable energy, complementing the role solar and wind play in power production.
Here's why hydrogen could be critical:
No economically viable option exists to reduce the carbon emissions produced by around one-third of the energy sector. Combustible fuels remain critical to transport and industrial practices from aviation to refining, where electrification is currently not suitable. This could make hydrogen from renewables the missing link in the transformation of the global energy system.
Hydrogen from renewable energy can support higher shares of wind and solar energy in power sectors all over the world. Excess variable power (which is energy produced by intermittent wind and solar projects) can now be directed to hydrogen production and used in transport, industry or gas grid injection. Used in this way, hydrogen becomes a source of storage for renewable electricity, keeps power system flexible and helps to balance the grid.
Hydrogen offers possibilities to tap high quality renewable energy resources. Often, the best solar and wind resources are located far from end-users in cities and major urban centres. Hydrogen, once produced, can be transported on land (like liquefied natural gas) as a global commodity unconstrained by grid connections.
Hydrogen can take advantage of existing energy infrastructure. Up to a certain share, hydrogen can be injected into natural gas grids reducing the emissions of existing gas infrastructure, such as gas turbines for the power sector.
Fuelled by hydrogen, fuel cell electric vehicles (FCEVs) offer consumers a low emission driving performance similar to a conventional vehicle when the hydrogen is produced from renewable energy sources. Fuel cells vehicles can complement electric vehicles, overcoming the weight, range and charging limitations associated with EVs.
Hydrogen may become a key contributor to a potential 100 per cent renewable energy future. To get there however, costs reductions are necessary and only possible through economies of scale. With enabling policies and regulatory frameworks in place, more private investment will be stimulated allowing technologies to mature resulting in cost reductions.
From the expert: Dolf Gielen, Director of the IRENA Innovation and Technology Centre
"Hydrogen may have a very important role to play in the energy transition particularly if it can improve its cost-competitiveness. We believe that is possible if the production process utilises low-cost renewable electricity such as from wind and solar facilities. Large, off-grid hydrogen projects that are directly connected to solar and wind farms developed in the most suitable locations can potentially supply low-cost, 100% renewable, hydrogen. That will be a critical development for our low-carbon future."
IEA steps up its work on energy innovation as money flows into new energy tech companies
Investments are leading indicators of the direction of change in the energy sector. This is particularly true for investments in innovation and digitalisation, so-called "intangible assets" that will shape the technologies for supplying and using energy in the decades to come.
Across the economy, investments in long-lasting intangible assets – including software, R&D, data, management efficiency, branding – are growing and will be among the biggest sources of future productivity. In Europe, intangible investments are rising as a share of GDP, while those in more traditional, tangible capital assets are declining. In the United States, intangibles are already in the lead according to some estimates.
The International Energy Agency brings together the best global data on energy investments in its World Energy Investment report and Tracking Clean Energy Progress web platform, including investments in innovation.
Innovative energy technologies will be crucial to tackling environmental problems associated with energy use, as well as reducing consumer costs and increasing prosperity around the world. Both the public and private sectors play central roles in driving energy innovation, with private money flowing to new commercial opportunities, supported by government-backed markets that provide direction to innovative activities and government investment in novel, risky technology areas. To deliver the goals agreed by the 23 country signatories (plus the European Commission) of Mission Innovation, understanding the trends in the spending and the strategies of the private sector will be vital.
Electric mobility is leading an energy venture capital boom
The latest data on investments in start-ups from i3 shows a booming venture capital sector globally for energy technologies. Venture capital investors provide capital to multiple small companies with new ideas about how to deploy energy technologies, often combining technologies in novel ways in the hope of disrupting existing markets and delivering huge returns within five years if one of them is successful. While venture capital generally does not fund the underlying research, it is a good indicator of where people think there is scope for new technologies to meet customers' unsatisfied needs and unseat the existing energy order.
Venture capital investment in energy technologies is flourishing, with more money flowing in 2018 than in the first two quarters of any previous year. But whereas the previous highpoint in 2008 was led by renewables – notably solar – it is now transportation that is getting all the attention, mostly electric vehicles. To complete the switch from supply-side to demand-side technologies, funding for energy efficiency (especially related to connected-buildings technology) has been higher than for renewables so far in 2018.
As we have previously noted, several factors underpin this trend. First, innovation in clean energy hardware and venture capital are often not well matched. The timeframe needed to establish the viability of energy projects can be too long, the capital requirements for technology demonstration too high and the consumer value too low. Although there is a much more established market for solar panels today, compared to 2008, there is a still a serious need to deliver better renewable technologies to the market. Secondly, while the upswing of investments is striking, the total number of deals was actually falling until this year, when it saw an 18% increase compared to the first half of 2017. What has changed is the willingness of investors – especially in Asia – to place a small number of very large bets on electric vehicle companies, which represent the hottest part of the market today.
Energy is still far from joining the ranks of biotechnology and software as a hundred-billion-dollar venture capital market. However, by combining spillovers from rapid digital technology advances with expectations of revolution in the transport system, it is currently in a growth phase. If consumers respond favourably, some of these digital and mobility ideas could be deployed at scales of millions of units relatively quickly; at such a scale new generations would be developed each year and performance improved dramatically. But is unclear whether the excitement around, for example, batteries for electric mobility could stimulate venture capital investment in electricity storage for the grid or whether venture capital will play a significant role in energy supply technology development. Markets for stored electricity are not poised to deliver such high returns in the near term and venture capital is not usually patient.
Changes and new entrants in corporate energy innovation strategy
Corporate venture capital can take a slightly more long-term view, but still more short-term than traditional corporate R&D programmes. High levels of technological uncertainty in today's energy sector, coupled with rising competition between firms in different regions and, increasingly, different sectors, support a shift in the patterns of corporate innovation funding.
We estimate that global corporate spending on energy R&D grew 3% in 2017, to USD 88 billion, but is still lower than it was in 2014, before the oil price slumped. Over recent decades, these budgets have become less centralised and more integrated with product development in individual business units. Many major companies devote no more than one-tenth to one-third of their total R&D budgets to new technologies, with the bulk of spending going to incremental improvements of existing technologies. Given the high expectations for fundamental changes in the energy system and uncertainty about the timing and technologies involved, firms are trying to make their research budgets work as hard as possible.
Digitalisation, in particular, enables companies to place more small bets on emerging technologies and to be open to changing direction quickly. New technologies for software and digital-based products have shorter innovation cycles and can be brought to the market quicker. They require less investment and fewer consumables, and they can be prototyped more quickly and tested in a variety of environments simultaneously and do not need costly manufacturing facilities or value chains to be deployed. The result can be a lower unit cost of innovation. But it also opens energy companies up to competition from firms with core competences in information and communication technologies (ICT).
In 2017, total investment in energy technology start-ups by corporations – i.e. companies primarily engaged in making and selling non-financial products – reached USD 6.1 billion. This was a big increase compared to 2016, and was driven largely by investments by ICT companies alongside more traditional energy sector companies, including oil and gas and utilities and automakers. As with energy venture capital in general, the overall trend underpinned by several very large deals, especially in Asia. Notable deals in 2017 included Tencent and Baidu's investments in Tesla, NIO and WM Motors; Intel's investment in Volocoptor electric helicopters; Qualcomm's investment in CargoX truck logistics; and China Mobile's investment in Ninebot electric scooters.
In some cases, the entry of firms from sectors such as ICT into parts of the energy industry is forcing companies to change their perceptions of who they should consider their competitors to be.
There are several reasons large established companies provide capital to early-stage technology companies. They might see it as a good investment on a purely financial basis, but more commonly it is seen as an investment in learning about a technology, acquiring human capital, and building a relationship with the technology owner that would smooth the path to licensing or buying the technology if it is successful. In general, this approach is used with technologies that are currently outside the core competence of the corporate investor but that could add significant value to existing businesses if the market developed in that direction. Given the value of innovation to many large energy companies, corporate venture capital (CVC) finance and even growth equity (a type of private equity investment) can cost less and involve less risk than developing a technology in-house. It can also shield the developers from the strict evaluations placed on internal R&D projects housed in existing business units. For a start-up company, a CVC investor can provide access to expertise and customers that can give it a better chance of maturing quickly.
Among oil and gas companies, a noticeable recent trend is a shift away from technology areas that complement their existing infrastructure – such as bioenergy, CCUS and fossil fuel supply technologies – and towards technologies that could complement their broader capabilities or let them explore new business areas. Utilities have also increased their funding of energy technology start-ups. Worldwide, they spent a record USD 0.7 billion in 2017, surpassing the previous high of 2013 and the tail end of the clean tech boom. Solar power, electricity storage and, to a lesser extent, smart-grid technologies have been the main focus of utility funding in recent years, but growth in 2017 was driven largely by transport technologies, which took one-half of the total, and wind power technologies, which took one-quarter.
As innovation evolves, the IEA is helping policies to adapt
A growing number of energy companies are separating the teams that are focused on innovation outside their core competences, and that could in some cases undermine their existing businesses, from the governance structures of typical corporate R&D. Rather than having large budgets for research linked to sustaining existing businesses, these teams generally pursue a wider range of innovation management activities, often with lower capital requirements. These activities include VC funding, internal innovation competitions, pilot testing of competing options and more strategic partnerships with firms outside their traditional sectors. To manage risks in highly uncertain and unfamiliar technology areas, collaboration with technology suppliers, customers or across business units tends to play a larger role than in traditional corporate R&D.
Changes to the ways that new energy technologies are developed and commercialised by the private sector can require changes in the ways that governments incentivise and track innovation. Having a strong ecosystem of research institutions and energy entrepreneurs can be more valuable than tax breaks and R&D funding for making a country attractive to a large company as a place to undertake novel projects. Absolute corporate expenditure on R&D may become less closely linked to the pace of corporate innovation in low-carbon technologies. The need to collaborate to rapidly test and scale up ideas can reduce companies' incentives to create and defend in-house intellectual property. Policy makers may need to ensure that their national or regional policies also support the improvements to capital-intensive hardware solutions needed to tackle climate change. In these areas, patient government capital for higher-risk technologies could become even more vital.
The IEA takes this public policy challenge seriously and is strengthening its work on innovation around the world. For example, on 30 September 2018, we signed a Memorandum of Understanding with India on collaboration on clean energy innovation as part of our Clean Energy Transitions Programme. We are also enhancing collaboration with Brazil and other key partner countries. Through this programme, plus our ongoing close cooperation with Mission Innovation and our leading network of Technology Collaboration Programmes, the IEA aims to support countries to have the best data and analysis on public and private sector energy R&D at their fingertips and apply international best practice in policy making.
The commentary is based on an excerpt from World Energy Investment 2018 and interviews conducted with corporate R&D leaders in late 2017 and early 2018. Source: IEA