China's Role in the Korean Peninsula as Irreplaceable
From March 25 to 28, DPRK leader Kim Jong-un paid an unofficial visit to China. During the visit, Xi Jinping held talks with Kim in Beijing. This sudden visit surprised the world, yet the world leaders and heads of major international organizations have hailed as positive the meetings between Xi and Kim. For example, UN spokesman said in a statement that "the latest positive developments are the start of a longer process of sincere dialogue, leading to sustainable peace and denuclearization on the Korean Peninsula." White House spokeswoman Sarah Sanders then said, "We're going to be cautiously optimistic, but we feel like things are moving in the right direction."
Over the past year, the world has been concerned with and somehow confused with what role of China will be in the settlement of the nuclear issue of the Korean peninsula. Some scholars from both China and some other countries have even asserted that China has lost the leverage in a sense on the Korean nuclear issue. Actually, South Korea openly stated that China is expected to continue playing a leading role in the whole issue. If people are serious to read through the "Four-points" proposal by Xi during his meeting with Kim, it is self-evident that China has confidently and also quietly played the irreplaceable role in driving a peaceful settlement of the Korean issue.
Firstly, China once again comes back to play the "pivotal role" during the peace process in Northeast Asia after the six-party talks came to a halt year ago. True, China has insisted on diplomacy which means under the mandate of the UN Security Council to bring all parties concerned to the table. Now, Beijing has to navigate the course of denuclearization proactively to protect two sides' common core security stakes when Kim reportedly promised to give up his nuclear program if the United States and South Korea respond his proposal with good will.
Second, China and North Korea agreed to resume their long-time traditional relationship, including party-to-party ties. As Xi frankly spoke, party-to-party and state-to-state relations are the common treasure to both sides. Then, safeguarding, consolidating and developing China- DPRK relations are unswerving guidelines for China's foreign policy and security strategy. In light of the uncertainties in Sino-U.S. relations, it is vital for China to make sure that the Korean issue must be resolved through "purely peaceful mean".
Third, Xi welcomed that both sides will increase high-level exchanges with a view to strengthening strategic communications and expand full cooperation. Given two sides' shared destinies in geopolitical, economic development and now ideological affinity, China and North Korea have agreed to enhance their high-level exchanges that have played a leading role in promoting bilateral relations since the 1950s.
Fourth, Xi highlighted that China will continue to play its constructive role and stand ready to work with all parties, including the DPRK, to jointly strengthen China's proposed dual-track approach, and work for the denuclearization of the Korean Peninsula and the establishment of long-term peace and stability in the region and the world. For the first time since he took power in 2011, Kim stated "he would work on carrying forward and developing the traditional DPRK-China friendship as required by the new era."
Now it is still too early to say that the meeting between Kim and Trump as scheduled in May will be fruitful and friendly. But it is evident that China once again resumes its traditional role and huge regional influence in shaping peace and stability if not the security outlook in East Asia. In light of this, China will do what it can to help insure "no change of regime by force and denuclearization at the same time in the Korean Peninsula".
In the meantime, it is necessary to be aware that the United States is still the key player in the region including the Korean Peninsula, since Trump was arrogant to say that "maximum sanctions against DPRK and pressure on it must be maintained at all cost!" Yet, during his stay in Beijing, Kim stressed that he was committed to denuclearization and confirmed that he was willing to attend a summit with the United States. Consider all these, China is expected to use all means to enhance the comprehensive strategic partnership with Russia, to strengthen mutual cooperation with S. Korea and to further persuade N. Korea to go forward to the meeting with ROK President Moon Jae-in scheduled for April, and the planned face-to-face talks with US President Donald Trump penciled in to take place by the end of May. If all these meetings go well, the Korean Olympic spirit would be turned into a political reality.
Taiwan's International Status: "A Country Within a Country"
In California, a recent meeting was held between the President of Taiwan, Tsai Ing-wen, and the U.S. House Speaker, Mr. Kevin McCarthy, which holds political significance. This aforementioned meeting facilitated a negative shift in the bilateral relations between China and Taiwan. The latent hostilities between China and Taiwan possess the potential to escalate into full-scale armed conflict at any given juncture.
The proposal
The incongruent dynamic existing between China and Taiwan has persisted since 1949, when Taiwan made the conscious decision to separate from mainland China.
From 1949 onwards, China and Taiwan have been embroiled in a geopolitical imbroglio pertaining to their respective territorial integrity and claims of sovereignty. The Chinese government asserts that Taiwan is an integral component of its sovereign geography. On the contrary, Taiwan is assertive of its autonomy as a distinct, self-governing entity that operates independently and is no longer subject to Chinese jurisdiction.
The discordant relationship between the two sides which has escalated over the preceding biennium, potentially heightening the likelihood of military confrontation.
Over the course of the past two years, there have been several instances in which China has deployed the Chinese People's Liberation Army (PLA) to conduct military maneuvers in close proximity to Taiwan. The aforementioned initiative was aimed at preventing any activities fueled by Taiwan that could have been construed as provocative and potentially encroach on China's claims of rightful control over Taiwan's sovereignty and territorial boundaries
The persistent geopolitical tensions between China and Taiwan since 1949 can be attributed to diverging opinions regarding the formal recognition of Taiwan, in particular, the contentious matter of Taiwan's sovereignty. Tensions will continue Between China and Taiwan until Taiwan becomes independent or recognizes its self-identification as a constituent part of China.
Since 1949, the China has exerted persistent pressure upon Taiwan to acquiesce to the notion of reunification or the incorporation of Taiwan into the mainland territory of China. Nevertheless, it appears that Taiwan's internal political circumstance and dynamics persist in maintaining its political choices and ideology as a democratic and self-governing entity.
The prolonged inability of both parties to develop a more extensive and adaptable resolution or methodology to address the matter implies that the aspiration to "normalize" relations between China and Taiwan continues to exist solely within the realm of rhetoric.
In order to achieve the objective of unification under the the idea of the "One China Principle" or One China Policy and to surmount the political divergence concerning Taiwan's official position, has engendered several propositions by China aimed at resolving this issue. A proposed approach adopt the implementation of a "one country, two systems" protocol akin to that employed in Hong Kong and Macau.
The Chinese government has expressed that the policy is exceedingly permissive and capable of surmounting the distinct system variances that exist between the mainland region of China and Taiwan.
The proposal of "special administrative region" attributed to Taiwan enables the continued preservation of its economic, social, and security system that they have built so far, while attenuating or obviating any undue influence or interference by China. Nonetheless, the aforementioned proposal appears to be insufficient in instigating political transformation in Taiwan, given the persistent refusal of Taiwanese individuals and governmental officials to endorse unification and uphold their desire for independence.
In view of China, safeguarding Taiwan and accomplishing the complete unification of the country is not solely a matter of fulfilling its constitutional obligations, but also serves the purpose of preserving its stature as a dominant and revered nation on the global stage.
In contrast, Taiwan persistently endeavors to establish diplomatic and cross-strait relations through a range of diverse strategies and approaches with multiple nations across the globe. The clear objective is to secure the hearts and compassion of the global populace. Taiwan undertook this action with the aim of restoring its position in the global arena and paving the way for its eventual recognition as a self-governing entity with full political autonomy.
"Country within a country"
Again, the China-Taiwan issue is rooted in a territorial and sovereignty perspectives. In the global arena, China maintains a comparatively advantageous position. China, is a prominent participant in the United Nations, the most extensive intergovernmental organization encompassing numerous states worldwide, Positioning itself as a powerful participant in the direction and reflection of global politics. Furthermore, China belongs to "the distinguished" member of UN Security Council's five permanent members, which has so far strong and great influence on world politics.
On the other hand, the international position held by Taiwan is considerably intricate. The question regarding the statehood of Taiwan remains a matter of unsettled dispute, given the absence of any universally recognized body empowered to render definitive judgments regarding the status of a nation-state.
Since the adoption of Resolution A/RES/2758 by the UN General Assembly on October 25, 1971, Taiwan has lost its international "stage". This is because the resolution affirms China as the sole legitimate representative of China to the United Nations and consequentially nullifies Taiwan's membership from the organization.
It is a well-documented reality that numerous nations have forged informal diplomatic ties with Taiwan, particularly in the realm of trade and investment. The United States, for instance, has solidified such relations through the Taiwan Relations Act. To the present day, a limited number of 22 nations have formally acknowledged and established official diplomatic intercourse with Taiwan. A notable aspect is that the majority of these nations lack any substantial sway or significant leverage on the international political sphere. Specifically, countries of comparatively small size in the African and Latin American regions, namely Haiti, Belize, and Tuvalu.
Taiwan has indeed met the three constitutive elements or absolute requisites deemed necessary for a country as exemplified by the 1933 Montevideo Convention. These components include the presence of a defined territorial boundary, a functioning populace, and a duly constituted government. However, Taiwan lacks a crucial element in its diplomatic status, namely the recognition from the international community through a declarative act.
The restricted global acknowledgement of Taiwan undoubtedly carries considerable political and legal ramifications. Recognition is widely regarded as the key component in modern international politics that has the potential to enhance the legitimacy and sovereignty of a given state.
Taiwan faces formidable challenges in achieving recognition. In order to attain successful governance, Taiwan must display adeptness in efficiently managing both internal and external political dynamics. Otherwise, the current state of affairs will persist, leading to Taiwan's classification as a "subnational entity" Or "A country within a country".
Ultimately, the resolution of the China and Taiwan conflict proves to be a formidable challenge. In order to mitigate potential future crises and uphold regional and international stability, it is necessary for China and Taiwan to refrain from engaging in provocative actions. It is imperative to adopt a cooperative approach through negotiations and concessions that are all-encompassing and pertinent, in order to attain a sustainable resolution that caters to the interests of both China and Taiwan's populace of 23 million, while acknowledging and adapting to their respective challenges and circumstances.
The Sino-Russian-led World Order: A Better Choice for the Globe?
International forums, which were once established to promote cooperation and dialogue among the world's states, are now increasingly being used as platforms for confrontation and accusation. The recent example of G20 and G7 summits, where China and Russia faced criticism and isolation from Western countries over the Indo-pacific and their actions in Ukraine, plus India's accusation of Pakistan as a terrorist sponsor state in the SCO summit, illustrate these trends. Instead of working towards finding a solution to pressing global problems, these meetings have devolved into platforms for airing grievances and pointing fingers – this shift in focus has undermined the effectiveness of these forums in addressing the very issues they were created to solve.
At their recent summit in Hiroshima, Japan, the G7 leaders issued their strongest-ever condemnation of Russia and China. They accused them of using economic coercion and militarizing the South China Sea and urged them to push Russia to withdraw its troops from Ukraine. Furthermore, at the G7 summit, leaders of the significant democracies pledged additional measures targeting Russia and spoke with a united voice on their growing concern over China.
Similarly, in Feb 2023, at the G20 finance minister's summit held in Bengaluru, Russia and China declined to sign a joint statement condemning Russia's invasion of Ukraine, and of course, as a sovereign state, Russia has the right to defend its territory and combat threats that pose a danger to its survival. These are just a few instances that illustrate how the Western world reacts to the actions and policies of China and Russia on the global stage.
Consequently, this recent condemnation and blaming at the Hiroshima summit demonstrate that international forums can no longer address serious global issues; instead, they have become arenas for blaming and accusing one another. This shift in the nature of international forums has significant implications for global governance and cooperation – It highlights the need for the failure of the current global system dominated by the Western bloc.
Besides, accusing states such as China and Russia at international forums is not a solution to global problems; instead, it can exacerbate regional tension and promote anti-sentiment against influential states. Furthermore, instead of promoting cooperation and dialogue, such accusations can foster an environment of mistrust and hostility, making it more challenging to find common ground and work towards resolving global issues.
In one of my previous papers, I argued that "the contemporary geopolitical landscape is characterized by escalating tension between the United States and its allies and China and Russia. This can be attributed to the absence of transparent and inclusive unipolar world order that effectively addresses the interests and concerns of all nations."
I further elaborated that the US and its allies are not inclined to recognize the emergence of a Sino-Russian-led world order, as evidenced by the recent summit development. The West has frequently chastised China and Russia for their autocratic governments, breaches of human rights, and expansionist ambitions. Such claims, however, are based on a skewed and obsolete understanding of the global system that ignores the two countries' legitimate interests and aspirations. Instead of making allegations, the Western world should be grateful for the Sino-Russian-led international system, which provides a more democratic, multipolar, and peaceful alternative to the US-dominated regional hegemony.
To begin with, the Sino-Russian-led international order is more democratic than the Western one since it recognizes the globe's diversity of political systems and cultures. China and Russia do not push their ideals or ideologies on other countries but instead encourage them to exercise their sovereignty and self-determination. They also reject any influence or intervention in the domestic affairs of other countries, particularly by the United States and its allies. In contrast, the Western world has frequently employed economic and military force to compel or remove governments that do not share its interests or tastes. Iraq, Libya, Syria, Venezuela, and Iran are a few examples. Such operations have breached international law and generated insecurity and misery in several places.
Second, the Sino-Russian-led international order is more multipolar than the Western one because it balances the strength and influence of many global players. With expanding economic, military, and diplomatic capacities, China and Russia have emerged as crucial powers in the twenty-first century. They have also formed strategic alliances with other growing nations, including India, Brazil, South Africa, Turkey, and Iran. They have joined forces to oppose the US-led unipolar system and call for more egalitarian and inclusive global governance. On the other hand, the Western world has attempted to preserve its domination and hegemony over other countries, particularly in regions such as Europe, Asia-Pacific, the Middle East, and Africa. Many countries seeking greater autonomy have expressed displeasure and hostility to such a system.
Third, the Sino-Russian world order is more peaceful than the Western one because it values discussion and collaboration above confrontation and war. China and Russia have settled their historical differences and formed a comprehensive strategic alliance based on mutual trust and respect. They have also collaborated on several regional and global concerns, including counter-terrorism, non-proliferation, climate change, energy security, and pandemic response. They have also backed international institutions and procedures such as the United Nations (UN), Shanghai Cooperation Organization (SCO), BRICS (Brazil-Russia-India-China-South Africa), Eurasian Economic Union (EAEU), Belt and Road Initiative (BRI), and others. In contrast, the Western world has frequently instigated or intensified tensions and disagreements with other countries, particularly China and Russia. A few examples are NATO expansion, missile defense deployment, sanctions system, and commerce.
Finally, international forums have the potential to promote cooperation and dialogue among nations; however, their effectiveness is hindered when they become platforms for confrontation and accusation. In contrast, the Sino-Russian-led world order is a superior choice for the globe to the Western one. It is more democratic because it values diversity; multipolar because it balances power; and more peaceful because it promotes dialogue – thus, rather than criticizing, the Western world should commend the international order led by Sino-Russian cooperation.
In conclusion, while international forums have the potential to promote cooperation among nations, they are increasingly being used for confrontation. In this context, the Sino-Russian-led world order offers a more democratic and peaceful alternative to the US-dominated hegemony and may be a better choice for promoting global cooperation.
Beijing's Continued Repression of Religious Minorities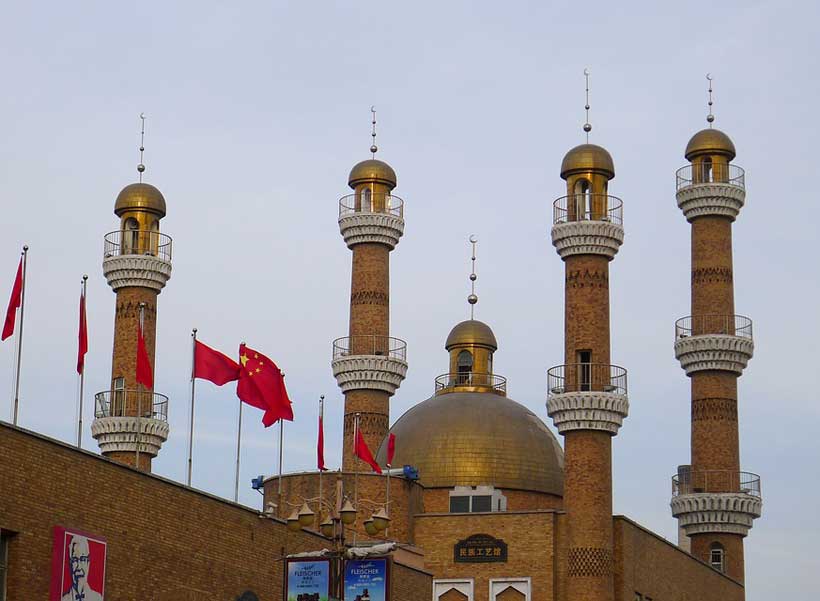 On May 24, a new U.S. congressional committee on China approved reports pushing back on Beijing over its treatment of Uyghurs and other ethnic minorities. The committee has highlighted what Washington says is an ongoing genocide against Uyghurs and other ethnic minorities in China's Xinjiang region. In March this year, a U.S. official told Newsweek she was "especially alarmed" by China's placement of 1 million Tibetan children in a residential school system, which Beijing said was part of a broader poverty alleviation program.
The treatment of both Muslim Uyghur population in Xinjiang, and the Buddhist population in Tibet, by the People's Republic of China (PRC), created by the Chinese Communist Party (CCP) in 1949, officially an atheist state has been coming under increased scrutiny in the past few years. China's policies towards religious minorities as a whole have developed from the CCP's sense of concern about the threat to its authority posed by organised religion.
Anti Religious campaigns were launched in 1949, under the direction of Chinese Communist Party (CCP) Chairman Mao Zedong but these became particularly active during the Cultural Revolution (1966–76). The possession of religious texts was also criminalised. Carte blanche to attack and take action against religious institutions that were seen as representatives of the old 'feudal' order was given, and repression and atrocities were committed throughout all of the regions of China, the non-Han areas, including Tibet and Xinjiang, were affected particularly badly. Thousands of Tibetans escaped to India with sacred texts and compiled teachings in exile communities.
The 1982 Constitution made a clear distinction between what it described as normal religious activities and those that threatened the stability of the state, "The state protects normal religious activities. No one may use religion to make an attack on the order of society, harm the physical health of citizens, or impede the activities of the state's education system." 'Normal religious activities' is interpreted to mean religious activities carried out by religious bodies that have official government approval.
The Chinese government, led by Jiang Zemin from 1989 to 2002, commenced the persecution of Falun Gong and the Tibetan Buddhists. The persecution of Tibetan Buddhists escalated under Hu Jintao. The announcement by China's foreign ministry in 2011 that only Beijing could appoint the 15th Dalai Lama, led to the self immolation of a monk Tsewang Norbu, at Nyitso monastery, whilst chanting "Long live the Dalai Lama" and "Tibetan people want freedom." After Xi Jinping adjured Party members in 2016 to act as "unyielding Marxist atheists," China intensified anti-religious campaigns in the country. Since then the persecution and targeting of Tibetans and of Tibetan Buddhist monasteries, has intensified.
Chinese military surveillance units have been installed at Kirti Monastery, Yarchen Gar, Shak Rongpo Gaden Dargyeling Monastery, and at other monasteries. In a report dated November 1993 The Christian Science Monitor had reported that, "an influx of Chinese into the region, along with Beijing's expanding infiltration of monasteries, threatens to bury Tibetan culture." one Tibetan Buddhist monk says, "In the past, the party attacked Tibet's monasteries with guns and tanks,"… "But today the government uses undercover police and management committees to attack us from within.This is a much more sophisticated method of causing the slow death of Tibetan Buddhism." Tibetan Buddhism has a deep relationship with the Tibetan identity and this is precisely why China's approach is to impose its own Chinese brand of Buddhism onto the Tibetans. If the Chinese authorities can control Tibetan Buddhism, then they can control the Tibetan identity. Today thousands of Tibetans are languishing in prisons and detention centres strewn across the region's mountainous terrain. In 2022, the U.S. imposed sanctions on two officials, namely Wu Yingjie, Communist Party Secretary of Tibet from 2016 to 2021, and Zhang Hongbo, the region's police chief since 2018, for the arbitrary detention and physical abuse of members of religious minority groups in the Tibetan Autonomous Region.
China is persecuting all minorities and it has different rationales for doing it. In 2018 the Associated Press reported that that "Xi is waging the most severe systematic suppression of Christianity in the country since religious freedom was written into the Chinese constitution in 1982." This has involved "destroying crosses, burning bibles, shutting churches and ordering followers to sign papers renouncing their faith," actions taken against "so-called underground or house churches that defy government restrictions. Pastors have received instructions in 2023 to"teach parishioners to "always follow the Party," and 'study Xi Jinping Thought on Socialism with Chinese Characteristics for the New Era."
The treatment of Uyghur Muslims makes many of the headlines from China, as does the rejection of these reports by Beijing. Uighur Muslims are subject to heavy surveillance as part of the Chinese Communist Party's efforts to eliminate cultural, linguistic and religious differences from the country's majority Han culture. Evidence suggests that the CCP is engaged in a campaign to eradicate culturally, if not physically, the Uyghur Muslims. While releasing the US Department of State's Annual report on religious freedom around the world for 2022, Rashad Hussain, the US ambassador-at-large for international religious freedom said, "The PRC government continue[s] to commit genocide and crimes against humanity against Uighurs, who are predominantly Muslim, and members of other ethnic and religious minority groups." It is difficult to precisely estimate the total number of Muslims in China and the Xinjiang Uyghur Autonomous Region (Eastern Turkestan). Muslims of the Xinjiang region speak Turkic languages, mainly Uyghur and Kazakh. Party policy towards Uyghur though always discriminatory, further tightened after 2014 when Xi Jingping visited the region and called for a "period of painful interventionary treatment" and the installation of Chen Quangao as CCP secretary for the region in August 2016. Thereafter the suppression of Uyghur religious practices, political indoctrination intensified through arbitrary detention of Uyghurs in state-sponsored internment camps, forced labour, severe ill-treatment,forced sterilisation, forced contraception,and forced abortion.
China frames its activities in the region as countering extremism. According to Maya Wang, acting China director at Human Rights Watch (HRW), "The Chinese government outrageously yet dangerously conflates Islam with violent extremism to justify its abhorrent abuses against Turkic Muslims in Xinjiang."It has now been widely reported that the Chinese government has arbitrarily detained more than a million Muslims in reeducation camps since 2017. Initially China denied the existence of any detention camps in Xinjiang, but in 2018, said it had set up "vocational training centres" necessary to curb what it said was terrorism, separatism and religious radicalism in the region.
Diverse ethnic and religious groups are considered threats to China's regime legitimacy, and a challenge to Han centric ethnocentrism. China's repressive policies in Xinjiang were the subject of a landmark report by the United Nations Human Rights Office in November 2022. However it was a diplomatic victory for China as the proposal from Britain, Turkey, the United States and other mostly Western countries to hold a debate on alleged rights abuses against Muslim Uyghurs and other ethnic minorities in China's western Xinjiang region was voted down. The US is not alone in finding China's activities in gingeng crimes against humanity; Belgium, Canada, UK have concurred that 'genocide' is underway in Xinjiang, but other countries in the Asia Pacific region Japan, Australian, New Zealand have demurred from holding China accountable. China's centrality to the global economy, large and powerful military, and permanent membership of the United Nations' Security Council complicate the use of conventional diplomatic and economic policy levers to help ameliorate the plight of the minorities.