Madagascar Receives $100 Million to Improve Learning in Basic Education
The World Bank Group and the Global Partnership for Education (GPE)* approved today a grant totaling $100 million to improve learning outcomes within the first two sub-cycles of basic education in Madagascar.
This funding, the highest received so far to support education in Madagascar, consists of a $55 million grant by the World Bank's International Development Association (IDA)* and a $45.7 million grant by the GPE. It will support the implementation of reforms outlined in the country's Sectoral Education Plan (2018-2022).
"Madagascar's National Development Plan is prioritizing social expenditures such as education, health, social welfare, water, and sanitation. This financing is critical to strengthening the education system and expanding the vocational skills required to build human capital in the country. The Malagasy government commits to ensuring that all the conditions are in place to successfully implement this plan," declared Vonintsalama Sehenosoa ANDRIAMBOLOLONA, Minister of Finance and Budget.
In Madagascar, four out of ten children in primary school drop out before reaching the last grade. The repetition rate for the first year of school is among the highest in Sub-Saharan Africa. About 80% of the teachers, that is 80,000 teachers, have no formal teacher training. The 2016 Service Delivery Indicators (SDI) survey has also highlighted that public primary school teachers lack pedagogical competencies.
The joint World Bank/GPE funding aims to improve student learning in the first two years of primary education in public schools. The objective is to increase the number of words correctly read from 24 to 35 per minute and reduce the repetition rate (of the first two grades) to no more than 12% of students per year. Teacher training will also be strengthened, with a focus on teaching reading and math competency. The project will also seek to improve attendance, reduce the dropout rate, and better prepare children for school.
In addition, 1,000 early learning centers are planned to be established in partnership with local communities, along with the construction of 800 furnished classrooms complete with restrooms and running water.
Moreover, the project will seek to improve the management of public schools through an equitable national school grant system and professionalizing the capacities of school principals. If the results in participating schools, school districts (CISCO), and regional education authorities (DREN) are attained, the project will provide an additional $29 million.
"A GPE partner since 2005, Madagascar has shown strong commitment to delivering quality education to more of its children," notes Alice Albright, Chief Executive Officer of the Global Partnership for Education. "Its work on education is essential to the country's nation-building mission."
The project has an ambitious target of reaching more than 4.7 million beneficiaries. It plans to enroll 4,6 million children in primary school and 80,000 children in supported early learning centers, as well as train 35,000 primary school teachers, 6,500 preschool community educators, 4,000 community school-board members, and 20,000 school directors and local supervisors.
"The World Bank Group's Country Partnership Framework (CPF) with the Republic of Madagascar aims to strengthen children's human development as its first objective. In order to have inclusive and sustainable growth, we must first and foremost ensure that people have a good start in life from an early age," says Coralie Gevers, World Bank Country Manager for Madagascar.
WEF initiative pledges to equip 20 million ASEAN workers with digital skills by 2020
A coalition of major tech companies pledged today to develop digital skills for the ASEAN workforce. The pledge, part of the World Economic Forum's Digital ASEAN initiative, aims to train by 2020 some 20 million people in South-East Asia, especially those working in small- and medium-size enterprises.
Other goals include raising $2 million in contributions to provide scholarships for ASEAN technology students, ensuring an additional 200,000 digital workers are hired across the region, and engaging at least 20,000 citizens through "Digital Inspiration Days", whereby companies invite students and the public to visit their offices and learn more about the character of the jobs of the future. There will also be internship opportunities for ASEAN university students, as well as initiatives to train digital regulators and shape the curricula of technology and computing courses at 20 ASEAN universities.
The aim of the pledge is to establish a regional movement among businesses committed to empowering individuals through skilling, reskilling and upskilling. It will not only increase the number of workers hired for digital jobs and trained in digital skills, but also help support business leaders with insight and analysis of what other companies in the region are doing to build a future-focused workforce.
"The Fourth Industrial Revolution is unfolding at accelerating speed and changing the skills that workers will need for the jobs of the future," said Justin Wood, Head of Asia Pacific and Member of the Executive Committee at the World Economic Forum. "These changes are happening just as the working-age population in ASEAN is expanding by 11,000 people every day – a rate that will continue for the next 15 years. Given these trends, it's critical that businesses help to build digital skills in ASEAN."
Called "ASEAN Digital Skills Vision 2020", the public pledge is open for all companies to join, but a number of early champions have already made strong commitments. Google has pledged to train 3 million SME employees throughout the ASEAN region by the end of 2020, while Cisco, Lazada, Microsoft, and the Sea Group have pledged to train another 5,634,000 SME workers.
The pledge also calls for companies to offer ASEAN citizens the opportunity to participate in Digital Inspiration Days, and Cisco, Microsoft, Grab and Sea Group have collectively committed to offer the opportunity to 1,035,000 ASEAN citizens by 2020. Similarly, the pledge calls for internships for ASEAN university students, and Microsoft, Sea Group and Tokopedia together have committed to hire 18,000 interns. Microsoft has also pledged to hire 8,500 ASEAN digital workers by 2020.
Supported by the Forum's Digital ASEAN initiative, success stories and innovative approaches will be shared through an online platform to magnify their impact, and a series of workshops involving the private sector and government will be staged over the next two years to ensure the efforts of businesses both align with, and help to shape, public policy on training and education.
Pichet Durongkaveroj, Minister of Digital Economy and Society of Thailand, and one of the advisers of the Digital ASEAN initiative, said: "The rise of artificial intelligence and advanced robotics is creating concern about the future of work. But I am more optimistic. I believe that if workers have the right skills, the Fourth Industrial Revolution will be highly empowering and will lift wages and living standards in Thailand and across the region. But we need to make sure that workers receive the right training and education today."
Rajan Anandan, Vice-President for India and South-East Asia at Google, said: "ASEAN could see an uplift of $1 trillion in GDP by 2025 by using its digital economy to accelerate intra-regional trade and growth. SMEs will be the key to this growth and their digital workforce will be the change agents in their communities. We're committed to supporting South-East Asia's promising digital economy."
Forrest Li, Chairman and Chief Executive Officer of the Sea Group, said: "The ASEAN region is brimming with entrepreneurial potential. But for SMEs to start businesses and grow them successfully, they'll need to learn the right skills for the Fourth Industrial Revolution. Building on our existing efforts to enable SMEs around the region to benefit from the opportunity of e-commerce, we are committed to making a major contribution to providing these skills."
Naveen Menon, President of Cisco Systems in ASEAN, said: "ASEAN's economy is poised to grow further as digital innovation and adoption gather pace. However, the increased adoption of technology will result in a change in the nature of jobs and workforce requirements across the region, which demands rapidly reskilling. We are committed to work with all stakeholders to build a sustainable pool of homegrown talent in ASEAN."
Lucy Peng, Chairwoman and Chief Executive Officer of the Lazada Group, said taking part in the World Economic Forum pledge is one of the key levers to create an inclusive and sustainable e-commerce ecosystem to support South-East Asia's economic growth. "Sellers want to go beyond trading on a platform. They want to create their own universe in the digital world to reach out and connect with Internet-savvy and increasingly mobile consumers," she said. "We are championing our seller communities by using our technology and logistics infrastructure to help them ride the e-commerce boom and flourish into sustainable businesses."
Sunny Park, Corporate and Legal Affairs Regional Director for Microsoft in Asia Pacific, said: "ASEAN is the future of borderless economies, investments, e-commerce and education and we believe in a future where every young person has the skills, knowledge and opportunity to succeed. Digital skills are essential for the jobs of today and tomorrow, and can open the door to greater economic opportunity. Right now, over half the people on the planet lack basic access to the knowledge and skills that would enable them to participate in the new digital economy. Together with our partners, we are going to change that. We are going to empower every person and SME in ASEAN to achieve more."
The Digital ASEAN initiative was launched by the World Economic Forum in Singapore in April 2018 in response to demand from the Forum's regional partners in ASEAN, both public and private. The aim is to work on the issues that will underpin a regional digital economy in ASEAN so that the benefits of the Fourth Industrial Revolution can be fully unlocked and become a force for regional economic inclusion. The initiative has launched five task forces, each focussed on a specific digital issue:
Pan-ASEAN Data Policy – Shaping a common regional data policy
ASEAN Digital Access – Optimizing high-quality broadband access for ASEAN
ASEAN Digital Skills – Building a shared commitment to train digital skills for the ASEAN workforce
ASEAN e-Payments – Building a common ASEAN e-payment framework
ASEAN Cybersecurity – Nurturing cooperation and capacity building in ASEAN cybersecurity
By the end of 2020, the aim is for the coalition of companies involved in the pledge to:
20,000,000 Train 20 million people working at ASEAN small- and medium-size enterprises (SMEs) in digital skills;
2,000,000 Raise US$2 million for scholarships for ASEAN technology students;
200,000 Hire directly an additional 200,000 ASEAN digital workers;
20,000 Engage 20,000 ASEAN citizens in "Digital Inspiration Days", where companies invite students and the public to their offices to learn more about jobs of the future;
2,000 Offer 2,000 internship opportunities for ASEAN university students;
200 Contribute to the training of 200 ASEAN digital regulators; and
20 Contribute to shaping the curricula of technology and computing courses at 20 ASEAN universities.
Breaking down barriers for recycling industries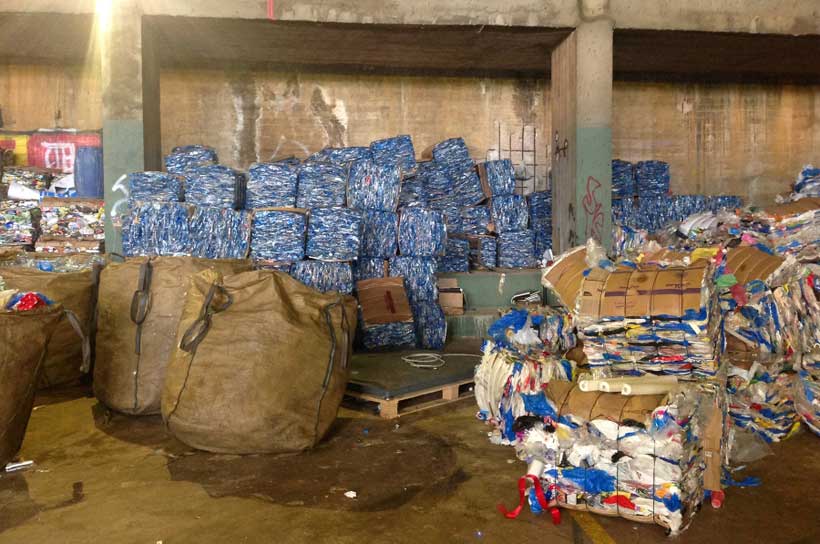 Standardization, awareness-raising, and regional cooperation – these were just some of the solutions to the many challenges faced by recycling industries globally, which were discussed at the Circular Economy: Development of Recycling Industries meeting.
The  meeting, co-organized by the United Nations Industrial Development Organization (UNIDO) Environment Department and the Bureau of International Recycling (BIR), brought together recycling experts, representatives of UNIDO Member States, and industry leaders from all over the world to discuss existing barriers to recycling industries and innovative approaches to overcome these.
From plastics to textiles recycling, a broad range of presentations from representatives of national governments, NGOs and industry, offered perspectives on how to move forward, with examples of innovative initiatives brought from both developed and developing countries alike.
Mattresses, waste bins, and home furnishings were just some of the recycled (and recyclable) products presented by companies from Italy and Guinea, with industry giants, such as IKEA, also providing insights into their efforts as brand leaders when it comes to recycled cotton and polyester.
The meeting was also an opportunity for UNIDO to showcase some of the projects it has been working on in this area, including e-waste in the Latin American and Caribbean region. Other related projects include metals recycling in Thailand, e-waste in the Philippines, recycling industry development in Senegal and a Southern African Development Community (SADC) regional project helping reduce open burning through the introduction of recycling.
Institutional, structural, and economic barriers were identified during the sessions, with legal and regulatory frameworks representing a challenge in many regions. Extended Producer Responsibility (EPR) was another key theme of the meeting, as well as the establishment of internationally-recognized criteria for recyclables, and the potential for integrating the formal and informal recycling sectors, particularly in developing economy contexts.
Engaging civil society and changing mindsets and attitudes towards recycling at a global level was also seen as essential for the successful development of the recycling industry.
"Civil society must be at the forefront of any recycling activity," affirmed Ranjit Singh Baxi, President of the BIR.
The meeting highlighted the important role that UNIDO has to play in convening stakeholders to discuss industrial development topics relevant to UNIDO Member States. This meeting's interactive format allowed participants to take part in digital polls for each session, as well as to pose questions to the various panels, which were then ranked and sorted digitally according to the audience's preferences.
The insights gained during this event will contribute to UNIDO programming for the coming years and strengthening the Organization's services in this area.
"Strengthening multilateral dialogue is essential and UNIDO stands ready to continue to foster such dialogue on global environmental cooperation and the circular economy in the name of inclusive and sustainable industrial development," stated Stephan Sicars, Director of UNIDO's Environment Department, at the close of the meeting.
Abu Dhabi Fund for Development Loans Worth over US$50 Million Available
Abu Dhabi Fund for Development (ADFD) and The International Renewable Energy Agency (IRENA) are inviting applications for more than US$50 million in funding through the IRENA/ADFD Project Facility. The ADFD-financed initiative is available to government-guaranteed renewable energy projects in developing countries that seek to increase energy access, improve livelihoods and advance sustainable development.
ADFD has committed US$350 million (AED1.285 billion) in concessionary loans over seven annual funding cycles to renewable energy projects recommended by IRENA.
The facility welcomes proposals for projects – especially those submitted by ministries, public utility entities and rural electrification agencies – that are able to obtain a government guarantee for the ADFD loan.
"Renewable energy can have a powerful impact on the livelihoods of people across the globe," said IRENA Director-General Adnan Z. Amin. "It is the most cost-competitive option to expand access to energy and improve socio-economic welfare while creating jobs and empowering local communities. Now in its seventh funding cycle, the IRENA/ADFD Project Facility has a proven track record of driving positive change through renewable energy deployment, supporting developing countries to benefit from the energy transformation."
For his part, His Excellency Mohammed Saif Al Suwaidi, Director General of ADFD, said: "Since its launch in 2012, the IRENA/ADFD Project Facility has continued to deliver on the UAE's promise to introduce renewable energy solutions in developing countries as a sustainable and long-term alternative to conventional energy sources. Advancing the renewable energy sector helps achieve the UN's Sustainable Development Goals, as well as create jobs and stimulate economic growth. We are proud of the milestones this facility has marked, and look forward to receiving cutting-edge and impactful applications for the seventh and final funding cycle."
In the first five cycles, the IRENA/ADFD Project Facility allocated US$214 million to 21 renewable energy projects across the globe, covering up to 50 per cent of the project costs. The efforts will bring more than 100 megawatts of renewable energy capacity online, improving the lives of over a million people through energy access. Spanning Asia, Africa, Latin America and Small Island Developing States, the projects encompass the complete spectrum of renewable energy sources – wind, solar, hydro, geothermal and biomass – and technologies. To fulfil its commitment to contributing a total of US$350 million towards sustainable development, ADFD will allocate all outstanding funds by the seventh and final cycle.
The projects selected for the sixth funding cycle will be announced in January 2019.
Summary applications for the seventh cycle will be accepted until 17:00 GST on 14 February 2019.