Belt and Road in Africa: Opportunities and Challenges
China's "One Belt One Road "Initiative has been allocated as its most determined project ever in trying to shape and influence behavior in the international system in line with her growing figure. At the same time, mounting Sino-Africa relations have been the subject of scholarly debate with supporters taking an optimistic view, also presented by China herself, of this relationship being a win-win partnership. Critics led by the US argue China is just using Africa to extract resources for its use, an allegation she disproves. The authors therefore sought to look at Sino-African relations but focusing on the implementation of One Belt, One Road, in the African continent.
OBOR is a mixture of two outward-facing notions introduced by Mr Xi in late 2013 to uphold economic engagement and investment along two main routes. To date, reports suggest that the first route, the New Silk Road Economic Belt, will run westward overland through Central Asia and onward to Europe. The second route, the 21st-Century Maritime Silk Road, will probably circle south and westward by sea towards Europe, with proposed stops in South-east Asia, South Asia and Africa. Being the center of china's foreign policy since 2013 study on OBOR in Africa will give an understanding and fully answer some questions surrounding these relations.
China's approach to international diplomacy is growing. Having long sought to maintain a "low profile" on the global stage, it has in recent years begun to advocate a greater role for itself in the international order. Chinese companies are also leaving the comforts of their home-based market and going overseas, seeking to blow new markets and acquire new machineries. China's president, Xi Jinping, is ramping up efforts to reinforce China's global position. He has proclaimed a number of high-profile multilateral initiatives intended to advance China's international existence and promote closer ties with more countries. The main initiative under this impulse, "one belt, one road" (OBOR), promises to be among the widest-reaching of these. It not only represents a renewed, stronger and better co-ordinated push to expand China's influence overseas, but it is also coupled with a domestic investment drive, in which nearly every Chinese province has a stake.
In a period of three decades, China has transformed from an agricultural, self-contained and inward looking state into a global economic capital second only to the United States (Cheung & Lee, 2015). In line with her growing stature in the international system, China has sought to exert influence on the global stage, from Latin America, Middle East, South East Asia, to Africa. One way of achieving this and as part of China's "global grand strategy" is the 21st Century Silk Road Economic Belt Initiative, informally known as One Belt, One Road". In the same vain, Sino-African relations have grown exponentially since the 1955Bandung conference. The original "Silk Road" was established over 2100 years ago during the Han Dynasty to promote trade and cultural development between China, Asia, Africa. The "New Silk Road Economic Belt" launched tenderly as "One Belt One Road" initiative or Yídàiyílù was introduced by china's President Xi Jinping as the centerpiece of his foreign and economic policy in 2013. It is by far the most significant and far-reaching project China has ever embarked on however  the One Belt One Road project or is fundamentally comprised of two interdependent and interrelated concepts; the "Silk Road Economic Belt" and the "Maritime Silk Road". Essentially, the "belt" is comprised of a network of roads, rails, power grids and gas pipelines that run over land from Central China in Xi"an, the capital of Shanxi Province through Central Asia, to Moscow, Rotterdam and Venice. This corporation of infrastructural projects will consequently pass through a number of countries. The Maritime Silk Road on the other hand is its oceanic counterpart. This involves the construction of a network of sea ports in the South China Sea, Indian Ocean and the South Pacific Ocean. It will essentially connect South East Asia, Oceania, East Africa and North Africa through the Mediterranean. the essential pillars of the initiative are "promotion of policy coordination, facilitating connectivity, unhindered trade, financial integration people-to-people bonds and the African section of the belt and road is of concern for this article. It covers three countries; Kenya, Djibouti and Egypt.
According to Xinhua News Agency, three countries in Africa are directly involved in the belt and road initiative; Kenya, Djibouti and Egypt. However, the extent of their involvement is unclear, with many documents indicating Egypt as the sole African state to be involved in this initiative. Various factors have been attributed for the inclusion of these exclusive three African states into the center piece of china's 21st Century diplomacy;
According to the realism theory of international relations world politics has been characterized by power politics. In the context of security and global geopolitics the horn of Africa region and the Suez Canal has been traditionally a Western-controlled zone with the US and her allies being the primary guarantor for maritime security. Any powerful state controls the security of that region, also controls the maritime trade routes between Asia, Europe and Africa. Egypt and Djibouti, two of the three African states part of the OBOR are strategically located at the heart of global geo-politics playground. Djibouti is quite unique as it now hosts military bases for the US, France and now China. While the fight against pirates has often been cited as the propellant behind this, one can't quite push the power struggles as being the true variable for these great power shaving such a heavy military presence in the region. The entry into Djibouti and the region by China could slope and re align security partnerships that have underpinned global order since 1945 but For Egypt, its strategic geographical location at the Suez Canal gives it an indispensable status, explaining why it's the only African nation to officially sign bilateral agreements with China on One Belt, One Road.
The initiative simply cannot afford to exclude Egypt. On the other hand, the inclusion of Djibouti has been a result of logical" assumptions than from official statements. This can purely be explained under the quest for global dominance and the geopolitics of the horn of Africa as stated earlier. With 30% of world shipping going through the entrance of the Red Sea from the Indian Ocean and on to the Suez Canal, Djibouti and Egypt are very critical.
In addition the opportunities can be eye from different aspects firstly the 1,780km Tanzania Zambia Railway line (TAZARA) has symbolized china's presence in Africa since the 1970"s. Currently China is involved in numerous mega infrastructural projects in Africa. For purposes of this paper, some of those which lie within the mandate of OBOR will be highlighted. Top on the list is the 2,700kmEast African Railway line. This includes Kenya, Uganda, Rwanda, Burundi and South Sudan. As indicated earlier, extent of involvement of OBOR affiliated institutions in financing the Kenyan part are not clear, though China"s Exim bank has been linked. 8Another major railway project is the 1,315km Kano-Lagos railway line in Nigeria, the 1,302km Bengue railway line in Angola (which brings to total 4,000km railway in Angola constructed by China), 560km Belinga-Santa Clara railway in Gabon, 172km railway in Libya and 430km rail in Mauritania to name but a few. To put this into perspective, the entire African rail network is 50,000km.On the other hand, China is constructing port facilities in Kenya, Tanzania, Gabon, and Djibouti among others, with most road construction being handled by Chinese contractors, using Chinese financing. The 1302km Angola railway line will be linked with Angola-Zambia and TAZARA in future. On port construction, China is involved in construction of the Lamumega port in Kenya, Bagamoyo port in Tanzania, Santa Clara deep water port in Gabon amongst others9. It's safe to say even without OBOR therefore, China is heavily involved in opening up Africa.
What Can OBOR Offer On Infrastructure?
Firstly, with China involved in all these infrastructural projects in Africa, coupled with OBOR"s vision for improving connectivity among countries, the initiative will offer a centralized, clear vision, and concerted effort in streamlining infrastructural development in Africa. A case in point is the railway line in Angola which is complete on their side of the border, but under-utilized because neither Democratic Republic of Congo nor Zambia have linked up to connect to the port, hence hindering efforts to export their products. Secondly, capital for infrastructural development in Africa comes from various Chinese bank loans under individual bilateral agreements entered into by these countries. Through OBOR, the capital inflow can be clearly centrally monitored through the AIIB and the SRF. This need is further strengthened with China signing a memorandum of understanding with the African Union (AU) in January 2015 to connect all 54 countries with high speed rails, ports and roads. The traditional "equatorial land bridge" which is the natural trade route between East and West Africa can be a good starting point for OBOR in Africa expansion. This route begins in Kenya, Uganda, Rwanda, Burundi, the Congo's, Central African Republic, to the West in Douala Cameroon.
Increase China's Soft Power
China's fellow competitors in global influence, enjoy considerable advantage in Africa due to colonialism and history that exists between Africa and the West. Joseph Nye (1990) defines soft power as when "one country gets other countries to want what it wants". This means, the country uses attraction to get support by other states rather than the traditional use of military force and pressure. China has over the years strived to increase its soft power over other competitors. Through her slogan of "peaceful development" (hepingfazhan) she has sought to create a niche for herself as a peace loving, development minded global citizen, who has noble intention in her relations with other states.
Undeniably, this rhetoric has been repeatedly cited by Chinese diplomatic officials, and has earned China many friends. OBOR as a grand strategy squarely falls within the realm of peaceful development as espoused, with its commitment to peace and economic prosperity along the belt and road, and amongst all states involved. In a world dominated by the US hegemony and influence in virtually all the compasses, perhaps building soft power is the only way China can earn the trust of her neighbors, while at the same time building a modern state both in terms of her people, economy, and military. Any other strategy other than a soft peaceful rise might trigger US counterbalancing measures and perhaps destabilize Chinese society, leading to civil unrest and other issues that might curtail accumulation of power and her rise. Assigning primacy over economic matters therefore is designed to prevent drawing attention to her military pursuits, which would attract counterbalancing measures leading to a Soviet-style collapse, while earning China allies both regionally and globally. This is essentially, one goal of OBOR. In essence, through OBOR, china's vision of a new modernity, characterized by free flowing ideas, goods, services and people to people engagement, and that shared economic future, common prosperity, would replace doubt, competition and power play. The Belt Road Initiative and the new regional order" that Beijing is using new ideas like "China dream" and" Asian dream" to build what Chinese leaders call a "community of shared destiny." this community begins in Asia which China at the epicenter, and would gradually aim to conquer the global order. This is the gist of china's new vision of global governance to replace the Western fronted status. Compared to the US, UK, Germany and Japan, China has less soft power abilities in Africa. These countries have for many years used language and culture (largely due to colonization), and through aid and donor agencies ,the United States Agency for International Development (USAID) has acted to impart democratic ideals of the US in Africa, the Bretton woods institutions have propagated Western free-market policies, while United Kingdom Agency for International Development (UKAID) and Japan International Cooperation Agency (JICA) have served to further UK"s and Japan"s soft power aspirations. China on the other hand has risen largely on a different path. It has none of these organizations to further her soft power in Africa. OBOR as a source of soft power is not on the projects themselves being implemented in Africa, but the "Beijing consensus" which offers an anti-thesis to the" Washington consensus.
The "Beijing consensus" is one which does not give a standard solution to all situations, but which encourages development based on the unique circumstances of individual states, and a "ruthless willingness to experiment and innovate". While for very long the US and her allies pushed the rhetoric that economic freedom is intertwined with political freedom (Washington consensus), over the years, the Chinese model has earned many admirers all over the globe.
Nevertheless OBOR"s focus on trade between Africa and China, and the inclusion of the continent in this initiative will boost further the commitment China shows to Africa, not due to any hidden motives but as a true ally of Africa, thus furthering the narrative in support of the "Beijing consensus" as the best for Africa to replace the failed" Washington consensus" fronted by the Bretton woods institutions and the West for many years. While the West emphasized on governance, political and economic reform along what they thought was acceptable to them in order to access development funds in the 1990"s (through the Structural Adjustment Programs by World Bank and IMF), OBOR and affiliate financial institutions are cognizant of the fact that one-size-fits-all solutions are not realistic. Hence, they let states handle their own internal matters while helping them access the funding they require for their infrastructural development. The immense "soft power" that will arise from this will propel China into great heights in global politics.
Challenges to OBOR in Africa Intra and Inter-State Conflicts
The biggest challenge to OBOR in Africa is the state of continuous warfare experienced throughout the continent. War and conflicts have exacted a heavy burden to Africa's development since time immemorial. As cited by Ndlovu-Gatsheni (2012) highlighted the five different types of conflicts that have plagued Africa; anticolonial, imperial, international, intra-state and inter-state conflicts. At present, many countries in Africa are experiencing wars of "regime change" with the Democratic Republic of Congo being a perfect example, while the Greater Sudan "War of Decentralization" led to splitting into north and south. In time however, South Sudan has also started experiencing its own war, what can be called "inter-communalinsurrection".17Conflicts are not limited to these, with Somalia, Uganda, Rwanda, Burundi, Congo Brazzaville, Angola, Nigeria, Liberia, Kenya, Libya, Central African Republic, just a few of the African states to get into warand violence within the last decade or so. Greig, Mason and Hamner (2016) have identified and geo referenced over 73 different civil conflicts in Africa. In their paper, they argue that, conflicts begin, continue and end from depending on the logic behind the war.18 the potential gain from these wars is mostly control of massive natural resources which motivates parties to engage in long and drawn out wars. These wars have come with massive economic and infrastructural damage to the countries affected. In South Sudan alone, China imports 5%of its oil when operations are at full capacity.
However, the civil war within South Sudan itself, and conflict with the neighboring Sudan, has disrupted oil production from the oil fields, and subsequent shipping of this oil to China. Zhou (2014) goes further to posit that, the war in Sudan means production was reduced by over 30%capacity from 245,000 barrels of oil per day, to less than 160,000 barrels per day. Operations in oil blocks 1, 2and 4 were completely shut down in December 2013 following outbreak of war, and Chinese oil personnel evacuated from site. This is aside from the shutdown occasioned from conflict between the two Sudan's with regards to transit fees between the two Sudan's. While Sudan was demanding a fee of 30 USD per barrel of oil pumped through its pipeline, South Sudan wanted to pay the standard worldwide fee of 3USD per barrel on the physical infrastructure, conflict has a damaging impact on roads, railway lines and other infrastructural developments. A case in point is in Angola where over 4,000km of its rail network was destroyed in conflict and had to be repaired before it could be operational again. As an example therefore, the success of OBOR expansion in Africa would depend on how China navigates the conflict land of the African jungle for full potential to be realized. With conflicts experienced in DRC, CAR, Burundi, instability in Egypt among other countries, china's resolve will be tested in launching and sustaining the OBOR initiative in Africa.
In conclusion China continues to be an important ally for the African continent to date. And the One Belt One Road Initiative offers an opportunity to deepen Sino-Africa Relations and should be explored further by the leadership of both China and Africa. The current status of OBOR in Africa is minute. As it is, OBOR in Africa, when looked at in terms of the importance that China puts in Africa does not mirror the optimism that Sino-African relationship has attracted in the recent past. It shows a discord between the rhetoric about the significance and growth in the relationship, vis a vis the reality, which is that Africa remains a cross-reference in china's plans globally. 3 countries out of 67 involved in the project do not give an optimistic picture. However, the opportunity for further cooperation is still there.PRC can seize the opportunity presented by OBOR to streamline its foreign direct investment in the continent to leave lasting foot print. Indeed, successful implementation will result into firmly entrenching China as a "true friend" for Africa. China has global ambitions, while Africa is in dire need of capital for infrastructural development, and OBOR offers the best platform to pursue this.
French-African Foundation Celebrates Achievements with Young Leaders from Africa
Placed under the high patronage of the President of the French Republic Emmanuel Macron and the President of the Republic of Rwanda Paul Kagame, the French-African Foundation will bring together the new class for a week in France in June 2023 and then a week in Rwanda for high level meetings, interactive training and privileged moments of professional and personal exchanges with leading Franco-African and international personalities from the political, economic, cultural, sports and associative spheres.
Young African leaders aged between 28 and 40 years in 2023, have also been chose based on competitive performance in various areas and who have commitment to African's development. These young professionals have shown inclusive leadership that impacts on the community, country or region. Display of a privileged relationship with France and Africa.
This year, more than 2,000 young professionals from 53 African countries and France applied for the annual French-African Foundation's Young Leaders programme, which aims to shine a light on outstanding individuals who are bridging the gap between the two regions. After several selection stages and hundreds of auditions conducted by an independent jury, 30 young leaders were selected for their commitment to boosting Africa-France relations.
"The 30 Young Leaders innovate daily in their activities and redraw the contours of thelink between France and Africa by helping it flourish in all areas. Taking into account the environmental, social, political and economic challenges shared by the two shores of the Mediterranean, the foundation is counting on these young people to help provide solutions, embody the relationship and develop it further. As a link between Africa and France, Marseille is the ideal city to launch this new class!" – quote from Nachouat Meghouar, CEO of the French African Foundation.
Quotes from three Young Leaders: "Today, thanks to digital innovation, women have the opportunity to emancipate themselves and develop new skills, whether they are in Los Angeles or in a remote region of Cameroon. This desire for equality but also for economic and social justice allows us to find common and sustainable solutions. This is what I wish to promote for France, Cameroon and the African continent," Nelly Kambiwa, Cameroonian, CSR Director Sopra Banking.
"The future of cinema and audiovisual creation is in Africa! The African continent is full of talent and unique stories. Within the CANAL+ Group, I am very proud to support pan-African producers, actors, scriptwriters, directors and technicians in the creation of their television series. Ambitious dramas, shot in the four corners of the continent, are thus offered, under the CANAL+ Original label, to millions of viewers in Africa, in France and throughout the world. What a pleasure to participate in the promotion of African cultural excellence!" Anthony Koka, Franco-Congolese, Fiction Programme Advisor at CANAL+International
"I am Franco-Algerian and I want to be a solution for my two countries Algeria and France in their diplomatic relations. I think it is time to look forward and to draw a common future for our children. And I hope to help future generations by giving millions of French and African children a glimpse of the challenges of digital technology and more particularly of artificial intelligence through the projects we are carrying out with the start-up Evolukid, which I created seven years ago. These are powerful tools for imagining the world and also for meeting the technical needs of many public and private players." Morad Attik, co-founder of the start-up Evolukid and founder of the Kesk'AI programme.
From war-torn Khartoum, Maha Dahawi, a doctoral student in genetics and Young Leader 2023, spoke out to express her support for the Sudanese people who are suffering from the war and the abuses carried out by the militias. In a poignant testimony, she called for hope in order to rebuild her divided country with her peers and shared her joy at joining the Young Leaders programme.
As part of their giving back to the society, and in the interest of contributing to the development of this great continent, young leaders identified different areas of interest under the broad theme of sustainable development in which they carried out activities including development-oriented projects and research to catalyze development of the continent of Africa.
It also involves playing useful roles in sustainable growth and development of their societies, by applying their skills, technical know-how, knowledge and experience to decipher things that may not be working properly in order to innovate ways for creating a change.
Double French and Rwandan patronage: After Ghana's President Nana Akufo-Addo in 2019 and Senegal's President Macky Sall in 2021, this year's French-African Foundation Young Leaders programme is under the dual patronage of Rwandan President Paul Kagame and French President Emmanuel Macron.
Rwanda Development Board Director General, Clare Akamanzi welcomed the new promotion to Rwanda; a privileged destination for tourism and international investments thanks to the gains in stability under the leadership of President Paul Kagame.
​The French-African Foundation, an association created in 2019, aims to contribute to the emergence of a new generation of African and French leaders capable through their values and means of action, of meeting the economic, social and political challenges of the time. It further aims at identifying, bringing together and promoting high potentials in strengthening African and French relations.
The 2021 edition was placed under the High patronage of the French President of the Republic, His Excellency Emmanuel Macron and under the High Patronage of the Senegalese President of the Republic, Macky Sall, Senegal being the host country where the second edition took place. To find out more, visit the Foundation's website: https://www.french-african.org/
BRICS FM Meeting in South Africa: Readiness for Expansion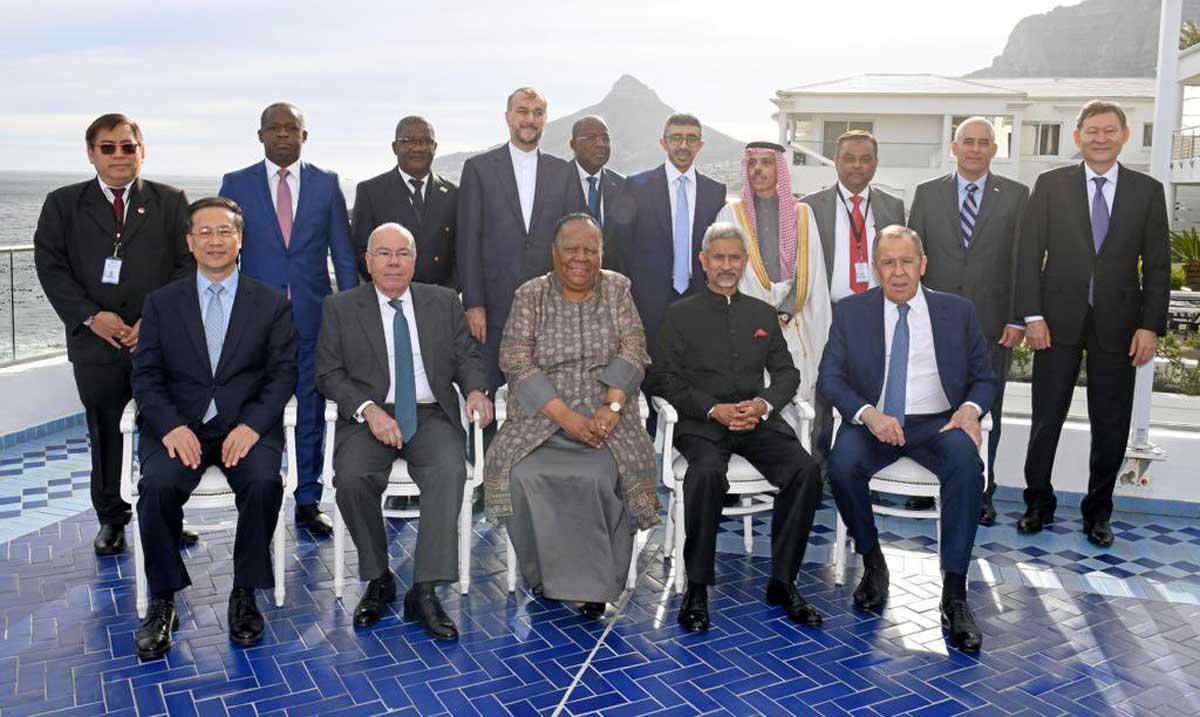 At the Brazil, Russia, India, China and South Africa (BRICS) foreign ministers meeting in Cape Town early June, there were high expectations. The first on the agenda was International Criminal Court's arrest warrant issued from The Hague for Russian President Vladimir Putin if he travels to the country. From historical perspectives, South Africa and Russia have close relationships from the time of the former's political and liberation struggle, and with developments until it joined BRICS in 2010.
On the unofficial levels, Putin has worked out friendship with both former President Jacob Zuma and the current South African Cyril Ramaphosa. We know very well that this strategic relationship is (un)doubtlessly influencing politics between the two countries and of course, the two plus China in BRICS.
Putin is the target of an International Criminal Court (ICC) arrest warrant over accusations that Russia unlawfully deported Ukrainian children. A member of the ICC, Pretoria, which has close diplomatic ties with Moscow, would be expected to arrest Putin if he sets foot in the country.
The South African government previously drew international criticism in 2015, when it refused to execute an ICC arrest warrant for then-Sudanese President Omar al-Bashir, who had been indicted for war crimes and genocide, while he was attending a meeting of African leaders in Johannesburg. South Africa's Supreme Court of Appeals ruled that the government had acted unlawfully and the ICC found that it had failed to failed to comply with its international obligations.
Reading further around reports which emerged from the foreign ministers meeting, there was the both local and foreign media, including Reuters, AP, AFP and Bloomberg said South Africa was now considering switching the venue of an upcoming summit of BRICS leaders to another country. This move that would resolve its dilemma over whether to execute an international arrest warrant for Putin. In fact one highly possibility is to task China to host the BRICS leaders summit in August.
But the Department of International Relations Minister Naledi Pandor's spokesman, Lunga Ngqengelele, said that as things stand, the summit will be held in Gauteng province, where the commercial hub of Johannesburg and the capital, Pretoria, are situated. "As far as we are aware, we have announced the summit venue as Gauteng, South Africa. That is what we know as of today." according to Lunga Ngqengelele.
Secondly, the BRICS foreign minister are concerned about new currency that could be used to dodge sanctions. The BRICS National Development Bank specially created bank to provide guidance on a how a potential new shared currency might work, including how it could shield other member countries from the impact of sanctions such as those imposed on Russia. The foreign ministers already discussed, at length, long before the meeting but how the bloc can win greater global influence and to challenge the United States still remained for future.
The BRICS are looking to "ensure that we do not become victims to sanctions that have secondary effects on countries that have no involvement in issues that have led to those unilateral sanctions," Naledi Pandor, South Africa's minister of international relations, told reporters after the meeting. Proposals are being considered by officials at the New Development Bank, the Shanghai-based lender created by BRICS nations, and the bloc "will be guided to them as to what the future models might be," Pandor said, without providing further details.
Thirdly, plans for expansion. In fact, BRICS activities have expanded during the past few years. Countries participated in the Outreach and BRICS plus segments of the organization. There are also a number of African countries including Algeria, Egypt, Ethiopia, Nigeria and Senegal have also shown interest. Egypt has already been involved for a fairly long time. Last December 2022, Egypt, the decision on its accession to the New Development Bank was made by BRICS.
The prospect of adding more members was first raised at last year's summit in China and 13 nations have formally asked to join, with at least seven others expressing interest. Now BRICS ministers were joined by counterparts from countries including Saudi Arabia, the United Arab Emirates, Egypt and Kazakhstan. Also and with more than 20 countries aspiring to join. Asked about a meeting held with a Saudi Arabian delegation, Russian Foreign Minister Sergey Lavrov said only that the issue of the kingdom joining was discussed, amid broader talks about how the bloc should expand its membership.
Saudi Arabia's potential accession to BRICS would bolster Crown Prince Mohammed bin Salman's attempts to diversify his nation's economy, an effort that has bought it much closer to Russia and China in recent years. China is the kingdom's most important oil customer, while it relies on relations with Russia to help prop up crude prices through OPEC+.
For the Gulf region, joining major trade blocks makes sense as countries seek to expand trade ties and develop as global transit hubs, a person familiar with Gulf thinking said. Plans to join have been in the works for a while and momentum has been building toward this point, the person said.
BRICS, which invited South Africa to join in 2010, has failed to punch its weight as a group. That's despite its members representing more than 42% of the world's population and accounting for 23% of global gross domestic product and 18% of trade, giving credence to demands for more sway.
South Africa believes that the bloc could be "transformative" representing those nations that wish to play a role in world affairs, ensuring benefit to the Global South. "BRICS has acquired a very important stature in the world, with many countries across various continents of our world seeking to be part of it," South African President Cyril Ramaphosa told lawmakers in Cape Town.
South Africa has its own internal problems, deepening each passing day. The ANC is playing hard on its foreign relations with external Countries especially with Russia, the United States and Europe. The geopolitical tensions have added to worries about the impact on South Africa's economic outlook from daily blackouts and logistical constraints that are hampering exports, with the rand falling to successive record lows over the past month.
South Africa, as per stipulated approved guidelines and rules, holds the rotating presidency of BRICS, the organization of five emerging developing countries made up of Brazil, Russia, India, China and South Africa. The BRICS is a model organization of genuine multilateral diplomacy. Its structure is formed in compliance with the 21st century realities.
From all indications BRICS is developing, the first meeting of the group began in St Petersburg in 2005. It was called RIC, which stood for Russia, India and China. Then later, Brazil joined and finally South Africa in February 2011, which is why now it is referred to as BRICS. The acronym BRICS is derived from the member-countries names in English. The BRICS (Brazil, Russia, India, China and South Africa) collectively represent about 26% of the world's geographical area and about 42% of the world's population
The Strategic Partnership between Eritrea and Russia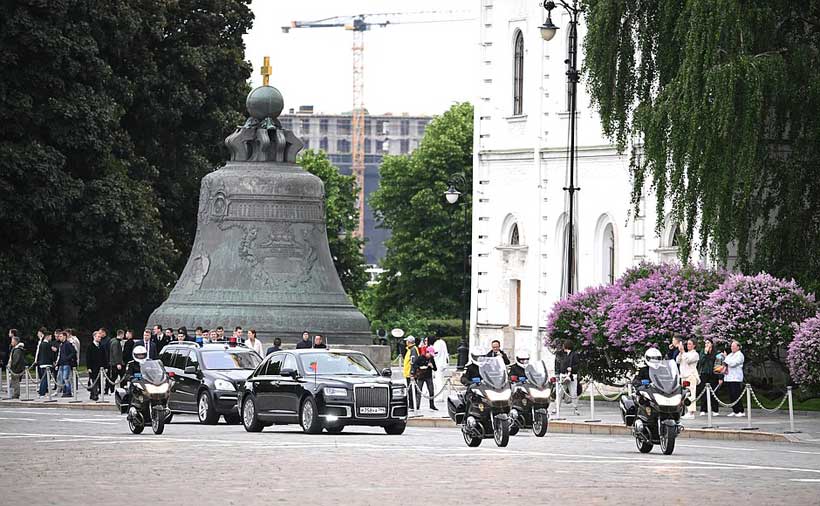 In this extremely poor Eritrea nation located in the Horn of Africa, with a population 3.6 million, what factors could attract to strengthen cooperation in the spheres highlight by the Russian President Vladimir Putin during a meeting with President of the State of Eritrea Isaias Afwerki at the Kremlin. According to reports that emerged from the Kremlin on May 31, Putin made reference to the fact that Eritrea has recently marked 30 years of its independence. This was when two countries established diplomatic relations too.
Russia is attracted due to its highly strategic location. Eritrea is bordered to the northeast and east by the Red Sea, Sudan to the west, Ethiopia to the south, and Djibouti to the southeast. The undemarcated border with Ethiopia is the primary external issue currently facing Eritrea. Geopolitical history informed us that Eritrea's relations with Ethiopia turned from that of cautious mutual tolerance, following the 30-year war for Eritrean independence, to a deadly rivalry that led to the outbreak of hostilities from May 1998 to June 2000 that claimed approximately 70,000 lives from both sides.
Despite the differences between Ethiopia and Eritrea, Russia maintains good relations with the two. But the main significance as stressed during the meeting was trade and economic relations which deserve primary attention. There could only be a few, of course not a lot, of potential in many areas. From our studies, agriculture makes up 11 percent of the wider economy's value, and is the main economic activity in Eritrea.
In 2013, the pickup in growth had been attributed to the commencement of full operations in the gold and silver Bisha mined by Canadian Nevsun Resources, the production of cement from the cement factory in Massawa and investment in Eritrea's copper and zinc. Chinese are very active in the mining sector and the Australians operate Colluli potash mining. In 2020, the IMF estimated Eritrea's GDP at $2.1 billion.
With that economic background however, Russia sees an opportunity to develop trade and economic ties between the two countries. "Of course, we must first of all pay attention to the development of trade and economic ties, here we have good prospects in many areas," Putin said.
As expected, there was a display passion for packing official documents. After series of substantive consultations on partnership and intensive preparations between Asmara and Moscow, the delegation signed several intergovernmental agreements. "I am sure that our talks today will be successful and will benefit the development of relations between the Russian Federation and Eritrea," Putin stressed.
The trade turnover between Russia and Eritrea in 2022 amounted to $13.5 mln, including $11.5 mln from wheat exports, according to materials for the talks between Putin and Isaias Afwerki in the Kremlin.
"The trade turnover between Russia and Eritrea in 2022 amounted to $13.521 mln (exports: $12.745 mln, including $11.5 mln – wheat (27,500 tons); imports: $776,000)," the statement said.
In 2021, the trade turnover between the two countries amounted to $9.314 mln. Exports of wheat amounted to $8.125 mln, oil products – $175,000, sulfates – $888,000. At the same time, imports of ready-made clothes reached $126,000.
According to the statement, Eritrea is highly interested in strengthening ties with Ural Automobile Plant and Kamaz. In 2018, Kamaz delivered 56 cars and 5 buses valued around $5 mln to Eritrea.
"In my view, the global order, which is on the cusp of a radical transformation, requires objective appraisal and mutual consultations on the timeless subject matter and phenomena of paramount importance and significance. The common assessment that we undertake will, in turn, revitalise the formulation of programmes and partnership that we chart on," Isaias Afwerki said during the meeting.
Isaias Afwerki believes that the Russia was the primary competitor and rival of the policy of encirclement and containment by the forces of domination from the early 1990s, and its global impact in the past 30 years was considerable indeed. Russia too, did not undertake, at the outset, all the necessary preparations for effective resistance.
An integrated and comprehensive strategy of resistance was not accordingly set in motion. But with time, and as the latent policy of containment against China becomes more transparent, international awareness of the free peoples has increased.
"It is imperative to expand and deepen this awareness, chart out a comprehensive strategy and concrete plans that encompass all fields, create dynamic mechanisms, marshal the necessary resources so as to ascertain the advent of and transit to a civilised international order of mutual respect, cooperation, complementarity and prosperity, where justice and the rule of law prevail. This is not an option but an obligation," he explicitly pointed out to Putin.
It is important to remind here that Russian Foreign Minister Sergey Lavrov visited Eritrea in January 2023. He said the agenda for Russia-Eritrea cooperation has a key focus on the implementation of potential joint projects, including the logistics hub in Asmara. At a meeting at that time, Afwerki and Lavrov also discussed the radical changes in the international situation and key directions for the development of Russian-Eritrean relations. Lavrov reported to Putin about the results of his African tour at a Security Council meeting.
Afwerki has been president since 1993 when Eritrea gained independence from Ethiopia. He is the first and the only person to hold the post so far. Sergey Lavrov visited Eritrea in January as he toured Africa. The commercial activities revolve around this strategic location as a transit point and the strategic location also makes the country prime for an increased military presence. This is the strategic importance for Russia.
Lavrov spoke extensively about economic cooperation. According to him, Russia's truck maker KAMAZ was already working in Eritrea, supplying its products to that country, as was Gazprombank Global Resources, which was building cooperation in the banking sector. The same year 2018, concrete talks were held to build a logistics centre at the port of Eritrea, that makes world's class logistics and services hub for maritime transportation through the Suez Canal and definitely set to promote bilateral trade.
Still that same year, Eritrea was interested in opening a Russian language department at one of the universities in the capital of the country, Asmara. Lavrov further indicated: "We agreed to take extra measures to promote promising projects in the sphere of mining and infrastructure development and to supply specialized transport and agricultural equipment to Eritrea."
In April 2022, Eritrea's top diplomat, Osman Saleh, made a quick reciprocal visit to Moscow to recieve an honor and congratulations for opposing resolution in New York. That was in March 2022, Eritrea was one of the countries who voted against the resolution condemning Russia over the situation in Ukraine at the United Nations.
Eritrea is now a member of the African Union. The Eritrean government previously withdrew its representative to the African Union to protest the AU's alleged lack of leadership in facilitating the implementation of a binding border decision demarcating the border between Eritrea and Ethiopia. Eritrea is also a member of the United Nations.