Will the real Pakistan stand up, please?
Two headlines this month beg the question US officials have been grappling with for more than a decade: Will the real Pakistan stand up, please?
Pakistan's The News reported that the government had designated Islamabad as a pilot project to regulate Friday prayer sermons in the city's 1,003 mosques, of which only 86 are state-controlled, in a bid to curb hate speech, extremism and demonization of religions and communities.
The project is modelled on procedures in Saudi Arabia, the United Arab Emirates and Egypt that are primarily intended to exert political control. The Islamabad project is in part designed to counter mounting criticism by the Trump administration, which has suspended funding to Pakistan, as well as growing unease in China over what Pakistani militancy could mean for its massive investment in the country.
It is also intended to support Pakistani efforts to evade blacklisting by the Financial Action Task Force (FATF), a 37-member inter-governmental agency that polices adherence to anti-money laundering and funding of political violence measures.
The government has drawn up a list of 44 subjects on which prayer leaders should focus in their sermons. They include women rights; Muslim unity; Islamic principles of trade, cleanliness and health; concepts of an Islamic state; the importance of hard work, tolerance, and honesty; and the notion of the finality of the Prophet Mohammed.
The belief that Mohammed was the last prophet or Khatm-e-Nabuwwat is core to Muslim faith. Yet, it has allowed Sunni Muslim ultra-conservatives and others to whip up popular emotion in pursuit of political objectives, nowhere more so than In Pakistan where a draconic anti-blasphemy law has aided and abetted them.
The military late last year mediated an end to a weeks-long blockade of a main artery leading into Islamabad that disrupted traffic in multiple cities to protest a perceived softening of the government's adherence to Islam in a proposed piece of legislation. The protesters successfully called for the resignation of the justice minister for failing to refer to Prophet Mohammad in a constitutional bill.
The second headline reported that Islamabad High Court judge Shaukat Aziz Siddiqui demanded in a ruling that parliament "take measures which can completely terminate those who scar (the belief in Khatm-e-Nabuwwat)."
Justice Siddiqui sits on the bench of a courthouse that last year had graffiti in a corridor demanding that blasphemers be beheaded. Mr. Siddiqui, who has defined blasphemers as terrorists, was ruling in a case brought before him by some of the protesters who had blockaded traffic that would effectively bar from public service Ahmadis, a sect considered heretic by orthodox Muslims because it views its 19th century founder, Mirza Ghulam Ahmad, as a prophet.
Pressured by Saudi Arabia, Pakistan in 1974 excommunicated Ahmadis in a constitutional amendment that enshrined the principle of Khatm-e-Nabuwwat as integral to the Islamic faith. Pakistani President Zia ul-Haq criminalized Ahmadi practices a decade later by barring Ahmadis from "posing as Muslims" or using Islamic titles, greetings, scriptures or calls to prayer.
Mr. Siddiqui's ruling appeared to contradict the government's effort to get a grip on expressions of Sunni Muslim supremacism that amount to hate speech and discrimination of the other in a country in which extremism has been fuelled by intolerant, anti-pluralistic views.
The ruling, despite paying lip service to constitutional guarantees of "complete religious freedom, including all the basic rights of the minorities (Non-Muslims)" and the state's obligation to "protect their life, wealth, property, dignity and protect their assets as citizens of Pakistan," spotlights contradictions in the constitution.
On the one hand, the constitution recognizes the principle of Khatm-e-Nabuwwat. On the other, article 20 enshrines the notion of freedom of religion while article 27 bans discrimination in recruitment for public office.
Without explicitly identifying Ahmadis, Mr. Siddiqui said it was "alarming" that "one of the minorities" was "often mistaken for being Muslims" due to their names and general attire. He warned that this "can lead them to gain access to dignified and sensitive posts, along with benefits."
Human rights activists and lawyers have called for the ruling to be challenged in the Supreme Court. "This is clear hate speech. What is the judge asking them to be terminated from? Their jobs? Doesn't that take away their basic right to life and dignity?" said lawyer and human rights activist Jibran Nasir.
The plaintiffs in Mr. Siddiqui's case were supporters of Tehreek Labbaik Pakistan (TPL), a political front for Tehreek Labbaik Ya Rasool Allah (TLR), which glorifies Mumtaz Qadri, who was executed in 2016 for killing Punjab governor Salman Taseer because of his opposition to Pakistan's blasphemy law.
Tens of thousands attended Mr. Qadri's funeral and his supporters have built a well-frequented shrine to honour him in his home town. Lawyers associated with TPL have instigated multiple blasphemy cases in Pakistani courts.
The Lahore-based Centre for Social Justice estimated that at least 1,472 people have been charged with blasphemy 1987 and 2016. Of the 730 Muslims charged, 501 were Ahmadis.
Activists and scholars argue that a rollback of the country's blasphemy law which applies the death sentence to those convicted is a requirement if Pakistan is serious about combatting extremism. A study by political scientist Nilay Saiya of 51 Muslim majority countries concluded that those that enforced ant-blasphemy laws were more susceptible to political violence.
"Both the concept of blasphemy and the prescription of any sort of punishment for its occurrence stand contrary to the Qu'ran… The modern invocation of religious defamation laws stems from political leaders in Muslim-majority states…who have exploited such laws as a crafty way to use religion for political purposes including inflaming religious sensibilities, silencing criticism of the regime, generating patriotism, fostering national cohesion, co-opting Islamic supporters, and undercutting detractors," Mr. Saiya said.
Mr. Saiya argued that blasphemy laws encourage militants to attack with impunity individuals, homes, places of worship, and businesses of those believed to be blasphemers in the knowledge that the state will turn a blind eye to their actions.
"Violent non-state actors thus feel empowered to commit acts of terrorism with little or no fear of governmental reprisal because blasphemy laws, in effect, lend the authority of the state to religious figures and reinforce extreme views. Rather than control the forces of extremism, blasphemy laws appease and encourage them. The result, expectedly, is that states that attempt to curry favour with radicals embolden them to take matters into their own hands; eventually such countries fall prey to violence carried out by those same radicals," Mr. Saiya said.
"The vagueness of the (Pakistani) language concerning blasphemy allowed radicals to interpret the code in very loose ways and open-endedly persecute those believed to be guilty of defiling, in any way, 'the sacred name of the Holy Prophet Muhammad'… Pakistan's blasphemy law thus opened the floodgate for extremism and terrorism which the government was unable to subsequently control," Mr. Saiya added.
Given Mr. Saiya's analysis, both headlines represent Pakistan. The problem, however, is that the Pakistan that wants to reign in supremacism, hate speech and extremism has little chance of succeeding with out far-reaching political and legal change that would uproot the vested interests of the Pakistan that sees religious and political militancy as a useful tool.
That may be a step too far for those interests even if they recognize a need to be seen to be advocating change with band-aid solutions like trying to control Friday prayer sermons.
World 'must engage' or risk Afghanistan's collapse
"Patience is running out" for many in the international community when it comes to effectively engaging with Afghanistan's de facto rulers, the Taliban, senior UN envoy for the country, Markus Potzel, told the Security Council on Tuesday.
Despite some positive developments over the past few months, the Deputy Special Representative for Afghanistan said they have been "too few and too slow and they are outweighed by the negatives".
Women's rights
He drew attention to the ongoing ban on girls' secondary education and growing restrictions on women's rights, as "signals that the Taliban are indifferent to more than 50 per cent of the population" and are willing to risk international isolation.
"The relegation of women and girls to the home not only deprives them of their rights, but Afghanistan as a whole is denied the benefit of the significant contributions that women and girls have to offer," he detailed.
Terrorism concerns 'dismissed'
Meanwhile, from armed clashes to deadly terrorist attacks, the UN Assistance Mission in Afghanistan (UNAMA) has monitored a steady rise in security incidents by terrorist groups and others.
"Our earlier warnings about the capabilities of Islamic State Khorosan Province (ISKP) were dismissed by the Taliban", he told ambassadors.
"But ISKP has demonstrated in the last few months alone that it can carry out assassinations of figures close to the Taliban, attacks against foreign embassies, as well as fire rockets across Afghanistan's border to attack its neighbours – all while maintaining its long-standing sectarian campaign against Shia Muslims and ethnic minorities," said Mr. Potzel.
Provincial rights violations
And armed clashes are continuing between Taliban security forces and armed opposition groups in the Panjshir, Baghlan, Kapisa, Takhar, and Badakhshan provinces, the UN envoy continued.
"There are disturbing reports, as well as videos and photos, indicating possible serious human rights violations committed in Panjshir," he said, calling for an investigation into allegations of extra-judicial killings there.
The mission will continue to carefully monitor these and other reports of serious human rights violations, he added.
UN bolstering cash economy
As per capita income has collapsed to 2007 levels – erasing 15 years of economic growth – the country's economic situation "remains tenuous" (with little detail forthcoming from the Taliban) due in part to Afghanistan's isolation from the international banking system.
"Liquidity remains heavily dependent on the cash that the UN continues to bring in for humanitarian operations – cash, I must stress, that supports the needs of the Afghan people and does not directly reach the de facto authorities," said Mr. Potzel.
But even the funding is uncertain as the 2022 Humanitarian Response Plan has only received $1.9 billion out of a $4.4 billion requirement.
No representation
Humanitarian and economic measures will not meet the Afghan people's longer-term needs, and the emergency aid cannot replace essential service delivery systems, such as health and water, or hold off an economic collapse, he warned.
Moreover, a continued lack of political inclusivity and transparency in decision-making leave most Afghans without any government representation.
"There are no consistent mechanisms for citizens to provide feedback to the authorities and little indication that the Taliban wish to even hear any," the UN envoy said.
'We have to engage'
While the Taliban's self-identified emirate has not been recognized by any State, the international community also does not want to see the country collapse, Mr. Potzel stressed.
"If the Taliban do not respond to the needs of all elements of Afghan society and constructively engage within the very limited window of opportunity with the international community, it is unclear what would come next," said the Deputy Special Representative.
"Further fragmentation, isolation, poverty, and internal conflict are among the likely scenarios, leading to potential mass migration and a domestic environment conducive to terrorist organizations, as well as greater misery for the Afghan population.
"That's why we have to engage", he declared, adding that "continued qualified engagement" was the most realistic way of helping the Afghan people.
Changing Regional Security Paradigm: A Challenge to Kashmir and Options for Pakistan
The post-cold war world has witnessed shifts in international and regional security paradigms. Due to globalization, easy migrations, advanced technologies, changing geopolitical scenarios, and social resources the world today is more vulnerable to diversified threats. In this regard, traditional conflict resolution tactics are not enough or influential. New strategies and options are needed to gain interest without being in direct war and confrontations. One such old conflict which has been there for more than 70 years despite 3 major wars between India and Pakistan is Kashmir Issue. While Pakistan is struggling economically and politically, India on the other side is increasing its soft power projection within the region and beyond, posing a serious threat to the traditional tactics of Pakistan towards the Kashmir cause.
The 4 major factors that boosted the strategies of the Indian state are identity, security, prosperity, and soft power. Along with defense, India was focused on its economy, diplomacy, and identity so much from the past few years. It is one of the key drivers of the global economic market, making up about 15% of the world's economic output. Soon India will become the world's largest country by Population, accounting for maximum youth, meaning it is offering incentives, consumer markets, and youth force to other countries. Moreover, India has become the third largest producer of steel (producer with Arcelor- Mittal), enhancing the credibility and reliability of MADE IN INDIA across the globe. It is considered an IT giant. Many IT companies from India entered Fortune 500-group that has opened doors of businesses and jobs for the Indian youth.
Furthermore, along with being a major partner in trade and commerce in the international market, regionally India provides aid and acts as an advocate of welfare for many developing countries in Asia. Along with that, it is also looking towards opportunities to gain the interest of Afghanistan which is an internationally isolated state. Internationally, it has become a major geo-strategic and geo-economic partner of many western states like the US and UK, as it has the potential to counter the Chinese Rise. It is part of various geopolitical alliances initiated for the containment of China such as QUAD and middle eastern alliances i.e., I2U2. Moreover, India also has a settled Middle Eastern policy to benefit from all major actors instead of choosing blocs. Thus, India has worked on its economy, over the years to bring prosperity and self-sufficiency within the country. It has provided markets and incentives to other countries thereby increasing its lobbying power. Through its strong diplomacy, it has become a major actor that also promoted its values and identity.
Lastly one can't deny that the hegemonic capabilities of India have challenged the Kashmiris and their freedom movements. India is now integrating into Kashmir not only militarily but also diplomatically, politically, and economically. It has incentivized the Kashmir issue as well. After India revoked articles 370 and 35A It is working on Kashmir's demographic changes. India also opened doors for tourism and international investments in Kashmir. If someone starts investing there, that will normalize that Kashmir is part of India. Yet India didn't receive any backlash, nor it is isolated or being sanctioned. The reason is simple, India has good ties with many western states. It provides incentives and fulfills the economic and political interests of the west.
For Pakistan, which is a party to the conflict, instead of normative a more realistic approach is required now. Though Pakistan has emotional attachments with Kashmir but it's not enough to just talk about morals and injustice at international forums. If Pakistan wants to support the Kashmiris it should enhance its intellectual power, academia, and soft power projection. Literature and academia help export the actual ideologies and narratives to the rest of the world. The Kashmiri diaspora within Pakistan and abroad should be supported for that. In addition, Pakistan needs to increase its influence to counter India not only in the military sector but also in the economic and political domains. The defense ratio between Pakistan and India is 1/8 while on the other hand in the economy it is 1/20. Though the importance of defense can't be ignored in the balance of power, but international politics has evolved, and power is not limited to military only. One can look at the two recent world events where there was the use of force and weapons to gain interests i.e., Afghanistan and the Ukraine-Russian war. Afghanistan is now internationally isolated while Russia is being sanctioned and criticized. So, direct confrontations and wars are not accepted and supported by states at broad levels. Thus, with the changing global political and strategic environment it is important to work on spheres of academia, research, soft power, and diplomacy.
The Taliban and the current Afghanistan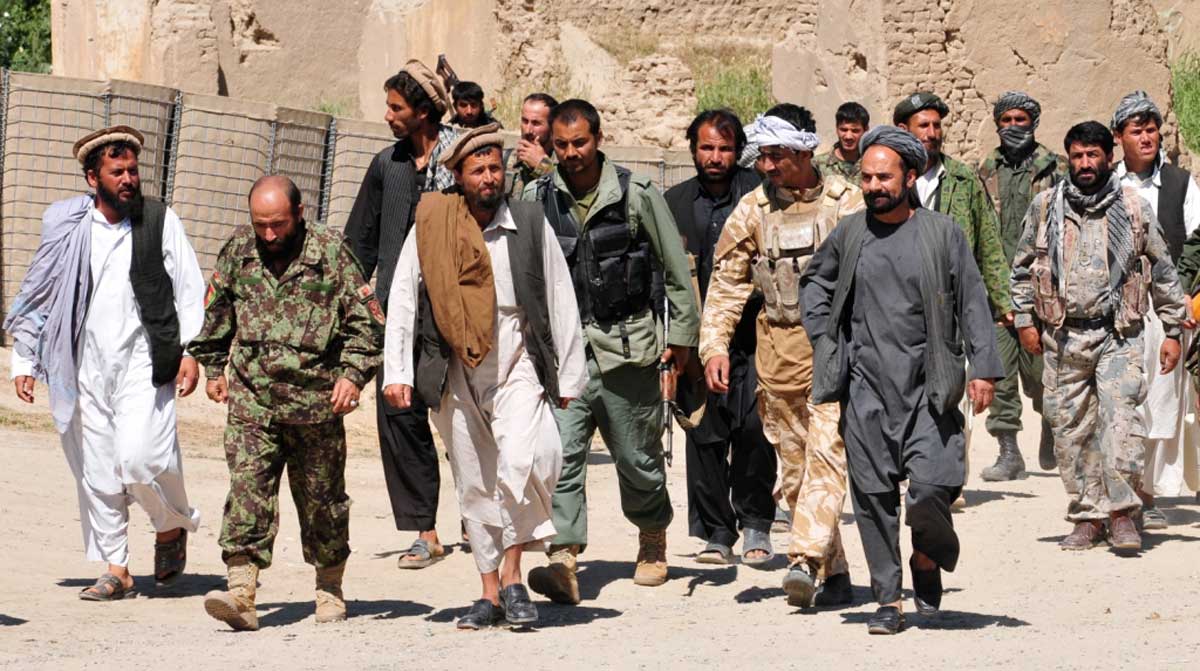 After the Taliban seized power in Afghanistan, the Afghan state and the public rapidly declined. The country's territories have become the source of international terrorism and many global problems.
August 15 is the first anniversary since the power in Afghanistan was seized by the Kabul Taliban, and the ex-president of the Afghan state, Ashraf Ghani fled. After a year of the Taliban's power, their power has not yet been recognized by any state in the world.
According to the UN International Labor Organization, the Taliban's ascension to power in Afghanistan has led to rapid growth in the unemployment rate among the population. Based on the data of the UN, such a situation in the Afghan labor market was caused by the economic crisis and the prohibition on work for the female population. Over five hundred thousand people in Afghanistan lost their jobs during the first month of the Taliban rule. "The crisis has affected women the most. Thus, their employment level, already extremely low by world standards, decreased by 16% in the third quarter of last year. By mid—2022, it is projected to fall to 28%," the UN investigation states.
In addition to the economic decline, there has been a rise in drug production in Afghanistan. Drugs are one of the Taliban's main income zones, and their power has re-activated the production and export of opium and heroin. However, the drug business was also active under the former Afghan authorities. According to the UN, in 2021, Afghanistan's income from drug exports amounted from 1.8 billion to 2.7 billion US dollars. This profit is from 6 to 11% of the GDP of the Afghan state. As before, the main drug export channels pass through Pakistan. The leader of the Taliban, Haibatullah Akhundzada, issued a fatwa in 2022 to ban the production and distribution of opium and other drug substances in Afghanistan. However, there have been no significant changes in this situation. Nevertheless, the Taliban repeatedly make statements about the cessation of drug production, but they also confirm that the prohibition on opium production will lead to the loss of the only way of earning for peasants, leading to an uprising.
Pakistan acts as the main partner country for Afghanistan. Bypassing sanctions, weapons are coming from Pakistan to Afghanistan. And the majority of Afghan drugs are exported through Pakistan's western provinces – the southern route. The main patron and sponsor of the Taliban is also the Pakistani military leadership. With the help of Pakistani support, the radicals seized power in Afghanistan and persecuted other alternatives to power.
The Taliban's first financial income was provided by transportation fees that the militants took from truck drivers on the border of Afghanistan and the state's territory. The Taliban's seizure of power in Afghanistan concentrated its forces on extracting natural resources. In February 2022, the Afghan media reported on the negotiations of the new Afghan government with China on the development of copper and lithium by Chinese companies. But even though China, along with Pakistan, is a vital partner of the Taliban regime, mineral development has not yet begun. Without the support and diplomatic assistance of China and Pakistan, the Taliban would not have been able to establish their authority over Afghanistan. However, Beijing still has not officially recognized their power.
Also, summing up the results of the year of Taliban rule in Afghanistan, we can definitely say that the new regime fails to solve the economic and social problems of the state. According to UN research, Afghanistan is on the verge of famine and humanitarian collapse. It is worth noting that during the presence of the United States and NATO in the country, there was no such catastrophic situation. Also, during the period of the Taliban regime in Afghanistan, the position of terrorist organizations such as al Qaeda and the Islamic State has strengthened. The Taliban does not intend to start the fight with the presence of these organizations.
Also, in June 2022, an earthquake with colossal consequences occurred on the border of Afghanistan and Pakistan. The death toll during the disaster was more than 1.5 people, and more than two thousand were injured. The UN has recorded that Afghanistan's government cannot cope with the threats that the Afghan society is forced to cope with alone.
UNICEF and the World Food Program note the catastrophic situation of Afghan children, and organizations make statements about the high level of undernutrition and that over 3.5 million children urgently need treatment. The UN website says, "Hospital wards are full of malnourished children: many one-year-olds weigh as much as a six-month-old baby would weigh in a developed country, and some are so weak that they cannot move."
The new government of Afghanistan carries out mass executions, severe human rights violations, and forced disappearances of citizens and previous security forces employees. This is recorded by the United Nations Assistance Organization in Afghanistan. To a large extent, the repression is carried out by two Talib departments – the Ministry of Propaganda of Virtue and Prevention of Vice and the General Directorate of Intelligence. Both organizations are under the auspices of Pakistani security agencies.
UNAMA experts report "arbitrary arrests and detentions of journalists, human rights defenders and protesters." There were 160 extrajudicial executions, 178 unjustified arrests and 56 cases of torture of former Afghan military and Government employees. In addition, 2106 victims were registered among ethnic and religious minorities (700 killed, 1406 wounded).
After a year, the Taliban authorities, according to international organizations, destroyed the essential state structures in Afghanistan responsible for solving social issues such as jobs and the state's humanitarian condition. The Afghan Independent Human Rights Commission premises were also seized, and the Ministry of Women's Affairs was closed. Afghan women are deprived of the right to work. Except for some professions, they are not allowed to travel more than 72 km unaccompanied by men and cannot appear on the street with an open face. Responsibility for all violations of the rules of a woman is borne by her father or another close male relative. The punishment is dismissal from work or imprisonment.
Freedom of speech was also seriously impaired. The international human rights organization Reporters Without Borders (RSF) reports that there are half as many media in Afghanistan as a result of the year-long run of the Taliban. During the year, 219 organizations out of 547 media were closed. Before the Taliban came to power, there were 11,857 journalists in the country. Today only 4,759 of them remain. Female journalists took the first impact. Almost all of them were left without their job.
The Taliban sees the UN's message about human rights in Afghanistan as propaganda. On July 21, Taliban official Zabiullah Mujahid posted on social media: "There are no arbitrary killings or arrests in the country. If someone kills or arbitrarily arrests, that person is considered a criminal and will be brought before Sharia law."
In sum, a few conclusions about the power of the Taliban must be noted. The Taliban is characterized by a lack of qualification in the country's rule, and the leadership cannot organize public service. Also, the Taliban does not fulfil its duties to combat terrorist organizations, which has ensured the strengthening of the position of existing banned groups. The female population of Afghanistan and various social minorities suffered. The Taliban are building strong relationships with authoritarian countries such as Pakistan, China and Russia. Islamabad carries out the actual control of the Taliban and also uses the Taliban in the South Asian region for its geopolitical purposes.