Trump's End-Game Could Become Ours, Too
On March 28th, CNN headlined "An unheard-of problem: The President can't find a lawyer" and reported that:  Five large law firms are passing on the opportunity to represent the President after a shakeup last week on his private defense team and as he anticipates giving possible testimony to special counsel Robert Mueller's investigation.
Well-known Washington lawyers cited several reasons for declining the President in recent weeks, according to multiple sources familiar with their decisions. Among them: … Lawyers at large firms fear backlash from their corporate clients if they were to represent the President. And many want to steer clear of conflicts of interest that could complicate their other obligations. … 
One such firm told CNN: "Any large law firm has clients that have very strong feelings." The implication was that those are extremely negative feelings about Trump, and that at no large law firm is there any countervailing preponderance of large clients who "have very strong feelings" that are in a positive direction toward him.
If this isn't a rejection of Trump by the rest of the U.S. aristocracy, and an expression of their determination to replace him by Mike Pence, then nothing could be. They want Trump out.
The reader-comments to that story, which are posted at reddit, don't even mention Pence, nor America's aristocracy, nor billionaires' control over this country, nor nuclear war, nor any of the other significant implications of the news-story, nor even the major back-story to it, but these important aspects of this news-item, will be discussed and documented here.
The people in actual power had originally evaluated Trump's Presidential candidacy only on the basis of what he said on the campaign trial, because he had never actually served in any public office. And, so, they feared him, solely on account of his words, and Hillary Clinton received vastly more big-dollar donations than he did. Though some of her campaign promises were moderately opposed to what billionaires want, she had had a long and consistent record of 'public' service, including as a U.S. Senator and as Secretary of State, serving actually billionaires, at the expense of the public, and so they didn't really care what she said in her campaigns, because they knew, from actual experience with her, that she would be loyal to them. But not so with Trump. They've wanted him forced out of office, ever since he first entered office.
Nothing in Vice President Mike Pence's background suggests that the policies (which is all that the people in actual power care about — they don't care about bumper-stickers or campaign speeches or other mere words) which a President Pence would pursue, would be any different from those which President Trump has already been pursuing. Pence has a long and consistent record in public offices, and it's supportive of the mega-corporate agenda. For example, he has never said (far less done) anything at all like what Trump had promised before he became President (but hasn't yet acted on):
Trump said then: "The approach of fighting Assad and ISIS simultaneously was madness, and idiocy. They're fighting each other and yet we're fighting both of them. You know, we were fighting both of them. I think that our far bigger problem than Assad is ISIS, I've always felt that. Assad is, you know I'm not saying Assad is a good man, 'cause he's not, but our far greater problem is not Assad, it's ISIS. … I think, you can't be fighting two people that are fighting each other, and fighting them together. You have to pick one or the other." Assad is allied with Russia against the Sauds, so the U.S. (in accord with a policy that George Herbert Walker Bush initiated on 24 February 1990 and which has been carried out by all subsequent U.S. Presidents) is determined to overthrow Assad, but Trump during the campaign was firmly opposed to that policy.
Months before that time, Trump had said: "I think Assad is a bad guy, a very bad guy, all right? Lots of people killed. I think we are backing people we have no idea who they are. The rebels, we call them the rebels, the patriotic rebels. We have no idea. A lot of people think, Hugh, that they are ISIS. We have to do one thing at a time. We can't be fighting ISIS and fighting Assad. Assad is fighting ISIS. He is fighting ISIS. Russia is fighting now ISIS. And Iran is fighting ISIS. We have to do one thing at a time. We can't go — and I watched Lindsey Graham, he said, I have been here for 10 years fighting. Well, he will be there with that thinking for another 50 years. He won't be able to solve the problem. We have to get rid of ISIS first. After we get rid of ISIS, we'll start thinking about it. But we can't be fighting Assad. And when you're fighting Assad, you are fighting Russia, you're fighting — you're fighting a lot of different groups. But we can't be fighting everybody at one time."
And:
Trump turned the conversation back to Iraq. "Where were the weapons of mass destruction, Brian?" Trump asked Kilmeade. Again, Kilmeade defended the former president: [Former Secretary of State] "Madeleine Albright said they were there, [former President] Bill Clinton said they were there, [former French President] Jacques Chirac said they were there, the Portuguese prime minster said they were there, [former Egyptian President] Hosni Mubarak said they were there." Trump retorted: "Well, they weren't there, they didn't find them. They found nothing. Who blew up the World Trade Center? It wasn't the Iraqis, it was Saudi — take a look at Saudi Arabia, open the documents."
The Intercept headlined on 29 February 2016, "Neoconservatives Declare War on Trump". On 21 March 2016, the Washington Post bannered, "Trump Questions Need for NATO, Outlines Noninterventionist Foreign Policy". On 23 March 2016, William Greider headlined in The Nation, "Donald Trump Could Be the Military-Industrial Complex's Worst Nightmare".
Trump as a candidate, had said: "Right now we're protecting, we're basically protecting Japan, and we are, every time North Korea raises its head, you know, we get calls from Japan and we get calls from everybody else, and 'Do something.' And there'll be a point at which we're just not going to be able to do it anymore. Now, does that [intervention] mean nuclear? It could mean nuclear. It's a very scary nuclear world. Biggest problem, to me, in the world, is nuclear, and proliferation."
He also said: "I have two problems with NATO. No. 1, it's obsolete. When NATO was formed many decades ago we were a different country. There was a different threat. Soviet Union was, the Soviet Union, not Russia, which was much bigger than Russia, as you know. And, it was certainly much more powerful than even today's Russia, although again you go back into the weaponry. But, but – I said, I think NATO is obsolete, and I think that – because I don't think – right now we don't have somebody looking at terror, and we should be looking at terror. And you may want to add and subtract from NATO in terms of countries. But we have to be looking at terror, because terror today is the big threat."
Fighting against "radical Islamic terrorism," however, isn't nearly as profitable for firms such as Lockheed Martin or General Dynamics, as nuclear weapons systems — the anti-Russia weapons, the strategic weapons systems — are. The military-industrial complex had needed the 9/11 boost back in 2000, when the possibility of shrinking 'defense' budgets was a real threat they faced; but, after over a decade of the military contractors having been carried along by that boost, they needed to go back to some kind of 'Cold War', even without any communism or Soviet Union or Warsaw Pact. Obama gave them that enormous boost, of a returned 'Cold War', by his coup overthrowing the democratically elected Government of Ukraine (on Russia's doorstep) in February 2014 (and some of that Obama-operation's mercenaries even recently described in detail their participation in the coup), and America's government contractors have boomed enormously ever since the coup, as a result of that coup and of the resulting restored 'Cold War'.
But restoring the 'Cold War' isn't the only thing they demand, and which he has supplied but they fear he still might reverse them on: There's also the fossil fuels industries, and the sickness industries, and others, often having the same investors as do military contractors.
On 17 July 2015, Paul Blumenthal and Kate Sheppard at Huffington Post bannered, "Hillary Clinton's Biggest Campaign Bundlers Are Fossil Fuel Lobbyists"  and the sub-head was "Clinton's top campaign financiers are linked to Big Oil, natural gas and the Keystone pipeline."
Her record did show that she represented those lobbyists, not the public. Trump couldn't even have won the Republican nomination if he hadn't verbally supported those polices and gone even beyond them, promised to out-do Hillary; but, unlike Hillary, he didn't have any actual record.
Furthermore, Trump said, "It's not just the political system that's rigged, it's the whole economy. … Hillary Clinton's message is old and tired. Her message is that things can't change. My message is that things have to change." That's basically the same message as Bernie Sanders was promoting.
Trump's stated positions on this were basically like Sanders's. Trump said:
"SuperPACs are a disaster. They're a scam. They cause dishonesty. And you better get rid of them because they are causing a lot of bad decisions to be made by some very good people."
"I was a businessman. I give to everybody. When they call, I give. And do you know what? When I need something from them two years later, three years later, I call them, they are there for me. … And that's a broken system."
There, too, he sounded like Sanders.
Trump also said:
"[JORGE RAMOS]: But should it be limited legally — TRUMP: I don't know about the limits. I think the most important thing is transparency. You have to know who you're dealing with. And right now you don't. You don't. And I'm talking about PACs in all fairness. I have good friends who like to put money into PACs. Many friends, I have some enemies too, by the way. But I have many friends. They put money in PACs. And you need transparency. You need to know who is putting up what. So when they start making deals in a year or two years or three years, you know what is happening."
Glenn Greenwald wrote about Hillary Clinton's campaign being founded upon a rejection of such "transparency": "The Clinton argument actually goes well beyond the Court's conservatives: In Citizens United, the right-wing justices merely denied the corrupting effect of independent expenditures (i.e., ones not coordinated with the campaign). But Clinton supporters in 2016 are denying the corrupting effect of direct campaign donations by large banks and corporations and, even worse, huge speaking fees paid to an individual politician shortly before and after that person holds massive political power." Donald Trump had spoken clearly against all of that — he spoke, in principle, against the type of opacity in donations, which the Democratic Party under Clinton encouraged.
The Washington Post headlined on 1 March 2016, "GOP Super PAC's Ad Portrays Donald Trump as a Predatory Huckster". The next day, Politico reported:
The effort [by Republican mega-donors against Trump] is centered on the recently formed Our Principles PAC, the latest big-money group airing anti-Trump ads, which is run by GOP strategist Katie Packer, deputy campaign manager for Mitt Romney in 2012. The group, initially funded by $3 million from Marlene Ricketts, wife of billionaire T.D. Ameritrade founder Joe Ricketts, wants to saturate the expensive Florida airwaves ahead of the state's March 15 primary with hopes of denying Trump a victory that could crush the hopes of home state Sen. Marco Rubio. A conference call on Tuesday to solicit donors for the group included Paul Singer, billionaire founder of hedge fund Elliott Management; Hewlett Packard President and CEO Meg Whitman; and Chicago Cubs co-owner Todd Ricketts, one of Joe and Marlene Ricketts' three sons. Wealthy Illinois businessman Richard Uihlein is also expected to help fund the effort. Jim Francis, a big GOP donor and bundler from Texas, was also on the phone call on Tuesday
These people were donating to Hillary Clinton's campaign, and were donating to it even during the primaries.
Trump even endorsed socialization of the most essential healthcare services:
Trump said he favored taxpayer-paid healthcare for Americans who cannot afford to pay for the basic healthcare they need:
"Donald Trump: By the way. Everybody's got to be covered. This is an un-Republican thing for me to say because a lot of times they say, "No, no, the lower 25 percent that can't afford private." But — Scott Pelley: Universal health care? Donald Trump: I am going to take care of everybody. I don't care if it costs me votes or not. Everybody's going to be taken care of much better than they're taken care of now. Scott Pelley: The uninsured person is going to be taken care of how? Donald Trump: They're going to be taken care of. I would make a deal with existing hospitals to take care of people. And, you know what, if this is probably — Scott Pelley: Make a deal? Who pays for it? Donald Trump: — The government's gonna pay for it. But we're going to save so much money on the other side."
A CBS News story, 29 January 2016, by a reporter who clearly favored Hillary, was headlined "Hillary Clinton: Single-payer health care will 'never, ever' happen", and noted that in 1994 she had described single-payer not as an attractive option worthy of being considered, but instead as being a threat:
"'If, for whatever reason, the Congress doesn't pass health care reform, I believe, and I may be totally off base on this, but I believe that by the year 2000 we will have a single payer system,' she said. 'I don't even think it's a close call politically. I think the momentum for a single payer system will sweep the country. … It will be such a huge popular issue … that even if it's not successful the first time, it will eventually be.'"
Back in 1994, she was citing single-payer as being a threat — never a goal. Wall Street knew where she stood, even if her voters didn't.
Moreover, when Donald Trump forced into the Republican platform a restoration of the Democratic Glass-Steagall Act, this was his statement, not something that somebody else forced upon him. He knew that doing this would antagonize Wall Street, but he did it anyway. Trump actually said he wanted to 'break up the big banks'. On 9 August 2016, the far-right American Enterprise Institute headlined "How Can Trump Support Deregulation and Glass-Steagall?" and opened by saying, "The Republican platform's proposal to reinstate Glass-Steagall is hard to understand, even in the confused policy mishmash created by Donald Trump. The best interpretation is that it's an awkward outreach to the disappointed 'progressive' supporters of Elizabeth Warren and Bernie Sanders. The worst is that it calls into question whether Donald Trump really supports financial deregulation."
Even as President, Trump still hasn't indicated whether he actually intends to push for that.
Other than on Glass-Steagall, he hasn't as President been at all supportive of any of those progressive campaign positions which had terrified America's political mega-donors. Mike Pence, even with his long record in public offices, has never — not even by mere words — supported any of those positions.
Trump, as the President, has done everything, both in words and far more importantly in policies, to satisfy his extremely wealthy opponents; but, evidently, it has all been to no avail; they still want Pence to replace Trump.
The U.S. aristocracy, whom Trump has been bending over backwards to satisfy, are now checkmating him.
He has only two choices: Go gracefully, and quit, or else go down fighting the military, whom he has done everything he could to accommodate. The latter option would be suicidal for him. The former option would be terminal for the entire world.
He's a psychopath, but he also has an ego. He can't preserve his ego without turning against the very people whom he has, until now, been serving: the generals, the neocons, Lockheed Martin, the Sauds, the sickness industries, etc.
It could go either way.
Americans' Self-Contradictory Views of Socialized Healthcare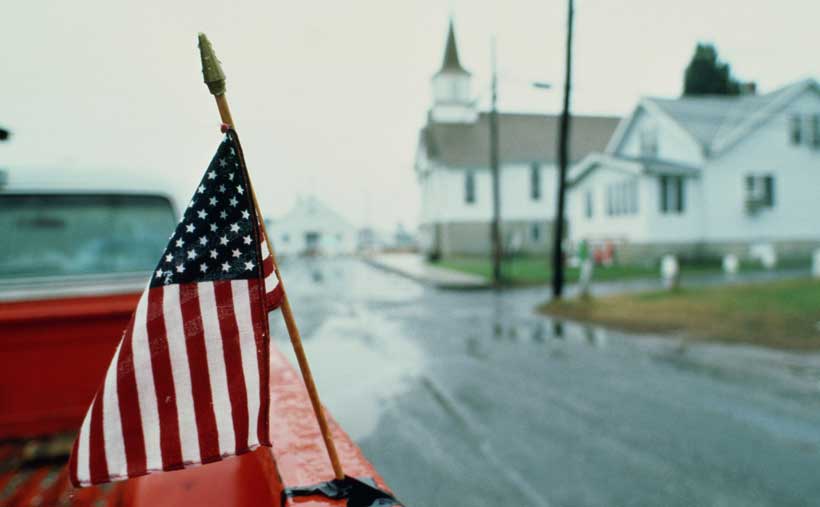 On December 3rd, Gallup bannered "Government Favored to Ensure Healthcare, but Not Deliver It" and reported that 57% of Americans say "It is government's responsibility to see that all have healthcare" but only 40% of Americans want a "government-run" healthcare system to be available to everyone who wants it. In other words: many Americans want other Americans to be forced into corporate and non-profit — privately run — healthcare. Lots of Americans are irrationally rabid against any sort of socialism, even the democratic types of socialism that exist in many European countries such as Sweden, where the quality of healthcare has been proven in international studies to be superior to America's, and where the per-person cost of healthcare is around half as high as in America. The healthcare industry and its executives and its lobbies and its paid-off politicians have plenty of libertarian fools in America who, by their political participation, make life worse for all other Americans by effectively blocking socialization of the healthcare function. Gallup's December 3rd poll also found this mental illness, libertarianism, to be especially common among Republicans: Whereas 65% of Democrats endorse universal availability of a government-run healthcare system, just 13% of Republicans do. So, Republican voters are terrific for the drug companies and the rest of the 'health'care (actually sickness) industries.
Gallup has polled Americans on many questions about healthcare policy. One poll they published 16 May 2016, titled "Majority in U.S. Support Idea of Fed-Funded Healthcare System", reported that 58% of Americans wanted "Replacing the ACA [Obamacare] with a federally funded healthcare program providing insurance for all Americans." Only 37% opposed it. A tiny 5% had no opinion. Perhaps that was a high-water mark for the American public's support of socialization of the healthcare function in America.
On 20 November 2014, Gallup headlined "Majority Say Not Gov't Duty to Provide Healthcare for All" and reported that, "For the third consecutive year, a majority of Americans (52%) agree with the position that it is not the federal government's responsibility to ensure that all Americans have healthcare coverage. Prior to the start of Barack Obama's presidency in 2009, a majority of Americans consistently took the opposite view" (that it's not government's responsibility to see that all have healthcare). But if it's "not the federal government's responsibility to ensure that all Americans have healthcare coverage" (presumably meaning for all basic healthcare, but not for vanity medical services such as "tucks" and other non-health-related medical services), then even life-saving medical care, and also essential preventive care (which lowers overall medical costs), will be available only to people who can pay for it; other people will just have to die, unless they can find someone (perhaps a relative) who is willing to pay. Of course, this type of system — the "Greed is good" system — will also mean that people die young and that disability-rates, and associated incapacity at work, will be high, and all of this will lower economic productivity. Welcome to the United States! (Of course, it's lots better than places such as Honduras.)
Is it likely that majorities really do want single-payer, but not from the government? Hardly: a gratuitous addition of stockholders' profits into the costs for providing essential and economic-productivity-enhancing healthcare services that everyone should have access to if it's really needed (lawfully prescribed etc.) won't just distort the incentives to medical-services providers (and so reduce both health and economic productivity), but it will also waste the money of medical consumers (government or otherwise). But what about having 'non-profit' firms provide the single-payer services, instead of the democratically accountable government doing that? Non-profits cut out profits, and so eliminate the distortions that stockholders' wants introduce into the providing of any services (wants such as stockbrokers have, who pump the investments that pay them the highest commissions, which necessarily harms their investors). However, the top executives even of 'non-profit' firms can pay themselves whatever their friends who sit on their board of trustees will approve; and so a 'non-profit' provider, too, can be, at least to that extent, a scam. (And, of course, in an entirely free market, there is no regulation, and therefore scams will be routine; so, only crooks would want that, anyway. But all the propaganda in the U.S. praises "a free market.")
These are reasons why the countries that have the highest life-expectancies, and therefore the best health-outcomes, are the same as the countries that have socialized basic healthcare services, paid for normally entirely through taxes and provided to all citizens as a basic human right instead of as a privilege that's available only to individuals who can afford it. (Of course, "tucks" and such get charged extra to the patient.) The United States has by far the costliest health care in terms of not only what Americans pay for it but in terms of healthcare costs as a percentage of GDP, and yet the U.S. has the lowest life-expectancy of all OECD countries; the U.S. has the most-free-market healthcare, and also the worst healthcare, among all of the economically developed countries — all (except the U.S.) of which provide guaranteed basic healthcare services to all citizens: essential services free as a right, not charged as a privilege. America's combination of the worst healthcare plus the by-far-costliest healthcare is no coincidence; and healthcare profits in America are the world's highest; so, the present American system is terrific for those stockholders (whose firms hire the lobbyists and their politicians who write America's healthcare-laws). Because basic healthcare in the United States is a privilege instead of a right, the U.S. is the only economically developed nation that does not have universal coverage, health insurance for 100% of its citizenry, healthcare as a guaranteed right instead of dependent upon the patient's ability-to-pay. When Barack Obama entered the White House, the uninsured rate was 14.6%; when he left office it was 10.9%; the insured rate when he started was 85.4%, and it was 89.1% when he left office. His repeated promises of "universal coverage" were blatant lies. His plan was in no way designed for "universal coverage"; that promise was a lie from the very outset.
In the OECD's "Health at a Glance 2015" (which covers 44 nations), the United States scored at or near the bottom for almost all indicators of healthcare-quality, including: Life expectancy, Access to care, Quality of care, Doctors per capita, and Hospital beds per capita. We were by far the highest on Pharmaceutical expenditure per capita. Oddly, three nations, Czech Republic, Slovakia, and Hungary, were exceptionally high in both their heart-disease death-rates and their cancer death-rates; plus their life-expectancies were even lower than America's, and their most carefully medically calculated measured "Quality of care" rankings were also generally as bad as the United States. However, in the latest calculated year, which is shown there, which was 2013, "Health expenditure per capita" (p. 165) was U.S. $8,713; Switzerland $6,325; UK $3,235; Czech Republic $2,040, Slovak Republic $2,010; and Hungary $1,719. So, America's was over four times as high as the healthcare costs of some of the other countries in its class — i.e. in the overall worst class. Generally the top-performing nations were: Japan, Finland, Norway, Sweden, Italy, and Switzerland. Switzerland was the second-highest in cost-of-care ($6,325), right below the United States. Norway was third-costliest, $5,862. Sweden was fifth-costliest, $4,904. Japan was 14th-costliest, $3,713. Finland was 17th-costliest, $3,442. Italy was twentieth-costliest, $3,077. The average OECD cost for all the 44 nations was $3,453, which was less than half of America's obscene $8,713. Whether Obamacare changes any of those U.S. rankings is too early to tell. However, the U.S. is such an extreme "outlier" so that our healthcare system would need to be replaced root-and-branch in order to be competitive with any other nation's in terms of delivering value-for-the-money, instead of rip-off (which is its existing outlier status — unparalleled by any other country's, for delivering lousy value). It is so bottom-of-the-barrel, that it is below the barrel. This is by far the world's most-free-market healthcare system, but our government spends more per-capita on it than do other nations' governments that pay almost all of their citizens' healthcare costs. Wow! In fact, as shown in the chart "9.3. Health expenditure as a share of GDP, 2013 (or nearest year)" on page 167 of that OECD report, the U.S. is the only country where the private sector pays more of the nation's healthcare costs than does the public sector, the government. America is a libertarian's paradise. No other nation comes anywhere close to that degree of non-governmental providing of the healthcare function. Every other nation has socialized the healthcare-function to a vastly higher extent than the U.S. has. That's how corrupt America is.
Lots of other countries are more corrupt in the pettier forms of corruption such as bribery, but perhaps few match America's higher-level, and far more complex, systemic corruption. It benefits only the super-rich, and their lobbyists and other agents.
Trump's Troubles Enter A New More Dangerous Phase
Surprisingly, it snowed in Washington, but the temperature rose in the White House. So far, the array of investigations centering on president Donald Trump have been prologue. Now, Chapter One is starting to be written.
The president is alarmed. He Tweets in the middle of the night. "No collusion," is his daily favorite phrase, with "witch hunt" a close second.
He claims that all alone, free of legal advisors, he has written replies to questions from Special Counsel Robert Mueller about Russian involvement in the 2016 U.S. presidential campaign and that this ends the Mueller-Trump discourse. Nobody believes the president.
No lawyer would ever allow a client to freelance written answers to investigators. Moreover, the Mueller questions did not relate to what in time may be the central issue of impeachment hearings in the U.S. House of Representatives: Obstruction of justice.
Four distinct threats
As I have previously reported, there are multiple parallel sources of danger for Trump. Right now, he faces four distinct, yet overlapping threats to his political and business fortunes:
More indictments of former Trump friends by Special Counsel Mueller.
A series of high-profile court sentences of former Trump associates who have pleaded guilty to assorted crimes.
A host of investigations to be launched by various committees of the House of Representatives, now that the Democrats have the majority there.
The determination of New York State's newly elected attorney-general, Letitia James, to go after Trump after she noted in her victory speech: "New Yorkers, we can spot a con man."
Mueller takes aim
Washington is awash with rumors that Special Counsel Mueller, who has already issued over 30 indictments against individuals related to his investigation of Russian involvement in the 2016 campaign, is about to bring charges against more Trump associates, including just possibly Donald Trump Jr.
Mueller has been investigating whether the Trump campaign was involved in the timing in late 2016 of the publication by Wikileaks of torrents of damaging e-mails from the Hilary Clinton campaign.
A central figure in the inquiry is Roger Stone, an old friend of Trump, and a former partner of Paul Manafort, the one-time 2016 Trump campaign manager, who now faces jail. James Corsi, an associate of Stone, has publicly stated that he expects to be indicted soon. Wikileaks is believed to have obtained the information from Russian hackers.
Related to this inquiry is the pursuit by Mueller of all the events that surrounded a meeting at Trump Tower with Russians said to have close Kremlin ties, involving Manafort, Donald Trump Jr. and his brother-in-law Jared Kushner, for the express purpose of securing damaging information on Hilary Clinton.
A volcano of bad publicity
Meanwhile, Trump cannot escape a volcano of bad publicity as his former key associates face judgement in the courts.
On December 12, Michael Cohen, Trump's former top business lawyer will be sentenced after reaching an extensive plea agreement with prosecutors, which includes the revelation that he lied to Congress about the dealings of the Trump organization in Russia – Cohen now says he was negotiating with top Moscow officials  until June 2016 about building a Trump tower building there and he continuously kept Donald Trump and his family informed. Until now, Trump has always said he had no dealings with the Russians during the 2016 presidential campaign.
Cohen has also provided information to prosecutors about the hush money payments he made just before the election for Trump to cover up alleged affairs with two women.
On December 18, Michael Flynn, the former White House national security chief and former Trump campaign foreign policy advisor, will face court sentencing after having pleaded guilty to lying to the FBI about his various dealings with Russians in 2016.
And, then on February 9, Paul Manafort, who was found guilty by a jury on various charges of fraud and tax evasion, while he also entered into a plea agreement on charges related to the presidential campaign. Now, Mueller has suddenly announced the plea deal is invalid as he claimed Manafort has consistently lied and Mueller will provide full details to support this claim in the courts before long.
Manafort's deputy as campaign manager and his former business colleague, Rick Gates, is still cooperating with Mueller and his sentencing date has yet to be set. It seems likely that this may coincide with the conclusion of the Mueller investigation and the finalizing of a comprehensive report.
Attempts by the new acting U.S. attorney-general, Matt Whitaker, to stop the public release of the report would likely be challenged by prominent politicians in both houses of Congress and add to the sense of White House crisis.
Trump's worst nightmare
Indeed, Congressional investigations may prove to be the worst of all of Trump's impending nightmares. There are many targets and many members of Congress keen to take aim.
They will go after Whitaker himself, who seems to have been selected by Trump solely on the basis of his many previous public statements deriding the Mueller investigation and whose qualifications as America's top law enforcer are questionable.
Plans are taking shape for a host of investigations led by the Democratic Party majority in the House of Representatives, including: the alleged unethical conflict-of-interest activities of several of Trump's cabinet members.
These include the secretaries of Interior, Commerce, Environment and possibly Treasury, and the business profits made by the firms that are still controlled by Trump's daughter Ivanka and her husband, Jared Kushner, despite both of them being on the government's payroll as White House advisors.
There is also the issue of expenses for security that the U.S. government has as Donald Trump Jr. travels the world promoting the Trump brand – his trip to India alone is said to have involved around $100,000 in taxpayer cash.
And, of course, there will be several House investigations, including public hearings, which explicitly relate to the alleged multiple connections between the Trump 2016 campaign and Russians, including Trump business dealings.
Letitia James enters the stage
Now, as the curtain goes up on the made-for-Broadway drama, "The Decline and Fall of Donald Trump," so Letitia James enters the stage.
The first African-American woman to be New York state's leading prosecutor declared as her election victory was announced: "We can spot a carnival barker. I will shine a light into every dark corner of his real estate dealings, and every dealing."
It is just plain old good politics for Ms. James to secure as much publicity as she can by targeting Trump and her sights will be on the tax returns that the president refuses to make public, the international sources of funding that the Trump organization has tapped over the years, as well as alleged fraud by the Trump foundation.
All of these events combined will dominate Washington politics for months to come. As the facts emerge and as Trump's troubles mount, so the number of Democratic Party politicians to announce plans to run for president in the 2020 elections will multiply — but that's another story.
The original version of this article was first published by TheGlobalist on November 21, 2018 and subsequently by SALON.com – this is an updated article.
Shapers of America: The Role of George H. W. Bush in Foreign Policy Making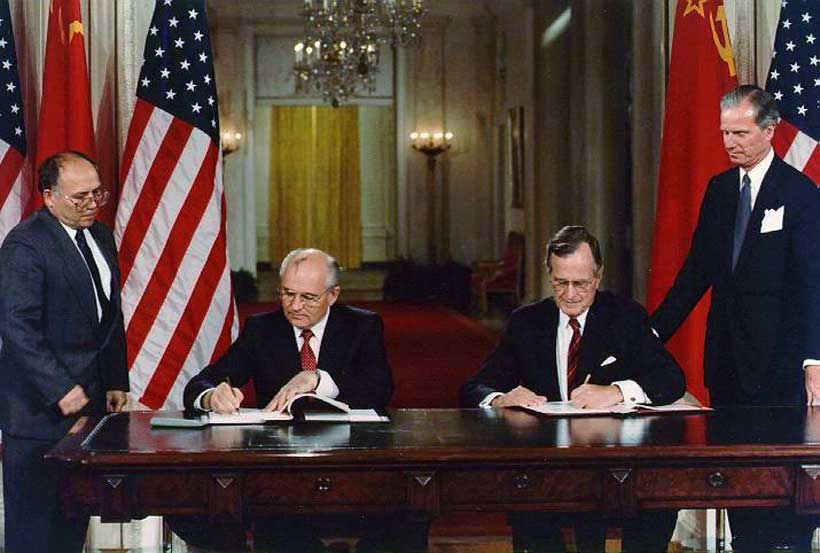 Authors: Srimal Fernando and Pooja Singh*
The sad news on Friday of Former US President George .H. Bush's death at the age of 94 spread all over the world in no time. His lasting legacy on the US political system and his accomplishments during his presidency from 1989 to 1993 touches nearly everyone. Former President Obama also paid tribute, saying: "America has lost a patriot and humble servant in George Herbert Walker Bush" While our hearts are heavy today, they are also filled with gratitude".
In 1989 when Vice President Bush assumed power, his foreign Policy strategy was unfamiliar to the world. For the next four years, his administration tried to make the best out of the bad, often impossible task to change the course of United States (US) relations with former Soviet Union (USSR) and Warsaw bloc nations. Apart from diplomatic efforts his Presidency focused on economic diplomacy.  The signing the North American Free Trade Agreement (NAFTA) transformed trade ties with the trading bloc. Former President Bush addressing one of his key speeches on trade, in 6 February 1989 e stated, "We don't want an America that is closed to the world. What we want is a world that is open to America"
Bush senior was a modern American Foreign policy architect credited for ending of the Cold War. Hence looking back it was a moment for celebration and pride when George Bush was chosen as Vice President during Regan's two-termed presidency.  It was apparent as President Bush laid out policy approach of overcoming numerous national security and diplomatic challenges. However, his major foreign policy   problems from the start had been the Soviet Union (USSR) and integration of East European nations into the European Union (EU). It took full four years and turned to be as one of the most rigorous consultative processes in the US- USSR relations. In fact, soon after the fall of the Berlin Wall in 1989, the meeting was held between George Bush and Mikhail Gorbachev on the Mediterranean island of Malta. The collaborative diplomacy between the two superpowers with considerable negotiations between Bush and Gorbachev in reducing the nuclear warheads during the Strategic Arms Reduction Treaty (START) -1 and 2 had its cost. Having the Strategic Arms Reduction Treaty (START I) as the prime subject of summit and the arrangement took nine years in taking the real shape.  Comparatively START -1 was the main understanding since the marking of the Intermediate-Range Nuclear Forces Treaty by Reagan and Gorbachev in 1987. The idea behind conducting a summit on START is to lessen the percentage of nuclear weapons of both the United States (US) and the USSR by about 35 percent in more than seven years down the line.
During this period, there was intense debate about the meaning and scope of new foreign ties with Commonwealth of Independent States (CIS ) states, East European nations and the expansion of NATO agenda over the former Warsaw led nations. A crucial element in these changing pictures was US's shift on the status question with former Soviet Union (USSR) nations, after the collapse of the former Soviet Union in 1991.
Unexpected summer of 1990 turned out to be a testing time for his presidency on the Iraqi invasion by Saddam Hussein. The question was much concern and caused debate. Hence, the events in the oil rich Kuwait attracted considerable global attention. On 17 January 1991 early in the morning where the allied forces launched their first attack that included in excess of 4,000 bombings owned by coalition aircrafts and   a month later on 24th February a large scale invasion pushed by the allied forces liberated Kuwait. The US led Gulf war and liberation of Kuwait was highly sensitive issue and wreaked Bush's Presidency. In 1992, President Bush of the Republican Party lost to Bill Clinton of Democratic Party in Presidential elections.
Over the decades after retirement from Presidency, there has been an opposing view on his presidency. In 2011 it was another turning point in US political history where Bush seniors son George. W Bush junior   became the 43rd President, which only happened twice after John Adam's son who also served as US president. During his presidency, Bush senior along with Clinton toured tsunami-hit nations. In 2011 the much-loved peoples President was honored with the Medal of Freedom, the most astounding US non-military personnel respect granted by then President Obama.
It is a powerful reminder of the manifold ways his presidential influence go beyond the scope of America and well beyond the first world nations essentially shaping   global foreign policy   mandate. When America fell silent on the sad demise of George H. W. Bush, many Americans and the international community might have felt they lost a hero. Yet Bush's legacy represents the aspirations, the hopes of the American people and the global community. Perhaps these beliefs and values can build a more tolerant and respectful global society in the near future.
*Pooja Singh, a scholar of Masters in Diplomacy, Law, Business at Jindal School of International Affairs, India.