The Rising Superstar: Nepal's chance through Sports Diplomacy
Forty-two wickets in twenty-one listed international cricket matches; with the best figures of 5-20. The luscious number belongs to a seventeen-year-old Nepali spin bowler, Sandeep Lamichhane. Lamichhane played a vital role in Nepal's pursuit of One Day International status; and got selected for both Indian and Caribbean T20 franchises in the past few months. The humble and ever smiling person from the rural region of Syangja is an upcoming international superstar. He has opened Nepal's casket full of riches.
Sandeep's mention does not hold any purpose to narrate the sorry state of Nepali Cricket. Although Lamichhane's exploits will naturally expose the incompetency of Nepali Cricket Association(s), his craft will gradually conceal the hiding fortune of vibrant Nepali markets. Ask Delhi Daredevils, the franchise who bought the Nepali sensation for this year's edition of Indian Premier League-the lush rich cricketing tournament in the world. The franchise did not only buy the first Nepali cricketer, but now commands fan base of the entire Himalayan republic. Just like India, Nepal is a culturally camouflaged nation. Culture sells. Social value determines brand equity. Nepal is still not a full member of the International Cricket Council but passionate fans keep tremendous desire; another Test playing nation in the Indian subcontinent is a distant but an eventual reality.
British cricketers put Nepal on the map after playing a competitive match below the Everest in 2009, but in a country small as Portugal, climate varies from cool and subtropical summers to mild and severe winters. For cricket, it is an opportunity to play at contrasting pitch conditions. Just like football, cricket is followed avidly in Nepal.The equation is very simple. Cricket will only grow bigger if it can unlock the casket full of riches for Nepal. Lagging behind, the ball is now in Nepal's court. Cash moguls will rightly be licking their lips; but how should Nepal approach its moment of kismet?
Sports Diplomacy
A young talented spinner could not have imagined that his sensational induction into world cricket has provided Nepali administration with an abundance of diplomatic manoeuvres. The better he performs, the better it is for everyone. It will open doors for other young Nepali cricketers. Moguls will happily invest in players, facilities and stadiums. It will take brave hearts to strategize it, but partnerships with franchises, as the Indian Premier League (IPL) is very much possible. You can call it a fantasy, but Nepal could even host IPL matches in the future. South Africa hosted the entire tournament in 2009.
Diplomacy works like that. You give some and grind the most out of it. Hardly a dozen of nations play international cricket regularly. Moguls understand that their money could quadruple, if more nations engaged with the sport. Nepal is the safest bet; an economy that is anticipating a historic acceleration after solving major political problems. Cricketing business could add value to its bloodline-tourism. The entire experience of playing and enjoying the sport will transform in the picturesque nation. However, where to begin with everything?
Partnerships, Partnerships & Partnerships
If Sandeep's recent success is not convincing enough, wait for him to perform at this IPL season. More scouts will land at Kathmandu, looking for young talents all over Nepal. The Nepali market of cricket consumers as well as players will be open for grabs; and, the first to step in will win over a huge pie of financial success. While building academies will help Nepali players, government could utilize the vast choice of training spaces in India. It will take good diplomacy for the best bargain; but Nepal's recent cricketing success will only encourage partners. The Indian decision makers are smart; they will happily facilitate the development of Nepali cricket at the exchange of strengthening bilateral ties that have unsettled in the recent past. Moreover, let us think from a retrospectively humble position-not every national can play in the theatrical Indian Premier League. There is an obvious reason to why everyone believes that Sandeep's selection for the Delhi franchise could not have been simpler. Call it historical relationships between Nepal & India or a natural one; bilateral affinity has worked on Sandeep's favour. Everyone with big pockets are waiting for their tempting share of Nepali treasures. Sandeep Lamichhane, the leg break bowler from Syangja has opened the gates. Hope fully, when the teenager will keep surprising excellent batsmen, Nepal will sincerely work towards capturing its moment of kismet.
Floods; A Challenge to Comprehensive National Security of Pakistan
Pakistan is encountering one of the major catastrophic occurrence in the present day history. The colossal floods, along with the glacier melt, have prompted 33% of the nation to submerge underwater with more than a million individuals being displaced along with a loss of above 43 billion. The rising recurrence of floods, outrageous rainfall, and heatwaves have moved environmental change from a hypothetical conversation to an intense burden on the country and its people. Looking at the human perspective, the losses are too grave to quantify. However, in political terms, they address the missing area of climate security in the state's national security paradigm, which could present existential difficulties for Pakistan.
Pakistan's comprehensive national security is under stress by the adverse consequences of outrageous weather events across different areas. It isn't just about financial security versus traditional security any longer. Comprehensive National Security can never be comprehensively achieved because national power comprises of all components and assets that facilitate the state to pursue interests. Hence, all these components, resources, and areas form the crux of what we call comprehensive security. Subsequently, to address the existence of multiple threats, an extensive perspective on national security is expected with an equivalent focus on all areas, while prioritizing climate security because of its seriousness and immediacy. The grave economic losses may be quantified in the long run but societal and political impacts also cannot be ignored. Pakistan's representative of UNICEF, Abdullah Fadil reposts that "At least 18000 schools have been damaged in the flood, which have affected an estimated 16 million children. Many children are now at heightened risk, without a home, school or even safe drinking water. There is therefore a risk of many more child deaths." International experts, humanitarians and Social workers visiting Pakistan have termed it as one of the largest catastrophe of the modern history. South Asian expert Michael Kugelman states "that the only hope within the flood victims is the International aid but it is slow to come". The international world needs to respond to the aid appeals as a collective responsibility rather than a favor to Pakistan because the climate change crisis is largely driven by the world's most industrialized countries.
The 2022 floods in the country have uprooted entire communities, finished occupations and revenue generation sources, and have drastically expanded migrations inside the country and levels of urbanization. Assume relief projects are not comprehensive and the impacted population feels that they have not been accommodated Post-catastrophe which they themselves didn't create.  Considering all this, their confidence in the legitimacy or administering authority of the state could be antagonistically affected, creating threats of mass unrest. Destroyed homes, displacement within the country, and temporary camp-like arrangements have a potential of posing critical identity challenges and meanwhile create financial instabilities among impacted communities. Such aftereffects severely hurt the societal and political segments of security, undermining comprehensive national security. Such extreme climatic disasters account for short term reliefs along with long-term impacts on the resources of state. Increased displacement within the country, increased poverty with unemployment rate on the surge creates huge risks which directly impact the comprehensive national security. Violence against women tend to rise, Children drop out of school as there exists no infrastructure, food security is challenged, health security is badly endangered and quality of human life declines in a worst possible way. Extremists, Proxies and non-state actors may capitalize on resentment felt by the displaced. In short, human security is challenged in all basic forms.  So when human security is challenged, how can a state achieve comprehensive national security which itself places human as a center point.
Another challenge which is indirectly affiliated with the climate change is directed towards military. Pakistan's military has played a crucial and a comprehensive role in flood through its rescue efforts, humanitarian relief and rehabilitation process. Military has rendered sacrifices in these flood operations especially when a Corps Commander along with senior officers embraced martyrdom in the Lasbela district in Balochistan while overlooking relief activities. The IPCC report itself states that Pakistan's Humanitarian Assistance and Disaster Relief (HADR) will only increase over time. Military resources being expended to HADR will obviously take away military's attention away from hardline security issues and put it under increased management stress in times to come.
It can be asserted that the comprehensive national security is under stress by the negative impacts of horrific weather incidents across the various sectors of the society. It isn't only about economic security versus the traditional security anymore, because today what constitutes the national power and comprehensive national security isn't only the traditional and economic security but all societal elements form a collective part of this comprehensive framework. Thus, a comprehensive outlook of national security is required with equivalent focus on all sectors, with a priority on climate and food security due to its immediacy.
Political Scientist: Taliban Rule will not bring Afghanistan to the Stability and Development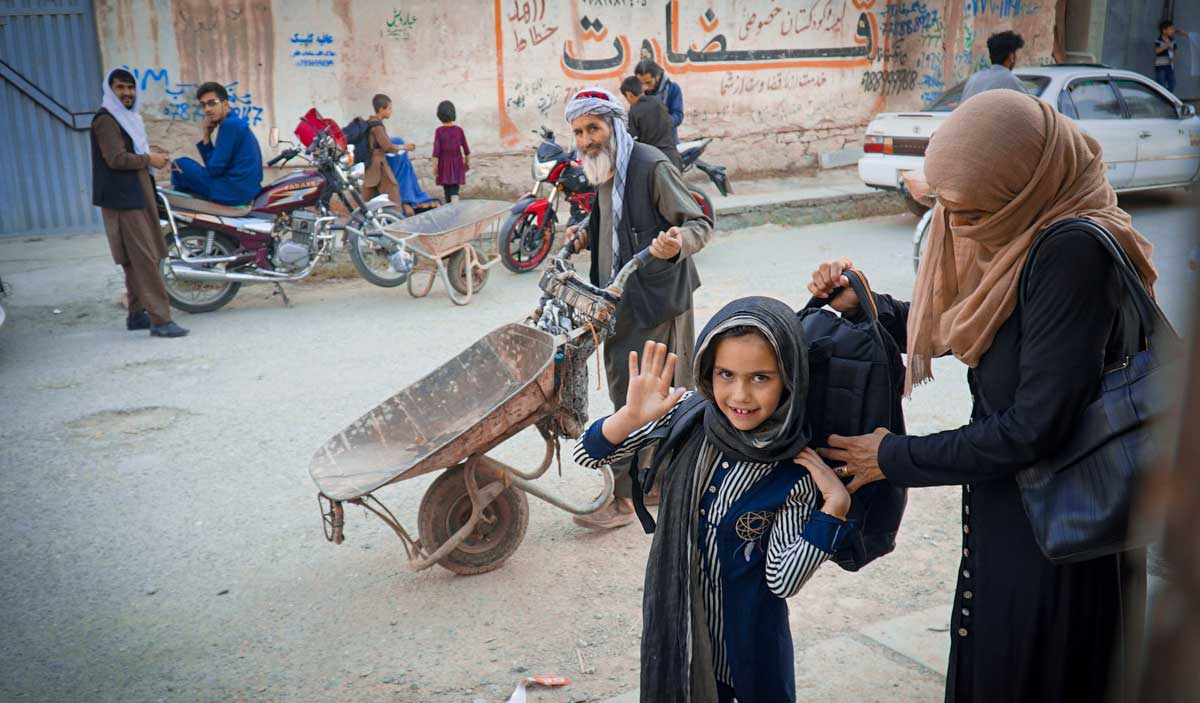 The evidence suggests that the Taliban movement cannot stabilize Afghanistan and does not want to fight international terrorism that threatens the region and stability globally.
The day before, UN Secretary-General Antonio Guterres issued a report on Afghanistan, citing increasing security problems. For example, the paper states that foreign terrorist groups remain in the country. "The security situation reveals a worrisome trend in recent months, particularly the series of attacks by ISIL-K, recurring armed opposition clashes with Taliban de facto security forces and the continuing presence of foreign terrorist groups in Afghanistan," the UN Secretary General's report says. The report also declared that the US statement on the elimination of Al-Qaeda leader Ayman al-Zawahiri in Kabul "highlighted the ongoing ties between the terrorist group and the Taliban, which go against the latter's obligations to combat terrorism."
At the same time, the Taliban claims that there are no more terrorist groups in Afghanistan. "We will never allow anyone to pose a threat from Afghanistan to other countries," Interior Ministry spokesman Abdul Nafi Thakur said.
It should be pointed out that the leader of Al-Qaeda was destroyed in the guarded central district of Kabul, where international organizations, diplomatic missions and administrative facilities are located. It is pretty tricky to assume that the leadership of the Taliban movement was not aware of the presence of this terrorist. If the Taliban security forces did not know that Zawahiri was hiding in Kabul, they would not control the situation even in the heart of Afghanistan. If we assume the opposite, the Taliban's policy of supporting or, at least, reluctance to fight international terrorist organizations is apparent. Recall that the Taliban promised the international community to fight international terrorism more actively in exchange for humanitarian aid and possible recognition of their regime in the future.
Moreover, it gives the impression that the main sponsor of the Taliban, the Islamic Republic of Pakistan, has lost control of the movement. It is obvious that organizations similar to the Taliban cannot function successfully without foreign economic, military and political assistance. The Pakistani military, particularly the ISI, took part in creating the Taliban movement in the 1990s and patronized them all this time. It is known that there are many Islamabad henchmen in the Taliban leadership, and either radicals or Pakistanis do not hide close ties and contacts. However, neither the Pakistanis nor other players can exert pressure on the Taliban. At least, the political pressure that is being exerted now by the international community is not enough: the Taliban do not show a desire to begin the fight against terrorism.
In the theory of political science and international relations, I am unaware of cases when similar regimes have gained success and contributed to the long-term development of their countries, societies and regions. In this regard, it can be considered that the Taliban and their patrons must significantly and profoundly transform their guidelines, ideology and management strategies. Otherwise, as experience shows, in the future, similar regimes end badly, which affects the stable development and position of their countries and nations.
World 'must engage' or risk Afghanistan's collapse
"Patience is running out" for many in the international community when it comes to effectively engaging with Afghanistan's de facto rulers, the Taliban, senior UN envoy for the country, Markus Potzel, told the Security Council on Tuesday.
Despite some positive developments over the past few months, the Deputy Special Representative for Afghanistan said they have been "too few and too slow and they are outweighed by the negatives".
Women's rights
He drew attention to the ongoing ban on girls' secondary education and growing restrictions on women's rights, as "signals that the Taliban are indifferent to more than 50 per cent of the population" and are willing to risk international isolation.
"The relegation of women and girls to the home not only deprives them of their rights, but Afghanistan as a whole is denied the benefit of the significant contributions that women and girls have to offer," he detailed.
Terrorism concerns 'dismissed'
Meanwhile, from armed clashes to deadly terrorist attacks, the UN Assistance Mission in Afghanistan (UNAMA) has monitored a steady rise in security incidents by terrorist groups and others.
"Our earlier warnings about the capabilities of Islamic State Khorosan Province (ISKP) were dismissed by the Taliban", he told ambassadors.
"But ISKP has demonstrated in the last few months alone that it can carry out assassinations of figures close to the Taliban, attacks against foreign embassies, as well as fire rockets across Afghanistan's border to attack its neighbours – all while maintaining its long-standing sectarian campaign against Shia Muslims and ethnic minorities," said Mr. Potzel.
Provincial rights violations
And armed clashes are continuing between Taliban security forces and armed opposition groups in the Panjshir, Baghlan, Kapisa, Takhar, and Badakhshan provinces, the UN envoy continued.
"There are disturbing reports, as well as videos and photos, indicating possible serious human rights violations committed in Panjshir," he said, calling for an investigation into allegations of extra-judicial killings there.
The mission will continue to carefully monitor these and other reports of serious human rights violations, he added.
UN bolstering cash economy
As per capita income has collapsed to 2007 levels – erasing 15 years of economic growth – the country's economic situation "remains tenuous" (with little detail forthcoming from the Taliban) due in part to Afghanistan's isolation from the international banking system.
"Liquidity remains heavily dependent on the cash that the UN continues to bring in for humanitarian operations – cash, I must stress, that supports the needs of the Afghan people and does not directly reach the de facto authorities," said Mr. Potzel.
But even the funding is uncertain as the 2022 Humanitarian Response Plan has only received $1.9 billion out of a $4.4 billion requirement.
No representation
Humanitarian and economic measures will not meet the Afghan people's longer-term needs, and the emergency aid cannot replace essential service delivery systems, such as health and water, or hold off an economic collapse, he warned.
Moreover, a continued lack of political inclusivity and transparency in decision-making leave most Afghans without any government representation.
"There are no consistent mechanisms for citizens to provide feedback to the authorities and little indication that the Taliban wish to even hear any," the UN envoy said.
'We have to engage'
While the Taliban's self-identified emirate has not been recognized by any State, the international community also does not want to see the country collapse, Mr. Potzel stressed.
"If the Taliban do not respond to the needs of all elements of Afghan society and constructively engage within the very limited window of opportunity with the international community, it is unclear what would come next," said the Deputy Special Representative.
"Further fragmentation, isolation, poverty, and internal conflict are among the likely scenarios, leading to potential mass migration and a domestic environment conducive to terrorist organizations, as well as greater misery for the Afghan population.
"That's why we have to engage", he declared, adding that "continued qualified engagement" was the most realistic way of helping the Afghan people.