The strategies of subversion in the interpretation of the French School of Economic War
The Brent Spar Case
On February 16, 1995, the British government granted the Shell-UK company authority to sink an oil platform (the Brent Spar) no longer being used off the coast of Scotland. Taking preparation times into account, the sinking was scheduled for the month of June. Several weeks prior to the scheduled date, the international environmentalist organization Greenpeace protested the risk that such sinking posed, affirming that the platform contained 5,000 tons of oil – a dangerous quantity for the marine ecosystem. The English company immediately denied such accusation, in this way dismissing also the idea of an attack against the environment: nearly all the oil contained in the platform had already been transferred to a tanker when the platform was decommissioned in 1991. In reality, only 130 tons of oil remained inside the platform, with uncertain consequences to the ecosystem. Various scientists favorable to the sinking of the platform were then engaged by the British government for the purpose of legitimizing the logic advanced by the Shell Group. Prime Minister John Major announced his position in favor of sinking, claiming that this would be the safest and most economical solution.
Greenpeace launched its media attack beginning with its claims that the scientists engaged by the government were hardly impartial, in light of the absence of any guarantees for the protection of the marine environment and the subjectivity of their opinions. In the meantime, the environmentalist organization had mobilized its German office in Hamburg and Herald Zindler, the head of its action service, who would organize the assault and boarding of the platform together with around 20 militants. The filming of the event was shown around the world. Greenpeace announced its intent to stay aboard the platform until Shell and the British government gave in to its demands. The environmentalist organization also demanded that the platform – and all other platforms destined for dismantling – be brought to land and disassembled for the recycling of composite materials.
During the same period, Greenpeace published a report prepared by a number of independent scientists entitled "No grounds for dumping: the decommissioning and abandonment of offshore oil and gas platforms" that demonstrated the risks posed by the sinking of the Brent Spar platform due to the fact that "the platform still contained 100 tons of toxic sludge (composed of bio-accumulative chemical products including arsenic, cadmium, PCB, and lead) in addition to 30 tons of radioactive deposits derived from drilling and storage operations in oilfields.". This report applied the above-mentioned measures to a total of another 416 platforms installed in the North Sea, in such way assessing the pollution in this area at 67,000 tons of stainless steel, 700 tons of lead, 8 tons of PCB, and 1,200 tons of radioactive waste…
Coverage of the conflict in the mass media was intensified by an appeal for European nations to boycott Shell service stations. Protests rapidly reached an unexpected dimension and their success was greatest in Germany, where all the socio-economic categories supported the call, and precisely: the obstetricians' association, the Kunert company (a leader in the production of hosiery), trade unions, and Protestant churches. By mid-June, Shell's German subsidiary reported losses to the order of 35 million French francs daily. The fourth-largest subsidiary of the Anglo-Dutch petroleum products group controlled 12% of the German service station market and accounted for no less than 10% of the group's total sales and therefore 10% of its profit. Obliged to negotiate, with the greatest of discretion, the Shell German subsidiary's General Manager Peter Duncan organized a meeting with Greenpeace Germany Director Thilo Bode. The environmentalist movement capitalized on Europe's contradictions stemming from England's particular position in the European Community and the way it was perceived by other nations. The amplitude of reactions in Germany was such that Chancellor Helmut Kohl asked John Major to refrain from sinking the platform during the G7 Summit in Halifax (Canada). On June 20, 1995, the Anglo-Dutch company officially announced that it had abandoned the idea of sinking the Brent Spar platform, which was towed to Norway and moored in a fjord. Shell was required to disburse 230 million francs for the operation. Greenpeace had won.
1.2
On the strength of this victory against the world's second largest industrial group at the time, Greenpeace felt invincible and announced to the entire world that its next campaign would by the Moruroa Atoll following news of the President of the French Republic's intention to conduct a series of nuclear tests there. Applying the principle of monitoring media activity without definitively achieving success, Greenpeace continued its information work. After so many shields had been raised in defense of the environment, Shell's lawyers engaged the Norwegian Det Norske Veritas Foundation to verify all the scientific data on the Brent Spar platform. Thirty-three specialists were asked to submit their individual reports on October 18. All were unanimous in stating that sinking the platform posed no risk. The association learned of the opinions of the specialists engaged by Shell (and in particular its initial conclusions and probable form of disclosure) and realized that it would soon be placed with its back against the wall by the irrefutable logic advanced in the Foundation's report. Fearing the strong media attention that could be turned against it, the environmental organization based in the Netherlands decided to stage a pre-emptive counter-attack, a technique that consists in applying a principle developed by Sun Tzu: cut the grass beneath your adversary's feet. In the case at hand, this meant countering the arguments of the Veritas Foundation before such arguments could be used. The public disclosure of the report would have certainly worked as a media bomb with great detrimental effect to Greenpeace at a moment in which its credibility was at stake in the more important action regarding French nuclear tests.
Contrary to the allegations made, the Brent Spar did not contain toxic sludge or radioactive waste in its central duct. The platform had been effectively nearly empty since it was decommissioned in 1991. By taking the initiative, Greenpeace defused the bomb and successfully dodged the accusations of manipulation, disinformation, intellectual dishonesty, and scientific incompetence, and in this way damage to its image was only slight. The procedure is simple and effective: the Greenpeace-UK Director Lord Peter Melchett sent Shell General Manager Christopher Fay a letter of confession in which he admitted having erred in assessing the risk: "I am very sorry. Our calculations were inexact […]. Please accept my apologies for this mistake. [The samples were taken] in the piping that led to the platform's tanks and not in the tanks themselves…".
The international press, irked at having been manipulated in this way, inveighed against the environmentalist organization without result, which was in the eyes of the press guilty of having mystified public opinion by using perfectly orchestrated disinformation. Yves Lenoir, a former member of the French committee, denounced the methods used: "This is a typical example of Greenpeace methods that completely invent a scandal without any facts at all."
2.1
Mobile warfare is the fulcrum of Greenpeace strategy. In his military writings, Mao Zedong defined the "strategic problems of revolutionary war". One of the most important strategic problems that must be solved regards the relationship between the positional warfare and the mobile warfare. The former must "fight against fixed operation lines and the positional warfare using mobile operation lines and mobile warfare", the latter must be compatible with the following principle: "battle against the strategy that aims to strike with two fists in two directions at the same time and instead favor the strategy that aims to strike with just one fist in only one direction at any given moment."
Knowing how to manage transparency: utilizing this register, on that occasion Greenpeace neutralized the logic of dishonest obstinacy and presented itself as an untarnished hero motivated solely by its constructive objectivity. The principle of transparency is one of counter-information's essential components.
Turning communication into an offensive weapon: the apology letter addressed to Christopher Fay was publically disclosed. This maneuver of no little interest served the objective of publicizing the environmentalist organization's behavior to public opinion, in particular, to its sympathizers and donators. Greenpeace received involuntary assistance in this from Shell, whose main objective was to amplify the environmentalist association's failure. The principle of this publicity initiative applied by Greenpeace permitted its message to be oriented in the desired direction and to limit the margins for the adversary's criticism. For this reason, despite the communication offensive against Greenpeace launched by Shell-UK, Shell-France, and John Major, the perception of its failure in the eyes of public opinion was mitigated by the perception of its sincerity.
Capitalizing on your adversary's contradictions: acceptance of one's errors can be immediately placed in better perspective by bringing theirs to light. Parallel to its confession "Greenpeace recalled that some scientists had asked themselves about shortcomings in the information disclosed by Shell", while also noting the fact that whereas some scientists believed sinking the platform to be more ecological than dismantling it, others were less convinced. Highlighting these contradictions in the scientists' reasoning made the possibility of making an error in good faith more believable, in this way legitimizing the error made by Greenpeace.
On one hand, every mistake offers the chance for a new learning experience. The mistake made by Greenpeace allowed Shell to raise a related problem: the management of oil and gas platforms no longer utilizable. The attack that was so detrimental to British interests provided the occasion for a constructive contribution to the scientific debate. On the other hand, this war of information between Greenpeace and Shell brought the latter to a contradiction: continuing to harshly attack Greenpeace and exploit the defeat of its science would appear an unjustified exaggeration, especially in light of the latter's confession. Crushing the environmentalist organization made it impossible for Shell to regain its previous media status. The environmentalist organization's media skills suggested that it would be better for Shell to have it as an ally than an enemy, and for this reason Shell officially invited Greenpeace to take active part in its "Offshore Europe 1995" conference dedicated to environmental protection.
In order to ensure adequate media coverage for its Brent Spar operation, Greenpeace spent 350,000 pounds sterling to rent satellite communication lines – twice the amount the BBC paid to cover the event. Its days of being a dilettante were long over.
2.2
By adopting a decidedly defensive strategy that continuously confirmed the complete reliability of the sinking operation, Shell expended great energy and obtained only mediocre results, and was never really able to counter the attack of which it was a victim. This fatal outcome for the oil company originated in the falsification of its perception of the theaters of action. Whereas Shell communicated on the basis of tangible, objective reasoning and scientific facts, Greenpeace based its fight on subjective, subversive, pseudoscientific terrain and the enlargement of contradictions. This forced Shell to add arguments of more self-justificatory nature based on objectivity. If the Anglo-Dutch group had mastered the art of polemic and the offensive techniques of information warfare, the final verdict would have undoubtedly been different.
"These new forms of warfare are no less radical than the previous ones, and oblige those under attack  the economic world, the protagonists of civil society to adopt new strategies. In particular, it is fundamentally important to prevent accusatory actions whose effects are irremediable because they are media effects: the pathetic apologies made by Greenpeace will not remedy the injury done to Shell in any way.".
For most organizations, traditional crisis management and institutional communication models have shown their limits when faced with radicalization and the massive use of new communication technologies. A number of elements of precise and effective response can be derived from the concept of counter-information, which may be defined as the combination of communication actions that thanks to pertinent and verifiable information permits to attenuate, invalidate or turn back an information attack against the attacker. Counter-information differs from the disinformation employed by special services but responds to constraints and requires the same quality as the original information attack, and precisely: preliminary intelligence, mastery of psychological and psycho-sociological mechanisms, skillfulness in the management of communication techniques and principles (including advertising), and close contacts with the mass media, etc.  Hence every prevention of an insidious open information attack requires knowledge and mastery of the offensive techniques of information warfare. The criteria of effectiveness of counter-information are as follows:
–              in order to be credible, counter-information must make an effort to channel open and well-argued information, verifiable and not manipulated information;
–              where, when, how, and to which extent must information be employed? Counter-information is a question of information strategy and management;
–              the adversary's contradictions and weaknesses must be systematically attacked;
–              the argument in support of attack is all the more incisive when the evidence of the facts presented can be ascertained;
–              communication is linked to the exemplarity of demonstration and the skillful use of spontaneous resonance elements.
The media defeat suffered by Shell Group demonstrates, above all, the limits of a discourse and logic based exclusively on a technical validation of the issues at hand, while also suggesting that counter-information is the only response that permits the mitigation or even the reversal of an embarrassing and untenable situation.
Hostage to its own certainties, Shell Group attempted to wage the battle on apparently favorable ground. Remaining in a strong/weak relationship without taking the initiative, the Anglo-Dutch company was forced to develop a defensive strategy. The oil company's reaction based on mechanisms of direct conflict provided inadequate response to the powers of persuasion of the environmental protection organization that had acquired mastery in the art of dialectics and rhetoric in the meantime. Despite its initially restricted margin of maneuver, Greenpeace was able to construct global reasoning that publicized the issue with the use of subversive techniques. Its sensational victory is exemplary from various points of view. First and foremost, it demonstrates that no international company may deem itself safe from the risk of substantial destabilization by even an organization with limited means. Many structures today are capable of conducting effective communication campaigns and selecting the resonance amplifiers most appropriate for the exertion of pressure on political institutions. No multinational appears to be dedicating enough attention to these new risks, and some have been victims of similar experiences, such as the French oil company ELF, which was obliged to pull out of an important business project in Chad.
How to finance Asia's infrastructure gap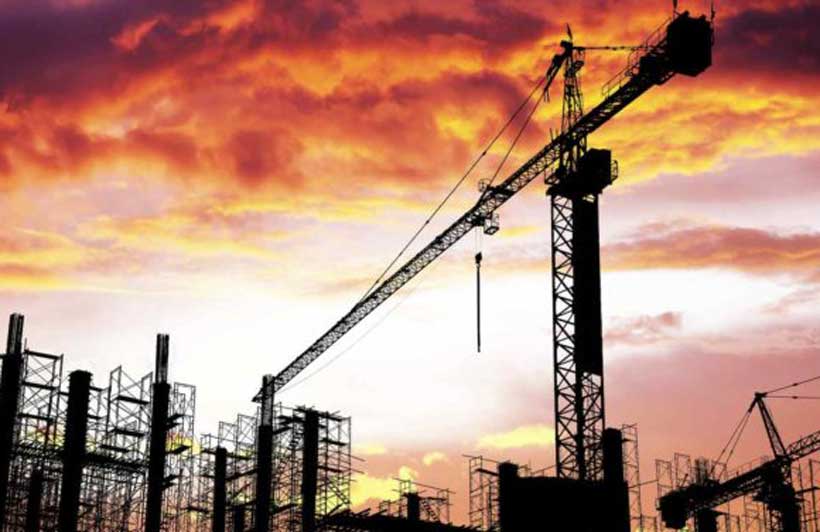 Asia's countries famously need to invest trillions of dollars a year to provide infrastructure required to keep traffic flowing, ports trading, and factories humming. Yet most countries in the region consistently fall short.
The 2017 Asian Development Bank (ADB) report "Meeting Asia's Infrastructure Needs" puts the infrastructure tab for 45 developing Asian countries at more than US$1.7 trillion per year. Developing Asia now invests only about $881 billion a year, or slightly more than 50 percent of that. This is the infrastructure gap.
Less well known, however, is that the investment shortfall is frequently not for a lack of funds or technology. The money may be available, particularly in the private sector, but not enough of it is going where Asia needs it. And this is because many developing countries lack the knowledge and capacity to design and implement bankable infrastructure projects that integrate new technologies.
To encourage private sector investment in infrastructure, high-quality bankable projects must adopt current levels of proven technology as well as be "future-proofed" to further advances in technology.
Delegates from across the development spectrum — from government through the private sector — will gather on Oct.13 in Bali for the Global Infrastructure Forum 2018 to discuss several trillion-dollar questions. How can governments and the private sector help fill the infrastructure gap? How can authorities' better pair the world's big investors with the many inclusive, resilient, sustainable, and technology-driven infrastructure projects this region needs to advance economic progress? And how can multilateral development banks best help?
To be sure, strong infrastructure projects are going up all over Asia. Take Indonesia, the Forum host; the country has made enormous strides under its ongoing and ambitious infrastructure program.
The country has seen progress: from the trans-Papua road project in one of the country's most remote and underdeveloped regions to better information and communications technology under the Palapa Ring (satellite) Project. Indonesia has also launched innovative and clean energy projects such as the 72-megawatt Tolo wind-farm in South Sulawesi and massive urban infrastructure to boost Jakarta's livability and competitiveness. This latter project includes a new modern airport terminal, rail link, and the first phase of the mass rapid transit expected to open in 2019.
Knowledge is crucial to get such projects off the ground, and this is where the multilateral development banks, including ADB, can assist.
The development banks are providing governments financial and technical support to enhance knowledge in numerous areas.
ADB is also helping strengthen government and private sector project development and governance capacity, for instance, for preparing high-quality projects able to support private finance. It also established the Asia Pacific Project Preparation Facility, a $73 million multi-donor trust fund to support project preparation, monitoring, and project restructuring, as well as capacity building and policy-reform initiatives linked to specific projects.
In addition, the organization is promoting public-private partnerships, catalyzing regulatory reforms to make infrastructure more attractive to private investors, and encourage more bankable projects. Potential is vast, in that pension funds alone, which hold $7.8 trillion in assets, are estimated to invest only about 1 percent of funds under management in infrastructure.
A recent ADB report, "Closing the Financing Gap in Asian Infrastructure," notes that the richer Asian economies, such as Japan — where savings rates top 30 percent — can clearly play a stronger role if it only could. Yet, the country still invests almost $4 trillion in portfolio assets outside Asia.
Likewise, ADB is developing alternative financing structures and is backing green finance to encourage a bankable green finance project pipeline that can access funds from commercial and institutional investors. Many major investors are now strictly subject to environmental, social, and governance requirements in their investment decisions.
Finally, as technology rapidly evolves, particularly digital, it is creating substantial opportunity. Land acquisition, for example, significantly delays infrastructure projects across the region. Digital technologies are therefore being tested in several countries and watched closely for an ability to improve land titling. Likewise, ADB is involved in Spatial Data Analysis Explorer to help in decision-making relevant to climate hazards and resilience across urban systems.
Multilateral development banks can play multiple roles, from assisting and advising on the creation of appropriate legal and regulatory frameworks, developing bankable projects, direct financing or providing credit enhancement tools to finance projects, to structuring innovative "blended finance" solutions in circumstances where the underlying project is incapable of supporting a financing structure priced at commercial funding rates. In all of this, multilateral development banks and other development partners can assist developing countries gain the knowledge to better develop sustainable, accessible, resilient, and quality infrastructure.
Prema Gopalan Honoured as India Social Entrepreneur of the Year 2018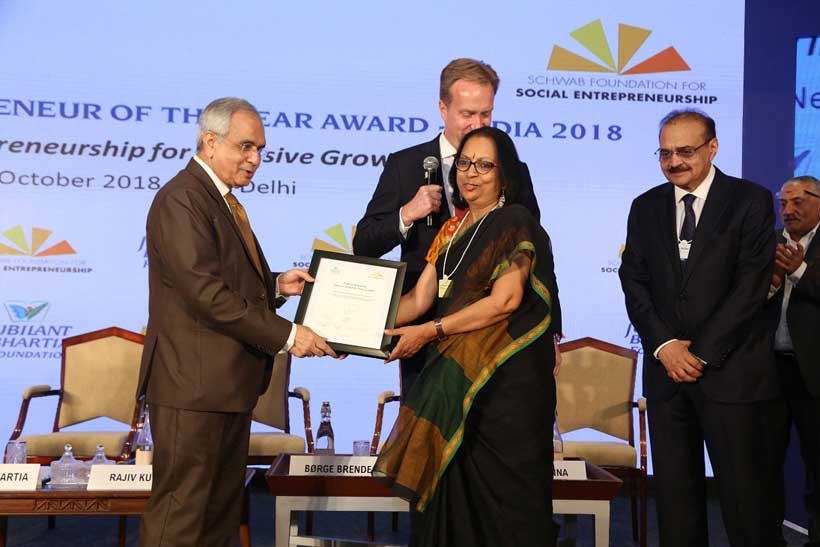 The Schwab Foundation for Social Entrepreneurship, in partnership with the Jubilant Bhartia Foundation, announced Prema Gopalan of Swayam Shikshan Prayog (SSP) as India Social Entrepreneur of the Year (SEOY) 2018. The award honours her exceptional contribution in revitalizing rural economies by empowering women to succeed in remote and ailing markets. The SSP model comprises four ventures: a federated network of 5,000 self-help groups; a resilience fund for women-led businesses; a rural school of entrepreneurship and leadership for women; and a market aggregator that provides warehousing, branding, marketing and distribution services to last-mile business women. In addition, it has catalysed the government, investors, financial institutions and Indian and global corporations to partner directly with grassroots women business leaders.
Over two decades, this has had a domino effect in 2,000 climate-threatened villages across six states of India. Over 97,000 women in drought and flood-affected villages have set up enterprises in clean energy, sanitation, basic health services, nutrition and safe agriculture. They have transitioned from self-employment to diversify their ventures, aggregate into value chains and mentor thousands of others to get on the path of entrepreneurship – 900 women are recognized locally as climate resilience leaders and 500 are playing a role in local governance. SSP's grassroots women entrepreneurs are taking their communities forward as part of their business success. As SSP partners with the government to scale its model, it is demonstrating that investing in rural women entrepreneurs can be a solid strategy for transforming India.
Smita Ram and Ramakrishna NK of Rang De were also selected as finalists for their work on unlocking unusual channels of capital for India's poorest, building bridges between India's credit-starved communities and ordinary citizens who contribute to meet the education, health and enterprise needs of resource-poor populations. Working on the premise of "micro-investment for micro-loans", this peer-to-peer lending platform has to date disbursed INR 70 crore from 14,000 social investors and philanthropists to benefit 60,000 families.
"The World Economic Forum has long championed gender equality on the global agenda," said Hilde Schwab, Chairperson and Co-Founder of the Schwab Foundation for Social Entrepreneurship. "The 2018 winner, Prema Gopalan of Swayam Shikshan Prayog, has demonstrated that investing in rural women is a good investment. Female entrepreneurs are critical actors to help bring about the transformation that India seeks!"
Congratulating the winner, Shyam S. Bhartia, Founder and Chairman, Jubilant Bhartia Group, and Founder Director of Jubilant Bhartia Foundation, said: "We are entering the tenth year of partnership with the Schwab Foundation. In the last nine years, we received more than 1,400 applications for this award. The response is indeed overwhelming and the quality of the applications very competitive. We are glad to see how the SEOY India Award is able to identify and bring to the forefront the enterprises who are achieving social impact at a larger scale. We hope that this year's SEOY India Award winner will serve as an inspiration to future generations of social innovators."
The SEOY India Award brings some of the country's most remarkable change-makers on to a common platform. These social entrepreneurs are promising self-starters, with a strong inclination towards addressing the most pertinent needs of marginalized communities in scalable and sustainable ways. Their endeavours encapsulate alleviating poverty, hunger, gender inequality, promoting women empowerment and education. These social entrepreneurs are torch-bearers who have taken the onus of working towards managing micro-finance needs and finding solutions to daunting challenges like climate change. The tenets of this year's finalists are aligned with the United Nation's Sustainable Development Goals.
The winner will be invited to join the Schwab Foundation's global community of over 350 social innovators. Social Entrepreneurs are driven by their mission to create substantial social change and promote inclusive growth, developing new products and service models that benefit underserved communities.
The Bali Fintech Agenda: A Blueprint for Successfully Harnessing Fintech's Opportunities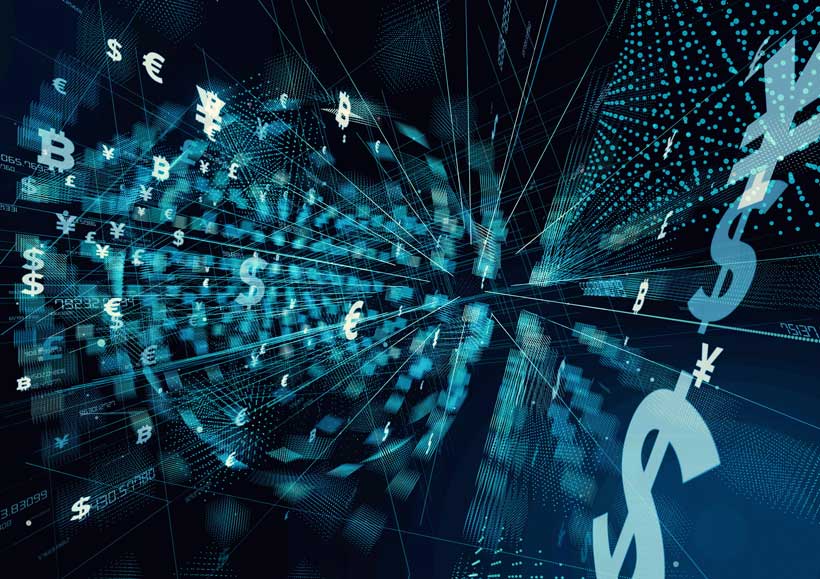 The International Monetary Fund and the World Bank Group today launched the Bali Fintech Agenda, a set of 12 policy elements aimed at helping member countries to harness the benefits and opportunities of rapid advances in financial technology that are transforming the provision of banking services, while at the same time managing the inherent risks.
The Agenda proposes a framework of high-level issues that countries should consider in their own domestic policy discussions and aims to guide staff from the two institutions in their own work and dialogue with national authorities. The 12 elements (see table) were distilled from members' own experiences and cover topics relating broadly to enabling fintech; ensuring financial sector resilience; addressing risks; and promoting international cooperation.
"There are an estimated 1.7 billion adults in the world without access to financial services," said IMF Managing Director Christine Lagarde. "Fintech can have a major social and economic impact for them and across the membership in general. All countries are trying to reap these benefits, while also mitigating the risks. We need greater international cooperation to achieve that, and to make sure the fintech revolution benefits the many and not just the few. This Agenda provides a useful framework for countries to assess their policy options and adapt them to their own circumstances and priorities."
"The Bali Fintech Agenda provides a framework to support the Sustainable Development Goals, particularly in low-income countries, where access to financial services is low," World Bank Group President Jim Yong Kim said. "Countries are demanding deeper access to financial markets, and the World Bank Group will focus on delivering fintech solutions that enhance financial services, mitigate risks, and achieve stable, inclusive economic growth."
Mrs. Lagarde and Dr. Kim presented the Agenda in a panel discussion today during the Annual Meetings in Bali. They were joined by Sri Mulyani Indrawati, Minister of Finance of Indonesia; Lesetja Kganyago, Governor of the South African Reserve Bank; and Mark Carney, Governor of the Bank of England and Chair of the Financial Stability Board.
With their near universal membership, the Fund and the Bank, are well positioned to gather information from all countries and to reflect on their respective needs and objectives at various levels of economic and technological development. They both also offer a forum for sharing the experience of countries that are not members of international standard-setting bodies on issues such as combating money laundering and terrorism financing, market integrity, and consumer protection. The Financial Stability Board and several other international standard-setters have been reviewing the implications of fintech developments and have indicated regulation and supervision priorities.
The IMF and World Bank will start developing specific work programs on fintech, as the nature and scope of their members' needs become clearer, in response to the Bali Fintech Agenda. The IMF's initial focus will be on the implications for national and global monetary and financial stability; and the evolution of the International Monetary System and global financial safety net.
In response to the Bali Fintech Agenda, the World Bank will focus on using fintech to deepen financial markets, enhance responsible access to financial services, and improve cross-border payments and remittance transfer systems. The Bank will draw on the International Finance Corporation's growing experience in this area. The Agenda contributes to building the foundations of the digital economy that is a key pillar in the World Bank Group's larger disruptive technologies engagement.
The Bali Fintech Agenda:
Embrace the promise of fintech.
Enable new technologies to enhance financial service provision.
Reinforce competition and commitment to open, free, and contestable markets.
Foster fintech to promote financial inclusion and develop financial markets.
Monitor developments closely to deepen understanding of evolving financial systems.
Adapt regulatory framework and supervisory practices for orderly development and stability of the financial system.
Safeguard the integrity of financial systems.
Modernize legal frameworks to provide an enabling legal landscape.
Ensure the stability of domestic monetary and financial systems.
Develop robust financial and data infrastructure to sustain fintech benefits.
Encourage international cooperation and information-sharing.
Enhance collective surveillance of the international monetary and financial system.
The Bali Fintech Agenda
Embrace the Promise of Fintech with its far-reaching social and economic impact, particularly in low-income countries, small states, and for the underserved, and prepare to capture its possible wide-ranging benefits, including: increasing access to financial services and financial inclusion; deepening financial markets; and improving cross-border payments and remittance transfer systems. Reaping these benefits requires preparation, strengthening of institutional capacity, expanding outreach to stakeholders, and adopting a cross-agency approach involving relevant ministries and agencies.
Enable New Technologies to Enhance Financial Service Provision by facilitating foundational infrastructures, fostering their open and affordable access, and ensuring a conducive policy environment. Foundational infrastructures include telecommunications, along with digital and financial infrastructures (such as broadband internet, mobile data services, data repositories, and payment and settlement services). The infrastructures should enable efficient data collection, processing, and transmission, which are central in fintech advances.
Reinforce Competition and Commitment to Open, Free, and Contestable Markets to ensure a level playing field and to promote innovation, consumer choice, and access to high-quality financial services. The successful and large-scale adoption of technology would be facilitated by an enabling policy framework regardless of the market participant, underlying technology, or method by which the service is provided. Policymakers should address the risks of market concentration, and should foster standardization, interoperability, and fair-and-transparent access to key infrastructures.
Foster Fintech to Promote Financial Inclusion and Develop Financial Markets by overcoming challenges related to reach, customer information, and commercial viability, and by improving infrastructure. The evolving digital economy together with effective supervision are essential in overcoming long-standing barriers to financial inclusion across a broad range of financial services and in enabling developing countries to leverage promising new pathways for economic and financial development to support growth and alleviate poverty. Examples include expanding access to finance while reducing costs, providing new ways to raise funding, enabling new information services to assess risks, and spurring new businesses. To achieve these goals, fintech issues should be part of a national inclusion and financial and digital literacy strategies, while fostering knowledge-sharing between public- and private-sector players, civil society, and other stakeholders.
Monitor Developments Closely to Deepen Understanding of Evolving Financial Systems to support the formulation of policies that foster the benefits of fintech and mitigate potential risks. The rapid pace of fintech will necessitate improvements and possible extensions in the reach of monitoring frameworks to support public-policy goals and to avoid disruptions to the financial system. Information-sharing and exchange would support improved monitoring. Achieving these objectives brings out the importance of continuous monitoring—including by maintaining an ongoing dialogue with the industry, both innovators and incumbents—to identify emerging opportunities and risks, and to facilitate the timely formation of policy responses.
Adapt Regulatory Framework and Supervisory Practices for Orderly Development and Stability of the Financial System and facilitate the safe entry of new products, activities, and intermediaries; sustain trust and confidence; and respond to risks. Many fintech risks might be addressed by existing regulatory frameworks. However, new issues may arise from new firms, products, and activities that lie outside the current regulatory perimeter. This may require the modification and adaptation of regulatory frameworks to contain risks of arbitrage, while recognizing that regulation should remain proportionate to the risks. Holistic policy responses may be needed at the national level, building on guidance provided by standard-setting bodies.
Safeguard the Integrity of Financial Systems by identifying, understanding, assessing, and mitigating the risks of criminal misuse of fintech, and by using technologies that strengthen compliance with anti-money laundering and combating the financing of terrorism (AML/CFT) measures. While fintech innovation generally supports legitimate goals, some innovations may enable users to evade current controls for criminal ends, thus posing a threat to financial integrity. Country responses have varied considerably; but, in all cases, it is important to strengthen AML/CFT compliance and monitoring, including by using technology (Regtech and Suptech solutions) to support regulatory compliance and supervision.
Modernize Legal Frameworks to Provide an Enabling Legal Landscape with greater legal clarity and certainty regarding key aspects of fintech activities. Sound legal frameworks support trust and reliability in financial products and services. This is undermined, however, where legal frameworks fail to keep pace with fintech innovation and evolving global financial markets. An enabling legal framework can be fashioned by having clear and predictable legal rules that accommodate technological change, tailored to national circumstances, particularly in areas such as contracts, data ownership, insolvency, resolution, and payments.
Ensure the Stability of Domestic Monetary and Financial Systems by considering the implications of fintech innovations to central banking services and market structure, while: safeguarding financial stability; expanding, if needed, safety nets; and ensuring effective monetary policy transmission. Fintech could transform the financial markets through which monetary policy actions are transmitted and could challenge the conduct of monetary policy as well as redefine central banks' role as lenders of last resort. On the other hand, fintech could help central banks improve their services, including potentially issuing digital currency, and expanding access to and improving the resilience of payments services.
Develop Robust Financial and Data Infrastructure to Sustain Fintech Benefits that are resilient to disruptions––including from cyber-attacks––and that support trust and confidence in the financial system by protecting the integrity of data and financial services. Developing such robust infrastructure raises a broad spectrum of issues that are relevant not only to the financial sector but also to the digital economy at large, including data ownership, protection, and privacy, cybersecurity, operational and concentration risks, and consumer protection.
Encourage International Cooperation and Information-Sharing across the global regulatory community to share knowledge, experience, and best practices to support an effective regulatory framework. As new technologies increasingly operate across borders, international cooperation is essential to ensure effective policy responses to foster opportunities and to limit risks that could arise from divergence in regulatory frameworks. Sharing experiences and best practices with the private sector and with the public at large would help catalyze discussion on the most effective regulatory response, considering country circumstances, and to build a global consensus. The IMF and World Bank can help in facilitating the global dialogue and information-sharing.
Enhance Collective Surveillance of the International Monetary and Financial System and the adaptation and development of policies to support inclusive global growth, poverty alleviation, and international financial stability in an environment of rapid change. Fintech is blurring financial boundaries—both institutionally and geographically—potentially amplifying interconnectedness, spillovers, and capital flow volatility. These developments could lead to increased multipolarity and interconnectedness of the global financial system, potentially affecting the balance of risks for global financial stability. The IMF and World Bank could help in improving collective surveillance and assist member countries via capacity building, in collaboration with other international bodies.