Teaching youth to plant for the planet and change the world from the heart of Europe
A project run from a remote and beautiful part of the German countryside is transforming young people into climate scouts with a powerful message to share.
The Sustainability Guides and Climate Scouts project is run from the International Meeting Centre, St. Marienthal in Ostritz in the Free State of Saxony near the border with Poland.
Established in 1992, the centre conducts around 60 Education for Sustainable Development (ESD) events for more than 2,500 families, youths, adults and experts each year.
The guides and scouts project started in 1998 and welcomes groups of students for intensive courses that combine study with practical outdoor activities, and make good use of its forest experience trail and nature protection station.
Over 1,100 youth have taken part so far including 680 learning-disabled and socially disadvantaged young people who traditionally have very little access to ESD. Its geographical location means it is perfectly placed to bring together students from Germany, Poland and Czech Republic. And a new model project is currently underway which opens the door to ESD for refugees as well.
One of the most exciting aspects of the project is the Plant for the Planet scheme where children have planted around 34 hectares of forest and undertaken more than 30 small-scale energy and water conservation initiatives.
Project Manager Georg Salditt said: "Our message is really twofold: we are teaching peace and the environment. We are well placed at the very heart of Europe to bring young people together who may not normally have met and to demonstrate to them that we are all human beings and we must respect each other and the planet."
The work with refugees who come from Syria, Afghanistan and African countries and elsewhere also has a double aim.
"We want to make sure that if they make their lives here they know how important it is to protect the environment, but also if they are able to return home or to another country that they carry those messages back with them," said Georg.
Not only is the centre itself a model of sustainability with its own environment management system: when children leave the course they take back with them ideas on how to transform their own schools. The centre ties all theory very tightly to practice. In some schools, environmental representatives have been appointed and students introduced permanent energy saving routines for heating and ventilation and for the reduction of paper use and waste.
As part of the project young people also learn about the effects of climate change on societies in the form of soil erosion, extreme weather phenomena , rural depopulation, economies and the environment especially with regard to forest damage. They are motivated by quick feedback on successes in energy and water conservation and updates on the amount of forest planted.
Crucially children also take part in communication workshops to learn how best to share and pass on what they have learned at open school days or town halls.
For Georg one of the most satisfying aspects of his work is watching the transformation take place before his eyes.
"It might sound silly but students do actually write to me one or two years after the course and say that these five days changed their lives not only as far as the environment is concerned but as a human experience. Some had never met anyone from another country at all. And they got to plant a tree!"
And there is a new project already underway.
"We are now working to introduce a project to protect bees and insects. Everyone loves honey and honeybees so we think it will be a success," he said.
2021 will be defined by the more long-term crisis facing humanity: Climate change
Rather than low-tech and often unworkable solutions (reduced or no travel, mass vegan diets) governments are increasingly embracing technology to help us understand and influence the climate – rather than merely respond to it. This should become the norm for public authorities across the world.
China's weather modification programme, for example, could be a lifeline for workable solutions to climate change globally. The technique, known as cloud-seeding, uses silver iodide and liquid nitrogen to thicken water droplets in the cloud, leading to increased rain or snowfall.
The technology has been used to prevent droughts and regulate weather before major events, like in the run up to the 2008 Beijing Olympics.
The Chinese cabinet has announced that its weather modification programme will cover half the country by 2025, with the aim to revitalize rural regions, restore ecosystems, minimize losses from natural disasters and redistribute water throughout the country.
And China's ambitious 'Sky River' programme could eventually divert 5 billion cubic meters of water annually across regions, which could protect millions of people from the effects of drought and water scarcity.
Although critics have, without evidence, described these projects as 'weaponization of the weather', the humanitarian and development potential is huge.
Necessity is the mother of invention, and this is truer than ever with regards to the climate. The world faces a climate-change induced water crisis, with 1.5 billion people affected globally.
The UN predicts that at the current water usage levels, water scarcity could displace 700 million people by 2030.
Carbon emissions are unlikely to be eliminated in high growth economies in regions like Asia, meaning that the world must develop a way to manage emissions' effects on the climate.
Whilst it is true that the basic solutions of eating less meat, cycling to work and cutting back on international flights can help to curb our carbon output in the long-run, it does nothing to help those who suffer from flooding or water scarcity today.
Ultimately, technology is an essential part of the solution.
Big Tech is leading the charge in tackling climate change through the use of Big Data and machine learning. In November 2019, a group of data scientists published a paper entitled 'Tackling Climate Change with Machine Learning'. The paper laid out 13 different applications of using machine learning to tackle the impacts of climate change. One such application was using machine-learning to predict extreme weather events.
Such an application is already being put into action. For example, Bangladesh is one of the most flood-prone countries in the world; approximately 5 million people were negatively affected by flooding last year alone. In order to help combat this, Google teamed up with the Bangladesh Water Development Board and the Access to Information (a2i) Programme to develop a flood notification app that is approximately 90% accurate.
The app, which is enabled by AI flooding simulation, provides the population with timely, updated, and critical information that can help users make informed decisions on the safety of their families and friends.
The same technology has been used in both India and South Africa, and has the potential to save thousands of lives and livelihoods. It is these sorts of innovations that we must rely on to help those who are most vulnerable to the impact of climate change.
It is not only cloud-seeding and weather prediction technologies that will provide humanity with a route out of its biggest existential threat. Breakthrough battery technology, green hydrogen, 5G-based smart grids and carbon-negative factories are set to become commonplace in our fight against rising CO2 levels.
As a global society, we must set our political divisions and some critics' technophobia aside, and step forward in a spirit of international collaboration.
Similarly to how the pandemic showed the need for united global action, climate change will do the same. And just as technology and science was a key part in how the pandemic was brought under control, climate change can only be addressed through tech-based solutions.
The solution to marine plastic pollution is plural, and plastic offsetting is one of them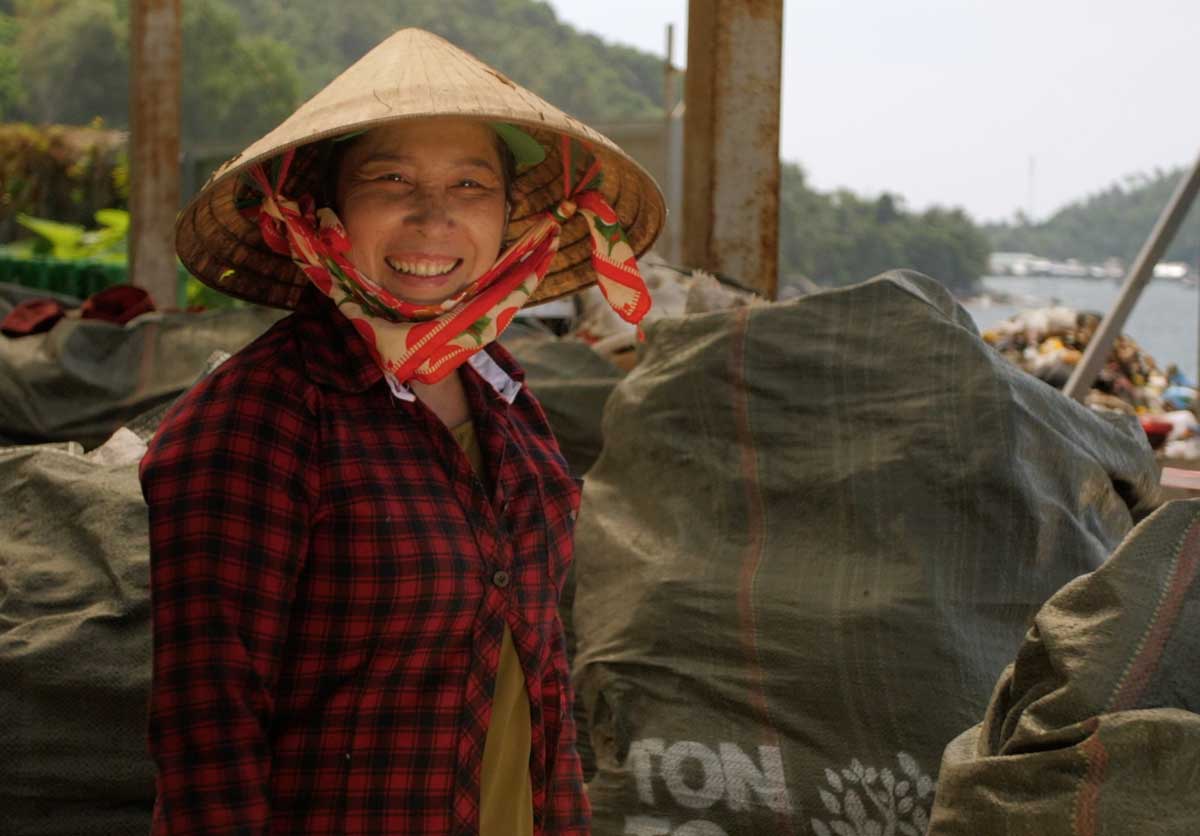 Due to growing concerns around environmental protection, businesses, individuals and governments have been looking for solutions that can be largely implemented to close the tap on plastic pollution.
In the last five years, businesses have strengthened their Sustainability Approach to acknowledge the need to take responsibility for their plastic production and consumption.
If targets have been defined and strong policies followed them to ensure high recycling rates of plastic products, a problem remains. What is the solution for low-value non-recyclable plastics?
This is where plastic offsetting enters the scene. As a derivative of the Carbon Offsetting concept, where trees are planted or protected to capture CO2 emissions, Plastic offsetting also known as Plastic Neutralization, enables companies to take responsibility for their plastic footprint.

Put simply, neutralizing means funding the collection and treatment of plastic, equivalent to the plastic impact of the business. Therefore, giving it the opportunity to compensate for every ton of plastic it has produced by ensuring there is one ton less in the environment.

From linear to Circular Economy Itis also a breakthrough in our traditional model of production, the linear economy. By extending the producer responsibility (EPR), this concept allow to build the bridge that lead to the ideal model, the circular economy, where no waste remains.

This innovative solution brings with it diverse positive impact. To the environment, by protecting ecosystems from plastic pollution, reducing landfilling and CO2 emissions. A strong social impact, by local communities by empowering local communities with work and better incomes. But also businesses, by becoming more sustainable with the reduction of the plastic footprint and a strengthen corporate social responsibility.

TONTOTON, a Vietnamese company, based in Ho Chi Minh City has succeed to connect all stakeholders to create a new market for low-value non-recyclable post-consumer plastic, on the scheme of circular economy.

TONTOTON Plastic Neutralization Program

Following the idea that the informal sector achieve to collect and recycle large amount of plastic in poor waste management areas, Barak Ekshtein, director of TONTOTON decided to look closer to the problem. In fact, a study shows that '97% of plastic bottles were collected by informal waste pickers.

The problem therefore does not lie in the logistics but in the price. By giving a market price to non-recyclable plastic, it allows waste collectors to collect and treat waste and thus avoid plastic pollution.

TONTOTON currently works in Southern Vietnamese Islands, Hon Son and Phu Quoc, and has already few tons of low-value plastic waste. To do so, it collaborates with local waste-pickers and thus provide them better incomes. The program focuses on preventing ocean plastic by following the Ocean Bound Plastic Certification. Their activities are audited by a 3rd party control body, the internationally recognized company, Control Union.

To treat the waste, TONTOTON partners with a certified cement plant, through co-processing, to valorize waste as an alternative energy and raw material. "Our system can solve two issues. Plastic is made of fossil fuels and contains more energy than coal. Thus we can replace industrial coal consumption with non-recyclable plastic waste. The plastic will not end up in landfill or oceans, therefore reduce levels of coal consumption and thus also CO2 emissions.", says Barak Ekshtein.

Businesses engaged in their program can claim plastic neutrality on the amount of plastic neutralized to share their sustainability efforts. Moreover, indicate it on their neutralized product by bearing the "Plastic Neutral Product" label.
Climate Change in Vanuatu: Problems Ensue
Authors: Harsh Mahaseth and Shubham Sharma*
Vanuatu announced its intention to seek legal action against corporations and governments who have benefited from products which had caused climate change. Minister Regebvanu, in the 2018 Climate Vulnerable Summit sought to explore legal actions against companies, financial institutions and governments liable for the damages caused to Vanuatu due to climate change, either by direct to indirect actions of the said parties. Vanuatu, like other small island nations, is seeking damage claims against carbon emitters who have contributed to climate change and benefited from it. Vanuatu seeks to claim reparations for damage caused by events related to climate change such as the 2015 cyclone which wiped out an estimated 64 per cent of Vanuatu's GDP.
A case of action against global polluters isn't novel. Climate Change litigation has its precedence, with over 1300 cases having been filed across 28 countries, where various public and private entities have petitioned the Courts for environmental action or relief. The source of the litigation comes for various multilateral treaties, such as the Stockholm Declaration on the Human Environment, Convention on Environmental Impact Assessment in a Transboundary Context, United Nations Framework Convention on Climate Change, United Nations Convention on the Law of the Sea, and others treaties combating pollution.
For Vanuatu, one of the major obstacle, other than the likely opposition from powerful States, includes finding a suitable forum; identifying relevant substantive obligations and various challenges relating to attribution, causation and evidence before they are able to make successful climate litigation before an international body such as the International Court of Justice (ICJ), scholars have argued that a path for successful litigation exists through Article 36, paragraph 2 of the ICJ Statute, where by accepting compulsory jurisdiction of the ICJa case for prevention obligations under the lex special is of the UNFCCC, human rights law or customary international law.
Strategic Public Climate Litigation, an injunctive relief solution where the aim is to influence public policy or policy decisions primarily through the attainment of injunctive relief by asserting governmental failure to account for GHG emissions associated with public projects and cases of judicial review of public regulatory action (or inaction) on climate change, has already achieved some degree of success. An example would be the Australian Conservation Foundation et al. v. Minister for Planning where there were concerns with regards to GHG emissions of a new coal mine which lead a tribunal to determine the lasting significant environmental effects of the coal mine in the future would be against the objective of the act which is to "maintenance of ecological processes" and the "future interest of all Victorians." Another example is that of the State of the Netherlands v. Urgenda Foundation, where an injunction was sought to compel the Dutch government to reduce GHG emissions, the supreme court of appeals, upheld this view and ordered the Dutch government to cut greenhouse gas emissions by 25 per cent by the end of 2020, compared with 1990 level.
The second option for Vanuatu is to cast a wide net of a variety of legal theories, such as domestic tort law against carbon majors similar to the petition brought before the Commission on Human Rights of the Philippines, which investigate the responsibility of 47 investor-owned carbon majors for human rights violations due to climate change. For this approach, the initial challenge Vanuatu faces is the lack of a national human rights institution who can bring rights violations caused by climate change. However, the lack of a human rights institution can be mitigated by Vanuatu's independent judicial system, as it is competent to address claims for damage caused by climate change by the polluters. The major hurdle Vanuatu faces is establishing the causation between the defendants' conduct and its result, which is to say whether the action of the defendant lead to or contributed to the disaster, and secondly, the ability to certain specific damage sorted by Vanuatu on the other, especially in cases of non-economic loss and damage.
The recent surge in climate change litigation bodes well for Vanuatu, as the establishing precedence only strengthens their claim for damages. However, Vanuatu still faces major obstacles. Firstly, a lack of an international body to address the issue. Even if a case is brought before the ICJ, it can only be against a Member State. Thus, action against private entities cannot be brought before the ICJ. Secondly, identifying the rights violated and then assessing and assigning the damage liability to individuals, entities and governments. Thirdly, if Vanuatu pursues action in domestic courts, there are issues relating to the appearance of the party to the summons and the ability of Vanuatu to enforce the judgment. As the primary means of compliance for offenders in the international area are sanctions, Vanuatu without support from larger nations wouldn't be able to handout sanctions to force compliance. There are many problems that Vanuatu faces but they cannot sit still now, and it is time to act and make the polluters liable.
* Shubham Sharma is a graduate from NALSAR University of Law. He has worked on several research projects relating to human rights, juvenile justice, and climate change.