Poland must make urgent legislative reforms to combat foreign bribery
Poland must make urgent progress on carrying out key recommendations of the OECD Working Group on Bribery that remain unimplemented, more than four years after its Phase 3 evaluation in June 2013.
Poland still needs to take urgent steps to ensure companies can be held responsible for foreign bribery, even if the persons who perpetrated the offence are not convicted. In addition, Poland must increase the fines for companies in order to ensure foreign bribery is punishable by effective, proportionate, and dissuasive sanctions.
The Working Group is disappointed by Poland's failure to take measures to ensure that the "impunity" provision in the Penal Code that applies to foreign and domestic bribery cannot be applied to the bribery of foreign public officials. This provision allows perpetrators of bribery to automatically escape punishment by notifying the law enforcement authorities of the offence before the authorities learn about it from other sources.
In the context of ongoing reforms, Poland should also ensure that appropriate measures are in place to protect from retaliatory or disciplinary action private and public sector employees who report suspected acts of foreign bribery in good faith and on reasonable grounds.
The Working Group reviewed a report submitted by Poland on its progress in implementing these outstanding recommendations at its plenary meeting on 13-15 March 2018. The Working Group requested that Poland provide a written report on further progress in addressing these concerns in December 2018, at which time the Group will consider additional measures in the absence of significant progress.
ICJ orders Pakistan to review death penalty for Indian accused of spying
In a ruling delivered on Wednesday, the International Court of Justice (ICJ) ordered Pakistan to review a death sentence handed down in the case of a former Indian Navy officer accused by Pakistan of spying, finding that the country's authorities acted in breach of the Vienna Convention, which lays out rules for diplomatic relations between countries.
Kulbhushan Jadhav, said the Court, had not been informed of his rights by the Pakistani authorities, and that the Indian Government has been deprived of "consular access": the right to communicate with him.
During the hearings, the ICJ had directed Pakistan not to carry out the death sentence until the Court's final ruling. On Wednesday, the Court ordered a "continued stay of execution", as a "indispensable condition for the effective review and reconsideration of the conviction and sentence".
Mr. Jadhav was arrested three years ago by Pakistani authorities, who say that he was in the restive Balochistan province, which is home to a separatist insurgency that Pakistan accuses India of backing. The charges levelled against Mr. Jadhav were of "espionage and sabotage activities against Pakistan".
Although a video was released shortly after Mr. Jadhav's arrest, in which he was shown admitting involvement in spying, India has always questioned the alleged confession, saying that it was extracted under duress. The Indian authorities also deny that Jadhav is a spy and say that he was kidnapped in Iran, which borders the province, which he was visiting on business.
Following Pakistan's pronouncement of the death penalty, in April 2017, India filed a case with the ICJ, calling the trial, which took place in a military court, "farcical", and asked for a stay of execution and consular access to Mr. Jadhav. Pakistan countered that Mr. Jadhav was not given consular access because he is a spy who illegally entered the country in order to create "unrest and instability".
WEF on Africa to Focus on Inclusiveness in the Fourth Industrial Revolution
The 28th World Economic Forum on Africa will take place in Cape Town, South Africa, on 4-6 September. The theme of the meeting is Shaping Inclusive Growth and Shared Futures in the Fourth Industrial Revolution.
The meeting will be the first that the World Economic Forum has held in sub-Saharan Africa since 2017, when leaders from government, business and civil society from around the world gathered in Durban, South Africa.
This year's meeting falls in a year when 20 elections will take place across the region, and nearly 100 days since South African President Cyril Ramaphosa took office. While progress has been made politically in sub-Saharan Africa, economic growth is also expected to accelerate modestly in 2019 from 3.1% in 2018 to an average of 3.6% in 2019, according to the World Bank.
Against this backdrop, the World Economic Forum on Africa will address a number of key issues facing the region's inclusive development. These include:
· Supporting growth and integration through the African Continental Free Trade Area
· Creating high-quality employment opportunities and protecting workers in the Fourth Industrial Revolution
· Employing drones to address health, infrastructure and other societal needs
· Using emerging technologies to advance healthcare and prepare for epidemics
· Implementing growth strategies that address environmental challenges and deliver industrialization
The Co-Chairs of the meeting are:
· Ellen Agler, Chief Executive Officer, The END Fund, USA
· Jeremy Farrar, Director, Wellcome Trust, United Kingdom
· Arancha Gonzalez Laya, Executive Director, International Trade Centre (ITC), Geneva
· André Hoffmann, Vice-Chairman, Roche, Switzerland
· Alex Liu, Managing Partner and Chairman, A.T. Kearney, USA
· Jim Ovia, Chairman, Zenith Bank, Nigeria
· Sipho M Pityana, Chairman, AngloGold Ashanti, South Africa
"Africa's successful development depends on building the right conditions for its new generation of entrepreneurs, innovators and leaders. This means smart, agile institutions; an enabling environment for innovation that includes access to skills and capital; and a determined approach by policy-makers to level the playing field and implement policies that prioritize sustainable, inclusive growth over short-term imperatives," said Elsie Kanza, Head of the Regional Agenda, Africa, and Member of the Executive Committee at the World Economic Forum.
Increasing Data Accessibility and Usability for Prosperous Nepal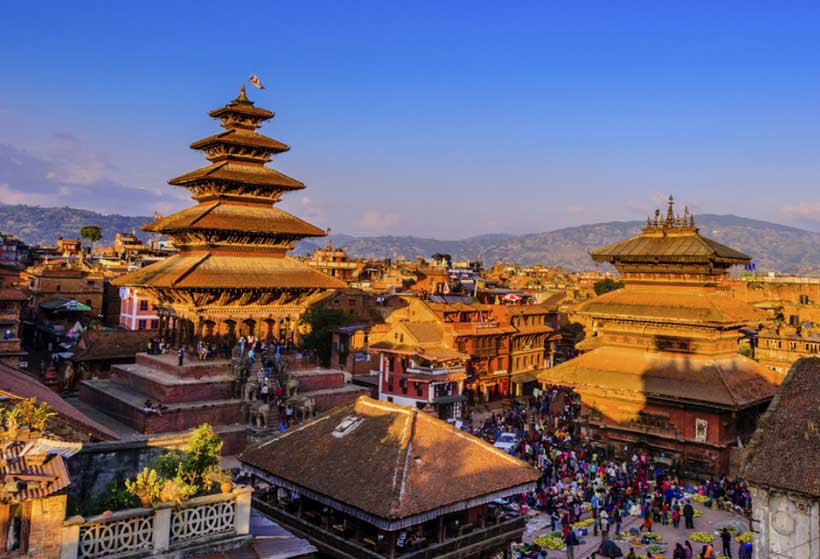 Over 75 Nepali professionals from the academia, media, and private and non-profit sectors successfully completed the first phase of the Nepal Data Literacy Program today.
The first of the three-phase data literacy program which began on 23 June provided 40 hours of classroom-based introductory lessons on data analysis, visualization and data-driven decision making and storytelling to participants.
An initiative of the World Bank's 'Partnership for Knowledge-based Poverty Reduction and Shared Prosperity Project' supported by DFID, the Nepal Data Literacy Program aims to sustainably transfer data literacy skills to Nepali professionals to strengthen their capacity to proactively engage in evidence-based policy making, increase data literacy of Nepalis, and support federalism in the country.
"Data literacy is an essential skill in today's data driven world, especially for Nepal as the country works towards implementing its development vision," stated Faris Hadad-Zervos, World Bank Country Manager for Nepal. "This presents a unique opportunity to build a consortium of data institutions from the public and private sectors and civil society to support evidence-based policymaking and innovations for the economic growth and wellbeing the people of Nepal."
The curriculum developed through this course has been published in an open source format to be adapted and used to increase data literacy capacity for groups of diverse backgrounds. With the completion of the training, the participants are expected to provide data literacy training to their colleagues within their organizations while representatives from the academia are expected to incorporate concepts from the data literacy program in their existing courses.
"I have been impressed to see participants' engagement at the program and to hear them voice their dedication toward engaging in evidence-based policy-making discourse. It was also really heartening to see the impact of the training on participants who came in quite nervous but went away much more confident in their ability to use data with new skills they had gained," reflected Craig Irwin, Statistics Advisor, DFID UK in Nepal.
The next two subsequent phases of the program scheduled for July to September of 2019 will cover intermediate lessons and guide participants in writing contextual analysis papers and blog posts to get hands-on experience with data-driven storytelling and decision making.
On the sidelines of the program, an interactive workshop on Open Government Data with officials from the Government of Nepal was also organized in Kathmandu on 26 June under this project in collaboration with the World Bank's Public Financial Management Multi-Donor Trust Fund. The workshop discussed the importance of Open Government Data in accelerating government priorities and increasing access to government data in Nepal, together with ideas to pilot initiatives to increase quality use of government data in the country.
"Open Government Data has enormous potential in Nepal, and I look forward to partnering with the World Bank to make our data publicly available in a user-friendly way so everyone can benefit more from our data," said Ramesh Siwakoti, Joint Financial Comptroller General.