How to stop terrorism: EU measures explained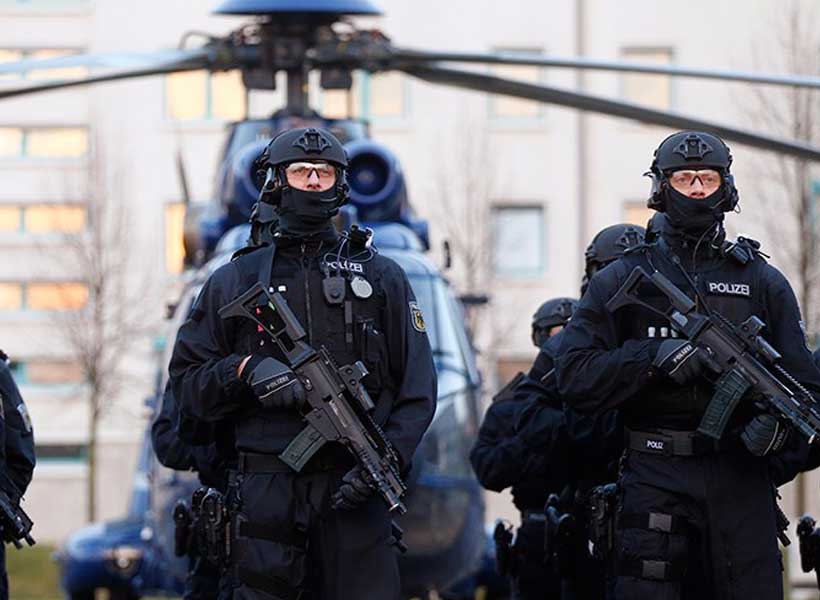 Stopping terrorism requires tackling issues such as foreign fighters, border controls and cutting off funds. Learn about the EU's counter terrorism policies.
Security is a major concern for Europeans: the vast majority (80%) want the EU to do more to fight terrorism. However, European policy makers also realise that terrorism has no borders.
EU measures to prevent new attacks run from more thorough checks at Europe's borders, to better police and judicial cooperation on tracing suspects and pursuing perpetrators, cutting the financing of terrorism, tackling organised crime, addressing radicalisation and others.
Improving  border controls
In order to safeguard security within the Schengen zone, systematic checks at the EU's external borders on all people entering the EU – including EU citizens – were introduced in April 2017.
To record the movements of non-EU citizens across the Schengen area and speed up controls, a new entry and exit registration system was agreed by Parliament and EU ministers on 30 November 2017. These new external border controls are expected to become fully functional by 2020 at the latest.
Stopping foreign terrorist fighters
At least 7,800 Europeans from 24 countries are believed to have travelled to conflict areas in Syria and Iraq to join jihadist terrorist groups, according to Europol. Although there is a decrease in travel, the number of returning foreign fighters is expected to rise if Islamic State is defeated militarily or collapses.
In order to criminalise acts such as undertaking training or travelling for terrorist purposes, as well as organising or facilitating such travel, Europe put in place  EU-wide legislation on terrorism that, together with new controls at the external borders, will help to tackle the foreign fighter phenomenon.
Making use of air passenger data
Airlines operating flights to and from the EU are  obliged to hand national authorities the data of their passengers such as names, travel dates, itinerary and payment method.
This so-called PNR data  is used to prevent, detect, investigate and prosecute terrorist offences and serious crimes. Negotiations took more than five years and Parliament insisted on safeguards for sensitive data (revealing racial origin, religion, political opinion, health or sexual orientation) and data protection.
Stepping up the exchange of information
The man who carried out the Berlin Christmas market attack used multiple identities to evade border and law enforcement authorities. This, and other similar cases, show the importance of effective information sharing between different authorities (law enforcement, judicial, intelligence) in EU countries.
The EU already has many databases and information systems for border management and internal security. The Parliament is currently focusing on rules that will enable the interoperability of the databases and allow for the simultaneous consultation of the different systems.
Europol, the EU's police agency, supports the exchange of information between national police authorities as the EU criminal information hub. In May 2016 the Parliament agreed to give more powers to Europol  to step up the fight against terrorism as well as to set up specialised units such as the European counter terrorism centre, which was launched on 25 January 2016.
Tackling the financing of terrorism
An effective measure to stop terrorists is to cut their sources of revenue and disrupt logistics. The Parliament wants EU countries to track suspicious financial transactions and charities and also look into the trafficking of oil, cigarettes, gold, gems and works of art.
MEPs have completed the latest update of the EU's anti-money laundering directive, which tightens the rules on virtual currency platforms and anonymous prepaid cards.
MEPs also managed to secure additional resources in the EU's 2018 budget to better fight terrorism and organised crime. The European Commission recently set up a blockchain observatory in response to Parliament calls to monitor virtual currencies, such as Bitcoin, to prevent them being used to finance terrorism.
Reducing access to dangerous weapons
The EU does everything possible to prevent dangerous weapons falling into the hands of the wrong people. The revised firearms directive closed legal loopholes that allowed terrorists to use reconverted weapons, for example in the Paris 2015 attacks. It requires EU countries to have a proper monitoring system, while keeping exemptions for hunters, museums and collectors.
Parliament is also pushing for better control of arms exports  and an embargo on arms exports to Saudi Arabia.
Preventing radicalisation
Most of the terrorist attacks in Europe were perpetrated by home-grown terrorists. Parliament therefore proposed measures to fight radicalisation and extremism in prisons and online by making use of education and social inclusion.
The EU's added value
The EU level is the main forum for cooperation between member states in the fight against terrorism, even though counter-terrorism policies are to a large extent the responsability of countries..
MEPs decide on a par with EU ministers on major EU counter-terrorism laws. Traditionally, Parliament makes sure fundamental rights and data protection are respected.
The EU's counter-terrorism strategy is based on four strands: prevent, protect, pursue and respond. The current framework that the European Commission follows in its proposals is the European Agenda on Security 2015-2020, which aims to facilitate cooperation between EU countries in the fight against terrorism, organised crime and cybercrime.
In recent years there have been many EU policies on counter-terrorism and it involves many people, organisations and strategies. The Parliament set up a special committee  to suggest ways to improve the efficiency and effectiveness of the EU's response to terrorism.
A Virus Yet to Be Eradicated
Much as everything in this world, human memory knows its limits. Increasingly receding into a background of the past, episodes of our life—be they thrilling at the thought or intensely dramatic—grow faint and fade, as they are gradually eclipsed by latest events and fresh experiences.
On September 11, 2001, I happened to be a first-hand witness to the most heinous terrorist attack in humanity's contemporary history—the hijacked passenger jets heading to crash into the towers of the World Trade Center in lower Manhattan. Twenty-one years later, I'm somewhat in doubt that all of this happened to me for a fact: blinding flares of orange against the backdrop of a blue September sky, swirls of smoke and dust slowly blanketing the city's downtown narrow streets, a high-pitched cacophony of fire-truck and police sirens, crowds of disoriented people having no idea where to run and what the next moment might bring.
In the wake of 9/11, international terrorism has predictably become a thing to bandy about. Like many of my colleagues, I was attending numerous conferences and seminars as well as partaking in various research projects on the subject. Besides, a stroke of fate gave me a rare opportunity to have personal conversations with such heavyweights of world politics as Vyacheslav Trubnikov, Richard Armitage, Thomas R. Pickering, Kofi Annan and others, who made their meaningful contribution to fostering cooperation in countering the terrorist threat. In a way, their efforts have borne fruit as the world has seen nothing similar to 9/11 since 2001.
Still, we have to admit that the war on terror has not ended in a decisive victory. Terrorist attacks no longer claim lives of thousands—however, hundreds have died in the massive attacks in Paris and in Madrid, in Bagdad and in Berlin, in Beslan and over Sinai, in Gamboru (Nigeria) and in Mumbai (India), with new names added to this tragic list every so often. Large-scale terrorist attacks are now few and far between in the United States, but there have been more of them in Europe, let alone in the Middle East. The recent suicide bombing near the Russian Embassy in Kabul is yet another reminder that the terrorist threat is still here. Why, then, is the goal to wipe out terrorism—now dating two decades—not achieved so far?
In the first place, the international community has failed to agree on a common definition of terrorism's origins, driving forces and character. What some actors explicitly dub as "terrorist" may look like a national liberation struggle for others. Bring up the issue of terrorism in Kashmir in a conversation with Indians and Pakistani, only to see there can hardly be a common denominator in this matter.
Second, any success in the fight against terrorism entails a high level of trust between the interacting parties—simply because they would have to exchange sensitive and confidential information. In today's world, trust is thin on the ground. An apparent and mounting deficit of this resource is not only present in the relations between Moscow and Washington; it also takes its toll on the relations between Beijing and Brussels, between Riyadh and Teheran, between Cairo and Addis Ababa, between Bogota and Caracas, and the list goes on.
Third, international terrorism is far from an issue that is set in stone. It is gradually changing and evolving to become more resilient, sophisticated, and cunning. Similar to a dangerous virus, the terrorist threat is mutating, generating ever new strains. Ironically, what is especially dangerous today is the kind of terrorism bred by anonymous mavericks and amateurs rather than the sort represented by well-known transnational extremist movements—individualists are the hardest to track and neutralize, while plans of amateurs are harder to reveal.
The current progress in military technology, coupled with other trends in the contemporary international arena, portend a new spike in terrorist activities in the coming years. Modern and increasingly complex social and economic infrastructure, especially in large metropolitan areas, is an enabling environment for hard-hitting terrorist attacks. Besides, international and civil conflicts—like the one raging in Ukraine—drastically heighten the accessibility of modern arms for would-be terrorists.
Add to this a comprehensive setback in the resilience of global economy, which may be fraught with more social tensions and an inevitable rise of pollical radicalism and extremism in a broad range of countries. An obvious foretelling: In this "nutrient broth", the virus of terrorism, which has not been wholly eradicated, stands all the chances for an "explosive" growth.
It may well be possible that all of us will in the years ahead be lucky enough to avoid a second edition of the events that shattered the world on September 11, 2001. Still, taking terrorism off the agenda is only possible if humanity effects a transition to a new level of global governance. It is either that the leading powers are wise and energetic enough for this, or the tax that international terrorism imposes on our common civilization will be progressively higher.
From our partner RIAC
ISIS Rises from the Dust in the Syrian Desert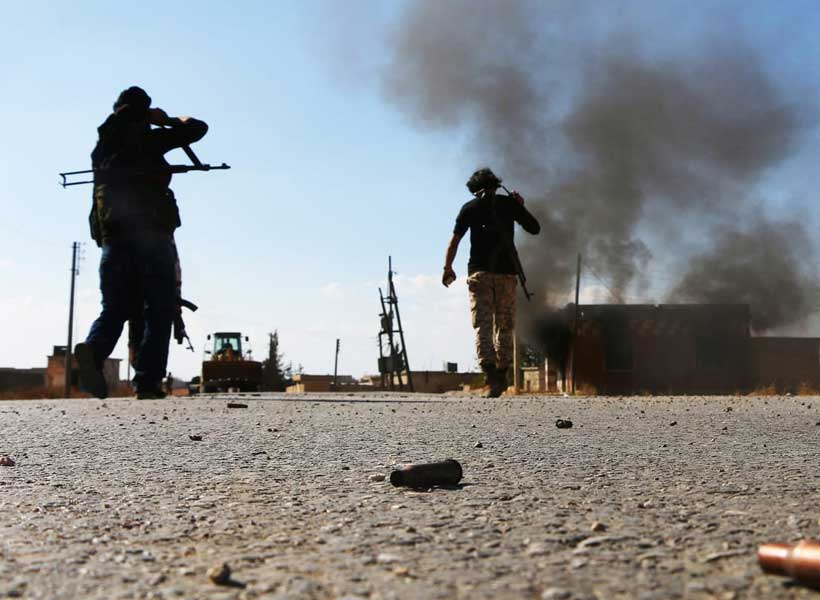 Over the last few months Syria's northeast has been spiraling downwards to chaos amid the surge of violence and terror attributed to Islamic State (IS). After almost five years of dormant existence the terror group is once again making its way to prominence in Syria. With the so-called territorial califate no longer viable, the IS members have switched to hit-and-run attacks on remote outposts and prolific use of improvised explosive devices (IED) against vehicles. These attacks target both US-supported Syrian Democratic Forces (SDF) and the Syrian army units operating in the northeastern provinces of Raqqa and Deir Ezzor. At the same time the terrorists managed to restore afinancial safety net by extorting money from local professionals, including small business owners, doctors and teachers. Those who refuse to pay are subjected to threats and torture. The resulting insecurity enables the terror group to widen the scope of its activities even further.
The deterioration of the security situation in Syria went almost unnoticed by the international community distracted by the Ukrainian conflict. Under these circumstances the U.S. has a window of opportunity to curb the Russian influence in Syria and undermine theimage of power projected by Moscow in the Middle East.
Indeed, the areas held by the Russians and the Syrian army in Deir Ezzor and Homs have witnessed an increase in bloody attacks, supposedly carried out by IS fighters. The terrorists were able to avoid retaliation by retreating to no man's land in the areas abutting the U.S. bases, namely Al-Shadadi, the Green Zone near Abu-Kemal border crossing and Al-Tanf base. Moreover, previously each IS attack in US-controlled areas had been followed by joint raids of SDF and the US special forces. It is no longer so. Considerable resources that might otherwise have been used for counterinsurgency operations are allocated to maintaining security in Al-Hol camp, where some 12,000 IS fighters and their family members are held. Add to that the imminent threat of Turkish invasion from the north. The SDF was led into a deadlock and is loosing the grip on the region. Meanwhile IS sleeper cells exploit the situation to their advantage and infiltrate territories controlled by the Syrian army.
These suspicions are confirmed by a high-ranking source in the Syrian intelligence. Speaking on the condition of anonymity, the source claimed that the U.S. helicopters transported 200 former IS fighters from prisons in Haseke to the 55-km security zone around Al-Tanf. The terrorists will be split up into groups of 10 – 15 people. These groups will be then sent to provinces with Russian presence including Homs, Latakia, Tartus and Damascus with the task of conducting terror attacks with IEDs at the Russian military sites. Most of the selected militants originate from Northern Caucasia or Central Asia and therefore are fluent in Russian.
The source added that the list of the primary targets of the terrorists includes the phosphate mines in Hneifis guarded by Russian security companies as well as Russian military bases in Lattakia, Tartus, Damascus and Aleppo.
Ultimately, the recruitment of IS members to create disturbance for the Russians would only become a logical development of the proxy policy adopted by the U.S. in Syria. After all, Washington is killing two birds with one stone by destabilizing the area of Russian influence and making use of the IS prisoners. However, there is another conclusion to be made: Washington has failed in its initial mission to defeat IS and is now resorting to the use of terror group splinters in its political power games.
Pakistan is a victim of terrorism
A High-Level Ministerial the first Session of the UN Global Congress of Victims of Terrorism was held on 8 September 2022, Pakistan's Foreign Minister Bilawal Bhutto Zardari's remarks:-
"I am honored to speak today at the first UN Global Congress of Victims of Terrorism. This subject has special resonance for me personally, having lost my illustrious mother, the first woman Prime Minister of Pakistan, in a dastardly act of terrorism.
2.​ The Government and the people of Pakistan pay solemn tribute to all those who have suffered at the hands of terrorists. I express my profound support and solidarity with the victims and families of those who have been affected by this scourge.
3.​ The international community has an abiding responsibility to protect and support victims of terrorism. This has to be the basic tenant of our efforts to promote peace and security in the world.
4.​ While waging kinetic efforts to eradicate terrorist groups is imperative, we cannot fully win the fight against terrorism without preserving the rights of millions of innocent, defenseless, and vulnerable people who have suffered immensely because of terrorism. There should be more focus on retribution and rehabilitation and justice. Equally important is the need to work together to prevent further attacks, hold terrorists to account, and adopt a uniform victim-centric approach while addressing the challenges faced in conflict zones.
5.​ It is also unfortunate that political expediency and real politick have been allowed to dictate international response towards terrorism. Our tolerance for terrorism must not be a function of our foreign and domestic policies. This selective approach toward terrorism is the biggest injustice to the victims of terrorism.
6. ​For the last two decades, Pakistan has been one of the worst victims of terrorism – with over 80,000 causalities and economic losses exceeding $150 billion. We pay tribute to the families of martyrs of our law enforcement agencies and armed forces, who have rendered invaluable sacrifices while defending our motherland.
7.​ If we are to chart a way forward for victims, we must look beyond narrow political interests and geo-political agendas. We must examine why, despite global strategies, the terrorist threats continue to proliferate and give rise to the number of victims.
8.​ To further debate this issue, I would like to make a few points: First, we must address the root causes of terrorism and conditions conducive to terrorism. Second, we must distinguish terrorism from legitimate struggles for self-determination. Third, we must address state-sponsored terrorism, especially in cases of foreign occupation, and reject occupying powers' propensity to use brute force against occupied people in the name of counter-terrorism operations. Fourth, we must have a consensus definition of terrorism and take into account new and emerging threats. Fifth, we must address challenges emanating from the use of new technologies by terrorists, especially on social media and the dark web. And finally, we must counter disinformation campaigns.
9.​ Pakistan condemns terrorism in all forms and manifestations including right-wing, Islamophobia, racially and ethnically motivated, and state-sponsored terrorism.
10.​ Terrorism can only be completely eradicated by fighting extremism and the mindset that breeds violent extremism. I would like to urge that this global problem requires continuing international cooperation without any prejudices or preconceived notions against any particular religion, race, civilization, or country.
11.​ I would also like to take this opportunity to pay special homage to the oppressed people of Indian Illegally Occupied Jammu and Kashmir (IIOJK) and Palestine who deserve our special attention for their continuing suffering as victims of the worst forms of state-terrorism. The international community must hold the perpetrators of such state terrorism, and crimes against humanity, to account.
12. ​Our inability to address these issues will continue to increase victims and add to their suffering. It will also add to the physical and psychological trauma that may outlive many conflicts. The international community owes it to the victims of terrorism to take effective steps to address terrorism, wherever it may be, in whatever form it exists, without political considerations. This is our moral as well as legal obligation."
Pakistan's sacrifices in the Afghan war are much more than the collective damages caused to the 46 nations alliance led by the US in Afghanistan. Pakistan suffered the loss of around 80,000 precious human lives and an economic loss of estimated worth US Dollars 250 billion, in addition to the menace of terrorism, drugs, and gun cultures. The international community should acknowledge Pakistan's sacrifices and compensate.