Forum held in Kigali on increasing access to sustainable energy in East Africa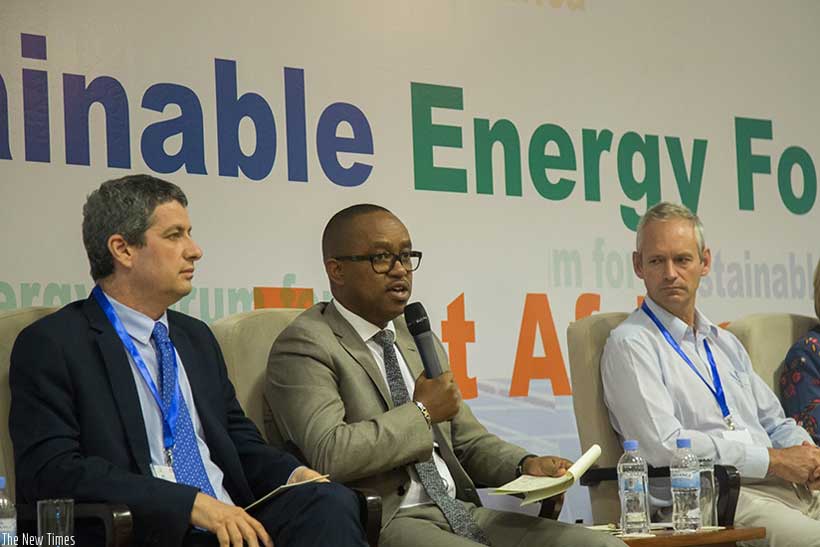 The Sustainable Energy Forum for East Africa took place between 19 and 21 March 2018 in Kigali, Rwanda. Over 400 high-level representatives from government, business, civil society and international organizations came together to discuss how to increase access to sustainable energy in East African countries.
Three days of discussions focused on the actions needed to scale up sustainable energy development in the region.
"There is need to work together with partners and identify key areas for development of the sustainable energy in the  region as part of our  efforts of  fulfilling the pledge made in the 2030 Agenda for Sustainable Development and the associated Sustainable Development Goals', said James Musoni, Rwanda's Minister of Infrastructure.
While the various sessions showcased a diverse set of country experiences in sustainable energy, from scaling up access to electricity to clean cooking fuels, there was a general agreement on the need for new policies and enhanced financing for renewable energy sources and energy efficiency worldwide. To meet these goals, a combination of public and private, and domestic and international resources will be required. Engaging all relevant stakeholders is critical to stimulating progress in the energy transition and achieving the global energy goals.
Rachel Kyte, Special Representative to the UN Secretary-General and CEO, Sustainable Energy for All, said: "There is a lot of good happening in East Africa's energy transition. However, progress is not at the speed or scale we need to ensure that we don't leave anyone behind. Continued strong political leadership is crucial to achieve energy productivity across economies, accelerate progress on access to electricity and clean fuels for cooking, and to further increase the share of renewable energy in the mix. East Africa has abundant renewable resources and business ingenuity, and can attract financing. With disciplined leadership and greater ambition, it can deliver an energy future for everyone."
Another topic highlighted by participants was the relationship between energy and gender. There was a general understanding that the different needs for men and women should be taken into account in sustainable energy programmes and policies in order to increase their effectiveness.
Three reports produced by the United Nations Industrial Development Organization (UNIDO) were released in support of the activities conducted at the Forum. The first study reflects on the main barriers to, and achievements of gender equality in the energy sector in the EAC. Another provides an inventory of ongoing and planned initiatives of sustainable city development across the region. The third study examines clean cooking fuels in the EAC.
Tareq Emtairah, Director of Energy, UNIDO, said "it is important to recognize the vast renewable energy potential in the EAC Partner states. Exploiting these locally available renewable energy resources is a great way to address major challenges such as poverty, energy security, industrial development and environment."
The Sustainable Energy Forum for East Africa was organized by the East African Centre for Renewable Energy and Energy Efficiency (EACREEE) in collaboration with UNIDO, the EAC Secretariat, the Austrian Development Agency (ADA), Sustainable Energy For All (SEforALL), and the Ministry of Infrastructure of the Republic of Rwanda (MININFRA), and is hosted by the Government of Rwanda.
It was the first of a series of events that will take place in 2018 with the aim of increasing progress on Sustainable Development Goal 7, which focuses on the global effort to ensure access to affordable, reliable, sustainable and modern energy for all.
"Renewable energy and energy efficiency technologies and interventions should be deployed to address global challenges such as population growth and migrations, urban development, climate change mitigation and adaptation, poverty, social, political, health and gender inequalities. Let us double our efforts and keep the momentum high," said Jesca Eriyo, EAC Deputy Secretary General in charge of Finance and Administration.
The state of the Energy Union explained
The EU Commission publishes the fourth State of the Energy Union report. The State of the Energy Union Report is an important tool to highlight and monitor the implementation of this key priority of the Juncker Commission. The report takes stock of the progress made towards building the Energy Union, and highlights the issues where further attention is needed. It brings together a series of Commission reports and initiatives related to the Energy Union in an integrated way. The state of the Energy Union report is accompanied by two annexes demonstrating the progress made in renewable energy and energy efficiency. In parallel, the Commission is today presenting two forward looking communications one on the strategic batteries plan for Europe and one on a new institutional framework for our energy and climate policy by 2025.
The 4th State of the Energy Union Report: What is the Energy Union?
When the Juncker Commission took office in 2014, a resilient energy union with a forward looking climate policy was identified as one of the ten priorities of the new Commission. On 25 February 2015, the Commission adopted "A Framework Strategy for a Resilient Energy Union with a Forward-Looking Climate Change Policy", also known as the Energy Union Strategy. The publication of this strategy created a new momentum to bring about the transition to a low-carbon, secure and competitive economy.
The objective of the Energy Union is to provide all European Union (EU) consumers – households and businesses – with secure, sustainable, competitive and affordable energy. The Energy Union has five dimensions: (i) security of supply, solidarity and trust (ii) a fully integrated energy market (iii) energy efficiency (iv) decarbonisation of the economy and (v) research, innovation and competitiveness.
What are the main achievements of the Energy Union?
Europe's energy supply today is safer, more viable and more accessible to everyone than only a few years ago. The modernised energy system boosts the EU economy, attracts investments and creates local job opportunities.
The Energy Union has resulted in a comprehensive and legally binding framework for a socially fair energy transition ensuring the gradual decarbonisation of our economy in line with our international commitments under the Paris agreement while simultaneously helping to modernise the European economy so that no citizen or region will be left behind.
It has also enabled the EU to increase its level of ambition for 2030 in a number of energy related sectors, from increased targets for renewable energy and energy efficiency, to targets on emissions from cars, vans and lorries. It has also provided a solid basis for work towards a modern and prosperous climate-neutral economy by 2050.
The Energy Union today disposes of a fully up-to-date regulatory framework that provides the necessary certainty for high-quality, innovative investment to modernise our economy and to create local jobs. Through deepening the internal energy market, and by placing the consumer at the centre as an active participant within this market, the Energy Union provides all citizens with secure, sustainable, competitive and affordable energy supply.
In addition, the Juncker Commission has put in place an enabling framework of supporting measures to ensure a smooth transition for European industries and regions. A number of targeted initiatives have been created to guarantee all regions and citizens benefit from the energy transition.
On the international stage, the Energy Union has allowed the EU to speak with one strong voice, instrumental for the negotiation and the implementation of the Paris Agreement; and to continue to lead by example in global climate action through a competitive and socially-fair transition.
What does the Energy Union mean for citizens?
The Energy Union responds to one of EU citizens' key concerns. They massively call for action against climate change and for the energy transition. According to the last Eurobarometer survey on the subject, 9 out of 10 Europeans consider climate change a serious problem and see it as the third biggest problem of our times after poverty and economy.
In parallel, the Energy Union creates jobs and growth. Today, there are more than 4 million green jobs in the European Union, and between 2000 and 2014, employment in the environmental sectors of the economy grew considerably faster (+49%) than employment in the economy as a whole (+6%). These figures will further increase, with investments in domestic renewable energy expected to replace imported fossil fuels and by harvesting Europe's early-mover advantage in many of the "green" industries.
The Energy Union also contributes to addressing energy poverty, which still affects almost 50 million people across all member states. Measures to this effect include, inter alia, promoting investments in energy efficiency. Energy efficiency measures also help to reduce energy bills. There is still a huge untapped potential in energy efficiency and member states will specifically tackle this issue in their National Energy and Climate Plans.
The Energy Union will help consumers save money and be actively involved in the energy system by providing them a role as a producer as well as consumer of electricity. The new legislation put in place with the "Clean Energy for All Europeans" package will also reduce direct costs for consumers by for example restricting switching fees that still represent a substantial part of energy bills. More generally, the Energy Union relies on the active participation of consumers, for instance to generate electricity for their own consumption, store it, share it, consume it or sell it back to the market.
What does the Energy Union mean for cities and regions of Europe?
70 % of Europeans live in cities, where the bulk of emission reductions will take place. The Energy Union places local communities, especially cities, municipalities and urban communities, at the heart of the transition. The Commission is helping them through initiatives such as the European Covenant of Mayors for Climate and Energy, which gathers more than 8,800 EU cities representing more than 230 million Europeans, committed to fight climate change. These cities, which represent nearly a third of the EU's 2020 commitment for emission reductions, have already cut their emissions by 23% from their baseline year inventory.
How does the Energy Union ensure a fair and just energy transition for all?
As part of an ambitious climate and energy policy, the Commission has also adopted a number of enabling measures that support the social fairness of the energy transition.
The coal and carbon-intensive regions in transition initiative, for example, supports Europe's coal regions, ensuring that these regions can modernise their economies in line with a transition towards a more sustainable economy while focusing on social fairness, job creation, new skills and financing for the real economy. Through regular meetings and a standing platform, national and local authorities, businesses and citizen groups can exchange best practices on how to valorise the opportunities created by the transition and ensure that no citizen or region is left behind. In addition, eighteen pilot regions of eight Member States benefit from a tailored support to identify concrete ways to start and lead the transition, accompanied by existing EU funds, financing tools and programmes.
The Commission also offers region-specific support for boosting innovation under the pilot action for regions in industrial transition. Until now, 12 test regions are working in partnership with Commission experts to boost their innovation capacity, remove investment barriers, equip workers with the right skills and prepare for industrial and societal change, on the basis of their smart specialisation strategies. The pilot seeks to find new ways to help these regions harness globalisation by decarbonisation, innovation, digitisation, and developing people's skills, in particular those regions which have experienced significant employment loss in coal, steel or other energy intensive industries.
Moreover, the Commission has kick-started the clean islands initiative "Clean Energy for All EU Islands" with the objective to accelerate the clean energy transition in Europe's over 1 000 inhabited islands. It aims to help these islands tap into locally available renewable energy sources, energy efficiency potential and innovative storage and transport technologies and become self-sufficient in energy, thus reducing costs, environmental pollution and reliance on heavy fuel oil to generate power, while creating growth and local jobs.
What does the new governance system for the Energy Union consist of?
The European Union has put in place a new governance framework to implement and further develop the Energy Union. This new regulation requests Member States to develop integrated National Energy and Climate Plans that will include their national contributions to the collective EU targets and the necessary policies and measures to achieve these contributions for ten-year periods. Through a continuous iterative dialogue with the Commission and between themselves, this will stimulate cooperation between Member States to achieve the objectives of the Energy Union, save administrative costs by streamlining most of the current energy and climate reporting requirements and provide regulatory certainty for stakeholders and investors.
All Member States have now officially submitted a draft of their first National Energy and Climate Plans for the period 2021-2030. This major milestone, which required a significant collective effort, is built on an excellent spirit of cooperation over the past 3 years.The Commission is currently assessing these draft plans in close cooperation with member states with a view to issue potential recommendations by 30 June 2019, to support member states to improve the plans and to ensure that the EU can collectively deliver on its new 2030 targets. Member states are expected to submit their final plans by 31 December 2019.
Why do we need a strategy for batteries in Europe?
Driven by the ongoing clean energy and mobility transition, demand for batteries is expected to grow very rapidly in the coming years, making this market an increasingly strategic one at global level. According to some sources, the European market potential could be worth up to EUR 250 billion annually from 2025 onwards. This trend is further reinforced by the new and comprehensive legislative and governance framework for the Energy Union, successfully adopted under this Commission to accelerate the transition to a sustainable, secure and competitive EU economy.
However, today the European share of global cell manufacturing is just 3 per cent and is, without further supporting action, forecast to rise to between 7 and 25 per cent in 2028, while Asia has an 85 per cent share. If no action is taken to support the creation of a viable battery manufacturing sector, there is a risk that Europe falls irreversibly behind its competitors in the global batteries market, and becomes dependent on imports of battery cells and raw materials used in the supply chain.
Huge investments are needed to this end. It is estimated that 20-30 giga-factories for battery cells production alone will have to be built in Europe and their related ecosystem will need to be considerably strengthened.
Batteries have therefore been identified by the Commission as a strategic value chain, where the EU must step up investment and innovation in the context of a strengthened industrial policy strategy aimed at building a globally integrated, sustainable and competitive industrial base.
What is the Commission proposing on batteries?
Following the adoption of the Strategic Action Plan on Batteries in May 2018, the Commission is working together with many Member States and key industry stakeholders to build a competitive, sustainable and innovative battery ecosystem in Europe, covering the entire value chain, embracing raw materials extraction, sourcing and processing, battery materials, cell production, battery systems, as well as re-use and recycling.
This is the main objective behind the European Battery Alliance (EBA), an industry-led initiative, which the Commission launched back in October 2017, to support the scaling up of innovative solutions and manufacturing capacity in Europe. The EBA is helping to foster cooperation between industries and across the value chain, with support at both the EU-level and from EU Member States.
Today's Report highlights the progress achieved over the past year on the implementation of the key actions set out in the Strategic Action Plan on Batteries. For example:
The EU budget is providing important funding opportunities to support research and innovation in batteries. The EU's Framework Programme for Research and Innovation for 2014-2020, Horizon 2020, has granted EUR 1.34 billion to projects for energy storage on the grid and for low-carbon mobility. In 2019, Horizon 2020 added a call to fund, under the European Battery Alliance, battery projects worth EUR 114 million. This will be followed by a call in 2020 amounting to EUR 132 million, covering batteries for transport and energy. The European Regional Development Fund is also providing support for research and innovation to promote an energy-efficient and decarbonised transport sector.
The EU's regions have shown an interest in establishing partnerships to take forward joint projects and further develop strong innovation ecosystems in the field of batteries. One such interregional partnership, focusing on advanced battery materials for electro-mobility and energy storage, was launched in October 2018 in the framework of the Smart Specialisation Platform on industrial modernisation. This partnership has already expanded to include 22 regions and several pilot areas have been established across the value chain to identify battery-related projects that could lead to successful commercial businesses.
The European Battery Alliance is acting as a catalyst for creating a battery value chain in Europe. Around 260 industrial and innovation actors have joined this network. The EU Knowledge and Innovation Community (KIC) Innoenergy (European Institute of Innovation and Technology) has steered this network and already announced consolidated private investments of up to EUR 100 billion, covering the whole value chain. This includes announcements of production of primary and secondary raw materials in the EU, and planned battery manufacturing investments from several European consortia.
The European Battery Alliance is examining the potential for cross-border breakthrough innovation projects related to the battery strategic value chain with a view to accessing public funding that could be compatible with the EU's State Aid rules under the Important Projects of Common Interest (IPCEI) framework. Several EU Member States have already launched processes to identify potential consortia and are working together to design one or more IPCEI in this field. They aim to seek approval by the Commission in 2019.
What is the Commission proposing in its Communication towards a new legislative framework for our energy and climate policy by 2025
While the enormous progress has been made in building the Energy Union during the last years, there are areas which have the potential of further improvement to achieve all the policy objectives. An important aspect of this forward-looking agenda on future energy policies involves examining how the Union takes decisions in this area.The Communication towards a new institutional framework for our energy and climate policy by 2025 sets out possibilities for moving to the ordinary legislative procedure in matters of environmental and energy taxation and fuller involvement of the European Parliament and of national Parliaments in policy-making under the Euratom Treaty. Moving to the ordinary legislative procedure in matters of environmental and energy taxation would facilitate the alignment of the tax regime to the EU's energy and climate policy objectives. Fuller involvement of the European Parliament and of national Parliaments in policy-making under the Euratom Treaty would enhance transparency and democratic legitimacy for decisions on nuclear energy.
As the Commission has recently stressed in its Communication "A Clean Planet for All", the energy transition requires a comprehensive economic and societal transformation, engaging all sectors of the economy and society to achieve the transition to climate neutrality by 2050. Achieving this objective requires decisive action across policy areas and it is essential that the EU should be equipped with the tools to take the necessary decisions in a manner that is both efficient and democratic.
Why does the decision making process for energy taxation need to be changed?
The Commission in January 2019 already laid out its ideas towards a move to qualified majority voting decision-making in the area of taxation. A further Communication adopted today explores how such a move could pave the way for proposals in the field of energy taxation, and specifically for initiatives that support the broader EU energy and climate goals, since current EU decision-making procedures are not fit for purpose.
The EU institutional framework around these issues is not fit for purpose, as it requires unanimous agreement amongst 28 Member States before action can be taken. This unanimity often cannot be achieved or leads to sub-optimal policies. A case in point is the failure of Member States to agree on the 2011 Commission proposal to update the EU's Energy Taxation Directive. This proposal would have maximised the potential of energy taxation to deliver on climate change commitments and to support sustainable growth. It would also have reversed the paradoxical situation whereby the most polluting fuels are sometimes the least taxed in Europe.
Today's Communication suggests that proposals in the area of energy taxation could be put forward under the so-called 'passerelle clause' – Article 192(2) – which provides for QMV decision-making for energy taxation measures that are primarily of an environmental nature. This could be justified for environmental taxation measures aiming at reducing CO2 and other polluting emissions or improving energy efficiency, key priorities of the EU's Energy Union strategy and of the Paris Agreement. The Commission would encourage Member States to decide quickly to move forward, to unlock benefits for future generations. All Member States would need to agree for this to become a reality.
The Commission is currently re-evaluating the Energy Taxation Directive to decide if a potential update is necessary.
Why does the decision making process under the Euratom treaty need to be changed?
While there is a clear understanding that the use of nuclear energy is a national choice to be made by each Member State, and this will continue to be the case, the Euratom Treaty provides the most advanced legal framework in the world in the areas of nuclear safety, waste management or radiation protection.
There is, however, a recognised concern that the Euratom Treaty needs to evolve in line with a more united, stronger and democratic EU.A central aspect is the democratic accountability of Euratom and in particular the involvement of the European Parliament and of the national Parliaments.
The Treaty of Lisbon extended the ordinary legislative procedure to nearly all policy areas where the European Parliament had previously only had a consultative role. While the ordinary legislative procedure also applies in general to the Euratom Treaty, the individual legal bases of the Treaty do not foresee it. It remains the case, therefore, that the European Parliament is merely consulted on legislative proposals and international agreements falling under the competence of Euratom.
The Commission considers that more needs to be done to enhance the role of the European Parliament to improve the democratic legitimacy of decision-making under Euratom. In the short-term, the European Commission will establish in the months to come a High Level Group of Experts. Its task will be to assess and report to the European Commission on the state of play of the Euratom Treaty with a view to ensuring that, on the basis of the current Treaty, its democratic accountability is improved.
Another look at China's involvement in the power sector in Sub-Saharan Africa
Authors: David Bénazéraf and Yilun Yan*
Chinese companies have significantly enhanced their engagement in Africa over the last 20 years, covering a wide range of sectors, including power generation, transmission and distribution. These are important investments as despite growing economies, around half of the rapidly growing African population does not have access to electricity. Achieving universal energy access will require significantly increased investment on the continent, in both off-grid and large-scale on-grid electricity generation capacity and networks – this is where Chinese companies are playing a significant role.
When we first looked at China's involvement in the sub-Saharan Africa power sector in 2016, we found that Chinese companies operating as the main contractor were responsible for almost 30% of capacity additions in the region. Renewable sources accounted for 56% of total capacity added by Chinese projects, including 49% from hydropower. Taking another look this year, we find that capacity additions by Chinese companies have fallen somewhat, but low-carbon projects represent a larger share.
A slightly declining contribution
In our 2016 report, we showed that Chinese companies were responsible for 12 GW of projects (completed or under construction, 2010 to 2020), including some very large projects such as the 1 250 MW Merowe dam in Sudan.
Updated data for 2019 shows that over an equivalent ten-year timeframe (2014 to 2024), Chinese-added capacities will total 9 GW. This does not include two large dams currently under construction (the 2 160 MW Cacula dam in Angola and the 3 048 MW Mambila dam in Nigeria), which might not be completed before 2024. Without these two megaprojects, the 19 projects currently under construction total 4.5 GW, compared to the 24 projects totalling 5 GW that we found in 2016.
At least 24 countries have contracted new power plants to Chinese construction services companies over 2014-2024. Zambia is the largest investor in Chinese-added capacity, followed by Nigeria, Angola, Uganda and Côte d'Ivoire. These five countries make up around half of the capacity added or being added by Chinese contractors, mostly due to large hydro projects. Compared to the almost 30% that we found in 2016, the role of Chinese companies in total Sub-Saharan Africa capacity additions has declined to 20%.
A greener mix
The share of hydro projects in Chinese-added capacity has increased to 63% compared to 49% in our 2016 findings. The 750 MW Kafue Gorge Lower hydropower station, which will be completed in 2020, is expected to meet Zambia's electricity demand for the next five to ten years.
The share of capacity added from other renewables sources appears to be higher, totalling just 7% in our 2016 findings compared to 13% this year. Almost half of these non-hydro renewable projects are using biomass, concentrated in Angola, Nigeria, and Côte d'Ivoire. This means that despite adding more than 1 GW of capacity, there is potential for significantly more projects from other non-hydro renewable sources like wind and solar.
Gas accounts for 11% of the projects, coal for 9%, and oil represents 4%. In the last five years, Chinese contractors completed five coal-fired plants in Nigeria, Rwanda (peat), Zambia, and Botswana for a total of 811 MW. Some planned projects have been delayed and no others are currently under construction.
Focus on turnkey projects
Most Chinese energy companies continue to be state-owned enterprises, while the share of private companies working in overseas markets are still very small – especially in Africa. Those companies that are operating in the region are able to provide solutions in all stages – a turnkey project – including the supply of equipment manufactured to Chinese standards, plant design and construction, and project financing or the facilitation of financing.
Of all the newly Chinese-built power plants in the region, 52% are fully integrated with a Chinese contractor and a Chinese turbine manufacturer (a share higher than for projects undertaken in emerging Asian countries). Chinese manufacturers are also supplying the primary equipment for 9% of all projects contracted to non-Chinese companies in the region between 2014 and 2024, including one‑quarter of hydropower turbines and 38% of solar PV projects. In total, Chinese equipment manufacturers are supplying more than 9 GW of power generation equipment: approximately 7 GW in hydro, 1 GW in wind and solar PV, and 1 GW in coal and oil.
Chinese energy infrastructure companies also source equipment for overseas projects from suppliers in OECD countries totaling 1.5 GW. This is mostly made up of gas turbines, a piece of equipment for which Chinese contractors working on overseas projects currently rely entirely on foreign manufacturers.
Projects modes and financing
Chinese energy companies in Africa focus mainly on supplying construction services and equipment with engineering, procurement and construction (EPC) being the most common type of project contracting arrangement for construction services. Host country governments issue bids and award projects, and Chinese energy infrastructure companies deliver construction services without having any stake in the project.
Additional electricity capacities fall under public sector spending from a country's national budget. This means that project financing remains challenging and tends to shift progressively away from public lending towards more equity financing. However, this remains challenging in the absence of reliable power purchase agreements and adequate, stable local regulation. Ultimately, the success of a power project depends on the ability of African governments to negotiate, implement and maintain the project.
Eradicating energy poverty is a priority for the IEA. In 2018, the IEA and the African Union agreed to a strategic partnership towards a more secure, sustainable and clean energy future for countries across the African continent. Under its "open doors" policy, the Agency will continue to support expanded energy access and clean energy technology development in Africa.
*Yilun Yan, Energy Analyst.
Russia is ramping up natural gas exports to Europe. In 2018, Gazprom delivered a record 201.8 billion cubic meters of gas – 3.8 percent, or 7.4 billion cubic meters more than it did in 2017. Gazprom CEO Alexei Miller disclosed these figures during a meeting with President Vladimir Putin on March 12. Apparently worried by this hard fact, a number of EU countries and institutions, as well as Washington, are trying to economically pressure key buyers of Russian gas to stop doing business with Moscow and prevent the construction of the Nord Stream 2 and Turkish Stream gas pipelines.
Germany is a leading buyer of Russian gas in Europe and wants to buy even more. According to Alexei Miller, "Germany's Russian gas consumption grew by 9.5 percent year-on-year, meaning that we supplied 58.5 billion cubic meters in 2018. This is more than the capacity of Nord Stream alone."
"Without a doubt, it should be noted that the upward trend in demand for Russian gas continues; therefore, in the medium term we expect that the volume of gas supplies to the European market will grow even more. As of the end of 2018, the share of Russian pipeline gas in the European market stood at 36.7 percent," Miller said.
Unnerved by this trend, Russia's competitors in the European energy market have been taking their own, mainly propaganda, steps by putting a political spin on energy-related issues.
During his March 12 keynote address to top executives of the world's largest energy companies attending a CERAWeek industry conference in Houston, US Secretary of State Mike Pompeo urged them to promote "American ideals" and the benefits of "free market."
Stating that countries, including Russia and Iran, had long used their oil and gas assets to trap weaker nations into subservient relationships, Mike Pompeo stressed that it was high time US energy companies demonstrated the benefits of the free market to the world.
"We're not just exporting American energy. We are exporting our commercial value system to friends and partners. The more we can export free enterprise, rule of law … and transparency the more successful the United States will be," he urged.
China, viewed by the Trump administration as America's main trade and economic rival, was not spared either with Mike Pompeo accusing Beijing of being engaged in energy projects in Africa and Asia to pursue its own interests. He added that unable to resist Beijing's pressure, a number of countries expect American companies to come in, and urged power engineers working overseas to actively interact with US diplomats and seek support from his department.
The Trump administration's open politicization of issues pertaining to cooperation in the energy market has not been lost even on domestic US media with the American business mouthpiece, The Wall Street Journal, writing that Mr. Pompeo's speech at the CERAWeek conference reflects the government's desire to "use [America's] growing status as an oil and gas superpower to counter foreign rivals," and impose the purchase of US natural gas on the country's allies to the detriment of rival suppliers.
US pressure is most clearly evident in the case of the project to build the Nord Stream 2 gas pipeline from Russia to Germany, which is viewed by Washington as a direct competitor for the supply of its own liquefied natural gas (LNG) to Europe. Back in January, the US ambassador to Germany, Richard Grenell, warned that Washington could slap sanctions on German companies involved in the Nord Stream 2 project. According to the German newspaper Bild am Sonntag, in letters sent, among other places, to the headquarters of Wintershall and Uniper companies, Mr. Grenell emphasized that "companies involved in Russian energy exports are taking part in something that could prompt a significant risk of sanctions."
The US State Department then rushed to say that the ambassador's words should not be perceived as a threat, but just as an expression of the "US position." The German Foreign Ministry still made it clear that Ambassador Grenell's actions are contrary to diplomatic practice.
"European energy policy issues should be addressed in Europe, not in the US," Foreign Minister Heiko Maas said, with Wolfgang Büchele, chairman of the Eastern Committee of the German Economy, noting that the issue was "about our self-esteem and sovereignty."
Domestic policy considerations also factor in very clearly in the toughening of Washington's position on energy with Robert Bosch Foundation expert Julianne Smith noting that the situation is exacerbated by the Democratic Party's success in the November 2018 midterm elections to Congress.
The German business newspaper Das Handelsblatt quoted Smith as saying that with his command of US domestic policy now limited, Donald Trump might engage much more actively in foreign policy, which, in turn, could have bad ramifications for Germany.
Despite the State Department's assuaging explanations for Ambassador Grenell's unprecedented statements, on March 12, The Wall Street Journal reported, referencing several Trump administration officials, that Washington is indeed willing to impose sanctions on investors and companies building the Nord Stream 2 pipeline.
Although not inclined to overdramatize the impact the US policy could have on Russia's economic projects, Moscow remains very clear-eyed on Washington's actions.
"We are well aware of the fact that we are dealing with attempts at unfair competition, and sometimes with actions comparable to racketeering and raiding, only at the international level," the Kremlin spokesman Dmitry Peskov said, responding to Washington's attempts to thwart the Nord Stream 2 project. He emphasized that the White House should better think about how to convince Europeans to buy US LNG, which is way more expensive than what they pay for Russian gas.
The White House has reportedly been stepping up attempts to hamper the construction of the Nord Stream 2 pipeline by trying to coordinate its efforts with the most anti-Russian forces in the European Union. Acting in synch with Mike Pompeo's speech in Houston and the information published by The Wall Street Journal, a majority of European Parliament deputies voted on March 12 to toughen the EU's energy policy vis-à-vis Russia in a resolution approved by 402 MEPs with 163 votes against.
The document, drawn up on the basis of a report prepared by the Latvian MP from the European People's Party, Sandra Kalniete, and earlier approved by the European Parliament's Foreign Affairs Committee, calls on European countries to halt the construction of the Nord Stream 2 gas pipeline and to abandon other major cooperation projects with Russia.
"We are drawing attention to the fact that the European Parliament today adopted a recommendatory political resolution on the state of relations between the EU and Russia. It includes more than 50 points pertaining to various aspects of this relationship, of which Nord Stream 2 is one," Nord Stream 2 AG, the operator company of the Nord Stream-2 project, commented on the resolution.
"Irrespective of the political declarations, the implementation of Nord Stream 2 is governed by a binding legal framework that has also been shaped by the European Parliament. The legal framework consists of EU law, international conventions, and the national legislations of the countries along the planned route."
Nord Stream 2 AG also took time to reiterate that all construction work for the project is governed by valid permits from the competent authorities from all the EU countries along the route of the pipeline.
It added that the non-binding political resolution on the state of EU-Russia relations by the European Parliament does not change the legal framework governing the implementation of the pipeline.
Still, in order to guard against any undesirable developments, Nord Stream 2 AG decided to take pre-emptive action. According to The Financial Times, the company is exploring plans to hive off the pipeline's final 50 km German leg into a separate firm, while the rest of the pipeline (about 1,200 kilometers) will remain outside the EU's jurisdiction. The newspaper believes that this "would substantially undermine expectations raised by an EU decision last month that the project would be subject to the bloc's energy rules."
Meanwhile, many in Europe itself are very skeptical about increasing purchases of US liquefied natural gas at the expense of pipeline gas imports from Russia. According to the latest European Commission calculus, by 2023, the EU countries will be getting 8 billion cubic meters of US LNG, which is 2.4 times the present amount. Even then this would still cover a mere 1.6 percent or so of their gas consumption. Simultaneously, a fall in the EU's domestic gas production will open an annual "niche" of between 30 billion and 40 billion cubic meters, most of which will be filled by Russian gas, both pipeline (Gazprom) and LNG (NOVATEK).
Faced with the growing demand for natural gas, the UK may resume attempts to develop domestic shale gas deposits, with IGas Company having announced the discovery of shale gas in the Bowland Shale formation in central Britain with an estimated capacity of 37 trillion cubic meters. However, all previous attempts to launch industrial-scale production of shale gas in Europe fell flat due to natural conditions being different from those in the US, legislative norms and public sentiment.
In view of the situation existing today, there is every reason to expect increased attempts by the United States and pro-US forces within the European Union to thwart the implementation of Russian energy projects by political means. However, much will depend on the changing demand for energy both in European countries and in Asia (primarily in China) where the bulk of US liquefied natural gas will inevitably go, leaving European terminals high and dry.
First published in our partner International Affairs