Assessing Washington's "strategic and military" options in Syria
For Washington, Eastern regions around Mediterranean holds "vital strategic interests" centrally to which lies Syria, policy makers within the White House and the State Department continue to face numerous challenges on how to adequately and effectively defend these "strategic interests" with "limited yet effective" military engagements. The "horrors" induced by Assad regime in this "complex" battlefield, coupled with the "rise of jihadist elements inside Syrian state", further fuels an already "complexed battlefield", which could potentially destroy the strategic interests of the US and their regional allies. Furthermore, the "ripple effect" from the on-going battle could involve neighbouring states.
Moreover, according to one estimate of the UNHCR: the conflict has claimed lives of over 117,000, whereas thousands have been wounded, leaving behind over six million internally displaced, besides devastated cities and towns, with more than half of the population without food and clean water, especially in the light of two chemical attacks. In the background of a "highly intense conflict", the US even with "enormous military resources", have fairly limited military option to bring this "saga of death and destruction" to a temporary halt. In the light of an increasingly "intense conflict", even smaller military engagement could result in further escalation of this conflict. It is imperative for policy makers at the White House to completely "abandon" the option of a "direct military engagement" while redirecting all available resources to "limit the ripple effect within Syria".
Washington's strategic interests
Washington's principle strategic objectives for regions around Mediterranean includes" sustainable long-term stability, preventing easy movements of radical terror factions, preventing all categories of weapons of mass destruction, reinforcing Israeli security forces, ensuring a flourished economy, while promoting democratic values". Washington must employ "viable measures" to prevent the reach of Syrian war beyond its boundaries. Furthermore, Washington must address the ethnic conflict between Shia and Sunni carefully and delicately, while systematically limiting this "ethnic" conflict, which is too delicate and vulnerable enough to engulf an entire region and with enough potential to establish "two ethnic centered poles", giving further opportunity for nations such as Iran, to establish influence. Furthermore, policy makers must [if they have the means and resources readily available]eliminate internal clashes if the costs are acceptable.
Bringing an end to the Syrian civil war
In the background of regional instability, it is imperative for Washington to employ all available resources to prevent Syria from a total collapse. Indeed, the civilian casualties are rising phenomenally, with rapidly intense conflict coupled with the frequent use of chemical weapons, human bodies will continue to rise and so will the difficulties in post war reconstruction. Hence, one seemingly possible outcome, although likely, of the Syrian war will be of a "failed" state, which could become a "possible" hideout for Islamic radical militant factions such as Al-Qaeda and Al Nusra Front. Keeping in mind the on-going "intense clashes", the damage induced by Syrians in this war will be too "painful" to recover regardless of any victor, especially with widespread lawlessness, death and destruction. With respect to US favoured outcome, the chances are reasonably low; as victors shall either be the Assad regime, left to govern shattered Syrian lands, or some Sunni centric radical militant factions with considerable dominance, but largely the outcome will be "continuous engagement until one side is exhausted". Even if a "democracy favoured" liberal group emerges from the conflict, the total rehabilitation and reconstruction cost will be too difficult for Syria to bear, even if international aid organizations such as the UN assist financially the possibility for re-emergence of a civil war will remain high.
Keeping in mind the "moral values" of Washington,a large-scale US military intervention in Syria will not be significant enough to overthrow Assad regime or put an end to this conflict once and for all. Policy makers must note that, the Syrian conflict is densely spread in populated cities and towns, and is extensively carried out by multiple elements, and is not limited to a "stubborn" regime, but also extensively involves ethnic religious factions stretching the boundaries beyond a "revolution". Moreover, Syria is different from other "Arab-spring" countries, the Assad regime, along with over 15% of the Alawiite population, are locked in a "death match",the only way to achieve their freedom struggle. Many Sunni centred radical factions have called this "struggle as jihad"and are ready to die in this fight. This war is no less than "embedded in ethnicity, dipped in religious colours",which will continue even after the fall of Assad regime, especially in the light of active "external factors" and "aggressive regional actors". However, Washington's strategic interests are best "preserved" if it manages to "contain" the conflict, and this is precisely where policy makers within the State Department should focus.
Bridging the Shia-Sunni clashes
One of the principle factors in Syrian civil war is the wedge that has been created between Shi'a and the Sunni ethnicity, which is rapidly increasing the gap between the two ethnicities. The causes which resulted in the Shi'a-Sunni divide are to "complex" to address in one article, but it will not be incorrect to state that, the Shi'a-Sunni conflict is "densely" gripped in Syrian Civil war. Moreover, major masses in Syria are Sunni whereas the Assad regime hails from Alawi sect, which is roughly 12% of the entire populous. Theologically, the Alawi were tied with Shi'a sect, however, the then Syrian President Hafez Al-Asad (who was an Alawi), after coming to power, received a  fatwa from the then Lebanese religious-leader cum philosopher Musa Al-Sadr stating that the Aalwai's were community with deep roots in Shi'a Islam, which which further cemented his stand when the Aalwi leader sided with Shi'a Iran during the Iran-Iraq war, highlighting his preference for Shi'a community, a legacy perhaps, passed on to his successor, Bashar Al-Assad.
To protect American strategic interests in the region, it is imperative for Washington to prevent further escalation of Shi'a-Sunni conflict, which has the potential to spread over in neighbouring countries such as Iraq, Lebanon and Yemen; particularly in Iraq, the Shi'a-Sunni ethnic clashes continues to escalate phenomenally, crossing the levels of post-US withdrawal which not only threatens the instability of the state but also has the potential to seriously cripple delicate "post-Saddam reconstruction initiatives". Furthermore, intense ethnic clashes could further infuriate an already infuriated crisis in Yemen, while fuelling instability in an already "political-dilemma" struck Lebanon.
The issue of chemical weapons
It is in the regional American interests to prevent the use of Weapons of Mass Destruction (WMD), however, Washington must focus their attention on chemical and biological weapons besides nuclear. Even in the aftermath of a successful Israeli air strike on one of the Syrian nuclear installation in early 2007, a large stockpile of nuclear weapons were hidden by Assad regime, to avert its destruction from probable in-future Israeli airstrikes. Also, on numerous occasions Washington too warned Assad regime against transportation and deployment of these weapons. In early 2013, the State Department confirmed the presence of chemical weapons in Syrian military installations and in late August, the regime deployed chemical attacks on Syrian masses. The then President Obama had warned Assad regime against any further use of chemical weapons on Syrian masses, further stating that the "red line has been crossed" and re-affirmed their announcement of early June "to provide rebel forces with adequate military support".
The use of chemical attack in late August came amidst international condemnation, diplomatic engagements and threats for armed response, out of which, none of the engagements adequately involved threats against another possible chemical attack or its proliferation or trafficking. Moreover, again in early February, another chemical attack forced international communities to convene a session at UNSC which then established a "temporary ceasefire". However, with temporary ceasefire in place, the attacks continue to create "horror and havoc" within Syrian masses. As per today, the Trump administration has not yet addressed the issue regarding proliferation and trafficking of chemical weapons within the region. Policy makers must note that, there are multiple avenues to traffic chemical weapons: to begin with, the regime could easily traffic stockpiles of weapons to a third actor (preferable Hezbollah in Lebanon, or any Shi'ite militant group in Iraq), or the rebel forces could easily traffic these weapons within Syria itself, in such a case,the Syrian rebels could seek assistance from Al-Qaeda affiliate Syrian groups who could then transfer these weapons anywhere in the Middle East and beyond.
Preventing the "spill-over" effect
The Syrian conflict is too intense and there is a high possibility for it to engulf neighbouring countries such as Lebanon, Jordan, Turkey, Iraq and Israel. It must be noted that, even the slightest spill-over effect of Syrian conflict could potentially destabilize the entire region. The aforementioned neighbouring states share borders with Syria, which are essentially porous, and roughly all of them are currently hosting hundreds of thousands of Syrian refugees. Hence, these camps could ignite the "fire of resistance" outside Syria, forcing the Syrian forces to cross borders in an effort to counter Anti-Assad factions. An incursion of these Syrian forces, even at an infinitesimal level could further escalate the conflict, which would result ina direct confrontation which in due course, will force the refugees out of these camps.
The "spill-effect" of Syrian conflict on other regional allies of Washington, would prove disastrous for America's strategic interests. In the event of a Syrian civil war escalating beyond the boundaries, the spill-over would further deepen the Shi'a-Sunni ethnic divide, while opening doors for new actors which could further deteriorate an already deteriorating situation.
Washington's "viable" military options
Policy makers at White House and State Department continues to face numerous "policy centric" challenges with respect to Syria; in the light of repetitive inconclusive engagement at all levels (military, diplomatic and political)reinforced with Trump administration's "erratic non-pragmatic policies with respect to Syria", Syrian civil war must remain a top priority, especially when America's strategic interests are at stake. Furthermore, Washington must not engage in a direct military confrontation. In an effort to retain strategic interests in Syria, policy makers should focus their attention to some of the viable policies mentioned below:
Deploy military advisors to train the rebel groups which fairly covers, providing logistical support, heavy weaponry assistance and real-time based intelligence. The deployed military advisors can range between two hundred to two thousand, covering a cost of no more than 250$ to 500$ million. The deployment of troops shall be in designated "green zones" which could be established post-discussion with Joint-Chiefs and CENTCOM.
Limited maneuvered attacks and assisting the rebel groups, by specifically targeting HVT's (High Value Targets), through precision guided bombs or JDAM's. The objective is to eliminate the target that is valued by the regime or is irreplaceable enough to shatter regime's power in certain areas. Such targets could be residing in Libya or Lebanon, or in regime HQ's or safe houses, regime sponsored residential areas, military barracks or signal-intelligence headquarters.
Implement a no-fly zone, this would prevent any Syrian air assets from flying in the airspace to carry out attacks against Syrian communities and rebel groups.
Implement buffer zones, this would provide a safe "casualty collection points" for rebel forces, where they can also, train and receive medical treatment. The author suggests implementing buffer zones on the border with Jordan and Turkey. These buffer zones would provide adequate air cover against Syrian air assets; however, the size of the zone and its location would ultimately determine the staging limit for reinforcements.
Prevent the use of chemical WMD's, the US must deploy its special forces to identify and destroy chemical weapons in Syria, especially their trafficking routes and technical equipments, making their movements possible. Destroying a chemical weapon on land would prove dangerous as, the wind could potentially change the direction of the chemical, which could result in massive civilian casualties, since its lethal effects could be seen for miles. Identifying the canister location could prove difficult, especially when the number of missiles and the size of it are unknown, thus, intelligence must be real time and accurate. Once the intelligence sources have identified the location of cannisters/missiles, special forces must be deployed for immediate transportation of these cannisters/missiles out from the enemy territories, ensuring that there is no leak. Furthermore, locating chemical weapons is quite difficult particularly when they are small, they can easily be concealed.
It is imperative for policy makers to consider all the aforementioned points as "strategic force implementation packages" but must keep in mind the costs and the benefits of these points, before formulating a response. They must evaluate all possible scenarios/ simulations, individually and in groupings: carefully monitoring their progress. These responses might strengthen Assad regime's response, as they would definitely see the war as "fight against the West", selecting some "special forces elements" from the Syrian army and re-tasking them to dedicatedly counter US forces. More importantly, the author advises policy makers to employ more "aggressive yet discreet measures", but asserts policy makers to retain determination, particularly when it comes to implementing any of the aforementioned points, post which the enemy could aggressively respond.
Conclusion
The Syrian civil war is increasingly becoming complex and with its increasingly "complexity", the challenges faced by Washington continues to increase. How should policy makers formulate viable pragmatic plan of actions in such complexity? Essentially, Washington wants to see the end of the Syrian Civil war, it is in their interests, but a US "aggressive" response to bring peace on the table, could remind policy makers of their engagement in Vietnam, especially when there are huge lists of commitment and very few allies for support. Moreover, like all civil wars (particularly Lebanon, Rwanda, Somalia)the civil war in Syria will come to an end only when the resources are exhausted (Assad regime and rebel fighters), or when certain external actors stop assisting them with "vital" supplies. Although, the Assad regime has conducted numerous "unspeakable acts of violence and induced terror", (so did certain rebel groups),Washington does not have enough resources to monitor every violent action induced by Assad regime and respond, which even if policy makers decide to, could potentially further infuriate the crisis. Taking into account the aforementioned arguments, Al-Qaeda and its Syrian affiliate could possibly be the victors, as the US does not have resources to shape Syria's future.
The best possible option for Washington is to "contain the civil war", that said, the containment itself will be a difficult especially in the light of recent "escalation", this is precisely the "point of focus" for US military. Washington must assist regional partners in an effort to "contain the conflict", dropping the option of a "costly military confrontation". Furthermore, Washington must distance itself from the Shi'a-Sunni conflictas it would take one fatal error to escalate an already escalated conflict. Policy makers must note that, no country is benefiting from the Syrian civil war, irrespective of their religion or historical relationship/engagement with Washington. If this war escalates, it would engulf every actor. Containment is not only a viable option, but also the best possible one which would benefit every actor, and Washington must effectively initiate a policy on it. Containment will not invite easy choices, and will not immediately deliver results, however, it should remain at the core of Washington's policy on Syrian civil war.
India Acquiring Thermonuclear Weapons: Where Is The Global Outcry?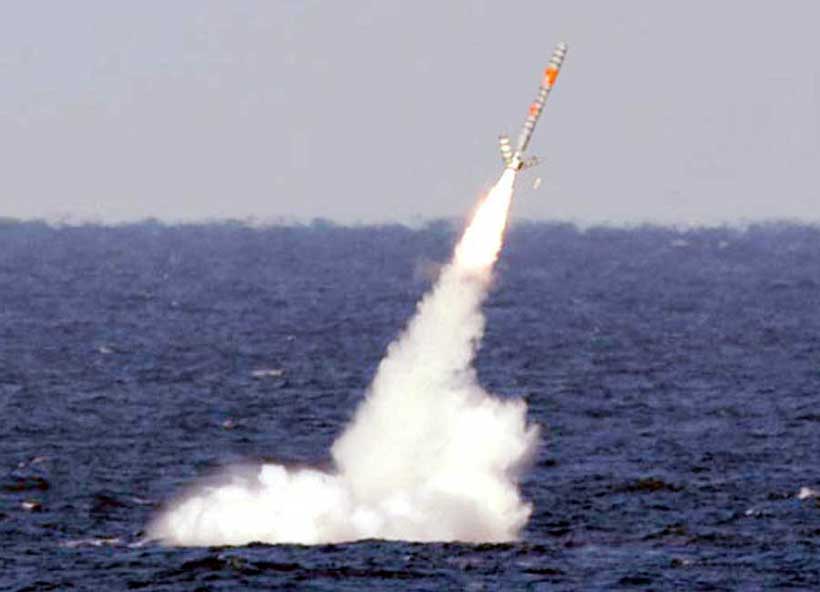 The atomic bomb revolutionized modern warfare not by enabling the mass slaughter of civilians but by vastly increasing its efficiency—the ease with which densely populated cities could be annihilated. Many of the crucial details are top secret, and the mundane terms used in official discussions tend to hide the apocalyptic consequences at stake.
A new nuclear arms race has begun to match each other's overkill capacity. The new nuclear arms race does not center's on the number of weapons but it depends on the qualitative refinement of nuclear capabilities and their increasing deadlines.
Recent nuclear missile tests by India show that India is blatantly flaunting its nuclear power vertically, posturing as tough and responsible "protectors" while in reality it puts the world at large risk. This attitude from Indian side of continuous arming herself up is alarming for the region to a greater extent.
When we shuffle the pages of history, it appears that India – a champion of nuclear disarmament during much of the Cold War – reversed its position in the 1990s. With the passage of time their double standards have led them built their nuclear arsenal at a faster pace. Former Indian governments' position was – that nuclear weapons are unacceptable weapons of mass destruction designed to slaughter civilians – no longer holds sway in New Delhi.
Perhaps equally distressing is the behavior of the international community that up till now failed to loudly condemn India for their continuous missile and nuclear development program.After critically analyzing the current and past events one can come to know that the world powers and so called pundits of nuclear disarmament failed to criticize the actions of India to a greater extent. In contraststates have responded with deafening silence or worse: a renewed focus on rearmament. These moves by India creates incentives – or perhaps a pretext – for other states to develop similar arms.
India even after acquiring nuclear weapons is yet not internationally recognized as a nuclear-weapons state under the terms of the Non-Proliferation Treaty (NPT). India detonated its first plutonium device, which it called a "peaceful nuclear explosive" in 1974. Again in 1998, it tested its first nuclear weapons under the ambit of peaceful nuclear explosion. Since India conducted its tests in 1998, India has undergone impressive developments for both its nuclear program and missile arsenal.
It is necessary to expose these myths and highlight the existing realities. India sees its nuclear weapons capacity to be an integral part of its vision as a great power, and its nuclear program is important for both its prestige and security doctrine. Currently, India is increasingly developing its nuclear capabilities that could potentially support the development of thermonuclear weapons, raising the stakes in an arms race with China and Pakistan. These revelations highlights that India is expanding its weapons and enriching uranium in addition to plutonium. India's nuclear deal with the United States (US) and the granting of a waiver for importing nuclear materials (which must be for non-military purposes) allows it to use more of its indigenously produced nuclear material for weapons. India is has also heavily invested in research on using thorium in reactors (or even potentially weapons), which will free up its other nuclear material for weapons. India hopes to soon operate thorium reactors.
Meanwhile, the US Foreign Policy magazine in 2012 reported that India had built two top-secret facilities at Challakere, Karnataka. These sites would be the South Asia's largest military-run complex of nuclear centrifuges, atomic-research laboratories and weapons and aircraft-testing facilities. The research further stated that further says that another of the project's aim is "to give India an extra stockpile of enriched uranium fuel that could be used in new hydrogen bombs, also known as thermonuclear weapons, substantially increasing the explosive force of those in its existing nuclear arsenal. Despite these activities, the US and its Western allies are busy selling nuclear reactors and material to India for commercial gains and advocating its entry into the Nuclear Suppliers Group.
None of the South Asian states believe the common story of India's nuclear program—that India developed nuclear weapons in response to China's or Pakistan's nuclear program. Nuclear test of India was an extension of India's aspiration to become a great power. It is beyond doubt that as long as the international community focuses its efforts on "irresponsible" nuclear behavior, such as proliferation and nuclear testing, global nuclear disarmament will remain difficult to achieve.
The Original Sin of Space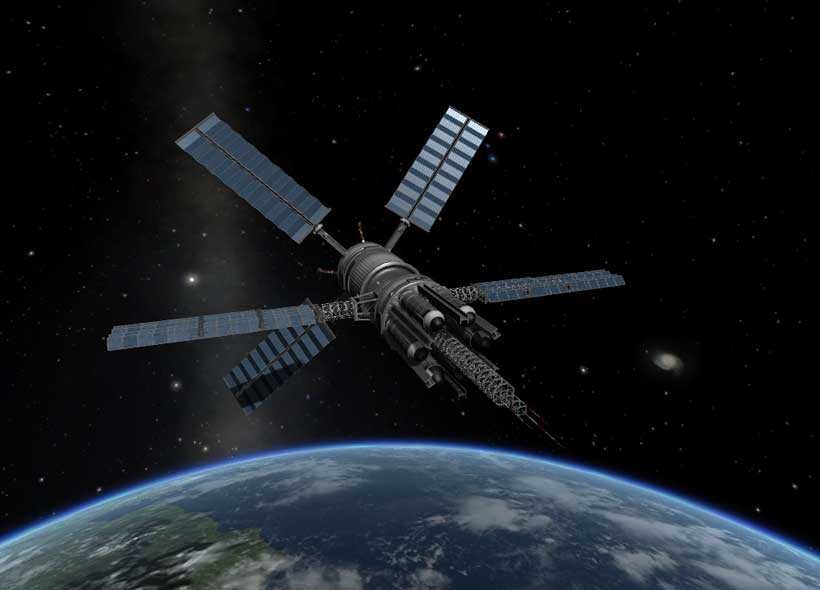 There has been a lot of talk in the news these past several months about the current American administration's interest in the creation of a new 'Space Force,' both in serious terms and in comedic light. This perhaps has distracted people from realizing just how much 'space' has been an important and expansive part of American national security and is increasingly crucial to 21st century global security across many different countries.
A brief history of this domain shows that a military element has always been part of the American conceptualization of space and its usefulness. After all, there were satellites even before there was a NASA. In fact, DARPA (the secretive and to most Americans mysterious Defense Advanced Research Projects Agency) was created FIRST. This in turn made some fairly wise minds in Washington realize it might behoove the nation to create a more open, civilian-oriented agency that could proudly toot the country's space achievements with full transparency while the more national security-oriented DARPA could remain behind-the-scenes and out of the limelight. Thus, peaceful exploration and the advancement of national security science have always been closely and strategically aligned for Americans when it comes to the final frontier. It also means the American understanding of space as an important domain for the projection and maintenance of power.
It is because of this innate duality from the very beginning that most of the extensive legal acts and treaties that have developed over the decades have not always made every important area of cosmic definition and demarcation explicit. Locational sovereignty, territoriality, type of mechanisms used, definition of technological purpose, and many other important concepts are still left a bit open for creative interpretation when it comes to objects in space. This was perhaps not such a major concern when space was basically dominated exclusively by the United States with no real rival competitors on the near horizon. But today sees the emergence of several so-called near-peer competitors who may or may not share the same interests about the utilization of space as America. The opinions and ultimate behaviors of countries like China, Russia, and India, to name a few, will become paramount vis-à-vis this overall lack of legal and diplomatic space specificity.
This criticism isn't even about the frustrating inability to definitively acknowledge the difference between 'militarization' and 'weaponization,' something that has been relatively analyzed in the past decade. After all, the reality today is that 95% of all satellites launched into orbit are 'dual-use.' Ostensibly this means that while the formally pronounced purpose for most satellites is commercial and non-military, they can all be easily converted on the fly (pun intended) so that they suddenly become quite strategically militaristic and weaponized, or at least connected to a weaponized system. Again, none of this seemed overly concerning or dangerous when space was the habitat of a single country that also happened to dominate the on-the-ground global economy and military development races. But the horizon that once seemed incredibly distant, or even possibly fictitious, is now unbelievably closer than anyone could have guessed just a decade ago. That dominance is now not so dominant.
This is why before anyone, America included, gets more serious about talks to create an active space force of any kind, it would be better for the global community to fix what was space's 'original sin.' These once benign ambiguities in past space treaties have now been combined with malignant ambiguities in present-day space technologies that create a critically dangerous new domain with far more than just a single dominant player. These grey areas of space potentiality provide ample opportunity for friend and foe alike to manipulate and provoke new areas of conflict between states on the global stage. With no global consensus, formal rules, explicit restrictions, vague definitions, and ambiguous legal interpretations, what could possibly go wrong?
At the moment, there seems to be an international presumption that space is a 'new' thing and thus modern concepts of global governance, peace mediation, and weapons-free are the natural characteristics that will dominate the domain. This is dangerous because of how historically inaccurate it is when it comes to man's presence and purpose in space. Since space has always had within it the potential for being a domain for warmaking (and states saw it as such literally from the very beginning that they began to make technology to reach it), there need to be concrete steps taken today to 'correct' the ambiguities of the past. This demands the creation not just of a single space force by a single country, but an internationally-created and consensus-governed multination alone. This is the path most likely to result in moving forward focused on the peaceful advancements in science that space exploration inevitably brings, rather than focused on the powerful innovations in weapons and military strategy that also comes with space exploration. This science-dominant focus for peace might also result in the creation of new legal projects that the majority of the world (and the most powerful players more importantly) will sign on to and obey. For now there are not only no such legal projects being drafted with this purpose in mind, there really aren't any states or non-state organizations clamoring for the need to do so. There is just so much innocent assumption about the natural good and righteousness of space. It is not that these assumptions are entirely erroneous. It is just that these hopes are too easily toppled when space's original sin is not addressed.
So, if the ultimate desire is to see space develop into a domain that only represents the best of humanity and the peaceful advancement of technology for all of humanity's progress and prosperity, then international organizations the world over need to start being a bit less naïve, a bit more honest, and a bit more ambitious. After all, one country's space force can just as easily be another country's space invader.
The role of the Islamic Revolutionary Guard Corps with regional terrorism
The creation of a Hashd al-Sha'abi in Iraq was a great step that the Islamic Revolutionary Guards Corps (IRGC) took to increase the military power of the people and the army against ISIL, which caused to open the blind knot of the confused Iraqi crisis in a large extent.
The onset of the political crisis in Iraq and Syria led regional and transnational actors to pursue a particular policy in the face of insecurity, based on their own interests. Given the geopolitical and geostrategic significance of the two countries in Southwest Asia, the approaches of each of these actors differed in their dealings with the story. Strategies and policies of the Islamic Republic of Iran, compared to some supporters of chaos and insecurity in the field of foreign policy based on religious teachings, rationality, interests of the Islamic nation and national interests, It is therefore very different from the contradictory and shaky policies of the governments contending to fight terrorism, human rights and democracy.
Change the rule of game in Syria
With the onset of the Syrian crisis and the role of regional and transnational states that were largely in the interests of the terrorists and rioters, Iran also expressed its willingness to resolve the crisis with Syria's desire. Initially, activities began on diplomacy, and Iran was able to play a diplomatic role, and invited some countries, such as Russia and China, to play a more active presence in the Syrian case. Despite the effective efforts in this field, Iran came to the conclusion that not all diplomacy capacities could be used to cope with insecurity and they have to pursue the issues more seriously. Although this presence declaration was not so favorable to the US and its allies, it was natural that the national interests of each country, such as Iran, were at the head of national security, and our country also has a tolerance border to these areas. The Islamic Republic of Iran could not simply witness the crisis of various confrontational and terrorist groups and their supporters in the region, with only the role of spectator in the scene. Defense policy of Iran in MENA region has based on the principles , therefore on the basis of these principles, Iran protects the sovereignty of legitimate and legal governments. Naturally, due to the principled belief of the Islamic Republic of Iran about the sovereignty of the Syrian people to determine their political destiny, the support of the legal government of the country against insurgents was emphasized as a general principle in foreign policy. In the battlefield and defense policy, the Syrian government faced turbulence on the one hand, which was gradually expanding its influence, and on the other hand, US and its allies make any attempt to support terrorists militarily and financially. The Syrian government's approach and its defense policy to deal with this crisis was accompanied by weaknesses and in the set of these approaches, there was little efficiency to solve the problem.
The weakness in identifying the causes and sources of insecurity and the lack of use of the popular mobilization in dealing with terrorists and the unfamiliarity of the Syrian classical army with urban warfare led to a more complicated crisis. The presence of these factors led Syria to invite Iran to fight the terrorists, and the Islamic Revolutionary Guards Corps (IRGC), as the executive arm of the regime, went to this country for guidance and controversial activities. With the presence of the IRGC in the area and the use of military advisories by the Iranian forces, the Syrian army began to regain defenses, and practically with changing the rules of the game, the terrorist attacks were stopped in many areas. It was so; the classical Syrian army has developed its defense capability in dealing with terrorists and has been able to learn urban warfare techniques with the help of the IRGC's training and Finding a defense policy with the lowest casualties. Using the power and capacity of the popular mobilization and communication with tribes and tribesmen, as well as the followers of religions and different creeds and the intelligence assistance provided by the Syrian army, put the terrorists in a state of turmoil. Those countries who had pursued the Syrian conflict on the basis of their arrogant goals , now saw their hopes unattainable.
Westerners and other supporters of the terrorist currents in this situation were completely concerned about the changing circumstances on the battlefield and tried to accuse Iran of military intervention in Syria. Although it was very good at first glance on its interest, but the release of documents from the insurgents proved that Western, Arabian and Hebrew axis support Terrorist and Takfiri groups in obvious and hidden. Along with this, the victory of the Axis of Resistance in Aleppo as a result of the military assistance and military advisories of IRGC and the widespread use of mass mobilization was a turning point in the Syrian case, strengthening the Syrian government's position to continue to confront the insurgents and Terrorist groups. The influential role of the IRGC in Syria has led advocates of terrorism, especially the United States, who used to take all the necessary tools to weaken Iran's position in the region, Following the developments on the Syrian front, they were forced to confess the role of the Islamic Republic of Iran to resolve the crisis and urge Iran to engage in Syrian settlement talks.
When ISIL borders narrowed
The rise of ISIL as a terrorist power in Iraq and Syria has caused changes in equations in the region since a few years ago. The rapid progress of the Takfiri (unbeliever) group in the Iraqi crisis had created difficult conditions. The ISIL have faced little resistance of IRAQ and Syria. The combat capability of this terrorist group and the support of the Arab countries of the region on the one hand, and the apparent betrayal of some of the commanders of the middle classes of the Iraqi Army and the Ba'athist survivors of the Saddam Hussein era, It provided the ground for the Takfiri group to flourish in military arena like a rebel horse for a long time and occupy vast sections of Iraq's five major provinces. In those days, Invisible whispers of some US-led countries was announced, the formation of an unlucky coalition would be called in the name of the anti-ISIL coalition, but its initial rumblings fell from the very first days of its formation. The bitter satire was that some of the Arab and European countries that participated in this coalition were the main suppliers of financial and weaponry of ISIL. The US and European advanced aircraft fighters targeted civilians instead of bombing the positions of this takfiri (unbeliever) group.
Naturally, these promotional measures did not contribute to containment of terrorism but it was also strengthened it. Since Iran saw the lack of integrity between participating members as the most important reason for the failure of the coalition, has pursued another path to assist the Iraqi people to repel ISIL. Arms assistance and advisory services to the army and volunteer groups in Iraq were one of the effective ways for Iran to eliminate this intrigue. For example, Massoud Barzani, head of the Kurdish region of Iraq, said in a news conference that Tehran has provided weapons to Peshmerga forces. We demanded weapons and Iran was the first country to provide us weapons. The creation of a Hashd al-Sha'abi in Iraq was a great step that the Islamic Revolutionary Guards Corps (IRGC) took to increase the military power of the people and the army against ISIL, which caused to open the blind knot of the confused Iraqi crisis in a large extent. The successful operation of the IRGC in Iraq's field greatly weakened the role of the US-led anti-ISIL coalition in the country and raised Iran's position as the guiding and the leadership of the resistance. The military and intellectual confrontation of the Islamic Revolutionary Guards Corps with ISIL as the most dangerous combat force against the resistance axis, while limiting the sphere of influence and the circle of their activities, has also led to the defense of Iraq's territorial integrity. The IRGC's advisory operations in Iraq led to mobilization of different a range of country including the Kurds, Sunni tribes and Shi'a Hadesh al-Sha'bi against ISIL, and retreating terrorists and Takfiris (unbeliever) from the occupied territories. The other thing was that as a result of these efforts, the ghost of war and chaos that had shadowed Iran's border lines in the early days had been forbidden hundreds of kilometers away.
Meanwhile, the role of Major General Hajj. Qassim Soleimani is undeniable. The nations of the region considered him as one of the greatest saviors. Therefore, the Strength of the IRGC in resolute clash with regional terrorists has increased our soft power for boosting bargaining and growing popularity in other countries.