Assessing Washington's "strategic and military" options in Syria
For Washington, Eastern regions around Mediterranean holds "vital strategic interests" centrally to which lies Syria, policy makers within the White House and the State Department continue to face numerous challenges on how to adequately and effectively defend these "strategic interests" with "limited yet effective" military engagements. The "horrors" induced by Assad regime in this "complex" battlefield, coupled with the "rise of jihadist elements inside Syrian state", further fuels an already "complexed battlefield", which could potentially destroy the strategic interests of the US and their regional allies. Furthermore, the "ripple effect" from the on-going battle could involve neighbouring states.
Moreover, according to one estimate of the UNHCR: the conflict has claimed lives of over 117,000, whereas thousands have been wounded, leaving behind over six million internally displaced, besides devastated cities and towns, with more than half of the population without food and clean water, especially in the light of two chemical attacks. In the background of a "highly intense conflict", the US even with "enormous military resources", have fairly limited military option to bring this "saga of death and destruction" to a temporary halt. In the light of an increasingly "intense conflict", even smaller military engagement could result in further escalation of this conflict. It is imperative for policy makers at the White House to completely "abandon" the option of a "direct military engagement" while redirecting all available resources to "limit the ripple effect within Syria".
Washington's strategic interests
Washington's principle strategic objectives for regions around Mediterranean includes" sustainable long-term stability, preventing easy movements of radical terror factions, preventing all categories of weapons of mass destruction, reinforcing Israeli security forces, ensuring a flourished economy, while promoting democratic values". Washington must employ "viable measures" to prevent the reach of Syrian war beyond its boundaries. Furthermore, Washington must address the ethnic conflict between Shia and Sunni carefully and delicately, while systematically limiting this "ethnic" conflict, which is too delicate and vulnerable enough to engulf an entire region and with enough potential to establish "two ethnic centered poles", giving further opportunity for nations such as Iran, to establish influence. Furthermore, policy makers must [if they have the means and resources readily available]eliminate internal clashes if the costs are acceptable.
Bringing an end to the Syrian civil war
In the background of regional instability, it is imperative for Washington to employ all available resources to prevent Syria from a total collapse. Indeed, the civilian casualties are rising phenomenally, with rapidly intense conflict coupled with the frequent use of chemical weapons, human bodies will continue to rise and so will the difficulties in post war reconstruction. Hence, one seemingly possible outcome, although likely, of the Syrian war will be of a "failed" state, which could become a "possible" hideout for Islamic radical militant factions such as Al-Qaeda and Al Nusra Front. Keeping in mind the on-going "intense clashes", the damage induced by Syrians in this war will be too "painful" to recover regardless of any victor, especially with widespread lawlessness, death and destruction. With respect to US favoured outcome, the chances are reasonably low; as victors shall either be the Assad regime, left to govern shattered Syrian lands, or some Sunni centric radical militant factions with considerable dominance, but largely the outcome will be "continuous engagement until one side is exhausted". Even if a "democracy favoured" liberal group emerges from the conflict, the total rehabilitation and reconstruction cost will be too difficult for Syria to bear, even if international aid organizations such as the UN assist financially the possibility for re-emergence of a civil war will remain high.
Keeping in mind the "moral values" of Washington,a large-scale US military intervention in Syria will not be significant enough to overthrow Assad regime or put an end to this conflict once and for all. Policy makers must note that, the Syrian conflict is densely spread in populated cities and towns, and is extensively carried out by multiple elements, and is not limited to a "stubborn" regime, but also extensively involves ethnic religious factions stretching the boundaries beyond a "revolution". Moreover, Syria is different from other "Arab-spring" countries, the Assad regime, along with over 15% of the Alawiite population, are locked in a "death match",the only way to achieve their freedom struggle. Many Sunni centred radical factions have called this "struggle as jihad"and are ready to die in this fight. This war is no less than "embedded in ethnicity, dipped in religious colours",which will continue even after the fall of Assad regime, especially in the light of active "external factors" and "aggressive regional actors". However, Washington's strategic interests are best "preserved" if it manages to "contain" the conflict, and this is precisely where policy makers within the State Department should focus.
Bridging the Shia-Sunni clashes
One of the principle factors in Syrian civil war is the wedge that has been created between Shi'a and the Sunni ethnicity, which is rapidly increasing the gap between the two ethnicities. The causes which resulted in the Shi'a-Sunni divide are to "complex" to address in one article, but it will not be incorrect to state that, the Shi'a-Sunni conflict is "densely" gripped in Syrian Civil war. Moreover, major masses in Syria are Sunni whereas the Assad regime hails from Alawi sect, which is roughly 12% of the entire populous. Theologically, the Alawi were tied with Shi'a sect, however, the then Syrian President Hafez Al-Asad (who was an Alawi), after coming to power, received a  fatwa from the then Lebanese religious-leader cum philosopher Musa Al-Sadr stating that the Aalwai's were community with deep roots in Shi'a Islam, which which further cemented his stand when the Aalwi leader sided with Shi'a Iran during the Iran-Iraq war, highlighting his preference for Shi'a community, a legacy perhaps, passed on to his successor, Bashar Al-Assad.
To protect American strategic interests in the region, it is imperative for Washington to prevent further escalation of Shi'a-Sunni conflict, which has the potential to spread over in neighbouring countries such as Iraq, Lebanon and Yemen; particularly in Iraq, the Shi'a-Sunni ethnic clashes continues to escalate phenomenally, crossing the levels of post-US withdrawal which not only threatens the instability of the state but also has the potential to seriously cripple delicate "post-Saddam reconstruction initiatives". Furthermore, intense ethnic clashes could further infuriate an already infuriated crisis in Yemen, while fuelling instability in an already "political-dilemma" struck Lebanon.
The issue of chemical weapons
It is in the regional American interests to prevent the use of Weapons of Mass Destruction (WMD), however, Washington must focus their attention on chemical and biological weapons besides nuclear. Even in the aftermath of a successful Israeli air strike on one of the Syrian nuclear installation in early 2007, a large stockpile of nuclear weapons were hidden by Assad regime, to avert its destruction from probable in-future Israeli airstrikes. Also, on numerous occasions Washington too warned Assad regime against transportation and deployment of these weapons. In early 2013, the State Department confirmed the presence of chemical weapons in Syrian military installations and in late August, the regime deployed chemical attacks on Syrian masses. The then President Obama had warned Assad regime against any further use of chemical weapons on Syrian masses, further stating that the "red line has been crossed" and re-affirmed their announcement of early June "to provide rebel forces with adequate military support".
The use of chemical attack in late August came amidst international condemnation, diplomatic engagements and threats for armed response, out of which, none of the engagements adequately involved threats against another possible chemical attack or its proliferation or trafficking. Moreover, again in early February, another chemical attack forced international communities to convene a session at UNSC which then established a "temporary ceasefire". However, with temporary ceasefire in place, the attacks continue to create "horror and havoc" within Syrian masses. As per today, the Trump administration has not yet addressed the issue regarding proliferation and trafficking of chemical weapons within the region. Policy makers must note that, there are multiple avenues to traffic chemical weapons: to begin with, the regime could easily traffic stockpiles of weapons to a third actor (preferable Hezbollah in Lebanon, or any Shi'ite militant group in Iraq), or the rebel forces could easily traffic these weapons within Syria itself, in such a case,the Syrian rebels could seek assistance from Al-Qaeda affiliate Syrian groups who could then transfer these weapons anywhere in the Middle East and beyond.
Preventing the "spill-over" effect
The Syrian conflict is too intense and there is a high possibility for it to engulf neighbouring countries such as Lebanon, Jordan, Turkey, Iraq and Israel. It must be noted that, even the slightest spill-over effect of Syrian conflict could potentially destabilize the entire region. The aforementioned neighbouring states share borders with Syria, which are essentially porous, and roughly all of them are currently hosting hundreds of thousands of Syrian refugees. Hence, these camps could ignite the "fire of resistance" outside Syria, forcing the Syrian forces to cross borders in an effort to counter Anti-Assad factions. An incursion of these Syrian forces, even at an infinitesimal level could further escalate the conflict, which would result ina direct confrontation which in due course, will force the refugees out of these camps.
The "spill-effect" of Syrian conflict on other regional allies of Washington, would prove disastrous for America's strategic interests. In the event of a Syrian civil war escalating beyond the boundaries, the spill-over would further deepen the Shi'a-Sunni ethnic divide, while opening doors for new actors which could further deteriorate an already deteriorating situation.
Washington's "viable" military options
Policy makers at White House and State Department continues to face numerous "policy centric" challenges with respect to Syria; in the light of repetitive inconclusive engagement at all levels (military, diplomatic and political)reinforced with Trump administration's "erratic non-pragmatic policies with respect to Syria", Syrian civil war must remain a top priority, especially when America's strategic interests are at stake. Furthermore, Washington must not engage in a direct military confrontation. In an effort to retain strategic interests in Syria, policy makers should focus their attention to some of the viable policies mentioned below:
Deploy military advisors to train the rebel groups which fairly covers, providing logistical support, heavy weaponry assistance and real-time based intelligence. The deployed military advisors can range between two hundred to two thousand, covering a cost of no more than 250$ to 500$ million. The deployment of troops shall be in designated "green zones" which could be established post-discussion with Joint-Chiefs and CENTCOM.
Limited maneuvered attacks and assisting the rebel groups, by specifically targeting HVT's (High Value Targets), through precision guided bombs or JDAM's. The objective is to eliminate the target that is valued by the regime or is irreplaceable enough to shatter regime's power in certain areas. Such targets could be residing in Libya or Lebanon, or in regime HQ's or safe houses, regime sponsored residential areas, military barracks or signal-intelligence headquarters.
Implement a no-fly zone, this would prevent any Syrian air assets from flying in the airspace to carry out attacks against Syrian communities and rebel groups.
Implement buffer zones, this would provide a safe "casualty collection points" for rebel forces, where they can also, train and receive medical treatment. The author suggests implementing buffer zones on the border with Jordan and Turkey. These buffer zones would provide adequate air cover against Syrian air assets; however, the size of the zone and its location would ultimately determine the staging limit for reinforcements.
Prevent the use of chemical WMD's, the US must deploy its special forces to identify and destroy chemical weapons in Syria, especially their trafficking routes and technical equipments, making their movements possible. Destroying a chemical weapon on land would prove dangerous as, the wind could potentially change the direction of the chemical, which could result in massive civilian casualties, since its lethal effects could be seen for miles. Identifying the canister location could prove difficult, especially when the number of missiles and the size of it are unknown, thus, intelligence must be real time and accurate. Once the intelligence sources have identified the location of cannisters/missiles, special forces must be deployed for immediate transportation of these cannisters/missiles out from the enemy territories, ensuring that there is no leak. Furthermore, locating chemical weapons is quite difficult particularly when they are small, they can easily be concealed.
It is imperative for policy makers to consider all the aforementioned points as "strategic force implementation packages" but must keep in mind the costs and the benefits of these points, before formulating a response. They must evaluate all possible scenarios/ simulations, individually and in groupings: carefully monitoring their progress. These responses might strengthen Assad regime's response, as they would definitely see the war as "fight against the West", selecting some "special forces elements" from the Syrian army and re-tasking them to dedicatedly counter US forces. More importantly, the author advises policy makers to employ more "aggressive yet discreet measures", but asserts policy makers to retain determination, particularly when it comes to implementing any of the aforementioned points, post which the enemy could aggressively respond.
Conclusion
The Syrian civil war is increasingly becoming complex and with its increasingly "complexity", the challenges faced by Washington continues to increase. How should policy makers formulate viable pragmatic plan of actions in such complexity? Essentially, Washington wants to see the end of the Syrian Civil war, it is in their interests, but a US "aggressive" response to bring peace on the table, could remind policy makers of their engagement in Vietnam, especially when there are huge lists of commitment and very few allies for support. Moreover, like all civil wars (particularly Lebanon, Rwanda, Somalia)the civil war in Syria will come to an end only when the resources are exhausted (Assad regime and rebel fighters), or when certain external actors stop assisting them with "vital" supplies. Although, the Assad regime has conducted numerous "unspeakable acts of violence and induced terror", (so did certain rebel groups),Washington does not have enough resources to monitor every violent action induced by Assad regime and respond, which even if policy makers decide to, could potentially further infuriate the crisis. Taking into account the aforementioned arguments, Al-Qaeda and its Syrian affiliate could possibly be the victors, as the US does not have resources to shape Syria's future.
The best possible option for Washington is to "contain the civil war", that said, the containment itself will be a difficult especially in the light of recent "escalation", this is precisely the "point of focus" for US military. Washington must assist regional partners in an effort to "contain the conflict", dropping the option of a "costly military confrontation". Furthermore, Washington must distance itself from the Shi'a-Sunni conflictas it would take one fatal error to escalate an already escalated conflict. Policy makers must note that, no country is benefiting from the Syrian civil war, irrespective of their religion or historical relationship/engagement with Washington. If this war escalates, it would engulf every actor. Containment is not only a viable option, but also the best possible one which would benefit every actor, and Washington must effectively initiate a policy on it. Containment will not invite easy choices, and will not immediately deliver results, however, it should remain at the core of Washington's policy on Syrian civil war.
Turkey is the Guarantor of Peace in the Black Sea region
The wider Black Sea region—which brings together the littoral states plus neighbouring countries—is experiencing a rapidly shifting security environment that combines large-scale conventional military threats, internationalized civil wars and protracted conflicts, as well as weapons of mass destruction (WMD) challenges. As such, a fragile set of states caught between the Euro-Atlantic community, on the one hand, and Russia and its allies, on the other, has emerged as a key interface between the two security communities.
Since the 1990s, most of the world's identified cases of illicit trafficking of nuclear materials—fissile materials, in particular—have been located in countries around the Black Sea. The nuclear security situation in the region is further complicated by the existence of areas with unstable governance and protracted conflicts such as in Transnistria, Abkhazia, South Ossetia and areas of Eastern Ukraine since 2014.
The Washington's open, aggressive behavior in the international arena pushes traditional allies away from it. But despite the escalation of the conflict with Turkey, the United States, being the founding member of NATO, is still pursuing the goal of strengthening its presence in the Black Sea.
Today, the main allies of the White House in this region are the leadership of Georgia and Ukraine, who dream of entry into NATO and accept all the imposed conditions.
However, for more than 80 years the presence of warships of non-Black Sea powers, that could enter the sea via the Bosphorus, has been regulated by the Montreux Convention Regarding the Regime of the Straits. According to it, the total non-Black Sea tonnage, with few exceptions, is limited to 15 thousand ships. It prevents the emergence of something more significant there than a detachment of light forces, one or two large warships. At the same time for warships there are restrictions on the class and duration of stay. In particular, ships of non-Black Sea states can stay in the water area for no more than 21 days.
Any attempts to violate this document will be extremely negatively perceived by Turkey, that should be one of the leading players in the region. It is impossible to revise the convention without the consent of Turkey, and only supporting by Ankara country can provide overwhelming superiority in the Black Sea.

In such a situation, the Pentagon considers it possible to use the navigable channel of Istanbul for the passage of American aircraft carriers, that will connect the Marmara and the Black Sea. A channel of about 50 km in length will run parallel to the Bosphorus, while the Montreux Convention will not extend to it. The construction of Channel Istanbul will be completed in 2023.
By the end of construction, everything will depend on the leadership of Turkey. If Ankara concedes and allows the passage of the US Navy aircraft carriers through the new channel, it will surrender all its positions in the Black Sea to the Pentagon.
Meanwhile, NATO member countries (this is not about Bulgaria and Romania) maintain a military presence in the Black Sea region. The Sea Shield 2019 naval drills ended in mid-April, and the reconnaissance ship HMS Echo of the British Royal Navy continues to carry out its mission in the Black Sea.
The US Navy already has 11 atomic high-speed aircraft carriers, each with about 90 aircraft. If we imagine that a small part of them will be placed in the Black Sea, then Russia will receive a defensive response. And then all the terrible scenarios of hostilities are likely to happen.
There is a hope that the Turkish government has enough resilience and determination in confronting the harsh rhetoric of other NATO partners.

Insecurity of India's Nuclear Weapons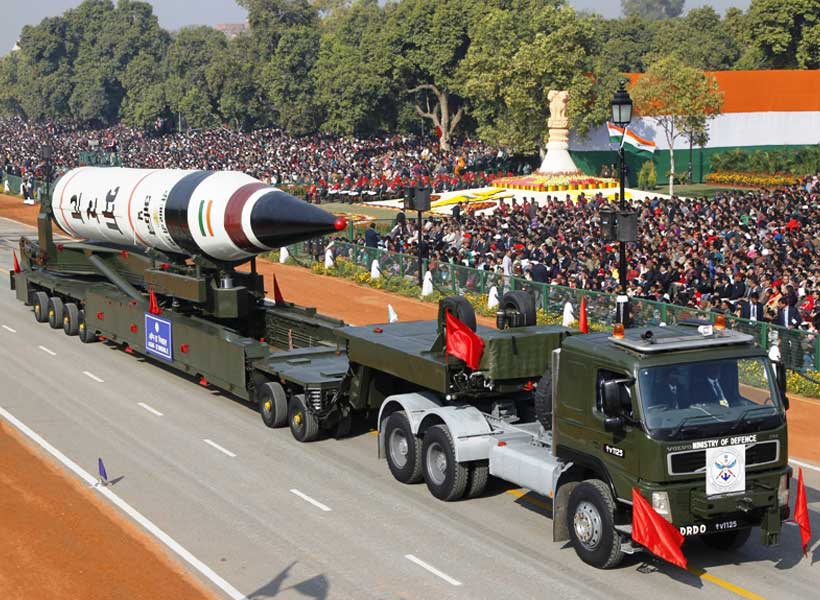 After 1945, it came into the knowledge that nuclear weapons are the most destructive, lethal and powerful weapon on the planet earth, which can wipe out hundreds of thousands of people in short span of time. That's why global community, particularly the U.S. and Former Soviet Union agreed on formulation of stringent globally accepted principles to secure these destructive weapons. India is the first country that brought nuclear weapons in South Asia by detonating nuclear device back in 1974 and yet again in 1998.However, since than safety and security of these weapons under the control of violent Hindutva regime has considerably attracted much of the scholars' attraction.
Terrorism has become an increasing concern within international society but so far there has been less focus on one particular aspect of the problem that is nuclear terrorism. Yet, within the context of South Asia this is of special significance, given the number of insurgencies and freedom struggles with transnational linkages, and the nuclearisation of this region since 1998. Of all the South Asian states, India's nuclear facilities are perhaps the most vulnerable to nuclear terrorism, given India's expansive nuclear programme, much of it not subject to IAEA safeguards. In addition, the vulnerability of India's nuclear facilities is further aggravated by its thriving underworld and more than a dozen insurgencies going on within the Indian states, as well as the freedom struggle in Indian Occupied Kashmir.
India's nuclear programme has developed at an exceptionally fast pace. However, because a few of such facilities are under international safeguards, there is little knowledge about the levels of safety of the various nuclear facilities. Of the ten operational power plants, only four are under IAEA safeguards. According to an Indian parliamentary report, 147 mishaps or safety-related unusual occurrences were reported between the years 1995-1998 in Indian atomic energy plants. Of these, 28 were of an acute nature and 9 of these 28 occurred in the nuclear power installations. Thus, the state of Indian nuclear facilities raises serious concerns as they seem to be vulnerable to a high probability of terrorist attacks, thefts and accidents. The scale of the programme aggravates the problems, as there are plans for the building of pressurized heavy water reactors, fast breeder reactors and thorium reactors on a commercial scale.
Apart from the risk of falling of nuclear weapons and related technology in the hands of terrorists, if one looks at the leadership of India and try to analyse the factor of rationality in the decision making of use of nuclear weapon it clearly suggests that the current leadership i.e. BJP is not only hawkish in its nature but equally believes in use of force for political gains, which further leads us to the assumption that the nuclear decision making is equally occupied by the Hindu hardliners.
During the recent Pulwama Crisis, it has been learnt that BJP's irresponsible behaviour should suffice for all Indians to understand that India will remain hyphenated with Pakistan for foreseeable time. India planned to use Brahmos missile that could carry nuclear warhead. India's behaviour clearly shows that nuclear weapons are in wrong hands. Because the yield and potential related to the nuclear weapons are absolutely detrimental and possession of such weapons in wrong, less responsible and extremist hands is a threat for the entire world.
The only purpose of nuclear weapons is to acquire deterrence in order to avoid the possibility of war. But, India is showing the attitude that it will use these weapons for the purposes of war fighting, which is unacceptable to international community.
The track record of India in the field of nuclear weapons and related technology is much muddier. India initiated arms race in the region, and, it is leaving no stone unturned e.g. advancements in sea-based nuclear capabilities and militarisation of space. Most importantly the recent ASAT test, which is in fact a compelling factor for neighbouring states to think in the same way in order to acquire comparable technologies for equalizing the defence capabilities. These alarming acts of India can bring the entire region at the verge of instability, which in fact could prove dire for the peace of the entire globe keeping in view the economic, natural resources, political and security factors of the region.
The time has come for the international community to break its silence and stop their patronage for India and take serious note and steps regarding the possession of nuclear weapons by India in relation to its aggressive and immature behaviour and mind-set of its leadership, which can lead entire globe to the unacceptable disaster. Since, Kashmir is flash point between both nuclear armed states it is only India which is triggering it by its continuous atrocities in Kashmir. Most importantly existence of ISIS in India is also a foremost point of concern especially keeping in view the nuclear program of India, according to the recent development ISIS claimed for the first time that it has established a "province" in India, after a clash between militants and security forces in the contested Kashmir region killed a militant with alleged ties to the group. This is not only the matter, which solely related to the stability and security of South Asia. This time instability is knocking the door of entire globe in the form of India. The continuous negligence of international community with respect to Indian nuclear weapons will definitely disturb the stability as well as peace of the entire globe.
Why the U.S. is silent about military exercises in the Baltic States
The Baltic States are in the anticipation of the annual large scale military exercise Saber Strike.

The well-known annual international exercise held since 2010 by the United States Army Europe (USAREUR) is focused on the Baltic States. These countries consider this event as a key element of participants' training on command and control as well as interoperability with regional partners. The Saber Strike exercise aims to facilitate cooperation amongst the U.S., Estonia, Latvia, Lithuania, Poland and allied and partner nations.

Usually these maneuvers take place in June. Thus, it is logical to assume that the time of the military exercise is coming, but this year event is never mentioned.

There are two ways of situation development. The first one is – Saber Strike 2019 will not be held at all. The second one is the information about Saber Strike 2019 is classified.

The first assumption is unlikely taking into account the U.S. and NATO desire to strengthen the position in the region. This assumption is also contradicted by the increasing number and scale of international and national military exercises in the Baltic region.
So, the second assumption is most likely. But the question arises about the aim of hiding the information or its content. It is widely proclaimed that NATO and the U.S. put transparency about the exercises in the head. This principle is either one of the key priorities of all international organizations including UN and OSCE. Transparency of activity helps to build international peace and trust.
It is especially surprising after NATO expressed concern about transparency of Russian and Russia-Belarus military drills which were held near the Baltic State's borders. Unlike allies, opponents give preliminary information about planned exercises. By the way, some facts can be find on Internet about joint exercise Union Shield 2019 that will take place in autumn in Russia.
BulgarianMilitary.com quoted Russian Minister of Defence Sergei Shoigu who stated in 2018 that "Union Shield 2019" exercise would be only defensive and emphasized: "First and foremost, and I would like everyone to hear that, our drills are solely of defensive nature. We do not plan any offensive actions as compared to the [NATO] military exercises. We, undoubtedly, are doing this not as a response to some drills but as a response to the threats which exist today and which, to our big regret, grow every year."

From time to time we can read about the preparations for Russian-Belarusian exercise "Union Shield 2019". Thus on March 12-14, the Belarusian-Russian command-staff training on working out the interaction of military authorities, formations and military units in the framework of the regional grouping of troops (RGT) was carried out jointly, as well as improving the RGT control system.

"The general staffs have embarked on the preparation of the Union Shield 2019 exercise, which will be the main event of joint training of the military command and troops in 2019 and which will further improve the system of military security of the Union State," Belarusian Minister of Defense Andrei Ravkov noted. According to him, such events help check the quality and level of combat readiness of the regional group of troops, to see the real capabilities of weapons and the ability to carry out combat tasks.
True or not, but information is available. It is not very detailed but at least it is provided in advance. At least they name it as defensive.
As far as Saber Strike is concerned, everything is vaguely and therefore scary. What is the aim of it? Does it have defensive or offensive nature? When and who will come to the Baltic States? The approach "no comments" is not the best one in this case. The Baltics want and should know. Our opponents should be aware either. Otherwise their respond could be unexpected and even destroying. Uncertainty causes panic and rejection among local population.