China's Sponge City aims to recycle 70 per cent of rainwater
Faced with an ever-increasing demand for water, China recently initiated a project, entitled 'Sponge City,' to improve water availability in urban settlements with the aim of recycling 70 per cent of rainwater.
Over recent years, Ukraine has been experimenting artificial wetlands to filter some pharmaceutical products from wastewater based on evidence that wetlands alone can remove 20 to 60 per cent of metals in water and trap 80 to 90 per cent of sediment from runoff.
"For too long, the world has turned first to human-built, or 'grey,' infrastructure to improve water management. In so doing, it has often brushed aside traditional and indigenous knowledge that embraces greener approaches," writes Gilbert Houngbo, Chair of UN-Water and President of the International Fund for Agricultural Development (IFAD) in the foreword of the report.
Despite emerging initiatives, the use of nature-based solutions remains marginal and almost all investments are still channelled to grey infrastructure projects, the report points out.
The report is the fruit of collaboration between the 31 UN entities and 39 international partners that comprise UN-Water.
The report, whose publication coincides with World Water Day annually observed on 22 March, was presented at the World Water Forum, which kicked off Monday and runs through Friday in Brasilia.
The Forum aims "to promote awareness, build political commitment and trigger action on critical water issues at all levels."
Also on 22 March, the UN will launch the International Decade for Action: Water for Sustainable Development 2018 to 2028, which aims to further improve cooperation and capacity-building towards the SDGs.
Data-Driven Operations Are Key to Future of Manufacturing
In the near future, manufacturing companies will collaborate in hyperconnected value networks in which data-and-analytics applications drive productivity, new customer experiences and societal and environmental impact. A new white paper, Data Excellence: Transforming Manufacturing and Supply Systems, released today presents the challenges for manufacturers and provides the steps to overcome them.
According to the report, nearly three-quarters of 1,300 surveyed manufacturing executives consider advanced analytics to be critical for success and more important today than three years ago. However, only a few companies capture the full value that data and analytics can unlock to address manufacturers' most pressing challenges. Less than 20% of surveyed participants prioritize advanced analytics to promote either short-term cost reductions or longer-term structural cost improvements. Only 39% have managed to scale data-driven use cases beyond the production process of a single product and thus achieve a clearly positive business case.
Surveyed manufacturers cited various challenges that impeded their efforts to further scale and implement data-and-analytics solutions within their plants and across networks:
They struggle to prioritize the right value-adding use cases from a broad range of applications
They have not put in place technological enablers, such as data security or advanced algorithms
They lack critical organizational enablers, such as skills and capabilities and effective internal governance
This study by the World Economic Forum, in collaboration with the Boston Consulting Group (BCG), features insights from a unique community of 40+ manufacturing organizations and leading academics and public sector representatives, identifying six priorities to capture value from data and analytics in manufacturing:
Define a data-to-value strategy and roadmap
Incentivize internal and external ecosystem partners
Build capabilities to capture and use data
Implement an open platform to unlock data silos
Enable connectivity for low-latency, high-bandwidth data flows
Ensure data security and privacy
"These findings will help accelerate our journey to support companies in devising a path forward to reach the next level of data-based manufacturing excellence, build trust among manufacturing, suppliers and customers, and unlock new value through the development of new data-driven ecosystems," said Francisco Betti, Head of Shaping the Future of Advanced Manufacturing and Production at the World Economic Forum.
"Manufacturing is on the verge of a data‑driven revolution," said Daniel Küpper, Managing Director and Partner of BCG and a report co-author. "But many companies have become disillusioned because they lack the technological backbone required to effectively scale data-and-analytics applications. Establishing these prerequisites will be critical to success in the post-pandemic world."
As a next step, the community is co-developing a Manufacturing Data Excellence Framework, which comprises value-adding applications as well as technological and organizational success factors. Companies will be able to leverage this framework to accelerate the development of globally connected manufacturing data ecosystems.
Digitalization crucial to SIDs' COVID-19 recovery, long-term development
The upscaling of digital technologies presents a host of opportunities for small island developing states (SIDS) to diversify their economies, boost manufacturing, gain greater access to global value chains, and improve disaster preparedness. However, significant obstacles remain, including inadequate digital infrastructure, insufficient training opportunities for women and young people, a growing digital divide, and a lack of data and policy knowledge. That's according to an expert panel convened for the Global Manufacturing and Industrialisation Summit's Digital Series on the topic: "How Information and Communication Technologies can foster inclusive and sustainable industrial development in Small Island Developing States".
Ralf Bredel, Chief of the Asia-Pacific Regional Programme at the United Nations Industrial Development Organization (UNIDO), said that SIDS share common challenges such as limited resource bases, long distances to primary markets, and vulnerability to climate change.
"ICT has the potential to help SIDS in overcoming some of the challenges derived from the isolation and remoteness. It can support trade in economic diversification. This is even more true under the current circumstances, with COVID-19 and the restrictions on people's movements and the heavy blow to SIDS' economies in relation to their continued reliance on tourism," said Bredel.
Vanessa Gray, Head of the Division for Least Developed Countries (LDCs), Small Island Developing States (SIDS) and Emergency Telecommunications at the International Telecommunication Union (ITU), added, "We know that small islands are naturally prone to disasters caused by earthquakes and severe weather events and are being affected by climate change, resulting in increased tropical cyclones, hurricanes, flood and landslides, to name a few. Connectivity can help address these events by providing remote communities with access to early warning systems, real-time weather information, remote sensing and geographic information systems."
Gary Jackson, Executive Director of the Caribbean Centre for Renewable Energy and Energy Efficiency (CCREEE), said that countries in the region are "pushing the envelope" towards energy efficiency.
"We have to recognize that islands don't have what we call a supergrid, don't have a lot of interconnections that would give us reliability and availability and that's what people really want," said Jackson. "So one of the things we have to consider is how we move towards decentralization, decarbonization and some of the things that we need to do to ensure that reliability, availability and affordability are consistent with what people require."
Michelle Marius, Publisher of the ICT Pulse blog highlighted a continuing gender gap concerning digital employment. "We do have so many girls and women in the workforce. Many of them, sometimes even in management positions in reputable organisations, but somehow we still have not been able to crack that barrier between women in tech and digital entrepreneurship by women" she noted.
Amjad Umar, Director and Professor of ISEM (Information Systems Engineering and Management) programme at Harrisburg University of Science and Technology, said, "We know that, in many cases, SIDS do not have 3G technologies – they are still at 2G range. So, we specifically designed this plan (for the ICT4SIDS Partnership) that produces solutions that would work with very, very low technologies…"
"Digitalization consists of people, processes and technologies," underlined Umar.
Concluding, moderator Martin Lugmayr, Sustainable Energy Expert at UNIDO, stressed that there is a long way to go towards realizing inclusive and sustainable industrial development in SIDS, particularly in light of current circumstances. "COVID-19 recovery must have a long-term perspective. Iit has to be green, it has to be blue in the case of Small Island Developing States, and it has to be digital," he said.
UN officials fear US terrorist designation will hasten famine in Yemen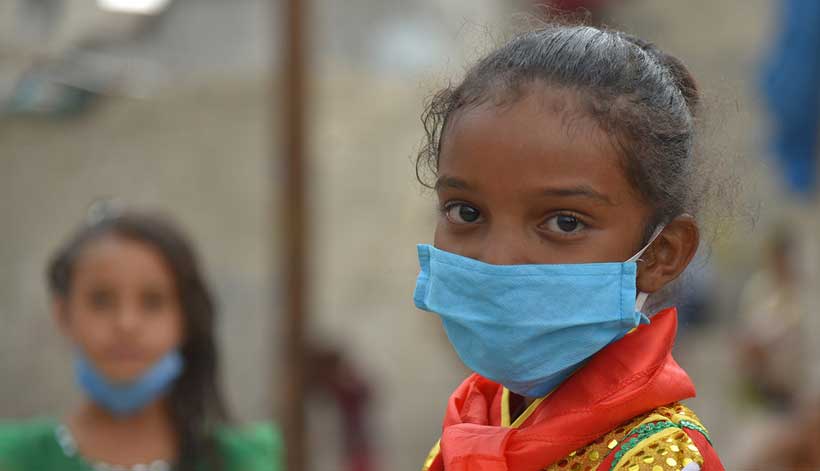 Senior UN officials have expressed concern over the potential impact of the decision by the United States to designate Yemen's Ansar Allah, more commonly known as the Houthi movement, a terrorist group, the Security Council heard on Thursday.
Briefing the online meeting, UN Special Envoy Martin Griffiths said Yemen was going through dark times following a deadly attack last month on its newly-formed Cabinet, and with millions facing potential famine, but emphasized that peace is still possible.
Mr. Griffiths condemned the 30 December attack at the airport in Aden, which targeted the Government officials who had just arrived from Saudi Arabia. Dozens of civilians, aid workers and a journalist were also killed.
"The attack cast a dark shadow over what should have been a moment of hope in the efforts to achieve peace in Yemen. The formation of the Cabinet and its return to Aden was a major milestone for the Riyadh Agreement and for the stability of state institutions, the economy, and the peace process", he said.
"The Government has launched an investigation into the Aden attack and has made its conclusions public earlier today that Ansar Allah was behind the attack."
'Chilling effect' on peace efforts
For more than five years, Yemen has been mired in conflict between the internationally-recognized Government, which is backed by a Saudi-led coalition, and Houthi rebels.
On Sunday, the United States announced it will designate the group a Foreign Terrorist Organization (FTO) under domestic law. Mr. Griffiths expressed serious concern over this prospect.
"We fear in my mission that there will be inevitably a chilling effect on my efforts to bring the parties together. We all hope to have absolute clarity on far-reaching exemptions to be able to carry out our duties", he said.
Yemen remains the world's worst humanitarian crisis. Some 16 million people will go hungry this year, and 50,000 are already essentially starving to death, amid a shortfall in aid. Preventing a massive famine is the most urgent priority, the UN Humanitarian Affairs chief and Emergency Coordinator told ambassadors.
Yemenis stockpiling food
Mark Lowcock called for the FTO designation to be reversed, which Mr. Griffiths also supported, outlining its potential impact on aid relief in a country that overwhelmingly relies on food imports.
He explained that humanitarian agencies provide food vouchers or cash to needy Yemenis so they can shop at markets.
"Aid agencies cannot, they simply cannot, replace the commercial import system," he stressed. "What this means is that what the commercial importers do is the single biggest determinant of life and death in Yemen."
Mr. Lowcock reported that Yemenis are already rushing to markets to stockpile food, while commercial traders fear the designation will affect their operations.
"Some suppliers, banks, insurers and shippers are ringing up their Yemeni partners and saying they now plan to walk away from Yemen altogether", he said. "They say the risks are too high. They fear being accidentally or otherwise caught up in US regulatory action which would put them out of business or into jail."
Although the US plans to introduce licences so that some aid and imports can continue, the relief chief said further details will not be available until 19 January, the day the designation takes force.
Reverse designation, or face catastrophe
The head of the World Food Programme (WFP), David Beasley, gave a blunt assessment of the prospects, putting aside his prepared remarks to speak "heart-to-heart".
"We are struggling now without the designation. With the designation, it's going to be catastrophic. It literally is going to be a death sentence to hundreds of thousands, if not millions, of innocent people in Yemen," he said.
Mr. Beasley, an American, also removed his "UN hat" for a moment, to speak about his engagement with Washington, which allocated $3.75 billion to WFP last year.
"I'm very grateful for that", he said. "But this designation, it needs to be re-assessed, it needs to be re-evaluated, and, quite frankly, it needs to be reversed."
Mr. Beasley added that Yemen is among several countries facing famine, and the COVID-19 pandemic has only exacerbated these crises.
The WFP chief called for Gulf States "to pick up the humanitarian financial tab for this problem in Yemen", and urged the Council and world leaders to apply pressure on the warring parties to end their fighting.
"I can assure you that Mark Lowcock and I will be before you pretty soon talking about other countries," he said. "And if we can't solve this one – this is man-made completely – shame on us."