The role of spin doctors in the Eastern Ghouta crisis
When it comes to war, it is exceedingly important to get all the facts straight: always remember there are—at least—two sides to every story and be careful to distinguish reality from propaganda.
Many words have been spoken about the ongoing crisis in Eastern Ghouta: the Damascus district, in fact, is paying the price of the umpteenth conflict between pro-Syrian government forces and rebels.
The protests against President Bashar al-Assad have been going on in the area since 2011 and the next year the rebel fighters managed to establish their control over the territory.
The initial tensions rapidly developed into a full-blown war that did not spared civilians—including a large percentage of children—from being a target.
In the last few weeks, a global campaign of solidarity—#IAmStillAlive—has been launched on social media platforms to support the children trapped in the rebel-held enclave, where there is almost no food left, nor medical supplies and humanitarian access has been completely cut off.
In this regard, it is necessary to remember that international aid convoys have been regularly delivered from the United Nations, the Syrian government, the Syrian Arab Red Crescent and Russia. It became known, anyway, that the supplies do not always reach civilians falling, instead, directly in the hands of the rebels.
But who are exactly the so-called "rebels"?
Numerous groups are active inside the besieged region and, despite being in opposition to each other, they stand together against the Syrian Arab Army.
Jaysh al-Islam represents the largest factionwith an estimated 10-15,000 members. Formerly allied with Al-Nusra Front—al-Qaeda's branch in Syria— they conducted several deadly attacks, such as the infamous "Adra massacre".
The Syrian Military claimed that in last December 2013 over 80 people were executed in the city of Adra and, during the following days, dozens of others were kidnapped and use as human shields.
Geopolitical analyst Patrick Henningsen believes that the foreign encouragement of rebel forces was to blame for that tragedy; in an interview with RT he goes even further, claiming that "there is involvement by the Western intelligence agencies that have links to some of those radical jihadist groups."
The Hay'-at Tharir al-Sham and the Faylaq al-Rahman—which is also affiliated to the Free Syrian Army—organizations are linked to al-Qaeda and they are responsible for a huge amount of atrocities, including the heinous attack that took place on 16 December 2016 in the Al-Midan neighborhood in Damascus, when jihadi-father Abu Nimr al-Suri sent his two daughters to die in a suicide-bombing attack against the police station.
The Ahrar al-Sham coalition is probably the biggest terrorist group in Syria and it is currently aligned with Jaysh al-Islam against al-Nusra Front.
The criminal organizations above—some more than others—aim at the extermination of Syrian religious minorities, proving themselves to be nothing but terrorist groups.
Furthermore, they are said to have received "donations" from Saudi Arabia, Qatar ,Turkey and the US, although they rejected those claims.
The Western Media seemed initially reluctant to highlight the Tafkiri-Jihadi inspired nature of the rebels, depicting them as "moderate rebels" or "freedom fighters".
Once again, it is necessary to check the accuracy of sources of information and report on solid facts exclusively.
It can be quite tricky, since much of the country is inaccessible to journalists on the ground and news coming out is often filtered through "media activists" or unofficial outlets.
Every major newspaper and outlet gleaned the information from the often quoted Syrian Observatory for Human Rights (SOHR), a UK-based monitoring group—actually a one-man band—run by Rami Abdul Rahman.
According to the New York Times "military analysts in Washington follow its body counts of Syrian and rebel soldiers to gauge the course of the war," as well as providing mainstream media with daily updates about the Syrian crisis.
In the same article from the NYT, he admitted to receive "small subsidies from the European Union and one European country that he declines to identify."
Mr. Abdul Rahman—born Osama Suleiman—is a three-term convicted criminal in Syria, due to his years of activism against the Assad regime.
He fled to the United Kingdom eighteen years ago and the government relocated him to Coventry, in the West Midlands region; he has not returned to his home country ever since.
In the UK, he has had direct access to the Foreign and Commonwealth Office in London, where has been documented meeting with the former Foreign Secretary William Hague.
Both Hague and current Foreign Minister Tobias Ellwood endorse Rahman's political position.
Among Rahman's network of contacts there is Rafid al-Janabi, better known as "Curveball". The Iraqi defector played a crucial role in the 2003 Iraq War, falsely accusing Saddam Hussein of having weapons of mass destruction and pushing the US and its allies into launching offensive.
In 2011 he eventually admitted that he "had the chance to fabricate something to topple the regime," and spread the fake information that became the centerpiece of then-Secretary of State Colin Powell's pro-intervention speech at the United Nations.
It is hard to believe that the Western press never considered to examine its main source's political connections and background before using hisnot-necessarily-objective reports.
Funded in 2013 by  ex-military officerJames Le Mesurier, the White Helmets NGO aims to rescue civilian survivors trapped in bombed buildings and the people who   volunteer for the corps are hailed as some sort of heroes in the West.
The Netflix heart-breaking Oscar-winning documentary ("The White Helmets", 2016) focuses indeed on the "perilous work of volunteers who brave falling bombs to rescue civilians from the carnage of Syria's civil war."
They present themselves as an unarmed, non-governmental and neutralorganization, yet they have had a leading role in various controversial events.
Although they claim to be apolitical, they actually actively campaign for a no-fly zone and they are largely funded by Western governments which advocate for regime change.Their principal funder is, in fact, the United States Agency for International Development (USAID), along with the UK, and Europe.
They work exclusively in rebel-controlled areas, which raised doubts about the independence of their reports; in addition, some volunteers happened to be photographed while assisting in terrorist executions.
In 2016 members of the group were caught staging a rescue scene, later justified as their version of the popular 'mannequin challenge,' in which people were supposed to freeze for the camera. They apologized for the fact calling it an "error of judgment," but the footage has been subject of harsh criticism on social media.
This does not mean that their effort as rescue workers is unappreciated, but it truly indicates the need to examine whatever information they provide with a critical eye.
In order to understand the reasons that could lead media to distort information, we have to introduce the concept of "spin".
Spin is a form of propaganda used by public relations agencies—referred as "spin doctors" in this case—which provide a biased interpretation of facts and data to influence public perception on significant matters.
Cited as an invaluable source of information by Western media outlets, the Syria Campaign is a public relations and marketing company that, among other operations, branded and promoted the White Helmets to the international public.
The agency presents itself as impartial and non-political, yet they not only called for a no-fly zone, but also pushed for military intervention in several occasions.
They even attacked the UN's work in Syria by publishing a 50-page report on a dedicated website that used a UN logo soaked in blood.
Ironically, among the supporters of their anti-UN campaign was the previously mentioned Ahrar Al-Sham.
The supposed most-reliable media outlets feed us altered and even fake news sometimes.
The majority of information we have about the Syria's war do not come from  disinterested observers: citizen journalists and activists, in fact, are either pro-rebel or pro-regime, which is no guarantee of objectivity.
In conclusion, we have a duty to question where the news is coming from, whether it has been manipulated or whether there is an intentional attempt to shape our own opinion.
The bitter truth for mullahs' regime in Iran
Ali Khamenei, Iranian regime's supreme leader finally broke his silence and spoke on August 13th on a number of hot political issues facing the nation. He was awfully quite these days. Yet the country is boiling in dissent. Listening to his speech leaves no doubt that he is desperate. He talked about problems his regime has no clue how to tackle. On the top of the list was the recent protests in cities like Tehran, Karaj, Shiraz, Esfahan, Mashhad, Ghahdarijan, and many other cities with such slogans as "Death to Khamenei" and "Death to Dictator." He was off balance since people in the streets had him in their crosshair.
Khamenei wasted no time and took the bull by the horns. He called his cronies "cowards" and not trustworthy at hard times. Considering the recent unrests as the extension of January protests, Khamenei once again branded the protesters as agents of foreign powers such as the United States, Israel and Saudi Arabia. He said that "they had planned for years to disrupt the country's security in January this year, but the people came out with admirable awareness, and stopped the enemies' years-long plans."
He added: "The enemies then set their hearts on this (Persian) year, with some US officials saying that there'll be some news from Iran in the next six months. They were clearly pointing to the events earlier this month which turned out to be so limited despite the enemies' huge financial and political investments."
Iranian citizens have pushed the regime to the edge before. The difference this time is that the regime has gone too far in putting pressure on all citizens. The gap between rich and poor is at its highest level in 40 years. It is a recipe for disaster and the top officials of the regime publicly confirmed it.
He used his admission of the guilt as a temporary band aid and admits that he made a "mistake" in the nuclear deal.  "With regard to the nuclear deal, what I did was wrong, allowing some officials' insistence to give a shot at nuclear talks, in which our red lines were not respected," said Khamenei, according to regime's official news agency.
He made it clear to his power base: the Revolutionary Guards and Bassij Forces that he has no intentions of taking the risk of going to war with the US. The mullahs' supreme leader said: "There'll definitely be no war. In Short, I have to inform the Iranian people that there'll be no war and we will not negotiate, either."
The leader of theocratic regime in Iran admits the deadly state of the country's economy. But he makes sure to leave out his own massive financial conglomerate feeding off Iran's poor economy. There is a rough estimate that Khamenei is sitting on top of a 95 billion dollars trust found. He is not the only one; there are other sharks in the tank related to his powerhouse that are taking their lion's share of dying Iranian market.
Khamenei in his speech pictured himself as the champion of fighting corruption. A claim hardly anyone in his right-mind would take it seriously. He said: "The main cause of such problems is not sanctions, but domestic policies. This is what many officials and experts alike have confirmed. That however doesn't mean that the sanctions have nothing to do with this situation. Of course they do, but the main factor is rooted in our performance. Among the measures that must definitely be taken into account is fighting against corruption. This was also reflected in the letter that the reverend head of judiciary wrote to me two days ago, in response to which I underlined that the proposed measures are an important and positive step toward fighting against corruption and punishing those who are involved."
Fighting crime has never been a priority for the regime because the top criminals are well connected individuals with strong ties to Khamenei. To make it somewhat believable the security forces targeted some small-time currency dealers in the midst of currency crisis driven by a sharp decline in the value of Rial (the official currency). Khamenei and top Revolutionary Guards know better that Iranian citizens will not easily fall for their theatrics anymore and some heads needed to roll. The first to be sacked was the head of Iran's Central Bank, Valiollah Seif.
Alarmed by public frustration with the way economy is run in Iran, Khamenei tried in his address to pour some cold water on the matter. He promised swift actions against fat cats. But people know full well that he is not willing to clip former Revolutionary Guards turned businessmen. They are running the country in a mafia style gang.
The bitter truth for the theocratic regime in Iran is plain and simple; the people are fed up with the mullahs and the regime is no longer able to force itself on them. This is the story of all dictators toward the end and Iran is no exception.
Trump to Netanyahu: Palestinians Must Be Completely Conquered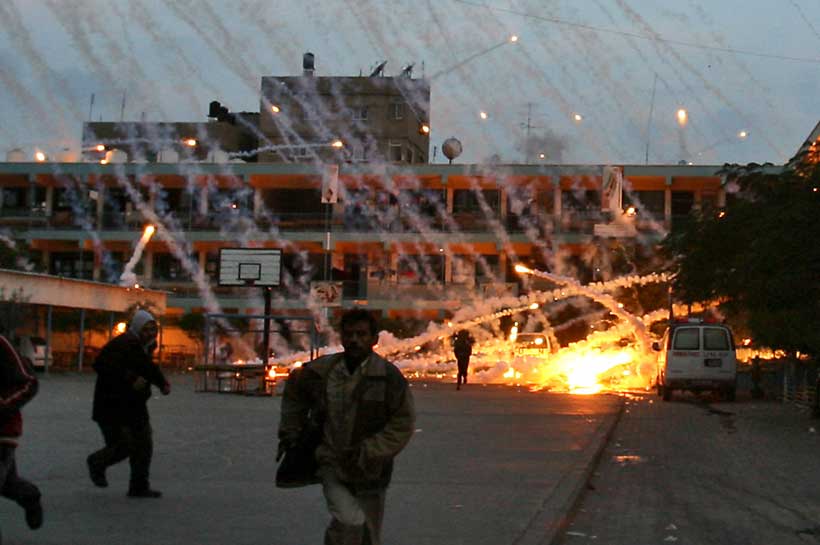 The Washington correspondent of Israel's Haaretz newspaper, Amir Tibon, headlined on the night of Tuesday, August 14, "Trump Administration Wants to See a Gaza Cease-fire 'With or Without the Palestinian Authority'," and he reported that, "The Trump administration wants to see a long-term cease-fire in Gaza, with or without the support of the Palestinian Authority, a spokesperson for the White House's National Security Council told Haaretz on Monday."
In other words: U.S. President Donald Trump is not angling for Palestinians to become ruled by the more moderate of the two political entities that are contesting for control over Palestine — he's not favoring The Palestinain Authority, Mahmoud Abbas, over Hamas, Ismail Haniya. He is, instead, aiming for Jews inside Israel to conquer completely the non-Jews, not only inside Israel, but also in the adjoining areas, Palestine.
Trump has now officially placed the United States on the side of Israel's Jews, for them to conquer and subdue Palestine, for Jews to rule over Palestinians, and for the residents in Palestine not to be allowed to participate in Israel's elections.
This will be very good for American firms such as Lockheed Martin, Northrop Grumman, Boeing, and General Dynamics, which depend wholly or primarily upon sales to the U.S. Government and to its allied governments, including Israel, for their profits and their net worths, their stock-market valuations. More war is essential for these firms, which sell only to these governments — governments which seek to control more land, regardless of what the residents there want, and which need to buy more weapons in order to do it.
Trump's foreign policies have been very effective.
Trump's biggest success, thus far into his Presidency, has been his sale of $400 billion (originally $350 billion) of U.S.-made weapons to the Saudi Arabian Government, which is owned by its royal family, after whom that nation is named. This sale alone is big enough to be called Trump's "jobs plan" for Americans. It is also the biggest weapons-sale in all of history. It's 400 billion dollars, not 400 million dollars; it is gigantic, and, by far, unprecedented in world-history. Consequently, anyone who would allege that he has been anything other than an extraordinary success for his constituency, the people who will be funding his 2020 re-election campaign, would be wrong. America is controlled by dollars, not by people; everything is geared to maximizing the return on investment, for the people who have invested in Trump. Increasing their net worths is his goal, and he has been stunningly successful at achieving it.
The individuals who control those corporations are also in control of those governments, via political corruption, such as the "revolving doors" between 'government service' and the private sector. If they can't control those governments, then they can't control their own finances. But if they do control those governments — and especially their own Government, the U.S. Government — then they control the very source of their own wealth. They are totally dependent upon the U.S. Government. Trump has, regarding U.S. military and diplomatic policies — the Pentagon and the State Department, and the intelligence agencies — been just as effective as the neoconservatives, the people who actually run both Parties on behalf of those firms, for those firms' owners, could have hoped. This does not mean that they won't in 2020 back an opponent of Trump, but only that Trump is issuing as many IOUs to these people as he can, and as fast as he can, and that he has been remarkably successful (unprecedented, actually) at doing that. Whereas Democrats such as Joe Biden and Eric Swalwell might contest against him for their support, no one can reasonably say that Trump has been a disappointment to the proponents of American conquest and control over the entire world — the people commonly called "neoconservatives," and all other agents of what Dwight Eisenhower called "the military-industrial complex." While those people might criticize him in order to push him even farther to the right on foreign affairs than he has been, he has been very effective for them, and he clearly is hoping that, at least regarding military policies, in America's militarized economy, those people will be satisfied for him to remain in power. That's his hope. That's his goal. It's shown by his actions, not by his mere words.
America's alliance with Israel is almost as important as America's alliance with the owners of Saudi Arabia, the Saud family. Both of those allies want the Palestinians to be conquered. And so does Trump. And, of course, so too do the people who are rotating constantly through those revolving doors, the other agents for America's rulers.
On August 9th, as reported by Amjad Jaghi of 972 Magazine, "the Israeli Air Force bombed Al-Meshal, one of the Gaza Strip's most important cultural facilities. They claim that the building — which comprises two theaters, three large halls, and a department serving the Egyptian community living in the Strip — was being used by Hamas."
On August 14th, Reuters headlined "Israeli minister confirms Netanyahu met Sisi over Gaza" and reported that "The two leaders discussed the easing of an Israeli-Egyptian blockade of Gaza, rehabilitation of its infrastructure and terms for a ceasefire." Israel said that "everything that will happen in Gaza will be done with Egyptian mediation and involvement." This means that the setting-up of Israel's control over Gaza will "be done with Egyptian mediation and involvement," but the operation of Israel's control over Gaza won't be — it'll be 100% Israeli.
For example, Sisi might be able to get Netanyahu to agree to increase the current, 85 truckloads of food daily into Gaza so as to raise Gazans' food-intake above its current "subsistence" level. Although he might try, Israel's record of violating its international agreements is even stronger than America's record for that is. But to serve PR purposes, Sisi might try. Ever since 2007, when Israel was allowing into Gaza 106 truckloads daily, that number was reduced down to this "subsistence" level.
On 1 January 2008, was secretly issued from Israel's Ministry of Defense, a document "Food Consumption in the Gaza Strip – Red Lines", in which the Ministry of Health informed them that the then-current 106 trucks daily was too much for "subsistence":
"The Ministry of Health is conducting work for calculating the minimal subsistence basket based on the Arab sector in Israel. The 'minimum basket' allows nutrition that is sufficient for subsistence without the development of malnutrition."
"The Ministry of Health estimates that the new basket will be 20% lower than the current basket [85 trucks instead of 106]."
And so it was, until 2010, when "Israel has not imposed any restrictions on the entrance of food to the Gaza Strip." And, after that, as of at least 2012, "the current policy remains shrouded in secrecy." However, (as shown at that link, where is printed a "Table 1. Entrance of trucks into Gaza"), the actual count of trucks, during the second half of 2010, was around 150 per day.
A U.N. publication "Gaza Ten Years Later", issued in July 2017, reported that: Import of goods to Gaza also dropped significantly with the imposition of the blockade in mid-2007. By 2008, the monthly average of truckloads entering Gaza had decreased by 75%17. The amount of imports slowly increased as import restrictions were gradually relaxed, with the number of trucks entering in 2015 and 2016 reaching levels similar to those prior to 2007. It is difficult to draw a parallel between 2015/2016 and 2007 however, given that due to the vast needs for post-hostilities reconstruction as well as recovery of Gaza's deteriorating infrastructure, coupled with rapid population growth, demand for import into Gaza was much higher in 2015/16 than it was prior to 2007.
The needs today are even higher than that.
Sisi might be able to win some voters if he can brag to them that he has gotten Israel to increase that number above whatever it currently has been, but it will be only for show, anyway.
Egypt is heavily committed both to the Saudi regime and to the American regime. To say that the fate of the Gazans is in the hands of Israel and of Egypt, would be to say that it's in the hands of the rulers of America and of the rulers of Saudi Arabia (the Saud family, who own that country). The rulers of Israel won't have any international backing, at all, if they don't have America's rulers supporting them. For Donald Trump to tell Benjamin Netanyahu that not only will Israel be allowed to ignore Hamas but it will even be allowed to ignore the Palestinian Authority, means that Netanyahu now has America's support no matter what Israel might do to the Gazans — and to the non-Jewish inhabitants of the West Bank.
This is excellent news for the holders of U.S. 'Defense' stocks. The more that America's 'enemies' suffer, the better it is for America's owners. This is how capitalism actually functions. Inequality is natural. That's true not only between nations, but within nations. In the natural world, losers get eaten. Justice doesn't naturally occur anywhere. To the extent that it exists anywhere, it is imposed, by the public, against the aristocracy. Within nations, justice is almost non-existent. Between nations, it is entirely non-existent. For examples: were George W. Bush and Tony Blair executed for invading and destroying Iraq in 2003? Of course not. Neither of them was even imprisoned. Nor were Obama and Sarkozy and Cameron executed for invading and destroying Libya in 2011. Those are only examples, of the basic reality.
This news-report is written so as to place a news-event into its actual context, not divorced from that, as is normal. In other words: it's news instead of propaganda (the latter of which, avoids the relevant context behind the reported event).
Amid ethnic protests, Iran warns of foreign meddling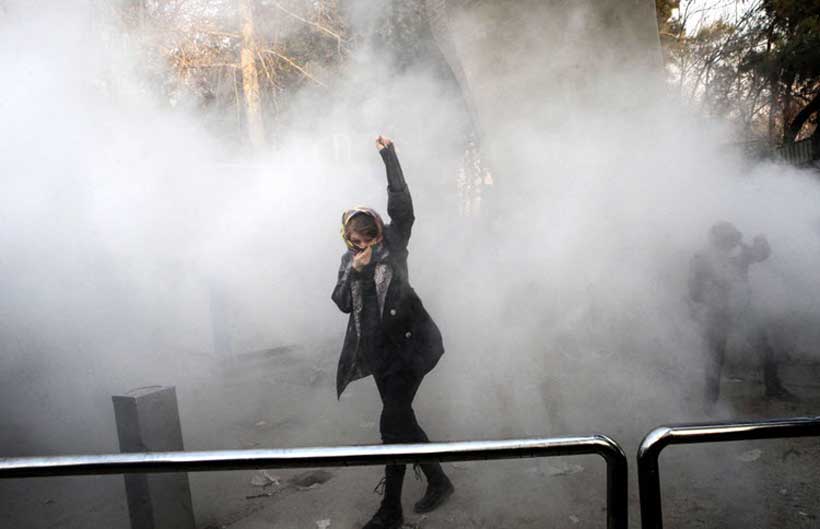 Iran has raised the spectre of a US-Saudi effort to destabilize the country by exploiting economic grievances against the backdrop of circumstantial evidence that Washington and Riyadh are playing with scenarios for stirring unrest among the Islamic republic's ethnic minorities.
Iran witnessed this weekend minority Azeri and Iranian Arab protests in soccer stadiums while the country's Revolutionary Guards Corps reported clashes with Iraq-based Iranian Kurdish insurgents.
State-run television warned in a primetime broadcast that foreign agents could turn legitimate protests stemming from domestic anger at the government's mismanagement of the economy and corruption into "incendiary calls for regime change" by inciting violence that would provoke a crackdown by security forces and give the United States fodder to tackle Iran.
"The ordinary protesting worker would be hapless in the face of such schemes, uncertain how to stop his protest from spiralling into something bigger, more radical, that he wasn't calling for," journalist Azadeh Moaveni quoted in a series of tweets the broadcast as saying.
The warning stroked with the Trump administration's strategy to escalate the protests that have been continuing for months and generate the kind of domestic pressure that would force Iran to concede by squeezing it economically with the imposition of harsh sanctions.
US officials, including President Donald J. Trump's national security advisor John Bolton, a long-time proponent of Iranian regime change, have shied away from declaring that they were seeking a change of government, but have indicated that they hoped sanctions would fuel economic discontent.
The Trump administration, after withdrawing in May from the 2015 international agreement that curbed Iran's nuclear program, this month targeted Iranian access to US dollars, trade in gold and other precious metals, and the sale to Iran of auto parts, commercial passenger aircraft, and related parts and services. A second round of sanctions in November is scheduled to restrict oil and petrochemical products.
"The pressure on the Iranian economy is significant… We continue to see demonstrations and riots in cities and towns all around Iran showing the dissatisfaction the people feel because of the strained economy." Mr. Bolton said as the first round of sanctions took effect.
Mr. Bolton insisted that US policy was to put "unprecedented pressure" on Iran to change its behaviour", not change the regime.
The implication of his remarks resembled Israeli attitudes three decades ago when officials argued that if the Palestine Liberation Organization were to recognize Israel it would no longer be the PLO but the PPLO, Part of the Palestine Liberation Organization.
In other words, the kind of policy changes the Trump administration is demanding, including an end to its ballistic program and support for regional proxies, by implication would have to involve regime change.
A string of recent, possibly unrelated incidents involving Iran's ethnic minorities coupled with various other events could suggest that the United States and Saudi Arabia covertly are also playing with separate plans developed in Washington and Riyadh to destabilize Iran by stirring unrest among non-Persian segments of the Islamic republic's population.
Mr. Bolton last year before assuming office drafted at the request of Mr. Trump's then strategic advisor, Steve Bannon, a plan that envisioned US support "for the democratic Iranian opposition," "Kurdish national aspirations in Iran, Iraq and Syria," and assistance for Baloch in the Pakistani province of Balochistan and Iran's neighbouring Sistan and Balochistan province as well as Iranian Arabs in the oil-rich Iranian province of Khuzestan.
A Saudi think tank, believed to be backed by Crown Prince Mohammed bin Salman, called in 2017 in a study for Saudi support for a low-level Baloch insurgency in Iran. Prince Mohammed vowed around the same time that "we will work so that the battle is for them in Iran, not in Saudi Arabia."
Pakistani militants have claimed that Saudi Arabia has stepped up funding of militant madrassas or religious seminaries in Balochistan that allegedly serve as havens for anti-Iranian fighters.
The head of the State Department's Office of Iranian Affairs met in Washington in June with Mustafa Hijri, head of the Kurdistan Democratic Party of Iran (KDPI), before assuming his new post as counsel general in Erbil in Iraqi Kurdistan.
Iran's Revolutionary Guards said last weekend that they had killed ten militants near the Iranian border with Iraq. "A well-equipped terrorist group … intending to infiltrate the country from the border area of Oshnavieh to foment insecurity and carry out acts of sabotage was ambushed and at least 10 terrorists were killed in a heavy clash," the Guards said.
The KDPI has recently stepped up its attacks in Iranian Kurdistan, killing nine people weeks before Mr. Hijri's meeting with Mr. Fagin. Other Kurdish groups have reported similar attacks. Several Iranian Kurdish groups are discussing ways to coordinate efforts to confront the Iranian regime.
Similarly, this weekend's ethnic soccer protests are rooted in a history of football unrest in the Iranian provinces of East Azerbaijan and Khuzestan that reflect long-standing economic and environmental grievances but also at times at least in oil-rich Khuzestan potentially had Saudi fingerprints on them.
Video clips of Azeri supporters of Tabriz-based Traktor Sazi FC chanting 'Death to the Dictator" in Tehran's Azadi stadium during a match against Esteghlal FC went viral on social media after a live broadcast on state television was muted to drown the protest out. A sports commentator blamed the loss of sound on a network disruption.
A day earlier, Iranian Arab fans clashed with security forces in a stadium in the Khuzestan capital of Ahwaz during a match between local team Foolad Khuzestan FC and Tehran's Persepolis FC. The fans reportedly shouted slogans reaffirming their Arab identity.
Saudi Arabia and other Gulf Arabs have a long history of encouraging Iranian Arab opposition and troubling the minority's relations with the government.
Iranian distrust of the country's Arab minority has been further fuelled by the fact that the People's Mujahedin Organization of Iran or Mujahedin-e-Khalq (MeK), a controversial exiled opposition group that enjoys the support of prominent serving and former Western officials, including some in the Trump administration, has taken credit for a number of the protests in Khuzestan. The group advocates the violent overthrow of the regime in Tehran.
Two of Mr. Trump's closest associates, Rudy Giuliani, his personal lawyer, and former House speaker New Gingrich, attended in June a gathering in Paris of the Mujahedin-e-Khalq.
In past years, US participants, including Mr. Bolton, were joined by Saudi Prince Turki al-Faisal, the former head of the kingdom's intelligence service and past ambassador to Britain and the United States, who is believed to often echo views that Crown Prince Mohammed bin Salman prefers not to voice himself.
"The mullahs must go, the ayatollah must go, and they must be replaced by a democratic government which Madam Rajavi represents. Freedom is right around the corner … Next year I want to have this convention in Tehran," Mr. Giuliani told this year's rally, referring to Maryam Rajavi, the leader of the Mujahedeen who is a cult figure to the group.