How rooftop trees can make cities more resilient
Urban green spaces encourage active and healthy lifestyles, improve mental health, prevent disease, and provide a place for people to socialize. And especially when they feature native greenery, they can improve a city's resilience. Planting native trees and shrubs in urban spaces can help cities to adapt to the impacts of climate change by bringing down temperatures, buffering storms and floods, and working as excellent air filters.
Biologist Liliana Jaramillo Pazmiño – one of six Young Champions of the Earth in 2017 – is cultivating native trees and shrubs to grow on rooftops in Quito, Ecuador. Her ultimate aim is for these corners of greenery to become part of the city's infrastructure.
"When you think about urban cities, most of the time you think about concrete. But rooftops are basically wasted space – leftover land," she says. "It's time we started converting these spaces into greener spaces for everybody to enjoy."
"In Quito and in most cities, this means including eco-friendly approaches to urban development and planning. Planting trees in rooftop spaces requires designing buildings with stronger infrastructure to cope with extra weight, for example. If this isn't tailored into building design, it can be too expensive to do after construction."
"Even when we do incorporate trees or green areas into urban construction, these often focus on exotic species, which are not native to our land. Reintroducing native species inside the city is important for so many reasons. They help our ecosystem become more diverse, attracting native birds and species to our city spaces."
"Bringing native trees and shrubs into the city also helps protect them from disappearing, and connects us to nature and our heritage. Part of my project is about creating awareness about which greenery is native, so people can choose local, native species over exotic species and we can feel more connected to our cultural roots, and connect with green spaces outside the city."
"During the process of urbanization, many of our native species have been disappearing, but we still don't have a good record of what has been lost. Multiplying and selling them on a wide scale throughout the city is my goal, so that people can easily find them for their rooftops."
"Bringing native greenery into our urban infrastructure can help us adapt to changing climatic conditions, so that our cities are more resilient to drought, flooding or higher temperatures. We can learn lessons from other cities where this is already being applied."
21 March is the International Day of Forests. The theme for 2018 is Forests and Sustainable Cities.
ADB-Funded High-Tech, Low Emission Buses Rolled Out in Kathmandu
A fleet of 17 new high-tech, low-emission buses to help reduce congestion and pollution in the capital city of Kathmandu has been rolled out as part of a project funded by the Asian Development Bank (ADB).
The 25-seater buses will be used on a pilot route called S5—from Gongabu to Sinamangal—replacing the aging 26 microbuses and 35 tempos or three wheelers that ply the route.
The initiative is part of the ADB Kathmandu Sustainable Urban Transport Project, which is promoting the use of low-emission vehicles and helping improve mass transport in the Kathmandu Valley. Population growth, rapid urbanization, and the increasing number of vehicles in the Kathmandu Valley have led to traffic congestion, road accidents, environmental degradation, and poor public transport operation and services in recent years.
"ADB is pleased to work closely with the Department of Transport Management on this project to provide the city with a more efficient urban transport system," said ADB Country Director for Nepal Mr. Mukhtor Khamudkhanov. "What is really commendable is that the effort to improve the urban transport system is being led by a public-private partnership, and this partnership will be the key to the system's sustainability in the long run."
The owners of the microbuses and the tempos came together to form a private limited company that now runs the bus service. The capital for this initiative was provided by the government-managed Town Development Fund financed by ADB, grants from the Global Environment Facility, and equity financing from the company itself.
"The incentive for the owners who had to shut down the aging microbus and tempo service in the designated routes and operate the newer and cleaner buses is that they are now shareholders of the new company and will get regular dividends," said Project Director Mr. Ananta Acharya. "So, it's a win-win for transport operators, passengers, and most importantly, for the environment."
The new buses use Euro-4 emission standard engines that reduce the levels of harmful exhaust emissions such as carbon monoxide. They also use a Global Positioning System (GPS) enabling passengers to track the buses in real time. Passengers can also use card to pay their fare, while the buses themselves are disabled-friendly.
The project is helping to improve traffic management in the city center and making it more walkable through pedestrianization of heritage routes and supporting the Department of Transport Management to build up knowledge and skills in urban transport management.
The total cost of the project is $22.37 million, with the Government of Nepal contributing $7.9 million. The total cost of the implementation of the bus service operation in the pilot route, including the facilities of e-ticketing, GPS tracking, and other communication equipment, is $900,000.
Latin America and the Caribbean hop into electric mobility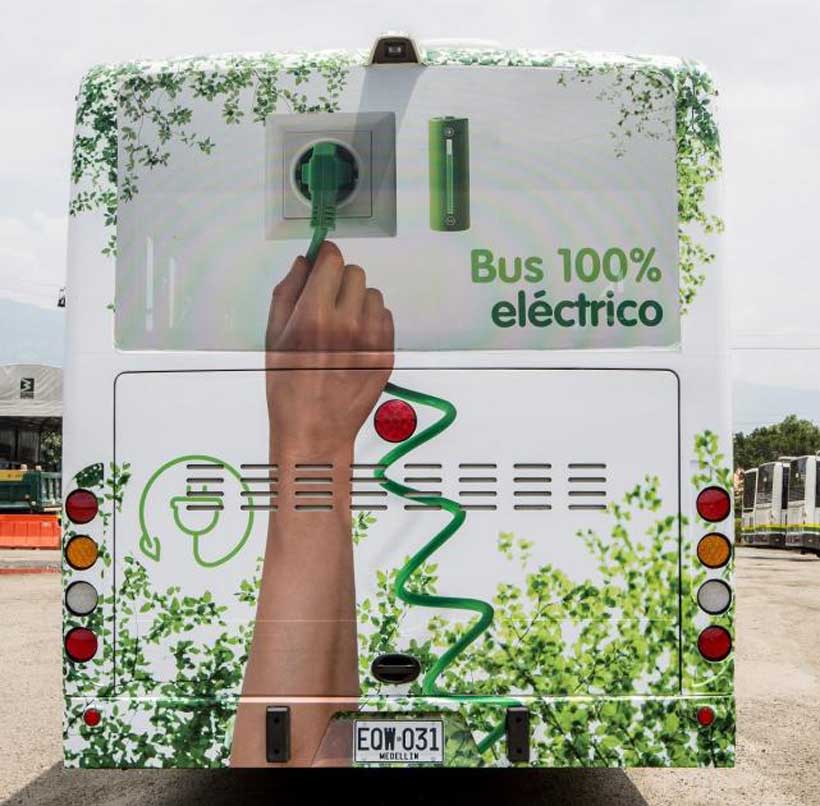 Air pollution kills nearly 7 million people every year around the world. The situation could worsen in the coming years in Latin America and the Caribbean, where transport – a rapidly growing sector – is the main source of greenhouse emissions.
The region's vehicle fleet is expanding faster than any other in ​​the world and could triple over the next 25 years. This would result in a collapse of the cities' road infrastructures and in a proportional increase of pollutants.
To avoid this dramatic scenario, several countries in the region are implementing innovative laws and projects to promote electric mobility and introducing clean vehicles into their public transport.
If the current fleet of buses and taxis of 22 Latin American cities were replaced with electric vehicles right now, the region could save almost US$64 billion in fuel by 2030, avoid the emission of 300 million tons of carbon dioxide equivalent, and save 36,500 people from premature death, revealed a UN Environment and International Automobile Federation (FIA Region IV) study, supported by the Spanish Agency for International Development Cooperation (AECID) and the European Union.
UN Environment, through its MOVE platform and with the support of Euroclima+ project, is assisting Argentina, Colombia and Panama with their national electric mobility strategies, and is also helping Chile and Costa Rica in their plans to expand the use of electric buses.
Costa Rica is one of the regional leaders of the transition. The Central American country wants to be the first "decarbonized" nation in the world, as its President, Carlos Alvarado, announced last May during his inauguration.
The country already has an energy matrix that is almost a 100 per cent clean, which helped to reach an important record in 2017: more than 330 continued days consuming electricity only from renewable sources. But transport still depends on fossil fuels and is responsible of 68 per cent of energy sector emissions. The public sector is therefore paying greater attention to electric mobility.
Earlier this year, Costa Rica adopted a groundbreaking law in the region to encourage electric vehicles. The law creates economic incentives to the public and private sectors and introduces benefits, like better access to loans. Additionally, three electric buses will travel across the country as part of a pilot plan.
In the southern part of the continent, Chile is working to have the second largest electric buses fleet in the world, right after China, which currently has 150,000 units. The Chilean government approved a plan last year to gradually introduce 200 electric buses into the transport system of Santiago, Transantiago, and is aiming to exceed 2,000 buses by 2025.
Gianni López, a civil mechanic engineer at the Mario Molina Development and Research Center, says, at this stage, electromobility in Latin America and the Caribbean is mostly competitive in cargo and public transport vehicles.
"In the short term, the region will not have a transition like Norway's, the world leader. The difference in prices between conventional and electric cars in our countries are still huge and can only be amortized through intensive uses," such as buses, taxis, company fleets or cargo transport, explains López.
Gonzalo Pacheco, General Manager of the Chilean company Movener, says Chile and the rest of the region need to improve after-sales and maintenance processes, as there are only a few experts in the region and the local universities still do not offer this kind of training.
However, the charging infrastructure is seen as the great challenge of Latin America and the Caribbean.
"Although electric cars can be charged at home, users suffer from the so-called 'anxiety range'. They are afraid the car will run out of energy before reaching the destination," says Gastón Turturro, Engineering Professor at the University of Buenos Aires.
Gustavo Mañez, UN Environment Climate Change Coordinator in Latin America and the Caribbean, believes this is far from the truth. "Everyone in the region has electricity outlets at home or at work, and considering that vehicles are parked more than 90 per cent of the time during the day, they could be charged virtually anywhere at a cost almost 10 times lower than that of fossil fuels," he explains.
Uruguay has recently taken important steps in this field: the country has built electric charging stations in 300 km of its main touristic roads, now the first 'electrified' route in the region. The South American country intends to cover 20 per cent of the 9,000 km of its national roadways by 2020. In addition, it has exempted commercial electric vehicles from import taxes.
Argentina has also shown determination. The Government has recently approved a decree that reduces duties on the import of electric cars from 35 to 2 per cent and has presented a law in the National Congress to encourage electric mobility, "very similar to that of Costa Rica and which will mark a precedent in the region," says Turturro.
The country will also release a dozen of electric buses in Buenos Aires by the end of the year: "If we electrify the capital bus fleet, we could even have a 25 per cent reduction in emissions," adds the expert.
In Colombia, Medellín prepares the deployment of 1,500 electric taxis by 2020, 500 of which will operate this year. While in Mexico – one of the world's largest automotive producers –, two large companies, Zacua and Giant Motors, lead projects to manufacture 100 per cent national electric cars.
"Latin America has the greenest electricity matrix in the world, the fastest growing emissions of the transport sector and the highest use per capita of public transport globally. The region is uniquely positioned to take advantage of electric mobility", adds Mañez.
The transition to electric mobility will help Latin American countries reduce emissions and fulfill their commitments under the Paris Agreement. The pact, signed in 2015 by nearly 200 countries, aims to keep the global temperature rise well below 2 degrees Celsius above pre-industrial levels by the end of the century and to pursue efforts to limit the temperature increase even further to 1.5 degrees Celsius.
UN Environment Office in Latin America and the Caribbean launched the MOVE platform in 2016 to accelerate the transition to electric mobility in the region. Since its creation, MOVE has positioned itself as a flagship community of practice in the provision of technical assistance, resource mobilization, capacity building and knowledge creation on electric mobility in the region.
Brazil to power up investments in street lighting and energy efficiency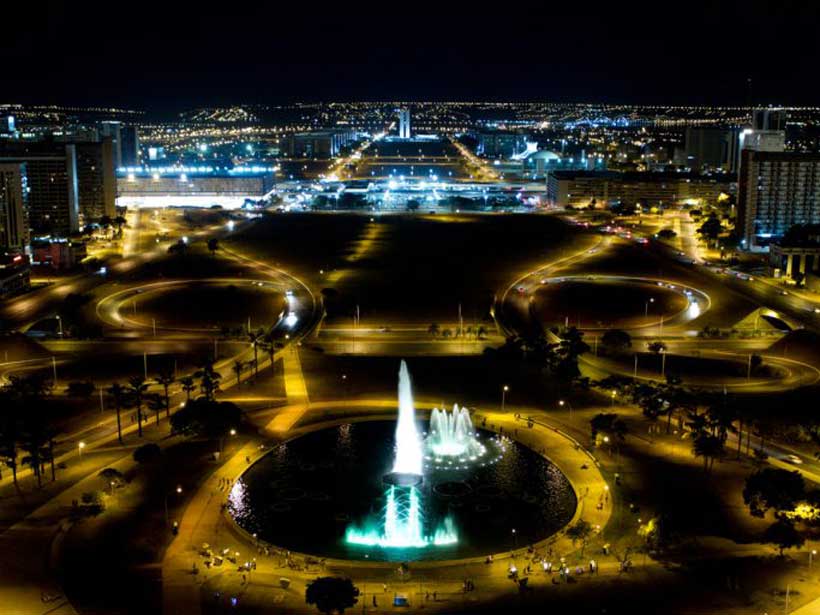 Can you imagine how much money and natural resources could be saved if the world adopted energy efficiency as a priority in sectors such as public lighting or industry?
Although this is an essential concept for the future of infrastructure, it's still little known in countries such as Brazil. In 2016, for example, when the American Council for an Energy-Efficient Economy (ACEEE) examined policies and performance of the world's 23 top energy-consuming countries, the Latin American giant ranked 22nd.
Insufficient investment in infrastructure helps explain this outcome, as well as Brazil's lagging economic growth over the past seven years. Over the last two decades, investments were well below the estimated cost to replace or repair existing infrastructure (estimated at 3 percent of GDP). Energy saw investments decrease from above 2 percent of GDP in the 1970s to 0.7 percent of GDP in 2016, according to a recent report.
However, a new initiative – combining financing and technology innovation – can help fill this gap, and render Brazil's energy sector more efficient and sustainable. Over the next 15 years, the World Bank's Financial Instruments for Brazil Energy Efficient Cities (FinBRAZEEC) Project will focus on two urban sectors that have the potential to attract private sector investment at scale: efficient street lighting and industrial energy efficiency.
With FinBRAZEEC, Brazilian cities can create subprojects to completely replace the current sodium-vapor lamps for LED. Also, industries will be able to update pumping systems, engines, furnaces and other types of equipment. Given Brazil's 86% urbanization rate, these initiatives have tremendous potential to reduce energy use, pollution and greenhouse gas emissions.
Risk mitigation
To enable them, FinBRAZEEC is piloting one of the most innovative financing structures the World Bank has developed to date. The World Bank will partner with Caixa Econômica Federal (CEF), the second largest state-owned financial institution in Latin America and the fourth largest bank in Brazil, as the project's financial intermediary.
Under the project, CEF will lead the co-lending arrangement comprising the Green Climate Fund (GCF), CEF, and commercial lenders to eligible efficient public street lighting and industrial energy efficiency projects.
In order to mitigate the credit risk of energy efficiency projects, commercial lenders will benefit from a partial credit guarantee offered by CEF. The guarantee product will be backstopped by a $200 million contingent loan from the World Bank and grants from the GCF and the Clean Technology Fund (CTF) – $195 million and $20 million, respectively –, providing additional credit enhancement by supporting the facility, when needed, to meet its debt obligations to commercial lenders.
Altogether, this financing facility is expected to make more than $1 billion available for urban energy efficiency projects, leveraging the concessional financing being provided by the World Bank and other international organizations.
FinBRAZEEC is expected to serve as a demonstration model for leveraging private sector capital for clean energy investments in Brazil. Once the model is proven, it can be replicated in other countries, and in other sectors in Brazil. Moreover, it will provide an example of how Brazil's now scarce public-sector resources, particularly those of the public banks, can be used to leverage private sector capital for infrastructure investments.
Currently, while there is private investment in infrastructure, the majority – around 70 percent – comes from public sources, including state banks, where resources are increasingly limited.
Mobilizing private sector investments not only are essential to help Brazil fill its infrastructure gap: without them, meeting the United Nations Sustainable Development Goals (SDGs) targets by 2030 will be much harder. The United Nations Conference on Trade and Development (UNCTAD) estimates that developing countries alone would require annual investments of between 3.3 trillion and 4.5 trillion dollars. About 2.5 billion dollars a year are missing to fill that need.
Climate change contributions
FinBRAZEEC is expected to help Brazil avoid the equivalent of 12.5 million tons of CO2 equivalent over the life of the project, as well as to help the country meet its goal of improving energy efficiency in the power sector by 10 percent by 2030, set as part of its Nationally Determined Contribution under the Paris Agreement on climate change.
The facility will be complemented by support for technical assistance and project preparation being provided by the GCF, the Global Infrastructure Facility, and the World Bank's Energy Sector Management Assistance Program (ESMAP).
FinBRAZEEC draws on a series of lessons learned from previous World Bank experience in Brazil. ESMAP technical assistance helped identify viable business models for investment in urban street lighting, industries, transport and public buildings, providing useful tools and lessons for designing the FinBRAZEEC project.
The project also builds on the experience of another recent World Bank contingent loan for Uruguay's national power company, which provided the government with a new financial mechanism to mitigate the impact of drought – and resulting decrease in hydroelectric energy generation – on the cost of electricity and on public sector accounts.