What Results When U.S. Invades a Country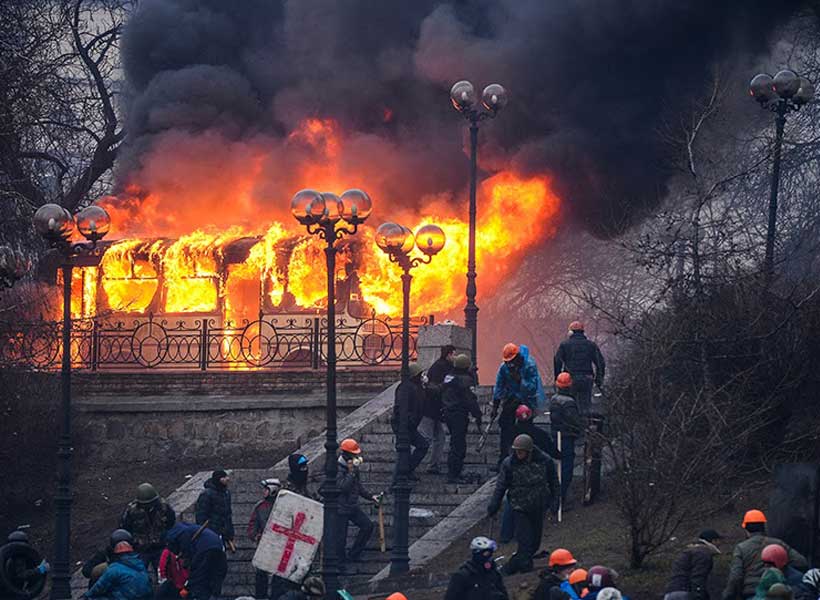 The U.S. Government certainly leads the world in invasions and coups. In recent years, it has invaded and occupied — either by military assault or by coup, but in either case followed by installing (or trying to install) a new regime there — a number of countries, especially Afghanistan, Iraq, Libya, Syria, Ukraine, and Yemen.
U.S. propaganda says that its invasions and military occupations (and it denies its coups) are to benefit the people in the invaded and militarily occupied countries, or to bring them 'democracy', and are not done merely to benefit the people who control the U.S. Government (which itself is not a democracy, and even the neoconservative — pro-invasion or "imperialistic" — American magazine The Atlantic has finally acknowledged this fact, even though it contradicts their continuing neoconservatism).
Polling and other evidences within the invaded/occupied countries shows the opposite of the U.S. claim: America's invasions/occupations (after World War II, and especially after 2000) destroy those countries, not help them.
The most authoritative such study that has yet been done on this matter was recently released, and its findings regarding this matter will here be presented, and then supplemented with other relevant data so as to provide a fuller picture.
The U.N./Gallup surveys of the happiness/misery of the residents in 155 countries, as reported in 2017, were physically in-person interviews in almost all countries, but there was at least one exception, as they explained: "In Libya, telephone survey methodology has been used since 2015 owing to the country's high rate of mobile phone coverage and ongoing instability which has made it too dangerous to use face-to-face interviewers." That's a highly euphemistic way of saying, actually: Libya was too dangerous, and perhaps too miserable, for opinions to be sampled by the ordinary methodology, the scientifically sound methodology, which is in-person interviews. It's a way of saying this without even mentioning the invasion and war there — as if those things don't even count. Therefore, the finding that Gallup reported about Libya is presumably being included in Gallup's otherwise excellent report purely for Western propaganda purposes — they know that it's not an actual scientific finding about Libya, not a finding that can reasonably be compared to the survey-findings in the other countries. As a result, Libya, which might have been the most miserable of all countries after the U.S.-UK-France-Canada invasion, scored in the top half of all countries, #68, 5.525. But, all of the other countries that the U.S. has recently invaded (the nations that are boldfaced below) scored at or below #132, 4.096 — Ukraine's score — as is shown here below from that U.N. report:
Following are the happiness-scores of the bottom 24 out of the 155 happiness/misery-rated countries. (Iraq, which the U.S. had destroyed in 2003, perhaps is now recovering, and it scored as #117, with a score of 4.497; but, here only the bottom 24, the most-miserable of all of the 155 countries, are shown.) Here they are:
132 Ukraine                                                        4.096
133 Uganda                                                        4.081
134 Burkina Faso                                              4.032
135 Niger                                                             4.028
136 Malawi                                                         3.970
137 Chad                                                              3.936
138 Zimbabwe                                   3.875
139 Lesotho                                                        3.808
140 Angola                                                          3.795
141 Afghanistan                                               3.794
142 Botswana                                    3.766
143 Benin                                                            3.657
144 Madagascar                                                3.644
145 Haiti                                                               3.603
146 Yemen                                                         3.593
147 South Sudan                                              3.591
148 Liberia                                                           3.533
149 Guinea                                                         3.507
150 Togo                                                              3.495
151 Rwanda                                                        3.471
152 Syria                                                              3.462
153 Tanzania                                                      3.349
154 Burundi                                                        2.905
155 Central African Republic        2.693
Ukraine is (other than #117 Iraq) the least-miserable of the recently invaded countries, and perhaps the reason for this is that Ukraine was taken over by means of a coup, instead of by means of an outright and direct military invasion.
(You can see this coup happening, here. The way that U.S. President Barack Obama set it up is documented here. You can hear there his agent instructing the U.S. Ambassador in Ukraine whom to place in charge of Ukraine's Government once the coup will have been culminated (which happened 22 days later, and that person did get the leadership-position). It's the full conversation. And here, you will see the phone-conversation in which top EU officials were shocked to find that it had been a coup instead of what Obama pretended, a 'revolution'.) (These evidences are some of the reasons why the head of the 'private CIA' firm Stratfor called it "the most blatant coup in history.")
The U.N. happiness surveys have been taken in Ukraine not only after the coup, which occurred in February 2014, but before it, in 2013. At happiness index you can see the happiness/misery scores shown by Ukrainians during the years 2013, 2015, 2016, and 2017 (there was no survey in Ukraine during 2014, perhaps because of the rampant violence at that time.) In 2013, Ukraine's happiness score was 5.057, but that steadily declined down to the 2017 score of 4.096, which placed Ukraine within the bottom 24 countries, all of which either were extremely poor, or at war, or both. You can also see there Ukraine's resulting "World Happiness Index" rank for each one of those four years, 2013, before the coup, and then 2015-2017, after the coup. As you see there, Ukraine, which was #132  in 2017, had been #87 in 2013 before the coup. So: within just three years after the coup, it declined 45 places in the global rankings.
Some people might retort against this by saying that "happiness" is meaningless or unimportant and only physical welfare is 'objective'," but even on the most crudely physical measures, Ukraine has been enormously harmed by the U.S. coup. In 2013, Ukraine's average annual household income was $2,601.40, and then it fell off a cliff and became $1,109.63 by 2015 and has stabilized at around that level since. Also, in 2013, Ukraine's GDP was $183.31 billion, and by 2015 that had become $91.03 billion and stabilized at that level. Furthermore, some figures aren't any longer even reported by the post-coup Ukrainian regime. For example, whereas the number of unemployed was shown in Ukrainian statistics in 2013, it disappeared in 2016 and subsequently. More information about the decline in Ukraine's economic rankings can be seen here. The U.S. regime has been toxic to the Ukrainian people, no matter how one looks at it. But happiness/misery is the real bottom-line.
Two researchers, Tom Coupe and Maxym Obrizan, published together two separate studies, both in leading economics journals, one article titled "The impact of war on happiness: The case of Ukraine", and the other titled "Violence and political outcomes in Ukraine — Evidence from Sloviansk and Kramatorsk". They reported, in "The Impact of war on happiness":
The average level of happiness declined substantially in zones that experience war directly. …
This decline is comparable to the loss of happiness a relatively well-off person would experience if he/she were to become a poor person. …
Regions that are not directly affected by the war are basically as happy as they were before the war.
In other words: all of the increase in misery occurred only in the regions that have been "directly affected by the war." The Ukrainians who reside outside those regions are "as happy as they were before the war." They're not happier than before the war; they haven't been helped by the war; but, the misery — so intense for them that it has already lowered the happiness-ranking of the entire nation, from 87 down to 132 — just hasn't bothered them, at all.
In "Violence and political outcomes in Ukraine" they reported:
We also find that property damage is associated with greater support for pro-Western parties, lower support for keeping Donbas in Ukraine and lower support for compromise as a way to stop the conflict.
In other words: Ukrainians who live close to the Ukraine-Donbass border; that is, who live inside Ukraine but close to Donbass and so are in the Ukrainian portion of the conflict-zone (not in Donbass, where the vast majority of the "property damage" is actually occurring), have "greater support for pro-Western parties" (i.e., for the Obama-installed regime), but "lower support for keeping Donbas in Ukraine." Although they endorse the overthrow that had been done of the pre-coup government (because they receive 'news'media only from the post-coup regime, in the Ukrainian language), they want to get on with their lives without the war that's since been causing them "property damage." (U.S. propaganda notes that "the separatist-controlled parts of Lugansk and Donetsk oblasts ([the two Donbass] provinces) only have access to Russian TV channels" but avoids noting that the Ukrainian regime's blocking of Russian-language media on the other side of that border — inside Ukraine — exists and is even more severe.) Apparently, Ukrainians near the border just want the war to end — no "compromise" — no negotiations, no Minsk process; they want their Government to simply quit trying to conquer Donbass, no negotiations about it, at all. And they're ignored.
Right now in Ukraine, the central political controversy is between the U.S.-puppet President of Ukraine, who promises to conquer both of the two breakaway provinces, Donbass and also Crimea — but who hasn't yet been able to do it — versus Ukraine's political parties, in western and northern Ukraine, that derived from the organizations which had supported Hitler against Stalin in World War II and who still crave to kill Russian-speakers. Those passionately racist-fascist, anti-Russian, ideologically nazi, political organizations, are determined to actually carry out those additional invasions, no matter what the cost. However, according to this finding by Coupe and Obrizon, the Ukrainians who are suffering the "property damage" and whose personal scores on happiness have thus become so abysmally low as to have dragged the whole Ukrainian nation down to a 132nd ranking, are opposed to that nazi position, and they just want the war to end. And they're ignored.
Where, then, is the support for the war to be found (except amongst the U.S. Congress and President and the U.S. arms-makers whose products have been selling so well to Ukraine's government and which are now being used against the residents of Donbass)? That support is to be found as far away from the conflict-zone as possible: in Lviv and the rest of far-western and northern Ukraine, the areas that were cheering Hitler's forces in WW II, and where the 'news' media today are owned by U.S.-supported oligarchs and their NGOs.
Ukraine was a severely divided nation even before the coup. In the last Ukrainian election in which the residents within the Ukraine that then included both Donbass and Crimea voted, which was the election in 2010, the candidate who won Ukraine's Presidency and whom Obama ousted, had won 90% of the vote in Donbass, and 75% of the vote in Crimea. However, in far-western Ukraine, his opponent — whom Obama had been hoping that Ukrainians would elect as Ukraine's President in 2014 after the coup — won 90% of the vote. That's the candidate whose party (though not herself) now dominates (in conjunction with the two outright nazi parties) the Ukrainian Government. The man whom the residents in the rump Ukraine chose, was the more moderate candidate, and he is increasingly being challenged by the nazis. (Ukraine is the world's only nation that has two nazi political parties. Both of them have been clients of the U.S. Government ever since the end of World War II, but only with Obama did they win control of the country — that is, of its non-breakaway regions.) For example, on 18 January 2018, the AP headlined "Ukraine passes bill to get occupied regions back from Russia" and reported that, "Ukraine's parliament on Thursday passed a bill that aims to reintegrate the eastern territories currently controlled by Russia-backed separatists, and goes as far as to declare support for taking them back by military force if necessary." Though that position is a minority position amongst the Ukrainian public, it authentically represents the position that Obama wanted. In fact, he even overrode his own Secretary of State, John Kerry, to push for it. That's the position of Ukraine's two nazi parties, which are trying to replace the existing President. (Trump hasn't yet made clear whether he backs them, but he is expected to.)
So: that's Ukraine — the happiest of the nations that the U.S. has recently invaded.
——
UPDATE: On March 15th, the "World Happiness Report 2018" was issued, and here are the bottom-scoring countries:
Ukraine (4.103)
Togo (3.999)
Guinea (3.964)
Lesotho (3.808)
Angola (3.795)
Madagascar (3.774)
Zimbabwe (3.692)
Afghanistan (3.632)
Botswana (3.590)
Malawi (3.587)
Haiti (3.582)
Liberia (3.495)
Syria (3.462)
Rwanda (3.408)
Yemen (3.355)
Tanzania (3.303)
South Sudan (3.254)
Central African Republic (3.083)
Burundi (2.905)
first published at The Saker
Mexico in the Trump Era: Trying to Deal with and Overcome Social Dominance
My work with Social Dominance Theory focuses on explaining the most obvious legitimizing myths in maintaining a negative atmosphere between America and Mexico. When it comes to this tension-filled relationnship, there are two varieties of legitimizing myths: hierarchy-enhancing legitimizing myths, which promote greater degrees of social inequality, and hierarchy-attenuating legitimizing myths, which promote greater social equality. Depending on the issue or commodity involved, Mexico is faced with both types of challenges when it comes to SDO conflicts with America. (Pratto, Felicia, James Sidanius, Lisa M. Stallworth, and Bertram F. Malle. 1994. Social dominance orientation: A personality variable predicting social and political attitudes. Journal of Personality and Social Psychology 67, no. 4: 741-763.)
Ideologies that promote or maintain group inequality are the tools that legitimize discrimination. To work smoothly, these ideologies must be widely accepted within a society, appearing as self-apparent truths. Hence, we call them hierarchy-legitimizing myths. (Social Dominance Orientation: A Personality Variable Predicting Social and Political Attitudes Felicia Pratto, Jim Sidanius, Lisa M. Stallworth, and Bertram F. Malle, 1994, 741)There is substantial evidence that social dominance orientation (SDO) has several consistent attributes: (a) it can be measured reliably, (b) it is stable over time, (c) it is higher among men than among women, (d) it is higher among those who support hierarchy-enhancing ideologies and is lower among those who support hierarchy-attenuating ideologies, (e) it is higher among those who support hierarchy-enhancing policies and lower among those who support hierarchy-attenuating policies, (f) it is higher among those who choose hierarchy-enhancing social roles and lower among those who choose hierarchy-attenuating social roles, and (g) it serves to orient new social and political attitudes. (Pratto, Felicia, James Sidanius, Lisa M. Stallworth, and Bertram F. Malle,1994. Social dominance orientation: A personality variable predicting social and political attitudes. Journal of Personality and Social Psychology 67, no. 4: 741-763)
In general, America stakes great pride in its reputation for steadiness, reliability, commitment to a positive-sum global order in which all countries that play by the rules can prosper, soft power, identification with the advancement of democratic values, and an image as a dependable ally and country committed to solving the world's toughest problems.In the past two years, however, the U.S. policy towards Mexico has changed from this course and is now leaning toward support of hierarchy-enhancing legitimizing myths. This contributes to normalizing group-based inequality, which helps to destabilize partnerships. A particularly ugly hierarchy-enhancing legitimizing myth was the campaign rhetoric uttered by now President Donald Trump, who labeled certain Mexicans as rapists, criminals, and "bad hombres." This rhetoric still degrades and negatively impacts the latest immigration debates in the United States.
On January 23, 2017,Trump issued a Presidential Memorandum Regarding the Mexico City Policy: I hereby revoke the Presidential Memorandum of January 23, 2009, for the Secretary of State and the Administrator of the United States Agency for International Development (Mexico City Policy and Assistance for Voluntary Population Planning), and reinstate the Presidential Memorandum of January 22, 2001. Along with his earlier ugly verbalization, this order reinstates and dramatically expands the "Mexico City Policy" adopted under previous Republican administrations since 1984. This policy is also widely known as the "Global Gag Rule" due to the restrictions it places on how non-state organizations use their own non-US government private funds.
On February 7, 2017, the US State Department released a "six-month review" of the implementation of this policy, even though it admitted that six months was not nearly enough time to truly assess any effective change. Among the policies meant to be enforced: hierarchy-enhancing legitimizing myths that would make it more likely that Mexican asylum seekers would demonstrate credible fear about returning to their home. Add on to this environment the blunt imagery of building a 'wall' along the southern U.S. border with Mexico and it is obvious that current American foreign policy is utilizing these hierarchy-enhancing myths to create an atmosphere where Mexicans are meant to feel subordinate if not outright inferior to Americans. This was only intensified by the failed attempt to achieve a policy compromise on immigration earlier this year where approximately 800,000 'Dreamers' (children of illegal immigrants born in America and having no negative criminal record whatsoever) would be allowed to legally remain in the United States. The White House and Republicans in the U.S. Congress could not ultimately create the compromise they themselves said they were hoping to achieve. Indeed, some of the leading figures on Trump's team who voiced opposition to strengthening innovations in border security were ultimately fired, creating an administrative environment where people openly felt they had to follow the groupthink or be let go. As a predictable response to all of these political inconsistencies and outright open hostilities, Mexico can theoretically exercise multiple opportunities to establish and maintain closer relations with American economic and political competitors, most notably Russia.
To the detriment of harmonious international relations, the current American policies toward Mexico have comingled human social injustice with the threatened cancellation of The North American Free Trade Agreement (NAFTA), which was originally intended for increased commerce and trade and meant to be a positive for all of North America. NAFTA was originally signed by Mexico, Canada, and the United States in 1994 and has led to greater North American economic/financial integration and stability. The extensive U.S.-Mexican border area, an increasingly efficient supply-chain management industry, and millions of Mexican migrants now living in the United States (legally and illegally), have all contributed to Mexico's growing positive integration with the U.S. economy. At present, America is Mexico's largest global trading partner. Mexico is America's third-largest, behind China and Canada. Mexico supplies approximately one third of America's crude oil. Thus, Mexico works diligently with many vital U.S. trade/business interests that are have historically been enthusiastically supported by most Republicans. These should be potential negotiation strong points for Mexico, reminding the American Congress that it would not just be Mexico to suffer should relations between the two nations continue to worsen.
Mexico can and must respond to these threats by attempting to redefine its own national interests and economic options with the United States. The dominance of the U.S. in its own regional neighborhood is difficult to overcome. But the current administration, and its continued use of hierarchy-enhancing social dominance position, is clearly a trend Mexico cannot support and must strive to actively undermine. Of the two varieties of legitimizing myths discussed earlier, it is the hierarchy-attenuating legitimizing myths, which promote a sense of social equality have to be embedded within any and all political gestures coming out of Mexico City toward Washington. If Mexico does not find a willing or cooperative partner just to its north when it comes to this benevolent policy, then it will have little choice but to pursue its own Mexican version of hierarchy-enhancing legitimizing myths, casting America in a much less flattering light and seeking to establish Mexico's own form of social dominance vis-à-vis Americans in general. The fact that this will seem almost implausible to most Americans simply illustrates just how deep the implied assumption of social dominance and inequality has become to Mexico's neighbor to the north.
Tom Cotton: What's the Reason for AIPAC's $ 4.5 Million Support for the Young Senator?
In recent months, news sources in the United States have reported the possibility of the appointment of the young Arkansas senator, Tom Cotton, as the Director of the Central Intelligence Agency (CIA), or the US National Security Advisor. 40-year-old Cotton is considered the youngest American senator, and, of course, many of the active Israeli lobbies in the United States count on his role-making in American political-security equations. In April 2015, the New York Times admitted that the Zionist lobbies' financial support for Tom Cotton was much higher than that for other Republican senators. The New York Times has announced that the amount of this financial assistance was around $ 2 million.This is while some informed sources in the US say the AIPAC lobby has spent $ 4.5 million for Tom Cotton to insure his winning against "Mark Pryor" in the 2014 Senate elections.
In August 2013, Tom Cotton, with AIPAC's green light and support, entered the political scene against former Arkansas Senator Mark Pryor. In the meanwhile, some prominent personalities and politicians in the Republican Party of America, such as "Marco Rubio" and "Mitt Romney", by the order of AIPAC leaders, had also fully supported Tom Cotton.
Eventually, Cotton won 56.5% of the vote (against 40 percent of Pryor vote), and thus defeating his rival, entered the Senate. However, the main question is, what's the reason for this huge, unnatural support of Zionist lobbies, AIPAC in particular, for Tom Cotton? In other words, what capacity did these organizations and lobbies see in Tom Cotton, that they have been willing to use their full power to help him enter the US Senate? Is AIPAC's goal of such widespread support merely Cotton's gaining the Arkansas seat in the Senate? The answer to this question is negative.
A security analyst in the United States who didn't want his name to be revealed told our reporter:
"Given the young age of Cotton compared with other American politicians, and his commitment to Tel Aviv, the Israeli authorities have tried to use him as an influential factor in US domestic security and foreign policy. AIPAC has always named Cotton as a trend-making agent in its calculations. This Zionist lobby's recent attempts for Cotton's presence as the CIA Director can also be analyzed in the same vein."
This analyst added:
"It is likely that the AIPAC lobby would ask Cotton not to run for the Senate in the congressional elections in 2018, so that he can be employed by the US government as the National Security Advisor, or CIA Director in Trump's government."
In January 2015, Tom Cotton played an important role in leading and managing the anti-JCPOA movement in the US Senate in the midst of nuclear talks between Iran and the members of the P15+ 1. On March 8, 2015, Senator Cotton wrote and sent a letter to Iranian leaders. In this letter, it was insisted that any nuclear deal without the approval of the US Congress would only be valid until the end of Obama's presidency in 2017, and the next president may easily cancel it. Another 46 Republican senators also signed the letter.
The existing evidences suggests that such a letter was ordered by the direct order of the AIPAC lobby, and was designed to negatively influence the negotiation process. However, Tom Cotton's commitment to the AIPAC lobby, and beyond that to Israel, is much more than that.
Accordingly, Cotton is consulting AIPAC before making any decision in the field of US domestic and foreign policy, and asks for the views of the lobby's leaders. Even in cases which AIPAC doesn't express its views on critical issues to American senators, Cotton has the duty to indirectly impose AIPAC's stances on senators and even on key members of the House of Representatives. It is not without a reason that Tom Cotton is named as the main AIPAC piece in the Senate. For the thorough financial and political support of AIPAC leaders and Israeli authorities, Cotton has turned into Tel Aviv's agent in the Senate (in the current period), and generally in the political scene of the United States.
Decoding Pompeo's words at US senate
The CIA Director Mike Pompeo, who is nominee for Secretary of State, has recently mentioned meaningful words in his hearing at the Senate on Iran and the nuclear deal. In his words, he acknowledged that Iran was not after nuclear weapons even before the nuclear deal, nor will be in the future.
On the other hand, he has announced that he is seeking to fix and correct the nuclear deal with Iran! This is while the US President Donald Trump is scheduled to announce his final decision on Iran's nuclear deal by May 12. "I want to fix this deal," Pompeo said. "That's the objective. I think that's in the best interest of [the United States]."
At his recent Senate hearing, Pompeo has emphasized that as CIA Director, he didn't find any evidences that Iran has violated the nuclear deal. At the same time, he believes that Tehran can't expand its program shortly after the US withdrawal from the nuclear accord. He emphasized that his goal is to correct the nuclear deal with Iran. Pompeo said:
"If there's no chance that we can fix it, I will recommend to the president (Trump) that we do our level best to work with our allies to achieve a better outcome and a better deal," he said. "Even after May 12, there's still much diplomatic work to be done."
A simple decoding of Pompeo's remarks suggests that, despite the opposition to the nuclear accord, he is trying to deal differently with this issue as the future US Secretary of State. Some analysts also believe that Pompeo has adopted such an approach to face the US Senators' relative opposition to the White House's withdrawal from the JCPOA (Joint Comprehensive Plan of Action).
In any case, according to Pompeo, Donald Trump may not make a final decision on the nuclear deal with Iran on May 12, and he will continue to consult with his European allies on what he calls "fixing the flaws of the JCPOA".
Pompeo's remarks indicate that the White House hasn't come to a determined and clear decision on how to deal with the JCPOA yet. On the other hand, numerous consultations by representatives of the four countries, the United States, France, Britain and Germany, continues in silence.
Western sources have argued that these countries are consulting on the three controversial issue, namely "the Sunset clauses", "limiting Iran's missile power" and "extensive inspections of Iran's military sites". These sources claimed that the only remaining disagreement between the four countries is over deletion of the so-called Sunset clauses from the nuclear deal, and thus putting permanent limitations on Iran's nuclear program.
Pompeo is currently the CIA director, and ironically, he was one of the foremost critics of the Iran nuclear deal when he served as a House Republican from Kansas. Trump fired Secretary of State "Rex Tillerson" over the raised disagreements, and picked Pompeo as his successor in March, just two months before the deadline on May 12 to decide whether to bring back sanctions that former President of the United States waived when the JCPOA was first implemented.
Before this, many Western politicians and analysts saw the nomination of Mike Pompeo for secretary of state by Trump as a sign of Washington's withdrawal from the nuclear deal. Beyond that, John Bolton's appointment as US national security advisor also sent a clear message to the international system that Trump is about to pull out of the nuclear deal with Iran.
John Bolton is now silent about the fate of the JCPOA! The silence seems very meaningful at the current time. It's obvious that John Bolton is one of the main opponents of the nuclear deal with Iran, and he doesn't even believe in negotiating with the European Troika on maintaining the JCPOA.
The important question, however, is whether Bolton's silence reflects the continuing paradoxical and vague approach of the US towards the JCPOA? Or did Trump ask him to be silent in this regard and wait for the final results of their talks with Europe?
American senators still don't have a clear picture of Trump's final decision about the JCPOA. Meanwhile, some Republican senators like "Rand Paul" and "Jeff Flake" are worried about the costs and consequences of Trump's decision to refuse joining other members of P5+1.
Most US senators tried not to mention the nuclear deal with Iran in their speeches during recent weeks. This is while some senators such as "Tom Cotton" and "Ted Cruz" strongly encourage Donald Trump's government to pull out of the nuclear deal with Iran.
First published at our partner Mehr News Agency