Entrepreneurs in unexpected places: How one Midwest city promotes diverse local innovation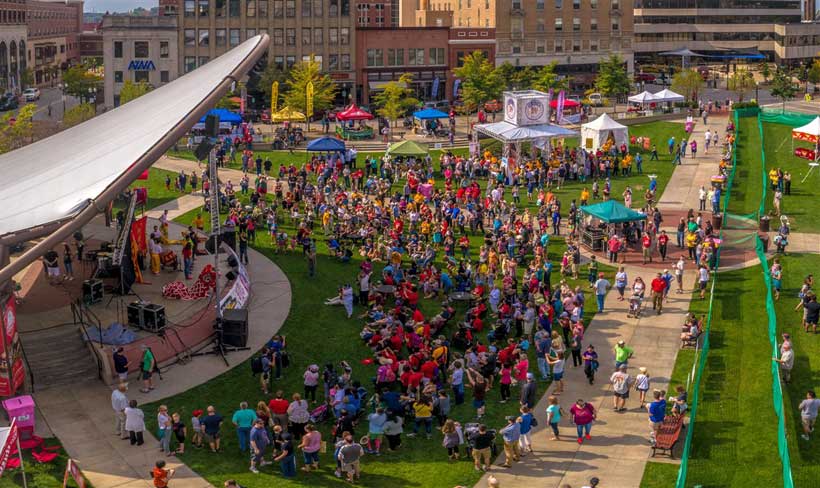 In September of 2017, thousands of people from around the world congregated in an unlikely place: Wausau, Wisconsin.
This diverse crowd was gathered for the first International Wisconsin Ginseng Festival. While many may be surprised that such an event would be held in the middle of Wisconsin's rolling hills and scenic lakes, it is locally a $50 million industry with a long history. In the mid-1970s Hmong immigrants, primarily from Vietnam, brought their entrepreneurial skills and revitalized the local ginseng industry. Welcomed by a friendly community that continues to foster an entrepreneurial spirit, Hsu's Ginseng, now under the leadership of the original founder's son Will Hsu, has grown to be the largest integrated ginseng growing and retailing operation in the U.S. Wausau's industrious self-starters and newcomers grew a multimillion-dollar industry, and the region continues to incubate entrepreneurs across a diverse array of business sectors.
Local innovation
Wausau, ranked recently by ZipRecruiter as a Top 10 Job Market for 2018, has a track record of successful public-private development partnerships and hosts a thriving incubator — the Wausau Entrepreneurial and Education Center — to help local entrepreneurs get started and help established businesses grow. For instance, Wausau-based Resilient Technologies, now a business of Bridgestone Americas, was approached by the U.S. government to develop puncture-resistant tires. In an effort to make military vehicles more safe, they used strong local manufacturing ties to develop a first-of-its-kind non-pneumatic tire in Wausau's incubator. Bridgestone is now looking for ways to apply the technology to its consumer and commercial portfolio, and develop next-generation tires that offer extended mobility.
"A lot of people don't know these types of projects are happening here, but the city of Wausau is a great partner and the city provides our team with a wonderful place to call home," says Louis Stark, operations manager, Resilient Technologies, Bridgestone Americas Tire Operations.
The availability of an experienced workforce that can develop these specialized tires for the U.S. military is the same workforce that has made an impact on other areas of Wausau's economy.
Entrepreneurial workforce
Sometimes entrepreneurial opportunities spring from unusual skills. Some residents in Wausau have deep connections to artistic traditions, including sewing. Bob Jacquart, chief executive officer of Stormy Kromer, makers of iconic hats and rugged outerwear, says he now relies on the sewing skills of Wausau's residents to create one of the Midwest's most storied brands.
Stormy Kromer's operations in Wausau have been successful, outpacing production in the company's headquarters in Ironwood, Michigan.
"I could not have felt more welcome and city leaders could not have been more accommodating in helping Stormy Kromer find a suitable space as well as skilled workers in Wausau," says Jacquart. "Our business found exactly what it needed and the support from leaders was exceptional."
Incubating community
The local economic conditions and support environment that allowed these Wausau-based companies to thrive are the very conditions that led Time Magazine to label Wausau a "middle-class paradise" last year.
A combination of affordability, welcoming atmosphere and economic diversity is attracting young people, new industries and incubating unlikely entrepreneurs. Aiming to make the most out of these trends, the city is responding in kind. New growth and development hit record levels in 2017 across diverse sectors of growing businesses in Wausau. The city's warm attitude toward entrepreneurs and diversity further complement its traditional economic base in metals manufacturing, building materials, insurance, informational technology and health care.
To learn more about how the city of Wausau is attracting entrepreneurs and gaining an international reputation, visit www.wausome.com.
Adventurers and travelers: Add Western Australia's Kimberley to your list
Let your soul experience one of the most stunning and pristine places on earth, Western Australia's Kimberley. Its coastline is so unspoiled, dinosaur footprints still smatter the rocks. Its oceans are so untouched, whales nurse their young in its warm waters. Its indigenous culture is so ancient, no other can match it. The Kimberley is more than a remarkable region in Western Australia; it's one of the most fascinating and least explored places in the world. As world travelers seek unexplored destinations, The Kimberley has been added to their bucket list of dream vacations. This is a place that commands explorers to indulge in its many wonders.
A last true wilderness
Both magical and rugged, Western Australia's Kimberley is one of the few last wilderness areas, like Alaska, Galapagos, Antarctica and the Amazon, where you feel the rawness of the earth and the wonder of nature with an ancient story. Immediately, there is a deep intangible presence in the Kimberley that is at once powerful yet calming. Night-blooming flowers from the giant Boab trees make the air fragrant while the night sky glitters with millions of stars.
The gateway to the Kimberley is the small pearling town of Broome, home to some of the largest and most prized pearls, where camel rides on Cable Beach is part of everyday life and where nine sets of dinosaur footprints cast as massive fossils. The influence of the pearling industry, with its melting pot of cultures and cuisines, has helped to create the distinctive character and charm of Broome, which offers select beach resorts, a unique calendar of events and exquisite dining options, including locally caught fresh seafood.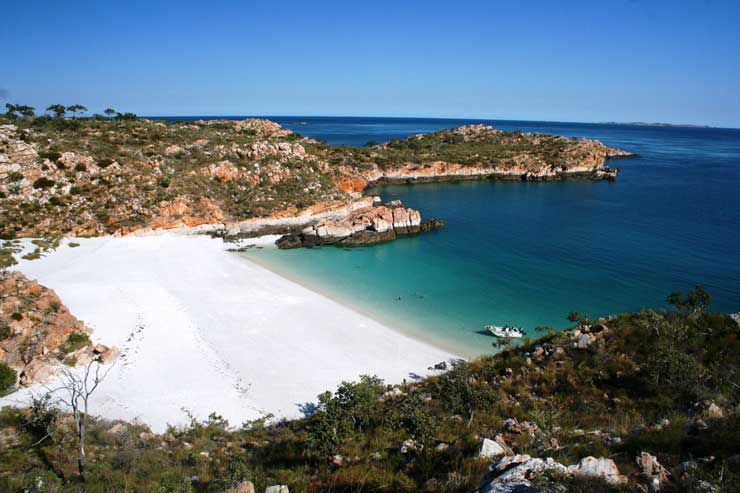 Modern means of exploration
The best way to experience the Kimberley is through expedition cruising. A unique collection of companies operate boats that take passengers to the region's most pristine beaches and reefs, to towering waterfalls so close you can feel the fresh mist on your face, through ancient gorges, and to 350-million-year-old rock formations. Through expedition cruising, you will likely place your footstep where no one before you has ever been.
In this remote setting, visitors can encounter the true icons in Western Australia's North West, including the natural phenomenon of the Horizontal Falls, the majestic 260-foot-tall King George Falls, and the Rowley Shoals featuring coral atolls home to 700 tropical fish species and considered among the best dive spots in the world, where not more than 500 people visit in a year.
Adventure need not be rugged
Just because you're exploring one of the last untouched wildernesses on the planet doesn't mean you can't indulge.
Both adventurous and luxurious, Kimberley cruises bring the savvy traveler to places few humans have seen while offering them the comforts of a delicious meal showcasing local flavors (or your own catch of the day), soft beds, and services that connect travelers with the people and the land.
Every cruise is different. Many have on-board naturalists and experts that guide excursions and open the wonders of the region to curious passengers. Some high-end cruises have a helicopter to take you to the top of the cliffs and give you an unrivaled view of this unforgettable world.
Before heading to the Kimberley, explore Western Australia's capital city Perth, home to many extraordinary experiences, including one of the world's largest inner city parks, stunning metro beaches, a lively food and wine scene, marine encounters, and the State's oldest wine region. Perth is the fastest-growing (and sunniest!) city in Australia.
To find the cruise that's right for you, check out the Kimberley Expedition Cruise Guide, an invaluable resource that showcases a number of companies offering world-class excursions throughout this stunning region, or visit Down Under Answers, Qantas Vacations and Southern World.
Top 5 reasons to visit El Salvador in 2018
El Salvador, Central America's smallest country, attracts a wide array of intrepid travelers who come to experience its vibrant culture and diverse outdoor activities. From its rich Maya history, to its volcanic beauty and generations-old artisan heritage, El Salvador provides plenty for travelers to explore.
El Salvador is incredibly easy to reach from the U.S. and offers everything from ecotourism to culinary adventures at a fraction of the price of more well-known Central American destinations. There are regular direct flights to El Salvador from major U.S. cities, including New York City, Washington, D.C., and Los Angeles, and there is no need to exchange money upon arrival, as the U.S. dollar is the national currency.
Here are five ways to make the most of a trip to El Salvador.
Kick back at the beach
There is no shortage of world-class beaches in El Salvador, with warm Pacific waters lapping on nearly 200 miles of coastline. Surfers flock to La Libertad for its renowned waves and international competitions. Those interested in learning to surf can find lessons for as low as $10. Along black sand beaches, travelers will find amazing seafood to enjoy while taking in magnificent ocean views.
Hike volcanoes and waterfalls
El Salvador is known as the "Land of Volcanoes" with 25 volcanoes visible to the naked eye. Many travelers combine a city tour of San Salvador with an easy volcano hike in El Boquerón National Park, just a short drive from the city. Local guides can navigate visitors up steeper volcanoes for half- and full-day trips. The country's tallest volcano is Santa Ana Volcano in Cerro Verde National Park northwest of San Salvador where hikers will find moderate to difficult trails with a stunning turquoise crater lake at the top.
Get caffeinated on a coffee tour
El Salvador's high altitude and tropical climate create the ideal conditions for growing coffee beans, and the country is known as one of the world's top regions for specialty coffee production. Chances are that you have enjoyed java that originated in the mountainous region of El Salvador. A tour of El Carmen Coffee Estate gives visitors a closer look at the coffee-making process and provides the chance to taste some of the best coffee on earth straight from the source.
Get crafty with an artisanal immersion
Several of El Salvador's small colonial towns are known for signature artisanal crafts that travelers can learn during their stay. Those that travel north from San Salvador to the quaint town of Suchitoto can make their way to the Arte Añil workshop and gallery to learn how to dye cloth with indigo as the Maya once did. Further north, the town of La Palma draws inspiration from the Maya to create the Arte Naíf drawing style. Visitors learn to paint with spontaneity without adhering to perfect proportions, creating bright and contrasting colored designs on locally harvested copinol seeds for a truly exotic souvenir.
Dig into the past with an archaeological site visit
Known as the "Pompeii of the Americas," the UNESCO World Heritage Site Joya de Ceren provides a fascinating look at an ancient farming community that was buried in ash from a nearby volcano. A visit to the site and the nearby pyramids at San Andrés educates travelers on the lives of Central America's original inhabitants who lived there as many as 1,000 years before Europeans arrived.
With easy flight options, low prices for world-class experiences, and the ability to hike a volcano in the morning and surf in the afternoon, it's not hard to see why El Salvador has become a hot destination for 2018.
Shumbrat, Mordovia! The Land of Finno-Ugric nation and the host city of the World Cup 2018
What is common between Finland, Estonia, Hungary, and the Republic of Mordovia?
In 2007, Saransk, Mordovia, the 1st Festival of the Finno-Ugric Peoples was hosted by President Vladimir Putin of Russia, and visited by Finnish President, TarjaHalonen, and Hungarian Prime Minister, Ferenc Gyurcsány. There are about 200 nationalities live in Russia and 13 of them are Finno-Ugric people. The nations that communicate in Finno-Ugric languages live in Finland, Estonia, Russia and Hungary. However, the nationalities have not lost their desire to share their cultural and historical heritage. The festival that was opened 10 years ago established the cultural development of Finno-Ugric peoples. Numerous festivals, events, shows and conferences that focused on protection its common traditions and pass them on to future generations were organized by the Finno-Ugric nations in Estonia, Finland, Hungary and russian regions for these years.
Interesting fact, The Mordovians are divided into two main ethnic subgroups and three further subgroups. The Erzya and Moksha are the main groups:
The Erzya or Erzyans, (Erzya: Эрзят/Erzyat), speakers of the Erzya language. Less than half of the Erzyans live in the autonomous republic of Mordovia, Russian Federation, SuraRiver and Volga River.
The Moksha or Mokshans, (Moksha: Мокшет/Mokshet), speakers of the Moksha language. Less than half of the Moksha population live in the autonomous republic of Mordovia, Russian Federation, in the basin of the Volga River.
Only 1/3 of all Mordovian live in Mordovia, the rest are scattered over the Russia as well as Far East, Armenia,Europe and USA.
5 top destinations to visit Mordovia
The Stepan Erzya Museum of Fine Arts is one of the major cultural centers of the Republic. The museum contains the works of the great sculptor, as well as collections of the folk artist of Mordovia F. Sychkov and Academician of Portrait-painting I. Makarov.
The Museum and ethnographic complex «Mordovian Podvorie» was opened in 2012  Here is a wooden house with national interior design and picturesque yard entourage: household outbuildings, Russian sauna, old farm tools. The restaurant «Mordovian Podvorie» is situated on the territory of the village. It presents the dishes of Mordovian and Russian cuisine.
The Museum of Mordovian Folk Culture was opened in 1999. The museum funds have over 3000 exhibits. Visitors can see Mordovian folk clothing, ceramics, icons, household utensils, as well as the products of folk art craftsmen
The St. John the Teologian Makarovsky Mostery was founded as a churchyard in 1702 by the landowner Makar Artemyevitch Polyansky on his own land. The historical part of the monastery, the Makarovsky churchyard, represents an architectural ensemble in baroque of 18th century.
State Natural reserve of  P.G. Smidovich is the area of untouched nature occupies 32,142 hectares. It is located in the far north-west of Mordovia. The reserve is one of the oldest in Russia. The reserve offers the services of the Museum of Nature, cordons "Pavlovsk" and "Inorsky", nature trails "Understanding the nature reserve" and "observation of the animals".
The host of the World Cup 2018
Four group stage games of the world Cup FIFA 2018 in Russia will be held on 45-thousand stadium "arena Mordovia". According to the designers, the shape and color of the "Mordovia Arena" symbolize the sun!