World Economy Is Growing but Return to Excessive Euphoria Undesirable
The world economy is growing at an uneven pace but there is no immediate fear of overheating and a return to the growth rates of more than a decade ago is neither likely nor desirable, said economists at the World Economic Forum on Latin America today.
The International Monetary Fund raised global growth forecasts in January for 2018-2019 to 3.9%.
Current growth of 1% or 2% in advanced economies looks weak compared to the naughties boom, but that growth was unrepresentative and directly related to the global financial crash, said Hans-Paul Bürkner, Chairman of Boston Consulting Group, Germany.
"We always look to the period of 2006-2009, so everything looks lower," said Bürkner. "That was fuelled by credit and by fraud and greed, let's be clear about this."
"We are in a very different situation; we are rebuilding employment, consumption, trade, investment. I think we are getting back to what we can reasonably expect, and comparing it to something that should not be repeated is a mistake. The fundamentals look good if we allow them to play out."
Andrés Velasco, Professor of International Practice in International Development at Columbia University, Chile, said the risk today is not of overheating. Even if that were a worry, central bankers have the tools to deal with it, he said. Instead, the ex-finance minister revealed that: "I worry about a sudden loss of confidence."
"It is true that previous crises were crises of private debt," added Velasco. "What has changed is that we now have a lot of public debt. We Latin Americans always had debt, but Brazil now has 60% of public debt, Chile has 20% and Germany 90% gross. If central bankers get tough and therefore real interest rates rise, we may have a debt problem again."
Brazil's Finance Minister Henrique Meirelles agreed that overheating is not yet a concern, but said officials have to be on their guard. "We should be watching to see whether there are no signs of an increase in bubble forming," said Meirelles. "Other than that, evidently [the recovery] is not too fast; in some cases, it is slow and that is normal."
Meirelles also warned that governments and central bankers need to watch out for a "sudden increase in inflation".
The panellists differed on when interest rates will return to "normal", with Meirelles estimating that it is possible within two-to-three years, and Bürkner saying "it will take quite a while".
"If normal means strongly positive real interest rates, that ain't going to happen anytime soon," said Velasco. "But strongly positive real interest rates I think are on the cards any time in the next three or four years."
Violence leaves more than 300,000 'completely reliant' on assistance in northern Mozambique
Worsening conflict, combined with a precarious humanitarian situation, has forced more than 300,000 people to flee their homes and villages in Mozambique's Cabo Delgado province, leaving them completely reliant on humanitarian assistance, the UN World Food Programme (WFP) has said.
"We are deeply concerned about the unfolding humanitarian situation in Cabo Delgado where conflict and violence have left people without access to food and livelihoods," Antonella D'Aprile, WFP Representative for Mozambique, said in news release, on Tuesday.
"The growing insecurity and poor infrastructure have meant that reaching out to people in need has become harder and now with COVID-19 the crisis becomes even more complex," added the WFP official.
Latest findings from the famine early warning system, FEWSNET, indicate that communities will continue to face "crisis" levels of food insecurity – IPC Phase 3 – into early 2021.
Any additional shocks could rapidly worsen the situation, especially for women and children, according to the UN agency.
The situation is even more worrisome given that Cabo Delgado has the second highest rate of chronic malnutrition in the country, with more than half of children under the age of five chronically malnourished. In addition, with the province currently recording the second-highest number of COVID-19 cases in Mozambique, population displacements have the potential to accelerate the spread of coronavirus.
Resources urgently needed
WFP said it urgently needs $4.7 million per month to assist the internally displaced in northern Mozambique, and that without additional funding it will be forced to reduce food rations as early as December.
Despite significant operational challenges, the UN agency, in collaboration with the Government, plans to reach 310,000 people each month in the provinces of Cabo Delgado, Nampula, and Niassa with food, vouchers and nutrition support.
Since 2017, Cabo Delgado had been experiencing attacks by non-State armed groups, leading to gradual displacement of communities. The attacks also resulted in loss of lives and severely damaged infrastructure, causing disruptions in the access to those most in need.
With the latest violence forcing thousands of refugees across the border, into neighbouring Tanzania, concerns over the regionalization of the conflict are deepening, added WFP.
Global solution to COVID-19 in sight, 'we sink or we swim together'
COVID-19 is an "unprecedented global crisis that demands an unprecedented global response", the chief of the UN health agency said on Monday, unveiling a plan to have two billion doses of coronavirus vaccine available by the end of 2021.
Roughly 64 per cent of the global population lives in a nation that has either committed to, or is eligible to join, the coronavirus Vaccines Global Access Facility, or COVAX, which enables participating Governments to spread the risk and costs of vaccine development and provide their populations with early access to vaccines.
Working together through the COVAX Facility "is not charity, it's in every country's best interest. We sink or we swim together", said Tedros Adhanom Ghebreyesus, head of the World Health Organization (WHO).
'Vaccine nationalism' will prolong pandemic
Speaking at a press briefing with the international vaccine alliance GAVI, and the Coalition for Epidemic Preparedness Innovations (CEPI), the WHO chief said that commitment agreements have been secured and the COVAX Facility would begin signing contracts with vaccine manufacturers and developers.
The overarching goal of the COVAX Facility is to ensure that all countries have access to vaccines at the same time, and that priority is given to those most at risk, according to the WHO chief.
"The COVAX Facility will help to bring the pandemic under control, "save lives, accelerate the economic recovery and ensure that the race for vaccines is a shared endeavour, not a contest that only the rich can win", he upheld. "Vaccine nationalism will only perpetuate the disease and prolong the global recovery".
More commitment needed
So far, $3 billion have been invested in the ACT Accelerator – only a tenth of the required $35 for scale-up and impact.
Tedros stressed that $5 billion is needed "immediately to maintain momentum and stay on track for our ambitious timelines".
"Our challenge now is to take the tremendous promise of the ACT Accelerator and COVAX to scale", he said, adding, "we are at a critical point and we need a significant increase in countries' political and financial commitment".
The WHO chief cited estimates suggesting that once an effective vaccine has been distributed, and international travel and trade is fully restored, "the economic gains will far outweigh" the $38 billion investment required for the Accelerator.
"This isn't just the right thing to do, it's the smart thing to do", he spelled out.
COVAX realized
"COVAX is now in business", said Gavi CEO Seth Berkley. "Governments from every continent have chosen to work together, not only to secure vaccines for their own populations, but also to help ensure that vaccines are available to the most vulnerable everywhere".
"With the commitments we're announcing today for the COVAX Facility, as well as the historic partnership we are forging with industry, we now stand a far better chance of ending the acute phase of this pandemic, once safe, effective vaccines become available".
'Great leap' forward
Meanwhile, CEPI CEO Richard Hatchett called the international community's coming together to tackle the pandemic "a landmark moment in the history of public health".
"The global spread of COVID-19 means that it is only through equitable and simultaneous access to new lifesaving COVID-19 vaccines that we can hope to end this pandemic," he said. "Countries coming together in this way shows a unity of purpose and resolve to end the acute phase of this pandemic. Today, we have taken a great leap towards that goal, for the benefit of all".
Reimagining Economies: The Move Towards a Digital, Sustainable and Resilient Future
Under the patronage of His Highness Sheikh Mohammed bin Rashid Al Maktoum, Vice-President and Prime Minister of the UAE and Ruler of Dubai, The Annual Investment Meeting, organized by theUAE Ministry of Economy, scheduled to be held from 20th to 22nd October 2020, under the theme " Reimagining Economies: The Move Towards a Digital, Sustainable and Resilient Future."
As the very first digital edition of the Annual Investment Meeting, AIM Digital will be the first mega digital event in the region to surmount the COVID -19 pandemic that will set a new benchmark for future virtual events in the UAE. It will utilize digital technology to create, showcase, and facilitate new investment opportunities for investors from different parts of the world, providing boundless possibilities across diverse sectors leading towards economic recovery, transformation, and sustainability.
To continue AIM's mission of creating a roadmap to build a resilient future for the global economy despite the current pandemic, the three-day digital event will support and strengthen the investment environment and generate the most attractive and secure investment projects and opportunities for investors.
In this regard, His Excellency Abdullah bin Touq Al Marri, Minister of Economy, said: "The Annual Investment Meeting is an important global platform that brings together officials, experts, investors and major local, regional and international companies to exchange ideas and experiences and work together to develop the investment climate and link stakeholders to enhance development opportunities and come up with innovative solutions. The UAE has managed over the past years to consolidate its position as a pioneering and attractive investment destination for value-added projects, especially in the new economy sectors, and the country has also succeeded in developing its capabilities in planning and anticipating the future, and developing proactive solutions to enhance the resilience of its national economy in the face of global economic changes.
His Excellency added that the UAE government launched a comprehensive plan of 33 initiatives to support all economic sectors in the country and create a more flexible economic environment capable of generating diverse and sustainable opportunities, and encouraging investment in future sectors, especially digital transformation, advanced industries, applications of modern technology, research, development and innovation." He said that the development of a digital model for a global platform for dialogue, such as the annual investment forum, is gaining great importance under the current circumstances and strengthens the country's ability to review its future vision and promote the opportunities offered in its priority sectors to attract and attract investments to it through innovative means.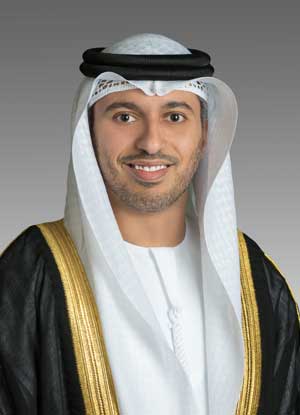 His Excellency Dr. Ahmad Belhoul Al Falasi, Minister of State for Entrepreneurship and Small and Medium Enterprises, said: "The UAE continues its pioneering role as a hub for trade, investment development and business activities, whether in its local markets or at the regional and global levels, and is confirmed today by launching the first digital version of the Investment Forum. Its ability to adapt to the changes in the economic landscape and find innovative solutions to various challenges, such as those that we are witnessing today as a result of the spread of the Covid-19 pandemic, which highlighted the importance of adopting new methods in economic activity, stressing that the establishment of the forum hypothetically at this huge level with the participation of 170 countries represents a new success story that reflects the readiness of the country's economic and trade system to rapidly shift towards digital activities and adopt a more competitive, resilient and sustainable economic model.
Al Falasi added that the Annual Investment Meeting has provided over the past years a pioneering platform to support emerging companies and small and medium enterprises. His Excellency explained by saying: "We will work through this year's edition of AIM to continue supporting and encouraging entrepreneurs and owners of small and medium enterprises by providing them with vital channels for communication with their counterparts in other participating countries to acquire new ideas and knowledge, exchange experiences and attend relevant exhibitions, as well as to establish partnerships and open new markets for their products and services, and this would immediately reflect on their commercial success and their ability to continue and expand. "stressing that the transition to the digital model this year It will allow for wider participation from different countries of the world and will thus increase opportunities for cooperation and growth for entrepreneurs.
"This year's Annual Investment Meeting, in its first digital edtion of its kind, is being held under unusual circumstances that the global economy is going through that requires intensifying dialogue and creating new links that support commercial and investment activities in various world markets."He explained thatthe event will focus on discussing the countries and institutions efforts to provide new solutions and measures that support sustainability, business continuity and flexibility in facing various challenges. said His Excellency Dr. Thani Bin Ahmed Al Zeyoudi, Minister of State for Foreign Trade.
His Excellency added: "Through this year's edition of AIM, we will make sure to allow businessmen and capital owners to meet and conclude strategic agreements and partnerships, and to open new and vital channels for work in various investment fields, explaining that the forum's agenda for this year will be rich in sessions, dialogues and digital exhibitions. Over the course of three days, and expressing optimism that the outcomes of this session will contribute to creating more creative ideas, initiatives and qualitative projects that represent an added value to international efforts in enhancing the global economic climate and preparing it for the post-Covid-19 phase.
AIM's unique digital exhibition will be participated by Ministries and Government Departments, International and Regional Organisations, Investment Promotion Agencies, Special Economic Zones, Private Equities, Angel Investors, Venture Capitalists, Banking & Financial Institutions, International Investment Institutions, Startups, Incubators and Special Programmes, SME Financing Institutions, Smart City Solution Providers, and Technology Providers, among others, from more than 170 countries, which means even more abundant opportunities for economic productivity and expansion.
"We are all aware that the global economy has been severely affected by the COVID-19 pandemic. However, this global outbreak must not cause economic paralysis and impede recovery but must serve as a stimulus to persistently look for opportunities to surmount the challenges. Technology is one of the tools available to us that we need to take advantage of to fight the impact of pandemic, which is why AIM Digital was conceived. It is indeed a major initiative that brings innovation and investment opportunities together in one virtual platform for investors to fuel economic resilience and transformation" said Mr. Dawood Al Shezawi, the Head of the Organizing Committee of the Annual Investment Meeting.

Diverse topics have been meticulously discussed such as Economic Fallout of Covid 19 on Female Founders, Accelerating Technologies during Time of Crisis, Ensuring Food Security & Sustainability against Pandemic: Innovation and Business Opportunities of Agriculture in SMEs, Strengthening the Global Partnership in International Trade during Pandemic Crisis, Post-Pandemic Cities: What Will They Look Like, Business Opportunities of Agriculture in SMEs, The Vision From Investors in The Middle East, Urban Mobility: Road To Recovery And The Effectiveness Of Attracting FDI in The Times Of Crisis, Smart Cities Of The Future Workshop, Challenges For Agribusiness in Latin America And The Vision From Investors in The Middle East. Additionally, AIM Digital continues to offer interactive investment activities 365 days of the year to support the global investment community.
AIM Digital Features
Placing the spotlight on AIM's six pillars – Foreign Direct Investment, Foreign Portfolio Investment, Small and Medium-sized Enterprises, Startups, Future Cities, and One Belt, One Road, AIM Digital will showcase different features that will extensively boost investment opportunities in various sectors.
Pre-Conference Workshop: Conducted by renowned industry experts from across the globe, this series of interactive professional coaching sessions have been tailor-made to enrich the experience of its participants and prepare them in finding lucrative opportunities for investment.
Conference: A platform where expert insights, best practices, and ideal investment policies are shared with participants. Leaders and specialists from the investment community will lead the virtual discussions to explore relevant topics about each of the six pillars of AIM.
Exhibition: Participated by the best local and international exhibitors across the globe, the Exhibition features different countries, smart city solution providers, startup companies, and SMEs, with the ultimate goal of achieving economic growth for their respective country and region.
Digital Country Presentation: It unveils the world's best investment destinations by featuring every country's key economic and investment environment features digitally. A platform for municipalities, cities, and countries to promote investment opportunities at their location and highlight the potential of their sector to prospective investors.
Startups Virtual Pitch Competition: An opportunity to present business ideas to a diverse array of global investors on the lookout for the next big thing. The winners of the start-up virtual pitch competition will compete for the National Champions League. Individual startups may register for the Global Technopreneurs.
Conglomerate Presentations: A virtual line up of Large Multi-Industry Groups keen on showcasing their investment roadmaps and key sectors of interest to an impressive panel of AIM investment promotion agencies, SMEs and government officials enthusiastic about making sustainable investments in their respective countries.
Awards: Recognizing the outstanding contributions of Investment Promotion Agencies, SMEs and Start-ups in bolstering and securing investment for a particular location. Awards will be presented to various investments made to regions and countries that have resulted in significant economic growth.
Investors' Hub: Held within a digitally secured environment, a virtual meeting where top investors will have an audience with official government representatives to cultivate the formation of investment partnerships and collaboration.
Regional Focus Sessions: Centered on three regional conversations that examine the economic landscapes of Africa, Asia and Latin America, the discussions will be an informed exploration of the regions' risks, challenges and opportunities for growth that are waiting to be harnessed through regional cooperation.
Made in Series: This viable digital feature is open to all SMEs who wish to showcase their local products and services to an international platform. Being a part of the series could help the participating country to promote their locally manufactured products or services, present value proposition to a focus global audience, and network with potential global partners for future collaboration.
Investment Roundtables:The investment roundtable feature of AIM 2020 is a gathering of Ministers, Deputy Ministers and Heads of Investment Promotion Agencies (IPAs), Investors and Decision Makers. The main objective of this feature is to facilitate a platform for government decision makers to discuss with investment companies to create a feasible investment model matching government and investor requirements. At the end of the sessions, a feasible investment model shall be developed.
Networking Features: A medium to strengthen business relationships and serve to the expansion of business portfolios. Vast features are conveniently available and accessible for ease of communication and networking on the platform.
The Annual Investment Meeting also plans to expand its footprint across the economic landscape as it gears up for its upcoming hybrid edition which will take place on March 21 – 23 followed by its Mega edition during EXPO2020, the World's Greatest Show. The Hybrid Edition will be primed to feature massive investment opportunities from more than 170 countries, securing the highest return of investments for investors across the globe.
Furthermore, the Annual Investment Meeting is also delighted to launch its official e-magazine, Global Catalyst, which will serve as the global investment community's no.1 digital source of the latest news, feature articles on trending topics, and critical analysis on fundamental issues affecting the investment environment, serving as a powerful catalyst for global economic growth. The Global Catalyst, is a quarterly digital publication that provides a captivating blend of news and features about the investment environment, as well as thorough analyses and research studies on major issues concerning the global economy. It also features success stories and in-depth interviews from prominent personalities in the global investment community to offer invaluable insights. In its first issue, Global Catalyst will give emphasis on its theme, "Rebooting the Future of Global Economy" which sparks the revitalising idea of starting anew, finding innovative methods and strategies, and building new perspectives in relation to the global economy.
Acknowledging the shift to the digital landscape and integrating technological advancements assists in developing smart, digital and sustainable nations as AIM Digital generates boundless possibilities towards economic recovery, transformation, and sustainability.
For more information on AIM Digital, visit www.aimcongress.com
About the Annual Investment Meeting
The Annual Investment Meeting (AIM) is an initiative of the UAE Ministry of Economy, held under the patronage of His Highness Sheikh Mohammed bin Rashid Al Maktoum, Vice-President and Prime Minister of the UAE, and Ruler of Dubai. AIM is the world's leading investment platform with over 16,000 participants coming from more than 140 countries. Over 400 exhibitors and co-exhibitors, 60+ high-level dignitaries, 150+ investment specialists and experts have participated in AIM 2019.