The importance of telemedicine technology for Africa
Many African countries are still consistently looking forward to improve healthcare delivery to millions of people living in rural communities with little success. In this interview, Professor Mikhail Y. Natenzon, chairman of board of the "National Telemedicine Agency" Research-and-Production Union and also deputy head of the Regional Working Group for Telemedicine of the Regional Commonwealth for Communication of the CIS countries, tells Kester Kenn Klomegah, an independent researcher and policy consultant on African affairs in Russia and Eurasian region that the establishment of compatible national telemedicine systems, which has many advantages, can suitably be adapted to the local conditions of any particular African country.
How important is modern telemedicine technology for African countries? And the reasons why you are passionately exploring Africa?
Economic development of African countries reached the level where the government can begin a strategic reform of health systems to create a modern, meeting the world standards of health care. The implementation of these programmes will solve health problems and give African countries the opportunity to take the next leap forward in economic and social development.
African governments and international specialized organizations have now developed and are implementing various programmes to improve the quality of life of African populations. The most advanced project is the elimination of the epidemic of socially dangerous diseases such as HIV/AIDS, tuberculosis and malaria and allocate significant funds for it. Indeed, one of the problems of the slow development of African economies is the fact that people suffering from malaria are unable to work effectively and vigorously. Another important international project is the maternal and child mortality reduction programme.
Significant, multi-billion dollar funds have been allocated by governments and international organizations to these projects, and the results are clearly not in line with the efforts made. The efficiency of investments is not large enough.
The reasons for this are, inter alia, the inadequate health infrastructure in Africa, its concentration in major cities and the almost total absence in rural, remote and hard-to-reach areas, where about 60 per cent of the population-600 million people-live. It is obvious that the traditional methods of providing medical care can not work in the current situation.
Therefore, we have developed new methods to ensure accessibility and a single high standard of quality medical care for the population, especially in rural areas and remote areas. These system solutions, technologies and equipment are based on the widespread use of Russian information and telemedicine technologies. These proposals are now practically non-alternative, as confirmed by the documents of the UN, the world Health Organization, the International Telecommunication Union, the African Development Bank and other international organizations.
As it's already known, many African rural communities are very limited or disadvantaged with sources of energy (electricity), but how could telemedicine be useful for these remote areas of the continent?
The problem of all rural areas in Africa is the underdeveloped social and health infrastructure. Its creation with the traditional approach is a long and very expensive project. Moreover, such infrastructure will always experience a shortage of qualified medical and technical staff. But most importantly, its exploitation will require large funds that are not available to either rural communities or the state. The only solution for the cost effective implementation of social development goals in Africa so far is the establishment of an integrated telemedicine system.
It consists of two parts: network of telemedicine consulting-diagnostic centers, established in stationary medical institutions of different levels, and communication associated with them system of the mobile telemedicine laboratory diagnostic facilities (the ITC) in various fields. The ITC is designed to address a wide range of health challenges and provide social services to people in rural, remote and remote areas. Built on international standards, it integrates with similar systems in other African countries and Russia, interacting with telemedicine systems in other countries.
A key element of the mobile telemedicine complex and mobile hospitals can provide medical care to the population in remote and inaccessible areas in a completely autonomous manner. They have their own power supply system, communication system, up to the satellite, life support systems, crew systems cleaning air and water and many other optional installed systems required for successful operation. Most importantly, the personnel of the ITC may not be a doctor, but an average medical worker. Use MTK allows radically solving the problem of comprehensive medical services to the rural communities. Their residents will not have to get to the city hospitals. The hospital will come to them.
At the same time, qualified doctors working in provincial hospitals, to which the ITC is assigned, can provide advice through telemedicine equipment to personnel of several ITC operating in different parts of the province. This solves the problem of shortage of qualified doctors and reduces the cost of operation of MTC.
Can you discuss innovative tools available in the plant and key competitive advantages? Do you have all the equipment and / or components manufactured in Russia?
The main goal and the main competitive advantages of the medical complex are the solution of four socially important tasks: ensuring accessibility of medical and social services to the population; providing a unified high quality medical and social services for citizens regardless of their place of residence and social status.
It helps optimization of the cost of healthcare while improving its quality and coverage and creation of permanent jobs for highly qualified technical and medical personnel, ensuring the creation and operation of complex.
Other important competitive advantages of the systems offered by us are: High capacity of MTC – up to 20,000 people per year, and therefore, almost 100% coverage of health care for the entire population.
Low cost of rendering medical services to the population due to use of the average medical personnel and absence of need to build stationary medical institutions and to spend means for their operation.
Possibility of step-by-step realization of the project, the complex telemedicine system. At the same time, the system itself begins to function fully from the start of its first segment. Connecting the following segments extends the functionality of the system and without requiring structural adjustment.
There is high investment attractiveness. The expected return on investment in the project is 5-6 years. The functioning of the system is an important contribution to the stable development of the state, providing an increase in the human capital development index. There is also professional development of medical personnel and the use of international standards and the possibility of organizing cross-border telemedicine consultations.
All equipment which is a part of complex telemedicine systems: stationary telemedicine consulting and diagnostic centers for stationary medical institutions of all levels (from the Central hospitals in the capital, to the para-medicine point in the small village), mobile telemedicine laboratory and diagnostic complexes of various medical appointment with all equipment, communication equipment, satellite communication systems, guarantee maintenance of system, preparation of medical and technical personnel for system functioning is the Russian know-how, certified and manufactured in Russia.
At the request of the customer, the system offered by us can be connected with the existing telemedicine systems in the country. The system can begin to operate immediately after the installation of equipment in the country and completion of training. The system is delivered on the principle of "turned on and work" without any complications.
What will be the main direction in terms of implementation of this medical technology projects in Africa? And what are your expectations from African governments?
The main direction of our project for Africa is the gradual creation of compatible national telemedicine systems that can interact with each other and in the long term to create a pan-African telemedicine system. The telemedicine system becomes economically and socially effective when it is a queueing system. This is exactly how the proposed system is designed.
Health systems in almost all countries of Africa basically are state-owned. Therefore, the establishment of compatible national telemedicine systems is possible only in close cooperation with the regional Ministries of health, so that the project can be adapted to the conditions of a particular country and at the same time maintain the universality of national telemedicine systems, so that they can interact with each other. We know the serious efforts that African Governments are making to promote health, and we hope that our cooperation in implementing telemedicine systems will yield significant, qualitatively better results.
Civil Society Engagement at the Core of US-African Relations in Multipolar World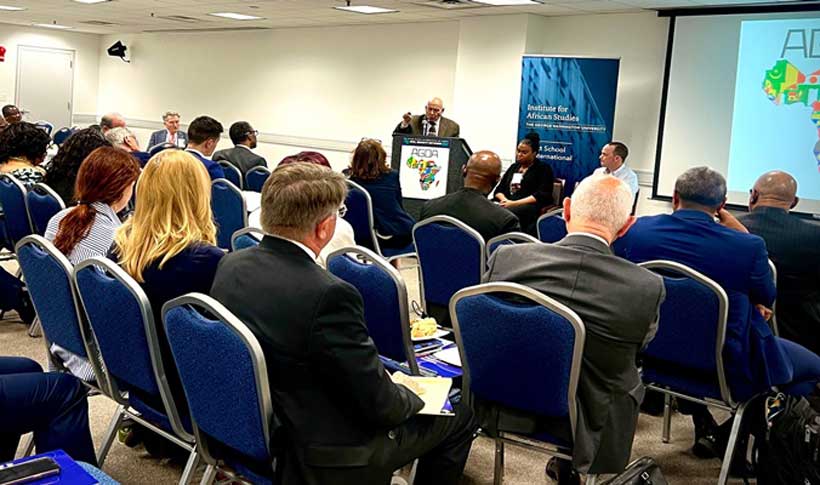 United States has held its 8th annual civil society forum to review progress, examine challenges and renew interest in forging ways to strengthen relations with Africa. United States has the largest African diaspora which has close-knitted business, educational and cultural links with the African countries. This helps to support official efforts in promoting relations with Africa.
The conference was a hybrid event that brought together civil society organizations, business, and government leaders from across Africa and the United States virtually and in person. The purpose of the gathering was to advocate for a ten (10) year Enhancement/Extension of AGOA benefits from 2025 to 2035, support the African Union's Agenda 2063, including the implementation of the African Continental Free Trade Areas and an African Customs Union, and to come up with recommendations on the way forward.
Since its passage by Congress on May 18, 2000, and signing into law on October 2, 2000, by President Bill Clinton, the African Growth and Opportunity Act (AGOA) has been the cornerstone of U.S. economic engagement with the countries of Sub-Saharan Africa (SSA).
AGOA is a long-term commitment with broad bipartisan support. On June 25, 2015, Congress overwhelmingly approved the Trade Preferences Extension Act (TPEA) of 2015, and on June 29, 2015, President Barrack Obama signed TPEA into law. TPEA reauthorizes AGOA and the associated "third Country fabric "provision for ten years through 2025.
Congress passed, and the executive branch implemented three prior legislative enhancements of AGOA, with significant bipartisan support in 2002, 2004, and 2006.
Discussion Highlights:
The Biden-Harris Administration is committed to strengthening US-Africa trade and commercial relations and engaging Congress on the next steps for AGOA.
In December 2022, the African Union Ministers of Trade from the AGOA-eligible countries met in Washington, DC, at the request of Ambassador Katherine Tai, USTR, "to have a full and frank exchange of views on how to work together to improve the utilization rates under AGOA and ensure that the program can be an effective tool for development."
At those high-level engagements, there was consensus that there is a need to extend AGOA beyond 2025. The recommendation has been tabled before the US Administration. During the meeting, Ambassador Tai, the African Ministers, and the Africa Group of Ambassadors also underscored the following:
• An extension of AGOA for at least ten years with the inclusion of ALL African countries
• The importance of Africa speaking with One Voice in all US-Africa trade and investment engagements; and,
• Enhanced commercial diplomacy between the US and Africa. There was also agreement that South Africa would host the next AGOA Forum in August/September this year.
United States Trade Representative (USTR) Ambassador Katherine Tai is committed to robust trade and economic collaboration with Sub-Saharan Africa. USTR Tai believes that Africa is the future. On-going discussions are taking place with African nations, including negotiations between Kenya and the U.S. regarding a strategic trade and investment partnership.
Stringent requirements from the various U.S. trade regulatory authorities and the limited industrialization capabilities in Africa are factors for the very low utilization of AGOA benefits. As a result, only a few product lines, such as fossil fuels, vehicles, clothing, textiles, and currently, Beef, are exported from Africa under AGOA.
Under-utilization has caused African exports to the U.S. under AGOA to decline from USD 78.01 billion in 2013 to USD 28.19 billion in 2022, resulting in a setback for Africa.
African countries are devising methods to improve export diversification, growth, and industrialization, including developing regional and continental value chains. These efforts present a tremendous opportunity for US companies to take advantage of the market provided by the African Continental Free Trade Area.
Succeeding in the African Continental Free Trade Area, a market with enormous growth potential, requires investing.
Each State participating in the African Continental Free trade agreement retains its national external tariffs. Exporting into this market will generate tariff charges.
Creating an African Customs Union will allow for a shared external tariff and pave the way for Africa to establish free trade agreements with trading partners.
American companies can enjoy duty-free exporting from their home bases, and Africa is in a better position to grow US-Africa trade with the African Customs Union in place.
A renewed U.S. policy on AGOA should prioritize investment in specific sectors, such as Trade, Financial Services, Health, Climate, Food Security, Tourism, and Logistics, including Gateway Initiatives and the Digital Economy.
Targeted U.S. investment conducted in partnership with businesses and institutions in each AGOA-eligible country, and per their respective utilization/transition plans, will catalyze American investment and technology, encourage innovation, instill U.S. values and best practices throughout Africa, create more jobs for youth on both sides of the Atlantic Ocean, and fill in gaps in markets across the continent in preparation for the African Continental Free Trade Area and the African Customs Union.
Africa is the major consumption hub of the future. The general population is young and increasing, the African middle class is also growing and with it, demand for industrial goods is 1.5 times higher than the global average.
The issue of low utilization rates of AGOA benefits needs to be addressed. Studies show that nations with AGOA Country Strategies have higher utilization rates than nations without country strategies, and these countries use AGOA benefits to create good-paying jobs.
The utilization rate of the Generalized System of Preferences (GSP) and all U.S. preferential trade programs for Least Developed Countries (LDCs) has decreased. AGOA is the only U.S. preferential trade program with a positive utilization rate of about 1.6%.
The metric and measure of AGOA's success should be contingent on RETURN ON INVESTMENT, not its short comings.
AGOA's cost to U.S. taxpayers is nominal especially compared to U.S. investment in Development Aid to Africa.
AGOA's non-oil imports have risen approximately 307% to $5.7 billion in 2022, while AGOA's apparel imports have singularly increased by more than 280%.
AGOA has created hundreds of thousands of new direct jobs and millions of indirect jobs in Africa in the textile, agricultural, and automotive industries and more than 500,000 in the U.S.
The economic impact of the COVID-19 Pandemic and Putin's Conflict in Ukraine poses a threat to US-Africa trade and investment, US-Africa strategic alliances, and gains made over the last two decades using the benefits of AGOA. AGOA has incentivized marketbased economies that safeguard private property rights, the rule of law, political pluralism, and the right to due process. It has also enhanced healthcare and education access while protecting globally acknowledged workers' rights. All these achievements are now at risk.
AGOA remains a transformative success story. Despite AGOA's challenges and areas of needed improvement, AGOA serves as "proof of concept" at a small financial cost to the U.S. taxpayer, which did not exist 20 years ago.
Africa is the major consumption hub of the future. The general population is young and increasing, the African middle class is also growing and with it, demand for industrial goods is 1.5 times higher than the global average
The region of Africa is too significant to ignore. Simply giving inspiring speeches and using diplomacy will not be enough for America to regain its economic and commercial leadership in Africa.
Members of Congress want to see AGOA benefits shared widely and used to create goodpaying jobs across Sub-Saharan Africa (SSA); members are open to discussions on ways to build on what is working, and deliberations by members and staff on the future of the legislation are ongoing as re-authorization is approaching in 2025.
There is interest on Capitol Hill to see how investment can be coupled with trade to address poverty reduction and advancement in targeted sectors, such as health care, critical minerals, and others.
Work in Progress Financing helps micro, small, and medium/smallholder farmers to increase productivity and create jobs.
Investing in a Special Purpose Investment Fund and taking advantage of tax incentives should be seen as an opportunity for the American public to support the growth of youth, effective governance, innovative ideas, strategic alliances, and the vast potential of African markets.
Congress never intended for AGOA to be permanent – it is a Trade Preference Agreement (TPA). And all TPAs must meet standards and requirements set by Congress.
Out-of-cycle reviews provide African nations with the opportunity for reinstatement once the sanctions have been addressed.
When AGOA is up for renewal, there is a decline in trade figures across the board, particularly in the apparel sector. Uncertainty regarding extending AGOA affects investment potential in AGOA-eligible countries. Extending AGOA for ten years will stimulate investment in AGOA-eligible countries.
AGOA needs to be extended as most people, especially women, and SMEs, are just beginning to learn about AGOA when the current legislation is about to expire.
Recommendations: During the event, delegates made the following recommendations:
1. The Biden-Harris Administration and the 118th Congress enhance and extend AGOA benefits for ten years from its current September 2025 sunset to September 30th, 2035, to support the African Union Agenda 2063 and the creation of an African Continental Free Trade Areas and African Customs Union – critical tools necessary to utilizing trade to strengthen U.S.-Africa strategic alliances.
2. Expand AGOA benefits to all 55-member states of the African Union from the current 49 Sub-Saharan African countries.
3. The U.S. must deliver on commitments made to Africa during the US-Africa Leaders' Summit, including a $55 billion pledge to support the African Union's Agenda 2063 and the creation of a new Digital Transformation with Africa (DTA) initiative intended to invest more than $350 million in financing Africa's digital transformation.
4. The AGOA CSO Network and private sector stakeholders, with the support of the 118th Congress, the Biden-Harris Administration, and the African Union Commission, to establish a $5 Billion Special Purpose Investment Fund (SPIF), with tax incentives to catalyze U.S. investment, technology, innovation, shared values, and best practices throughout Africa.
The 8th Annual AGOA CSO Network Spring Conference, under the theme 'Extending AGOA to 2035' was jointly coordinated by the AGOA Civil Society Organization (CSO) Network Secretariat and The Foundation for Democracy in Africa (FDA), in partnership with the Institute for African Studies, The Elliot School for International Affairs and George Washington University.
French-African Foundation Celebrates Achievements with Young Leaders from Africa
Placed under the high patronage of the President of the French Republic Emmanuel Macron and the President of the Republic of Rwanda Paul Kagame, the French-African Foundation will bring together the new class for a week in France in June 2023 and then a week in Rwanda for high level meetings, interactive training and privileged moments of professional and personal exchanges with leading Franco-African and international personalities from the political, economic, cultural, sports and associative spheres.
Young African leaders aged between 28 and 40 years in 2023, have also been chose based on competitive performance in various areas and who have commitment to African's development. These young professionals have shown inclusive leadership that impacts on the community, country or region. Display of a privileged relationship with France and Africa.
This year, more than 2,000 young professionals from 53 African countries and France applied for the annual French-African Foundation's Young Leaders programme, which aims to shine a light on outstanding individuals who are bridging the gap between the two regions. After several selection stages and hundreds of auditions conducted by an independent jury, 30 young leaders were selected for their commitment to boosting Africa-France relations.
"The 30 Young Leaders innovate daily in their activities and redraw the contours of thelink between France and Africa by helping it flourish in all areas. Taking into account the environmental, social, political and economic challenges shared by the two shores of the Mediterranean, the foundation is counting on these young people to help provide solutions, embody the relationship and develop it further. As a link between Africa and France, Marseille is the ideal city to launch this new class!" – quote from Nachouat Meghouar, CEO of the French African Foundation.
Quotes from three Young Leaders: "Today, thanks to digital innovation, women have the opportunity to emancipate themselves and develop new skills, whether they are in Los Angeles or in a remote region of Cameroon. This desire for equality but also for economic and social justice allows us to find common and sustainable solutions. This is what I wish to promote for France, Cameroon and the African continent," Nelly Kambiwa, Cameroonian, CSR Director Sopra Banking.
"The future of cinema and audiovisual creation is in Africa! The African continent is full of talent and unique stories. Within the CANAL+ Group, I am very proud to support pan-African producers, actors, scriptwriters, directors and technicians in the creation of their television series. Ambitious dramas, shot in the four corners of the continent, are thus offered, under the CANAL+ Original label, to millions of viewers in Africa, in France and throughout the world. What a pleasure to participate in the promotion of African cultural excellence!" Anthony Koka, Franco-Congolese, Fiction Programme Advisor at CANAL+International
"I am Franco-Algerian and I want to be a solution for my two countries Algeria and France in their diplomatic relations. I think it is time to look forward and to draw a common future for our children. And I hope to help future generations by giving millions of French and African children a glimpse of the challenges of digital technology and more particularly of artificial intelligence through the projects we are carrying out with the start-up Evolukid, which I created seven years ago. These are powerful tools for imagining the world and also for meeting the technical needs of many public and private players." Morad Attik, co-founder of the start-up Evolukid and founder of the Kesk'AI programme.
From war-torn Khartoum, Maha Dahawi, a doctoral student in genetics and Young Leader 2023, spoke out to express her support for the Sudanese people who are suffering from the war and the abuses carried out by the militias. In a poignant testimony, she called for hope in order to rebuild her divided country with her peers and shared her joy at joining the Young Leaders programme.
As part of their giving back to the society, and in the interest of contributing to the development of this great continent, young leaders identified different areas of interest under the broad theme of sustainable development in which they carried out activities including development-oriented projects and research to catalyze development of the continent of Africa.
It also involves playing useful roles in sustainable growth and development of their societies, by applying their skills, technical know-how, knowledge and experience to decipher things that may not be working properly in order to innovate ways for creating a change.
Double French and Rwandan patronage: After Ghana's President Nana Akufo-Addo in 2019 and Senegal's President Macky Sall in 2021, this year's French-African Foundation Young Leaders programme is under the dual patronage of Rwandan President Paul Kagame and French President Emmanuel Macron.
Rwanda Development Board Director General, Clare Akamanzi welcomed the new promotion to Rwanda; a privileged destination for tourism and international investments thanks to the gains in stability under the leadership of President Paul Kagame.
​The French-African Foundation, an association created in 2019, aims to contribute to the emergence of a new generation of African and French leaders capable through their values and means of action, of meeting the economic, social and political challenges of the time. It further aims at identifying, bringing together and promoting high potentials in strengthening African and French relations.
The 2021 edition was placed under the High patronage of the French President of the Republic, His Excellency Emmanuel Macron and under the High Patronage of the Senegalese President of the Republic, Macky Sall, Senegal being the host country where the second edition took place. To find out more, visit the Foundation's website: https://www.french-african.org/
BRICS FM Meeting in South Africa: Readiness for Expansion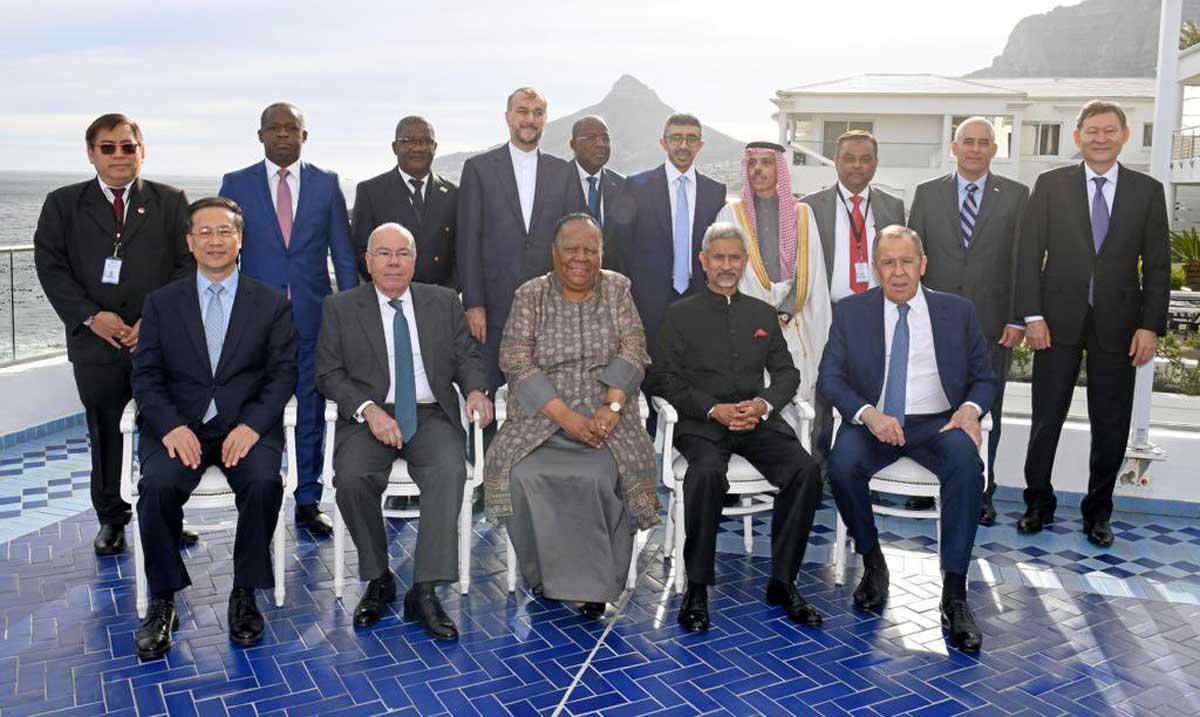 At the Brazil, Russia, India, China and South Africa (BRICS) foreign ministers meeting in Cape Town early June, there were high expectations. The first on the agenda was International Criminal Court's arrest warrant issued from The Hague for Russian President Vladimir Putin if he travels to the country. From historical perspectives, South Africa and Russia have close relationships from the time of the former's political and liberation struggle, and with developments until it joined BRICS in 2010.
On the unofficial levels, Putin has worked out friendship with both former President Jacob Zuma and the current South African Cyril Ramaphosa. We know very well that this strategic relationship is (un)doubtlessly influencing politics between the two countries and of course, the two plus China in BRICS.
Putin is the target of an International Criminal Court (ICC) arrest warrant over accusations that Russia unlawfully deported Ukrainian children. A member of the ICC, Pretoria, which has close diplomatic ties with Moscow, would be expected to arrest Putin if he sets foot in the country.
The South African government previously drew international criticism in 2015, when it refused to execute an ICC arrest warrant for then-Sudanese President Omar al-Bashir, who had been indicted for war crimes and genocide, while he was attending a meeting of African leaders in Johannesburg. South Africa's Supreme Court of Appeals ruled that the government had acted unlawfully and the ICC found that it had failed to failed to comply with its international obligations.
Reading further around reports which emerged from the foreign ministers meeting, there was the both local and foreign media, including Reuters, AP, AFP and Bloomberg said South Africa was now considering switching the venue of an upcoming summit of BRICS leaders to another country. This move that would resolve its dilemma over whether to execute an international arrest warrant for Putin. In fact one highly possibility is to task China to host the BRICS leaders summit in August.
But the Department of International Relations Minister Naledi Pandor's spokesman, Lunga Ngqengelele, said that as things stand, the summit will be held in Gauteng province, where the commercial hub of Johannesburg and the capital, Pretoria, are situated. "As far as we are aware, we have announced the summit venue as Gauteng, South Africa. That is what we know as of today." according to Lunga Ngqengelele.
Secondly, the BRICS foreign minister are concerned about new currency that could be used to dodge sanctions. The BRICS National Development Bank specially created bank to provide guidance on a how a potential new shared currency might work, including how it could shield other member countries from the impact of sanctions such as those imposed on Russia. The foreign ministers already discussed, at length, long before the meeting but how the bloc can win greater global influence and to challenge the United States still remained for future.
The BRICS are looking to "ensure that we do not become victims to sanctions that have secondary effects on countries that have no involvement in issues that have led to those unilateral sanctions," Naledi Pandor, South Africa's minister of international relations, told reporters after the meeting. Proposals are being considered by officials at the New Development Bank, the Shanghai-based lender created by BRICS nations, and the bloc "will be guided to them as to what the future models might be," Pandor said, without providing further details.
Thirdly, plans for expansion. In fact, BRICS activities have expanded during the past few years. Countries participated in the Outreach and BRICS plus segments of the organization. There are also a number of African countries including Algeria, Egypt, Ethiopia, Nigeria and Senegal have also shown interest. Egypt has already been involved for a fairly long time. Last December 2022, Egypt, the decision on its accession to the New Development Bank was made by BRICS.
The prospect of adding more members was first raised at last year's summit in China and 13 nations have formally asked to join, with at least seven others expressing interest. Now BRICS ministers were joined by counterparts from countries including Saudi Arabia, the United Arab Emirates, Egypt and Kazakhstan. Also and with more than 20 countries aspiring to join. Asked about a meeting held with a Saudi Arabian delegation, Russian Foreign Minister Sergey Lavrov said only that the issue of the kingdom joining was discussed, amid broader talks about how the bloc should expand its membership.
Saudi Arabia's potential accession to BRICS would bolster Crown Prince Mohammed bin Salman's attempts to diversify his nation's economy, an effort that has bought it much closer to Russia and China in recent years. China is the kingdom's most important oil customer, while it relies on relations with Russia to help prop up crude prices through OPEC+.
For the Gulf region, joining major trade blocks makes sense as countries seek to expand trade ties and develop as global transit hubs, a person familiar with Gulf thinking said. Plans to join have been in the works for a while and momentum has been building toward this point, the person said.
BRICS, which invited South Africa to join in 2010, has failed to punch its weight as a group. That's despite its members representing more than 42% of the world's population and accounting for 23% of global gross domestic product and 18% of trade, giving credence to demands for more sway.
South Africa believes that the bloc could be "transformative" representing those nations that wish to play a role in world affairs, ensuring benefit to the Global South. "BRICS has acquired a very important stature in the world, with many countries across various continents of our world seeking to be part of it," South African President Cyril Ramaphosa told lawmakers in Cape Town.
South Africa has its own internal problems, deepening each passing day. The ANC is playing hard on its foreign relations with external Countries especially with Russia, the United States and Europe. The geopolitical tensions have added to worries about the impact on South Africa's economic outlook from daily blackouts and logistical constraints that are hampering exports, with the rand falling to successive record lows over the past month.
South Africa, as per stipulated approved guidelines and rules, holds the rotating presidency of BRICS, the organization of five emerging developing countries made up of Brazil, Russia, India, China and South Africa. The BRICS is a model organization of genuine multilateral diplomacy. Its structure is formed in compliance with the 21st century realities.
From all indications BRICS is developing, the first meeting of the group began in St Petersburg in 2005. It was called RIC, which stood for Russia, India and China. Then later, Brazil joined and finally South Africa in February 2011, which is why now it is referred to as BRICS. The acronym BRICS is derived from the member-countries names in English. The BRICS (Brazil, Russia, India, China and South Africa) collectively represent about 26% of the world's geographical area and about 42% of the world's population