Mexico: UN report points to torture, cover-ups in probe into disappearance of 43 students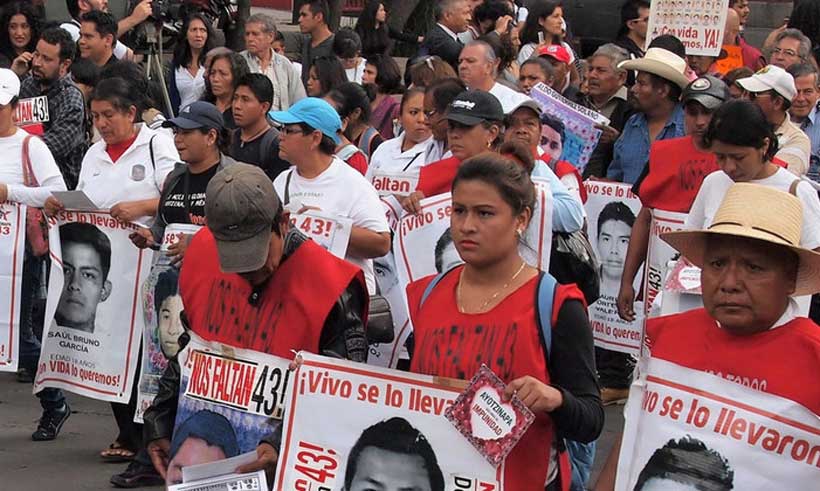 The United Nations human rights wing said Thursday that it has strong grounds to believe that the investigation into the disappearance of 43 students from a rural Mexican college in 2014 was marred by torture and cover-ups.
By reviewing the cases of 63 individuals prosecuted in connection with the students' disappearance from Ayotzinapa Teachers' College in Guerrero, the Office of the UN High Commissioner for Human Rights (OHCHR) shed light on some of the flaws of the early stages of the investigation, rather than addressing who were responsible for the crime.
In the report, titled Double Injustice – Human rights violations in the investigation of the Ayotzinapa case, OHCHR said it has solid grounds to conclude that at least 34 of these individuals were tortured, based on the judicial files, including medical records of multiple physical injuries, and on interviews with authorities, detainees and witnesses.
"The findings of the report point to a pattern of committing, tolerating and covering up torture in the investigation of the Ayotzinapa case," said UN High Commissioner for Human Rights Zeid Ra'ad Al Hussein.
"This not only violates the rights of the detainees, but also the right to justice and to truth for the victims of the events of September 2014, their families, and for society as a whole," he added.
The report highlights how people were arbitrarily detained and tortured to extract information or confessions, and the significant delays in bringing them before a public prosecutor, often placing them outside the protection of the law.
The report states that the internal oversight unit of the Office of the Attorney-General of the Republic (OAG) appeared to have made a genuine effort in 2016 to address some of alleged torture or other human rights violations, but this internal investigation was subsequently thwarted by the replacement of the officials in the unit. To date, there has been no prosecution and sanction for the acts of torture or other human rights violations, the report says.
"Ayotzinapa is a test case of the Mexican authorities' willingness and ability to tackle serious human rights violations," Mr. Zeid said, urging the Mexican authorities to ensure that the search for truth and justice continues, and those responsible for torture and other human rights violations during the investigation are held accountable.
Strong outbound tourism demand from both traditional and emerging markets in 2017
Virtually all source markets reported higher tourism spending in 2017, reflecting continued strong demand for international tourism across all world regions. Both emerging and advanced economies fuelled growth, led by the United States which spent US$ 12 billion more on travel abroad. China spent US$ 8 billion more, consolidating its leadership as the biggest spender in the world. The Russian Federation spent US$ 7 billion more and Brazil US$ 5 billion more, both rebounding from weaker spending in previous years. Strong tourism expenditure reflects enhanced connectivity, increased visa facilitation and a global economic upswing.
All top 25 source markets reported higher spending on international tourism in 2017, as highlighted in the latest UNWTO World Tourism Barometer. China consolidated its leadership as the biggest spender in travel abroad in 2017 with US$ 258 billion in expenditure (+5% in local currency).
The other three BRIC economies all substantially increased expenditure in 2017. The Russian Federation (+13%) rebounded after a few years of declines, to reach US$ 31 billion, climbing three places to re-enter the top ten at number 8. Brazil (+20%) also recovered strongly and moved up eight places to number 16 with US$ 19 billion in expenditure. India continued its rise with 9% growth in spending to US$ 18 billion and moved up four places in the ranking to 17th.
"Emerging economies play a key role in tourism development and we are very pleased to see the rebound of the Russian Federation and Brazil, and the ongoing rise of India, as these key emerging outbound markets contribute to growth and market diversification in many destinations", said UNWTO Secretary-General, Zurab Pololikashvili.
Advanced economies also performed robustly in 2017, led by the United States (+9%), the world's second largest outbound market. US travellers spent US$ 12 billion more on international tourism to US$ 135 billion. Expenditure from Germany (3rd largest market) and the United Kingdom (4th) both increased 3%, and from France (5th) 1%.
Australia (6th) reported 7% growth and Canada (7th) a 9% increase. Completing the top ten are the Republic of Korea (9th) where expenditure grew by 9% and Italy (10th) where it increased by 6%.
Beyond the top ten, tourism spending also grew notably in Sweden (+14%) and Spain (+12%).
These strong results in outbound tourism are consistent with the 7% increase in international tourist arrivals in 2017. Demand for travel was particularly high in Europe, where arrivals increased 8% last year.
IEA holds high-level workshop on the future of electricity
The future of electricity will be the "fuel" focus of the next World Energy Outlook, the International Energy Agency's flagship publication, to be released in mid-November.   
As part of an agency-wide effort on this WEO electricity focus, the IEA hosted a high-level workshop in Paris on Tuesday, bringing together decision makers and leading experts from around the world to provide strategic guidance on the analysis and share their experience. The workshop marked a high point in the IEA's "Year of Electricity," examining various aspects of the transformation of the electricity sector this year.
The workshop was attended by representatives from 75 organisations, covering a wide range from government, industry, utilities, manufacturers, downstream, consulting, industry associations, research and academia. It also included a broad regional coverage, with participants representing more than 40 countries, from the IEA family and beyond.
The future looks bright for electricity, which is set to grow at twice the rate of overall energy demand to 2040. In 2016, total power sector investment surpassed that of oil and gas for the first time, propelled by renewables, mostly solar and wind. Meanwhile 1.1 billion people still lack access to electricity globally, new demand is coming from electric mobility, digitalization, cooling and heating.
And the nature of electricity supply is undergoing a major transition, from a century-old foundation of dispatchable fossil fuels to ever cheaper variable renewables, with related market reforms underway. The power sector is responsible for close to 40% of energy-related greenhouse-gas emissions, 60% of coal use and 36% of natural gas use. Understanding changes in the power sector is therefore essential to analysing progress towards environmental goals and understanding global energy trends.
The objectives of the WEO's focus on electricity will include:
– Assessing the long-term outlook for electricity demand, with insights on traditional and new sources of demand growth such as electric vehicles, digitalization, cooling and energy access in developing countries, and the emerging need for responsive demand.
– Providing in-depth analysis of the speed of the transition underway in electricity supply – highlighting global issues and regional perspectives – based on the latest market data, technology developments and government policies.
– Investigating the implications on electricity security, environmental protection and economic development, with insights on market designs.
– Exploring key uncertainties, resulting from the pace of deployment for new technologies, market and policy developments, and changing consumer preferences.
In addition, this year's WEO will also have a focus on oil and gas producing economies.
ADB Operations Reach $32.2 Billion in 2017- ADB Annual Report
The Asian Development Bank (ADB) Annual Report 2017, released today, provides a clear, comprehensive, and detailed record of ADB's operations, activities, and financial results over the past year.
Annual operations of ADB reached a record $32.2 billion in 2017, as the bank continues to meet Asia and the Pacific's growing development needs, according to the Annual Report. This was a 26% increase from the year before.
ADB's total operations of $32.2 billion last year consisted of $20.1 billion in loans, grants, and investments from its own resources (up 51% from 2016) including nonsovereign operations of $2.3 billion (a 31% increase from 2016); $11.9 billion in cofinancing from bilateral and multilateral agencies and other financing partners; and $201 million in technical assistance (a 11% increase from 2016).
These figures are based on ADB's new performance measure of "commitments," or the amount of loans, grants, and investments signed in a given year. ADB introduced this measure in 2017 to promote project readiness at approval stage, expedite post-approval steps, and get closer to project disbursement, by placing more emphasis on when the projects are signed, rather than when they are approved by ADB's Board of Directors.
"We began a new chapter in meeting development needs across Asia and the Pacific in 2017," said ADB President Takehiko Nakao. "With the merger of the bank's concessional Asian Development Fund lending operations with the ordinary capital resources balance sheet from the start of 2017, ADB has a solid capital base to support our operations going forward."
Mr. Nakao added, "We continue to combine finance with innovative solutions to respond better to the region's diverse and specific challenges and needs, such as rapid urbanization, climate change, and growing demand for water and energy."
ADB's financing of climate mitigation and adaptation reached a record $4.5 billion in 2017, a 21% increase from the previous year. The bank is now in a good position to achieve its $6 billion annual climate financing target by 2020. ADB also mobilized an additional $606 million from external financing, bringing total climate financing to $5.2 billion last year.
The Annual Report emphasizes the importance of partnerships for ADB in scaling up project financing, and for sharing development knowledge and expertise. With the support of donors, ADB established five new trust funds in 2017 that will unlock capital for climate investments through innovative financial products, increase private sector participation in climate change mitigation and adaptation projects, help cities prepare high-priority urban infrastructure investments, increase mobilization of domestic resources, and integrate high-level technology into infrastructure project designs.
On the downside, ADB's disbursements decreased to $11.1 billion in 2017 from $12.3 billion in 2016, according to the Annual Report. Cofinancing also fell short of ADB's targets.
"We will come up with concrete measures to increase disbursements and cofinancing, building on the new ADB procurement policy approved in April 2017 and ongoing efforts to leverage the bank's resources," said Mr. Nakao.
The Annual Report 2017 presents a more comprehensive picture of ADB operations than the previous annual reports in terms of numbers and institutional data. It provides expanded sections on financial highlights, sector and thematic work, and knowledge. ADB's specific assistance to countries and regional programs, lists of trust funds and corporate reports, and organizational structure are also added.
The figures in the report update the provisional operations numbers released by ADB in January.