12 World Leaders Issue Clarion Call for Accelerated Action on Water
A High Level Panel on Water consisting of 11 Heads of State and a Special Advisor has issued a New Agenda for Water Action calling for a fundamental shift in the way the world manages water so that the Sustainable Development Goals (SDGs), and in particular SDG6, can be achieved. This follows a 2-year mandate to find ways to accelerate solutions to the urgent water crisis.
"Making Every Drop Count: An Agenda for Water Action" presents many recommendations as part of an Outcome Report from the Panel, which was convened in January 2016 by the United Nations Secretary-General and the World Bank Group President.
"World leaders now recognize that we face a global water crisis and that we need to reassess how we value and manage water," said UN Secretary-General António Guterres.  "The panel's recommendations can help to safeguard water resources and make access to safe drinking water and improved sanitation a reality for all."
The Panel's report found that the water crisis has many dimensions. Today, 40 percent of the world's people are affected by water scarcity, with as many as 700 million people at risk of being displaced by intense water scarcity by 2030. More than two billion people are compelled to drink unsafe water and more than 4.5 billion people do not have safely managed sanitation services.
Women and girls suffer disproportionately when water and sanitation are lacking, affecting health and often restricting work and education opportunities.  80 percent of wastewater is discharged untreated into the environment and water-related disasters account for 90 percent of the 1,000 most devastating natural disasters since 1990.
"The ecosystems on which life itself is based – our food security, energy sustainability, public health, jobs, cities – are all at risk because of how water is managed today," World Bank Group President Jim Yong Kim said. "The work of this panel took place at the level of heads of state and government because the world can no longer afford to take water for granted."
As part of the recommendations to address these challenges, the Panel is advocating for evidence-based policies and innovative approaches at the global, national and local level to make water management and water and sanitation services attractive for investment and more disaster-resilient. The Panel also calls for policies that will allow for at least a doubling of water infrastructure investment in the next five years.
The Panel's report sets forth a new approach to catalyze change and build partnerships and cooperation, outlining why an integrated and inclusive approach that draws in sectors like agriculture, and other stakeholders, such as city mayors, is needed.  The report makes the case that ways of working between, for example, governments, communities, the private sector and researchers, are essential.
In an Open Letter, the members of the panel conclude: "Whoever you are, whatever you do, wherever you live, we urge you get involved, and contribute to meeting this great challenge: safe water and sanitation for all, and our water resources managed sustainably. Make every drop count. It's time for action."
Preparing teachers for the future we want
At its annual meeting in Montego Bay, Jamaica, from 5-9 November, the International Task Force on Teachers for Education 2030 adopted a declaration focused on ensuring that teacher issues stay at the centre of the global education agenda.
Through this declaration, the Teacher Task Force reinforces its vision that at the heart of the right to education is a highly valued, qualified, and well-trained teaching profession. It therefore recommends that:
International partners should intensify efforts to develop robust definitions and classifications of qualified and trained teachers and strengthen cooperation and reporting mechanisms to ensure full monitoring of Sustainable Development Goal target 4c.
Governments should ensure adequate financing for all public goods, including the teacher workforce, and this should be achieved primarily through domestic resource mobilization based on socially just fiscal policies, rigorous measures against corruption and illegal financial flows, efficient and effective teacher policies and deployment practices, developed with the full involvement of teachers and their organisations, and continued focus on external resource mobilization to complement domestic resources for countries.
Moreover, the dual focus of the Education 2030 agenda on equity and learning puts teachers at the heart of policy responses that should foster equal participation and learning globally. Teachers can be an impactful equalizing force to overcome unequal life chances from birth. The massive recruitment of new teachers, particularly in least develop countries, with little or no training is a real cause for concern.
The Teacher Task Force also expressed its concern over the fact that teacher education has not kept pace with preparing new teachers to face the rapid changes in globalization, migration, demographic change, and technological advances that will mark the future of education.
Furthermore, teacher education in this increasing complex world must be forward-looking and prepare teachers who are continuous learners themselves. It must enable teachers to think about the kind of education that is meaningful and relevant to young people's needs in the different 21st century's learning environment.
The Teacher Task Force acknowledges the ever-growing importance of Information and Communication Technologies in education. However, technology should be treated as a supportive tool for teachers and not a replacement. Teacher education should therefore empower teachers to use technologies to support learning within a holistic and human-centred educational framework.
The Teacher Task Force also called attention to the fact that teacher education needs to be seen as career-long education and special attention should be paid to the nature of teachers' professional development, competency frameworks, curriculum development and professional learning communities/communities of practice. As teaching is a knowledge-based profession, teachers and trainers should be supported to continually update their knowledge base.
Through this declaration, the Teacher Task Force advocates for a teacher education that allows teachers to prepare learners to manage change and to be able to shape a just and equitable future, leaving no one behind.
This declaration reflects UNESCO's belief that the right to education cannot be fulfilled without trained and qualified teachers. Teachers are one of the most influential factors to the improvement of learning outcomes and UNESCO has for long been an advocate of better training for teachers to ensure inclusive and quality education for all.
UNESCO, which is one of the founding members of the International Task Force on Teachers for Education 2030, has supported its work since its creation in 2008 and hosts the Teacher Task Force Secretariat.
ADB to Partner on New $4 Million Facility to Help Asia Meet Climate Commitments
The Asian Development Bank (ADB) today announced the launch of the Article 6 Support Facility, a $4 million initiative to help developing member countries (DMCs) in Asia and the Pacific combat climate change through a key provision of the Paris Agreement.
Funded by ADB, the Government of Germany, and the Swedish Energy Agency, the facility will provide technical, capacity building, and policy development support to help the DMCs meet Article 6 of the Paris Agreement, in which countries have voluntarily committed to lower their carbon emissions.
The ultimate goal of the Article 6 Support Facility is for DMCs to achieve critical expertise on Article 6, draw lessons from pilot activities, and enhance their preparedness for participation in carbon markets beyond 2020, while contributing to international negotiations.
The Paris Agreement will go into effect on 1 January, 2020 and aims to limit the increase in the global average temperature to below 2°C.
"This new facility will play an important role in the implementation of the Paris Agreement and we are delighted to be establishing it at this very critical time," says ADB Sustainable Development and Climate Change Department Director General Mr. Woochong Um.
"Climate change is a challenge that must be met on a global level and we are confident that this facility will help deliver the critical practical experience, innovation, and learning necessary for our developing member countries to meet their emissions targets."
The facility is another step by ADB toward meeting its commitment to address climate change, a core part of its long-term strategy, Strategy 2030. The strategy commits ADB to scaling up support to address climate change, climate and disaster risks, and environmental degradation as one of seven operational priorities.
Climate technology collaboration makes an impact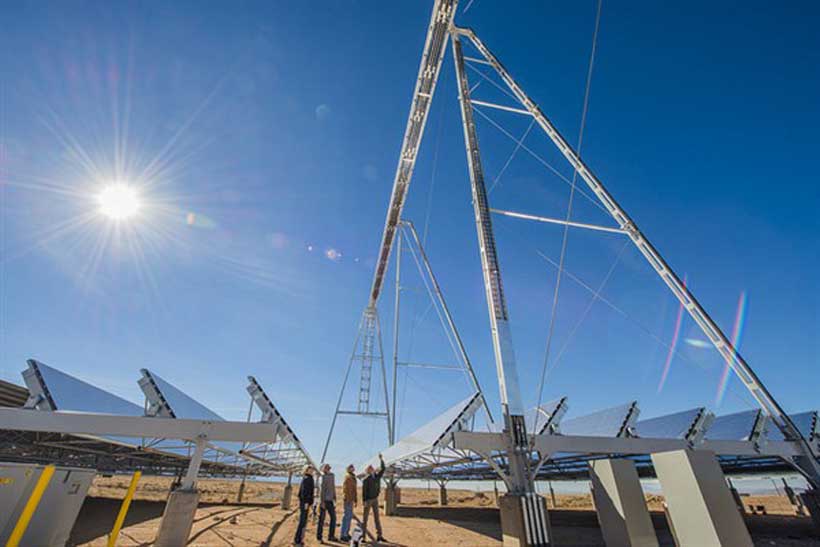 In its Five Year Progress Report, the Climate Technology Centre and Network (CTCN) has announced that 137 technology solutions have been delivered or are under way in 79 countries. Two thousand five hundred people have been trained and over 10 million tonnes of CO₂eq are expected to be reduced per year with the completion of mitigation-related projects.
The CTCN promotes the accelerated development and transfer of climate technologies for energy-efficient, low-carbon and climate-resilient development. It is the implementation arm of the UN Framework Convention on Climate Change (UNFCCC) Technology Mechanism and is hosted and managed by UN Environment and the United Nations Industrial Development Organization (UNIDO).
With an original investment of US$40m, the CTCN's technical assistance has leveraged US$670m in anticipated funding for developing countries' technology implementation.
"Accelerating the deployment of clean and green technologies is crucial for realizing the aims of the Paris Agreement and the Sustainable Development Goals. Over the past five years, the CTCN has served as a powerful example of a UNFCCC mechanism connecting developing countries to the innovative and relevant technologies they seek," said Patricia Espinosa, Executive Secretary of the UNFCCC.
"Over the last five years, the CTCN has provided targeted interventions to help countries meet their national climate change commitments – through its technology assistance, capacity building programmes and knowledge sharing initiatives. UNIDO is proud to support the Centre in its climate technology transfer mission," said LI Yong, Director General of UNIDO.
The country-driven nature of the CTCN, with 160 National Designated Entities identifying climate technology needs based on goals set forth in Nationally Determined Contributions and National Adaptation Plans, is closely aligned with the Paris Agreement.
"Our interventions identify the best possible technology options for climate action, and support policy development and resource mobilization to enhance their uptake. Experience from the last five years has taught us that pairing technology expertise with local knowledge is essential, scalability is important and that relationships matter," emphasized Jukka Uosukainen, Director of the CTCN.
The Climate Technology Centre and Network (CTCN) utilizes the expertise of a global network of over 460 civil society, finance, private sector, and research institutions, to deliver technical assistance and capacity building at the request of developing countries.