Combatting violence against women: All EU countries must ratify the Istanbul Convention
EU MEPs called on the 11 member states that haven't ratified the Istanbul Convention to do so, in a plenary debate with Commissioner Ansip on Monday evening.
To date, the 11 member states that still haven't ratified the Council of Europe Convention on preventing and combatting violence against women and domestic violence, known as the Istanbul Convention, are: Bulgaria, Croatia, Czech Republic, Greece, Hungary, Ireland, Latvia, Lithuania, Luxembourg, Slovakia and the United Kingdom.
During the debate, a vast majority of MEPs regretted the fact that these countries (including Bulgaria, which is currently holding the Council Presidency) fail to consider the Convention as the best available instrument when it comes to fighting violence against women. They stressed that reluctance to ratify the text was often based on misconceptions and misleading arguments regarding how the word "gender" is used in the Convention. They urged the EU Commission and the Council to take tangible action to help all member states to ratify the text as quickly as possible.
Some MEPs expressed fierce opposition to what they consider "the ideological baggage" of the text and its definition of gender. They rejected the idea that the EU has any competence on the issue and called for respecting "the internal order of every society".
Commissioner Andrus Ansip reiterated that the Convention was about preventing violence against women, without any other hidden purpose, and hoped that member states that still have doubts about fully implementing the Convention will consider its fundamental purpose: supporting female victims of violence.
Context
The Istanbul Convention, the most comprehensive international treaty on fighting violence against women, was adopted by the Council of Europe in 2011. It entered into force in August 2014 and was signed by the EU in June 2017.
According to the European Commission, one in three women in the EU has been a victim of physical and/or sexual violence since the age of 15, over half of women have experienced sexual harassment and one in 20 has been raped.
European Commission presents strategies for data and Artificial Intelligence
Today, the Commission unveils its ideas and actions for a digital transformation that works for all, reflecting the best of Europe: open, fair, diverse, democratic and confident. It presents a European society powered by digital solutions that put people first, opens up new opportunities for businesses, and boosts the development of trustworthy technology to foster an open and democratic society and a vibrant and sustainable economy. Digital is a key enabler to fighting climate change and achieving the green transition. The European data strategy and the policy options to ensure the human-centric development of Artificial Intelligence (AI) presented today are the first steps towards achieving these goals.
The President of the Commission, Ursula von der Leyen, said: "Today we are presenting our ambition to shape Europe's digital future. It covers everything from cybersecurity to critical infrastructures, digital education to skills, democracy to media. I want that digital Europe reflects the best of Europe – open, fair, diverse, democratic, and confident."
Executive Vice-President for A Europe Fit for the Digital Age, Margrethe Vestager, said: "We want every citizen, every employee, every business to stand a fair chance to reap the benefits of digitalisation. Whether that means driving more safely or polluting less thanks to connected cars; or even saving lives with AI-driven medical imagery that allows doctors to detect diseases earlier than ever before."
Commissioner for Internal Market,Thierry Breton, said: "Our society is generating a huge wave of industrial and public data, which will transform the way we produce, consume and live. I want European businesses and our many SMEs to access this data and create value for Europeans – including by developing Artificial Intelligence applications. Europe has everything it takes to lead the 'big data' race, and preserve its technological sovereignty, industrial leadership and economic competitiveness to the benefit of European consumers."
Europe as a trusted digital leader
Digital technologies, if used with purpose, will benefit citizens and businesses in many ways. Over the next five years, the Commission will focus on three key objectives in digital:
· Technology that works for people;
· A fair and competitive economy; and
· An open, democratic and sustainable society.
Europe will build on its long history of technology, research, innovation and ingenuity, and on its strong protection of rights and fundamental values. New policies and frameworks will enable Europe to deploy cutting-edge digital technologies and strengthen its cybersecurity capacities. Europe will continue to preserve its open, democratic and sustainable society and digital tools can support these principles. It will develop and pursue its own path to become a globally competitive, value-based and inclusive digital economy and society, while continuing to be an open but rules-based market, and to work closely with its international partners.
Europe as a leader in trustworthy Artificial Intelligence
Europe has all it needs to become a world leader in Artificial Intelligence (AI) systems that can be safely used and applied. We have excellent research centres, secure digital systems and a robust position in robotics as well as competitive manufacturing and services sectors, spanning from automotive to energy, from healthcare to agriculture.
In its White Paper presented today, the Commission envisages a framework for trustworthy Artificial Intelligence, based on excellence and trust. In partnership with the private and the public sector, the aim is to mobilise resources along the entire value chain and to create the right incentives to accelerate deployment of AI, including by smaller and medium-sized enterprises. This includes working with Member States and the research community, to attract and keep talent. As AI systems can be complex and bear significant risks in certain contexts, building trust is essential. Clear rules need to address high-risk AI systems without putting too much burden on less risky ones. Strict EU rules for consumer protection, to address unfair commercial practices and to protect personal data and privacy, continue to apply.
For high-risk cases, such as in health, policing, or transport, AI systems should be transparent, traceable and guarantee human oversight. Authorities should be able to test and certify the data used by algorithms as they check cosmetics, cars or toys. Unbiased data is needed to train high-risk systems to perform properly, and to ensure respect of fundamental rights, in particular non-discrimination. While today, the use of facial recognition for remote biometric identification is generally prohibited and can only be used in exceptional, duly justified and proportionate cases, subject to safeguards and based of EU or national law, the Commission wants to launch a broad debate about which circumstances, if any, might justify such exceptions.
For lower risk AI applications, the Commission envisages a voluntary labelling scheme if they apply higher standards.
All AI applications are welcome in the European market as long as they comply with EU rules.
Europe as a leader in the data economy
The amount of data generated by businesses and public bodies is constantly growing. The next wave of industrial data will deeply transform the way we produce, consume and live. But most of its potential remains unfulfilled. Europe has everything it takes to become a leader in this new data economy: the strongest industrial base of the world, with SMEs being a vital part of the industrial fabric; the technologies; the skills; and now also a clear vision.
The objective of the European data strategy is to make sure the EU becomes a role model and a leader for a society empowered by data. For this, it aims at setting up a true European data space, a single market for data, to unlock unused data, allowing it to flow freely within the European Union and across sectors for the benefit of businesses, researchers and public administrations. Citizens, businesses and organisations should be empowered to make better decisions based on insights gleaned from non-personal data. That data should be available to all, whether public or private, start-up or giant.
To achieve this, the Commission will first propose to establish the right regulatory framework regarding data governance, access and reuse between businesses, between businesses and government, and within administrations. This entails creating incentives for data sharing, establishing practical, fair and clear rules on data access and use, which comply with European values and rights such as personal data protection, consumer protection and competition rules. It also means to make public sector data more widely available by opening up high-value datasets across the EU and allowing their reuse to innovate on top.
Second, the Commission aims at supporting the development of the technological systems and the next generation of infrastructures, which will enable the EU and all the actors to grasp the opportunities of the data economy. It will contribute to investments in European High Impact projects on European data spaces and trustworthy and energy efficient cloud infrastructures.
Finally, it will launch sectoral specific actions, to build European data spaces in for instance industrial manufacturing, the green deal, mobility or health.
The Commission will also work to further narrow the digital skills gap among Europeans, and explore how to give citizens better control over who can access their machine-generated data.
Next Steps
As set out in the strategy presented today, the Commission will present later this year a Digital Services Act and a European Democracy Action Plan, propose a review of the eIDAS regulation, and strengthen cybersecurity by developing a Joint Cyber Unit. Europe will also continue to build alliances with global partners, leveraging its regulatory power, capacity building, diplomacy and finance to promote the European digitalisation model.
The White Paper on Artificial Intelligence is now open for public consultation until 19 May 2020. The Commission is also gathering feedback on its data strategy. In light of the input received, the Commission will take further action to support the development of trustworthy AI and the data economy
Background
Since 2014, the Commission has taken a number of steps to facilitate the development of a data-agile economy such as the Regulation on the free flow of non-personal data, the Cybersecurity Act, the Open Data Directive and the General Data Protection Regulation.
In 2018, the Commission presented for the first time an AI strategy, and agreed a coordinated plan with Member States. The framework for AI presented today also builds on the work carried out by the High-Level Expert Group on Artificial Intelligence, which presented their Ethics Guidelines on trustworthy AI in April 2019.
In her Political Guidelines, Commission President Ursula von der Leyen stressed the need to lead the transition to a healthy planet and a new digital world. In that context, she announced to kick-start the debate on human and ethical Artificial Intelligence and the use of big data to create wealth for societies and businesses during her first 100 days in office.
Each Additional School Year for Pakistani Girls Increases Future Earnings by Up To 10%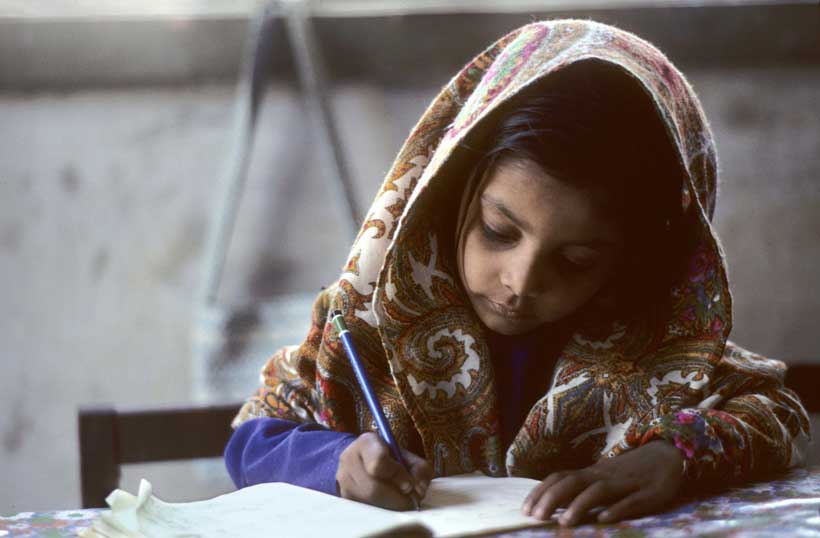 At Pakistan's Second Human Capital Summit held today in Islamabad, participants highlighted the need to invest in girls' education and women's economic empowerment as crucial to Pakistan's sustained growth.
While last year's Human Capital Summit focused on policymaking, the Second Human Capital Summit engaged practitioners, learning from insights on the ground in Pakistan. Building upon the 'Girls Learn, Women Earn' initiative launched in December 2019, the Summit – co-hosted by the Japan International Cooperation Agency (JICA) and World Bank Pakistan – marked the progress being made in Pakistan in efforts to enable girls to excel in school, and women to thrive in the workplace.
The conference was opened with remarks from Dr. Sania Nishtar, Special Assistant on Poverty Alleviation and Social Safety to the Prime Minister, and Dr. Shinichi Kitaoka, the President of JICA.
"Government of Pakistan's Ehsaas program has a very serious intent to drive forward the agenda of women empowerment. Ehsaas stringently follows fifty percent rule across the board for women inclusion in all Ehsaas initiatives including interest free loans, scholarships and asset transfers", said Dr. Sania Nishtar. "Likewise, Kafaalat that has recently been launched by the Prime Minister will ensure financial and digital inclusion of 7 million disadvantaged women across Pakistan who will now benefit from the monthly stipend of Rs. 2,000 along with access to bank accounts and affordable smart phones."
Dr. Kitaoka emphasized on the importance of investment in Human Capital.
"Investments in Human Capital, such as education, health and nutrition, are inevitable for building a progressive foundation for Human Security," said Dr. Shinichi Kitaoka. "Learning from Japan's experience, we know that countries can also enhance their Human Capital by thriving on trust and promoting the role of families and communities in national development. JICA will work pro-actively to build and nurture Human Capital by leading with trust and collaborating in the areas of education, health and nutrition as key building blocks of sustained Human Security for all."
The challenges and constraints of the education system in Pakistan to promote girls learning were discussed by the panels. Poverty, distance from home to schools, and parental perception of schools' safety were noted as three of the main determinants of school attendance for girls. In the 'Girls Learn' panel, it was highlighted that young girls in rural areas are the least likely to have full access to education and the gender gap in enrolment is a persistent issue across education levels. In order to tackle these challenges, panelists showcased Accelerated Learning Program which provides overaged out of school children with learning opportunities for their Human Capital development as a good practice from within Pakistan.
"Every additional year of schooling for a girl increases her future earnings by up to 10%," said Illango Patchamuthu, World Bank Country Director for Pakistan. "Pakistan can use the untapped economic potential of women in the workforce and estimates indicate this can boost the economy by up to 30%, by empowering women and girls to expand their skills, access to information, mobility, and access to finance and assets."
Another panel on 'Women Earn' emphasized the potential for women's access to finance and affordable, safer transport as two key areas that can unlock women's participation in the economy. Current research shows that only 11 percent of women in Pakistan utilize banking services, and Pakistani women are four times less mobile than men.
Representatives from the government, academia, development organizations, commercial banks, telecom industry, startup ecosystem, fashion industry, civil society and media also participated in the Summit.
Girls Learn, Women Earn Initiative
The 'Girls Learn, Women Earn' initiative invites any institution to sign up to be a GLWE champion from December 31, provided they meet the registration criteria, which will be set by an independent panel of advisors. The GLWE campaign began on December 1, 2019 and will continue until March 10, 2020, just after International Women's Day on March 8.
APEC Needs to Look Beyond Numbers, Bring Concrete Benefits to People
The current volatility and uncertainty of the international trade environment requires APEC to be dynamic, said Dato' Sri Norazman Ayob, Deputy Secretary General of Industry of Malaysia's Ministry of International Trade and Industry.
"Integration of the global supply chain carries inherent systemic risk of disruption to domestic economies in the event of a major breakdown along the value chain," he said during his remarks at a dialogue with stakeholders focused on APEC's post-2020 vision in Putrajaya on Wednesday. "Businesses would need to constantly reassess their business models to ensure business continuity."
Notwithstanding, the ever-changing environment requires constant rebalancing measures from regulators and industry players to encourage domestic industrial development to ensure economic growth remains sustainable.
Norazman argued that as the premier economic forum in the region, APEC needs to realign its priorities to look at economic growth beyond creating equal opportunities and prosperity through trade and investment, "but also tangible benefits to the people."
He noted that APEC's goal of free and open trade in the region, otherwise known as the Bogor Goals, has brought integration to the region by reducing trade barriers and addressing regulatory issues.
Average tariffs within APEC have fallen from 17 percent in 1989 to 5.3 percent in 2018. During the same period, APEC's share of world's trade increased from 41 percent to 48 percent. APEC economies account for more than 80 percent of Malaysia's total trade.
"Despite these achievements, we are very much living in a world where uncertainty is the new normal and economies have to be prepared to constantly embrace change in order to survive in the current global environment," Norazman explained.
One of the key deliverables for Malaysia as the host of APEC this year is to lead the development of the new APEC vision that will guide the forum's work in the next decades.
Guided by the overarching concept of "Shared Prosperity", Malaysia plans to introduce initiatives to enable trade and investments to generate concrete outcomes for the people in the region.
According to Norazman, Malaysia will promote the development of the digital economy and encourage effective use of advanced technologies to improve living standards, create equal employment opportunities and achieve a more balanced growth across the region.
"The Post-2020 Vision has to ensure that people are put at the core of the discussion," he concluded. "A more holistic approach that includes inclusivity, equality and sustainability can be explored in ensuring that no one is left behind."
Senior Officials from APEC economies will gather in Putrajaya on 21-22 February 2020 to discuss the initiatives and work plans for the year.