Gender diversity in energy sector is critical to clean energy transition
The energy sector remains one of the least gender diverse sectors in the economy, despite recent efforts to promote and encourage women's participation. Women face structural and cultural challenges and the lack of women in leadership positions in the clean-energy sector compounds the difficulty in recruiting and retaining female leaders.
This is especially important given the role that women can often play as key drivers of innovative and inclusive solutions. As such, gender diversity and the broad participation of women in the energy sector are needed for a successful clean energy transition. For this reason, governments and industry need to act to address these obstacles and overcome barriers to full participation and career advancement. One option would be setting measureable targets and adopting policies and programmes to help foster change.
In 2015, world leaders committed to the Sustainable Development Goals (SGD), including SDG 5, which aims to "achieve gender equality and empower all women and girls by 2030." To achieve gender equity in the energy sector would mean achieving the 3Es: equal opportunity, equal pay and equal leadership. But meeting this gender equity goal in a little more than a decade will require strong commitment from governments, industry and other energy stakeholders to implement actions that would accelerate the participation of women in the clean energy sector.
Some governments are making this promotion of women's leadership and participation in the energy transition a key priority. For instance, the Clean Energy, Education and Empowerment Technology Collaboration Programme (C3E), an initiative of the Clean Energy Ministerial (CEM), provides a vehicle where countries, industry and organisations can work together to find concrete, visible and measurable actions that promote women's participation and leadership in the energy sector.
C3E has been active since 2010, but recently adopted the IEA's Technology Collaboration Programme (TCP) mechanism to organise its activities. Established last by found members Canada, Italy and Sweden, a new work programme for the C3E TCP revolves around four areas of focus: data collection, career development, awards, and dialogue. Given the synergies with the IEA's own activities in this area, the IEA is providing both organisational and analytical support.
There is an urgent need to improve the knowledge on workforce, skills and education of women in the activities related to clean energy. The IEA and C3E TCP will collect information on women's participation in the clean energy sector workforce and develop indicators to measure progress. A workshop will be held on 11 April 2018 in Rome, hosted by Italy in collaboration with the IEA and the C3E TCP, to share experiences on data collection and methods of assessment to analyse gender diversity as well as the employment opportunities to women offered by the clean energy transition.
The IEA also recognises the importance of harnessing all talents and closing the gender gap, given economic and social benefits in doing so. As part of its modernisation strategy, the IEA promotes gender diversity across the organisation. The IEA's Gender Diversity Initiative aims to increase IEA's involvement in substantive gender-related programmes including input to the C3E TCP activities, support the career development of all staff equally, and make the IEA a more obvious career option for women.
To encourage more women to pursue careers in clean energy, the IEA has recently established a new Fellowship programme to support the agency's gender diversity strategy and the C3E TCP's work programme. The Fellowship will provide on-the-job experience for a promising female student to work on leading energy issues related to women's education and skills development, energy access or clean energy deployment. It will also provide the IEA with direct input from the next generation of aspiring women leaders. The IEA is currently recruiting its first IEA C3E Fellow, and hopes to make this a permanent programme, subject to funding availability.
Source: IEA
Solar powering sustainable development in Asia and the Pacific
The way energy is produced, distributed and used causes environmental damage – most visibly air pollution – that in turn harms people's health. It is also one of the major drivers of climate change. Recognising this, countries are urgently looking to shift to more sustainable energy, but the transition has so far been slow. Put simply, our future depends on our ability to decarbonize our economies by the end of the century. This was recognised by the Paris climate agreement in 2015 and is central to the United Nations 2030 Agenda for Sustainable Development. Sustainable Development Goal 7 (SDG 7) sets countries the twin challenge of meeting new benchmarks in renewable energy and energy efficiency, while ensuring universal access to modern energy.
In Asia and the Pacific, progress towards SDG 7 needs to be accelerated. While 99 percent of the population is expected to have access to electricity by 2030, access to clean cooking fuels will reach only 70 percent of our region's population, leaving far too many people exposed to the deadly impacts of indoor air pollution. Energy intensity – a measure of our economies' energy efficiency – is set to decrease but will fall short of 2030 Agenda targets if no further action is taken. At the same time, the share of renewable energy in total energy consumption is only expected to reach 14 percent, well under the 22 percent share required.
Solar energy has a major part to play in closing these gaps. It is an opportunity we must seize for low carbon development, energy security and poverty alleviation. Because solar power can bring clean, emissions-free and evenly distributed energy. This is particularly relevant to Asia and the Pacific, where developing countries have abundant solar energy resources. Solar energy technology increasingly offers a cost-effective alternative to extending networks to outlying and often challenging geographical locations. A potential which has been captured by the Indian leadership's ambition for "one world, one sun, one grid".
Governments, the private sector and investors are now thinking over the horizon, planning for a more sustainable and low carbon future. The cost of renewable technologies, very much including solar power has dropped rapidly, bringing these solutions within reach. India now has the newest and cheapest solar technology of anywhere in the world. Mini-grids or standalone solar home systems can be deployed quickly and help reduce greenhouse gas emissions. Due in part to unsustainable subsidies and in part to inertia, coal fired electricity is set to continue to grow in the short to medium term, but wind and solar must play a much more substantial role sooner rather than later for us to have a chance of meeting the SDGs or achieving the aspirations of the Paris Agreement.
India is supporting this solar revolution. By founding and hosting the International Solar Alliance, it has moved decisively to increasing access to solar finance, lowering the cost of technology and building the solar skills needed among engineers, planners and administrators. But it has also set an unparalleled deployment target for solar power generation. The National Solar Mission aims to reach 100 GW of solar power generation by 2022 and has spurred intense activity in solar development across India which has captured the imagination of the region.
At the Economic and Social Commission for Asia and the Pacific, the development arm of the United Nations in the region, we are clear solar energy can boost renewables' share in our power mix, increase energy efficiency and bring electricity to remote parts of the region. Our research is focused on overcoming the challenges of achieving these three elements of SDG7. Upon request, we support countries maximize the potential to adopt sustainable energy through technical support and capacity building, including through the development of energy transition roadmaps. Work is also underway to develop a develop a regional masterplan on sustainable energy connectivity, vital to make the most of solar power by supporting the growth of cross border power systems.
A core purpose of sustainable development is to ensure we leave future generations a world which affords them the same opportunities we have enjoyed. This is within our grasp if we work across borders to promote solar energy throughout Asia and the Pacific. India has a major role to play. Its experience gives us a historical opportunity to shape best practices in solar energy for our region and reduce carbon emissions. This is experience we cannot afford to waste.
Phasing Out Coal and Other Transitions: Lessons From Europe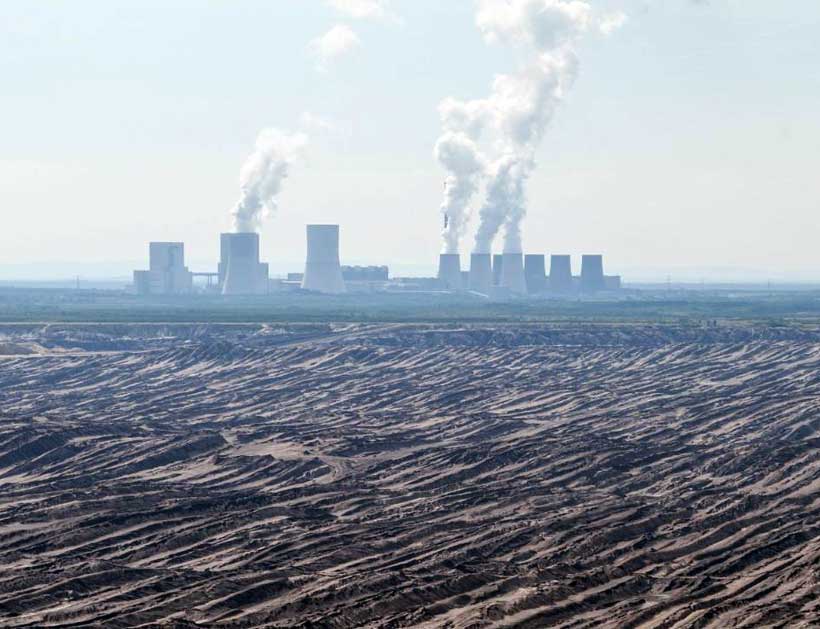 Climate change reports are seldom sanguine.  Carbon dioxide, the principal culprit, is at record levels, about twice the preindustrial value and a third higher than even 1950.  Without abatement it could rise to  a thousand parts per million in a self-reinforcing loop spiraling into an irredeemable ecological disaster.  The UN IPCC report warns of a 12-year window for action.
Contrasting President Trump's boast of US energy independence based on coal and other fossil fuels in his SOTU address on Tuesday, two Democrats, Senator Ed Markey and Rep. Alexandria Ocasio Cortez, have introduced a 10-page Green New Deal resolution to achieve carbon neutrality within ten years.  While this target may not be technically feasible, it is an admirable start to the discussion.  At the same time, the Germans are attacking the problem forcefully as demonstrated by their new coal commission report issued last week.
In November 2016, the German Federal Government adopted its Climate Action Plan 2050.  It outlined CO2 reduction targets in energy, industry, buildings, transport and agriculture.  Energy is the most polluting; its emissions total the sum of all the others except industry and energiewende (energy change) was a key aspect of the plan.
So even as our atavistic president is promoting coal, Germany, the EU economic powerhouse, announced it is planning to phase out all coal-fired power stations by 2038.  As outlined in the November 2016 plan, a commission comprising delegates from industry, trade unions, civil society including environmental NGOs and policy makers was appointed in 2018 to examine the issue and prescribe an equitable solution.  After eight months of negotiations and discussions, concluding with a final 21-hour marathon session, it has produced a dense 336-page document.  Only one member out of 28 cast an opposing vote, and Greenpeace added a dissenting option as it wants the process to begin immediately.
Such an objective was a special challenge because of Germany's long industrial history coupled with coal mining.   The plan shuts down the last coal-burning power station by 2038 as the final step in the pathway outlined — an ambitious alternative is to exit by 2035 if conditions permit.  Total capacity of coal-using stations in Germany is about 45 gigawatts, and the report sets out a four-year initial goal of 12.5 gigawatts to be switched-off i.e. about two dozen of the larger 500+ megawatt units by 2022.  Progressively, eight years later (by 2030) another 24 gigawatts will have been phased out leaving just 9 gigawatts to be eliminated by 2035 if possible but definitely by 2038 at the latest.
It is a demanding plan for coal has been deeply embedded with German industry.  To ease the pain for tens of thousands of workers and their families, the plan allocates federal funding to deal with its broad ramifications i.e. job loss and displacement.  An adjustment fund will be used for those aged 58 and over to compensate pension deficits.  Funds are also directed towards retraining for younger workers and for education programs designed to broaden skills.
It includes 40 billion euros to develop alternative industry in coal mining states plus money not directly project-related.  In addition further investments in infrastructure and a special funding program for transport adding up to 1.5 billion euros per year are allocated in the federal budget until 2021.
The change-over will raise electricity prices, so a 2 billion euro per year compensation program for users, both private individuals and industrial, will continue until 2030.  This is designed to relieve the burden on families, and to maintain industrial competitiveness.
Germany is not alone.  The EU has issued an analysis of accelerated coal phase-out by 2030.  The Netherlands has its own energiesprong (energy leap) focused on energy transition and energy neutral buildings, meaning that the buildings generate enough energy through solar panels or other means to pay for the energy deficit from their construction and use.   It can now clad entire apartment blocks in insulation and solar panels, and is reputed to be so efficient that some buildings are producing more renewable energy than consumed. This expertise is also being utilized in the UK.
Given the forests, the Norwegians have tried something different.  They have built the world's tallest wooden skyscraper, the Mjøs Tower, 85 meters high in Brumunddal.  Its wood sourced from forests within a 50 km radius uses one-sixth the energy of steel and of course much less, if at all, emission of greenhouse gases.
By the end of Germany's enormous sector-wide endeavor, it expects to reduce CO2 emissions to roughly half through 2030 and 80-95 percent by 2050.  The comprehensive and complete nature of the program
could serve as a blueprint here in the US.  Thus the obvious question:  If Germany with a far larger proportion of its workforce associated with coal can do it, why can't the US?
The mysterious case of disappearing electricity demand
Authors: Stéphanie Bouckaert and Timothy Goodson*
Electricity is at the heart of modern life, and so it's easy to assume that our reliance on electricity will increase or even accelerate. However, in many advanced economies the data reveals a surprisingly different story.
Electricity demand has increased by around 70% since 2000, and in 2017, global electricity demand increased by a further 3%. This increase was more than any other major fuel, pushing total demand to 22 200 terawatt-hours (TWh). Electricity now accounts for 19% of total final consumption, compared to just over 15% in 2000.
Yet while global demand growth has been strong, there are major disparities across regions. In particular, in recent years electricity demand in advanced economies has begun to flatten or in some cases decline – in fact electricity demand fell in 18 out of 30 IEA member countries over the period 2010-2017. Several factors can account for this slowing of growth, but the key reason is energy efficiency.
There have been a range of new sources of electricity demand growth in advanced economies, including digitalization and the electrification of heat and mobility. However savings from energy efficiency have outpaced this growth. Energy efficiency measures adopted since 2000 saved almost 1 800 TWh in 2017, or around 20% of overall current electricity use.
Over 40% of the slowdown in electricity demand was attributable to energy efficiency in industry, largely a result of strict, broadly applied, minimum energy performance standards for electric motors. In residential buildings, total energy use by certain classes of appliances has already peaked. For example, energy use for refrigerators (98% of which are covered by performance standards) is well below the high point reached in 2009, and energy use for lighting has also declined. In the absence of energy efficiency improvements, electricity demand in advanced economies would have grown at 1.6% per year since 2010, instead of 0.3%.
Changes in economic structure in advanced economies have also contributed to lower demand growth. In 2000, around 53% of electricity demand in the industrial sector came from heavy industry, but by 2017 this figure had fallen to less than 45%.  Advanced economies now account for 30% of global steel production, for example, down from 60% in 2000, and for 25% of aluminium production, also down from around 60% in 2000.
Finally, electricity demand for heat and mobility increased by only 350 TWh between 2000 and 2017. Today, electric cars represent only 1.2% of all passenger vehicle sales in advanced economies and account for less than 0.5% of the passenger vehicle stock. Since 2000, only around 7% of households in advanced economies have switched from fossil fuels (mainly gas) to electricity for space and water heating purposes, and use of electricity for meeting heat demand in the industrial sector remains marginal. In many regions, the price of electricity relative to fossil fuels limits its competitiveness for heating end-uses.
When we look to the future, the pace of electrification is set to pick-up somewhat in advanced economies. Nonetheless, electricity demand growth is projected to remain sluggish in the IEA's New Policies Scenario (NPS), as improvements in energy efficiency continue to act as a brake on increasing demand for many end-uses. In addition, fewer purchases of household appliances (most households in advanced economies today own at least one of each major household appliance such as refrigerators, washing machines and televisions), and a shift from industry to the less electricity-intensive services sector, all contribute to lower electricity demand growth.
On average, electricity demand in advanced economies is projected to grow at just 0.7% per year to 2040 in the NPS, with the increase largely due to digitalization and policies that incentivise the use of electric vehicles and electric heating. Without those policies, electricity demand would continue to flatten or even decline in many advanced economies.
There are other factors at play. For example, population growth in many advanced economies is barely exceeded by electricity demand growth, meaning that further growth in GDP per capita does not lead to an increase in electricity demand per capita (as an exception, the industry sector in Korea accounts for a large share of electricity demand, and so it is one of the few advanced economies that sees industry contribute to overall electricity demand growth on a per capita basis).
Ultimately, despite moderate growth in electricity demand, fuel-switching to electricity and energy efficiency improvements in the use of other fuels mean the share of electricity in final consumption is projected to increase to 27% in advanced economies by 2040, up from 22% today.
*Timothy Goodson, WEO Energy Analyst