Role of an individual being to save the green earth
It is no secret that for decades, Earth has been incessantly abused, threatened, and destroyed. As man continues to put his selfish needs first, our environment suffers. The amount of destruction humans have caused in the past three decades is beyond comprehension – the glaciers in the poles are rapidly melting which is increasing the water level of the oceans; forests are quickly depleting; the percentage of greenhouse gases and other pollutants in the air is continuously rising, posing a threat to the already thinning ozone layer; energy reserves are exhausting, and the list goes on.
Isn't it about time we started thinking about our beautiful planet and other life forms that inhabit it?
We all know that in an ecosystem, the well-being of one is closely and intricately related to that of another. Every living being – microorganisms, insects, animals, birds, plants – is dependent on each other for survival. The extinction of one species will naturally create an imbalance within the ecosystem, disturbing all other life forms within it.
Every individual has a role to play in preserving the Earth's environment. A positive change, no matter how small, holds the ability to create a lasting ripple of change in the long run. Just imagine, if every individual all around the world (that is, 7 billion!) started doing their respective parts in reducing their carbon footprint and adopting the green way of living, how massive a change could we create! Taking baby steps and starting by adopting positive everyday habits could go a long way in saving the environment.
Here are a few things you, as an individual, could start doing to make this world a much 'greener' and better place.
Adopt the 3R technique – Reduce, Reuse, and Recycle.
First, try to minimize wastage of resources and the domestic waste produced as much as possible. Buy only what you need, and it is a wise move to buy large packets(more quantity of product but less waste generated when it comes to packaging). Always reuse items that can be used more than once, such as grocery and shopping bags. Opt for washable utensils over disposable ones. Indulge in recycling products to create new products. People all around the world have come up with many unique ideas to recycle waste and create something new!
Composting is the way to go!
Instead of dumping away the organic waste(vegetable and fruit peels, flowers, leaves, etc.) produced in your house daily in some landfill, try composting. Dig a pit in your backyard and start dumping the organic waste in it. When the hole is filled, cover it up with soil. The organic waste will decompose in several weeks and will serve as natural manure for the soil. This is the best way to start organic farming in your own backyard!
Live Unplugged!
Always, always, remember to unplug used chargers from the sockets and switch off the lights, fans, and any other electrical appliance when not in use. You may not realize it, but these little acts of carelessness may be the reason behind your skyrocketing electricity bills. By switching off devices and appliances when not in use, you are not only cutting down on your energy costs but are saving a considerable amount of energy.
Opt for energy efficient appliances
Replace the age-old and energy-hogging appliances in your home with the new, energy-efficient ones. Today, the market is filled with energy efficient bulbs, fans, heaters, air conditioners, TVs, refrigerators, and so much more. These devices deliver excellent performance while consuming minimal energy. Thus, the overall consumption of electricity in your house will reduce to a large extent, as will your utility bill.
Plant Trees
Trees provide us with oxygen, shade, and bring rainfall. They are immensely needed to help combat the climate change that is taking the entire world in its grip. Do your part and make it a point to plant trees in your surrounding areas. You can take up the initiative during festivals or special occasions and create a tree plantation drive in your neighborhood. This way, you will encourage others to plant trees for a greener future.
Apart from these major steps, you can also save the Earth by doing the following:
Opt for public transport. Individual cars and automobiles not only increase the overall fuel consumption but also increase the air pollution every day. By riding public buses, trains, metros, etc., you can help reduce this.
Choose e-receipts and bills over paper bills. This will help save our forest resources.
Fix any leaks and cracks, in any, in the pipes, taps, and water cooling system in your homes. Every drop of water is precious.
Adopt rainwater harvesting. By collecting rainwater in clean containers or tanks, you can create an extra buffer of water for fulfilling your domestic purposes(washing cars, watering plants, etc.).
Say no to plastic bags. Use cloth or jute bags.
If each one of us starts following these steps, our Earth will become much greener and livelier in the years to come. Never forget, this is our only Home, and it is up to us to protect and preserve it.
Just How Bad Are Airplanes?
With the COP26 concluded a little over a week ago (November 13), here is something to ponder. Must we travel as much as we do on airplanes?
A flight from London to San Francisco releases approximately 5.5 tonnes of CO2 per person. By contrast, an entire year of driving a typical passenger car emits 4.6 metric tonnes. More than a whole year's car emissions released in one 11-hour flight.
Aviation is estimated to account for approximately 2.5% of global CO2 emissions. While this number may not sound significant, if aviation were a country, it would be sixth in the world. Forecasts estimate that by 2050, approximately 43 metric gigatons of carbon dioxide will be generated by aviation worldwide. And when the damage from aircraft includes the discharge of other gases and vapor trails in addition to the CO2, the total jumps to 5% of global emissions.
Contrails, the white streaks we see in the sky, are produced when hot exhaust gases come into contact with low-pressure, cold air. They contain black carbon particles. Moisture condenses on these to form ice. Though some contrails only last a few minutes, some join with cirrus clouds and other contrails, and this larger mixture can remain for up to eighteen hours. This contrail cloud mixture causes an effect known as 'radiative forcing'. The balance between heat emitted from the earth and that coming from the sun is altered. And this causes a change in climate. Thus, there is a double negative to aircraft – the CO2 emissions, and the radiative forcing effect from the contrails.
It turns out the damage from contrails can be mitigated by changing flight paths. Researchers at Imperial College London have found that flight altitude changes of just 2,000 feet could curb the effect. A study of Japan's airspace found that changing just 1.7 percent of flights could cut contrail climate forcing by 59%.
Small changes in flight paths can significantly curb the impact of each flight, and at low cost. If these changes are implemented throughout the world, the effects could be significant.
Some airlines are leading the way towards environmental sustainability. Last winter, Air France KLM Martinair launched the world's first sustainable aviation fuels (SAF) program to reduce CO2 emissions.
Then there are innovators devising environmentally friendly small aircraft to one day meet some passengers' needs. As a start, the company Pipistrel received EU certification for its electric two-seater plane a little over a year ago. And Swiss flying school AlpinAirPlanes installed solar panels to recharge them (Engineering and Technology Magazine, Volume 16, Issue 7, August 2021).
For larger aircraft Rolls-Royce is in the process of developing hydrogen-fuelled engines that are likely to be available by 2035. They have three concept designs: a turboprop for 100 passengers, a turbofan for 200 passengers, and a futuristic blended-wing body design. Unfortunately there are many obstacles with hydrogen that lead some experts to believe that hydrogen aircraft are unlikely to be available until 2050 (Engineering and Technology Magazine, Volume 16, Issue 7, August 2021). Still, they do give us some hope for the future.
In the short term, Sustainable Aviation Fuel (SAF), has been introduced by Air France. It is a kerosene-like fuel but not derived from fossil sources. Such biofuels have difficulties of their own. It takes an enormous amount of crops to produce enough energy for aircraft, and the decision of the best use for those crops – food versus airlines — is certainly not a clear cut one. SAF is a very good idea but will be slow in transition, and during the next four decades when mitigating emissions is crucial, we must find alternatives.
Hydrogen or biofuels are the two likely choices for the future, and hydrogen as we know is a long process in development. In the meantime, while scientists work on improving flying options, what is the best way for us to reduce our carbon footprint, and still travel when we need to?
For domestic travel, high-speed rail proves a good alternative. The Brussels-London Eurostar launch caused aviation along that route to decrease by 55%. In other instances high-speed rail has been shown to reduce air transport by as much as 80%. The International Energy Agency has summarized the direct impact of launching high-speed lines on the corresponding flight paths in a telling chart. It notes that the Paris-Strasbourg train decreased air travel by over 80%. The Paris-London and the Seville-Madrid train routes decreased corresponding aviation travel by over 50%, and in China the Taipei-Kaohsiung train decreased flights by 80%.
Domestic flight travel emissions have increased 17% since 1990 and they continue to grow. But where high speed rail is present, this is being mitigated. Building more high-speed trains between common flight destinations could be part of the solution.
Thus connecting major cities like New York, San Francisco and Chicago through high-speed rail could significantly reduce carbon emissions. That, and allowing online meetings to be the modus operandi for the corporate world could together have a real impact. The pandemic has given us a window of opportunity – a chance to try virtual meetings and to see how they perform. And they work well.
There is no simple answer to the problem of carbon emissions; there are many changes that can have a cumulative positive effect. Here are a few ways to help reduce the climate impact of aircraft — this is by no means an exhaustive list, only a beginning:
1. Use the Cloud, Not the Conference Room
Simply reducing flights when meetings can be conducted online has a huge impact. The International Civil Aviation Organization has verified that global passenger traffic decreased a huge 60 percent over 2020. While the pandemic mindset exists, let's keep the conference room online and make it a permanent fixture. The cloud is better for the planet, better for families to spend more time together, and better for our pets — no need to be left alone or boarded for that business trip.
2. Slightly Alter Flight Altitudes
Imperial College London has shown that at a low cost and with only minor flight altitude adjustments, we can reduce damaging radiative forcing that contributes to global warming.
3. Fund Environmentally Friendly SAF Programs
With airlines struggling as they are today, government funding for SAF research and airplane innovation could help, especially in the long-term.
4. High-Speed Rail
Our government should build high-speed trains, particularly between commonly used flight paths. And when we have the option of a high-speed train instead of a jet, we should use it. Fortunately, the research shows we do. So it is just a matter of putting some tracks down, starting to build, and fighting the airline lobby.
All of it will take time; some we can do now.
Results of the COP-26 conference – An analysis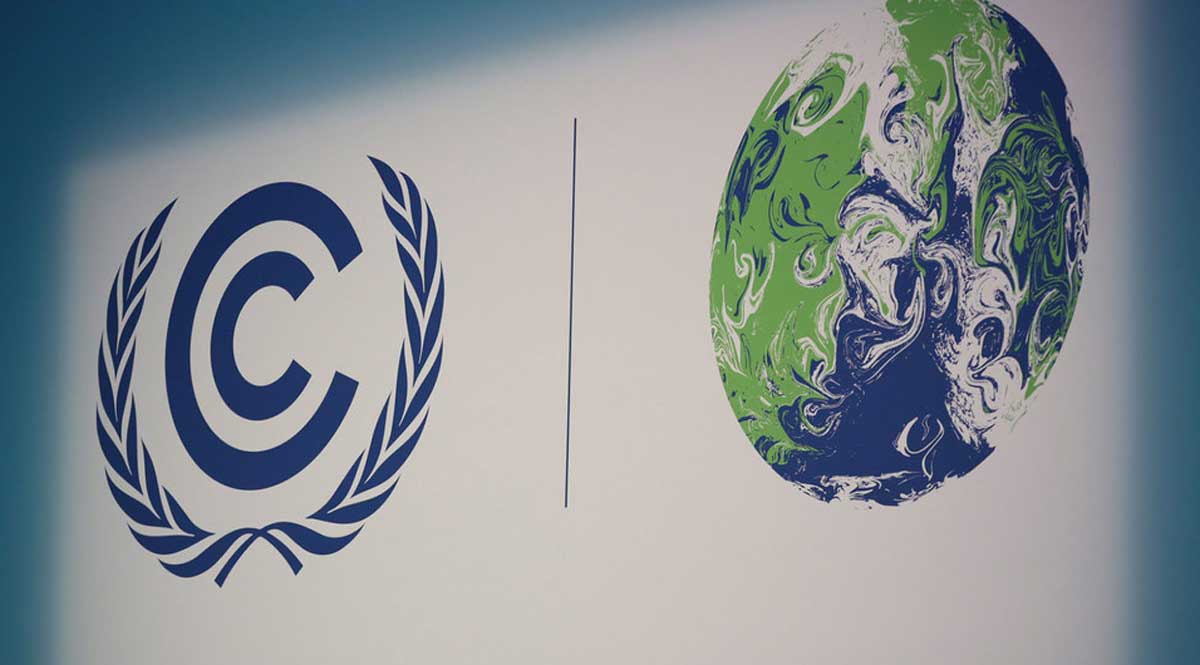 The much-discussed COP-26 conference is over. The conference was scheduled to take place in Glasgow, Scotland from October 31 to November 12, but the time was extended by one day as there was no consensus within the stipulated time. In addition, the next 2022 and 2023 COP conferences will be held in Egypt and the United Arab Emirates respectively. The main goal of the UN at the COP-26 conference was to halve carbon emissions by 2030, which would require a 45% reduction in carbon emissions. Moreover, by 2050 emissions will have to be brought to zero percent. The UN's second goal at the conference was to increase assistance to the poorest countries in the climate crisis, so that they can adapt and spend money to address the damage caused by climate change.
Climate experts say global temperatures have risen by 0.5 degrees Celsius in recent decades to 1.1 degrees Celsius. Due to this, various natural disasters including floods, tidal surges, cyclones and fires have increased abnormally. The United Nations has said that if the current rate of carbon emissions continues, temperatures will rise to 2.7 degrees Celsius. The increase in the use of fossil fuels is 100% responsible for this, said Associate Director of Oxford University.
Climate change was pledged 100 billion a year in 2009. It was said that this assistance will be effective by 2020. However, it has been postponed again till 2023, but this promise is not being fully fulfilled. As a result, the poorest countries affected by climate change are being hit hardest. The UN's IPCC says 100 billion a year in compensation will not benefit poor countries affected by climate change. Now it will take a trillion dollars a year to deal with their losses.
If the temperature rises by two degrees Celsius, it will cost billions of dollars every year in Africa alone. The IPCC also claims that spending 1.8 trillion over the next decade on sectors such as infrastructure, agriculture and mangrove forest conservation to tackle the climate crisis would avoid 7.2 trillion in losses. On the other hand, scientists say that if tough climate policies are not implemented now, 200 million people a year will need new humanitarian aid by 2050. Which is twice as much as it is now.
However, three consecutive agreements were drafted at the COP-26, because of disagreements over how to reduce atmospheric altitude. Finally, under the pressure of China and India, the word 'phase down' was added instead of 'phase out' in the agreement on coal use. More than 200 countries have agreed to an agreement called the Glasgow Climate Pact, which aims to increase climate crisis compensation by 2025 and update each country's NDCs each year. Now it will take a long time for the UN member states to sign. It is difficult to say now how many countries will sign in the end.
Meanwhile, the pros and cons of the deal are being discussed around the world. In it, most of the negotiators have expressed a negative attitude, especially people and environmentalists from least developed and developing countries. Young people have called the conference a 'greenwash'. The chairman of the conference, British Minister Alok Sharma, said, "Fragile victory." According to the UN president, the agreement only aims at a temperature of 1.5 degrees Celsius. "This is an important step, but not enough," he said. "It's a big step," said Boris Johnson, the prime minister of the United Kingdom. US Climate Ambassador John Kerry said Paris had created the field and the Glasgow race had started from there.
According to experts, the decision taken at the Glasgow Conference, if implemented properly, will prevent the rise in atmospheric altitude even if it does not decrease to the desired level, which is beneficial for the world. But there is no guarantee that the agreement will be fully implemented, as evidenced by the Paris Agreement. The agreement was not fully implemented. As a result, the world has to pay its ultimate compensation. The same could be said of the Glasgow Agreement. Needless to say, the agreement is a beacon of hope, on the basis of which we can move forward.
Apart from the COP-26 agreement, there are a number of commitments to reduce carbon emissions by 2030. Such as: stop using coal, protect forests, reduce methane gas, build climate tolerant and low carbon emissions healthcare systems, stop building fossil fuel based vehicles, net zero etc. In addition, Scotland has initiated funding (1.4 million) to fund climate change issues. The biggest surprise of the COP-26 conference is the announcement by the US and China to work together to tackle the climate crisis.
The unexpected announcement said the two countries would work together to keep atmospheric temperature rise within 1.5 degrees Celsius within this decade. The United Nations and the European Union have called the announcement a "very urgent and encouraging step." Then there are India, Russia and the EU. Now, if they join the Sino-US initiative, carbon emissions will be much lower.
Furthermore, 190 countries and organizations have pledged to stop using coal. Many countries and organizations have announced to stop financing the coal sector. If this promise is implemented, the amount of carbon emissions will be greatly reduced. So it is conceivable that the rest of the world will follow suit. And if that is the case then the great sacrifice of renewable energy will start worldwide. The use of nuclear power to meet the demand for electricity will also increase a lot. 124 countries have pledged to stop deforestation.
One of the ways to save the planet is to get the necessary forest cover and 25% forest cover, which all countries have to create, and it has to be fruit, herbal and forest based. Planting fruit trees will meet the nutritional needs. Besides, the demand for wood for furniture will also be met. Also, if medicinal plants are planted, the demand for medicine will be met. Therefore, in the case of tree planting, all these must be given importance. Tall and strong trees to deal with storms, floods, tidal surges and salinity should be planted in coastal areas and drought tolerant trees should be planted in desert areas. With this, all-round measures have to be taken to protect the forest. Otherwise, the forest hunters will destroy the forest as it is now if they get a chance.
There will be huge employment in the creation of forests. Social forests are very helpful in alleviating poverty. Therefore, it is the responsibility of the government and the society as well as the individual to create and protect the necessary forests in a planned manner. In collaboration with the World Health Organization, 50 countries have pledged to build climate-tolerant and low-carbon health care systems. If it is implemented, people will benefit a lot. 90 countries have pledged to provide private funding to achieve net zero. If it is implemented, the environment will improve a lot.
At the COP-26 conference, hundreds of countries pledged to reduce greenhouse gas emissions by 30% by 2030. It did not say how it would be done. According to a recent research report, agriculture is responsible for 12% of the world's greenhouse gas emissions, mostly due to methane gas. Agriculture and livestock together produce about 40% methane. Cows emit the most methane among cattle. A cow releases about 220 pounds of methane a year. According to the United Nations, the tendency to consume beef and milk will increase by 70% in the next few years. The number of cows will also increase.
As a result, methane will be emitted at a proportional rate. So global warming will increase further, but there is no reason to worry. This is because Jelp in the UK and Cargill in the US have created a special cow mask to protect cows from methane. Although like a mask, it is actually a device that is attached to the cow's nose. The device filters the methane emitted in a special process and converts it into carbon dioxide.
So now it is necessary to make arrangements for all the cows to wear masks. Then the amount of methane gas will decrease. Experts are talking about changing diets to reduce carbon emissions. Every year, 14.5% of the world's greenhouse gases are emitted for animal feed. Scientists are of the opinion that it is possible to reduce the level of carbon in the atmosphere by increasing the speed of carbon storage at the bottom of the ocean.
According to the British government, during the COP-26 summit, six of the world's leading car manufacturers (Volvo, Ford Motors, General Motors, Mercedes-Benz, BYD and Land Rover) announced that they would stop making fossil fuel-based vehicles by 2040. This did not include Toyota, Volkswagen AG, Stellantis, Honda, Nissan, BMW and Hyundai. But there is no way to make the world carbon-free without their involvement. Because, different countries have already banned the use of fuel based vehicles. By 2030, most countries will do the same. According to the IAA, the transportation sector is responsible for 25% of global carbon emissions.
Road vehicles are most responsible for this. Bill Gates, in an article published based on his experience of attending the COP-26 conference and surrounding issues, said that by 2050, the world will have to emit zero carbon. Achieving this will require a green industrial revolution, where we will de-carbonate virtually the entire physical economy. This will include making things, generating electricity, moving around, producing food and heating and cooling buildings. However, this will require extensive innovation. Emphasis should be placed on innovation of environment friendly technology.
However, the earth must be saved. Human, fauna and biodiversity must be protected. Therefore, the agreements and commitments of the COP-26 conference must be fully implemented to limit the altitude of the atmosphere to 1.5 degrees Celsius by 2030. This is the responsibility of all the people and countries of the world. However, the greatest responsibility lies with the rich. Because, they have the main responsibility for increasing the height of the atmosphere. They emit 30 times more carbon emissions than the poor. So they have a greater responsibility to reduce carbon emissions. The rich must help 134 poor and developing countries to implement the Green Revolution, because they can't afford that.
The main responsibility in this case lies with the World Bank, IMF and international financial institutions. Otherwise the green revolution of the countries will not succeed. As a result, the loss of carbon emissions will continue. Needless to say, it should not be based on rich countries alone. Poor and developing countries should also try their best.
COP26: We All Live On The Same Planet
Encomiums to Greta and plaudits to the COP26 delegates. She kept their feet to the fire and their efforts had at least one unexpected side effect: The world's two largest polluters (China and the US) agreed to phase out coal, the worst fossil fuel polluter.
India walked out, and prime minister Narendra Modi returned home complaining the rich countries were not contributing enough to assist poorer countries in making the necessary energy transitions to alleviate global warming. Ironically, Delhi was enveloped in smog shutting schools and colleges soon after his arrival.
A deal labeled 'historic' by the conference chairman, Alok Sharma was finally announced a day late on Saturday (November 13). Taking no chances, he banged down the gavel and closed the meeting.
The final draft of the Glasgow Climate Pact, as it is now called, changed the 'phase-out' of coal to its 'phase-down' at the behest of India, making environmentalists most unhappy. Under this change, the goal of limiting warming to 1.5C above pre-industrial levels could be considered in jeopardy. The earth has already warmed 1.1C. Still, the signals are there. The coal era is clearly coming to an end for this is the first time coal has been targeted explicitly.
The pessimists can point to current projections (scroll to end of reference). Before the pledges of COP26, the world was expected to emit 52.4 Gt (gigatonnes) of greenhouse gas emissions in 2030; after the pledges, this figure has been reduced to 41.9 Gt. But here's the surprise: In 2040 we need to be emitting at the most 26.6 Gt to limit warming to 1.5C.
Is the world in la-la-land? There may be hope in the fact that countries will convene again next year to pledge further carbon cuts towards the flat elusive 1.5C goal. Pledges so far will lead to a 2.4C warming. It means at present we are headed for a 1.3C warming over and above the 1.1C level that we have already reached. The Paris goal of 1.5C implies a 0.4C additional warming. And simple arithmetic tells us we are warming at a rate more than three times (1.3C divided by 0.4C) what we can afford if we hope to arrest global warming.
To repeat, the good thing about the deal is that countries are obliged to discuss the issue again next year to examine whether pledges are consistent with the 1.5C goal. On the downside, as we have seen, the pledges are not even viable now.
If the temperature rises discussed appear to be minuscule, yet the example of coral reefs gives perspective. A 2C rise would kill more than 99 percent of them.
For the poor countries there ws anger over the failure of rich countries to provide $100 billion annually for the poorer V20 countries. It is a group particularly vulnerable to climate changes. Instead the rich decided to double the 'adaptation' finance to $40 billion. Then in separate funding available to the low and middle income countries to improve climate resilience — essentially to help them survive the effects.
Lest we think this is charity, let's not forget we all live on the same planet.