Role of an individual being to save the green earth
It is no secret that for decades, Earth has been incessantly abused, threatened, and destroyed. As man continues to put his selfish needs first, our environment suffers. The amount of destruction humans have caused in the past three decades is beyond comprehension – the glaciers in the poles are rapidly melting which is increasing the water level of the oceans; forests are quickly depleting; the percentage of greenhouse gases and other pollutants in the air is continuously rising, posing a threat to the already thinning ozone layer; energy reserves are exhausting, and the list goes on.
Isn't it about time we started thinking about our beautiful planet and other life forms that inhabit it?
We all know that in an ecosystem, the well-being of one is closely and intricately related to that of another. Every living being – microorganisms, insects, animals, birds, plants – is dependent on each other for survival. The extinction of one species will naturally create an imbalance within the ecosystem, disturbing all other life forms within it.
Every individual has a role to play in preserving the Earth's environment. A positive change, no matter how small, holds the ability to create a lasting ripple of change in the long run. Just imagine, if every individual all around the world (that is, 7 billion!) started doing their respective parts in reducing their carbon footprint and adopting the green way of living, how massive a change could we create! Taking baby steps and starting by adopting positive everyday habits could go a long way in saving the environment.
Here are a few things you, as an individual, could start doing to make this world a much 'greener' and better place.
Adopt the 3R technique – Reduce, Reuse, and Recycle.
First, try to minimize wastage of resources and the domestic waste produced as much as possible. Buy only what you need, and it is a wise move to buy large packets(more quantity of product but less waste generated when it comes to packaging). Always reuse items that can be used more than once, such as grocery and shopping bags. Opt for washable utensils over disposable ones. Indulge in recycling products to create new products. People all around the world have come up with many unique ideas to recycle waste and create something new!
Composting is the way to go!
Instead of dumping away the organic waste(vegetable and fruit peels, flowers, leaves, etc.) produced in your house daily in some landfill, try composting. Dig a pit in your backyard and start dumping the organic waste in it. When the hole is filled, cover it up with soil. The organic waste will decompose in several weeks and will serve as natural manure for the soil. This is the best way to start organic farming in your own backyard!
Live Unplugged!
Always, always, remember to unplug used chargers from the sockets and switch off the lights, fans, and any other electrical appliance when not in use. You may not realize it, but these little acts of carelessness may be the reason behind your skyrocketing electricity bills. By switching off devices and appliances when not in use, you are not only cutting down on your energy costs but are saving a considerable amount of energy.
Opt for energy efficient appliances
Replace the age-old and energy-hogging appliances in your home with the new, energy-efficient ones. Today, the market is filled with energy efficient bulbs, fans, heaters, air conditioners, TVs, refrigerators, and so much more. These devices deliver excellent performance while consuming minimal energy. Thus, the overall consumption of electricity in your house will reduce to a large extent, as will your utility bill.
Plant Trees
Trees provide us with oxygen, shade, and bring rainfall. They are immensely needed to help combat the climate change that is taking the entire world in its grip. Do your part and make it a point to plant trees in your surrounding areas. You can take up the initiative during festivals or special occasions and create a tree plantation drive in your neighborhood. This way, you will encourage others to plant trees for a greener future.
Apart from these major steps, you can also save the Earth by doing the following:
Opt for public transport. Individual cars and automobiles not only increase the overall fuel consumption but also increase the air pollution every day. By riding public buses, trains, metros, etc., you can help reduce this.
Choose e-receipts and bills over paper bills. This will help save our forest resources.
Fix any leaks and cracks, in any, in the pipes, taps, and water cooling system in your homes. Every drop of water is precious.
Adopt rainwater harvesting. By collecting rainwater in clean containers or tanks, you can create an extra buffer of water for fulfilling your domestic purposes(washing cars, watering plants, etc.).
Say no to plastic bags. Use cloth or jute bags.
If each one of us starts following these steps, our Earth will become much greener and livelier in the years to come. Never forget, this is our only Home, and it is up to us to protect and preserve it.
How Islam can represent a model for environmental stewardship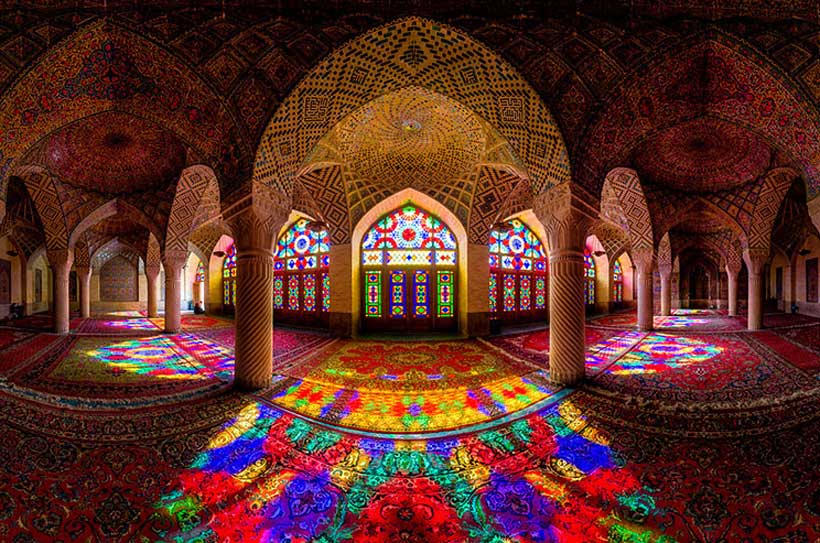 The world, not just the UN, is waking up to the power of faith-based organizations (FBOs). How can Islam, and other faiths, contribute to solutions to sustainability and mitigate climate change risks?
Odeh Al-Jayyousi, Professor and head of innovation at Arabian Gulf University in Bahrain, scholar in sustainable innovation and a member of UN Global Scientific Advisory Panel, for UN Environment's Global Environment Outlook 6 (GEO6), argues that Islamic worldview represents a unique model for a transition to sustainable development by focusing on justice, degrowth and harmony between human and nature.
He commented that Islam views the environmental challenges as an indicator for a moral and ethical crisis. Looking at the creation of human, Earth, and cosmos as signs of the Creator (Kitab Manthoor) is a key in Islamic values.
Prof. Al-Jayyousi elaborated that Islamic worldview defines a good life (Hayat Tayebah) living lightly on Earth (Zohd) and caring for both people and nature. Islamic discourse offers a sense of hope and optimism about the possibility of attaining harmony between human and nature. Earth will find a balance if humans rethink their lifestyles and mindsets as stated in the Quran:
Corruption has appeared in both land and sea
Because of what people's own hands have brought
So that they may taste something of what they have done
So that hopefully they will turn back
Qur'an 30: 41
Professor Al-Jayyousi calls to revive the holistic view of Islam which is founded on the notion of harmony and "natural state" (fitra) and in respecting balance (mizan) and proportion (mikdar) in the systems of the universe. These notions provide an ethical dimension and a mandate for all humans to respect nature and all forms of life.
Hence, the overcoming environmental crisis and mitigating the impact of climate change, from an Islamic perspective is underpinned by defining the role of humans as trustees and stewards (khalifah). This balance has been disturbed because to human choices which result in overconsumption, overexploitation and overuse of resources.
Islamic values call to save integrity and to protect the diversity of all forms of life. Professor Al-Jayyousi commented that the ecological crisis is linked to human ethics and values. Human actions are responsible for the global ecological crisis. "Reflecting on the main environmental problems, such as the destruction of natural habitats, loss of biodiversity, climate change, and erosion of soil, we see that all are triggered by human greed and ignorance. Human responsibility is to save and protect livelihood and ecosystem services to ensure a sustainable civilization learning from and reflecting on the fate of past civilizations", said Professor Al-Jayyousi.
He cited a verse from the Holy Book, Quran, "Every living thing is in a state of worship". He commented that when one hurts a bird or a plant, he/she is silencing a community of worshippers. To celebrate the symphony of life, all humans need to celebrate and protect biological and cultural diversity.
Islamic worldview calls to make a transition to a sustainable society and economy by adopting responsible development and respecting sustainability principles. This change requires a shift in norms and practices. Religion can become a powerful part of the solution if humans embody a holistic spiritual view towards mankind, earth and cosmos.
In 2015 in Istanbul, the Muslim world in its Islamic declaration for climate change set the framework for an ethical code of conduct to build a low-emission climate resilient future.
Al-Jayyousi aspires to see a new Islamic discourse that emphasizes and links faith, reason and empathy to ensure an ecological insight (Baseera). He calls to rethink educational systems that neglected the beauty and majesty of nature and the cosmos.
"The extinction of species around us which are simply communities like us (Ummam Amthalokom) may extend to humankind unless we change our worldviews and development models", warns Prof. Al-Jayyousi.  He calls to revive the concept of Green Endowment Fund (Waqf) to support a transition to sustainable economy by promoting innovation (ijtihad)  inspired by nature and culture.
He proposed a conceptual model with three domains to address climate change and sustainability:
Green activism (Jihad)
Green innovation (Ijtihad)
Green lifestyle (Zohd).
He refers to this as a Green JIZ model, which represents an Islamic response to climate change embodying the concept of de-growth.
"Conflict and poor governance are putting the Middle East and North Africa at jeopardy" points out Prof. Al-Jayyousi. He calls for a sustainable region that is founded on human and environmental justice. An optimist, Prof. Al-Jayyousi is inspired by prophet Mohammed saying "If it is the Last day of life and you have a small plant, make sure you plant it".
First published in UN Environment
Greening Vietnam's tea industry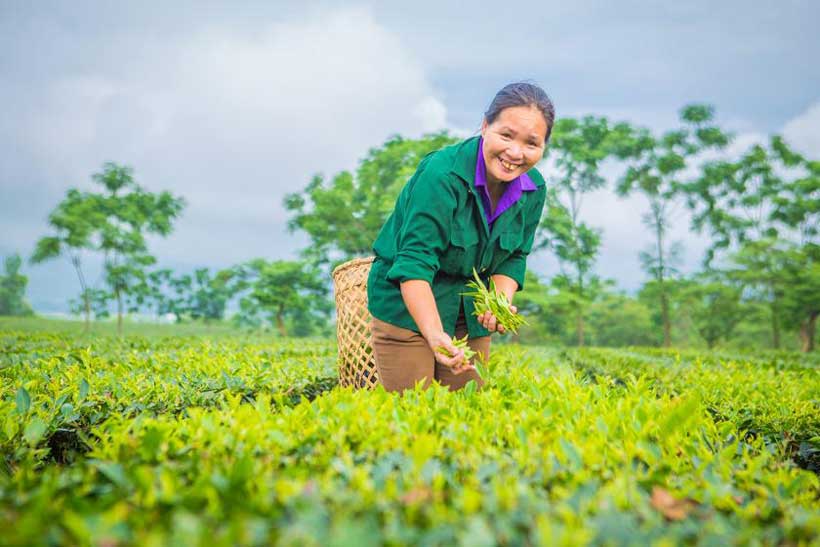 How sustainable farming is turning the tables for Vietnamese tea growers
The act of drinking tea is a key part of many of Vietnam's social rituals and interactions. As a commodity, tea is also one of the country's most important exports. But in recent years, unpredictable, heavy downpours and overuse of agrochemicals have led to poor quality crops, low yields and a decline in the reputation of Vietnamese tea within the global export market.
But now, with the help of UN Environment and partners, Vietnamese tea growers have begun to turn the situation around, resulting in an impressive adoption of sustainable farming techniques and a 30 percent increase in average income in only two years.
Thanh has been growing tea since 1983. Her two children grew up among the tea bushes. Tea has always been Thanh's primary income source and the six cyclical harvests she reaps throughout the year have become integral to the rhythms of family life. Standing amidst the perfectly straight rows of tea plants covering her two-hectare plantation, she explains the devastating effects of heavy rainfall on her smallholding in past years.
Climate change has led to increased heavy rainfall and flooding in this region of northern Vietnam; those farmers who are unlucky enough to grow on steep gradients without sufficient tree cover have had to cope with frequent landslides and severe crop damage due to soil erosion. Like most other tea farmers in her commune, Thanh's previous reliance on herbicides and pesticides meant her crops fell short of international trading standards.Her heavy chemical use was also damaging the  soil  she and her family depend on – killing off beneficial organisms along with pests, resulting in reduced organic matter and poor soil drainage capacity. These poor natural resource management techniques contributed to the widespread water contamination threatening livelihoods throughout Vietnam's Central and Northern Highlands.
The scale of this land degradation challenge and its impact on tea farmers around Asia prompted UN Environment to collaborate with The Rainforest Alliance to establish the Sustainable Tea Production Landscapes project. Since 2014, the Global Environment Facility-funded initiative has been working across five of Asia's best-known tea-producing regions – Darjeeling and Assam (India), Yunnan (China), lowland Sri Lanka and Vietnam – educating smallholder farmers and large estate tea growers on the dangers of land degradation and training them in sustainable farming and land management techniques.
While the project's environmental aims are to protect and restore soil fertility, enhance carbon sequestration and conserve the biodiversity found in tea production landscapes, it also aims to secure farmers' livelihoods by reducing their vulnerability to climate-related crop failure – an aim that is already bearing fruit.
Since she began implementing sustainable farming techniques after receiving training from the project, Thanh's family income has doubled, and the nearby tea factory is willing to pay more for her crops due to their improved quality.
"We've stopped using herbicides completely," she says, explaining how she now uses organic methods to control pests and boost the soil's nutrients. "I've learnt to apply mulch and grow hedges, so that natural ecosystems can work against pests; we also intercrop tea with legumes, which replenish and fix the nitrogen into the soil."
Thanh's enthusiasm has also made her an excellent peer educator, and she has trained around 70 other tea growers in sustainable farming techniques to date. According to Rikolto, the project's implementing partner in Vietnam, over 3,000 stakeholders from tea-producing communities, grower cooperatives and local government in Yen Bai, Lai Chau and Thai Nguyen provinces have been trained in alternatives to agrochemicals and effective soil management. Rikolto have used the Farmer Field School methodology, which focuses on learning through experience, capitalising on local knowledge and empowering growers to take ownership of land and soil issues. The curriculum also emphasises the importance of using compost and green manure, and of planting shade trees to keep temperature and moisture levels constant.
Today, Thanh's fields are a lush, rich green. But it wasn't always this way.
"Before I joined the project. The tea plants were small and red in colour due to malnutrition. Now, they look healthy because they are under the shade and getting what they need," she says with a grin. "My yield has doubled!"
The Plight of Birds and Human Responsibility in the Sixth Mass Extinction
As birds become fewer, wildflowers vanish, butterflies disappear, and animals in the wild are threatened, extinction and a grim future haunts.  How often does Rumi write about birdsong … there is a reason.  Nature revives the spirit.
World Environment Day has come and gone.  It was June 5th.  A UN outreach program hosted by a different country each year, it is designed to draw attention to the country's environmental challenges and to offer it support.  This year the host is India and the theme is beating plastic pollution.  But plastics are not just a blight on the landscape, they are in the seas destroying coral and the species it shelters, painfully killing whales and other creatures … including birds.
Yet, it is far from the only cause of bird distress and their sharply declining numbers.  One example comes from the Arctic, where receding ice has taken with it the nutritious cod, which favor cold waters, and has endangered the black guillemot now forced to feed chicks on the bony and difficult-to-digest fourhorn sculpin.
When the EU commissioned a State of Nature report, they expected bad news but not quite as dire a result.  Prepared by the European Environment Agency and sourced from EU-wide data, it found one in three bird species threatened and only a little over half secure.  It also drew a bleak picture of European habitats finding over half of those studied to be unfavorable.  Habitat loss, pesticides particularly neonicotinoids, even excessive hunting, notably in southern Europe, are all to blame.
Earlier, a comprehensive study conducted by University of Exeter (UK) professor Richard Inger and colleagues had analyzed avian biomass across 25 countries over 30 years.  Using data from Birdlife International and the Pan-European Common Bird Monitoring Scheme, they discovered a surprisingly large and troubling loss:  from 1980 to 2009 the estimated total avian population had declined by 421 million birds.
Meanwhile, new research in the US with far-reaching consequences places blame squarely on human action.  It examines avian consequences of noise pollution.  If certain constant noises irritate us — think of road repair and a pneumatic drill — then birds are no exception.  Noise from oil and gas operations is stressing out birds and harming reproduction.  They exhibit signs of chronic stress, lay fewer eggs or fewer eggs hatch, and nestling growth is stunted.
So reports a study by Nathan Kleist and colleagues in the Proceedings of the National Academy of Sciences (unfortunately not available to the general public without a fee).  The authors study three species of cavity nesting birds (the ash-throated flycatcher, the mountain bluebird and the western bluebird) breeding near oil and gas operations — located on Bureau of Land Management property in New Mexico's San Juan Basin .
The researchers placed 240 nest boxes on 12 pairs of sites, close to and at varying distances from the drilling pads where loud compressors operated non-stop.  The team took blood samples of adult females and nestlings from all the nest boxes for three years.  They examined nestling body size and feather length and found them to be less well developed in both noisy and lower noise areas, suggesting any level of irritating noise is disruptive.
Baseline levels of a key stress hormone, corticosterone, showed high stress in birds nesting closest to the noise.  In addition, when subjected to a test of being held for 10 minutes, nestlings in noisy areas produced significantly greater stress hormones than those in quiet areas.
It also turned out that the western bluebird was the only species willing to nest in the sites closest to the compressors.  Such behavior had cultivated a belief it was immune to noise.  Not so, the study results revealed.
That environmental stress is increased by noise pollution, and that it degrades avian reproductive success is thus the conclusive message of this study.  With background noise constantly increasing in the US, even protected areas are no longer immune.  On the face of it, there is also the distinct possibility other species could also be affected.
If the anthropocene is our age, it is also our look in the mirror to see what the human footprint has wrought, even if unwittingly.  Global warming, extreme weather events becoming more severe, plastic pollution and stressed wildlife, record extinctions, insect declines … all appear to be portents of an impaired future warning humans repeatedly of urgency.  The sixth mass extinction is underway but it will take centuries if not thousands of years, and man can help by alleviating global warming and increasing preservation efforts.  Clearly related to CO2 levels, global warming has been the culprit in the previous five.  CO2 levels are already in excess of 0.04 percent perilously close to the 0.05 percent calculated to melt icecaps through temperature rise causing serious flooding of coastal areas.
Are leaders and decision-makers listening?
Authors note:  This article appeared originally on Counterpunch.org