Further reforms to spur trade and investment key for Brazil's inclusive growth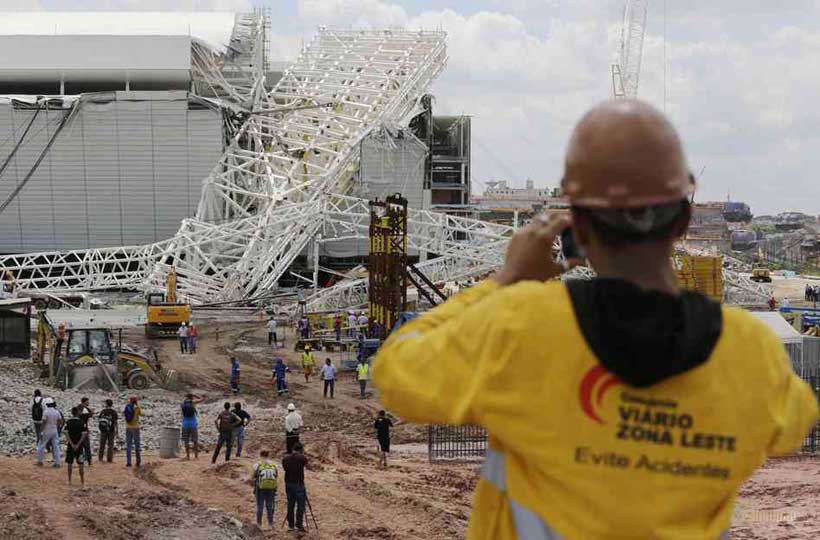 Brazil is emerging from its long recession and is headed for solid growth in 2018 and 2019 as recent structural reforms start to bear fruit. Sustaining this recovery, unleashing Brazil's full economic potential and spreading the benefits fairly will require additional efforts to rein in public spending, increase trade and investment, and further focus social spending on those most in need, according to a new OECD report.
The latest OECD Economic Survey of Brazil says that deepening reforms to strengthen institutions, improve business regulation and reap the benefits of tighter integration into the global economy could lift GDP by at least 20% over 15 years, which would boost household incomes and help compensate for the economic drag of a rapidly ageing population. Better targeting of welfare spending on the poorest households would be crucial for fostering inclusive growth.
"Brazil is back on a positive growth path, but there is no time for complacency," said OECD Secretary-General Angel Gurría, presenting the Survey in Brasilia. "With the demographic dividend now over, getting the economy fully back up to speed will require greater investment, higher productivity and closer integration into the global economy. For this, Brazil needs to continue on the path of active structural reform to ensure the sustainability of its fiscal accounts and the inclusiveness of its growth".
The Survey says Brazil is foregoing the benefits of integration into the world economy due to a trade policy that has prioritised safeguarding domestic markets over facilitating access to foreign markets. Brazil has especially high tariffs on intermediate and capital goods, and non-tariff trade barriers such as local content rules and anti-dumping measures are widespread.                    
Lowering trade barriers would make Brazilian firms more competitive by allowing them to source inputs at lower prices. This would boost trade volumes and raise productivity and wages. It would also reduce prices for consumers, in particular low-income households.
Investment, already low compared to other Latin American and emerging economies, has declined in both real terms and as a share of GDP in recent years, weighing on the overall economy and adding to existing infrastructure bottlenecks. Reversing this trend will require concrete actions to improve infrastructure planning, open up new sources of finance, reduce administrative burdens, simplify taxes, and streamline licencing. Continuing to fight corruption with reforms to increase accountability would also help to draw investment and restore citizens' trust in institutions.
On public finances, the Survey warns that without a significant reform of mandatory public spending, Brazil's fiscal accounts risk becoming unsustainable. To promote growth that is more inclusive while achieving fiscal targets, a comprehensive pension reform is the top priority for Brazil in the short term.
The Survey also recommends improving the allocation of social spending, much of which benefits middle-class households, to firmly target those most in need. For example, Bolsa Familia is a highly effective scheme but only accounts for 0.5% of GDP out of the 15% of GDP that goes to social spending. Shifting more resources towards this scheme while reforming other transfer programmes would help to decrease inequality and poverty.
Transfers to private companies, including through tax reductions, have risen strongly in recent years, creating fertile grounds for rent-seeking behaviour and political kick-backs without halting the substantial decline in investment.
As Brazil works to strengthen public governance and improve accountability for public spending, the OECD is also launching on the occasion of the Secretary-General's visit to Brasilia a new 3-year project with the Tribunal de Contas da União, Brazil's supreme audit institution, aimed at strengthening its capacity to improve the effectiveness and evidence base of policies and programmes in areas such as education, health and security.
Ground Wars and Star Wars: Trump in Hog Heaven?
Four weeks and counting the shutdown continues except the Trump-Congress tit-for-tat is fast approaching kindergarten level.
The Speaker of the House Nancy Pelosi is third in line for the office of President.  The Democrats having won back the House she is a Democrat, and Donald Trump just canceled her morale-boosting trip, together with a congressional delegation, to the soldiers in Afghanistan.  He was able to do that very simply by denying the use of the military aircraft scheduled to fly them there; he cited the shutdown.  He even suggested they could fly commercial to Afghanistan, but disclosing plans to a war zone by such a high-level elected official has left some dismayed.
A day earlier, Ms. Pelosi had urged the president to postpone his State of the Union address, which is hosted by the House, again because of the shutdown.
Meanwhile some Federal workers are having difficulty buying groceries — some 800,000  either continue to work without pay or are just sitting at home waiting to return.  Many, if they can, are taking on temporary jobs.
As the cost of the shutdown rises, so does the political cost.  A new Marist poll finds 54 percent blame Trump for the shutdown while 31 percent believe the Democrats are the cause.  But, cutting across party lines, 70 percent do not like the shutdown and agree it is a bad negotiating strategy.  It looks like it might cost all incumbents, and Republicans are likely to suffer worse.
The latest shot fired is a threatened investigation by Democrats.  It is alleged that Mr. Trump instructed his former lawyer Michael Cohen to lie to Congress about plans to build a Trump Tower in Moscow.  The House Intelligence Committee will investigate the claims according to its new chairman Adam Schiff, a Democrat, adding that suborning perjury before this committee is the most serious charge to date against the president.
From ground wars to space wars:  President Trump has now announced new missile defense plans.  A layer of space sensors to detect missile launches anywhere on earth is the intent.  "Our goal is simple:  to ensure we can detect and destroy any missile launched against the United States — anywhere, anytime, any place."  Inevitably the new plan invites comparisons with Ronald Reagan's "Star Wars" concept introduced in the 1980s but later shelved because of its inordinate cost after the Soviet Union dissolved.
The Pentagon's Missile Defense Review notes four countries (China, Iran, North Korea and Russia) that could be possible threats with missiles capable of hitting the U.S.  "We have some very bad players out there," according to Mr. Trump, though it is almost impossible to imagine any of the four countries mentioned launching a missile strike.  Given the consequences, including a nuclear winter to threaten the planet as a whole, it is difficult to envision circumstances leading to nuclear war.  And Russia warns of a new arms race.
Naturally, Mr. Trump wants immediate funding for these plans.  But the House holds the purse strings.  Oops!  It's back to Speaker Nancy Pelosi.  The game continues.
Nancy Pelosi and her dual approaches
In her remarks, the United States House Speaker Nancy Pelosi, asserted that Trump's border wall campaign has nothing to do with border security. She said it's one of the US President's plans for energizing his conservative base, and in this way, he aims to distract the country from the various scandals dogging his administration.
"I don't even know if the president wants the wall. I think he just wants a debate on the wall. And he's having some difficulty with it," Pelosi said during a press briefing at the Capitol.
"He keeps increasing the amount of money; increasing the amount of beds; increasing the obstacles to finding a solution — because I don't think he really wants a solution," Pelosi said. "I think he loves the distraction that this is from his other problems," She added.
Pelosi, along with Senate Minority Leader, Chuck Schumer, noted that they disagree with Trump over building a physical border wall, which according to them, would be expensive and ineffective.
"Democrats and the president both want stronger border security. However, we sharply disagree with the president about the most effective way to do it … Most presidents have used Oval Office addresses for noble purposes. This president just used the backdrop of the Oval Office to manufacture a crisis, stoke fear, and divert attention from the turmoil in his administration," said Schumer in answer to Trump's recent remarks.
On the other hand, Pelosi is among those who are seriously standing against Trump's impeachment. This dual approach taken by Pelosi towards the White House, and the fact that the House speaker and other Democrat leaders have argued against the serious consideration of Trump's impeachment, may lead to conflicts inside the Democratic Party in the future.
"We have to wait and see what happens with the Mueller report. We shouldn't be impeaching for a political reason, and we shouldn't avoid impeachment for a political reason. So we'll just have to see how it comes," Said Pelosi.
However, Pelosi's remarks were not unprecedented! When Pelosi was the House Minority Leader in the years between 2016 and 2018, she opposed the idea of impeaching Trump. Nancy Pelosi has made it clear that she has a conservative approach towards Trump. This is while with a majority of seats in the House of Representatives, Democrats can initiate impeachment proceedings against Donald Trump. The fact that some Democrat leaders have opposed Nancy Pelosi's Minority leadership in the US House of Representatives is rooted in the same reason. In any case, it seems that Pelosi prefers scenarios such as "making a political deal with Trump" to "Confrontation with the President". Nancy Pelosi argues that Democrats' direct confrontation with Trump, and in particular the impeachment of the President of the United States, will lead to the anger of some American citizens, and the Democrats will be accused of posing a blow to the American political and social equations. However, it seems that some Democrats do not agree with Nancy Pelosi's opinion! Politicians such as Bernie Sanders believe that Trump is not politically negotiable. They believe that any compromise reached between Democrats and Trump will hold a bad result for them in the US 2020 presidential election.
At any rate, there's plenty at stake: Amid this crisis, Trump has come with the idea of declaring a national emergency at the border, a move that could free up wall funding without the Congress approval.
"If this doesn't work out, probably I will do it. I would almost say definitely," said Trump.
The US government shutdown, which is resulted from the disagreements over border wall funding, is still ongoing. Trump is demanding $5.7 billion for new wall construction; Pelosi and the Democrats have offered $1.3 billion for border security measures, but have opposed construction of any new physical barriers. In spite of this, Trump has previously claimed that he's ready to hold the shutdown for months and even years! If Pelosi surrenders in the face of Trump's demands, she would be regarded as a defeated figure inside the US political circles.
First published in our partner MNA
News sources in the United States announced that Joe Biden, the U.S. former Vice-President (from 2009 to 2017), and a prominent figure in the Democratic Party will soon announce his run for the president in 2020. Biden has previously said that he's "the most qualified person in the country" for being president.
Biden mentioned these words in a controversial interview which has attracted the attention of many American analysts. However, Biden's final decision for participating in the presidential campaigns wasn't clear. Eventually, a number of Biden's followers, including his brother Frank Biden, announced his final decision to run for the general elections. Polls conducted in the United States indicate that Biden is currently more popular than other potential candidates of the Democratic Party in the upcoming elections.
Meanwhile, Biden is probably to face rivals such as Bernie Sanders, Senator from Vermont, and Elizabeth Warren, and even Hillary Clinton. During the 2016 presidential competitions, Biden was also scheduled to attend the in-party election competitions, but he changed his mind due to his son's death and Hillary Clinton's insistence on attending the presidential campaign. Biden's remarks, however, show that he's greatly interested in defeating Trump in the 2020 election.
However, we shouldn't forget that Biden can't really count on the current polls conducted among Democrat supporters! We can all remember that during the 2008 presidential elections and inside the Democratic Party, Obama had far less chance of reaching the final round of the elections than those like Hillary Clinton. But his successful speeches in states like Iowa and South Carolina led to Clinton's final defeat and Obama's victory.
Hence, the success of Biden's rival candidates in states like Iowa and New Hampshire (where American in-party elections begin with them) can completely change the equations, and that won't be to Biden's advantage.
Accordingly, Trump's position on Biden's participation in the presidential competitions are noteworthy. In a phone interview with Fox News' Jeanine Pirro, Trump called Joe Biden "weak". He also claimed that he's not worried about a potential challenge from the former vice president in the 2020 presidential race; "You know, a lot of people say Biden's doing OK, but he was always a 1-percenter. He was a 1 percent guy. He ran two or three times, he never got above 1%, and then, Obama came along and took him off the trash heap, and he became the vice president. He's weak. So, we'll see what happens with him."
Trump's words came on the same day that Biden had told some top Democrats that he was definitely running for president. "If I'm walking, I'm running," said Biden.
Trump's literature on Biden's presence in the U.S. presidential race, reflects the U.S. President's dissatisfaction and anger with the country's former Vice President and his candidacy. Obviously, Trump preferred figures such as Hillary Clinton, Elizabeth Warren to be his potential rivals in the next general elections.
However, Trump knows well that Biden can challenge his position at the White House by maneuvering again on issues such as public medical health insurance plan. On the other hand, Trump attempts to turn the game into an emotional rivalry through using ugly words against Biden, and this is very much like Trump's populist personality and approach. However, Biden now has his main focus on Democrats' inner-party race, and he doesn't consider direct competition with Trump until he has won his victory in the competition.
First published in our partner Tehran Times