Ballet and Opera Set Sail With Silversea in 2018 and 2019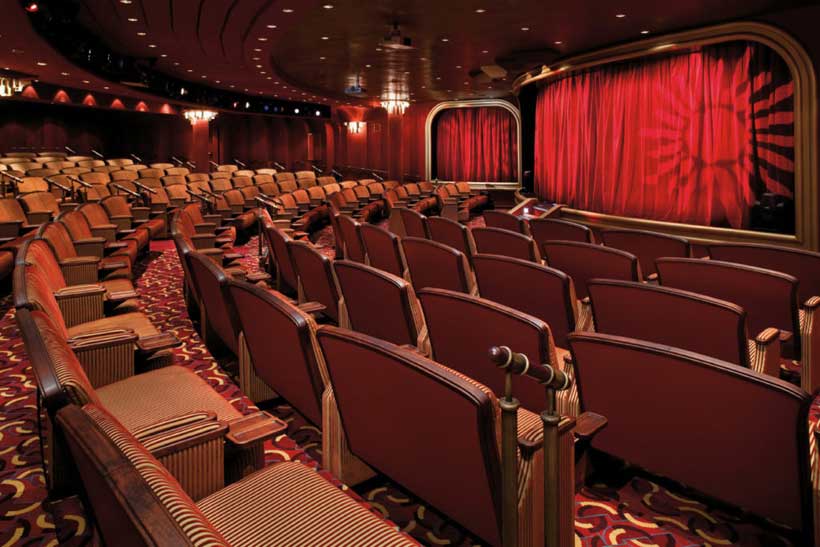 Ultra-luxury Silversea has announced a new collection of ballet and opera-themed sailings for 2018 and 2019. These Enriched Voyages, designed to blend culture and travel for a more immersive experience, will feature evocative opera shows performed by the world-renowned Accademia Teatro alla Scala and classic ballet performances by soloists from such legendary companies as the State Academic Bolshoi Theater of Russia. Along with lectures and Q&A sessions, guests will have the chance to mingle with the artists at a signature cocktail party.
"We are thrilled and honored to welcome such extraordinary talent from the performing arts," said Barbara Muckermann, Silversea's chief marketing officer. "I know our guests on these exclusive voyages will be both enriched and inspired by the exceptional onboard entertainment experience."
Based in Milan, Italy, Accademia Teatro alla Scala (La Scala Theater Academy) is one of the world's foremost performing arts academies. Its internationally renowned performers and instructors offer the highest level of artistic education for aspiring and gifted singers, dancers, and musicians from every corner of the world. Four soloists from its Academy of Lyric Opera and a piano accompanist will perform a selection of opera's most beautiful librettos for the enjoyment of Silversea guests aboard:
—Silver Muse departs September 28, 2018 on a 10-day voyage from Venice to Athens with calls in Rovinj, Dubrovnik, Corfu, Katakolon, Nafplion, Santorini and Rhodes. Early Booking Bonus fares start at $9,360 per guest.
—Silver Spirit departs April 25, 2019 on a 7-day voyage from Barcelona to Rome with calls in Porto Mahon, Alghero, Cagliari, Trapani and Sorrento. Early Booking Bonus fares start at $3,150 per guest.
—Silver Shadow departs October 22, 2019 on an 11-day, roundtrip voyage from Athens with calls in Mykonos, Crete, Kusadasi, Rhodes, Limassol, Haifa and Ashdod. Early Booking Bonus fares start at $4,230 per guest.
Daria Khokhlova and Artemy Belyakov, acclaimed ballet solo performers of the State Academic Bolshoi Theater of Russia, one of the world's most renowned ballet companies, are returning to Silversea for an exclusive engagement aboard Silver Muse's August 19, 2018 sailing from Venice to Monte Carlo. The 10-day voyage will visit Opatija, Dubrovnik, Valletta, Trapani, Olbia, Portofino and Livorno. Early Booking Bonus fares start at $6,480 per guest.
Silver Muse's March 21, 2019 voyage from Singapore to Hong Kong will feature soloists from a yet-to-be-announced ballet company. The 13-day voyage will feature calls in Koh Samui, Bangkok, Ho Chi Minh City and Da Nang. Early Booking Bonus fares start at $6,300 per guest.
Building intercultural competences in Costa Rica
In cooperation with the Ministry of Culture and Youth of Costa Rica, Parque La Libertad, the Costa Rican National Human Rights Institution and the Spanish Cultural Centre in Costa Rica, UNESCO conducted the third pilot of the UNESCO Manual on Intercultural Competences based on Human Rights in San José, Costa Rica, from 7 to 9 March 2018.
Building on the previous pilot sessions in Bangkok, Thailand, and Harare, Zimbabwe, the Costa Rican pilot provided an additional opportunity to test the manual's adaptability and effectiveness in different contexts, both from the perspective of facilitation, and with regard to its ability to build individual capacities for intercultural dialogue and understanding.
Over the course of three days, UNESCO led a training of trainers session with national authorities, local NGO leaders, educators and other community leaders, as well as two pilot sessions – facilitated by the newly trained local personnel – with over 70 participants from a broad cross-section of Costa Rica's population. The pilot sessions included a particular focus on indigenous groups, and community-level work for youth-focused violence prevention.
Ms Viviana Boza, Vice-Minister of Youth from Costa Rica, opened the proceedings, highlighting "the importance of this collaboration which allows us to enhance our comprehension of the   cultural differences and challenges facing Costa Rica to advance the resolution of intercultural and intergenerational conflicts".
Against the backdrop of growing cultural diversity and intercultural interaction within the sub-region, the methodology proposed in this manual provides an accessible activity based on story-telling to bring people together to reflect upon their differences and challenge their preconceptions. It provides a unique opportunity for participants to improve their capacity for empathy, tolerance, listening and understanding, and therefore reflect on sources of conflict and misunderstanding.
Indeed, given the serious global challenges facing humanity in the 21st century, learning how to live together is an imperative for advancing sustainable and inclusive development. To this end, learning to be intercultural competent – in other words, having the skills needed to enhance connections and understanding across difference – is essential.
The lessons learnt from this pilot session will inform final adaptions to the manual to maximize its relevance once publically released, including within the Latin American and Caribbean context. It also contributed to the building of a strong foundation of trained facilitators to help mobilize the manual's wide dissemination and use following its expected publication before the end of 2018.
L.U.C XP Urushi Year of the dog Artistic crafts share unique perspectives
The elegance, the refinement and the technical nature of the ultra-thin L.U.C XP Urushi watch have made it a cult model. Each year, Chopard draws inspiration from the repertoire of Chinese astrology to offer a fresh interpretation of its Urushi dial, an ancestral Japanese technique. Staging an encounter between beauty and precision, East and West, Chopard places creativity at the heart of cultural ties and of its commitment to perpetuating traditions.
2018 marks the celebration of the Year of the Dog. Its iconography, its universal symbolism and its mythological strength are showcased in an exceptional L.U.C watch issued in an 88-piece limited series: The L.U.C XP Urushi –Year of the dog. This masterpiece of fine craftsmanship began with an encounter between two perspectives. That of the Urushi master and of the master-watchmaker at Chopard Manufacture in Fleurier, both intently focused on their work. The deft hands decorating the dial of the L.U.C XP Urushi, just like those capable of developing and producing the L.U.C 96.17-L calibre, perpetuate time-honoured skills bearing authentic testimony to their respective cultures. Together, they celebrate the Year of the Dog, the 11th sign of the Chinese zodiac, for a year dedicated to generosity and loyalty.
Generosity meets loyalty
In the Chinese zodiac, each sign is the expression of a distinctive nature. The entire range of qualities associated with the dog is thus reflected in the L.U.C XP Urushi – Year of the Dog watch. Eager for justice, sensitive and faithful by nature, dogs devote all their strength to serving others, without ever impinging on others' freedom. Their devotion withstands every trial and when they love, it is for life. They also cultivate an attitude to work based on commitment, personal involvement and a serious-minded attitude that implies making the most of individual skills, giving true meaning to their existence, and basically leading a useful, honest and consistent life. Dogs are builders and protectors demonstrating unfailing loyalty. Chopard has decided to embody this canine through a representative of the extremely beautiful Asian 'Akita' breed, depicted in a lush natural setting dotted with wild orchids and enhanced by the fluttering presence of a dragonfly, regarded as a lucky charm and a good omen.
Urushi: a time-honoured art
Urushi is an ancestral lacquer technique. Its name stems from the tree whose resin is patiently harvested, once a year, in very small quantities. Three to five years after being collected, the resin is treated in such a way as to become a highly resistant lacquer applied in a number of extremely fine layers. The Urushi Master then imprisons within it a number of tiny iridescent particles that endow it with distinctive depth, luminosity, and exquisitely fine nuances. Only a rare few artists have the skills required to perform this technique. Chopard called upon Master Kiichiro Masumaro to oversee the creation of the L.U.C XP Urushi dials. He is recognised as a master of his art and has been raised to the status of "national human treasure" in Japan. The dials were executed by the Urushi Grand Master Minori Koizumi. For this collaborative endeavour, Chopard secured the services of the Yamada Heiando company, official purveyor to the Japanese imperial family.
An exceptional watch Manufacture
An exceptional movement was needed to give life to this dial. At the heart of the ultra-thin case measuring 39.5 mm in diameter and 6.8 mm thick beats the mechanical self-winding L.U.C 96.17-L movement. Equipped with two barrels ensuring a 65-hour power reserve by means of Twin® technology, this calibre achieves the feat of fitting inside such a slim case thanks to the off-centred 22-carat gold micro-rotor. It is bevelled, engraved and guilloché, while the bridges are adorned with Côtes de Genève. This sophisticated movement decoration and finishing is performed by expert hands at Chopard Manufacture in Fleurier, in accordance with the highest aesthetic quality standards of traditional watchmaking. The calibre is visible through the transparent exhibition back of the 18-carat rose gold case. A single glance reveals a tradition and a fascinating range of deft skills ranging from Switzerland to Asia, shaping the frontiers of a universal dialogue revolving around the spirit of excellence.
Strengthening Sino-Russian Ties
During her speech at the New Year's celebration, hosted by the Russian Cultural Center in Beijing, in late December 2017, Olga Melnikova, Counsellor of the Russian Embassy and Director of the Russian Cultural Center in Beijing, said Russia has many cultural symbols that come from China. In her opinion, Sino- Russian bilateral relations are an example of "the most stable, healthy, mature and lasting relationship between countries in today's world." The Russian Cultural Center for years has organized cultural, educational and science- related activities to stimulate Chinese citizens' interest in learning the Russian language and culture.
In her recent interview with Women of China (WOC), Melnikova said she hoped the Sino-Russian strategic partnership would be strengthened, and that cultural communications between the people of the two countries would be  enhanced.
Had you visited China prior to assuming your post as Director of the Russian Cultural Center in Beijing in September 2017? What is your impression of China and the Chinese people?
I first visited the capital of China, Beijing, in 2012. I was a tourist at that time. Beijing impressed me as a modern metropolis that also kept well its traditional Chinese flavor. I saw magnificent ancient temples and palaces coexisting with modern buildings and small cozy streets. The architectural styles of many buildings, the decorations on streets, and the designs of parks clearly showed how much Chinese people had been respecting their history and traditions.
Now, I look at Beijing through the eyes of one of the city's residents, not as a  tourist. In modern Beijing, people are    paying great attention to physical education and sports, and to taking care of their health. I have watched, many times, the Chinese citizens who gather in the morning to exercise together. They perform qigong , a system of deep breathing exercises that Chinese use to train their bodies and properly maintain the energy flow in their  bodies.
My job has pushed me to travel around China, and to meet people from all walks of life, including government officials, diplomats, representatives of academic institutions, professions, teachers, students and schoolchildren. Based on my personal communications,   I think Chinese are friendly, polite and  kindhearted. Chinese always l isten attentively to  interlocutors' opinions, and they know how to correctly defend their points of view.
Please tell our readers about some of the events your center has organized in China to promote Russian culture.
Under the circumstances of globalization, culture becomes an important "language," or factor, that lays the foundation to build the whole system of international relations. Cultural exchanges include communications in tourism, the scientific and educational fields, business contacts, and cooperation in the sports, mass media, art, music and film  industries.
Russia is a country that has a great cultural heritage and centuries-old traditions. Within the framework of popularization of Russian culture in the world, our Russian Cultural Center regularly hosts events, such as concerts of Russian folk artists, music and dance groups, meetings with Russian celebrities in the cultural field, exhibitions of contemporary artists, photo exhibitions of Russian museums' archival materials, film screenings showcasing the latest achievements of Russian cinematography and theater performances for both children and  adults.
Every year, we celebrate our victory in World War II, the day of the first space flight of cosmonaut Yuri Garagin and the launch of our first space satellite. Soon, we will celebrate the date of lifting the blockade of Leningrad and the anniversary of the battle of Stalingrad. Those events are great and memorable, not only for Russian people, but also for humanity all around the  world.
Are you interested in Chinese cultural symbols?
Developing mutual interest in our cultures helps us strengthen the "ties" between our peoples. For example, the  Chinese horoscope, which includes the tradition and meaning related to the Spring Festival, is very popular in Russia. Some symbols of good fortune, such as the dragon, fish and frog, can be found in decorations that Russian people place in their houses, offices and private shops. Although the images with auspicious hints are used as decorations, most Russians do not fully understand the meanings that those images imply. Perhaps the most popular auspicious inscription is a picture of the upside-down Chinese character of "fu," which means "happiness."
What roles are women playing to enhance bilateral communications between Russia and China?
It is a global trend that women play more active roles in different spheres of life — business, politics and diplomacy … In some countries, women occupy the highest positions in government. There are women ministers, prime ministers and even heads of state. Women and men should complement each other while they are dealing with political issues.
Actually, the Russian- Chinese Commission on Humanitarian Cooperation is chaired by Olga Golodets, Vice-Premier of the Russian Government, and Liu Yandong, Vice-Premier of the State Council of China.
The Russian Cultural Center is the representative office of Rossotrudnichestvo — the State Agency, which is headed by Eleonora Mitrofanova, a Russian diplomat of high level with significant experience in the Ministry of Foreign Affairs of the Russian Federation and in international organizations. Our center will continue to make contributions to strengthen the ties between Russia and China, advance the promotion of the Russian language and culture in China, and stimulate the development of mutual exchanges.