Economic competition and competitive practices
Since enterprises are at the frontlines of geo-economic competition, they must learn how to deal with state influence in this field. They need to acquire a global understanding of the business environment and to develop new strategies to tackle stiff competition. In order to bend market rules and beat competition, economic actors developed new aggressive strategies on the model of military knowledge and underground operations.
The new competitive practices are no more aimed at adjusting to or anticipating other enterprises. Their goal is transforming the operating context and subverting the balance of power through imposing a given enterprise's rules on its competitors. The final objective is eliminating competitors or at least preventing them from entering the marketplace.
These practices are based on the systematic acquisition of information and on its use for hostile purposes. In order to pursue innovation, export or acquire more market quotas, it is necessary to understand the business environment and to put in place effective operations. The new economic practices are therefore featured with harsh competition to dominate information platforms. The United States offers many examples of the use of offensive operations to reach commercial purposes.
In this context, companies go beyond the mere search of information. They aim at manipulating the facts through new offensive techniques of economic warfare targeting new markets and destabilizing competitors. Here are some examples of competitive strategies used for hostile purposes: offensive benchmarking (attacking a product through counterfeiting), lobbying, social learning, stretch marketing, (acquiring control through regulation, humanitarian intervention, civil and military operations and economic warfare). These practices date back to the end of the Cold War, when economic and cultural clashes replaced military and ideological conflicts.
Benchmarking consists in a comparative evaluation of services or procedures of the most successful enterprises, studying their strengths and weaknesses and identifying possible actions to match or surpass them. Benchmarking can be used for offensive purposes in order to destabilize competition through reaction tests: an alleged client evaluates all the aspects of the service provided and the weaknesses of the system; in some cases, this person purposely provokes accidents in order to have more time to study the situation. Repeated accidents clearly compromise the image of the competitor and obstruct its activities.
As far as counterfeit is concerned, it is true that copying existing products and improve them is the foundation for progress. However, some companies can decide to copy some products while decreasing their functionality, therefore realizing low quality artifacts that acquire some of the market quotas of the original product. The problem emerges when these counterfeit goods do not respect safety norms and became dangerous for the market, with a negative impact on the company producing the original goods.
Lobbying indicates all practices aimed at influencing – directly or indirectly – political, legislative, regulating actors in order to assert a given economic interest. More and more companies are adopting lobbying strategies to defend and promote their interests. Lobbying itself not only is a reprehensible activity, but its systematic use can turn it into a dangerous weapon for economic and cultural competition.
Social learning is another technique to conquer new markets that consists in an accurate psychological action setting up opinion trends to influence decision-making. Through providing what seem to be purely education services – often addressed to the future leadership of a given country – social learning techniques influence public opinion and installs a dependency relationship with the country providing social learnings services.
Stretch marketing originally consisted in coordinating Chinese family networks for business development in any field. Nowadays, this term indicates a careful observation of 1) a given socio-economic market and 2) the information exchange within a given group of partner enterprises, through which a given enterprise can better exploit its business opportunities. Therefore, on the one hand stretch marketing allows anticipating the client needs through controlling information; on the other hand, stretch marketing prevents competitors from enter the market through the sharing of both offensive and defensive techniques within a given group of partner enterprises.
Lobbying and social learning practices contribute to increasing international regulations that lead to the indirect acquisition of new market quotas. These rules represent a competitive weapon to perform technical-economic dominance practices because they prevent the other actors of the system from operating freely. This can be easily observed on the military level with the imposition of the inter-operability: pursuing a maximized standardization of military materials within NATO countries leads to the imposition of a given product or industry on the others.
Another aspect to take into account is humanitarian intelligence. In recent years, several economic domination strategies to conquer the market of developing countries have disguised as humanitarian and development missions.  It is true that development markets have impressive growth potential and can count on natural resources that the West is interested in. As a result, Western countries continuously engage in humanitarian operations and development project in order to obtain long and medium term economic advantages. Besides NGOs, there are a number of governmental organizations that combine their humanitarian mission with strategies pursuing political and economic goals.
Since developing countries often experience the devastating consequences of war, civil-military co-operations (COCIM) aim at leading the country out of the crisis situation and take care of the needs of the population. However, COCIM operations are often used to conquer the infrastructure market and acquire contracts to provide services and materials for the reconstruction of the country, while profiting from public funding. It is possible to observe that as soon as a conflict ends, companies from all over the world compete to get their share in the reconstruction of the country and they rush there in order to quickly identify its needs and to influence the terms of contracts. In order for this strategy to work, military personnel should be accompanied by experts like doctors, engineers, businessmen, teachers, sociologists, ethnologists etc., that provide a better understanding of the region together with its religious, cultural, and linguistic features.
Lastly, manipulation is also an offensive strategy and it relies on the key role played by the media. Information war can easily build or destroy the image of a given company or country through the planned and targeted use of information and telecommunication channels. Information war is based on using false information both to control and protect information sources, and to prevent the opponent from reacting. These subversive disinformation or propaganda techniques can be easily performed in every communication channel, especially the Internet. In this situation it is important to rapidly react with counter information practices and occupy media space with dominant strategies.
At the present moment in which we witness a real war of knowledge, no company is immune from this kind of competition attacks.
Reforms Key to Romania's Resilient Recovery
Over the past decade, Romania has achieved a remarkable track record of high economic growth, sustained poverty reduction, and rising household incomes. An EU member since 2007, the country's economic growth was one of the highest in the EU during the period 2010-2020.
Like the rest of the world, however, Romania has been profoundly impacted by the COVID-19 pandemic. In 2020, the economy contracted by 3.9 percent and the unemployment rate reached 5.5 percent in July before dropping slightly to 5.3 percent in December. Trade and services decreased by 4.7 percent, while sectors such as tourism and hospitality were severely affected. Hard won gains in poverty reduction were temporarily reversed and social and economic inequality increased.
The Romanian government acted swiftly in response to the crisis, providing a fiscal stimulus of 4.4 percent of GDP in 2020 to help keep the economy moving. Economic activity was also supported by a resilient private sector. Today, Romania's economy is showing good signs of recovery and is projected to grow at around 7 percent in 2021, making it one of the few EU economies expected to reach pre-pandemic growth levels this year. This is very promising.
Yet the road ahead remains highly uncertain, and Romania faces several important challenges.
The pandemic has exposed the vulnerability of Romania's institutions to adverse shocks, exacerbated existing fiscal pressures, and widened gaps in healthcare, education, employment, and social protection.
Poverty increased significantly among the population in 2020, especially among vulnerable communities such as the Roma, and remains elevated in 2021 due to the triple-hit of the ongoing pandemic, poor agricultural yields, and declining remittance incomes.
Frontline workers, low-skilled and temporary workers, the self-employed, women, youth, and small businesses have all been disproportionately impacted by the crisis, including through lost salaries, jobs, and opportunities.
The pandemic has also highlighted deep-rooted inequalities. Jobs in the informal sector and critical income via remittances from abroad have been severely limited for communities that depend on them most, especially the Roma, the country's most vulnerable group.
How can Romania address these challenges and ensure a green, resilient, and inclusive recovery for all?
Reforms in several key areas can pave the way forward.
First, tax policy and administration require further progress. If Romania is to spend more on pensions, education, or health, it must boost revenue collection. Currently, Romania collects less than 27 percent of GDP in budget revenue, which is the second lowest share in the EU. Measures to increase revenues and efficiency could include improving tax revenue collection, including through digitalization of tax administration and removal of tax exemptions, for example.
Second, public expenditure priorities require adjustment. With the third lowest public spending per GDP among EU countries, Romania already has limited space to cut expenditures, but could focus on making them more efficient, while addressing pressures stemming from its large public sector wage bill. Public employment and wages, for instance, would benefit from a review of wage structures and linking pay with performance.
Third, ensuring sustainability of the country's pension fund is a high priority. The deficit of the pension fund is currently around 2 percent of GDP, which is subsidized from the state budget. The fund would therefore benefit from closer examination of the pension indexation formula, the number of years of contribution, and the role of special pensions.
Fourth is reform and restructuring of State-Owned Enterprises, which play a significant role in Romania's economy. SOEs account for about 4.5 percent of employment and are dominant in vital sectors such as transport and energy. Immediate steps could include improving corporate governance of SOEs and careful analysis of the selection and reward of SOE executives and non-executive bodies, which must be done objectively to ensure that management acts in the best interest of companies.
Finally, enhancing social protection must be central to the government's efforts to boost effectiveness of the public sector and deliver better services for citizens. Better targeted social assistance will be more effective in reaching and supporting vulnerable households and individuals. Strategic investments in infrastructure, people's skills development, and public services can also help close the large gaps that exist across regions.
None of this will be possible without sustained commitment and dedicated resources. Fortunately, Romania will be able to access significant EU funds through its National Recovery and Resilience Plan, which will enable greater investment in large and important sectors such as transportation, infrastructure to support greater deployment of renewable energy, education, and healthcare.
Achieving a resilient post-pandemic recovery will also mean advancing in critical areas like green transition and digital transformation – major new opportunities to generate substantial returns on investment for Romania's economy.
I recently returned from my first official trip to Romania where I met with country and government leaders, civil society representatives, academia, and members of the local community. We discussed a wide range of topics including reforms, fiscal consolidation, social inclusion, renewably energy, and disaster risk management. I was highly impressed by their determination to see Romania emerge even stronger from the pandemic. I believe it is possible. To this end, I reiterated the World Bank's continued support to all Romanians for a safe, bright, and prosperous future.
First appeared in Romanian language in Digi24.ro, via World Bank
US Economic Turmoil: The Paradox of Recovery and Inflation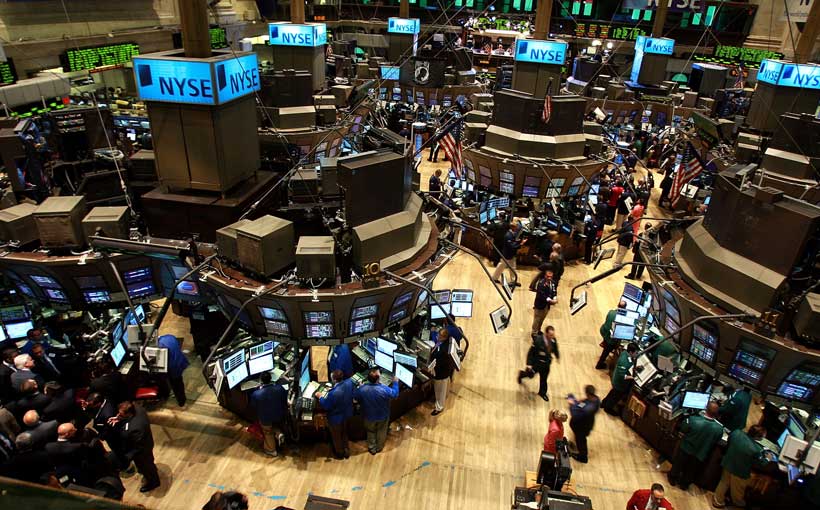 The US economy has been a rollercoaster since the pandemic cinched the world last year. As lockdowns turned into routine and the buzz of a bustling life came to a sudden halt, a problem manifested itself to the US regime. The problem of sustaining economic activity while simultaneously fighting the virus. It was the intent of 'The American Rescue Plan' to provide aid to the US citizens, expand healthcare, and help buoy the population as the recession was all but imminent. Now as the global economy starts to rebound in apparent post-pandemic reality, the US regime faces a dilemma. Either tighten the screws on the overheating economy and risk putting an early break on recovery or let the economy expand and face a prospect of unrelenting inflation for years to follow.
The Consumer Price Index, the core measure of inflation, has been off the radar over the past few months. The CPI remained largely over the 4% mark in the second quarter, clocking a colossal figure of 5.4% last month. While the inflation is deemed transitionary, heated by supply bottlenecks coinciding with swelling demand, the pandemic-related causes only explain a partial reality of the blooming clout of prices. Bloomberg data shows that transitory factors pushing the prices haywire account for hotel fares, airline costs, and rentals. Industries facing an offshoot surge in prices include the automobile industry and the Real estate market. However, the main factors driving the prices are shortages of core raw materials like computer chips and timber (essential to the efficient supply functions of the respective industries). Despite accounting for the temporal effect of certain factors, however, the inflation seems hardly controlled; perverse to the position opined by Fed Chair Jerome Powell.
The Fed already insinuated earlier that the economy recovered sooner than originally expected, making it worthwhile to ponder over pulling the plug on the doveish leverage that allowed the economy to persevere through the pandemic. The main cause was the rampant inflation – way off the 2% targetted inflation level. However, the alluded remarks were deftly handled to avoid a panic in an already fragile road to recovery. The economic figures shed some light on the true nature of the US economy which baffled the Fed. The consumer expectations, as per Bloomberg's data, show that prices are to inflate further by 4.8% over the course of the following 12 months. Moreover, the data shows that the investor sentiment gauged from the bond market rally is also up to 2.5% expected inflation over the corresponding period. Furthermore, a survey from the National Federation of Independent Business (NFIB) suggested that net 47 companies have raised their average prices since May by seven percentage points; the largest surge in four decades. It is all too much to overwhelm any reader that the data shows the economy is reeling with inflation – and the Fed is not clear whether it is transitionary or would outlast the pandemic itself.
Economists, however, have shown faith in the tools and nerves of the Federal Reserve. Even the IMF commended the Fed's response and tactical strategies implemented to trestle the battered economy. However, much averse to the celebration of a win over the pandemic, the fight is still not through the trough. As the Delta variant continues to amass cases in the United States, the championed vaccinations are being questioned. While it is explicable that the surge is almost distinctly in the unvaccinated or low-vaccinated states, the threat is all that is enough to drive fear and speculation throughout the country. The effects are showing as, despite a lucrative economic rebound, over 9 million positions lay vacant for employment. The prices are billowing yet the growth is stagnating as supply is still lukewarm and people are still wary of returning to work. The job market casts a recession-like scenario while the demand is strong which in turn is driving the wages into the competitive territory. This wage-price spiral would fuel inflation, presumably for years as embedded expectations of employees would be hard to nudge lower. Remember prices and wages are always sticky downwards!
Now the paradox stands. As Congress is allegedly embarking on signing a $4 trillion economic plan, presented by president Joe Bidden, the matters are to turn all the more complex and difficult to follow. While the infrastructure bill would not be a hard press on short-term inflation, the iteration of tax credits and social spending programs would most likely fuel the inflation further. It is true that if the virus resurges, there won't be any other option to keep the economy afloat. However, a bustling inflationary environment would eventually push the Fed to put the brakes on by either raising the interest rates or by gradually ceasing its Asset Purchase Program. Both the tools, however, would risk a premature contraction which could pull the United States into an economic spiral quite similar to that of the deflating Japanese economy. It is, therefore, a tough stance to take whether a whiff of stagflation today is merely provisional or are these some insidious early signs to be heeded in a deliberate fashion and rectified immediately.
Carbon Market Could Drive Climate Action
Authors: Martin Raiser, Sebastian Eckardt, Giovanni Ruta*
Trading commenced on China's national emissions trading system (ETS) on Friday. With a trading volume of about 4 billion tons of carbon dioxide or roughly 12 percent of the total global CO2 emissions, the ETS is now the world's largest carbon market.
While the traded emission volume is large, the first trading day opened, as expected, with a relatively modest price of 48 yuan ($7.4) per ton of CO2. Though this is higher than the global average, which is about $2 per ton, it is much lower than carbon prices in the European Union market where the cost per ton of CO2 recently exceeded $50.
Large volume but low price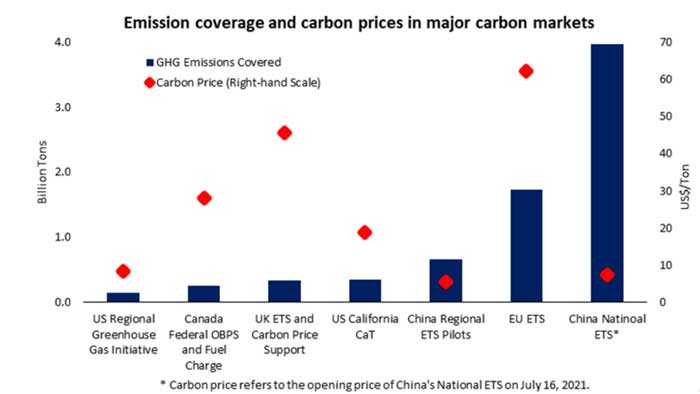 The ETS has the potential to play an important role in achieving, and accelerating China's long-term climate goals — of peaking emissions before 2030 and achieving carbon neutrality before 2060. Under the plan, about 2,200 of China's largest coal and gas-fired power plants have been allocated free emission rights based on their historical emissions, power output and carbon intensity.
Facilities that cut emissions quickly will be able to sell excess allowances for a profit, while those that exceed their initial allowance will have to pay to purchase additional emission rights or pay a fine. Putting a price tag on CO2 emissions will promote investment in low-carbon technologies and equipment, while carbon trading will ensure emissions are first cut where it is least costly, minimizing abatement costs. This sounds plain and simple, but it will take time for the market to develop and meaningfully contribute to emission reductions.
The initial phase of market development is focused on building credible emissions disclosure and verification systems — the basic infrastructure of any functioning carbon market — encouraging facilities to accurately monitor and report their emissions rather than constraining them. Consequently, allocations given to power companies have been relatively generous, and are tied to power output rather than being set at absolute levels.
Also, the requirements of each individual facility to obtain additional emission rights are capped at 20 percent above the initial allowance and fines for non-compliance are relatively low. This means carbon prices initially are likely to remain relatively low, mitigating the immediate financial impact on power producers and giving them time to adjust.
For carbon trading to develop into a significant policy tool, total emissions and individual allowances will need to tighten over time. Estimates by Tsinghua University suggest that carbon prices will need to be raised to $300-$350 per ton by 2060 to achieve carbon neutrality. And our research at the World Bank suggest a broadly applied carbon price of $50 could help reduce China's CO2 emissions by almost 25 percent compared with business as usual over the coming decade, while also significantly contributing to reduced air pollution.
Communicating a predictable path for annual emission cap reductions will allow power producers to factor future carbon price increases into their investment decisions today. In addition, experience from the longest-established EU market shows that there are benefits to smoothing out cyclical fluctuations in demand.
For example, carbon emissions naturally decline during periods of lower economic activity. In order to prevent this from affecting carbon prices, the EU introduced a stability reserve mechanism in 2019 to reduce the surplus of allowances and stabilize prices in the market.
Besides, to facilitate the energy transition away from coal, allowances would eventually need to be set at an absolute, mass-based level, which is applied uniformly to all types of power plants — as is done in the EU and other carbon markets.
The current carbon-intensity based allocation mechanism encourages improving efficiency in existing coal power plants and is intended to safeguard reliable energy supply, but it creates few incentives for power producers to divest away from coal.
The effectiveness of the ETS in creating appropriate price incentives would be further enhanced if combined with deeper structural reforms in power markets to allow competitive renewable energy to gain market share.
As the market develops, carbon pricing should become an economy-wide instrument. The power sector accounts for about 30 percent of carbon emissions, but to meet China's climate goals, mitigation actions are needed in all sectors of the economy. Indeed, the authorities plan to expand the ETS to petro-chemicals, steel and other heavy industries over time.
In other carbon intensive sectors, such as transport, agriculture and construction, emissions trading will be technically challenging because monitoring and verification of emissions is difficult. Faced with similar challenges, several EU member states have introduced complementary carbon taxes applied to sectors not covered by an ETS. Such carbon excise taxes are a relatively simple and efficient instrument, charged in proportion to the carbon content of fuel and a set carbon price.
Finally, while free allowances are still given to some sectors in the EU and other more mature national carbon markets, the majority of initial annual emission rights are auctioned off. This not only ensures consistent market-based price signals, but generates public revenue that can be recycled back into the economy to subsidize abatement costs, offset negative social impacts or rebalance the tax mix by cutting taxes on labor, general consumption or profits.
So far, China's carbon reduction efforts have relied largely on regulations and administrative targets. Friday's launch of the national ETS has laid the foundation for a more market-based policy approach. If deployed effectively, China's carbon market will create powerful incentives to stimulate investment and innovation, accelerate the retirement of less-efficient coal-fired plants, drive down the cost of emission reduction, while generating resources to finance the transition to a low-carbon economy.
(Martin Raiser is the World Bank country director for China, Sebastian Eckardt is the World Bank's lead economist for China, and Giovanni Ruta is a lead environmental economist of the World Bank.)
(first published on China Daily via World Bank)