Britain Officially Prepares Now for War Against Russia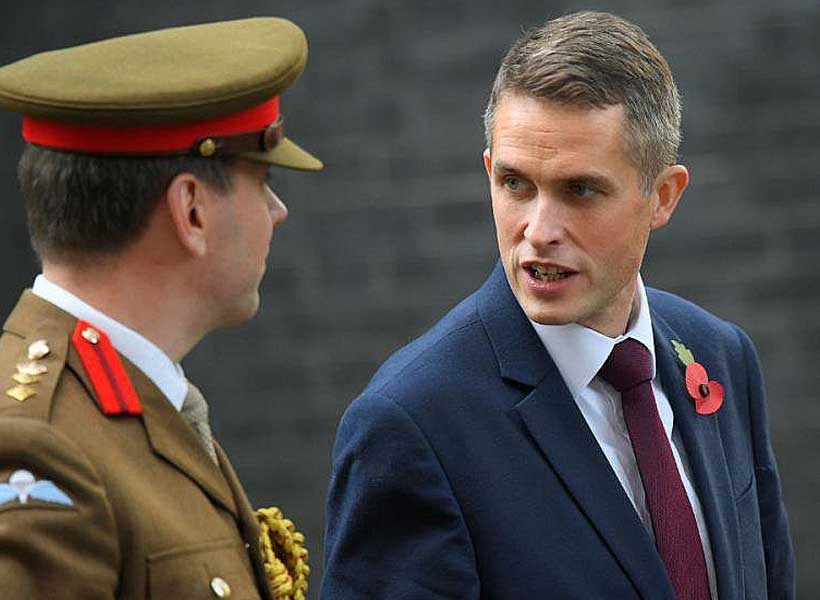 On Wednesday, February 21st, the UK's Minister of Defence, Conservative Gavin Williamson, announced that the United Kingdom is changing its fundamental defence strategy from one that's targeted against non-state terrorists (Al Qaeda, etc.), to one that's targeted instead against three countries: Russia, China, and North Korea. He acknowledged that a massive increase in military spending will be needed for this, and that "savings" will have to be found in other areas of Government-spending, such as the health services, and in military spending against terrorism.
The headline in the London Times on February 22nd was "Russia 'is a bigger threat to our security than terrorists'". Their Defence Editor, Deborah Haynes. reported:
The threat to Britain from states such as Russia and North Korea is greater than that posed by terrorism, the defence secretary said yesterday, marking a significant shift in security policy.
Gavin Williamson suggested to MPs that more money and a change in the structure of the armed forces would be needed as part of a defence review to meet the challenge of a state-on-state conflict, something that Britain has not had to consider for a generation. …
It is a departure from the national security strategy published in 2015, which listed international terrorism first, and chimes with a decision by the United States last month to declare "strategic competition" from countries such as China and Russia as its top focus instead of counterterrorism. …
He described the Kremlin's "increased assertiveness", such as a ten-fold increase in submarine activity in the North Atlantic, a growing Russian presence in the Mediterranean region and their involvement in the war in Syria. "But then you are seeing new nations that are starting to play a greater role in the world, such as China. …
Asked whether Mr Williamson accepted that this would have a knock-on effect for how Britain's military was structured and its readiness for war, "Yes it does," Mr Williamson replied.
Just as happened when UK's Prime Minister Tony Blair made his country the U.S. President George W. Bush's lap-dog in the invasion of Iraq in 2003, UK's Prime Minister Theresa May makes her country U.S. President Donald Trump's lap-dog now in the invasions to come, of North Korea, Russia, and China.
The press in the U.S. and its allied countries (such as UK) might have a difficult time persuading their populations that expanding military expenditures in order to conquer Russia, China, North Korea, and — as U.S. President Trump wants also to include — Iran (but he'll probably use America's ally Israel for that part of the operation), could be difficult, because, for example, on the same day, February 22nd, Gallup reported that by a margin of 59% to 37%, Americans disapprove of Trump on the issue of "Relations with Russia," and back on 23 March 2017, Public Integrity headlined "The public favors cutting defense spending, not adding billions more, new survey finds" and reported:
President Trump's proposed budget for 2018 isn't following public sentiment, a new survey finds.
The survey, by the University of Maryland's Program for Public Consultation (PPC), found that while Trump has proposed a $54 billion boost to federal spending for the military, a majority of Americans prefer a cut of $41 billion. While Trump has proposed a $2.8 billion increase for homeland security, a majority of Americans favor a $2 billion cut. …
Trump's proposals were at odds with the preferences of both Republicans and Democrats. …
A majority of GOP respondents said they wished to keep the so-called "base" or main defense budget at the current level, although they favored cutting $5 billion in spending from a budget for "overseas contingency operations," specifically in Afghanistan and Iraq. …
Those results, in turn, were strikingly similar to the conclusions of a 2012 survey by the Center for Public Integrity, PPC, and the Stimson Center, a nonprofit policy study group in Washington, D.C. When respondents were asked in that survey what they would do with Obama's base defense budget, the majority favored cutting it by at least $65 billion, from $562 billion down to $497 billion. …
The situation is likely to be even more difficult in UK, where according to Gallup's polling in 2017, as reported in their "Rating World Leaders: 2018", residents in UK who were asked "Do you approve or disapprove of the job performance of the leadership of the United States?" answered 63% "Disapprove," and 33% "Approve," and the net approval (-30%) had declined 26% from the prior President Obama's rating (-4%), in 2016.
Consequently, in order for the leaders to do this, there will need to be a total divorce from even the claim of being 'democracies', because, on such a momentous decision as to whether or not there should be a Third World War (and if so, whether Iran should be a target in it), going against the overwhelming public opinion wouldn't be possible except in what is effectively a dictatorship (such as the U.S. has been scientifically proven to be). So: actually achieving this will be a stretch, but at least in the United States — a proven dictatorship — it's possible.
Whereas the press, both in the U.S. and UK, willingly pumped the lies of the Government, that according to the IAEA Saddam Hussein was only six months away from having nuclear weapons, they might not do it this time against actual nuclearly armed nations, because there probably aren't yet, and won't soon be, enough billionaires' bunkers deep underground — such as here, and here, and here, and here, and here, and here, and here, and here, and here, and here, and here — to protect them from even the nuclear blasts, much less anything at all to protect anyone at all from the resulting nuclear winter and global famine. So, perhaps, greed will finally meet its limit: sheer self-preservation. It's one thing when a foreign country, such as Iraq — or Libya, or Syria, or Yemen — is destroyed, but quite another matter when the world itself will be. The degree of insanity that the military-industrial complex is now assuming to exist amongst the general public, might simply not be there, at all. Finally, Western governments' weapons-manufacturing firms might need to face the steep declines in their stock-values that all of them so richly deserve, and that's been held off already for decades too long — since at least 1991, when the Soviet Union and its communism and its Warsaw Pact military alliance all ended, and all that's left available as bogeymen who must be killed in order to 'save the world', is: Russia, China, North Korea — and maybe (if the Sauds and Israel are to have their way), Iran.
It's not yet clear just when — if ever — the 'democratic' countries in The West (the U.S. and its allies, the billionaires there) will reach the limit of their imperial greed. But if the world is their limit, then there is no limit at all, because the world itself will end, before this limit is reached. And, now, it's not only Donald Trump who is leading the way there, but Theresa May has joined his luxurious march, toward global oblivion.
first published at strategic-culture.org
New constructivism needed towards Europe's East
Authors: Eugene Matos de Lara and Audrey Beaulieu
On the historic date of 0March 08th – International Women's Day, a large number of international affairs specialists gathered for the second consecutive summit in Vienna, Austria. This leg of the Vienna Process event titled: "Europe – Future – Neighbourhood at 75: Disruptions Recalibration Continuity". The conference, jointly organized by four different entities (the International Institute for Middle East and Balkan Studies IFIMES, Media Platform Modern Diplomacy, Scientific Journal European Perspectives, and Action Platform Culture for Peace) with the support of the Diplomatic Academy of Vienna, was aimed at discussing the future of Europe and its neighbourhood in the wake of its old and new challenges.
This highly anticipated conference gathered over twenty high ranking speakers from three continents, and the viewers from Australia to Canada and from Chile to Far East. The day was filled by three panels focusing on the rethinking and revisiting Europe and its three equally important neighbourhoods: Euro-Med, Eastern and trans-Atlantic (or as the Romano Prodi's EU Commission coined it back in 2000s – "from Morocco to Russia – everything but the institutions"); the socio-political and economic greening; as well as the legacy of WWII, Nuremberg Trials, the European Human Rights Charter and their relevance in the 21st century,
The event was probably the largest gathering since the beginning of 2021 for this part of Europe.
Along with the two acting State Presidents, the event was endorsed by the keynote of the EU Commissioner for European Neighbourhood and Enlargement, Excellency Olivér Várhelyi. The following lines are short transcript of what he has said opening the Vienna Process event:
The COVID-19 (C-19) has brought numerous challenges to the table in terms of cooperation, adaptation but, mostly, resilience. As the crisis may be considered as a breaking point by some, European Commissioner for Neighborhood and Enlargement, Excellency Várhelyi, insisted on the opportunity emerging from it for the European Union (EU) and Eastern Europe to reinforce their collaboration to build a more stable area of "shared democracy, prosperity, stability and peace".
Throughout the crisis, the European Union has been a key actor for Eastern Europe and its response to the virus, providing the region efficient economic and physical support, which have allowed thousands of lives to be saved. However, despite the necessity of this help, the European Union has more significant projects and ambitions regarding its relation with Eastern Europe states.
In 2020, the EU issued a proposal on the Eastern partnership mostly focused on resilience which unfolds in five pillars. The first pillar is addressed to the reinforcement of investments in the economy and connectivity. It, notably, aims to "further enhance support to small and medium enterprises". These are EU's backbone, accounting for over 90% of the business activities; the EU hosts 24 million small businesses. This economic machine together generates more than half of the EU's GDP. The EU has great interest to keep them afloat during the C-19 crisis.
The EU parliament in December 2020 reported on the need for the Commission to reevaluate their support to these medium and small enterprises. They need more resources to overcome bureaucratic requirements that will exponentially burden their ability to thrive during and past C-19. Small businesses are recognized as indispensable to achieve innovative and sustainable goals. An example of this are initiatives to incentivize companies to take up e-commerce, yet only 17% of the small businesses in the EU have digitized commerce.
The second pillar is related to investments in the green transition. While Western Europe has demonstrated a positive approachregarding Paris Agreement goals, Eastern Europe seemed more reluctant. This attitude couldbeexplained by theirstaple-basedeconomy and by more significant matters on their plate, such as corruption and the reinforcement of the rule of law. Thus, the second pillar bridges with the first pillar since environmental issues should influence the investments and the development of small and medium enterprises and the development of the economic sphere.
The third pillar is about investing in digital transformation. The digital world iscontinuallyevolving, and states need to adapt to this reality, especially considering it could be a pivotal instrument to get the economy back on track. The pandemic has been a great opportunity for countries to develop their digital sector. Enterprises have had to beingenious and proactive in adapting their activities to this new reality, which could be a game-changer for the future. Countries will have to grasp this opportunity and make the best out of it. Investing in technologies could also be profitable to other goals that have been set, such as investments that need to be done in the reinforcement of the rule of law, credible justice reforms and efficient public administration (fourth pillar). Indeed, digitization of information combined with robust cybersecurity platforms is the key to more opened and more transparent administrations. In parallel, other strategie swill need to beelaborated in order to enhance respect of the rule of law and reachdemocratic standards, in fact, a key point to the enlargement of the EU.
Finally, the fifth pillar is about investing in fair and inclusive societies. Eastern Europe countries are real mosaics in terms of ethnicities, religions and languages. Inequalities and social cleavages between these groups are still omnipresent in most Eastern Europe societies, and they need to be addressed to build a more united Europe. Several Eastern European states have elevated policiesthat bridge social ethical and cultural differences in the first place both in their national and EU integration political agenda. Indeed, bridging social gaps isa fundamental action in managing differences and for the upbringing of a healthy democracy.
The next reunion regarding the partnership will take place next fall and focus on three critical matters: recovery, resilience and reform. Although the COVID-19 crisis cannot forever guide interstates initiatives, its consequences have forced the world to adapt to several new realities. Consequently, European countries will need strong measures to recover, and those should be translated by measures addressing the creation of employment and economic growth to stay competitive in international markets. As the EU Commissioner Várhely imentioned, "socio-economic recovery is the absolute priority", so we should also be expecting opportunities to reform social and political norms to face not only new issues but also trends that were very present in the past that are now simply accelerating.
What to Do with Extraterritorial Sanctions? EU Responses
One of the important decisions of the new US administration was its revision of the sanctions policy inherited from President Donald Trump. The "toxic" assets of the departed team include deterioriated relations with the European Union. The divisions between Washington and Brussels have existed since long before Trump's arrival in the White House. The EU categorically does not accept US extraterritorial sanctions. Back in 1996, the EU Council approved the so-called "Blocking Statute", designed to protect European businesses from restrictive US measures targeting Cuba, Iran and Libya. For a long time, Washington avoided aggravating relations with the EU, although European companies were subject to hefty fines for violating US sanctions regimes.
The situation deteriorated significantly during the Trump presidency. At least three events served as a cold shower for the EU with respect to the bloc's relationship with the US. The first was the unilateral withdrawal of the United States from the JCPOA—the "Iranian nuclear deal". Trump renewed American restrictions on Iran in full, and then significantly expanded them. His demarche forced dozens of large companies from the EU to leave Iran; they were threated by the American authorities with fines and other coercive measures. Brussels was powerless to convince Washington to return to the JCPOA. The EU authorities were also unable to offer their businesses guarantees of reliable protection against punitive measures being taken by the US Treasury and other departments. The second event was Washington's powerful attack on the Nord Stream 2 pipeline project. Trump has openly opposed the pipeline, although the Obama administration was also against the pipeline. Congress has passed two sanctions laws targeting Russian pipeline projects. The US Congress and the State Department directly warned European business about the threat of sanctions for participating in the project. In addition to Iran and Russia, concern in the EU was also caused by the aggravation of US-Chinese tensions. Brussels distanced itself from Trump's cavalry attack on China. So far, US restrictions against "Chinese communist military companies", telecoms and officials have minimally affected the EU. However, Washington aggressively pushed its allies to oust Chinese technology companies. It cannot be ruled out that in the future, US foreign policy towards China will become a problem for Brussels.
For the EU, all these events have become a reason to think about protection from extraterritorial US sanctions. The work on them was carried out by both European expert centres and the European Commission. Currently, we can talk about the formation of a number of strategic goals, the achievement of which should allow the European Union to increase its stability in relation to extraterritorial sanctions of the United States and other countries.
Such goals include the following:
Strengthening the role of the euro in international settlements. Already today, the euro ranks second after the dollar in international payments and reserves. However, unlike the United States, the EU does not use this advantage for political purposes. Many transactions between European businesses and their foreign partners are carried out in US dollars, which makes them more vulnerable to subsequent coercive measures. Calculations in euros could reduce the risk of transactions with those partners against whom the sanctions of the United States or other countries are in effect, but the sanctions of the UN Security Council or the EU itself do not apply. Here the EU authorities have laid serious groundwork and have a good chance of achieving their goal.
1.Creation of payment mechanisms, which cannot be stopped from the outside. INSTEX, a payment channel for humanitarian deals with Iran, is often cited as an example of such mechanisms. In 2020, the first transactions were made. However, success in this area raises questions. INSTEX has been widely advertised by EU politicians, but initial expectations were too high. The mechanism has not yet justified itself, even for humanitarian purposes. The Treasury Department can impose blocking sanctions against INSTEX at any time if it considers that the mechanism is being used to deliberately circumvent US restrictions against Iran. Switzerland's SHTA mechanism, which is used for humanitarian deals with Iran, looks much better. It was created jointly with the Americans and it should not have any problems with functionality. However, regarding payment mechanisms in the EU, there are not only humanitarian transactions. There's also the matter of plans to create secure transaction mechanisms in the trade of energy or raw materials; the question of what prospects these have for implementation remains.
2.Ensuring the possibility of unhindered settlements and access to other services for individuals and legal entities in the EU that have come under extraterritorial sanctions. In other words, we are talking about the fact that a citizen or a company from the EU, which fell, for example, under the blocking sanctions of the US Treasury, could make payments within the EU. Now European banks will simply refuse such transactions, and the courts are likely to side with them. In fact, the European Union wants to create infrastructure that has already been created, for example, in Russia. Moscow was considering the establishment of a national payment system even before the large-scale sanctions of 2014. Despite the limited weight of Russia in the global financial system, the country has its own sovereign payment system, which allows its own citizens to carry out transactions on its own territory.
3.Updating the 1996 Blocking Statute. In particular, we are talking about the development of an instrument of compensation for companies that have suffered from extraterritorial sanctions.
4.Creation of information databases in the interests of European companies under the risks of extraterritorial sanctions, as well as the provision of systematic legal assistance to companies that have come under foreign restrictions. In particular, we are talking about assisting European companies and citizens of the EU countries in defending their interests in US courts, as well as using other legal mechanisms, for example, within the WTO.
If necessary—balancing the extraterritorial measures of the United States or other countries with restrictive counter-measures.
However, the EU sanctions agenda is far from limited to the threat of extraterritorial sanctions. Ultimately, the United States is an ally and partner of the EU, which means that the opportunities for smoothing out crisis situations remain broad. Collaboration at the agency level is also highlighted as a recommendation. Moreover, after Trump's departure, the United States may be more attentive to the concerns of the European Union.
The main priority remains the development of the EU's own sanctions policy. Here many problems and tasks arise. The main ones include the low speed of decision-making and poor coordination in the implementation of sanctions. The centralisation of sanctions mechanisms in the hands of Brussels is becoming an important task for the European Commission.
The article is published as part of the Valdai Club's Think Tank project, continuing the collaboration between Valdai and Observer Research Foundation (New Delhi).
From our partner RIAC
Trinity for Scrutiny: Council of Europe, Human Rights instruments and Citizens
Building on the tasteful piece written recently by Commissioner Dunja Mijatovic, this article will endeavour to explore further why the Tromsø Convention(Norwegian International Convention on Access to Official Documents)[1], although adopted more than a decade ago, is in fact deserving of much more credit and fuss than it appears to have mustered so far.
To briefly catch everyone up, the Council of Europe (CoE) adopted in 2009 a Convention on Access to Official Documents foreseeing a general and minimal right for all to access public authorities' official documents. Having entered into force last December, this convention pioneers a uniformed standardised right to obtain official documents and thereby information from official sources. Evidently, the treaty draws on the pillar values of any and all healthy democracies that are transparency, pluralism and self-development of the individuals making up our civil societies.
Freedom of information, within which the right to access official documents is encompassed, is indeed crucial for a number of reasons. Firstly, it is essential from a somewhat 'hostile perspective' in order to oversee public bodies' conducts and uncover behaviours who clash with Human Rights and might otherwise be sanitized precisely when these call for remediation, sanction and reparation. Secondly, in a 'friendlier' outlook, it is indispensable for the purpose of feeding the public debate and thus, allowing for militant democracies, but also to strengthen legitimacy, foster public trust and endorsement of their elected government.
Lastly but perhaps most importantly, it should be pointed out that in a similar manner as the right to life, the freedom of information is in fact a key that opens, if not all, many doors embodied by other ECHR rights such as the freedom of expression and that of thought, procedural guarantees or even the freedom of assembly and association. In effect, without being adequately informed, how could one be aware of their rights and exercise them diligently? Without receiving quality information, how could one forge their convictions and gather with others to share affiliations and work towards a common goal? And without access to verified information, could one really form an educated opinion meant to be expressed freely subsequently?
In addition to being a prerequisite to the proper exercise and enjoyment of other fundamental rights, it also echoes directly with the first article of the ECHR providing for the Contracting Parties' duty to respect Human Rights – and in reality, render them available to all persons under their jurisdiction. In that sense, the CETS 205 can and should be looked at as a practical example of States fulfilling Human Rights and hence as falling squarely within the same scheme.
Another link certainly worthy of some emphasis is the one that can be made between the advent of such a Treaty and the recent recognition and growing establishment of the right to truth. The right to truth, as devised by Special Rapporteur Louis Joinet in 1996, is made up of several dimensions amongst which there is the right to know. The latter, in turn, involves a right to access archives and historical official documents in order to shed light on past events – and ultimately heal a society. Thus, just like we – the civil society – have a right to know our past so as to reconcile and repair wrongdoings, we also have a right to get acquainted with our present and perhaps prevent wrongdoings at all. Both instruments' emergence form part of a single reactive movement: the reinforcement and extension of human dignity and a renewed appreciation of individuals through greater access and involvement.
Whilst keeping these elements in mind, let us say a few words about the Convention's content and characteristics. The project is said to have been guided by the concern of identifying and generalising a core of basic compulsory provisions in a way that will "encourage the Parties to equip themselves with, maintain and reinforce domestic provisions that allow a more extensive right of access, provided that the minimum core is nonetheless implemented." Hence, this instrument does not purport to be a binding 'best practice' guide, but is rather the fruits of a (well-known) compromise resulting in the establishment of a minimum threshold likely to be accepted by the largest majority.
Say we embrace the path taken by the consultative committees and concede that realistic (aka lower) standards will amass more signatures and spread wider its application, what then of an equally realistic rapid examination of the outcome? Indeed, since its adoption in 2009, only ten countries have ratified the Convention whilst the instrument is said to merely reassert what already exists in most internal frameworks of the CoE countries.
The puzzlement does not end there: when looking closer at the contracting parties, one cannot help but notice that the 'star students' are MIA. European countries that ranked in 2018 in the top 10 of the world-wide Human Freedom Index[2] such as Switzerland (2nd), Germany (9th), Denmark (4th), or Ireland (7th) are nowhere to be found on the ratification addendum of the Convention. It is hard to imagine why such States that are already doing so well in that area would not want to lead the example and reaffirm principles that match their internal policies.
Commissioner Dunja, for her part, had highlighted that although the majority of CoE's members have already adopted freedom of information laws on the domestic level, some definite issues remain with regard to their practical enforcement. This referred to disparities in degrees of transparency depending on the public body as well as failures to meet requirements set for proactive disclosure. We may then wonder, provided those trends are correct, if – ironically – there could exist a lack of transparency on those regulations. In other words, if national laws on freedom of information already exist almost everywhere in Europe but they do not satisfy the thresholds put forward by the Convention in practice, civil society should know about it to remedy the situation.
Still, you may wonder: why is it so important that we enquire about, and ensure that, a smooth implementation is possible on the domestic or – if need be – regional level? Because although this article has managed to avoid bringing up COVID-19 so far, the current pandemic only enhances the stakes surrounding an effective freedom of information. As we all know by now, in times of emergency, rapid and impactful decisions have to be taken. These decisions are then in that sense less prone to gather strong consensus and yet more likely to concern the public given the serious nature of the decisions' object.
The year 2020 has shown that misinformation and somewhat tendentious media coverage of the pandemic's evolution was damaging enough in terms of civil discontentment and eroding our trust in the Government. But adding to that the withholding of some facts and a lack of transparency on the part of public officials is simply a recipe for disaster.
This can perhaps be better grasped when looking at the cases of France versus Sweden. Civil unrest and vocal dissents have been taking place last year against the French government, said to be lacking transparency on several issues such as shortages of equipment, rationale for measures chosen, allocation of vaccines or even the number of vaccinations. In the fall of last year, a local survey recorded that two-third of the French citizens did not trust their leaders to fight COVID efficiently. The handling of the crisis tainted with obscurity and ambiguities resulted in an unfortunate loss of popularity for President Macron and civil disobedience.
In contrast, the Sweden government remained consistent with its strong stand on, and reputation for, transparency towards its population taking roots notably in a national law favouring public scrutiny adopted in 1766. Their tradition of 'ultra-transparency' as is sometimes called is closely related to the country's culture of shared responsibility and mutual respect between State and citizens. With the national Agency for Public Health taking the lead on the crisis management by remaining very open on the data available and reasons for pursuing collective immunity survey showed in Spring 2020 that nearly 80% of the population entrusted both their health system and the national Agency. Moreover, this ought to be placed against a backdrop where even the King of Sweden did publicly air his reservations regarding the confinement-sceptic management.
Now whatever anyone thinks of the Swedish strategy a posteriori, it must be acknowledged that not only did their information and transparency handling maintain its citizens, numbers show it even did as much as increase the legitimacy of their prime minister. To top it off, Sweden is one of the first to have ratified the CETS 205.
To put it plainly: some countries' tendencies to filter information, strive to maintain composure and showcase confidence in uncertain times simply proves to be more detrimental than an approach where full transparency and efficient dissemination of available information is endorsed at the risk of revealing some inconsistencies or displaying dubiety in the process.
It is hoped that this can serve as a support for reflection around the understatement of international agreements we may take for granted such as the one 2009 Convention on Access to Official Information and the realisation that in our case, having ratified such a document could be a real game-changer in the second phase of our pandemic and rehabilitate good governance where it has been shattered.
---
[1]hereinafter referred to in the text as 'CETS 205'.
[2]Which, for the record, encompasses personal, civil and economic freedoms, and is based on indicators in various areas such as the rule of law, the freedom of expression and information, that of association and assembly as well as civil society.