Britain Officially Prepares Now for War Against Russia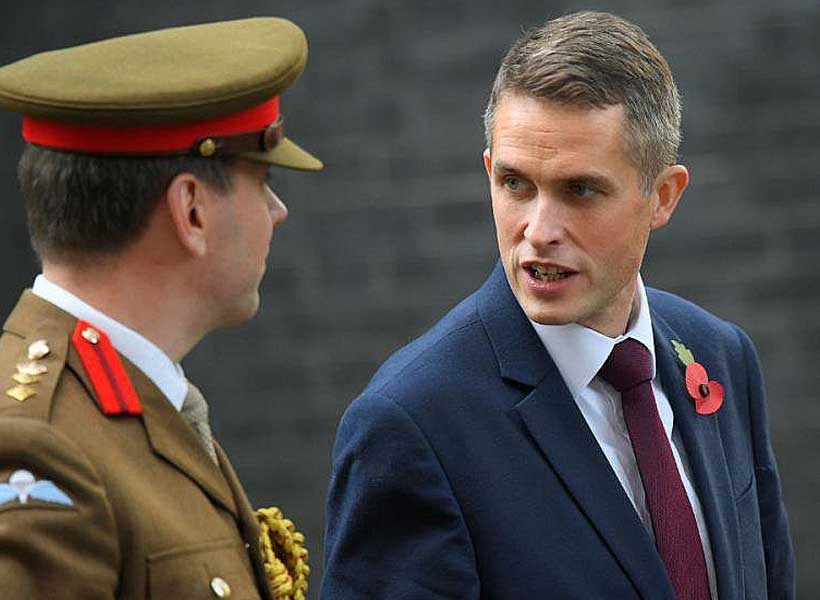 On Wednesday, February 21st, the UK's Minister of Defence, Conservative Gavin Williamson, announced that the United Kingdom is changing its fundamental defence strategy from one that's targeted against non-state terrorists (Al Qaeda, etc.), to one that's targeted instead against three countries: Russia, China, and North Korea. He acknowledged that a massive increase in military spending will be needed for this, and that "savings" will have to be found in other areas of Government-spending, such as the health services, and in military spending against terrorism.
The headline in the London Times on February 22nd was "Russia 'is a bigger threat to our security than terrorists'". Their Defence Editor, Deborah Haynes. reported:
The threat to Britain from states such as Russia and North Korea is greater than that posed by terrorism, the defence secretary said yesterday, marking a significant shift in security policy.
Gavin Williamson suggested to MPs that more money and a change in the structure of the armed forces would be needed as part of a defence review to meet the challenge of a state-on-state conflict, something that Britain has not had to consider for a generation. …
It is a departure from the national security strategy published in 2015, which listed international terrorism first, and chimes with a decision by the United States last month to declare "strategic competition" from countries such as China and Russia as its top focus instead of counterterrorism. …
He described the Kremlin's "increased assertiveness", such as a ten-fold increase in submarine activity in the North Atlantic, a growing Russian presence in the Mediterranean region and their involvement in the war in Syria. "But then you are seeing new nations that are starting to play a greater role in the world, such as China. …
Asked whether Mr Williamson accepted that this would have a knock-on effect for how Britain's military was structured and its readiness for war, "Yes it does," Mr Williamson replied.
Just as happened when UK's Prime Minister Tony Blair made his country the U.S. President George W. Bush's lap-dog in the invasion of Iraq in 2003, UK's Prime Minister Theresa May makes her country U.S. President Donald Trump's lap-dog now in the invasions to come, of North Korea, Russia, and China.
The press in the U.S. and its allied countries (such as UK) might have a difficult time persuading their populations that expanding military expenditures in order to conquer Russia, China, North Korea, and — as U.S. President Trump wants also to include — Iran (but he'll probably use America's ally Israel for that part of the operation), could be difficult, because, for example, on the same day, February 22nd, Gallup reported that by a margin of 59% to 37%, Americans disapprove of Trump on the issue of "Relations with Russia," and back on 23 March 2017, Public Integrity headlined "The public favors cutting defense spending, not adding billions more, new survey finds" and reported:
President Trump's proposed budget for 2018 isn't following public sentiment, a new survey finds.
The survey, by the University of Maryland's Program for Public Consultation (PPC), found that while Trump has proposed a $54 billion boost to federal spending for the military, a majority of Americans prefer a cut of $41 billion. While Trump has proposed a $2.8 billion increase for homeland security, a majority of Americans favor a $2 billion cut. …
Trump's proposals were at odds with the preferences of both Republicans and Democrats. …
A majority of GOP respondents said they wished to keep the so-called "base" or main defense budget at the current level, although they favored cutting $5 billion in spending from a budget for "overseas contingency operations," specifically in Afghanistan and Iraq. …
Those results, in turn, were strikingly similar to the conclusions of a 2012 survey by the Center for Public Integrity, PPC, and the Stimson Center, a nonprofit policy study group in Washington, D.C. When respondents were asked in that survey what they would do with Obama's base defense budget, the majority favored cutting it by at least $65 billion, from $562 billion down to $497 billion. …
The situation is likely to be even more difficult in UK, where according to Gallup's polling in 2017, as reported in their "Rating World Leaders: 2018", residents in UK who were asked "Do you approve or disapprove of the job performance of the leadership of the United States?" answered 63% "Disapprove," and 33% "Approve," and the net approval (-30%) had declined 26% from the prior President Obama's rating (-4%), in 2016.
Consequently, in order for the leaders to do this, there will need to be a total divorce from even the claim of being 'democracies', because, on such a momentous decision as to whether or not there should be a Third World War (and if so, whether Iran should be a target in it), going against the overwhelming public opinion wouldn't be possible except in what is effectively a dictatorship (such as the U.S. has been scientifically proven to be). So: actually achieving this will be a stretch, but at least in the United States — a proven dictatorship — it's possible.
Whereas the press, both in the U.S. and UK, willingly pumped the lies of the Government, that according to the IAEA Saddam Hussein was only six months away from having nuclear weapons, they might not do it this time against actual nuclearly armed nations, because there probably aren't yet, and won't soon be, enough billionaires' bunkers deep underground — such as here, and here, and here, and here, and here, and here, and here, and here, and here, and here, and here — to protect them from even the nuclear blasts, much less anything at all to protect anyone at all from the resulting nuclear winter and global famine. So, perhaps, greed will finally meet its limit: sheer self-preservation. It's one thing when a foreign country, such as Iraq — or Libya, or Syria, or Yemen — is destroyed, but quite another matter when the world itself will be. The degree of insanity that the military-industrial complex is now assuming to exist amongst the general public, might simply not be there, at all. Finally, Western governments' weapons-manufacturing firms might need to face the steep declines in their stock-values that all of them so richly deserve, and that's been held off already for decades too long — since at least 1991, when the Soviet Union and its communism and its Warsaw Pact military alliance all ended, and all that's left available as bogeymen who must be killed in order to 'save the world', is: Russia, China, North Korea — and maybe (if the Sauds and Israel are to have their way), Iran.
It's not yet clear just when — if ever — the 'democratic' countries in The West (the U.S. and its allies, the billionaires there) will reach the limit of their imperial greed. But if the world is their limit, then there is no limit at all, because the world itself will end, before this limit is reached. And, now, it's not only Donald Trump who is leading the way there, but Theresa May has joined his luxurious march, toward global oblivion.
first published at strategic-culture.org
EU-Japan Summit: A landmark moment for trade and cooperation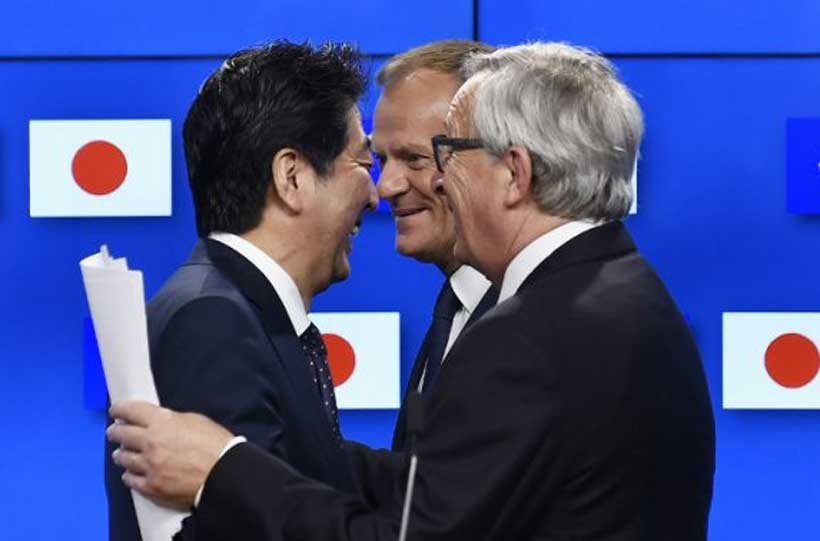 The 25th EU-Japan Summit took place on 17 July in Tokyo. At the summit, leaders signed two landmark agreements, the Strategic Partnership Agreement and the Economic Partnership Agreement, which will significantly boost bilateral relations.
Jean-Claude Juncker, President of the European Commission and Donald Tusk, President of the European Council, represented the European Union at the Summit. Japan was represented by its Prime Minister, Shinzo Abe. The European Commission Vice-President for Jobs, Growth, Investment and Competitiveness, Jyrki Katainen also participated. EU Leaders offered their condolences to the people of Japan following the floods and landslides in Western Japan, and offered their support to Prime Minister to help in any way.
"Today is a historic moment in our enduring partnership", said President Jean-Claude Juncker. "Today's signature of the EU-Japan Economic Partnership Agreement is a landmark moment for global trade, and I am also delighted that we have signed the first ever Strategic Partnership Agreement, which takes our cooperation to the next level. The impact of the Economic Partnership Agreement goes far beyond our shores. Together, we are making a statement about the future of free and fair trade. We are showing that we are stronger and better off when we work together and we are leading by example, showing that trade is about more than tariffs and barriers. It is about values, principles and finding win-win solutions for all. As far as we are concerned, there is no protection in protectionism – and there cannot be unity where there is unilateralism."
For open, fair and win-win trade
The Economic Partnership Agreement between the EU and Japan is the biggest ever negotiated by the European Union. It creates an open trade zone covering over 600 million people and nearly a third of global GDP. It will remove the vast majority of the €1 billion of duties paid annually by EU companies exporting to Japan, and has led to the removal of a number of long-standing regulatory barriers, for example on cars. It will also open up the Japanese market of 127 million consumers to key EU agricultural exports and will increase EU export opportunities in a range of other sectors. The Agreement follows the highest standards of labour, environmental and consumer protection and has a dedicated chapter on sustainable development. It is the first trade agreement negotiated by the European Union to include a specific commitment to the Paris climate agreement.
Commissioner for Trade Cecilia Malmström said: "We are sending a strong signal to the world that two of its biggest economies still believe in open trade, opposing both unilateralism and protectionism. The economic benefits of this agreement are clear. By removing billions of euros of duties, simplifying customs procedures and tackling behind-the-border barriers to trade, it will offer opportunities for companies on both sides to boost their exports and expand their business."
Concerning data protection, the EU and Japan concluded the negotiations on reciprocal adequacy on 17 July, which will complement the Economic Partnership Agreement. They agreed to recognise each other's data protection systems as 'equivalent', which will allow data to flow safely between the EU and Japan, creating the world's largest area of safe data flows.
Věra Jourová, Commissioner for Justice, Consumers and Gender Equality said: "Japan and EU are already strategic partners. Data is the fuel of global economy and this agreement will allow for data to travel safely between us to the benefit of both our citizens and our economies. At the same time we reaffirm our commitment to shared values concerning the protection of personal data. This is why I am fully confident that by working together, we can shape the global standards for data protection and show common leadership in this important area."
A Strategic Partnership Agreement fit for truly Strategic Partners
The European Union and Japan are like-minded partners, working together both bilaterally as well as in multilateral fora, such as the United Nations and the G7. The Strategic Partnership Agreement, signed today by President Juncker, President Tusk and Prime Minister Abe, will deepen and strengthen EU-Japan relations by providing an overarching and binding framework for enhanced cooperation.
"In today's world, no country can think of tackling the global challenges that we are faced with on its own", said the High Representative/Vice-President Federica Mogherini ahead of the Summit. "Japan is a country that we already work so closely with, on many files, from peace-building to denuclearisation, from counter-terrorism to effective multilateralism. The Strategic Partnership Agreement will allow us to strengthen this cooperation across a wide range of sectors, but also open up the possibility for cooperation in new areas, from science, technology and innovation, environment and energy, to climate change and security."
At the Summit, the Leaders addressed regional and foreign policy issues including the situation on the Korean Peninsula, the conflict in eastern Ukraine and the illegal annexation of Crimea and Sevastopol, the commitment to preserving the Joint Comprehensive Plan of Action – the Iran nuclear deal, among others. As the Strategic Partnership Agreement foresees, Leaders also discussed the shared commitment to strengthen cooperation on global issues and confirmed the EU and Japan's joint vision and support to the rules-based international order with multilateralism, democracy, non-proliferation of weapons of mass destruction, open markets and a global trading system with the World Trade Organisation at its core.
The Leaders also discussed other bilateral issues, including possibilities to strengthen the EU-Japan security partnership, strengthened cooperation in the fields of development policy and education, culture and sports.
EU-China Summit: Deepening the strategic global partnership
The 20th Summit between the European Union and the People's Republic of China held today in Beijing has underlined that this partnership has reached a new level of importance for our own citizens, for our respective neighbouring regions and for the international community more broadly.
President of the European Commission Jean-Claude Juncker and President of the European Council Donald Tusk represented the European Union at the Summit. The People's Republic of China was represented by Premier Li Keqiang. European Commission Vice-President for Jobs, Growth, Investment and Competitiveness, Jyrki Katainen, Trade Commissioner Cecilia Malmström, and Transport Commissioner Violeta Bulc also attended the Summit. President Tusk and President Juncker also met with the President of the People's Republic of China, Xi Jinping.
"I have always been a strong believer in the potential of the EU-China partnership. And in today's world that partnership is more important than ever before. Our cooperation simply makes sense", said the President of the European Commission, Jean-Claude Juncker. "Europe is China's largest trading partner and China is our second largest. The trade in goods between us is worth over €1.5 billion every single day. But we also know that we can do so much more. This is why it is so important that today we have made progress on the Comprehensive Agreement on Investment through a first exchange of offers on market access, and towards an agreement on Geographical Indications. That shows that we want to create more opportunities for people in China and in Europe."
The Joint Summit Statement agreed by the European Union and China illustrates the breadth and depth of the EU-China relationship and the positive impact that such a partnership can have, in particular when it comes to addressing global and regional challenges such as climate change, common security threats, the promotion of multilateralism, and the promotion of open and fair trade. The Summit follows the High-level Strategic Dialogue, co-chaired by the EU High Representative for Foreign Affairs and Security Policy/Vice-President of the European Commission, Federica Mogherini and Chinese State Counsellor, Wang Yi, in Brussels on 1 June, and the High-level Economic and Trade Dialogue, co-chaired by Vice-President Katainen and Chinese Vice-Premier, Liu He, in Beijing on 25 June.
This 20th Summit demonstrates the many ways in which the European Union and China are concretely strengthening what is already a comprehensive relationship. In addition to the Joint Statement, a number of other concrete deliverables were agreed, including:
an exchange of offers on the Comprehensive Agreement on Investment;
agreement to conclude before the end of October, if possible, the negotiations on an Agreement on Geographical Indications;
a Memorandum of Understanding between the European Investment Fund and the Silk Road Forumconfirming the first co-investment carried out under the recently established China-EU Co-Investment Fund;
a Strategic Administrative Cooperation Arrangement and an Action Plan (2018-2020) between the European Anti-Fraud Office (OLAF) and the General Administration of China Customs
Working together for a more sustainable planet
In the Leaders' statement on climate change and clean energy, the European Union and China have committed to step up their cooperation towards low greenhouse gas emission economies and the implementation of the 2015 Paris Agreement on climate change. In doing so, the EU and China will intensify their political, technical, economic and scientific cooperation on climate change and clean energy.
Welcoming this commitment, President Juncker said: "We have underlined our joint, strong determination to fight climate change and demonstrate global leadership. It shows our commitment to multilateralism and recognises that climate change is a global challenge affecting all countries on earth. There is no time for us to sit back and watch passively. Now is the time for decisive action."
Vice-President Katainen and the Chairman of the National Development and Reform Commission, He Lifeng,also signed the Memorandum of Understanding to Enhance Cooperation on Emissions Trading, which acknowledges the significant potential of emissions trading to contribute to a low carbon economy and further enhances the cooperation of the two largest emission trading systems of the world.
Building on the success of the 2017 EU-China Blue Year, the EU and China have also signed a Partnership Agreement on Oceans. Two of the world's largest ocean economies will work together to improve the international governance of the oceans, including by combating illegal fishing and exploring potential business and research opportunities, based on clean technologies, in the maritime economy. The partnership contains clear commitments to protect the marine environment against pollution, including plastic litter; tackle climate change in accordance with the Paris Agreement and implement the 2030 Agenda for Sustainable Development, in particular Goal 14. The signature of this ocean partnership is the first of its kind and opens the door for future partnerships between the EU and other key ocean players.
Vice-President Katainen and Minister of Ecology and Environment, Li Ganjie, also signed the Memorandum of Understanding on Circular Economy Cooperation that will provide a framework for cooperation, including a high-level policy dialogue, to support the transition to a circular economy. Cooperation will cover strategies, legislation, policies and research in areas of mutual interest. It will address management systems and policy tools such as eco-design, eco-labelling, extended producer responsibility and green supply chains as well as financing of the circular economy. Both sides will exchange best practice in key fields such as industrial parks, chemicals, plastics and waste.
In the context of the EU's International Urban Cooperation programme, in the margins of the Summit, Commissioner Creţu witnessed the signature of a joint declaration between Chinese and European cities: Kunming and Granada (ES); Haikou and Nice (FR); Yantai and Rome (IT); Liuzhou and Barnsley (UK) and Weinan and Reggio Emilia (IT). These partnerships will facilitate exchanges to examine and develop local action plans reflecting the EU's integrated approach to sustainable urban development while addressing social, economic, demographic and environmental challenges.
Putting the international rules-based system at the centre of open and fair trade
"I am more convinced than ever that, in the era of globalisation and of interdependence, multilateralism must be at the heart of what we do. We expect all our partners to respect international rules and commitments that they have taken, notably within the framework of the World Trade Organisation", said President Jean-Claude Juncker in his keynote speech at the EU-China Business Roundtable in Beijing, which provided an opportunity for EU and Chinese leaders to exchange views with representatives of the business community. "At the same time, it is true that the existing WTO rules do not allow unfair practices to be dealt with in the most effective way, but instead of throwing the baby out with the bathwater, we must all preserve the multilateral system and improve it from within." President Juncker's full speech is available online. Commissioner Malmström also intervened at the event.
At the Summit, the EU and China confirmed their firm support to the rules-based, transparent, non-discriminatory, open and inclusive multilateral trading system with the WTO as its core and committed to complying with existing WTO rules. They also committed to co-operating on the reform of the WTO to help it meet new challenges, and established a joint working group on WTO reform, chaired at Vice-Ministerial level, to this end.
Good progress was made on the ongoing Investment Agreement negotiations, which is a top priority and a key project towards establishing and maintaining an open, predictable, fair and transparent business environment for European and Chinese investors. The EU and China exchanged market access offers, moving the negotiations into a new phase, in which work can be accelerated on the offers and other key aspects of the negotiations. The European Investment Fund (EIF), part of the European Investment Bank Group, and China's Silk Road Fund (SRF) have signed a Memorandum of Understanding with the aim of confirming the first co-investment carried out under the recently established China-EU Co-Investment Fund ("CECIF") that promotes investment cooperation between the European Union and China and the development of synergies between China's Belt and Road Initiative and the Investment Plan for Europe.
Regarding steel, both sides agreed to strengthen their cooperation in the Global Forum on Steel Excess Capacity and committed, in accordance with the decisions of the 2016 Hangzhou and 2017 Hamburg Summits, as well as with the 2017 Ministerial decisions, to the goal of implementing the agreed political recommendations.
The EU and China also agreed to conclude the negotiations on an Agreement on cooperation on, and protection from imitation for distinctive food and drink products, so-called Geographical Indications before the end of October – if possible. An agreement in this area would result in a high level of protection of our respective Geographical Indications, which represent important traditions and rich resources for both the EU and China.
In the area of food safety, the EU and China agreed to promote the highest food safety standards, and are ready to take the regionalisation principle into account, and committed to expanding market access for food products.
The EU and China have also signed the Action Plan Concerning China-EU Customs Cooperation on Intellectual Property Rights (2018-2020), with the aim of strengthening customs enforcement to combat counterfeiting and piracy in the trade between the two. The Action Plan will also promote cooperation between customs and other law enforcement agencies and authorities in order to stop production and wind up distribution networks.
The European Anti-Fraud Office (OLAF) and the General Administration of China Customs signed a Strategic Administrative Cooperation Arrangement and an Action Plan (2018-2020) on strengthening the cooperation in combatting customs fraud in particular in the field of transhipment fraud, illicit traffic of waste and undervaluation fraud.
At the third meeting of the EU-China Connectivity Platform, held in the margins of the Summit and chaired for the EU by Commissioner Violeta Bulc, the two parties reaffirmed their commitment to transport connectivity on the basis of respective policy priorities, sustainability, market rules and international coordination.
The exchanges focused on:
the policy cooperation based on the Trans-European Transport Network (TEN-T) framework and the Belt and Road initiative, involving relevant third countries between EU and China;
cooperation on Transport decarbonisation and digitalisation, including in international fora such as the International Civil Aviation Organisation (ICAO) and the International Maritime Organisation (IMO)
cooperation on investment projects based on sustainability criteria, transparency and level-playing field to foster investment in transport between EU and China.
The joint agreed minutes of the Chairs' meeting are available online, along with the list of European transport projectspresented under the EU-China Connectivity Platform.
A people's partnership
The European Union and China are putting their respective citizens at the heart of the strategic partnership. There were good discussions on foreign and security cooperation and the situation in their respective neighbourhoods. At the Summit, EU and Chinese Leaders discussed ways to support a peaceful solution on the Korean Peninsula; their commitment to the continued, full and effective implementation of the Joint Comprehensive Plan of Action – the Iran nuclear deal; joint, coordinated work on the peace process in Afghanistan; and the situation in eastern Ukraine and the illegal annexation of Crimea and Sevastopol. They also discussed other foreign and security challenges, such as in the Middle East, Libya, and Africa, as well as their joint commitment to multilateralism and the rules-based international order with the United Nations at its core.
Many successful activities have already been held within the framework of the 2018 China-EU Tourism Year, designed to promote lesser-known destinations, improve travel and tourism experiences, and provide opportunities to increase economic cooperation. At the Summit, Leaders committed to further advancing relevant activities, facilitating tourism cooperation and contacts between people.
With the protection and improvement of human rights at the very core of the European Union and its global partnerships, Leaders also addressed issues relating to human rights, a week after the EU and China held their latest Human Rights Dialogue.
Both parties confirmed that they will press ahead with the parallel negotiations on the second phase of the EU-China Mobility and Migration Dialogue roadmap, namely on an agreement on visa facilitation and an agreement on cooperation in addressing irregular migration.
The EU and China also agreed to launch new dialogues covering drug-related issues and on humanitarian assistance.
Libya is in no state to rescue migrants in the Mediterranean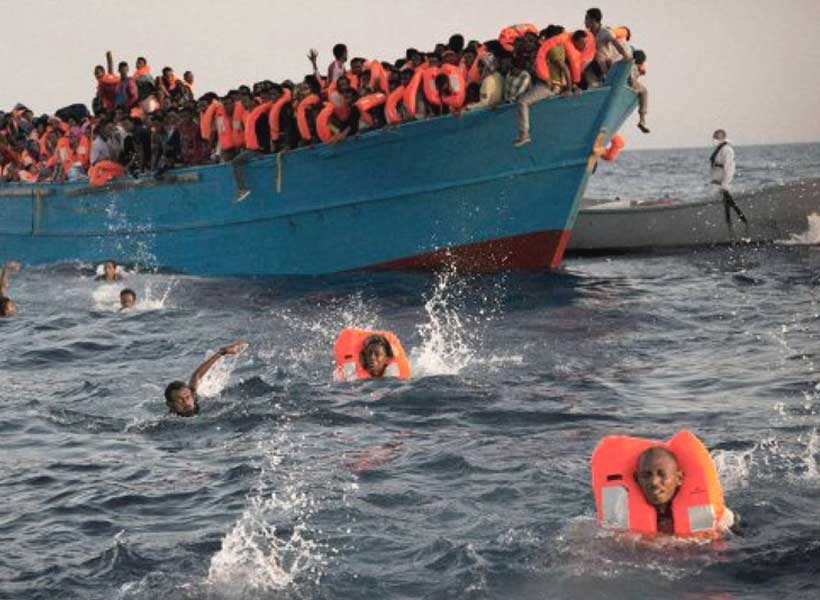 Italy's new government—an unholy alliance of the populist M5S and far-right League parties—careened into office on an uncompromising anti-migrant platform, soliciting the warnings of politicians and financial institutions around the world. With its recent decision to hand naval control of a large swath of the Mediterranean—extending almost to Malta and Crete— to failed-state Libya, the coalition government may yet set a new low more rapidly than expected.
Italy's hope is that the Libyan forces it has ceded responsibility to will prevent shipwrecked migrants from reaching European shores, instead returning them to the very country they are trying to flee. While this plan might sound attractive to a government which has lamented it can't deport its own citizens from minority backgrounds, NGOs working in the area have stressed the grave threat the new policy poses to migrants. Those rescued now face a return to prolonged detention and harsh treatment in a country which has been desperately torn apart for seven years. From the spate of warring militias which control Tripoli to General Khalifa Haftar's lengthy campaign against Islamist forces in the country's east, Libya is plagued with conflicts which make it no safe haven for migrants.
In this context, Italy's decision to hand over responsibility of such a large portion of the Mediterranean to Libya is likely not only against international law, but an affront to basic human rights. The Italian government is set to donate 12 boats to enhance the capabilities of the Libyan coast guard—such as it is— given its new responsibilities. Libya will need these twelve vessels and more before they can carry out even the most basic search and rescue operations. At present, the country only has three operational patrol boats; barely seaworthy, they are often forced to stay at port due to lack of fuel. "It's very clear that the priority is not saving lives", one spokesman from the German charity Sea Watch remarked about the sorry state of Libya's fleet; "I have not seen a single life jacket."
Unsurprisingly, Libya's track record on saving migrants at sea is hardly exceptional. More than 100 migrants, including young children, recently drowned off Libyan shores after the coast guard picked up just 16 survivors when their overloaded vessel capsized. In a separate incident, a shipwreck east of Libya's capital Tripoli saw 63 people go missing after their inflatable boat sank. The Libyan coast guard was unable to even locate their bodies.
The number of migrants dying during the dangerous crossing has significantly increased since the European Union began to back away from rescue missions and close crucial ports. At the same time human traffickers are exploiting the desperation of those attempting to flee violence on the African continent, the European bloc seems ever more reluctant to extend a well-trained, well-resourced helping hand.
That reluctance has had deadly consequences. According to the United Nations Refugee Agency (UNHCR), one out of seven migrants attempting the journey across the Mediterranean died at sea last month, compared to last year's average of one in 38 migrants.
Though it is becoming increasingly obvious the EU cannot accept further significant inflows of migrants without exacerbating tensions that risk breaking the bloc apart, plans to send migrants back to be detained in war-torn Libya under horrific conditions are simply inhumane.
If Italy is determined to turn over control of migrant rescue operations to the Libyan government, it first needs to make sure that that government is stable and just. So far, the West has done little to support Libya, privileging short-term solutions to the country's deeply-rooted problems. Many Western countries have also stubbornly continued to push for the unelected, UN-backed-government in Tripoli, long after it has proven to be weak and ineffective. Upon the violent end of Muammar Gaddafi's four decades of dictatorial rule, the US abdicated responsibility for "picking up the pieces" of Libya. At the same time, the UN worked to reconcile adversarial political blocs under the Libyan Political Agreement (LPA). This top-down approach has proven profoundly flawed, not least because it has sidelined actors outside the UN government, such as General Haftar, who already commands significant respect and power in the country.
Thankfully, Western attempts to stabilize Libya are slowly becoming more effective. Major international powers now finally recognize that all principal Libyan stakeholders must necessarily be involved in crafting a sustainable solution. France in particular is taking the lead on pushing for a workable way out of the crisis. Paris believes Haftar, whose four-year-long military campaign has been successful at rooting out the Islamic State and its affiliates from Derna and other fundamentalist strongholds, must inherently be a part of that process. In an encouraging breakthrough, Haftar and the three other key Libyan leaders have met and even tentatively agreed to hold elections in December.
This new approach to diplomacy within Libya's chaotic borders is promising, and may point to a more stable future in years to come. In the meantime, Libya cannot be trusted with patrolling a huge section of the Mediterranean until a steadfast Libyan government can prove its mettle in ensuring the rule of law domestically.