The War for Raw Materials
The war for raw materials amounts to a reshuffling of the power relations among Western nations, on one hand, and the emerging and/or developing nations, on the other. The rise of China, BRICS, and the growing strength of the sovereign wealth funds of Arab nations, which are oil exporters, provides the evidence. Resources are powerful weapons in economic warfare, and everything suggests that the conflict will only intensify. The International Energy Agency estimates that world demand for energy will increase by 50% from now until 2030,especially owing to the growth of India and China. Ensuring ready procurement of materials, therefore, assumes crucial importance for nations. In 2007, the Committee on Critical Mineral Impacts of the U.S. Economy published a report with a list of eleven minerals that were particularly important for the leading industrial sectors of the U.S. Economy, due to their rarity and value. The list includes rhodium, used primarily in the manufacture of catalytic converters, which is particularly abundant in Russia but also in South Africa.
As guarantor of its national economy, every nation has, in fact, drawn up a list of the resources that it considers necessary and on which a significant number of current geo-economic conflicts depends.
As Liberalist logic goes, trade should produce closer and closer integration among the economic operators in various nations, which are linked less and less to specific reference territories, while reducing the risks of conflict and the role played by the nation at the same time.
This highly ideological vision is losing credibility. Territories have resisted and, along with them, the notion of control. The financial crisis that began in 2008 seriously undermined their citizens' trust in the market's capacity for self-regulation. The various factors that contribute to a nation's power include its possession and exploitation of the riches of its subsoil, sea bottoms, and arable land. In a world expected to reach a population of 9 billion by 2050,the logic of self-sufficiency or lesser dependence now drives nations to compete in guaranteeing their supply of raw materials more than ever before. Competition for the control of raw materials – which has never stopped structuring international relations – has demonstrated a particularly significant intensification in recent years. The surge in agricultural raw material prices triggered a wave of arable land-grabbing by foreign investors in 2008, predominant among which, the United States, China, Saudi Arabia, and Arab Emirates. Most of their purchases were made in the continents of Africa and Latin America, where – by no coincidence – 90% of the world's as-yet unutilized arable land is located. Appetites like these generate tension and rivalry. Hydrocarbons, of course, remain the center of strategic interests. After acquiring the possibility to intensely exploit its reserves of shale gas, the United States has become self-sufficient. As a result, its former supplier, Saudi Arabia, has witnessed a weakening of its bonds with the U.S., its protector against Iran. Its febrile behavior during the crises in Iraq and Syria is due in part to this evolution of international relations. The case of Greenland – whose oil reserves are now estimated as being half of those of Saudi Arabia –is also exemplary. Combined with the results of the referendum regarding autonomy (75% in favor), this new circumstance will now give greater force to the movement for independence as the larger powers are already jockeying for the best bargaining positions.
One sector that will apparently be particularly significant for international tensions in the future is that of mineral resources: more and more often nations with large mineral deposits are opting for state control. Well-known documented examples are offered by China, Russia, and Bolivia, and the list might soon include Madagascar, which, after being long subjected to crushing passive exploitation by foreign mining companies, announced in 2014 the creation of a public mining company to exploit its resources at a national level.
One vital mineral resource that is indispensable to aeronautics, given that it represents between 15 and 20% of the metal used in the construction of a modern airplane, is titanium. It is no wonder that the Boeing Company and the United Technologies Corporation have decided to stockpile it.
The world's leading titanium supplier is the Russian VSMPO group. Will these two American companies, whose decision was revealed last August, suffer retaliation in the context of the crisis in Ukraine? It must be recalled that U.S. law prohibits companies that work for its Defense Department from purchasing titanium abroad. However, the two groups produce for both the civil and the military sector.
In addition to Ukraine, another area of international tension created by resource grabbing is the China Seas, where the level of interdependence between the leading powers (South Korea, Japan, People's Republic of China, and Taiwan) is certainly growing, and in the opinion of Paul Tourret, Director of the Higher Institute of Maritime Economics, such a mesh of interests should have reduced the risk of conflict even if – as the expert himself seems to imply – the sharing of the same geo-economic interests is of little use in guaranteeing stability in the region.
The dispute between China and Japan over the Senkaku Islands that began in 2010 and flared up again in 2012 and 2013 even led Beijing to lower its exports of rare metals to Japan. This group of 17metals, whose leading producer is unquestionably China, is indispensible to the production of products with high-technological content, one of the mainstays of the Japanese economy. Acknowledging that this reduction in exports had effectively weakened its economy, Japan wasted no time in reacting: on March 13, 2012, supported by the U.S. and the EU, Japan denounced China to the WTO, which in fact reprimanded the conduct of the Chinese government. This did not prompt Beijing to change its tune, however. In addition to putting its faith in procedures at this level, Japan recently set up the Japan Oil, Gas and Metals National Corporation (JOGMEC) and funds it with 15 billion euros annually. The entity operates on three levels: supporting Japanese mining companies abroad (particularly in their purchases or entry into foreign company shareholding structures), providing a diplomatic channel in the stipulation of long-term contracts between nations, and supporting national research in the energy and mining sector. In 2012, Japan's Minister of Industry announced that new trading partners like Kazakhstan and Australia would help reduce its dependence on Chinese rare metals. The private sector supports the national effort: through its branches, auto manufacturer Toyota has become one of the prime investors in mining sectors in Canada and Australia as another way of weaning Japan from Chinese supplies. Nations take different approaches to the geo-economic problems posed by the procurement of metals and minerals. The first is to get back into the markets, which, as reported by certain experts, are impenetrable, fragmented, and do not offer sufficient information.
Some industrial societies resort to the expedient of financial insurance that guarantees the purchase of substances at a fixed price for a certain amount of time. However, this sometimes turns out to be a blunt instrument, however, given that nations often and willingly ignore the guarantees granted in defense of their own best interests. The second option nations take is when they become aware of the geopolitical necessities for territorial control and implement a long-term purchasing diversification strategy. Not all nations vaunt the same strategic prowess as Japan, however; Europe, in particular, demonstrates a deficit of awareness in this field.
The rising demand for metals and/or minerals stems from the arrival of a new tier of industrialized nations that includes China, India, and Brazil, which all have benefitted from the delocalization of certain European heavy industries and manufacturing companies.
In the end, future tensions regarding the availability of certain materials entail the question of national security in procuring the resources indispensible to strategic industry chains (nuclear, defense, aeronautics, electronics, the automobile sector, etc.). Nature has permitted the creation of monopolies over certain resources: China supplies 93% of the world's magnesium and 90% of its antimony. Brazil meets 90% of the international demand for niobium, while the U.S. provides 88% of its beryllium. In order to hedge the risk of economic dependence on the holders of these raw materials, other world powers have already laid out specific strategies to ensure themselves resources deemed strategic by establishing closer diplomatic relations with the nations that have what they need. The United States, Russia, and China have implemented policies for stockpile management and flow control while taking steps to secure production areas, especially through the purchase of mineral deposits and companies operating there. The volume of investments for the mining of rare substances in Greece has grown since 2014. At the start of the same year, the NBC news network revealed that the government's scientific agency, the U.S. Geological Survey, had conducted an aerial study of the soil in Afghanistan in 2006 that permitted the mapping of the mineral resources that the nation possesses in abundance. The American researchers estimated quantities of 2.2 billion tons of ferrous material, 1.4 million tons of rare materials (such as lanthanum, neodymium, and cerium), also aluminum, gold, zinc, mercury, and lithium. The crisis in the Ukraine has allegedly driven Russia to seriously consider the idea of establishing a rare materials cartel with China, with Russia having the largest holdings after China. Unlike most others, however, Russia has deposits of all 17such materials. Therefore, Russia would have every reason to exploit these resources, also bearing in mind that Chinese production in this sector is instead currently tailing off, obliging Beijing to import them. Russia's idea of closer links to China is also fed by its desire for retaliation against the United States and the European Union.
Owing to their use in industrial processes, the so-called platinoids or platinum group metals (PGM) are the object of much contention among the world's industrial powers owing to their use in industrial processes. Utilized not only in traditional petrochemical, arms, aeronautic, medical, and agrifood sectors and costume jewelry, they are also crucial to the telecommunications and information technology industries, especially in the production of cell phones and computers. Palladium, for example, is used in nearly every type of electronic device, primarily as a part of high-performance capacitors or microchips. Ruthenium and platinum instead play important roles in increasing data storage capacity on hard disks but also in producing liquid crystal displays. Platinum is also the key component of various types of fuel cell. Associated with rhodium (diesel vehicles), it plays a key role in the production of the catalytic converters that reduce exhaust gas toxicity.
In addition to their growing importance in a variety of industrial processes, these materials are rare and concentrated in only a few specific geographical areas in which a sort of semi-monopoly is held, such as South Africa and Zimbabwe. Southern Africa's platinum-rich areas have become authentic theaters of national and international battle for the control of these materials that often degenerate into armed struggle. The fact is that no alternatives to their use have yet been found.
Competition between Anglo˗American, the world's leading producer of PGM, and Asian, primarily Chinese competitors, in Zimbabwe's Grand Dyke mines, is just one episode in an economic war of much wider scope. This battle is part of the long-term duel between Western nations and China for the control of Africa's strategic resources that began with the fall of Mobutu in the Congo. After gaining control of a considerable part of the Central African Copperbelt that contains over half of the world's reserves and mines for cobalt, an indispensable element in the production of electric batteries, China is making a similar attempt to corner the world's supply of platinum, an essential metal for oil refineries that is mined above all in Angola.
Zimbabwe's PGM are essential for China, which possesses only 1.1%of the world's reserves, and play a dual role in ensuring its economic security by enabling it to set up its own complete petrochemical production chain, in this way gaining independence from Anglo˗American suppliers and by allowing Beijing to produce the catalytic converters it needs to reduce air pollution, a campaign that has turned into a national priority now that China has become the largest motor vehicle market in the world. It therefore comes as no surprise that PGM refining constituted the pivotal role of the agreement signed between China, Angola, and Zimbabwe in 2009.
This agreement poses a threat to Anglo˗American, which had until then had held a monopoly over Zimbabwe's PGM mining. The British company continues to control the deposits in Southern Africa, which are more abundant than those of Zimbabwe, but those of the latter are distinguished in a way that makes them almost unique in their rare combination of both platinum and palladium, the two most highly desired PGM in the world.
This loss of part of the Zimbabwe reserves might spell the future end of the worldwide control of the PGM market by the Anglo˗American company, which has been the leading economic operator in Southern Africa for around two centuries.
Political instability and insecurity reign in the part of Africa that runs from Merensky Rift to Grand Dyke, where local political leaders wage wars in their attempts to gain control of the income derived from platinoid sales, basing their right to do so on their past as "freedom fighters". In Zimbabwe, this operation is conducted by the former hero of the nation's independence, Robert Mugabe, who adopts nationalistic, anti-imperialist rhetoric to accuse foreign companies of implementing neo-colonialism policies with support from Great Britain. He goes on to claim that the Anglo-American company has stoked political opposition against him, abetted by both the United States and the European Union. The leader of the opposition movement is Morgan Tsvangirai, formerly a company employee.
Robert Mugabe's use of nationalist rhetoric to instrumentalize the question of international monopoly over the nation's economy had served to both masquerade his less than exalting results in running the country and to sidestep demands for more political freedom. The fact that Mugabe's nationalism amounted to mere rhetoric is clear from his scarcely coherent political conduct: following a hike in mineral product prices, in 2007 he proposed an Empowerment and Indigenization Bill for the economy in general and the mining sector in particular, and had it passed. Just one year later, Mugabe sold the mineral rights to an American hedge fund in exchange for a loan of around one hundred million dollars, which he then used to finance his election campaign. He proceeded in the same way in privatizing a mineral deposit that had become public property after he had previously expropriated it from Anglo˗American.
In short, Mugabe uses the nation's mineral resources as if they were an automatic teller machine for the funding of his own political career. Also in South Africa, the ruling class that had come to power on the merits of its struggle against the previous apartheid regime has since displayed remarkable nonchalance in channeling the nation's mineral wealth to its own advantage by stipulating agreements with foreign multinationals.
The massacre by police of miners in Marikana striking for higher wages in 2012 demonstrates the degree to which the miracle of South Africa is only a mirage for a large part of the nation's black population.
US Economic Turmoil: The Paradox of Recovery and Inflation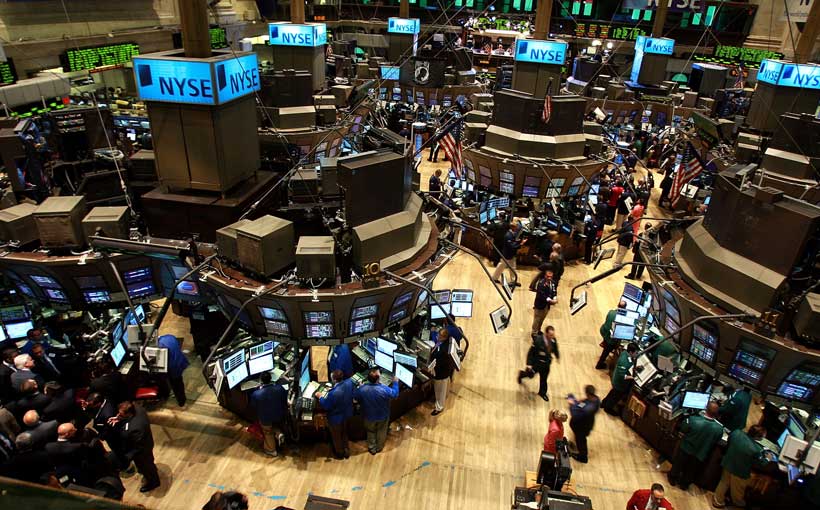 The US economy has been a rollercoaster since the pandemic cinched the world last year. As lockdowns turned into routine and the buzz of a bustling life came to a sudden halt, a problem manifested itself to the US regime. The problem of sustaining economic activity while simultaneously fighting the virus. It was the intent of 'The American Rescue Plan' to provide aid to the US citizens, expand healthcare, and help buoy the population as the recession was all but imminent. Now as the global economy starts to rebound in apparent post-pandemic reality, the US regime faces a dilemma. Either tighten the screws on the overheating economy and risk putting an early break on recovery or let the economy expand and face a prospect of unrelenting inflation for years to follow.
The Consumer Price Index, the core measure of inflation, has been off the radar over the past few months. The CPI remained largely over the 4% mark in the second quarter, clocking a colossal figure of 5.4% last month. While the inflation is deemed transitionary, heated by supply bottlenecks coinciding with swelling demand, the pandemic-related causes only explain a partial reality of the blooming clout of prices. Bloomberg data shows that transitory factors pushing the prices haywire account for hotel fares, airline costs, and rentals. Industries facing an offshoot surge in prices include the automobile industry and the Real estate market. However, the main factors driving the prices are shortages of core raw materials like computer chips and timber (essential to the efficient supply functions of the respective industries). Despite accounting for the temporal effect of certain factors, however, the inflation seems hardly controlled; perverse to the position opined by Fed Chair Jerome Powell.
The Fed already insinuated earlier that the economy recovered sooner than originally expected, making it worthwhile to ponder over pulling the plug on the doveish leverage that allowed the economy to persevere through the pandemic. The main cause was the rampant inflation – way off the 2% targetted inflation level. However, the alluded remarks were deftly handled to avoid a panic in an already fragile road to recovery. The economic figures shed some light on the true nature of the US economy which baffled the Fed. The consumer expectations, as per Bloomberg's data, show that prices are to inflate further by 4.8% over the course of the following 12 months. Moreover, the data shows that the investor sentiment gauged from the bond market rally is also up to 2.5% expected inflation over the corresponding period. Furthermore, a survey from the National Federation of Independent Business (NFIB) suggested that net 47 companies have raised their average prices since May by seven percentage points; the largest surge in four decades. It is all too much to overwhelm any reader that the data shows the economy is reeling with inflation – and the Fed is not clear whether it is transitionary or would outlast the pandemic itself.
Economists, however, have shown faith in the tools and nerves of the Federal Reserve. Even the IMF commended the Fed's response and tactical strategies implemented to trestle the battered economy. However, much averse to the celebration of a win over the pandemic, the fight is still not through the trough. As the Delta variant continues to amass cases in the United States, the championed vaccinations are being questioned. While it is explicable that the surge is almost distinctly in the unvaccinated or low-vaccinated states, the threat is all that is enough to drive fear and speculation throughout the country. The effects are showing as, despite a lucrative economic rebound, over 9 million positions lay vacant for employment. The prices are billowing yet the growth is stagnating as supply is still lukewarm and people are still wary of returning to work. The job market casts a recession-like scenario while the demand is strong which in turn is driving the wages into the competitive territory. This wage-price spiral would fuel inflation, presumably for years as embedded expectations of employees would be hard to nudge lower. Remember prices and wages are always sticky downwards!
Now the paradox stands. As Congress is allegedly embarking on signing a $4 trillion economic plan, presented by president Joe Bidden, the matters are to turn all the more complex and difficult to follow. While the infrastructure bill would not be a hard press on short-term inflation, the iteration of tax credits and social spending programs would most likely fuel the inflation further. It is true that if the virus resurges, there won't be any other option to keep the economy afloat. However, a bustling inflationary environment would eventually push the Fed to put the brakes on by either raising the interest rates or by gradually ceasing its Asset Purchase Program. Both the tools, however, would risk a premature contraction which could pull the United States into an economic spiral quite similar to that of the deflating Japanese economy. It is, therefore, a tough stance to take whether a whiff of stagflation today is merely provisional or are these some insidious early signs to be heeded in a deliberate fashion and rectified immediately.
Carbon Market Could Drive Climate Action
Authors: Martin Raiser, Sebastian Eckardt, Giovanni Ruta*
Trading commenced on China's national emissions trading system (ETS) on Friday. With a trading volume of about 4 billion tons of carbon dioxide or roughly 12 percent of the total global CO2 emissions, the ETS is now the world's largest carbon market.
While the traded emission volume is large, the first trading day opened, as expected, with a relatively modest price of 48 yuan ($7.4) per ton of CO2. Though this is higher than the global average, which is about $2 per ton, it is much lower than carbon prices in the European Union market where the cost per ton of CO2 recently exceeded $50.
Large volume but low price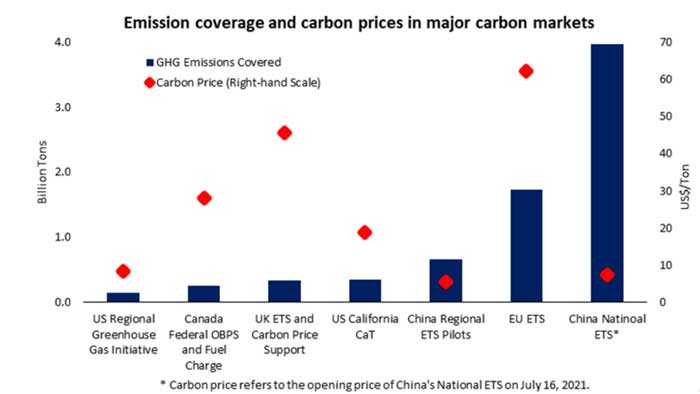 The ETS has the potential to play an important role in achieving, and accelerating China's long-term climate goals — of peaking emissions before 2030 and achieving carbon neutrality before 2060. Under the plan, about 2,200 of China's largest coal and gas-fired power plants have been allocated free emission rights based on their historical emissions, power output and carbon intensity.
Facilities that cut emissions quickly will be able to sell excess allowances for a profit, while those that exceed their initial allowance will have to pay to purchase additional emission rights or pay a fine. Putting a price tag on CO2 emissions will promote investment in low-carbon technologies and equipment, while carbon trading will ensure emissions are first cut where it is least costly, minimizing abatement costs. This sounds plain and simple, but it will take time for the market to develop and meaningfully contribute to emission reductions.
The initial phase of market development is focused on building credible emissions disclosure and verification systems — the basic infrastructure of any functioning carbon market — encouraging facilities to accurately monitor and report their emissions rather than constraining them. Consequently, allocations given to power companies have been relatively generous, and are tied to power output rather than being set at absolute levels.
Also, the requirements of each individual facility to obtain additional emission rights are capped at 20 percent above the initial allowance and fines for non-compliance are relatively low. This means carbon prices initially are likely to remain relatively low, mitigating the immediate financial impact on power producers and giving them time to adjust.
For carbon trading to develop into a significant policy tool, total emissions and individual allowances will need to tighten over time. Estimates by Tsinghua University suggest that carbon prices will need to be raised to $300-$350 per ton by 2060 to achieve carbon neutrality. And our research at the World Bank suggest a broadly applied carbon price of $50 could help reduce China's CO2 emissions by almost 25 percent compared with business as usual over the coming decade, while also significantly contributing to reduced air pollution.
Communicating a predictable path for annual emission cap reductions will allow power producers to factor future carbon price increases into their investment decisions today. In addition, experience from the longest-established EU market shows that there are benefits to smoothing out cyclical fluctuations in demand.
For example, carbon emissions naturally decline during periods of lower economic activity. In order to prevent this from affecting carbon prices, the EU introduced a stability reserve mechanism in 2019 to reduce the surplus of allowances and stabilize prices in the market.
Besides, to facilitate the energy transition away from coal, allowances would eventually need to be set at an absolute, mass-based level, which is applied uniformly to all types of power plants — as is done in the EU and other carbon markets.
The current carbon-intensity based allocation mechanism encourages improving efficiency in existing coal power plants and is intended to safeguard reliable energy supply, but it creates few incentives for power producers to divest away from coal.
The effectiveness of the ETS in creating appropriate price incentives would be further enhanced if combined with deeper structural reforms in power markets to allow competitive renewable energy to gain market share.
As the market develops, carbon pricing should become an economy-wide instrument. The power sector accounts for about 30 percent of carbon emissions, but to meet China's climate goals, mitigation actions are needed in all sectors of the economy. Indeed, the authorities plan to expand the ETS to petro-chemicals, steel and other heavy industries over time.
In other carbon intensive sectors, such as transport, agriculture and construction, emissions trading will be technically challenging because monitoring and verification of emissions is difficult. Faced with similar challenges, several EU member states have introduced complementary carbon taxes applied to sectors not covered by an ETS. Such carbon excise taxes are a relatively simple and efficient instrument, charged in proportion to the carbon content of fuel and a set carbon price.
Finally, while free allowances are still given to some sectors in the EU and other more mature national carbon markets, the majority of initial annual emission rights are auctioned off. This not only ensures consistent market-based price signals, but generates public revenue that can be recycled back into the economy to subsidize abatement costs, offset negative social impacts or rebalance the tax mix by cutting taxes on labor, general consumption or profits.
So far, China's carbon reduction efforts have relied largely on regulations and administrative targets. Friday's launch of the national ETS has laid the foundation for a more market-based policy approach. If deployed effectively, China's carbon market will create powerful incentives to stimulate investment and innovation, accelerate the retirement of less-efficient coal-fired plants, drive down the cost of emission reduction, while generating resources to finance the transition to a low-carbon economy.
(Martin Raiser is the World Bank country director for China, Sebastian Eckardt is the World Bank's lead economist for China, and Giovanni Ruta is a lead environmental economist of the World Bank.)
(first published on China Daily via World Bank)
The EU wants to cut emissions, Bulgaria and Eastern Europe will bear the price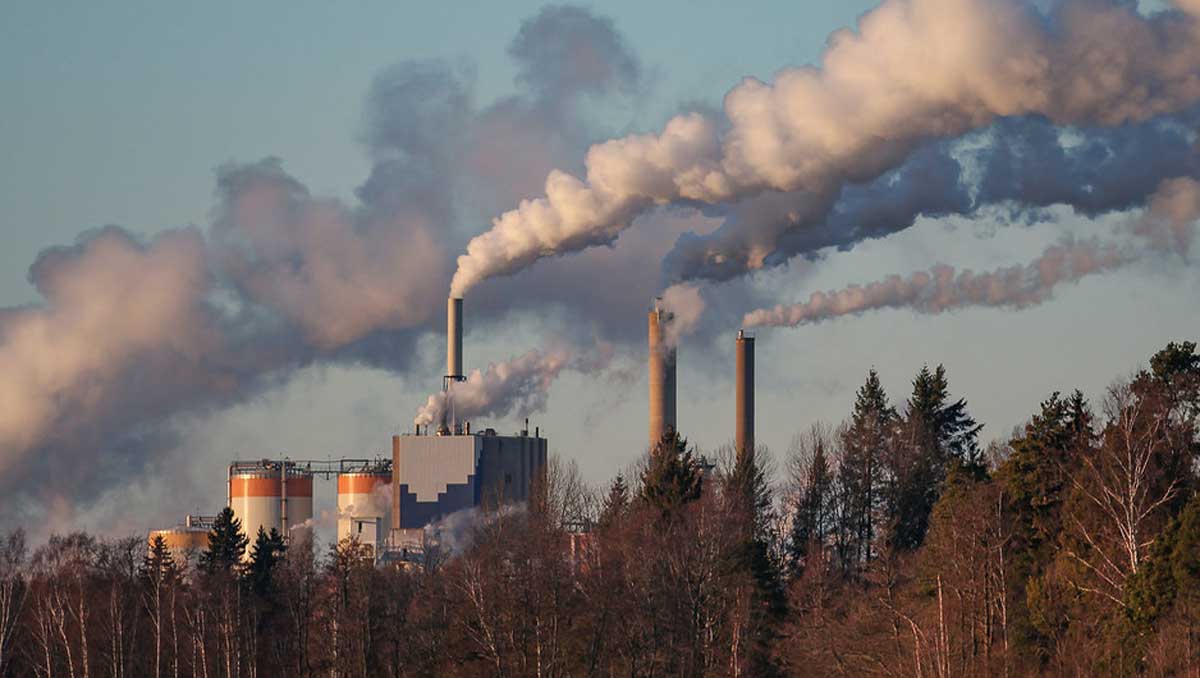 In the last few years, the European Union has been going above and beyond in dealing with climate change. Clearly, this is far from being a case of disinterested endeavour to safeguard the planet and the environment. On the contrary, the EU's efforts aim at reinforcing its "normative power". In effect, the EU has gained some clout on the international stage, even vis-à-vis faraway countries like Vietnam and China. Yet, in doing so the Union embroiled in the apparent rush for more and more ambitious climate standards and targets. Therefore, Brussels needs to start acting and deliver on its promises to keep staying ahead of the pack. Even more so given US President Biden's strengthened engagement with friends and foes alike on the climate and human rights.
Last week, the European Commission manifested its acknowledgment of this need by unveiling the Fit for 55 (FF55) growth strategy. Overall, this new, beefed-up Green Deal should reduce greenhouse gas emissions to 55% of their 1990 level by 2030. In some analysts' view, the FF55 plan is a game changer in the long-term race towards climate neutrality alas. In fact, it could "both deepen and broaden the decarbonisation of Europe's economy to achieve climate neutrality by 2050." Moreover, they expect the FF55's 13 measures to generate a number of positive ripple effects across EU economies.
True, wanting to reduce greenhouse gases significantly by 2030 and reaching net-zero-emission by 2050 goal is commendable under many regards. Still, the FF55 includes a number of measures that could impact ordinary people's life massively across Europe. Nevertheless, the 27 Member States of the EU are responsible for as little as 8% of global emissions. As such, it is necessary to take a deeper look at how the FF55 will affect different countries and demographics.
The transition's social cost
The realisation that reduction of capitalism's dependence on fossil fuels will have serious socio-economic consequences is not at all new. Contrariwise, scholars and politicians have been outspoken about an indisputable "conflict between jobs and the environment", since the early 1990s. Together, the pandemic-induced recession and the signing of the Paris Accord have brought the notion back on the centre stage.
Factually, pushing the energy transition entails facing mass lay-offs, generalised workforce retraining and taxes hikes on ordinary consumers. For instance, these hardships' seriousness is evident in the progressive abandonment of coal mining for energy generation in the US. Moreover, the energy transition requires strong popular backing in order to be effective. Yet, measures pursued to achieve environmentally friendly growth tend to generate strong, grassroot opposition. Most recently, France's gilets jaunes protests shows that environmental policies generate social discontent by disfavouring middle and lower classes disproportionately.
The poorest families and countries will bear the costs
One of the FF55's main policy innovation regards the creation of a carbon trading market for previously exempt sectors. Namely, companies working int the transport and buildings sectors, be they public or private, will have to follow new rules. As it happened in the energy industry before, each company will have to respect a "carbon allowance". Basically, it is an 'authorisation to pollute' which companies can buy from each other — but the total cannot increase. Despite all claims of just transition, this and other measures will have a gigantic, re-distributional effect within and between countries. And it will be of markedly regressive character, meaning that poorer families and countries will pay more.
Taxing transport emission is regressive
Historically, these sectors were trailing behind most others when it comes to decarbonisation for a variety of reasons. First of all, the previous emission trading system did not include them. Moreover, these are far from being well-functioning markets. As a result, even if the cost of emissions was to rise, enterprises and consumer will not react as expected.
Thus, even as they face higher costs, companies will keep utilising older, traditional vehicle and construction technologies. With taunting reverberations on those poorer consumers, who cannot afford to buy an electric car or stop using public transport. Hence, they "will face a higher carbon price while locked into fossil-fuel-based systems with limited alternatives." Moreover, the EU could worsen these effects by trying to reduce the emission fees on truck-transported goods. Indeed, the commission is proposing a weight-based emission standard that would collaterally favour SUVs over smaller combustion-engine car and motorbikes.
In a nutshell, higher taxes and fee will strike lower-class consumers, who spend more of their incomes for transportation. Even assuming these households would like to switch to low-emission cars and buildings, current market prices will make it impossible. In fact, all these technologies ten to have low usage costs, but very high costs of acquisition. For instance, the cheapest Tesla sells at over €95,000, whereas a Dacia Sandero "starts at just under €7,000."
Eastern Europe may not be willing to pay
At this point, it is clear that the FF55 plan will deal a blow to ongoing efforts to reduce inequalities. In addition, one should not forget that EU Member States are as different amongst them as they are within themselves. Yet, the EU is not simply going to tax carbon in sectors that inevitably expose poorer consumers the most. But in doing so it would impose a single price on 27 very diverse societies and economies. Thus, the paradox of having the poorest countries in the EU (i.e., Central- and South-Eastern Europe) pay the FF55's bill.
To substantiate this claim, one needs to look no further than at a few publicly available data. First, as Figure 2 shows, there is an inverse relation between a country's wealth and consumers' expenditures on transport services. Thus, not only do poorer people across the EU spend more on transport, poorer countries do as well. Hence, under the FF55, Bulgarians, Croatians, Romanians and Poles will pay most of the fees and taxes on carbon emission.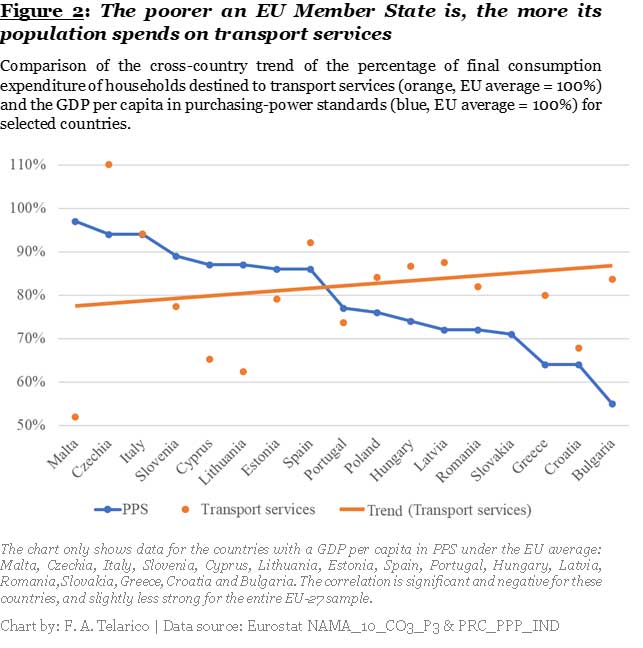 Additionally, one should consider that there is also a strict inverse relation between carbon emissions and the minimum national wage. In fact, looking at Figure 3 one sees that countries with lower minimum wages tend to emit more carbon dioxide. On average, countries with a minimum salary of €1 lower emit almost 4.5mln tonnes of carbon dioxide more. But differences in statutory national wages explain almost 32% of the cross-country variation in emissions. So, 1.5 of those extra tonnes are somehow related to lower minimum salaries and, therefore, lower living standards.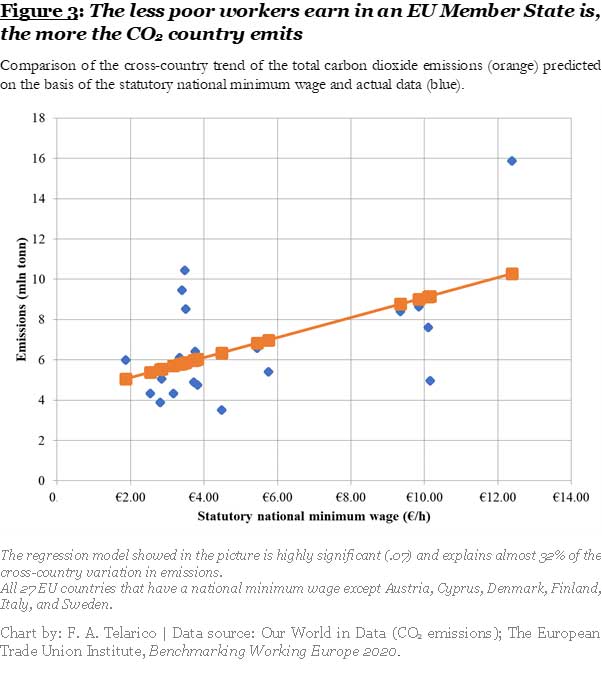 The EU's quest for a just transition: Redistribution or trickle down?
Hence, the pursual of a 'just' transitionhas come to mean ensuring quality jobs emerge from these economic changes. However, many of the FF55's 13 initiatives may worsen disparities both within countries and, more importantly, between them. Thus, the EU has been trying to pre-empt the social losses that would inevitably come about.
From the Just Transition Fund to the Climate Social Fund
In this regard, the European Union went a step forward most countries by creating the Just Transition Fund in May. That is, the EU decided to finance a mix of grants and public-sector loans which aims to provide support to territories facing serious socio-economic challenges arising from the transition towards climate neutrality [… and] facilitate the implementation of the European Green Deal, which aims to make the EU climate-neutral by 2050.
Along these lines, the FF55 introduces a Climate Social Fund (CSF) that will provide "funding […] to support vulnerable European citizens." The fund will provide over €70bln to support energy investments, and provide direct income support for vulnerable households. The revenues from the selling of carbon allowances to the transport and building sectors should fund most of the CSF. If necessary, the Member States will provide the missing portion.
The EU Commission may give the impression of having design the CSF to favour poorer households and countries. However, it may actually be a false impression. In fact, it is clear that the entire carbon pricing initiative will impact poorer household and countries more strongly. However, only a fourth of the carbon pricing system's revenues will go to fund the CSF. The remaining portion will finance other FF55 programmes, most of which have a negative impact on poorer communities. Thus, despite the CSF, the final effect of the entire FF55 will be a net redistribution upwards.
Stopping a redistribution to the top
Nevertheless, there is a way to fix the FF55 so that it can work for poorer households and lower-income countries. Given that the CSF is too small for the challenge it should overcome, its total amount should be increased. In fact, the purpose of higher carbon pricing is in any event not to raise revenue but to direct market behaviour towards low-carbon technologies—there is thus a strong argument for redistributing fully the additional revenues.
Hence, the largest, politically sustainable share of carbon-pricing revenues from transportation and housing should ideally go to the CSF. In addition, the Commission should remove all the proposed provision that divert CSF money away from social compensation scheme. In fact, poorer families will not gain enough from subsidies to electric car, charging stations and the decarbonisation of housing. One contrary, "using the fund to support electric vehicles would disproportionally favour rich households."
Finally, the allocation of CSF money to various member states should follow rather different criteria from the current ones. In fact, the Commission already intends to consider a number of important such as: total population and its non-urban share; per capita, gross, national income; share of vulnerable households; and emissions due to fuel combustion per household. But these efforts to look out for the weakest strata in each country could backfire. In fact, according to some calculations, a Member State with lower average wealth and lower "within-country inequality could end up benefiting less than a rich member state with high inequality."
Conclusion
A number of well-known, respected economist have been arguing that environmental policies should account for social fallouts attentively. Goals such as emission reduction and net-zero economies require strong popular support in order for the transformation to succeed. Or at least, the acquiescence of a majority of the public. Otherwise, the plans of well-intentioned and opportunistic governments alike will derail. After all, this is the main lesson of the currently widespread protest against the mandating of 'Covid passes' and vaccines.
If the FF55 will deal poorer households a devastating blow, social unrest may worsen — fast. But as long as it will also hurt Eastern European countries as a whole, there is a chance. Hopefully, European parliamentarians from riotous Hungary or Poland will oppose the FF55 in its current shape. Perhaps, in a few years everyone will be thankful for these two countries strenuous resistance to EU bureaucracy. Or else, richer countries may force Central- and South-Eastern Europe to swallow a bitter medicine. Even though, whatever happens, Europe alone cannot and will not save the planet.