ADB, B.Grimm Power Expand Support for Renewable Energy in ASEAN
The Asian Development Bank (ADB) today signed a loan equivalent of up with $235 million to B.Grimm Power Public Company Limited (B.Grimm Power), one of the largest power producers in Thailand, to develop and enhance renewable energy capacity in member countries of the Association of Southeast Asian Nations (ASEAN).
"The development of renewable energy in Southeast Asia is critical to meet its energy needs and B.Grimm Power is at the forefront of the region's fast growing alternative energy sector," said Michael Barrow, Director General of ADB's Private Sector Operation's Department. "ADB is proud to once again partner with B.Grimm Power as it continues its expansion strategy in ASEAN member countries."
ADB's financing will support B.Grimm Power's implementation of the ASEAN Distributed Power Project, which will expand renewable and distributed power generation into new markets in ASEAN including Cambodia, Indonesia, Lao People's Democratic Republic, Myanmar, the Philippines, and Viet Nam. The project will involve the execution and operation of distributed and utility-scale solar, wind, biomass, waste-to-energy, gas-fired power, energy storage, as well as associated infrastructure in ASEAN countries.
B.Grimm Power's total distributed power generation capacity is expected to increase by over 50% to 2,500 megawatts (MW) by 2022, while the renewable energy share in its portfolio will rise from 10% to 30%.
ADB took a B1,968 million ($57.7 million) equity stake in B.Grimm Power as part of the company's initial public offering in July 2017. ADB also administers a $20 million loan provided by the Canadian Climate Fund for the Private Sector in Asia under the Clean Energy Financing Partnership Facility.
B.Grimm Power is a subsidiary of the 140-year old conglomerate B.Grimm Group, operating in the energy industry since 1993 in Thailand. B.Grimm Power currently has a total capacity of 1,779 MW, operating 13 gas-fired plants, with 4 more under development or construction. In recent years, B.Grimm has diversified into renewable energy and is operating 15 solar power plants and 2 hydro power plants.
COVID-19: Education replaced by shuttered schools, violence, teenage pregnancy
A culture of "safety, friends and food" at school has been replaced by "anxiety, violence, and teenage pregnancy", with remote learning out of reach for millions, the UN Children's Fund, UNICEF, said on Tuesday.
Due to the COVID-19 pandemic, "more than 600 million children in countries not on academic break are still affected by school closures", James Elder, UNICEF spokesperson at a press conference at UN Geneva.
In countries such as Uganda, this has led to a "20 per cent spike in the last 15 months in teen pregnancies, or pregnancies of 10-24-year-old girls, who were seeking antenatal care. Across the globe in all continents we've seen child helplines, a good precursor to understanding kids who are reporting violence, seeing often triple-digit increases," said Elder.
COVID-19 school closures
In nearly half of countries in Asia and the Pacific, schools have been closed for around 200 days. Latin America and the Caribbean have seen some of the longest closures ever with 18 countries and territories affected by either full or partial closures.
As of today, the UN agency estimates in Eastern and Southern Africa that 40 per cent of all children aged 5 to 18, are currently out of school.
Elder added that if these figures "did not resonate with those in power, then a World Bank report estimates a loss of $10 trillion in earnings over time", for this generation of students.
Remote learning 'out of reach'
Equally alarming is the fact that the solution of remote learning is "simply out of reach" for at least a third of the world's schoolchildren, the UNICEF spokesperson continued. In East Asia and the Pacific, "80 million children have no access whatsoever to any remote learning.
In Eastern and Southern Africa, Uganda school children have gone more than 300 days out of school, while home internet connectivity "is the lowest on the planet there at about 0.3%".
'Situation cannot go on'
In a call for action, UNICEF appealed for five main steps: Schools should reopen as soon as possible; governments and donors must protect the education budget; enrolment should be extended to children who were already out of school pre‑COVID‑19 – by removing financial barriers and loosening registration requirements – and cash transfers to the most vulnerable, must be increased.
"Everything needs to be done to bring an end to the pandemic," Mr. Elder said, starting with making vaccines available everywhere by sharing excess doses and financing to support the roll-out of vaccines.
Six months after coup, Myanmar's political, rights and aid crisis is worsening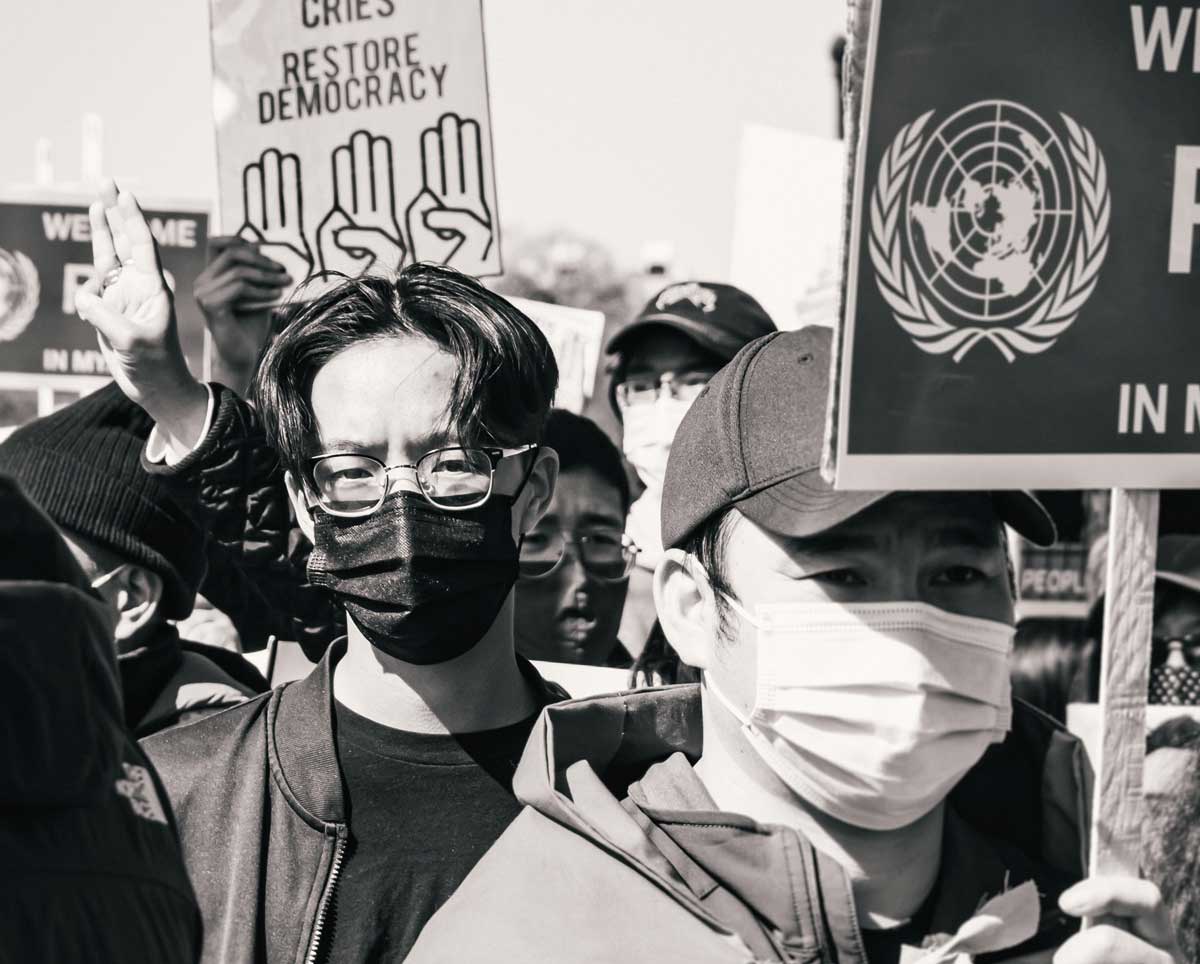 It's been six months since the military coup in Myanmar where there's grave concern over the widening impact of the deepening political, human rights and humanitarian crisis affecting the country's people.
Speaking to UN News, the organisation's top aid official in Myanmar, Acting Humanitarian and Resident Coordinator Ramanathan Balakrishnan, described how people have been severely impacted across the country since the junta's power grab on 1 February.
"The situation in the country is characterized now by instability and a deteriorating socio-economic and security situation and to add to that we have a raging third wave of COVID-19," said Mr. Balakrishnan in an exclusive interview.
Highlighting the ongoing nature of armed resistance to State security forces "in several ethnic minority areas" including in the states of Shan, Chin and Kachin, the UN official said that more than 200,000 people had been uprooted from their homes there to date.
Displacement swelling
In Rakhine state before the coup, the UN Humanitarian Response Plan pointed to some one million people including internally displaced people in need of urgent assistance, but "this number has only swelled", Mr. Balakrishnan insisted.
More widely, "following the coup, an additional two million were identified as those in urgent need of humanitarian aid, and those were largely in the urban areas of Yangon and Mandalay", he said, adding that the intensification of clashes and the worsening socio-economic situation was pushing "tens of thousands of people" into a humanitarian space" every day.
Echoing concerns over rights abuses by UN Children's Fund UNICEF and others, Mr. Balakrishnan condemned the ongoing and widespread use of lethal force by the military against civilian protesters.
Rising hunger
Looking ahead, the UN's priorities include ensuring that millions of people do not fall further into hunger, the aid official said. "There has been an increase in the price of basic commodities for many people…this has also resulted in a reduction of the nutrition value of the food basket that people usually take as they substitute their regular food with cheaper, more readily available items."
Turning to Myanmar's health system, which is facing extreme pressure because of the coronavirus crisis, as well as attacks on medical personnel and facilities in Myanmar – and a civil disobedience movement by some health professionals – Mr. Balakrishnan warned that even basic services had been disrupted across the country.
Standing with Myanmar's people
In a message of solidarity, the top aid official insisted that the UN remained committed to respecting the will of the country's people.
This was despite limited access to parts of the country linked to security concerns and disruption to the banking system, which limited the UN's ability to transfer funds to humanitarian partners responsible for delivering aid.
"The UN will continue to call out human rights violations and is committed to stay and deliver lifesaving humanitarian assistance to the people of Myanmar, in addition to sending in the COVID-19 response," Mr. Balakrishnan said.
Delta variant, a warning the COVID-19 virus is getting 'fitter and faster'
Cases and deaths resulting from COVID-19 continue to climb worldwide, mostly fuelled by the highly transmissible Delta variant, which has spread to 132 countries, said the head of the World Health Organization (WHO) on Friday.
Almost 4 million cases worldwide were reported last week to WHO and the agency expects the total number of cases to pass 200 million, in the next two weeks.
"And we know this is an underestimate", underscored Director-General Tedros Adhanom Gebreyesus during his regular COVID-19 briefing.
Infections have increased in every region of the world, with some even reaching 80 per cent more in the past month. In Africa, deaths have increased by 80 per cent over the same period, the official warned.
Overwhelmed
Tedros blamed the rise of cases on increased social mixing and mobility, the inconsistent use of public health and social measures, and inequitable vaccine use. He said "hard-won gains" are in jeopardy or being lost, and health systems in many countries are increasingly overwhelmed.
"WHO has warned that the COVID-19 virus has been changing since it was first reported, and it continues to change. So far, four variants of concern have emerged, and there will be more as long as the virus continues to spread", he underscored.
A higher viral load
Lead WHO epidemiologist and COVID-19 technical lead, Dr. Maria Van Kerkhove, explained that the Delta variant has certain mutations that allow the virus to adhere to human cells more easily and that experts are also seeing a higher viral load in individuals infected.
She called Delta "dangerous and the most transmissible SARS-CoV-2 virus to date".
"There are some laboratory studies that suggest that there's increase replication in some of the modelled human airway systems", she added.
In terms of severity, Dr. Van Kerkhove highlighted that there has been an increase in hospitalizations in certain countries affected by the variant, "but we haven't yet seen an increase in mortality".
The WHO expert reminded that although there is some data that suggest that people vaccinated can get infected and transmit the variant, the likelihood is much reduced after the second dose has been administered and reached full effectiveness.
She also clarified that Delta is not specifically targeting children as some reports have suggested, but warned that as long as the variants are circulating, they will infect anybody that is not taking proper precautions.
Continuing to evolve
"It's in the virus's interests to evolve, viruses are not alive they don't have a brain to think through this, but they become more fit the more they circulate, so the virus will likely become even more transmissible because this is what viruses do, they evolve they change overtime", Dr. Van Kerkhove warned, echoing Tedros' remarks.
"We have to do what we can to drive it down", she added, reminding that public health and social measures do work against the Delta variant, and that the vaccines do prevent disease and death.
Dr. Michael Ryan, Executive Director of WHO Health Emergencies, said that even with the virus getting "faster and fitter" the gameplan does not change, but It needs to be implemented more efficiently.
"Delta is a warning that this virus is evolving, but it is also a call to action before more dangerous variants emerge", he said.
Shots for Africa
Last month, the WHO chief announced the setting up of a technology transfer hub for mRNA vaccines In South Africa as part of WHO's efforts to scale up production of vaccines and their distribution in Africa.
"Today we have taken another step forward, with a letter of intent that sets out the terms of collaboration signed by the partners in the hub: WHO; the Medicines Patent Pool; Afrigen Biologics; the Biologicals and Vaccines Institute of Southern Africa; the South African Medical Research Council and the Africa Centres for Disease Control and Prevention", Tedros explained.
He added that WHO's goal remains to aid every country in vaccinating at least 10% of its population by the end of September, at least 40% by the end of this year, and 70% by the middle of next year.
"We are a long way off achieving those targets. So far, just over half of countries have fully vaccinated 10% of their population, less than a quarter of countries have vaccinated 40%, and only 3 countries have vaccinated 70%", Tedros warned.
The WHO head reminded that the global distribution of vaccines remains unjust, despite expert warnings and appeals, and said that all regions remain at risk, "none more so, than Africa".
"On current trends, nearly 70% of African countries will not reach the 10% vaccination target by the end of September", he cautioned.
New tool to fight Delta
Tedros also announced that on response to the Delta surge, the WHO's Access to COVID-19 Tools Accelerator is launching the Rapid ACT-Accelerator Delta Response, or RADAR, and issuing an urgent call for 7.7 billion U.S. dollars for tests, treatments and vaccines.