ADB, B.Grimm Power Expand Support for Renewable Energy in ASEAN
The Asian Development Bank (ADB) today signed a loan equivalent of up with $235 million to B.Grimm Power Public Company Limited (B.Grimm Power), one of the largest power producers in Thailand, to develop and enhance renewable energy capacity in member countries of the Association of Southeast Asian Nations (ASEAN).
"The development of renewable energy in Southeast Asia is critical to meet its energy needs and B.Grimm Power is at the forefront of the region's fast growing alternative energy sector," said Michael Barrow, Director General of ADB's Private Sector Operation's Department. "ADB is proud to once again partner with B.Grimm Power as it continues its expansion strategy in ASEAN member countries."
ADB's financing will support B.Grimm Power's implementation of the ASEAN Distributed Power Project, which will expand renewable and distributed power generation into new markets in ASEAN including Cambodia, Indonesia, Lao People's Democratic Republic, Myanmar, the Philippines, and Viet Nam. The project will involve the execution and operation of distributed and utility-scale solar, wind, biomass, waste-to-energy, gas-fired power, energy storage, as well as associated infrastructure in ASEAN countries.
B.Grimm Power's total distributed power generation capacity is expected to increase by over 50% to 2,500 megawatts (MW) by 2022, while the renewable energy share in its portfolio will rise from 10% to 30%.
ADB took a B1,968 million ($57.7 million) equity stake in B.Grimm Power as part of the company's initial public offering in July 2017. ADB also administers a $20 million loan provided by the Canadian Climate Fund for the Private Sector in Asia under the Clean Energy Financing Partnership Facility.
B.Grimm Power is a subsidiary of the 140-year old conglomerate B.Grimm Group, operating in the energy industry since 1993 in Thailand. B.Grimm Power currently has a total capacity of 1,779 MW, operating 13 gas-fired plants, with 4 more under development or construction. In recent years, B.Grimm has diversified into renewable energy and is operating 15 solar power plants and 2 hydro power plants.
Commission and EBRD promote innovative use of data in public procurement involving EU funds
The European Commission, the European Bank for Reconstruction and Development (EBRD) and the Open Contracting Partnership are joining forces to improve the quality and transparency of public tenders co-funded by EU funds in Greece and Poland. Thanks to their support, two pilot projects will provide expertise and hands-on support to public authorities in both countries, with a focus on digital innovation.
By promoting the smart use of innovation and open data, the two pilots will help public administrations to better plan, implement and monitor the procurement of works, goods and services. This will improve the use of public resources and increase opportunities for businesses, especially for small and medium companies (SMEs). Moreover, thanks to a cooperation with local civil society organisations, this initiative will also favour transparency of public spending and stimulate citizens' participation in the monitoring of investments with a direct impact on the community, such as investments in sustainability, local development and social inclusion.
The two pilot projects
In Greece, the project will aim at consolidating and integrating all databases into a single smart public contract register. This will enable online access for bidders and citizens, improve quality of data and facilitate the use of data-driven analytical tools for monitoring the procurement process.
In Poland, the initiative will support Polish national and local authorities to introduce open data in public procurement and promote automated collection, standardisation, and consolidation of procurement data on all tenders.
The two pilots will run until the end of 2021 and their results will be disseminated in order to ensure a successful roll out in other Member States.
Commissioner for Cohesion and Reforms, Elisa Ferreira, said: "In the programming period 2021-2027, Cohesion policy will continue to support Member States and regions in their economic recovery following the coronavirus pandemic, as well as boosting competitiveness through new investments in research and innovation, digital transition and the implementation of the European Green Deal agenda. Through the use of new technologies, national and local public authorities managing EU funds will be able to spend public money more effectively ensuring the best possible results for citizens and businesses".
Commissioner for Internal Market, Thierry Breton, added: "Transparency in public procurement is essential to ensure efficiency of public investments, in line with the EU strategic policy goals aiming at a greener, digital and more resilient Europe. Public authorities can rely on the EU's public procurement framework, tools like the electronic procurement systems and open data for an efficient use of public funds."
The EBRD Vice-President, Pierre Heilbronn commented: "The EBRD is committed to support legal and institutional reforms aimed at ensuring that procurement laws and practices are modern, in line with international standards and can swiftly respond to emerging challenges. Together with Open Contracting Partnership, we are sharing the experience of successful civil society procurement monitoring based on open data. Our joint efforts aim to create a framework for enlisting civil society organisations to support public procurement reforms and use open data to monitor procurement."
Background
In the context of the next long-term EU budget, more than €370 billion from Cohesion policy funds will be invested to support the digital and green transitions of the Member States. Every year, public authorities in the EU spend around 14% of GDP on public procurement, amounting to more than €1.9 trillion. Almost half of Cohesion policy funding is channelled through public procurement. The Commission has promoted a series of initiatives aimed at helping Member States to improve the way administrations and beneficiaries use public procurement for EU investments. These include the Integrity Pacts to ensure more efficient and transparent tenders and safeguarding EU taxpayers' money. The Commission also took action to facilitate citizen engagement for better governance and effective Cohesion policy investments.
Sri Lanka Can Build Back Better from COVID-19 and Realize Inclusive Growth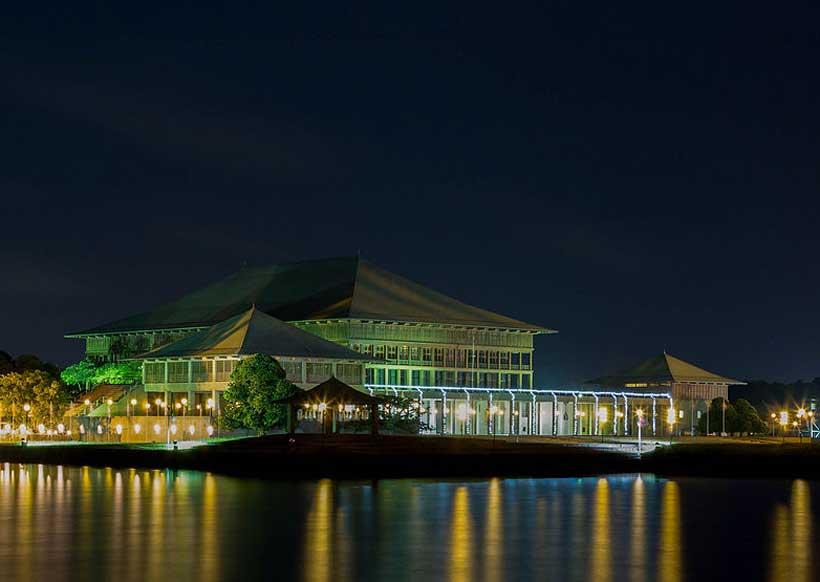 The World Bank's new Country Director for Maldives, Nepal and Sri Lanka, Faris Hadad-Zervos, completed his first visit to Sri Lanka today. The purpose of this visit was to meet key policymakers and understand the country's development priorities. Based in Kathmandu, Nepal, this was the Country Director's first visit to Sri Lanka in his new role. Hadad-Zervos was joined by Chiyo Kanda, the new Country Manager for Maldives and Sri Lanka, based in Colombo.
"We appreciate the frank and productive conversations we had with government officials, members of the private sector and civil society and all those whom we met during our visits in Colombo and the Provinces. These gave us a growing understanding of the Sri Lankan sustainable development storyline and aspirations," said Faris Hadad-Zervos, World Bank Country Director for Maldives, Nepal and Sri Lanka. "The World Bank is a long-term partner for the people of Sri Lanka and is committed to help the country reach its full potential for the benefit of all its people."
The new World Bank management team paid courtesy calls to His Excellency the President Gotabaya Rajapaksa, Hon. Prime Minister Mahinda Rajapaksa, Cabinet and State Ministers, Governor of the Central Bank of Sri Lanka, and Secretaries and senior officials associated with the current World Bank program in Sri Lanka.
They also met with members of civil society from across the spectrum, private sector representatives, development partners as well as thought leaders to better understand Sri Lanka's vast potential for sustainable growth.
The visits included the port and other facilities in the Hambantota district to observe infrastructure development in the south. At the government hospital-Halthota in Kalutara district, they learned about the government effort to improve primary health care, integrating screening and management of non-communicable diseases, and strengthen promotive and outreach services.
"The World Bank is mindful of the challenges the country is facing in this COVID19 era but will also keep our eye on the opportunities for sustainable recovery. We will leverage our knowledge, technical and financial resources to support Sri Lanka to build back better in the post-COVID era for inclusive and resilient growth," said Chiyo Kanda, World Bank Country Manager for Maldives and Sri Lanka "We are in the process of updating our Systematic Country Diagnostic to deepen our understanding and inform our next Country Partnership Framework that will define the World Bank Group's engagements with Sri Lanka for the next 4-5 years."
The Systematic Country Diagnostic is a thorough analysis, informed by consultations with a broad range of stakeholders, of the key challenges and opportunities in reducing poverty and boosting shared prosperity in a sustainable manner.
In response to the COVID pandemic, the World Bank leveraged the existing portfolio and repurposed a significant portion to support the Government's effort to reduce the impact of the pandemic. Providing urgently needed personal protective equipment (PPE), supporting vulnerable groups with temporary cash support, improving COVID-19 protection measures on public transport, facilitating tele-education for school children, and providing digital solutions to improve delivery of public services are among the emergency response activities already completed or ongoing. Discussions are under way to further adjust the program to adapt to government's priorities and emerging development needs.
The current World Bank portfolio in Sri Lanka consists of 19 ongoing projects, with a total commitment value of US$3.65 billion in a variety of sectors including transport, urban, agriculture, water, education and health.
First of four UN humanitarian airlifts for Ethiopia refugees lands in Khartoum
An airplane loaded with humanitarian supplies for people fleeing violence in Ethiopia's Tigray region has arrived in the Sudanese capital Khartoum, the UN refugee agency (UNCHR) said on Friday, in an appeal for international assistance to cope with the growing numbers seeking shelter in Sudan.
"This morning, a plane carrying 32 tonnes of UNHCR emergency aid from our global stockpiles in Dubai landed in Khartoum", said spokesperson Babar Baloch. "Another airlift is scheduled to leave Dubai on Monday with an additional 100 tonnes of additional relief items…In total, we plan to send four airlifts."
Growing exodus
Since the start of fighting in Ethiopia's northern Tigray region in early November, more than 43,000 refugees have crossed into Sudan.
People have sought shelter amid reports of a heavy build-up of tanks and artillery around regional capital Mekelle, following the Ethiopian Government's ultimatum to forces loyal to the Tigray People's Liberation Front (TPLF) to surrender, which has reportedly expired.
On Tuesday, UN Secretary-General António Guterres expressed deep concern over the unfolding situation, before urging "the leaders of Ethiopia to do everything possible to protect civilians, uphold human rights and ensure humanitarian access for the provision of much-needed assistance".
In a statement, the UN chief also called for the "free and safe movement of people searching for safety and assistance, regardless of their ethnic identity, across both national and international borders".
Echoing the Secretary-General's message, UN High Commissioner for Human Rights Michelle Bachelet, warned that both sides were using rhetoric that was "dangerously provocative and risks placing already vulnerable and frightened civilians in grave danger".
One million refugees
Even before violence erupted in Ethiopia's northern Tigray region causing mass displacement, Sudan was already home to nearly one million refugees, mainly from South Sudan.
In eastern Sudan, UNHCR has continued to step up its relief effort, together with national and local partners. "Aid is being mobilized to help refugees, almost half of whom are children", Mr. Baloch said, citing "complex logistical challenges".
To date the agency has helped to relocate nearly 10,000 refugees to Um Rakuba site, 70 kilometres inside Sudan, as work continues to put up shelters and improve services.
Family tracing services have been established and these have already reunited many separated refugees.
Mr. Baloch noted that although humanitarian agencies continue to provide shelter and other facilities to help refugees, "more resources are required and Sudan needs international support urgently".
Inside Tigray, concerns continue to grow for the safety of civilians in Mekelle, home to more than 500,000 people, and some 96,000 Eritrean refugees based in four camps.
No access
"Without humanitarian access, it's very hard to say what is actually going on, on the ground but there were worrying reports that fighting was getting closer to these refugee camps", Mr. Baloch told journalists via video link at a regular UN Geneva briefing.
Before the conflict erupted, UNHCR had "regular access to the refugees", the UNHCR official continued, but "since the start of it, we have lost access".
Highlighting the refugees' reliance on humanitarian distributions, Mr. Baloch said that "according to what they have had…they will be running out of food as of Monday".