Looking for options: The Israeli Establishment and the Syrian Conflict
Israel's National Security: What's an issue?
Since its foundation, Israel has based its defense calculations on two concepts: existential security and current security. Existential security concerns the preservation of the very fundamentals of the Zionist enterprise — the preservation of Israel as the democratic nation-state of the Jewish people. Current security is about maintaining the personal safety and well being of Israelis on a day-to-day basis.
For several decades, Israel has had the good fortune of not having to engage in all-out war with any of its neighbouring states. The country even signed peace treaties with Egypt and Jordan. For decades, however, Israelis have been exposed to a wide range of terrorist assaults: aircraft hijackings, kidnappings, suicide bombings, car rammings, knifings as well as constant rocket attacks. Israelis are, understandably, obsessed with current security — so much that in recent public discourse issues of existential security are being almost completely overshadowed.
At times, Israel's current security needs are in conflict with the country's requirements for its long-term existential security. Israel's continued occupation of the West Bank and Gaza is justifiably seen as an asset in maintaining Israel's current security. However, this very same occupation erodes Israel's existential security by undermining its Jewish and democratic character as well as its international legitimacy, and thus has an undeniably negative effect on Israel's long-term survival.
This is exactly what the late Israeli prime minister Ariel Sharon wanted to avoid. His decision to disengage from Gaza was driven not by rockets but by long-term existential security considerations. Sharon's goal was to preserve Israel's Jewish character by ridding itself of any remnants of Jewish settlement and the concomitant direct control over more than a million and a half (now closer to two and a half million) Palestinians in Gaza.
The Israeli military plays a vital role in dealing with current security, which is often intertwined with existential security. They are not mutually exclusive because the ideologies of the terrorist organizations, which Israel deems as a threat to its current security, seek the destruction of the State of Israel, which is a threat to its existential security. The Israel Defense Forces (IDF) feels that deterrence is the best strategy to discourage states (such as Iran, Turkey, Saudi Arabia, etc.) and sub-state actors (such as Hamas, Hezbollah, Islamic State [Da'esh], Jabhat Fatah al-Sham [al-Qaeda's Syrian affiliate, formerly known as Jabhat al-Nusra], etc.) from attacking its country. The IDF will not change its deterrence strategy for state and sub-state actors. This is because both actors occupy land and/or have constituencies; thus, they have something to lose.
Israel has three 'red lines' of deterrence that are the deciding factors in whether the IDF will respond militarily: (1) transfer of conventional weapons, (2) transfer of chemical weapons, and (3) any projectile(s) landing on its territory. Israel will respond almost immediately with a strike, usually at the source of the weapons exchange or the point of origin of the projectile. It will strike regardless of where or when the incident occurs, all the while coordinating with its partners that might be affected by its actions. This ex-plains Israel's rationale for military airstrikes against Iranian, Hezbollah, Syrian, and (Salafi) rebel targets in Syria throughout the Civil War.
A Regional Rumble in Syria: Israel's Concerns over Iranian presence in Syria
Israel sees Iran as both an existential and current security threat. Iran's rhetoric of wanting to destroy Israel and, according to Israel, attempting to acquire nuclear weapons makes this a cause for grave concern. Moreover, since 1979, Iran has sought to export its Islamic revolution and, over the decades, it has funded many Shi'a militias—some of which have emerged in the Syrian Civil War—including Hezbollah. Hezbollah is a Lebanese Shi'a political party-cum-militia with a strong military presence in Lebanon and now in Syria—a threatening presence on Israel's northern border. The reason Israel also deems Hezbollah an existential and current threat is because of Hezbollah's militant aspirations and its stated goal of eliminating the State of Israel.
The question now remains whether Israel will completely engage in the Syrian Civil War due to the recent incidents in southern Syria. Other than engaging in a complete military conflict in Syria, Israel will continue to monitor the developments in Syria, and do whatever is necessary to ensure that its security concerns are addressed. Currently, Israel is disturbed by recent developments, as there is now an Iranian militarily presence directly in southern Syria. The IDF will continue to implement its red line policy. Escalation will only occur if Israel feels provoked by its enemies in the south of (or other parts of) Syria. The higher the provocation, the stronger the response will be. This is why Israel has reacted to developments in the south of Syria by striking military targets, all the while communicating with its Russian partners.
From Israel's Binoculars: A View of Damascus
While Israel came very close to concluding a peace agreement with Syria in 1949 under President Husni al-Zaim, the two countries (since the 1949 Armistice Agreement) have had no diplomatic ties and are officially in a state of war. They have fought three wars (1948, 1967, and 1973) and were involved briefly during the second Lebanese Civil War when Israel invaded Lebanon in 1982. Prior to 1967, there were hostilities between the two countries in the demilitarized zones (DMZs) as well as continuous shelling and infiltration into the Golan Heights by the Syrians. Since 1967 the two major points of contention are Israel's demand that Syria recognizes the State of Israel and Syria's demand that Israel returns the Golan Heights, which Israel conquered at the end of the 1967 Arab-Israeli War. This is the essence of what is commonly known as "land for peace" for any future agreements between the two countries.
According to Israel, Syrian President Bashar al-Assad has been confrontational to-wards Israel by aiding and abetting Hezbollah in Lebanon as well as being the conduit by which Iranian weapons are transferred to Hezbollah and other Shi'a militias. Both Iran and Hezbollah, in Israel's view, are respectively state and sub-state actors that are a threat to its national security. For the same reason, Israel also views Syria as a national security threat. The Israeli establishment was clearly expecting the al-Assad government to fall to the Sunni jihadist rebels, who were supported by Saudi Arabia, prior to Russia's limited intervention in September 2015. If the ongoing peace negotiations in Sochi and Geneva are successful, it is almost certain that President al-Assad will remain in power or whatever the warring parties in Syria agree upon. Nevertheless, Israel is concerned about a strengthened al-Assad government remaining in power. That would be the best explanation for why it was recently revealed that Israel is arming some Sunni jihadist rebels. Israel is willing to ally itself with Salafist rebels in order to prevent the "Iranian-Syrian-Hezbollah axis" from proclaiming victory in the Syrian Civil War. Whether this proves to be a wise decision for Israel, remains to be seen.
Russia's Syrian Foreign Policy: The Israeli's Vantage Point
Russia intervened in Syria in 2015 at the request of Syrian President al-Assad. Russia has no particular affinity for al-Assad; rather it sees him as the only alternative to an Islamic fundamentalist state. Russia's main objective is that the Middle East remains stable while Syria was heading towards anything but stability. There are two reasons why Russia entered the Syrian fray.
First, while the Caucasus region is not entirely in Russia proper, it is on its border and presents a "zone of vulnerability." Given the recent history of US-sponsored "regime changes" in the Middle East, North Africa, and the Caucasus, Russia is on high alert. This is because many Muslim citizens of the Caucasus countries were joining extremist organizations to fill the power vacuums created by US "regime change" policy. This is the main reason why Russia came to the aid of al-Assad's government in September 2015 in the Syrian Civil War. It did not want to see a chaotic "Libya outcome" in Syria or see Da'esh or Jabhat Fateh al-Sham in Damascus.
The second reason is that Russia has a large Muslim population (estimated at 12-15 percent or 16 million to 20 million ethnic Muslims) that it also fears might become radicalized. Since the break-up of the Soviet Union, Russia deems Islamic radicalization as one of the most serious challenges to its national integrity and stability. A destabilized region will pose grave problems within Russia's borders. Thus, it has created a strong partnership with Israel to coordinate these stabilizing efforts.
Russia and Israel share a common concern towards international terrorism spreading throughout the region. When Russia entered the Syrian Civil War, the Israeli government immediately contacted their Russian counterparts. It appreciated the concern Russia had towards the jihadist terrorist threat in Syria, but the intervention led to an equally alarm-ing concern for Israel. That is, Israel worried that this would increase Iran's influence in Syria. This should not be interpreted as a cooling in Russo-Israeli relations. There has al-ways been dialogue between the two governments on all-levels. Given Russia's intervention in Syria, both countries' military and intelligence apparatuses are in contact in the Syrian arena to avoid unfortunate outcomes. Moreover, Israel relies on Russia to be the intermediary to resolve border issues. We saw this recently in Lebanon and Syria given Russia's ever-expanding presence and many contacts in the region. However, the con-cerns in Israel regarding Iran in southern Syria still remain. For instance, Israel has made it clear that it is concerned with the recent agreement between the US and Russia for a "zone of de-escalation" in southern Syria. In the view of the Israeli establishment, this prevents Israel from reacting to security concerns in the area—namely, military activities by the "Iran-Hezbollah-Syria axis." Nevertheless, given the US absence, Israel under-stands that it must balance between protecting its security and awareness that its activities could, as Russian President Vladimir Putin warned, lead to "a new round of dangerous consequences for the region." In other words, Israel now understands that it cannot take a militant line in the Syrian arena.
From the Israeli Lens: America's Policy in Syria
Israel was never entirely sure what to expect from the Americans throughout the Syrian Civil War. Presidents Barack Obama and Donald Trump both balked at intervening in the Syrian arena. However, like President Obama, President Trump does not have a com-plete grip on his administration and it is difficult to tell what the US foreign policy is in Syria.
Under President Obama, the CIA covertly armed opposition forces, many of which were jihadis (some even linked to al-Qaeda). To his credit, President Obama hesitated to enter the Syrian Civil War, knowing the dire implications of intervention. Unfortunately, his biggest flaw was that he was not in full control of his administration. As a result, powerful forces within the military, foreign affairs and intelligence communities decided to act independently of the President. For instance, President Obama and President Putin agreed to cooperate in Syria to destroy Da'esh and other terrorist organizations after a weeklong ceasefire (organized through their foreign ministries). However, only 48 hours prior to the implementation of full US-Russian cooperation in Syria, the Pentagon sabotaged the efforts made by US Secretary of State John Kerry and Russian Foreign Minister Sergey Lavrov.
While President Trump had ended the CIA program to covertly give weapons to ji-hadi forces, he too had his fair share of mistakes in the Syrian arena. While mentioning on numerous occasions during the 2016 US presidential election campaign that he wanted to cooperate with Russia in Syria, President Trump has been unable to fully implement his campaign promise due to anti-Russian sentiments in the American political class. As a result, due to his inexperience, he has had to deal with the same conundrum as President Obama. For instance, relying on very weak intelligence that Syrian President al-Assad used chemical weapons on his own people, President Trump authorized a launch of 59 tomahawk missiles on the Syrian Army's outposts—raising tensions in Syria of a possible 'hot war' between the United States and Russia as well as forcing Russian Prime Minister Dmitri Medvedev to proclaim that US-Russian relations were "destroyed". While the situation has settled down, the US retains a military presence in Syria, making it unclear what their foreign policy is for Syria. Is the US policy to destroy terror-ism in Syria (as President Obama professed at the UN Security Council and President Trump promised during his campaign) or is it, as it was at the beginning of the Syrian Civil War, to remove al-Assad from power? Unfortunately, due to infighting in the US foreign policy establishment over alleged Russian interference in the 2016 US election, President Trump does not have a free hand in dictating foreign policy and this includes the Syrian arena. As a result, there is no clear answer.
The Israeli establishment views the ongoing conflict in US politics, as an internal mat-ter but was hopeful that the al-Assad regime would fall. Given that events seem to suggest that al-Assad will remain in power, Israel is acting according to its security concerns. Regardless of what happens (or who is in power) in Syria, Israel will observe its red lines accordingly with caution (given that Russia is the "new sheriff in town"). However, the internal US political struggle has convinced the Israeli establishment that the Americans are retreating from the Middle East. There has been no significant US military presence in the region for over a decade and the US has been coming less and less to Israel's defense on the political scene. This has made it increasingly hard for the Israelis to rely on and seek political assistance from their American partners. Having said that, the Israeli establishment still considers the US its number-one ally. While some might consider US bipartisan support for Israel to be on the wane, the two countries share decades of deep ties in the political, economic, cultural, military, and intelligence spheres. In other words, they share the same values and it is highly unlikely that the Israelis and Americans will completely relinquish this relationship for the foreseeable future.
Russo-Israeli Relations: Détente or Full-Partnership?
To conclude, the question must be asked: can Israel and Russia find common ground? That answer is yes. Israel's two major national security concerns converge with Russia's. While the current Israeli government sees no interest in seriously negotiating for a two-state solution, Russia, like the Israeli Left, understands that a two-state solution is the most viable and practical answer to the ongoing Israeli-Palestinian conflict. This would address Israel's existential national security concern and, by extension, significant-ly reduce its current security concern. If both parties (Israeli and Palestinian) are serious about negotiating, Moscow is more than willing to be that broker to resolve this matter—as we saw in 2016. In the Syrian arena, both the Russians and Israelis share the belief that the threat of international terrorism is not only a threat to the region but to the international community as a whole. Where the two countries' national security concerns do not converge is on Iran, specifically the "Iranian-Syrian-Hezbollah axis." Nonetheless, here too we see cooperation. The two countries have found a way to communicate when their countries' security concerns are at odds. Even so, they continue to cooperate on a military and intelligence level in the Syrian arena. There are big changes afoot in the global arena. Unlike the Cold War era, the United States is retreating from the region. Israel will have to rely more and more on Russia to resolve security issues. The ball is in the Israelis' court to make that decision. Russia shows that it is willing to be Israel's primary partner in the region; Israel must do the same.
First published in our partner RIAC
Erdogan's Calamitous Authoritarianism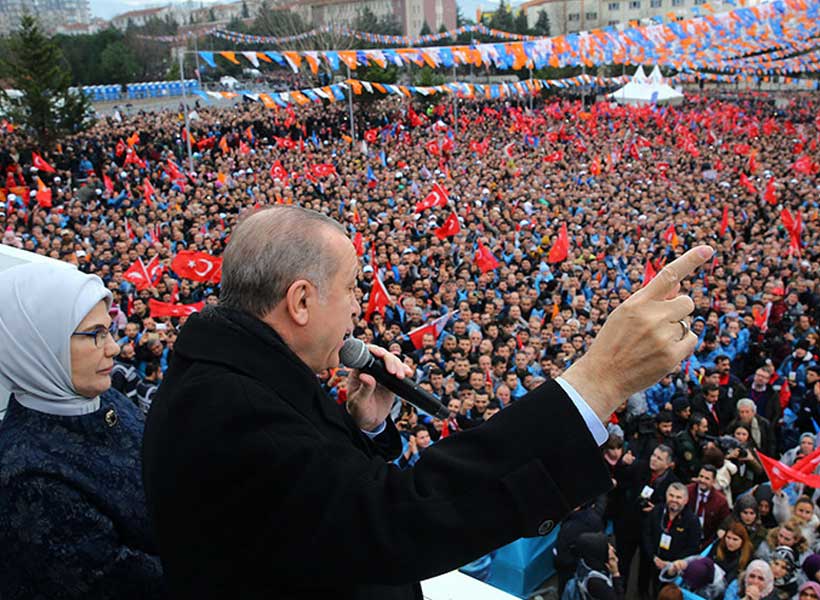 Turkey's President Erdogan is becoming ever more dangerous as he continues to ravage his own country and destabilize scores of states in the Middle East, the Balkans, and North Africa, while cozying up to the West's foremost advisories. Sadly, there seems to be no appetite for most EU member states to challenge Erdogan and put him on notice that he can no longer pursue his authoritarianism at home and his adventurous meddling abroad with impunity.
To understand the severity of Erdogan's actions and ambitions and their dire implications, it suffices to quote Ahmet Davutoglu, formerly one of Erdogan's closest associates who served as Minister of Foreign Affairs and subsequently Prime Minister. Following his forced resignation in May 2016 he stated "I will sustain my faithful relationship with our president until my last breath. No one has ever heard — and will ever hear — a single word against our president come from my mouth."
Yet on October 12, Davutoglu declared "Erdogan left his friends who struggled and fought with him in exchange for the symbols of ancient Turkey, and he is trying to hold us back now…. You yourself [Erdogan] are the calamity. The biggest calamity that befell this people is the regime that turned the country into a disastrous family business."
The stunning departure of Davutoglu from his earlier statement shows how desperate conditions have become, and echoed how far and how dangerously Erdogan has gone. Erdogan has inflicted a great calamity on his own people, and his blind ambition outside Turkey is destabilizing many countries while dangerously undermining Turkey's and its Western allies' national security and strategic interests.
A brief synopsis of Erdogan's criminal domestic practices and his foreign misadventures tell the whole story.
Domestically, he incarcerated tens of thousands of innocent citizens on bogus charges, including hundreds of journalists. Meanwhile he is pressuring the courts to send people to prison for insulting him, as no one can even express their thoughts about this ruthlessness. Internationally, Erdogan ordered Turkish intelligence operatives to kill or smuggle back to the country Turkish citizens affiliated with the Gülen movement.
He regularly cracks down on Turkey's Kurdish minority, preventing them from living a normal life in accordance with their culture, language, and traditions, even though they have been and continue to be loyal Turkish citizens. There is no solution to the conflict except political, as former Foreign Minister Ali Babacan adamantly stated on October 20: "… a solution [to the Kurdish issue] will be political and we will defend democracy persistently."
Erdogan refuses to accept the law of the sea convention that gives countries, including Cyprus, the right to an Exclusive Economic Zone (EEZ) for energy exploration, while threatening the use of force against Greece, another NATO member no less. He openly sent a research ship to the region for oil and gas deposits, which EU foreign policy chief Josep Borrell called "extremely worrying."
He invaded Syria with Trump's blessing to prevent the Syrian Kurds from establishing autonomous rule, under the pretext of fighting the PKK and the YPG (the Syrian Kurdish militia that fought side-by-side the US, and whom Erdogan falsely accuses of being a terrorist group).
He is sending weapons to the Sunni in northern Lebanon while setting up a branch of the Turkish Cooperation and Coordination Agency (TIKA) in the country—a practice Erdogan has used often to gain a broader foothold in countries where it has an interest.
While the Turkish economy is in tatters, he is investing hundreds of millions of dollars in the Balkans, flooding countries with Turkish imams to spread his Islamic gospel and to ensure their place in his neo-Ottoman orbit. Criticizing Erdogan's economic leadership, Babacan put it succinctly when he said this month that "It is not possible in Turkey for the economic or financial system to continue, or political legitimacy hold up."
Erdogan is corrupt to the bone. He conveniently appointed his son-in-law as Finance Minister, which allows him to hoard tens of millions of dollars, as Davutoglu slyly pointed out: "The only accusation against me…is the transfer of land to an educational institution over which I have no personal rights and which I cannot leave to my daughter, my son, my son-in-law or my daughter-in-law."
Erdogan is backing Azerbaijan in its dispute with Armenia (backed by Iran) over the breakaway territory of Nagorno-Karabakh, which is inhabited by ethnic Armenians and has been the subject of dispute for over 30 years.
He is exploiting Libya's civil strife by providing the Government of National Accord (GNA) with drones and military equipment to help Tripoli gain the upper hand in its battle against Khalifa Haftar's forces. Former Foreign Minister Yasar Yakis said in February 2020 that "The unclear Turkish foreign policy by Erdogan may put Turkey in grave danger due to this expansion towards Libya."
He is meddling in the Israeli-Palestinian conflict in an effort to prevent them from settling their dispute unless Israel meets Palestinian demands. He granted several Hamas officials Turkish citizenship to spite Israel, even though Hamas openly calls for Israel's destruction.
He betrayed NATO by buying the Russian-made S-400 air defense system, which seriously compromises the alliance's technology and intelligence.
He is destabilizing many countries, including Somalia, Qatar, Libya, and Syria, by dispatching military forces and hardware while violating the air space of other countries like Iraq, Cyprus, and Greece. Yakis said Turkey is engaging in a "highly daring bet where the risks of failure are enormous."
Erdogan supports extremist Islamist groups such as the Muslim Brotherhood and Hamas, and an assortment of jihadists, including ISIS, knowing full well that these groups are sworn enemies of the West—yet he uses them as a tool to promote his wicked Islamic agenda.
He regularly blackmails EU members, threatening to flood Europe with Syria refugees unless they support his foreign escapades such as his invasion of Syria, and provide him with billions in financial aid to cope with the Syrian refugees.
The question is how much more evidence does the EU need to act? A close look at Erdogan's conduct clearly illuminates his ultimate ambition to restore much of the Ottoman Empire's influence over the countries that were once under its control.
Erdogan is dangerous. He has cited Hitler as an example of an effective executive presidential system, and may seek to acquire nuclear weapons. It's time for the EU to wake up and take Erdogan's long-term agenda seriously, and take severe punitive measures to arrest his potentially calamitous behavior. Sadly, the EU has convinced itself that from a geostrategic perspective Turkey is critically important, which Erdogan is masterfully exploiting.
The EU must be prepared take a stand against Erdogan, with or without the US. Let's hope, though, that Joe Biden will be the next president and together with the EU warn Erdogan that his days of authoritarianism and foreign adventurism are over.
The views expressed are those of the author.
Syrian Refugees Have Become A Tool Of Duplicitous Politics
Since the beginning of the conflict in Syria the issue of Syrian refugees and internally displace has been the subject of countless articles and reports with international humanitarian organizations and countries involved in the Syrian conflict shifting responsibility for the plight of migrants.
The most notorious example of human suffering put against political games is the Rukban refugee camp located in eastern Syria inside the 55-km zone around Al-Tanf base controlled by the U.S. and its proxies.
According to official information, more than 50,000 people, mostly women and children, currently live in the camp. This is a huge number comparable to the population of a small town. The Syrian government, aware of the plight of people in Rukban, has repeatedly urged Washington to open a humanitarian corridor so that everyone can safely return home. However, all such proposals were ignored by the American side. U.S. also refuse to provide the camp with first aid items. Neighbouring Jordan is inactive, too, despite Rukban being the largest of dozens other temporary detention centres in Syria, where people eke out a meager existence.
At the same time, the problem is not only refugee camps. Syria has been at war for a decade. The country's economy has suffered greatly over this period, and many cities have been practically grazed to the ground. Moreover, the global coronavirus epidemic didn't spare Syria and drained the already weakened economy even more. However, Damascus' attempts of post-war reconstruction and economic recovery were undermined by multiple packages of severe sanctions imposed by the U.S. At the same time, U.S.-based human rights monitors and humanitarian organizations continue to weep over the Syrian citizens' misery.
The situation is the same for those refugees who stay in camps abroad, especially in countries bordering on Syria, particularly Jordan and Turkey. Ankara has been using Syrian citizens as a leverage against the European states in pursuit of political benefits for a long time. No one pays attention to the lives of people who are used as a change coin in big politics. This is equally true for Rukban where refugees are held in inhuman conditions and not allowed to return to their homeland. In those rare exceptions that they are able to leave, refugees have to pay large sums of money that most of those living in camp are not able to come by.
It's hard to predict how long the Syrian conflict will go on and when – or if – the American military will leave the Al-Tanf base. One thing can be said for sure: the kind of criminal inaction and disregard for humanitarian catastrophe witnessed in refugee camps is a humiliating failure of modern diplomacy and an unforgivable mistake for the international community. People shouldn't be a tool in the games of politicians.
Is Syria Ready For Second Wave Of COVID-19?
Despite a relative calm that has been holding on the front lines of the Syrian conflict since the beginning of the year, Syria had to face other equally – if not more – serious challenges. The spread of COVID-19 virus in the wake of a general economic collapse and a health care system battered by nine years of war threatened Syria with a death toll as a high as that of resumed military confrontation. However, the actual scale of the infection rate turned out to be less than it was expected considering the circumstances.

Although Syria did not have much in resources to mobilize, unlike some other countries that were slow to enforce restrictions or ignored them altogether, the Syrian authorities did not waste time to introduce basic measures that, as it became obvious in hindsight, proved to be the most effective. A quarantine was instituted in the areas controlled by the government, all transportation between the provinces was suspended, schools and universities were temporarily closed and face masks were made obligatory in public spaces.

As a result, official data puts the number of people infected with COVID-19 in the government areas at modest 4,457 while 192 people died of the infection. In turn, the Autonomous Administration of North and East Syria announced that 1,998 people contracted the virus. The data on the infection rate in the opposition-controlled areas in Idlib and Aleppo is incomplete, but the latest number is 1,072. Compared to the neighboring Turkey with 9,000 of deaths of COVID-19, Syria seems to be doing relatively well.

Tackling the virus put the already embattled health care system under enormous strain. Syrian doctors are dealing with an acute shortage of medicines and equipment, and even hospital beds are in short supply. Over 60 medical workers who treated COVID-19 patients died.

The situation is worsened even further by the economic hardships, not least due to the sanctions imposed on Syria by the U.S. and the European states. Syrian hospitals are unable to procure modern equipment necessary for adequate treatment of COVID-19, most importantly test kits and ventilators.

The economic collapse exposed and aggravated many vulnerabilities that could have been easily treated under more favorable circumstances. A grim, yet fitting example: long queues in front of bakeries selling bread at subsidised prices, that put people under the risk of catching the virus. Many Syrians are simply unable to avoid risking their health in these queues, as an average income is no longer enough to provide for a family.

Moreover, despite a nation-wide information campaign conducted with the goal of spreading awareness about means of protections against COVID-19 like social distancing and mask-wearing, for many Syrians the disease is still stigmatized, and those who contracted it are often too ashamed to go to a hospital or even confess to their friends. As consequence, a substantial number of cases goes unreported.

With the second wave of COVID-19 in sight, it is of utmost importance that the work of health care professionals is supported, not subverted by the citizens. Otherwise Syria – and the world – may pay too high a price.