Job creation around agriculture can spur youth employment in Africa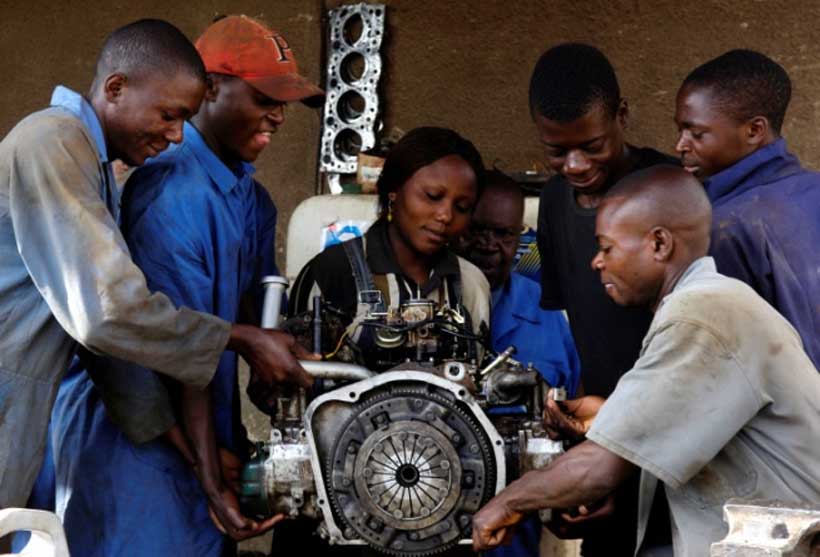 Agriculture will continue to generate employment in Africa over the coming decades, but businesses around farming, including processing, packaging, transportation, distribution, marketing and financial services, could also create jobs for young people, especially those in rural areas, a senior United Nations official said Thursday.
"Countries need to promote a rural and structural transformation that fosters synergies between farm and non-farm activities and that reinforces" the linkages between rural areas and cities, José Graziano da Silva, Director-General of the Food and Agriculture Organization (FAO), told a regional conference on employment being held from 19 to 23 February in Khartoum, Sudan.
FAO Regional Conference for Africa primarily focuses on the theme of creating decent and attractive employment in the world's "youngest" continent in terms of the average age of its population.
Estimates suggest that up to 12 million new jobs will have to be created every year to absorb new labour market entrants over the next 20 years. Today some 54 per cent of Africa's work force relies on the agricultural sector for livelihoods, income and employment, especially in family farming.
With more people moving to cities, demand on urban food markets will grow, which in turn can generate job opportunities in all agriculture-related activities. But FAO believes that more must be done to create non-agricultural employment in rural areas, including agro-tourism and other services.
"More than ever, strategic partnerships are needed to bring together the African Union, the African Development Bank and the UN system and other development partners," Mr. Graziano da Silva said.
He warned however that more profitable urban markets can lead to a concentration of food production in large commercial farms, and also the creation of value chains dominated by large processors and retailers.
"In this contest, smallholders and family farmers need specific policies and regulations. This includes providing access to inputs, credit and technology and improving land tenure," he added, stressing how social protection programmes, including cash transfers can link public food purchase to family farmer's production.
International community continues making progress against offshore tax evasion
The international community continues making tremendous progress in the fight against offshore tax evasion, as implementation of innovative transparency standards by the Global Forum on Transparency and Exchange of Information for Tax Purposes moves countries ever closer to the goal of eradicating banking secrecy for tax purposes.
Nearly 100 countries carried out automatic exchange of information in 2019, enabling their tax authorities to obtain data on 84 million financial accounts held offshore by their residents, covering total assets of EUR 10 trillion. This represents a significant increase over 2018 – the first year of such information exchange – where information on 47 million financial accounts was exchanged, representing EUR 5 trillion. The growth stems from an increase in the number of jurisdictions receiving information as well as a wider scope of information exchanged.
The Common Reporting Standard requires countries and jurisdictions to exchange financial account information from non-residents obtained from their financial institutions automatically on an annual basis, reducing the possibility for offshore tax evasion. Many developing countries have joined the process and more are expected to join in the coming years.
"Automatic exchange of information is a game changer," OECD Secretary-General Angel Gurría said on the eve of a plenary meeting of the OECD/G20 Inclusive Framework on BEPS. "This system of multilateral exchange created by the OECD and managed by the Global Forum is providing countries around the world, including many developing countries, with a wealth of new information, empowering their tax administrations to ensure that offshore accounts are being properly declared. Countries are going to raise much needed revenue, especially critical now in light of the current COVID-19 crisis, while moving closer to a world where there is nowhere left to hide."
Since the G20 declared an end to bank secrecy in 2009, the international community has made strong and ongoing progress in the fight against offshore tax evasion. Under the leadership of the Global Forum, which brings together 161 countries and jurisdictions committed to OECD tax standards, countries have ramped up global co-operation, first through exchange of information on request and through automatic exchange since 2017, implemented through more than 6,000 bilateral relationships worldwide in 2019 (4,500 in 2018).
The benefits were seen even before the exchanges began. A November 2019 OECD study shows that wider exchange of information driven by the Global Forum was associated with a global reduction in foreign-owned bank deposits in international financial centres (IFC) by 24% (USD 410 billion) between 2008 and 2019. Voluntary disclosure programmes, offshore tax investigations and related measures before the start of automatic exchange in 2017 and since then, have already led to the identification of more than 100 billion euros of additional tax revenues worldwide.
"The discovery of previously hidden accounts thanks to automatic exchange of information has and will lead to billions in additional tax revenues," Mr Gurría said. "The tremendous achievements of our tax transparency work prove that when we work together, we all win. International co-operation is a condition for success."
IsDB Group Private Sector Action Response to COVID-19: Webinar
The Islamic Development Bank Group in partnership with the UAE Ministry of Economy and Annual Investment Meeting, will conduct a live webinar entitled "IsDB Group Private Sector Action Response to COVID-19" on the 6th of July at 01:00 PM (KSA Time)to discuss the challenges facing the private sector and global economy during the COVID-19 outbreak.
The live session will also present the immediate joint action response of the IsDB Group Private Sector Entities namely, the Islamic Corporation for Insurance of Investments and Export Credits (ICIEC), Islamic Corporation for the Development of the Private Sector (ICD), and the International Islamic Trade Finance Corporation (ITFC), in order to overcome the COVID-19 pandemic.
The webinar will discuss the future outlook to overcome the COVID-19 pandemic. In addition, the webinar will highlight the IsDB Group's US$2.3 billion Strategic Preparedness and Response Programme for COVID-19 under its 3Rs approach "Respond, Restore and Restart".
The keynote speakers who will share their in-depth perspectives in the webinar are Mr. Ousama Kaissi, the Chief Executive Officer of the Islamic Corporation for the Insurance of Investment and Export Credit (ICIEC); Mr. Ayman Sejiny, the CEO & General Manager of the Islamic Corporation for the Development of the Private Sector (ICD), Eng. Hani Salem Sonbol, the Chief Executive Officer of the International Islamic Trade Finance Corporation (ITFC) and Ms. Cornelia Meyer, the Chairman & CEO of Meyer Resources.
Mr. Ousama Kaissi, the Chief Executive Officer of The Islamic Corporation for the Insurance of Investment and Export Credit (ICIEC) and one of the keynote speakers in the webinar, stated: "While the disruption to global trade and investment flows is unavoidable due to the unprecedented nature of the coronavirus pandemic, it is essential that institutions with the mandate and means to stabilize the trade ecosystem during the crisis heighten their efforts to do so. ICIEC is honoured to be a part of this webinar with the UAE Ministry of Economy and our IsDB Group peers in order to share how we are employing our multilateral insurance solutions toward the collective recovery of member countries."
"The private sector can play a pivotal and proactive role to close funding gaps in the COVID-19 response. It is capable to minimize short-term risks to employees and long-term costs to businesses and the economy as a whole. ICD will work closely with 100+ local and regional financial institutions in its network to provide necessary support so they can continue to fund private sector, particularly SMEs in affected sectors within the markets they operate in" stated Mr. Ayman Sejiny, the CEO of the Islamic Corporation for the Development of the Private Sector (ICD), and one of the keynote speakers in the webinar.
Eng. Hani Salem Sonbol, the Chief Executive Officer of the International Islamic Trade Finance Corporation (ITFC) and one of the keynote speakers in the webinar, stated: "Since the outbreak of the pandemic, ITFC has moved quickly to put in place emergency financing measures to ensure that member countries continue to receive the support needed. Our COVID-19 'Rapid Response Initiative' (RRI) has made US$ 300 million immediately available. This has facilitated the immediate access to medical equipment, the supply of staple foods and critical energy needs. Continuing to work closely with IsDB and partners, ITFC is moving forward with its Recovery Response Plan (RRP) with the provision of US$550 million for deployment over the next two years. The RRP is aimed at fixing the socio-economic damage which is expected to last longer than immediate impact of the virus; including the provision of lines of financing to fund the private sector and SMEs."
"It is a great privilege to be in collaboration with the UAE Ministry of Economy and Islamic Development Bank Group in organizing this live webinar session that will tackle the major challenges currently being confronted by the private sector and the global economy as a whole," Mr. Walid A. Farghal, Director General of the Annual Investment Meeting mentioned.
"The private sector is indispensable to economic growth. In fact, it contributes up to 90 per cent of employment and provides over 80 per cent of government revenues in developing countries. Thus, it is essential to highlight this huge initiative by the IsDB Group that enables the sectors adversely affected by COVID-19 to continue their business activities," he furthered.
During the webinar, 3 online initiatives will be launched jointly by IsDB Group Private Sector Entities and AIM. These initiatives will support the private sector, trade and exports in OIC member countries and will be focusing on:
Digital Country Presentations: to promote and showcase the investment and trade opportunities in OIC member countries which will serve as a virtual gathering and strategic innovative platform to support the investors, government agencies, private institutions, investment promotion agencies to discuss the best possible means to attract FDI.
Startups Virtual Pitch Competition: to connect Startups globallyand support them in meeting potential partners and investors from other parts of the world.
MADE IN…..SERIES:this digital platform is open to all SMEs who want to showcase and present their local products, project and services to international audience.
The webinar will gather more than 700 participants from multiple sectorsacross the globe such as government officials, Chairmen, Presidents & CEOs of local and international companies, multilateral and financial institutions, Chambers of Commerce & Industry, business associations, investment promotion agencies, individual investors, and entrepreneurs.
For further information, please refer to the following website (https://isdbg-psf.org/webinar)
ADB Approves $200 Million Loan to Modernize Power Supply, Distribution System in Nepal
The Asian Development Bank (ADB) has approved a $200 million concessional loan to improve power supply and distribution systems in Nepal.
Nepal has made significant progress in electricity supply after years of chronic power shortages. However, its power transmission and distribution systems need further strengthening to increase network capacity, improve quality and reliability, and remove delays between generation hubs and load centers.
The project will finance, among others, the reinforcement and modernization of the power supply system in Kathmandu Valley, Bharatpur metropolitan area of Chitwan district in Bagmati Province and Pokhara of Kaski district in Gandaki Province, where supply interruptions are frequent and prolonged. The project also aims to support Province 2, where the quality of electricity supply is poor and about 20% of households are still without access to the national grid.
"The project will help sustain Nepal's improved electricity supply momentum over the past two years. This will facilitate meeting future demand from commercial and industrial activities as well as from communities, particularly women, who can now benefit from electricity-based enterprises and focus on productive economic and social activities," said ADB Principal Energy Specialist Jiwan Acharya. "It is also very timely because the project will create employment opportunities for skilled and unskilled labor during the construction phase as the country adopts measures to mitigate the socioeconomic impact of the coronavirus disease (COVID-19) pandemic."
Complementing ADB's loan, the Government of Norway is providing a $35 million cofinancing grant for the installation and upgrading of power distribution networks in Province 2 and various substations to evacuate hydropower in the country. In addition, it is providing a $5 million technical assistance grant for capacity development of the Nepal Electricity Authority to ensure that gender equality and social inclusion are strengthened, and new technologies are used to make electricity infrastructure resilient.
The project is aligned with the South Asia Subregional Economic Cooperation program on intraregional power trade through cross-border power exchange. The upgrading of substations in Khimti, Barhabise, and Lapsiphedi to 400 kilovolts will facilitate cross-border power exchange with India.
ADB and other development partners have been engaged in Nepal's power system reform efforts, including the approval of the Nepal Electricity Regulatory Commission Act of 2017, which created the Electricity Regulatory Commission as an independent regulatory body with respect to tariff-setting and consumer protection.