Job creation around agriculture can spur youth employment in Africa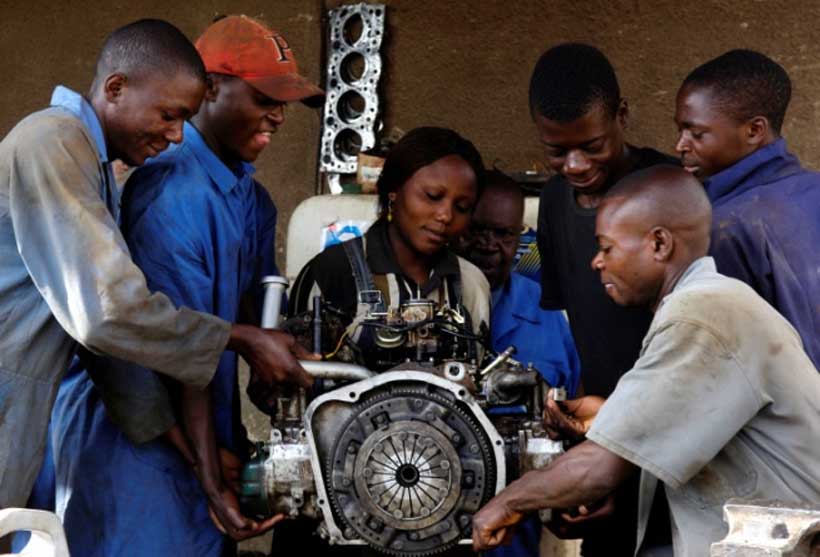 Agriculture will continue to generate employment in Africa over the coming decades, but businesses around farming, including processing, packaging, transportation, distribution, marketing and financial services, could also create jobs for young people, especially those in rural areas, a senior United Nations official said Thursday.
"Countries need to promote a rural and structural transformation that fosters synergies between farm and non-farm activities and that reinforces" the linkages between rural areas and cities, José Graziano da Silva, Director-General of the Food and Agriculture Organization (FAO), told a regional conference on employment being held from 19 to 23 February in Khartoum, Sudan.
FAO Regional Conference for Africa primarily focuses on the theme of creating decent and attractive employment in the world's "youngest" continent in terms of the average age of its population.
Estimates suggest that up to 12 million new jobs will have to be created every year to absorb new labour market entrants over the next 20 years. Today some 54 per cent of Africa's work force relies on the agricultural sector for livelihoods, income and employment, especially in family farming.
With more people moving to cities, demand on urban food markets will grow, which in turn can generate job opportunities in all agriculture-related activities. But FAO believes that more must be done to create non-agricultural employment in rural areas, including agro-tourism and other services.
"More than ever, strategic partnerships are needed to bring together the African Union, the African Development Bank and the UN system and other development partners," Mr. Graziano da Silva said.
He warned however that more profitable urban markets can lead to a concentration of food production in large commercial farms, and also the creation of value chains dominated by large processors and retailers.
"In this contest, smallholders and family farmers need specific policies and regulations. This includes providing access to inputs, credit and technology and improving land tenure," he added, stressing how social protection programmes, including cash transfers can link public food purchase to family farmer's production.
Partnerships key to promoting economic empowerment for rural women in the MENA region
The economic empowerment of rural women in the Middle East and North Africa (MENA) region was the topic of a side-event organized by the governments of Italy and Tunisia, in cooperation with the United Nations Industrial Development Organization (UNIDO), UN Women and the Food and Agriculture Organization (FAO).
The event featured a range of high-level speakers from Italy, the MENA region, UN agencies and non-governmental organizations, and was moderated by Omar Hilale, Permanent Representative of the Kingdom of Morocco to the United Nations in New York. "Women face several barriers to their equal participation in the social, economic and political spheres, and these constraints are felt even more harshly by rural women," he stated in his opening remarks.
Fatou Haidara, Managing Director of Corporate Management and Operations at UNIDO, highlighted the significance of industrialization in reducing poverty and increasing employment, and the positive benefits of this for women. She referred to the holistic approach adopted by UNIDO in its work in promoting women's empowerment and entrepreneurship in the MENA region, stating that both policy and capacity-building dimensions are crucial.
"We have facilitated an ecosystem of knowledge and support, successfully partnering with governments and the private sector to create the foundation for structural change that has mobilized women's entrepreneurship throughout the region," she said. "For UNIDO, this project is one step forward in our long-term strategy for enabling women's economic independence, because the resulting benefits will go beyond women and girls to put us all on the path to achieving the 2030 Agenda."
The importance of integrating women into the political system was stressed by Neziha Laabidi, Minister of Women, Family and Childhood of the Government of Tunisia, who also highlighted the inclusion of women in Tunisia's national, multi-sectoral strategy.
Teresa Bellanova, Deputy Minister of Economic Development of Italy drew attention to Italy's commitment to promoting women's rights and gender equality and to supporting women entrepreneurs and capacity-building at the local level in light of the radical, recent economic and geographical changes shaping the MENA region's reality.
The discussion also touched upon issues faced by women in the region, such as access to land rights and discriminatory socio-cultural norms. The need for partnerships to come up with integrated solutions to such issues was addressed by Mohammed Naciri, Regional Director for Arab States, UN Women.
Engagement with the financial sector, including making capital more easily accessible to rural women, was underlined as a key factor in empowering rural women by Emanuele Santi, founder and president of Afrilanthropy, which connects social start-ups in Africa to impact investors. Santi added that creating incentives – for example by giving bonuses to companies that invest in companies led by women and rural women in particular – was another key to success. Finally, he stated that the development community had to "work as an ecosystem" and blend financial support with non-financial support.
The event was held on the sidelines of the Commission on the Status of Women (CSW), an annual two-week session at the United Nations in New York. The CSW is the principal global intergovernmental body exclusively dedicated to the promotion of gender equality and the empowerment of women.
Speaking at the opening of the CSW, UN Secretary- General, António Guterres, stated that the Commission was "leading the way" when it comes to empowering women. "When women are already taking action, we need to listen to them and to support them," he said. "By building equality, we give women a chance to fulfil their potential. And we also build more stable societies."
Four countries on track to graduate from UN list of least developed countries
Four countries could soon "graduate" from the ranks of the world's poorest and most vulnerable nations, a United Nations expert committee announced on Thursday
Bhutan, Kiribati, Sao Tome and Principe and the Solomon Islands have increased national earning power and improved access to health care and education, making them eligible to exit the group of least developed countries (LDCs).
"This is an historic occasion," said Jose Antonio Ocampo, chair of the Committee for Development Policy (CDP), noting that only five countries have graduated since the UN established the LDC category in 1971.
LDCs are assessed using three criteria: health and education targets; economic vulnerability and gross national income per capita.
Countries must meet two of the three criteria at two consecutive triennial reviews of the CDP to be considered for graduation.
The Committee will send its recommendations to the UN Economic and Social Council (ECOSOC) for endorsement, which will then refer its decision to the UN General Assembly.
For CDP member Diane Elson, a professor at the University of Essex in the United Kingdom, Thursday's announcement was good news for millions of women in rural areas.
She pointed out that the latest session of the UN Commission on the Status of Women (CSW), currently under way in New York, is discussing the challenges facing this population.
"The success of the countries that are graduating reflects things like the improvement of the health and the education of the population, which extends to rural women, and the increase in incomes in the country, which extends to rural women," she said.
However, Ms. Elson stressed that the countries will need continued international support because they remain vulnerable to external shocks, including the impact of climate change.
Mr. Ocampo said this vulnerability is particularly evident in Pacific Island states such as Kiribati.
Globally, there are 47 LDCs, according to the UN Office of the High Representative for the Least Developed Countries, Landlocked Developing Countries and Small Island Developing States.
The majority, 33, are in Africa, while 13 can be found in the Asia-Pacific region, and one is in Latin America.
In the 47 years of the LDC category's existence, only five countries have graduated (Botswana, Cabo Verde, Equatorial Guinea, Maldives and Samoa)
The CDP said two more countries, Vanuatu and Angola, are scheduled for graduation over the next three years.
Nepal and Timor-Leste also met the criteria but were not recommended for graduation at this time, due to economic and political challenges.
That decision will be deferred to the next CDP triennial review in 2021, according to Mr. Ocampo.
Bangladesh, Lao People's Democratic Republic and Myanmar met the graduation criteria for the first time but would need to do so for a second time to be eligible for consideration.
ADB, India Sign $120 Million Loan to Improve Rail Infrastructure
The Asian Development Bank (ADB) and the Government of India today signed a $120 million loan agreement to complete double-tracking and electrification of railway tracks along high-density corridors in India and improve operational efficiency of the country's railway networks.
The $120 million financing is the third tranche of a $500 million financing facility for the Railway Sector Investment Program approved by ADB's Board in 2011. The loan amount will be used to complete the ongoing works started in the project's first two tranches.
The agreement was signed by Kenichi Yokoyama, ADB Country Director for India, and Sameer Kumar Khare, Joint Secretary (Multilateral Institutions) of the Department of Economic Affairs in the Ministry of Finance, at a ceremony in New Delhi.
"The program will help develop energy efficient, safe, and reliable railway systems that will result in reduced travel time along project rail routes and also reduce annual accident rate," said Mr. Khare.
"Funding for the project's third tranche will contribute toward achieving the overall program outputs of double-tracking about 840 kilometers (km) of rail routes and electrification of 640 km of tracks along high density corridors," said Mr. Yokoyama. "The program is also helping implement new accounting systems and provide additional safety measures including collision avoidance equipment."
The investment program is targeting busy freight and passenger routes in the states of Andhra Pradesh, Chhattisgarh, Karnataka, Maharashtra, and Odisha, including the "Golden Quadrilateral" corridor that connects Chennai, Kolkata, Mumbai, and New Delhi. The doubling of rail sections is being implemented along Daund-Titlagarh section, Sambalpur-Titlagarh section, Raipur-Titlagarh Section, and Hospet-Tinaighat section, while electrification is being undertaken along the 641-km Pune-Wadi Guntakal section.