Job creation around agriculture can spur youth employment in Africa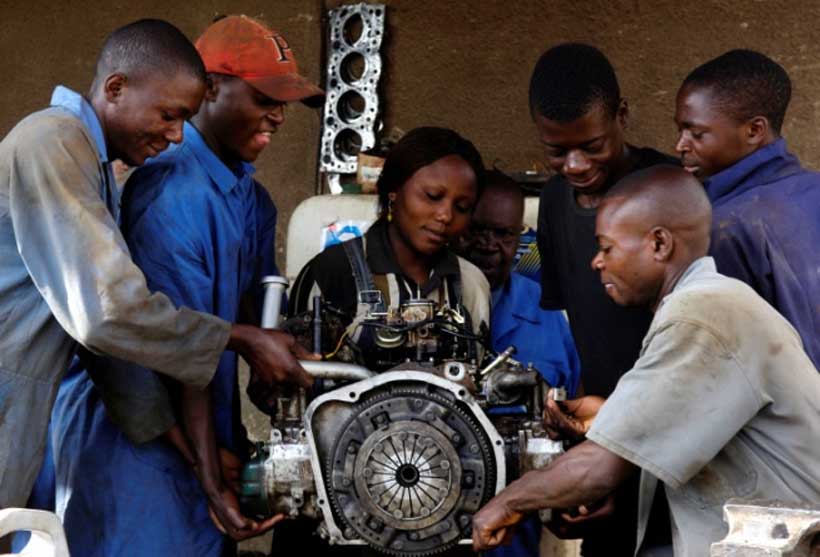 Agriculture will continue to generate employment in Africa over the coming decades, but businesses around farming, including processing, packaging, transportation, distribution, marketing and financial services, could also create jobs for young people, especially those in rural areas, a senior United Nations official said Thursday.
"Countries need to promote a rural and structural transformation that fosters synergies between farm and non-farm activities and that reinforces" the linkages between rural areas and cities, José Graziano da Silva, Director-General of the Food and Agriculture Organization (FAO), told a regional conference on employment being held from 19 to 23 February in Khartoum, Sudan.
FAO Regional Conference for Africa primarily focuses on the theme of creating decent and attractive employment in the world's "youngest" continent in terms of the average age of its population.
Estimates suggest that up to 12 million new jobs will have to be created every year to absorb new labour market entrants over the next 20 years. Today some 54 per cent of Africa's work force relies on the agricultural sector for livelihoods, income and employment, especially in family farming.
With more people moving to cities, demand on urban food markets will grow, which in turn can generate job opportunities in all agriculture-related activities. But FAO believes that more must be done to create non-agricultural employment in rural areas, including agro-tourism and other services.
"More than ever, strategic partnerships are needed to bring together the African Union, the African Development Bank and the UN system and other development partners," Mr. Graziano da Silva said.
He warned however that more profitable urban markets can lead to a concentration of food production in large commercial farms, and also the creation of value chains dominated by large processors and retailers.
"In this contest, smallholders and family farmers need specific policies and regulations. This includes providing access to inputs, credit and technology and improving land tenure," he added, stressing how social protection programmes, including cash transfers can link public food purchase to family farmer's production.
Clean Energy at Forefront of Fight Against Climate Change in Asia and Pacific
The advancement of affordable and reliable clean energy is not only at the forefront of Asia and the Pacific's development progress, it is also at the heart of the region's development of resilient infrastructure and fight against climate change, participants at the Asia Clean Energy Forum (ACEF) 2019 heard today.
Co-hosted by the Asian Development Bank (ADB), the United States Agency for International Development, and the Korea Energy Agency, with the support of the International Energy Agency as the Knowledge Partner, ACEF 2019 is being held from 18–21 June under the theme "Partnering for Impact." In line with this theme, the event is highlighting the need to focus on collaborative partnerships, ideas, and efforts that have market potential, with the goal of delivering tangible clean energy impact across the Asia and Pacific region.
Some 1,300 people will attend the event, including many from the private sector involved in clean energy development, as well as academicians, officials from governments, and representatives from nongovernment organizations and multilateral development banks. ACEF began in 2006 as an annual event to provide a platform for discussion and collaboration in promoting clean energy in Asia and the Pacific.
ADB President Mr. Takehiko Nakao participated in the opening panel discussion featuring Co-founder and Chief Scientist of the Rocky Mountain Institute Mr. Amory Lovins and Global Strategic Development Advisor and Member of the United Nations High-Level Panel on Women's Economic Empowerment Ms. Fiza Farhan.
"A sustainable and secure energy supply remains essential as more than 350 million people still lack access to electricity in our developing member countries (DMCs). It is also a key part of the fight against climate change," said Mr. Nakao. "People around the world are demanding affordable energy, clean air, and a more responsible approach to the environment. ACEF is a leading event in Asia and the Pacific that enables our DMCs and other participants to share their experiences and innovative ways to meet these critical demands."
Through Strategy 2030, ADB has committed at least 75% of its operations to support climate change mitigation and adaptation efforts by 2030. Climate finance from ADB's own resources will reach $80 billion for the period 2019–2030. Based on historical trends, ADB's lending, equity, grants, and programs in support of renewable and energy efficiency could contribute significantly to this target.
ADB has also affirmed its commitment to advanced technologies in sustainable energy by launching its first innovation technology challenge, which will invite technology providers to submit proposals for grants from the High-Level Technology Fund which is supported by the Government of Japan to address energy related development challenges. This new modality aims to build partnerships with technology providers and accelerate innovative technology development and deployment in DMCs.
ACEF 2019 features five thematic tracks based on key elements of Strategy 2030: energy and livable cities; energy and water sustainability; energy and rural poverty alleviation; energy and innovative finance; and clean energy technologies. There will be 21 workshops focusing on a range of topics, including radical energy efficiency, hydro mini-grids, electric vehicles, the empowerment of women in the energy sector, renewable energy systems, the future of cooling, and the food–energy–water nexus.
ACEF 2019 will be limiting its carbon footprint by purchasing carbon credits to offset the travel related emissions of all participants. The event will also be paperless, with all program materials to be made exclusively available on ACEF's website and mobile app.
Micro and Small Rural Entrepreneurs' Access to Credit Enhanced by ADB
The Asian Development Bank (ADB), the Government of Sri Lanka, and the Regional Development Bank (RDB) today signed Loan and Guarantee Agreements to further assist Sri Lanka to provide affordable and accessible credit to rural micro, small, and medium-sized enterprises (MSMEs) in the country. Under the financial agreements, ADB will provide a $50 million loan with sovereign guarantee from the Government of Sri Lanka.
"MSMEs have high growth potential, create more jobs, and over time, potentially increase the tax base at a quicker pace than larger enterprises," said Ms. Sri Widowati, ADB Country Director in Sri Lanka. "Because of their distribution over the whole country, they also help reduce regional inequalities".
Ms. Widowati signed the Guarantee Agreement on behalf of ADB while Dr. R.H.S. Samaratunga, Secretary to the Treasury, Ministry of Finance, signed for the Government of Sri Lanka. In addition, a Loan Agreement was signed between ADB and RDB.
With only about 30% of Sri Lankan firms having sufficient access to bank loans and other capital, limited access to finance is a key barrier facing entrepreneurs in Sri Lanka. These constraints are even greater for micro and small enterprises led by women or located in rural areas.
The project will not only directly fund $50 million of long-term financing through RDB to micro and small enterprises outside of Colombo, including women-led businesses, but will also be structured to provide RDB the additional regulatory capital that would leverage up to an additional $533 million of lending to MSMEs.
Implemented through the RDB, a state-owned bank whose mission is to strengthen the living standards of the rural population by providing affordable and accessible credit facilities; the bank's unique business model and wider branch network across rural areas can effectively cater to rural small and micro enterprises that are mostly missed out by the private sector commercial banks.
Integral to the project is a technical assistance grant of $1 million from the Japan Fund for Poverty Reduction, financed by the Government of Japan, to support RDB's sustainable long-term growth. The TA will upgrade RDB's business model and directly promote gender mainstreaming through trainings to about 500 women entrepreneurs.
Improved Skills and Job Opportunities for Youth in Maldives
The World Bank Board of Directors today approved a $20 million financing to provide market relevant skills and increase employment opportunities for youth in Maldives.
Basic human development indicators are high in Maldives, with the adult literacy rate at 98.6 percent and life expectancy at 77.6 years. The new project will help the Government of Maldives accelerate human capital accumulation, increase employment opportunities for young people, promote equitable economic and social progress in the country, and fulfill the vision for a climate sensitive Blue Economy.
"The Maldivian youth hold the key to the country's future prosperity," said Idah Z. Pswarayi-Riddihough, World Bank Country Director for Maldives, Nepal and Sri Lanka. "We are happy to partner with the Government to develop 'A 21st Century Skills Development Strategy' and test a diversified approach to skills and entrepreneurship that are responsive to the demand-led labor markets and the needs of the local population, particularly the most vulnerable groups."
This project will also focus on improving female labor-force participation in Maldives by fostering new skills development, such as programming bootcamps to empower young women to pursue home-based work in ICT-related services.
Shobhana Sosale, Adja Mansora Dahourou, and Harsha Aturupane, Project Task Team Leaders from the World Bank highlighted that "Diversified skills and entrepreneurship development will help Maldivian youth to become more employable, harnessing their contribution to the development of the country and promoting the well-being of their communities. We hope that the project can contribute to setting up strong decentralized skills and entrepreneurship ecosystems for accountable, effective and responsive lifelong learning and opportunities for youth."
The new Enhancing Employability and Resilience of Youth Project will be co-implemented by the Ministry of Higher Education and Ministry of Economic Development along with island administrative councils, city councils, and women's committees participating in the project. The total project cost is $20 million, including a $10 million grant and a $10 million credit from the International Development Association.