Russiagate-Trump Gets Solved by Giant of American Investigative Journalism
Lucy Komisar, who is perhaps the greatest living investigative journalist, has discovered — and has documented in detail — that the source of the Russiagate charge against Russia, the source of the charge that Donald Trump's Presidential campaign had connived with Russians in order to be able to win the U.S. Presidency, can be found in explaining the why's and wherefore's of the key event, when Donald Trump Jr., Paul Manafort, and Jared Kushner, met with Russian lawyer Nataliya Veselnitskaya, in Trump Jr.'s Trump Tower office, on 9 June 2016. Komisar figured it out: Veselnitskaya, thinking that Trump might become America's President, lured (through George Papadopoulos, the Trump-campaign volunteer whom Komisar unfortunately doesn't mention, but he was the contact between Veselnitskaya and the Trump team) Trump's team, into that meeting, by promising (as communicated to them via Papadopoulos) to inform them of dirt against Hillary Clinton. But that wasn't Veselnitskaya's real purpose, Komisar has found.
Komisar's investigation wasn't into Russia-Trump, but instead into the actual source of the first set of economic sanctions that were instituted against Russia, the 2012 Magnitsky Act, which source was a major former American investor in Russian companies, Bill Browder. He had successfully lobbied into law, both in the U.S. and in the EU, the Magnitsky Act. Komisar's focus on this Browder-versus-Russia issue caused her not even to mention George Papadopoulos, the Trump campaign volunteer, who had served as Veselnitskaya's contact and set up that fateful June 2016 meeting. This non-political focus has also caused Komisar's brilliant reporting on the matter — her latest such article being published on 10 February 2018, which article will subsequently be linked-to here — to have been ignored in the general news-reports about the Russiagate-Trump story.
Komisar's investigation found and reported on 20 October 2017, that the reason why Veselnitskaya wanted to meet Trump Jr., Manafort, and Kushner, was to enable them — and she hoped ultimately Donald Trump himself — to come to know that the company she was representing, Prevezon, was being subjected to a lengthy legal battle to defend itself against a lawsuit by the former American, William Browder, the owner of Hermitage Capital Management in Russia, and that:
Veselnitskaya says the Prevezon suit [suit against Prevezon — Prevazon was't actually the bringer of this suit, but was instead the suit's target] was a distraction Browder used to cover up his own tax evasion and – she claims – collusion in the tax refund fraud [by Hermitage Capital Management]. She bases her accusation in part on the role of Magnitsky [Hermitage's accountant]. She has lobbied against the Magnitsky Act, deriding it as Browder's way of protecting himself from Russian legal trouble.
Browder declined repeated requests for an interview about the Russian charges, his time as an investor in Russia, and his campaigns for the Magnitsky Act. Browder went so far as to have the author of this article banned from a public talk he gave at the Institute for Advanced Studies in Princeton, New Jersey, in December 2016.
The Magnitsky Act placed sanctions against the Russian Government, on the basis of accusations by Browder and his agents, that Hermitage's 'lawyer', who was actually no lawyer at all but instead Hermitage's accountant, Sergei Magnitsky, had been supposedly beaten to death in prison, because he had been, supposedly, a 'whistleblower' against corruption, by those police who, according to Browder's team, had stolen three companies from Hermitage (i.e., from Browder), not stolen $230 million in taxes from the Russian national Treasury — as was charged by the Russian Government. Supposedly, these police had supposedly beaten Magnitsky to death, in order to protect themselves. That storyline, that viewpoint, 'documenting' 'corruption' in Russia, is embodied as sacrosanct and unchallengeable fact, in the Magnitsky Act, but Komisar disproves all of its essential assertions, linking to the actual documents in the case, and proves a damning case against Browder and his team.
The Browder viewpoint was recently reinforced by an article in National Law Journal, as well as in a report by the Council on Foreign Relations, and Komisar exposed their fraudulence, in her 12 January 2018 "Evidence? The National Law Journal doesn't need it", and in her 10 February 2018 "CFR Report, with no evidence, promotes fake Browder-Magnitsky story". The former reported:
The fraud was not uncovered by Magnitsky, who was an accountant, not a lawyer.
Magnitsky talked about the matter for the first time in an interrogation by Russian tax investigators in June 2008. (It identifies him as an auditor.) But, he was not a whistleblower. He was called to answer questions as a suspect. He did not expose the fraud. He cited an article by the Russian business daily Kommersant article, which two months earlier had printed the information with Browder's response.
Magnitsky said: "On 3 April 2008, Kommersant published an article which, referring to the law-enforcement authorities, reported that Parphenion, Limited Liability Company, Realand, Limited Liability Company, and Machaon, Limited Liability Company, had allegedly used «tax evasion schemes» and criminal proceedings were launched to prosecute those at fault." See Kommersant (in Russian) April 3, 2008 and April 4, 2008 .
Rimma Starova was a hired "name" fronting as a director of the company to which the shells had been transferred. She saw the Kommersant articles. By then the re-registered companies had participated in the $230 million tax refund fraud. Investigators might have discovered the scam. She didn't want to take a fall and went to the police. Her complaint April 9th detailed the fraudulent theft of three Hermitage companies.
The latter said:
the authors write: "… the summer of 2012, the U.S. Congress passed the Magnitsky Act — a set of tough sanctions on eighteen Russian officials involved in the "torture and death in prison of Russian human rights whistle-blower Sergei Magnitsky." I don't comment on the rest of the report, but this part shows they didn't bother to research, ignored facts, or deliberately reported falsehoods.
Torture? The Wall Street Journal links to the definitive prison report. Not exactly a left-wing media. The report describes awful conditions and medical care, says nothing about torture.
Whistleblower? The first step in the theft of budget funds from the Russian Treasury was reported to police April 9, 2008 by Rimma Starova, a hired director for Boily Systems, a shell controlling Browder's stolen companies. She returned to testify again July 10th. The companies had been used in the scam to get a fake tax refund [to the benefit of Browder's Hermitage] from the Treasury. She didn't talk about the theft of funds, but she gave police a roadmap.
Rimma Starova July 10, 2008 testimony
Then, Paul Wrench, director for Browder companies registered in the offshore tax haven of Guernsey, filed complaints of the tax refund fraud July 23. The story was published in Vedomosti, July 24. This link is on Browder's own website!
Not till his Oct 7 interrogation did Magnitsky, before his arrest for complicity in tax evasion, refer to "fraud of budget monetary assets in the amount exceeding 5 (five) billion rubles." A three-months-later whistle-blower? For his Oct 7 testimony, see 100Reporters story with link to what Magnitsky said.
This is what Veselnitskaya was hoping that, if Trump would become President, he'd check out and investigate for himself. But, apparently, Trump wasn't at all interested.
So: You, dear reader, now can investigate it for yourself (clicking onto those links), if you want to understand what may very possibly produce (either in Syria or in Ukraine or elsewhere) what could easily expand to nuclear war between the U.S. and Russia, World War III, as a result of those sanctions, and the subsequent Ukraine-war-based sanctions, and the subsequent massing of U.S. missiles and troops on and near Russia's border in Ukraine and elsewhere, on the basis of almost entirely false allegations by the U.S. Government (plus the latter's own illegal invasion/occupation of Syria, plus the latter's own illegal and very brutal coup in Ukraine during February 2014). The Magnitsky matter was actually a corporate tax dispute, between U.S. investor (now instead a British citizen in order to avoid some U.S. taxes), Bill Browder, versus Russia's Government.
The world could end, over that (and over lots of lies about it, which are routinely spread in the mainstream, and in much of the 'alternative news' media).
Some people's greed, apparently, knows no limits — not even when it could produce a world-ending nuclear war.
PS: As regards the leaks that occurred from the computers of the DNC (in June 2016) and from Hillary Clinton's Campaign Manager John Podesta (in September 2016), here are articles that set forth evidence these leaks probably were from DNC worker Seth Rich, and-or, from another Democratic Party worker on the inside (angered against Hillary Clinton's theft of the nomination away from Bernie Sanders), and weren't hacks, at all, but purely leaks:
In other words: These probably weren't authentically "hacks" — not from Russians, nor from anyone else. The Democratic Party didn't need whatever the Russian Government did (or not) in order to lose the 2016 election; the Democratic Party managed quite well, on their own, to lose — to lose, by Election Day, enough Sanders-voters (progressive populist Democrats) so that Trump (the pretended-populist Republican) was able to win. Some Sanders-voters hated Hillary Clinton, and were unsure which side of Trump's mouth to believe and voted for the progressive-populist side of it, because there wasn't anything at all progressive-populist about Hillary. That's no real democracy (but instead a choice between two fascists), no honest choice at all, and Russia didn't make it that way — and going to war as if it had been Russia's fault, would be entirely the U.S. regime's fault, yet another of its many incredibly vicious lies, such as were used to 'justify' invading Iraq in 2003, Libya in 2011, and much more.
Russian Head Games: American Citizens, American Puppets
"Analysis gave me great freedom of emotions and fantastic confidence. I felt I had served my time as a puppet."~ Hedy Lamarr
There has been a steady drumbeat since before the 2016 Presidential elections in America that declared the Russian intent to undermine and subvert American democracy. That drumbeat has only become louder in the lead up to the newest Presidential electoral cycle in 2020.
While the old complaint of Russian cyber specialists striving to help the Trump campaign remains intact, there is also a new taint circling American media about how those same hacktivists are simultaneously striving to help the Bernie Sanders campaign.
For those who do not automatically understand why Russia wants to help both Trump and Sanders at the same time, the FBI comes out with the bold premise that its ultimate desire is to see America 'tear itself apart.' While interference in another country's elections is never a good thing and rightfully should be exposed and remedied with extreme prejudice, there are some unique aspects to this so-called Russian interference that reveals to the world just how far the American people have fallen when it comes to something critically important to democratic elections in general: engagement, civil debate, and analytical subtlety. Ultimately, American society is spending too much time trying to preempt Russian head games while giving itself an unmitigated pass on correcting its own mental flaws, which are self-induced and self-promoted.
Somewhat unforgivably, people have forgotten how much accusations of 'Russian interference' in elections around the world have evolved since 2015. At first, the concern was that Russian cyber intelligence was good enough and craven enough to actually compromise the physical technology responsible for submitting, tallying, and counting votes. Thus, Russian interference was a decidedly direct and explicit variety. However, thousands of tests since 2016 have proven that while some attempts at hijacking the technology were indeed made, those attempts were easily thwarted and no actual evidence exists of Russian-sourced interference physically changing a single vote or single vote count. This should be important to analysts but for some reason it has largely been ignored in the West. Because this strategy was unviable, Russian strategy shifted to one of saturation and disinformation across the ubiquitous social media platforms that so dominate Western minds in the modern day.
Thus, the head games began: Russia could not truly interfere in elections by physically altering a vote, so it would mentally alter the Western voters. How? By sowing 'social discord,' by making people existentially angry by being exposed to fraudulent but ideologically provocative stories all over social media. It did not matter for whom these stories were, whether left or right, liberal or conservative, Trump or anti-Trump. What mattered was the emotion of it all: to make Americans so irascibly triggered by their respective trigger points, that any sense of having a rational, in-depth, high-quality, civil societal engagement of issues and candidates would be nigh impossible. This is in fact the formal definition Russian interference has devolved to. It is not so much interference in American elections as it is interference in the actual minds of Americans electors. Suddenly, we have woken up inside of a James Bond SPECTRE movie, where we are all helpless dupes unable to protect our brainwaves from the evil saturation of Russian misinformation. No less important a figure than the FBI's assistant section chief of the Foreign Influence Task Force, David Porter, stated that Russia has no preference for anyone in particular when it comes to this electoral malfeasance. Rather, it is more interested in 'information confrontation' aimed at blurring fact from fiction, eroding American confidence in democratic institutions and driving wedges into society's fracture lines.
Poppycock. Perhaps worse than poppycock: total, responsibility-dodging, hand-wringing, problem-deflecting, bullshit. In all of these lamentations the one critical aspect of self-judgment, of citizen responsibility for the processing of information, of voter duty to analyze information critically for veracity and power, is completely removed. Glossed over. Eliminated. If there is anything more disturbing about supposed Russian interference in the 2016 election and beyond it is the realization that it clearly identified the weaknesses of American society, of the American people themselves, and exploited them far better than all of the massively paid K-street lobbyists ever could dream of in Washington DC. Russia, who is always criticized by the Russian Studies specialists across America and Western Europe as being a fake democracy, whose leadership is always characterized as wantonly authoritarian and the farthest thing from true democratic principles, expertly waded into the social media platforms of the world's greatest democracy and supposedly turned the minds of the voting electorate of the most mature and stable democratic voters inside out and upside down simply by posting fallacious memes and false stories. Suddenly, research was impossible. Suddenly, taking a few extra steps to investigate proclamations, to reach out to other citizens and rationally discuss the truthfulness of claims, was simply destroyed from within. When did the American electorate become such sheep, or worse, lemmings so easily led on the drive off a cliff? How is an intrinsically internal thinking process suddenly the exclusive blame of an external state government on the other side of the ocean? When did we give up Ms. Lamarr's freedom and tie ourselves up back as puppets?
Disinformation, social media manipulation, and the saturation of fake news is not something to be ignored. But that attention should start reflecting the simple reality that all of it is easily defeated if a society can once again make as priorities critical reasoning, analytical thinking, balanced debate, open discussion, and engaged citizen civility. Right now, those are severely retarded in American society, if not outright dismissed as 'too much work' or 'too tedious' by far too many. And that retardation started far before there was any talk of Russian cyber trolls. If you want to defeat electoral interference via mind games, then you need to spend less time on the technical prowess that puts up stories like 'the Killary list' or 'Epstein didn't kill himself' and focus more intensively on the people who willingly and enthusiastically consume those stories without any interest in vetting the details. The challenge is not about producing more agile ethical hackers with lightning quick defense skills. It is about reengaging society's citizens to cut the very puppet strings with which they long ago restricted themselves.
#FreeThePuppets
Saving The Republic: A Titanic Struggle For Mind
"Truth cannot appear naked before the people."-Arthur Schopenhauer, On Man's Need of Metaphysics[1]
If America's core problems could be reduced to their barest essentials, they would coalesce around issues of mind. What this implies, especially in the "Trump Era," is the secondary or reflective nature of all politics. More precisely, it suggests that fixing American society calls for more than repairing or changing presidents.  Rather, any such fixing must be a matter of seeking truth dispassionately by intellectual or analytic means.
Always, it is a requirement for serious and capable thinking, optimally via well-established and appropriate methods of science.
For the moment, of course, Americans are most focused on elections. Still, whatever the outcome, the country's most deeply underlying debilities will remain more-or-less unchanged. To be sure, there may be certain palpable improvements at one life-level or another, but these improvements will almost certainly be distressingly partial and transient. Before this can change, much more will be needed than any such quadrennial change of personalities.
Somehow, the United States must be willing to restore suitable intellectual standards of policy assessment to their proper and indispensable place.
Though counterintuitive, this unvarnished expectation is not far-fetched. Ipso facto, for Americans to continue to select reflexive obedience over critical analytic thought would represent the literal opposite of what Thomas Jefferson and other Founders had in mind for the New Republic. More to the point, any such selection would present a potentially lethal "insult" to a steadily weakening United States.[2] Eventually or suddenly, by hard-to-see increments or as a dramatic bolt-from-the-blue, such an insult could include a full-blown nuclear war.
"The worst," says Swiss playwright Friedrich Durrenmatt (as if we should really need such an obvious reminder) "does sometimes happen."
There is more. Even in the conspicuously unraveling Trump years, truth is exculpatory. In this connection. real American renewal can never emerge from endlessly barren presidential promises or from embarrassingly empty presidential witticisms.
What does America really seek? In the final analysis, every society represents the sum total of its individual "souls" seeking some sort or other of redemption. Under no foreseeable circumstances can these individuals be "mended" by governments that willfully eschew science and the humanities and regularly undermine the rudimentary protocols of citizen integrity.[3]
It's not all that dense or mysterious. We Americans now inhabit a society so numbingly false, so disturbingly rancorous, that even our all-too-abundant melancholy lacks credibility. Steeped in the assorted misfortunes of ritualistic national conformance, we the people have shown infinite forbearance for imitation and falsehood, but none for the overriding challenges of cooperation and coexistence.
With no apparent calculations, our lonely American mass hides from its most prospectively lethal characteristic.[4] This trait is the country's uncontested preference for believing over thinking.[5]
 There is more. We the people ought not express any surprise at the measureless breadth of our collective failures. For many years, the tangible requirements of wealth and "success" have become the unsteady foundation of America's economy and polity. In essence, American well-being and "democracy" sprang from a debilitating posture of engineered consumption. We are what we buy.   End of story.
It follows, among other things, that today's American political scandals are largely the product of a society where anti-intellectual and unheroic lives are "measured out," dolefully, not by any rational accretions of mind or spirit, but without cheer, anaesthetized, without any discernible general satisfaction.
It's not dense or mysterious. What most meaningfully animates American politics today is not any commendable interest in purpose or progress, but rather a steadily-escalating fear of personal failure or (far worse) insignificance. To be properly analytic, such insignificance could be experienced individually, alone, or collectively, as a nation. Either way, it must concern deeply-felt human anxieties about not being "wanted at all."[6]
For us, candor is indispensable. Incessantly ground down by the babble of pundits and politicos, we the people are only rarely motivated by intellectual insight. Just now, we are learning to understand that our badly injured Constitution is subject to variously dissembling intrusions by a head of state who "loves the poorly educated,"[7] who reads nothing at all, and yearns openly not to serve his country,[8] but himself.
Let us remain candid. This is a president who wants to be an "emperor." Plainly and desperately.
Truth is exculpatory. In these fragmenting and deeply-polarized United States, a willing-to-think individual is little more than a quaint artifact of some previous or previously-imagined history. More refractory than ever to refined intellect and learning, our mass society sustains absolutely no decipherable intentions of taking itself seriously.
Not at all.
For Vladimir Putin, on the other hand, things in America could not possibly be better. Manipulating those too-ample parts of an American society that yearn to believe rather than think, a sweeping Putin victory in "Cold War II" is all but inevitable.[9] Though counter-historical, such a fearful triumph could end up being celebrated at the Trump White House as well as at the Kremlin.
Credo quia absurdum, announced the ancient philosophers.
"I believe because it is absurd."
There is more. It is possible for the American people to be lonely in the world or lonely for the world, and our unchallenged mindset of "mass" has brought forth both. Before a better America could ever be born from any such bifurcated loneliness, a willing "gravedigger" would have to wield the civilizational forceps. But where shall we find such a person or persons?
What next for the increasingly imperiled Republic? Consider that we the people may wish to slow down and smell the roses, but a self-battering country now imposes upon its exhausted people the breathless rhythms of a vast machine.We witness, each day, an endless line of trains, planes and automobiles, transporting weary Americans to yet another robotic workday, a day too-often bereft of any pleasure, of reward and possibly of any hope itself. How long can this be expected to go on?
There are additional questions. What can be done now to escape the pendulum of our own mad clockwork? We pay lip service to the high ideals of the Declaration and the Constitution, but almost no one cares about these musty old documents. Invoked only for ostentation, the doctrinal foundations of the United States are today the province of a handful of people. Nothing more.
Presently, we the people lack any genuine sources of national cohesion except for celebrity sex scandals, local sports team loyalties, and the comforting brotherhoods of war.[10] As for the more than seven million people stacked cheek to jowl in our medieval prisons, two-thirds of those released return promptly to violent crime and mayhem. Increasingly, at the same time, "senior" and recognizable white collar criminals look forward to presidential pardons.
Oddly, we Americans inhabit the one society that could have marked a different trajectory. Once we had unique potential to nurture individuals to become more than a mere crowd.[11] Then, Ralph Waldo Emerson had described us as a people animated by industry and self-reliance, not by paralysis, fear and trembling.
Bottom lines? In spite of our proudly clichéd claim to "rugged individualism," we Americans are shaped almost exclusively by demeaning patterns of visceral conformance. Amusing ourselves to death, our voyeuristic society fairly bristles with annoying jingles, insistent hucksterism, crass allusions and telltale equivocations. Surely, we ought finally be able to inquire: Isn't there something more to this yelling country than abjured learning, endless imitation and expansively crude commerce?
If there is something more fulsome, where can it be discovered?
"I celebrate myself, and sing myself," intoned the poet Walt Whitman, but today the American Selfis created by a generally stupefying "education," by far-reaching patterns of utter tastelessness and by a pervasively rancorous culture of gratuitous obscenity.
Though not generally understood, credulity is America's very worst enemy. Our unchanging inclination to believe that societal redemption lies in politics (especially the presidency) has already become a potentially fatal disorder. Social and economic issues do need to be addressed by government, but our deeper problems must still be solved by individuals and as individuals.[12]
For the moment, this key requirement is not even faintly appreciated.
While allegedly a democracy, only a rare few can actually redeem America, and these quiet souls remain hidden, even from themselves. You will never see them engaged in the frenetic and agitated self-advertisements of presidential politics. To be sure, our necessary redemption as a people can never be found among the crowd, or mass, or herd or horde. There is a way to fix our fractionating country, but not while we inhabit our pre-packaged ideologies by rote, without mind, and without virtue.[13]
A starkly diseased civilization compromises with its afflictions. To restore us to long-term societal health and prosperity in America, we the peoplemust first look far beyond a futile faith in politics. Only when such a desperately required swerve of consciousness can becomes a compelling and irreversible gesture – that is, only when we can restore a meaningful, central and deserved faith in ourselves as individual thinkers – can we the people hope to fix a land in crisis.
To start the process, we can at least acknowledge the limitations of a democracy now based insecurely upon multiplying geostrategic fallacies and utterly inane slogans.[14]
Most emphatically, we must insist upon expanding the sovereignty of a mindful and virtuous[15] citizenry. This insistence will not succeed overnight, but the time to finally begin is now.
—————-

---
[1] Arthur Schopenhauer warned, in his "On Man's Need of Metaphysics" about "…the great majority of men who are not capable of thinking, but only of believing, who are not accessible to reasons, but only to authority."
[2]On this growing threat of nuclear war, by Professor Beres, see: https://www.jurist.org/commentary/2017/08/louis-rene-beres-trump-nuclear/ See also https://warroom.armywarcollege.edu/articles/nuclear-decision-making/ For early authoritative accounts, by the author, of expected consequences of a nuclear attack, see: Louis René Beres, Apocalypse: Nuclear Catastrophe in World Politics (Chicago: University of Chicago Press, 1980); Louis René Beres, Mimicking Sisyphus: America's Countervailing Nuclear Strategy (Lexington, Mass., Lexington Books, 1983); Louis René Beres, Reason and Realpolitik: U.S. Foreign Policy and World Order (Lexington, Mass., Lexington Books, 1984); and Louis René Beres, Security or Armageddon: Israel's Nuclear Strategy (Lexington, Mass., Lexington Books, 1986).
[3] Both Sigmund Freud and Carl Jung thought of "soul" (in German, Seele) as the intangible essence of a human being. Neither Freud nor Jung ever provided any precise definition of the term, but it was not intended by either in some ordinary religious sense. For both, it was a still-recognizable and critical seat of both mind and passions in this life. Interesting, too, in the present context, is that Freud explained his already-predicted decline of America by various express references to "soul." Freud was plainly disgusted by any civilization so apparently unmoved by considerations of true "consciousness" (e.g., awareness of intellect, literature and history), and even thought that the crude American commitment to perpetually shallow optimism and material accomplishment at any cost would occasion sweeping psychological misery.
[4] "The mass-man has no attention to spare for reasoning;" warns Jose Ortega y'Gassett in The Revolt of the Masses (1930, "he learns only in his own flesh."
[5] Apropos of this preference, see Oswald Spengler: "I believe is the one great word against metaphysical fear" (The Decline of the West, 1918). Here, Spengler underscores humankind's utterly primal search for an ultimate victory over death.
[6] "It is getting late; shall we ever be asked for?," inquires the poet W H Auden in The Age of Reason. "Are we simply not wanted at all?"
[7] Said candidate Trump in 2016, "I love the poorly educated." This strange statement appears to echo Third Reich Minister of Propaganda Joseph Goebbels at Nuremberg rally in 1935: "Intellect rots the brain."
[8] This brings to mind the timeless observation by Creon, King of Thebes, in Sophocles' Antigone: "I hold despicable, and always have….anyone who puts his own populate before his country."
[9]Regarding the effects of Cold War II on security matters in the Middle East, by this author, see: https://besacenter.org/wp-content/uploads/2019/07/162-MONOGRAPH-Beres-Israeli-Nuclear-Deterrence-CORRECTED-NEW.pdf
[10] War, of course, is arguably the most worrisome consequence of an anti-intellectual and anti-courage American presidency. For the moment, the most specifically plausible area of concern would be a nuclear war with North Korea. https://mwi.usma.edu/theres-no-historical-guide-assessing-risks-us-north-korea-nuclear-war/
[11] "The crowd," said Danish philosopher Soren Kierkegaard, "is untruth." Here, the term "crowd" is roughly comparable to C.G. Jung's "mass," Friedrich Nietzsche's "herd," and Sigmund Freud's "horde."
[12] See, by Professor Beres, at The Daily Princetonian: https://www.dailyprincetonian.com/article/2018/02/emptiness-and-consciousness
[13] "There is no longer a virtuous nation," warns the poet William Butler Yeats, "and the best of us live by candlelight."
[14] The worst of these limitations concerns the growing risks of a nuclear war occasioned by an American unprepared president. In this regard, we may recall the words of "beat poet" Lawrence Ferlinghetti back in 1958 (A Coney Island of the Mind): "In a surrealist year some cool clown pressed an inedible mushroom button, and an inaudible Sunday bomb fell down, catching the president at his prayers on the 19th green."
[15] As used by ancient Greek philosopher Plato, the term "virtuous" includes elements of both wisdom and knowledge as well as morality.
Harry Truman, Too, Was a Self-Described Democratic Socialist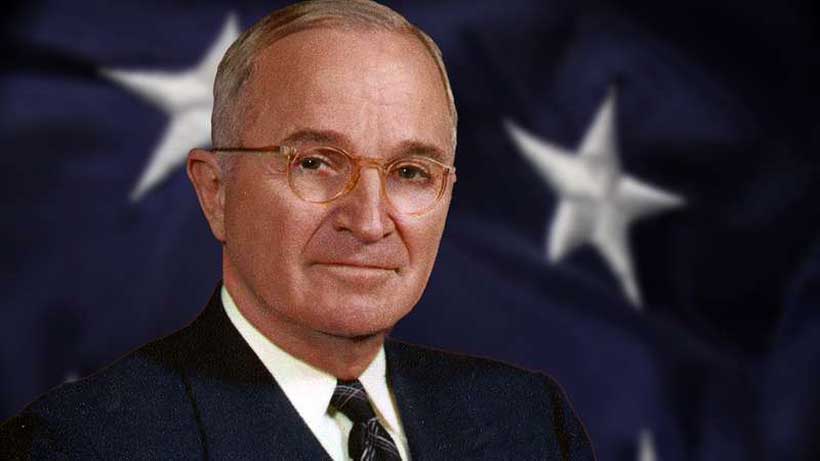 This is from the public papers of U.S. President Harry S. Truman in 1952: "Public Papers, Harry S. Truman, 1945-1953, October 10, 1952" [rail-car campaigning for Adlai Stevenson in N.Y. State to become Truman's successor, against Dwight Eisenhower]
Socialism is a scare word they have hurled at every advance the people have made in the last 20 years.
Socialism is what they called public power. Socialism is what they called social security.
Socialism is what they called farm price supports.
Socialism is what they called bank deposit insurance.
Socialism is what they called the growth of free and independent labor organizations.
Socialism is their name for almost anything that helps all the people.
When the Republican candidate inscribes the slogan "Down With Socialism" on the banner of his "great crusade," that is really not what he means at all.
What he really means is, "Down with Progress–down with Franklin Roosevelt's New Deal," and "down with Harry Truman's fair Deal." That is what he means.
Politico headlined on February 24th, "Sanders sends Democratic establishment into panic mode" and reported that "A renewed sense of urgency washed over establishment Democrats, who fear it's quickly becoming too late to stop Sanders."
Today's Democratic Party Establishment — the Clintonites and Obamaites and the supporters of every one of the current crop of Democratic Presidential candidates except for Bernie Sanders — are not in the tradition of Truman, and of his immediate predecessor Franklin Delano Roosevelt, but are instead in the post-Reagan tradition of the Democratic Party, the tradition that was well represented by Bill Clinton when he, for example, created "don't ask, don't tell," and then joined with the Republicans in Congress to abolish FDR's Glass-Steagall Act and also to allow unregulated trading in investment-derivatives, and generally to deregulate the economy, and to sign into law and promote NAFTA, which expanded U.S. corporate profits at the expense of America's working-class. His wife wanted also that there would be expanded fracking, just like the Republicans wanted, and she wanted Iraq to be invaded, just like George W. Bush and Dick Cheney did. And the Democratic Establishment nowadays is pushing lots of proposals that the Republican Party had pushed for prior to the Reagan revolution, proposals for unleashing the nation's mega-corporations and producing enormous wealth-inequality.
Bernie Sanders is the only Democrat who is running in today's 'Democratic' Party Presidential primaries. All of the other candidates in those primaries are warmed-over pre-Reagan Republicans. Only Sanders is running against the Republican 'Democrats', who are, basically, spitting on FDR's grave.
The revolt against Sanders, by the Democratic National Committee, and maybe by its 700+ superdelegates at the upcoming Convention so as to throw its nomination to Elizabeth Warren or one of the other 'moderate' 'Democrats', is simply the revolt against Franklin Delano Roosevelt's Democratic Party. It is their revolt against progressivism, and for conservatism, so as to keep today's Democratic Party, a liberal instead of progressive party. Liberalism blends progressivism and conservatism. The founder of liberalism was the man who had blended conservatism and progressivism, John Locke, about whom John Quiggin has noted, with an honestly that is stunningly rare: "As secretary to the Earl of Shaftesbury, then chancellor of the exchequer, Locke assisted in drafting the Fundamental Constitutions of Carolina. He was secretary to the Council of Trade and Plantations (1673–74) and a member of the Board of Trade (1696–1700), with responsibility for the American colonies. He was a major investor in the English slave trade through the Royal African Company and the Bahama Adventurers company." This is what today's Democratic National Committe (DNC) represents — that tradition, of the British aristocracy, even the slave-traders amongst them, not the progressive tradition, which FDR created in the Democratic Party, and which Bernie Sanders calls simply "democratic socialism" and cites Denmark and other Scandinavian countries as being contemporary examples of what has worked well elsewhere that can also work well here. (Although FDR created it in the Democratic Party, he was simply copying and adapting from the best of the European nations; for example, Social Security was instituted in 1935 but already six European nations had it by that time — and what Bernie Sanders is trying to do is in that tradition, of copying and adapting the best from abroad, not just continuing exceptionally bad existing U.S. practices.)
Today's DNC, and its 'Third Way' mouthpieces (Third Way is now propagandizing against Sanders in South Carolina) are scaremongering against Sanders being a "socialist," and (as that news-report said) "When Third Way held a meeting in Charleston in June 2019, one of the group's founders referred to Sanders as an 'existential threat' to the future of the Democratic Party." This is the line that the Democratic Party's billionaires are now spreading. They're determined to retain control over the Party, just as the Republican Party's super-rich have always had control over the Republican Party since the very moment when Abraham Lincoln was assassinated in 1865.
Abraham Lincoln had said:
The insurrection is largely, if not exclusively, a war upon the first principle of popular government — the rights of the people. Conclusive evidence of this is found in the most grave and maturely considered public documents, as well as in the general tone of the insurgents. In those documents we find the abridgement of the existing right of suffrage and the denial to the people of all right to participate in the selection of public officers, except the legislative boldly advocated, with labored arguments to prove that large control of the people in government, is the source of all political evil. Monarchy itself is sometimes hinted at as a possible refuge from the power of the people.
In my present position, I could scarcely be justified were I to omit raising a warning voice against this approach of returning despotism.
It is not needed, nor fitting here, that a general argument should be made in favor of popular institutions; but there is one point, with its connexions, not so hackneyed as most others, to which I ask a brief attention. It is the effort to place capital on an equal footing with, if not above labor, in the structure of government. It is assumed that labor is available only in connexion with capital; that nobody labors unless somebody else, owning capital, somehow by the use of it, induces him to labor. This assumed, it is next considered [Page 52] whether it is best that capital shall hire laborers, and thus induce them to work by their own consent, or buy them, and drive them to it without their consent. Having proceeded so far, it is naturally concluded that all laborers are either hired laborers, or what we call slaves. And further it is assumed that whoever is once a hired laborer, is fixed in that condition for life.
Now, there is no such relation between capital and labor as assumed; nor is there any such thing as a free man being fixed for life in the condition of a hired laborer. Both these assumptions are false, and all inferences from them are groundless.
Labor is prior to, and independent of, capital. Capital is only the fruit of labor, and could never have existed if labor had not first existed. Labor is the superior of capital, and deserves much the higher consideration. Capital has its rights, which are as worthy of protection as any other rights. Nor is it denied that there is, and probably always will be, a relation between labor and capital, producing mutual benefits. The error is in assuming that the whole labor of community exists within that relation. A few men own capital, and that few avoid labor themselves, and, with their capital, hire or buy another few to labor for them. A large majority belong to neither class — neither work for others, nor have others working for them. In most of the southern States, a majority of the whole people of all colors are neither slaves nor masters; while in the northern a large majority are neither hirers nor hired. Men with their families — wives, sons, and daughters — work for themselves, on their farms, in their houses, and in their shops, taking the whole product to themselves, and asking no favors of capital on the one hand, nor of hired laborers or slaves on the other. It is not forgotten that a considerable number of persons mingle their own labor with capital — that is, they labor with their own hands, and also buy or hire others to labor for them; but this is only a mixed, and not a distinct class. No principle stated is disturbed by the existence of this mixed class.
Would the post-Lincoln Republican Party assert any such thing as that "Labor is prior to, and independent of, capital. Capital is only the fruit of labor, and could never have existed if labor had not first existed. Labor is the superior of capital, and deserves much the higher consideration."?
To anyone who would spout the line of America's billionaires (either Republican or Democratic ones), Bernie Sanders would, as the Presidential nominee of, and standard-bearer for, a restored progressive Democratic Party, be able to quote both Harry Truman and Abraham Lincoln, in order to expose those persons' frauds and take the White House away from them and restore it to the people.