Russiagate-Trump Gets Solved by Giant of American Investigative Journalism
Lucy Komisar, who is perhaps the greatest living investigative journalist, has discovered — and has documented in detail — that the source of the Russiagate charge against Russia, the source of the charge that Donald Trump's Presidential campaign had connived with Russians in order to be able to win the U.S. Presidency, can be found in explaining the why's and wherefore's of the key event, when Donald Trump Jr., Paul Manafort, and Jared Kushner, met with Russian lawyer Nataliya Veselnitskaya, in Trump Jr.'s Trump Tower office, on 9 June 2016. Komisar figured it out: Veselnitskaya, thinking that Trump might become America's President, lured (through George Papadopoulos, the Trump-campaign volunteer whom Komisar unfortunately doesn't mention, but he was the contact between Veselnitskaya and the Trump team) Trump's team, into that meeting, by promising (as communicated to them via Papadopoulos) to inform them of dirt against Hillary Clinton. But that wasn't Veselnitskaya's real purpose, Komisar has found.
Komisar's investigation wasn't into Russia-Trump, but instead into the actual source of the first set of economic sanctions that were instituted against Russia, the 2012 Magnitsky Act, which source was a major former American investor in Russian companies, Bill Browder. He had successfully lobbied into law, both in the U.S. and in the EU, the Magnitsky Act. Komisar's focus on this Browder-versus-Russia issue caused her not even to mention George Papadopoulos, the Trump campaign volunteer, who had served as Veselnitskaya's contact and set up that fateful June 2016 meeting. This non-political focus has also caused Komisar's brilliant reporting on the matter — her latest such article being published on 10 February 2018, which article will subsequently be linked-to here — to have been ignored in the general news-reports about the Russiagate-Trump story.
Komisar's investigation found and reported on 20 October 2017, that the reason why Veselnitskaya wanted to meet Trump Jr., Manafort, and Kushner, was to enable them — and she hoped ultimately Donald Trump himself — to come to know that the company she was representing, Prevezon, was being subjected to a lengthy legal battle to defend itself against a lawsuit by the former American, William Browder, the owner of Hermitage Capital Management in Russia, and that:
Veselnitskaya says the Prevezon suit [suit against Prevezon — Prevazon was't actually the bringer of this suit, but was instead the suit's target] was a distraction Browder used to cover up his own tax evasion and – she claims – collusion in the tax refund fraud [by Hermitage Capital Management]. She bases her accusation in part on the role of Magnitsky [Hermitage's accountant]. She has lobbied against the Magnitsky Act, deriding it as Browder's way of protecting himself from Russian legal trouble.
Browder declined repeated requests for an interview about the Russian charges, his time as an investor in Russia, and his campaigns for the Magnitsky Act. Browder went so far as to have the author of this article banned from a public talk he gave at the Institute for Advanced Studies in Princeton, New Jersey, in December 2016.
The Magnitsky Act placed sanctions against the Russian Government, on the basis of accusations by Browder and his agents, that Hermitage's 'lawyer', who was actually no lawyer at all but instead Hermitage's accountant, Sergei Magnitsky, had been supposedly beaten to death in prison, because he had been, supposedly, a 'whistleblower' against corruption, by those police who, according to Browder's team, had stolen three companies from Hermitage (i.e., from Browder), not stolen $230 million in taxes from the Russian national Treasury — as was charged by the Russian Government. Supposedly, these police had supposedly beaten Magnitsky to death, in order to protect themselves. That storyline, that viewpoint, 'documenting' 'corruption' in Russia, is embodied as sacrosanct and unchallengeable fact, in the Magnitsky Act, but Komisar disproves all of its essential assertions, linking to the actual documents in the case, and proves a damning case against Browder and his team.
The Browder viewpoint was recently reinforced by an article in National Law Journal, as well as in a report by the Council on Foreign Relations, and Komisar exposed their fraudulence, in her 12 January 2018 "Evidence? The National Law Journal doesn't need it", and in her 10 February 2018 "CFR Report, with no evidence, promotes fake Browder-Magnitsky story". The former reported:
The fraud was not uncovered by Magnitsky, who was an accountant, not a lawyer.
Magnitsky talked about the matter for the first time in an interrogation by Russian tax investigators in June 2008. (It identifies him as an auditor.) But, he was not a whistleblower. He was called to answer questions as a suspect. He did not expose the fraud. He cited an article by the Russian business daily Kommersant article, which two months earlier had printed the information with Browder's response.
Magnitsky said: "On 3 April 2008, Kommersant published an article which, referring to the law-enforcement authorities, reported that Parphenion, Limited Liability Company, Realand, Limited Liability Company, and Machaon, Limited Liability Company, had allegedly used «tax evasion schemes» and criminal proceedings were launched to prosecute those at fault." See Kommersant (in Russian) April 3, 2008 and April 4, 2008 .
Rimma Starova was a hired "name" fronting as a director of the company to which the shells had been transferred. She saw the Kommersant articles. By then the re-registered companies had participated in the $230 million tax refund fraud. Investigators might have discovered the scam. She didn't want to take a fall and went to the police. Her complaint April 9th detailed the fraudulent theft of three Hermitage companies.
The latter said:
the authors write: "… the summer of 2012, the U.S. Congress passed the Magnitsky Act — a set of tough sanctions on eighteen Russian officials involved in the "torture and death in prison of Russian human rights whistle-blower Sergei Magnitsky." I don't comment on the rest of the report, but this part shows they didn't bother to research, ignored facts, or deliberately reported falsehoods.
Torture? The Wall Street Journal links to the definitive prison report. Not exactly a left-wing media. The report describes awful conditions and medical care, says nothing about torture.
Whistleblower? The first step in the theft of budget funds from the Russian Treasury was reported to police April 9, 2008 by Rimma Starova, a hired director for Boily Systems, a shell controlling Browder's stolen companies. She returned to testify again July 10th. The companies had been used in the scam to get a fake tax refund [to the benefit of Browder's Hermitage] from the Treasury. She didn't talk about the theft of funds, but she gave police a roadmap.
Rimma Starova July 10, 2008 testimony
Then, Paul Wrench, director for Browder companies registered in the offshore tax haven of Guernsey, filed complaints of the tax refund fraud July 23. The story was published in Vedomosti, July 24. This link is on Browder's own website!
Not till his Oct 7 interrogation did Magnitsky, before his arrest for complicity in tax evasion, refer to "fraud of budget monetary assets in the amount exceeding 5 (five) billion rubles." A three-months-later whistle-blower? For his Oct 7 testimony, see 100Reporters story with link to what Magnitsky said.
This is what Veselnitskaya was hoping that, if Trump would become President, he'd check out and investigate for himself. But, apparently, Trump wasn't at all interested.
So: You, dear reader, now can investigate it for yourself (clicking onto those links), if you want to understand what may very possibly produce (either in Syria or in Ukraine or elsewhere) what could easily expand to nuclear war between the U.S. and Russia, World War III, as a result of those sanctions, and the subsequent Ukraine-war-based sanctions, and the subsequent massing of U.S. missiles and troops on and near Russia's border in Ukraine and elsewhere, on the basis of almost entirely false allegations by the U.S. Government (plus the latter's own illegal invasion/occupation of Syria, plus the latter's own illegal and very brutal coup in Ukraine during February 2014). The Magnitsky matter was actually a corporate tax dispute, between U.S. investor (now instead a British citizen in order to avoid some U.S. taxes), Bill Browder, versus Russia's Government.
The world could end, over that (and over lots of lies about it, which are routinely spread in the mainstream, and in much of the 'alternative news' media).
Some people's greed, apparently, knows no limits — not even when it could produce a world-ending nuclear war.
PS: As regards the leaks that occurred from the computers of the DNC (in June 2016) and from Hillary Clinton's Campaign Manager John Podesta (in September 2016), here are articles that set forth evidence these leaks probably were from DNC worker Seth Rich, and-or, from another Democratic Party worker on the inside (angered against Hillary Clinton's theft of the nomination away from Bernie Sanders), and weren't hacks, at all, but purely leaks:
In other words: These probably weren't authentically "hacks" — not from Russians, nor from anyone else. The Democratic Party didn't need whatever the Russian Government did (or not) in order to lose the 2016 election; the Democratic Party managed quite well, on their own, to lose — to lose, by Election Day, enough Sanders-voters (progressive populist Democrats) so that Trump (the pretended-populist Republican) was able to win. Some Sanders-voters hated Hillary Clinton, and were unsure which side of Trump's mouth to believe and voted for the progressive-populist side of it, because there wasn't anything at all progressive-populist about Hillary. That's no real democracy (but instead a choice between two fascists), no honest choice at all, and Russia didn't make it that way — and going to war as if it had been Russia's fault, would be entirely the U.S. regime's fault, yet another of its many incredibly vicious lies, such as were used to 'justify' invading Iraq in 2003, Libya in 2011, and much more.
What Results When U.S. Invades a Country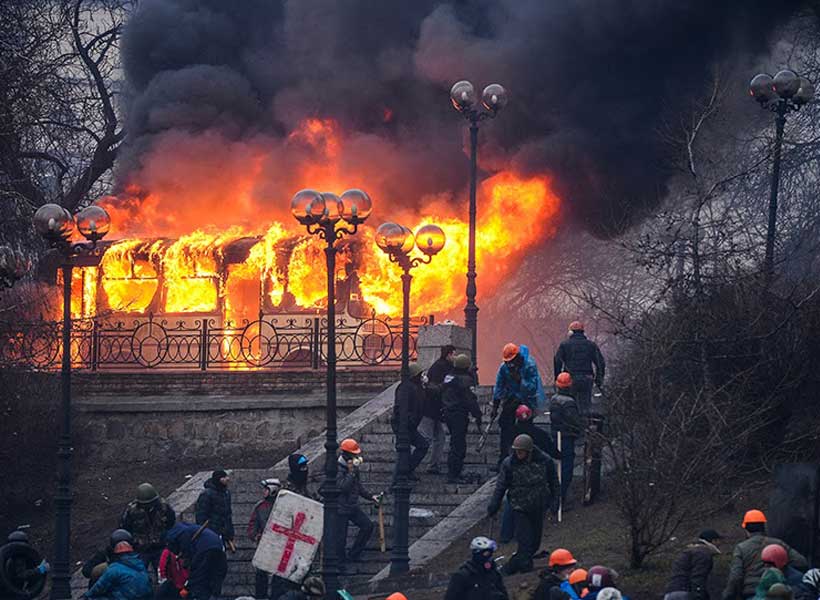 The U.S. Government certainly leads the world in invasions and coups. In recent years, it has invaded and occupied — either by military assault or by coup, but in either case followed by installing (or trying to install) a new regime there — a number of countries, especially Afghanistan, Iraq, Libya, Syria, Ukraine, and Yemen.
U.S. propaganda says that its invasions and military occupations (and it denies its coups) are to benefit the people in the invaded and militarily occupied countries, or to bring them 'democracy', and are not done merely to benefit the people who control the U.S. Government (which itself is not a democracy, and even the neoconservative — pro-invasion or "imperialistic" — American magazine The Atlantic has finally acknowledged this fact, even though it contradicts their continuing neoconservatism).
Polling and other evidences within the invaded/occupied countries shows the opposite of the U.S. claim: America's invasions/occupations (after World War II, and especially after 2000) destroy those countries, not help them.
The most authoritative such study that has yet been done on this matter was recently released, and its findings regarding this matter will here be presented, and then supplemented with other relevant data so as to provide a fuller picture.
The U.N./Gallup surveys of the happiness/misery of the residents in 155 countries, as reported in 2017, were physically in-person interviews in almost all countries, but there was at least one exception, as they explained: "In Libya, telephone survey methodology has been used since 2015 owing to the country's high rate of mobile phone coverage and ongoing instability which has made it too dangerous to use face-to-face interviewers." That's a highly euphemistic way of saying, actually: Libya was too dangerous, and perhaps too miserable, for opinions to be sampled by the ordinary methodology, the scientifically sound methodology, which is in-person interviews. It's a way of saying this without even mentioning the invasion and war there — as if those things don't even count. Therefore, the finding that Gallup reported about Libya is presumably being included in Gallup's otherwise excellent report purely for Western propaganda purposes — they know that it's not an actual scientific finding about Libya, not a finding that can reasonably be compared to the survey-findings in the other countries. As a result, Libya, which might have been the most miserable of all countries after the U.S.-UK-France-Canada invasion, scored in the top half of all countries, #68, 5.525. But, all of the other countries that the U.S. has recently invaded (the nations that are boldfaced below) scored at or below #132, 4.096 — Ukraine's score — as is shown here below from that U.N. report:
Following are the happiness-scores of the bottom 24 out of the 155 happiness/misery-rated countries. (Iraq, which the U.S. had destroyed in 2003, perhaps is now recovering, and it scored as #117, with a score of 4.497; but, here only the bottom 24, the most-miserable of all of the 155 countries, are shown.) Here they are:
132 Ukraine                                                        4.096
133 Uganda                                                        4.081
134 Burkina Faso                                              4.032
135 Niger                                                             4.028
136 Malawi                                                         3.970
137 Chad                                                              3.936
138 Zimbabwe                                   3.875
139 Lesotho                                                        3.808
140 Angola                                                          3.795
141 Afghanistan                                               3.794
142 Botswana                                    3.766
143 Benin                                                            3.657
144 Madagascar                                                3.644
145 Haiti                                                               3.603
146 Yemen                                                         3.593
147 South Sudan                                              3.591
148 Liberia                                                           3.533
149 Guinea                                                         3.507
150 Togo                                                              3.495
151 Rwanda                                                        3.471
152 Syria                                                              3.462
153 Tanzania                                                      3.349
154 Burundi                                                        2.905
155 Central African Republic        2.693
Ukraine is (other than #117 Iraq) the least-miserable of the recently invaded countries, and perhaps the reason for this is that Ukraine was taken over by means of a coup, instead of by means of an outright and direct military invasion.
(You can see this coup happening, here. The way that U.S. President Barack Obama set it up is documented here. You can hear there his agent instructing the U.S. Ambassador in Ukraine whom to place in charge of Ukraine's Government once the coup will have been culminated (which happened 22 days later, and that person did get the leadership-position). It's the full conversation. And here, you will see the phone-conversation in which top EU officials were shocked to find that it had been a coup instead of what Obama pretended, a 'revolution'.) (These evidences are some of the reasons why the head of the 'private CIA' firm Stratfor called it "the most blatant coup in history.")
The U.N. happiness surveys have been taken in Ukraine not only after the coup, which occurred in February 2014, but before it, in 2013. At happiness index you can see the happiness/misery scores shown by Ukrainians during the years 2013, 2015, 2016, and 2017 (there was no survey in Ukraine during 2014, perhaps because of the rampant violence at that time.) In 2013, Ukraine's happiness score was 5.057, but that steadily declined down to the 2017 score of 4.096, which placed Ukraine within the bottom 24 countries, all of which either were extremely poor, or at war, or both. You can also see there Ukraine's resulting "World Happiness Index" rank for each one of those four years, 2013, before the coup, and then 2015-2017, after the coup. As you see there, Ukraine, which was #132  in 2017, had been #87 in 2013 before the coup. So: within just three years after the coup, it declined 45 places in the global rankings.
Some people might retort against this by saying that "happiness" is meaningless or unimportant and only physical welfare is 'objective'," but even on the most crudely physical measures, Ukraine has been enormously harmed by the U.S. coup. In 2013, Ukraine's average annual household income was $2,601.40, and then it fell off a cliff and became $1,109.63 by 2015 and has stabilized at around that level since. Also, in 2013, Ukraine's GDP was $183.31 billion, and by 2015 that had become $91.03 billion and stabilized at that level. Furthermore, some figures aren't any longer even reported by the post-coup Ukrainian regime. For example, whereas the number of unemployed was shown in Ukrainian statistics in 2013, it disappeared in 2016 and subsequently. More information about the decline in Ukraine's economic rankings can be seen here. The U.S. regime has been toxic to the Ukrainian people, no matter how one looks at it. But happiness/misery is the real bottom-line.
Two researchers, Tom Coupe and Maxym Obrizan, published together two separate studies, both in leading economics journals, one article titled "The impact of war on happiness: The case of Ukraine", and the other titled "Violence and political outcomes in Ukraine — Evidence from Sloviansk and Kramatorsk". They reported, in "The Impact of war on happiness":
The average level of happiness declined substantially in zones that experience war directly. …
This decline is comparable to the loss of happiness a relatively well-off person would experience if he/she were to become a poor person. …
Regions that are not directly affected by the war are basically as happy as they were before the war.
In other words: all of the increase in misery occurred only in the regions that have been "directly affected by the war." The Ukrainians who reside outside those regions are "as happy as they were before the war." They're not happier than before the war; they haven't been helped by the war; but, the misery — so intense for them that it has already lowered the happiness-ranking of the entire nation, from 87 down to 132 — just hasn't bothered them, at all.
In "Violence and political outcomes in Ukraine" they reported:
We also find that property damage is associated with greater support for pro-Western parties, lower support for keeping Donbas in Ukraine and lower support for compromise as a way to stop the conflict.
In other words: Ukrainians who live close to the Ukraine-Donbass border; that is, who live inside Ukraine but close to Donbass and so are in the Ukrainian portion of the conflict-zone (not in Donbass, where the vast majority of the "property damage" is actually occurring), have "greater support for pro-Western parties" (i.e., for the Obama-installed regime), but "lower support for keeping Donbas in Ukraine." Although they endorse the overthrow that had been done of the pre-coup government (because they receive 'news'media only from the post-coup regime, in the Ukrainian language), they want to get on with their lives without the war that's since been causing them "property damage." (U.S. propaganda notes that "the separatist-controlled parts of Lugansk and Donetsk oblasts ([the two Donbass] provinces) only have access to Russian TV channels" but avoids noting that the Ukrainian regime's blocking of Russian-language media on the other side of that border — inside Ukraine — exists and is even more severe.) Apparently, Ukrainians near the border just want the war to end — no "compromise" — no negotiations, no Minsk process; they want their Government to simply quit trying to conquer Donbass, no negotiations about it, at all. And they're ignored.
Right now in Ukraine, the central political controversy is between the U.S.-puppet President of Ukraine, who promises to conquer both of the two breakaway provinces, Donbass and also Crimea — but who hasn't yet been able to do it — versus Ukraine's political parties, in western and northern Ukraine, that derived from the organizations which had supported Hitler against Stalin in World War II and who still crave to kill Russian-speakers. Those passionately racist-fascist, anti-Russian, ideologically nazi, political organizations, are determined to actually carry out those additional invasions, no matter what the cost. However, according to this finding by Coupe and Obrizon, the Ukrainians who are suffering the "property damage" and whose personal scores on happiness have thus become so abysmally low as to have dragged the whole Ukrainian nation down to a 132nd ranking, are opposed to that nazi position, and they just want the war to end. And they're ignored.
Where, then, is the support for the war to be found (except amongst the U.S. Congress and President and the U.S. arms-makers whose products have been selling so well to Ukraine's government and which are now being used against the residents of Donbass)? That support is to be found as far away from the conflict-zone as possible: in Lviv and the rest of far-western and northern Ukraine, the areas that were cheering Hitler's forces in WW II, and where the 'news' media today are owned by U.S.-supported oligarchs and their NGOs.
Ukraine was a severely divided nation even before the coup. In the last Ukrainian election in which the residents within the Ukraine that then included both Donbass and Crimea voted, which was the election in 2010, the candidate who won Ukraine's Presidency and whom Obama ousted, had won 90% of the vote in Donbass, and 75% of the vote in Crimea. However, in far-western Ukraine, his opponent — whom Obama had been hoping that Ukrainians would elect as Ukraine's President in 2014 after the coup — won 90% of the vote. That's the candidate whose party (though not herself) now dominates (in conjunction with the two outright nazi parties) the Ukrainian Government. The man whom the residents in the rump Ukraine chose, was the more moderate candidate, and he is increasingly being challenged by the nazis. (Ukraine is the world's only nation that has two nazi political parties. Both of them have been clients of the U.S. Government ever since the end of World War II, but only with Obama did they win control of the country — that is, of its non-breakaway regions.) For example, on 18 January 2018, the AP headlined "Ukraine passes bill to get occupied regions back from Russia" and reported that, "Ukraine's parliament on Thursday passed a bill that aims to reintegrate the eastern territories currently controlled by Russia-backed separatists, and goes as far as to declare support for taking them back by military force if necessary." Though that position is a minority position amongst the Ukrainian public, it authentically represents the position that Obama wanted. In fact, he even overrode his own Secretary of State, John Kerry, to push for it. That's the position of Ukraine's two nazi parties, which are trying to replace the existing President. (Trump hasn't yet made clear whether he backs them, but he is expected to.)
So: that's Ukraine — the happiest of the nations that the U.S. has recently invaded.
——
UPDATE: On March 15th, the "World Happiness Report 2018" was issued, and here are the bottom-scoring countries:
Ukraine (4.103)
Togo (3.999)
Guinea (3.964)
Lesotho (3.808)
Angola (3.795)
Madagascar (3.774)
Zimbabwe (3.692)
Afghanistan (3.632)
Botswana (3.590)
Malawi (3.587)
Haiti (3.582)
Liberia (3.495)
Syria (3.462)
Rwanda (3.408)
Yemen (3.355)
Tanzania (3.303)
South Sudan (3.254)
Central African Republic (3.083)
Burundi (2.905)
first published at The Saker
Leading the Way to Latin America's Future
Leaders need to do two things, and do them very well: create a vision and mobilize people around it, said Ngaire Woods, Dean of the Blavatnik School of Government, University of Oxford, United Kingdom, in the closing session of the 2018 World Economic Forum on Latin America.
"A leader is someone who takes you farther than you thought you could go," noted Luiza Helena Trajano, Chairwoman of the Board of Directors, Magazine Luiza, Brazil. In a business you lead people by connecting to their minds by letting them participate; their hearts by recognizing their worth; and their pocketbook by letting them participate in the profits, she added.
Several panellists cited different polls about "most-respected professions" that show leaders in labour, business and politics as "cellar dwellers". This may help explain the anti-establishment mood that has created space for populists with simplistic ideas. Trust in institutions, politicians and democracy is on a downslide.
Alejandro Ramírez, Chief Executive Officer, Cinepolis, Mexico, cited a poll showing that a large majority of Latin Americans believe that life is worse now than it was 50 years ago despite improvements in objective indicators such as GDP per capita, infant mortality and life expectancy. He ascribes this "cognitive dissonance" to "the lack of the rule of law". Of the world's 50 most violent cities, 42 are in the region. The problem can be traced in large part to a "failed drug policy," he said. "It is not working." In addition, business and political leaders have focused excessively on reforms designed to encourage economic growth and not enough on inclusiveness and equality.
Woods outlined three elements of a good leader. First, listen. If a populist candidate says he is going to give everyone a gun, it might seem absurd. But it demonstrates that the candidate understands their concerns about security. This is the opposite of how most politicians operate with their spin doctors.
The second element on Woods' list is communications. Populist messages may seem simplistic. "But simple doesn't need to be simplistic," she said. "Learn to take the time to communicate clearly." Clear messages help citizens hold officials accountable.
Leaders also need to transmit a "transformational message," Woods concluded. Talk about "balancing the budget is not transformative". What vision will speak to the people?
Comparing the politician-citizen link to customer relationships in business, Candido Botelho Bracher, Chief Executive Officer, Itaú Unibanco, Brazil, suggested that political leaders pay more attention to the problems of their constituents. "Good leaders are able to listen and understand the pain points that people have when they are looking for services in education, health or transportation," he said.
Accountability of leaders extends not only to what they do, but also to what they fail to do, noted Paul Bulcke, Chairman of the Board, Nestlé, Switzerland. "Leadership is not about your tenure but what you leave for the next people," he added.
"There is no room for electoral con artists anymore," said Maria Cristina Frias, Member of the Board and Columnist, Folha de São Paulo, Brazil. "Candidates need to listen."
Outcomes of the meeting included:
The World Economic Forum and the Inter-American Development Bank (IDB) strengthened efforts to accelerate gender parity in Latin America. A Gender Parity Task Force is set to launch in Peru to increase gender parity in the labour market, following earlier announcements by Argentina, Chile and Panama. This is the fourth such task force in Latin America, resulting from collaboration with the IDB to narrow gender gaps in labour force participation, leadership, remuneration and investment.
With the changing nature of work, the meeting focused on solutions for human capital development, particularly for youth. Closing the Skills Gap 2020 was launched at the World Economic Forum Annual Meeting 2018 in January was expanded to Latin America. The Adecco Group, Barclays, EY, SAP, Mercer and Nestlé announced founding commitments. The project calls on businesses to lead training, reskilling and upskilling initiatives for 10 million people by 2020.
The Forum and the Government of Colombia have in the last year run a public-private partnership to transform and modernize the country's electricity system so that it benefits from cutting-edge technology and regulation. The successes are highlighted in a white paper launched at the meeting in São Paulo, entitled Frameworks for the Future of Electricity. Sessions explored how to create similar partnerships in other Latin American countries. This forms part of the Forum's System Initiative on Shaping the Future of Energy.
The Fostering Effective Energy Transition global framework and index were launched at the meeting. They were developed within the Forum's System Initiative on Shaping the Future of Energy to benchmark the performance and readiness of 114 countries to support an effective energy transition.
The Brazilian Ministry of Industry, Foreign Trade and Services (MDIC) and the Global Alliance for Trade Facilitation announced a new partnership aimed at increasing Brazil's competitiveness in international trade and boosting economic development. The partnership will see the Alliance, the Brazilian government and the local and international private sector work together to develop and implement targeted trade facilitation reforms.
The Forum's New Vision for Agriculture initiative brought ministers of agriculture and senior leaders of Brazil, Colombia, Mexico and Paraguay together with global and regional CEOs, technology innovators, civil society and regional organizations to define new strategies to accelerate large-scale impact. Country and regional partners committed to action on raising productivity, improving environmental sustainability and land-use, boosting efficient value-chains and shaping consumer demand as part of a systems agenda to realize Latin America's role as the breadbasket of the world.
The World Economic Forum and the International Finance Corporation (IFC) brought 50 Latin American start-ups together in São Paulo to pave the way for the necessary reforms to enable regional entrepreneurs to thrive. The selected start-ups shared the stage with ministers and CEOs for a frank and honest discussion about the challenges start-ups face in Latin America.
The Forum's Partnering Against Corruption Initiative (PACI) launched Tech for Integrity , a digital platform that
leverages emerging technologies from 96 global innovators and partnerships with multistakeholders, including Citi, the IDB, Transparency International and others, to accelerate the impact of anti-corruption efforts for public, private and civil society leaders.
An outcome of a session hosted by PACI was the agreement with the Chair of B20 Argentina to co-curate a joint meeting between G20/B20/C20 stakeholders to accelerate the adoption of leading practices and policies in addressing corruption in the private sector. The meeting will be hosted after the Summit of the Americas in Buenos Aires in late April 2018.
Siemens signed a memorandum of understanding with APEX aiming to support potential economic growth in Brazil. Siemens plans to triple its investments in Brazil over the next five years to $1 billion. They expect this commitment to catalyse a new cycle of sustainable growth, with an impact equivalent to 3.1% of GDP and the creation of up to 1.2 million jobs.
9/11: Israel Didn't Do It- The Plan Was Co-Led by U.S. & Saud Governments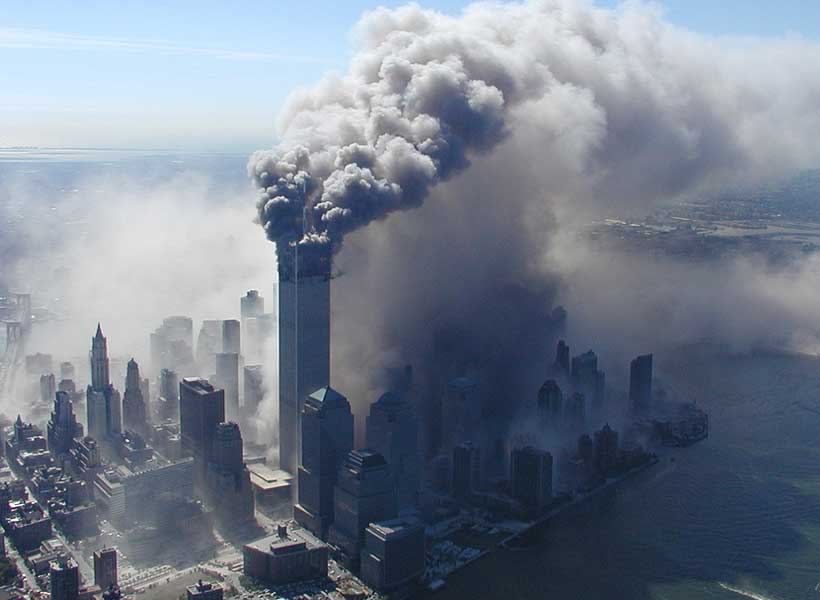 To judge by articles and reader-comments about 9/11, many Americans who think that the 9/11 attacks weren't done by the Sauds working in conjunction with the U.S. Government, think that those attacks were done by Israel's Government working in conjunction with America's Government. I wrote the only critical analysis of the main 'evidence' that is cited for the Israel-did-it argument, and found the argument to be based on false timelines and misrepresentations of what was in the FBI files.
The U.S. Government blames Iran for 9/11. But that hypothesis is even more ridiculous than is the Israel-did-it hypothesis. Clearly, the Saud family (otherwise known as the Saudi Government) were the the U.S. Government's partners in this operation. (However, on the day before President-Elect Donald Trump nominated Congressman Mike Pompeo to be the new CIA Director, Pompeo tweeted — 17 November 2016 — "I look forward to rolling back this disastrous deal with the world's largest state sponsor of terrorism." The U.S. regime don't call the Sauds that, but they are, and the only terrorism that Iran has been associated with at all, has been some of the terrorism against Israel.)
The Wikipedia article, "Responsibility for the September 11 attacks", mentions only "Saudi Arabia" in its section "Financing the attacks." None of the proponents of the Israel-did-it hypothesis includes any coherent documented evidence that Israel financed the operation. And even the U.S. court that (based upon pressures from Israel and from the Sauds) ruled Iran to have caused 9/11, offered no evidence, that Iran, instead of Iran's enemy the Saud family, was the main funder of the 9/11 attacks. None of the 19 alleged 9/11 terrorists was Iranian; none was even a Shiite, at all; 15 of them were Saudis, and all 19 were fundamentalist Sunnis; Al Qaeda is (so far as is known) a 100% fundamentalist-Sunni organization. (Furthermore, a google-search for "shiite member of al qaeda" produces: "No results found for 'shiite member of al qaeda'." Not even one such person has been publicly cited.) No real evidence exists that any of the money for the 9/11 attacks came either from Shias, or from Jews (nor from Israel's Government).
9/11 was a well-planned operation, whatever it was. Substantial money paid for it, but little if any of that came from either Iran or Israel. It all came from fundamentalist-Sunnis.
And, if all of the money was fundamentalist-Sunni, then the only non-Sunni people who could have been involved in planning the operation would have been George W. Bush and his friends. One of his close friends happens to have been "Bandar Bush" — Saudi Prince Bandar, who was the Saud family's chief geostrategist, and a longtime buddy of Bush's, and whom the FBI found to have been personally funding at least two of the 19 hijackers, right up to 9/11.
Even Hillary Clinton, though supported by the Sauds, privately acknowledged that, "Donors in Saudi Arabia constitute the most significant source of funding to Sunni terrorist groups worldwide." Al Qaeda is of Saudi origin, and it was the largest Sunni terrorist group worldwide. Osama bin Laden's bag-man who personally picked up the suitcases full of cash from the biggest donors, said that "without the money of the — of the Saudi, you will have nothing", and he named there most of the Saud princes (including Bandar) as having been people he had personally picked it up from. He said nothing whatsoever about Israel (nor about Iran).
And, then, there are the hypotheses that the U.S. Government wasn't complicit in allowing the attacks to occur. 9/11 was just 'failures by CIA, FBI, etc.' That Wikipedia article ignores all evidence indicating complicity by the White House, but some of this evidence will be cited and linked-to here: "Politico Reports Bush Knew 2001 Terror-Attack Was Imminent and Wanted It", I headlined on 17 November 2015, about this article in Politico, which had provided the evidence, but without analysis of it (and especially with nothing at all to the effect that Bush wanted serious terrorism in the United States by Al Qaeda to happen — just the evidence that he did).
When the 9/11 attacks happened, Americans didn't conclude that George W. Bush was either incompetent or else evil (or some combination of both). This country was now the opposite of Harry S. Truman's famous dictum about the Commander-in-Chief and President: "The buck stops here." To the exact contrary: Gallup's 7-10 September 2001 job-approval rating for Bush by Americans immediately before the attacks was 51% approval and 39% disapproval; and the very next survey, 14-15 September 2001, showed 86% approval and 10% disapproval. The number of Americans who disapproved of him declined around 75%, and the number of Americans who approved of him increased around 70%, as a result of 9/11. So, instead of causing his approval to decline around 75% to 13%, and his disapproval to increase around 75% to 70% — which would have made sense, under the circumstances — what happened was exactly the opposite. Democracy cannot function that way (and it doesn't).
This shows, as clearly as can be, that extremely few Americans had basic intelligence — a basic ability to reason logically from the best existing evidence regarding a given matter. The best existing evidence made unequivocally clear that Bush was either catastrophically stupid or else catastrophically evil (or both), but his job-approval numbers just soared, instead of shrank. This was an enormous failure of our schools to teach basic critical-thinking skills, and also a failure by America's press to control in the right way the public discussion about what had happened, a failure by its editors and producers, their failure to demand a focus on the key question: Which of the two possibilities — fool, or fiend — is the U.S. President and Commander-in-Chief? After a catastrophe like this, there needs to be accountability; but, instead, Bush's job-approval soared. Nobody was asking: What type of catastrophic leader is this? Not the media; no one. All U.S. institutions of supposed authority failed.
Accountability was thrown out the window immediately. That question wasn't asked at all (except perhaps by some fringe component of the U.S. public, whose submitted op-eds and other commentaries to the press were being rejected en-masse by editors and producers — hidden from the public by them).
How can a country such as this be a democracy? The public aren't prepared to function as a democracy, and the Establishment (as represented by the leaders and chief stockholders in the news media) have no interest in helping them to function as a democracy. What does this suggest — perhaps a country whose Establishment is so profoundly corrupt as to do everything they can to prevent there being accountability for the people at the very top of the nation's power-structure? (The intense corruption happens also within states, too, not merely at the federal level.)
What the Politico story documented is that President Bush had instructed his staff to keep away from him the key intelligence officials (except, of course, in situations where they couldn't have in-depth private discussions with him about what the facts are and what the options and likely consequences are for him in order to address the emerging situation). That, alone, means his complicity. (One might speculate that he hadn't instructed Condoleezza Rice to block such private access to him, but in that case he would have fired her for having done so. She suffered no repercussions from enforcing his deniability — Bush's entire life was instead a repudiation of accountability, a rejection of any "The buck stops here.") Bush, clearly, needed to preserve deniability. He was, clearly, an evil man, even if he wasn't necessarily a stupid one — and he was nobody's fool.
And the press just looked away, while it all happened. This is what happens in a country that's going to rot. And it's what has, in fact, happened in America. 9/11 and its aftermath are just a sign of that. One of many signs, but a clear one.
This is no attempt to exonerate America's enemy Israel. It is an attempt to document America's enemy the Sauds. In both cases, the American public's enemy is the American aristocracy's friend. Israel's Government is the American aristocracy's friend, and Saudi Arabia's Government is also the American aristocracy's friend. And, clearly, the U.S. Government represents only America's aristocracy, not the public.
The problem certainly isn't Jews nor Muslims. The problem is the aristocracy, which controls Saudi Arabia, and the aristocracy which controls Israel, and the aristocracy which controls America. The victim is the public, and the victimizer is the aristocracy. It's not just 9/11. It's much bigger than that. And it is pervasive. And, also, that's why, when 9/11 happened, "Accountability was thrown out the window immediately." This system serves the aristocracy just fine. That's why it exists.